NRL 2022: James Graham joins coaching casualty list at St George Illawarra Dragons
The Dragons' coaching staff clean-out has continued with one of the club's most high-profile and respected figures told he won't be required next season.
James Graham is the latest high-profile casualty of St George Illawarra's coaching staff clean-out.
In a stunning decision by Dragons management, the former England captain and hugely respected figurehead has been let go from his role coaching and mentoring the club's elite pathway players.
He has been credited in the past for helping, in particular, the development and training standards of current first grade forwards Blake Lawrie and Tariq Sims.
Graham was also employed to work as a corporate executive, where his profile and leadership advice after 423 first grade games were a major lure for current and future sponsors.
Under pressure to make the finals and at a time where opinions matter, the Dragons have also unwittingly lost an influential voice within the NRL media landscape with Graham a regular contributor on Fox League and Triple M.
Stream every game of every round of the 2022 NRL Telstra Premiership Season Live & Ad-Break Free During Play on Kayo. New to Kayo? Start your free trial now >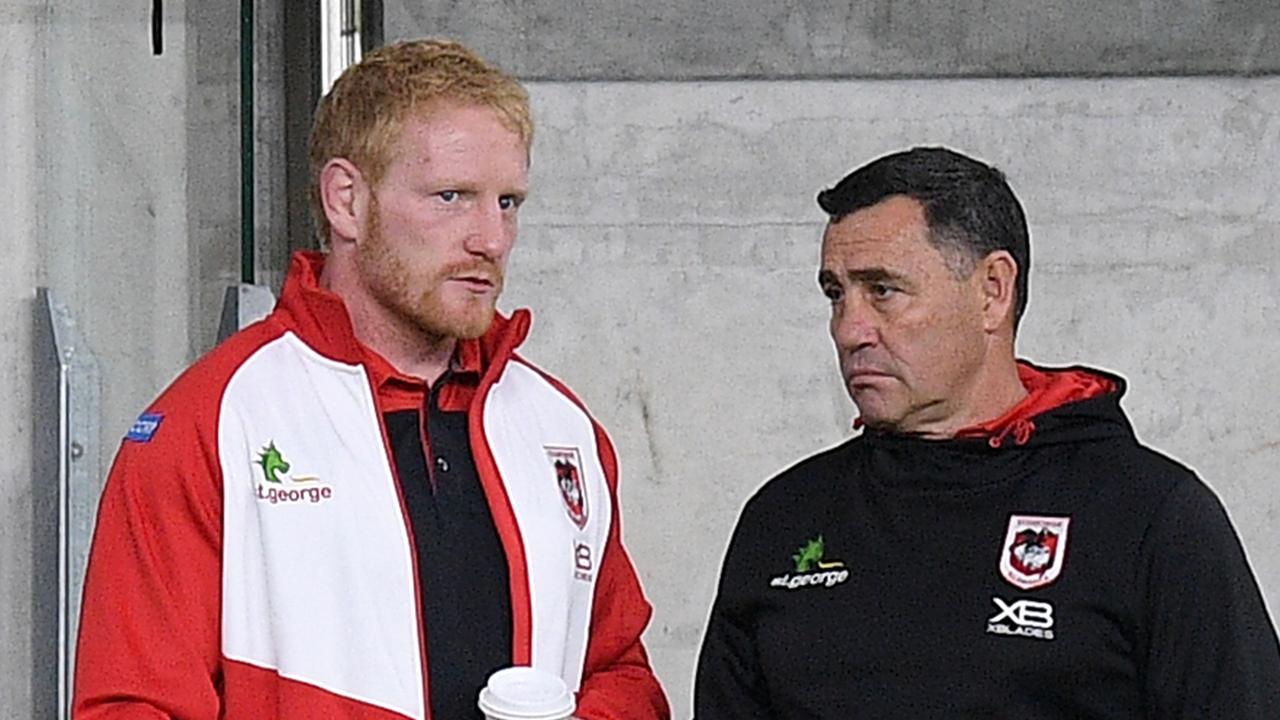 James Graham, left, will depart the Dragons at the end of the season. Picture: AAP Image/Dan Himbrechts
The decision is believed to have shocked Graham.
Graham preferred not to comment when contacted by News Corp, however, it's understood the Dragons executive team have already begun sourcing a replacement for Graham, in pathways.
Graham has been touted as a prospective NRL coach and aside from his role with the Dragons, the 36-year-old is aiming to join England in a consultancy role at the World Cup later this year.
Graham's exit has emerged in the wake of last Sunday's Telegraph (see below) revealing that, aside from the 44-game England representative, more staff members within the Dragons are planning to leave the club at season's end.
The club's decision to remove Graham from his mentoring role follows the decision to tap NRL assistant coaches Peter Gentle and Mathew Head on the shoulder last week.
Both Head and Gentle have vowed to see out the remainder of the season and it's understood Graham will do likewise.
All three key backroom decisions have left sections of the playing group questioning the direction of the club.
With their season on the brink, the Dragons travel to a sold-out Pointsbet Stadium on Saturday night to tackle neighbouring rivals Cronulla.
Currently 11th, St George Illawarra must win every game of the remaining five rounds of the season to secure a finals berth.
Dragons coach Anthony Griffin is planning to make one change to his starting line-up against the Sharks. Tariq Sims is expected to move from lock to the second-row, with Billy Burns dropping out of the starting side.
The Sharks will unveil debutant Kade Dykes at fullback following an ankle injury to Will Kennedy.
On a special night, Dykes will become just the second third-generation player in the NRL, with his father Adam and grandfather John, also former representatives of the Sharks.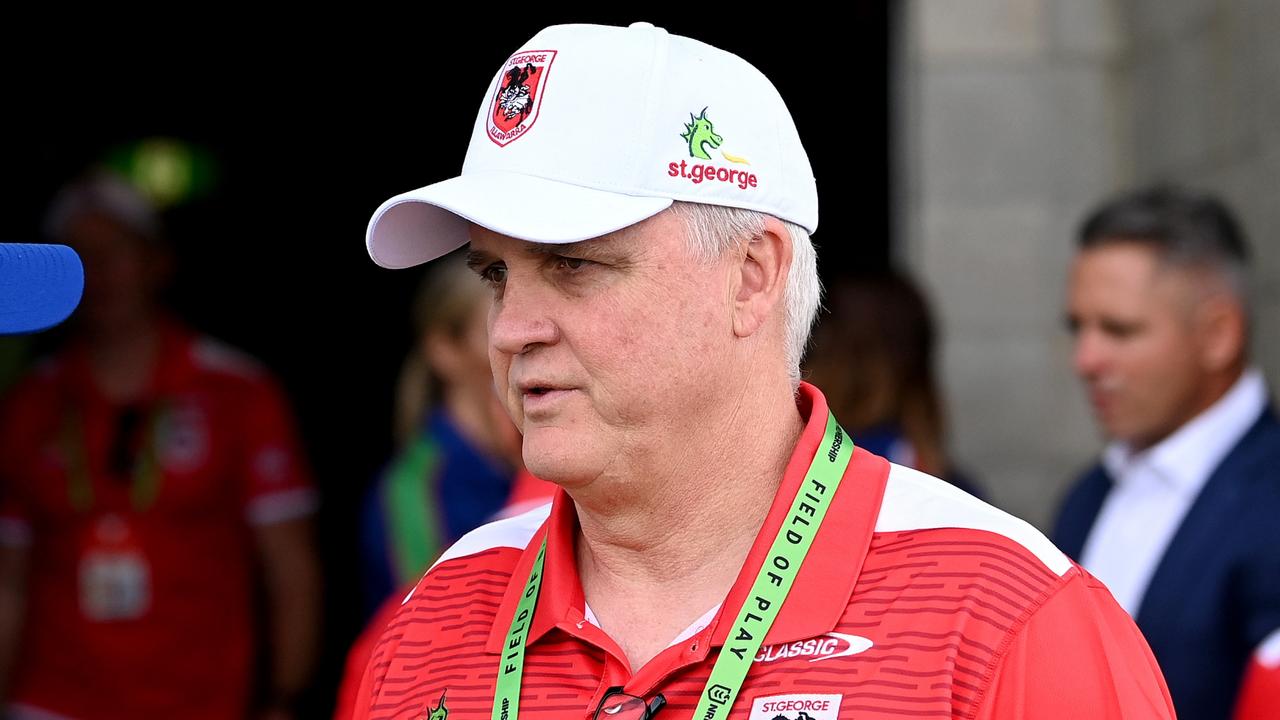 Dragons coach Anthony Griffin is overhauling his coaching staff. Picture: Bradley Kanaris/Getty Images
Dragons tearing themselves apart — again
More members of the St George Illawarra coaching staff are planning to exit the club at the end of this season.
Following the bizarre tap on the shoulder of assistant coaches Mathew Head and Peter Gentle – which has gone down like a lead balloon from the player's perspective – at least three other members of the St George Illawarra football staff are preparing to leave the club.

It could well end up being more than that – and unlike Head and Gentle, it will be of their own accord.

It means that by early November, poor Jack Brady, the Dragons' experienced media manager will be forced to type up another press release titled "coaching staff changes" ahead of next season.
Can coach Anthony Griffin (L) see out the season?
He should just cut and paste the one from the end of 2019. Or 2020. Or even 2021.

This is the same book Dragons fans are asked to read through tears every year.
Since 2020, the Dragons have stumbled through 27 changes to either their coaching staff or high performance staff.
They include two head coaches, one interim head coach, seven different assistant coaches – which will soon become nine, two NSW Cup coaches, five different heads of strength and conditioning, three different physiotherapists, two different sports scientists, two different leadership and culture coaches, a coaching adviser and a mind coach.
Saints fans should be petrified by the fact that anyone running the joint-venture can't see what is happening before it happens, like it is right now.
The backroom staff changes are merely window dressing for what every fatigued Red-V fan knows what is coming next.

Leaving the reports of player unrest to the side, history shows that when the deck chairs are being shuffled at Saints, the head coach's days are numbered.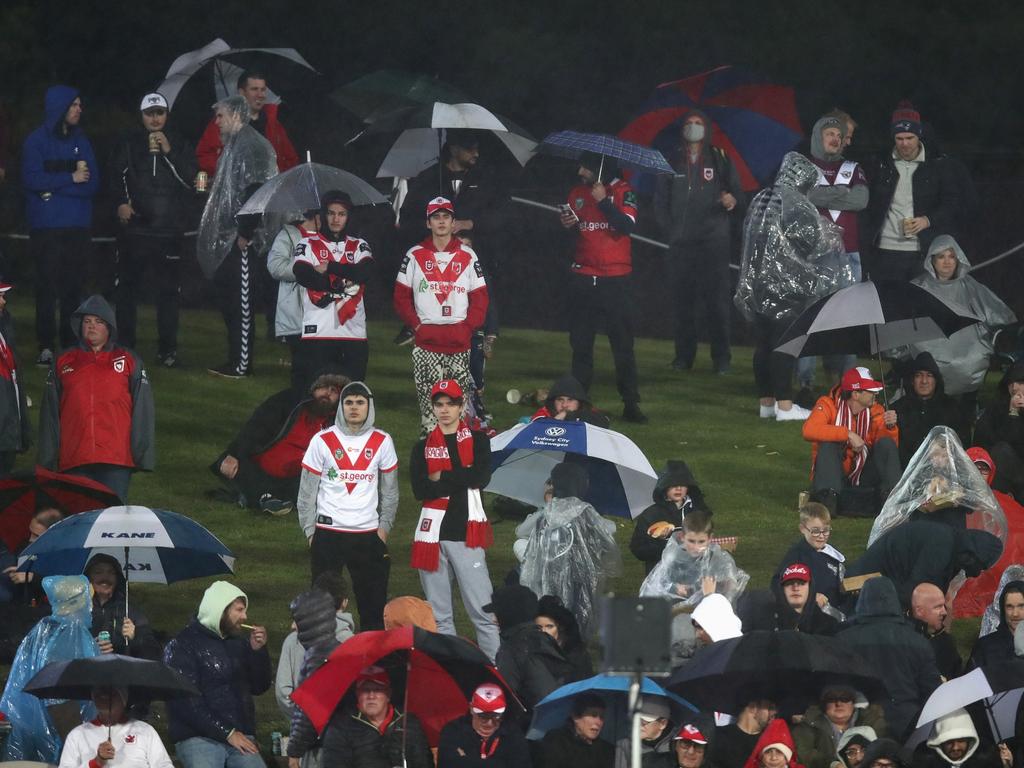 Weary Dragons fans have seen this all before. Picture: Jason McCawley/Getty Images
Comments by Dragons chairman Craig Young this week in The Daily Telegraph (see below) should have been accompanied with ambulance sirens and red flashing lights.
Young wanted to make it clear that the board had nothing to do with the decision to punt Head and Gentle. It was easier to read than a Ben Hunt show-and-go.
"It's up to the coach – we don't get involved in any of that," Young said.

"We don't micromanage the coach, it's his decision who he chooses with his coaching staff.

"Ultimately it is the coach who will be the one who is judged on performance."
It is only ego that will stop the Dragons board from making a call on Griffin before the season is out.

Remember they are the same board that extended Griffin's contract at the start of this season until the end of 2203, with no pressure to do so.
The Saints board thought they were being clever to take the air out of the coaching future storyline.
That went well.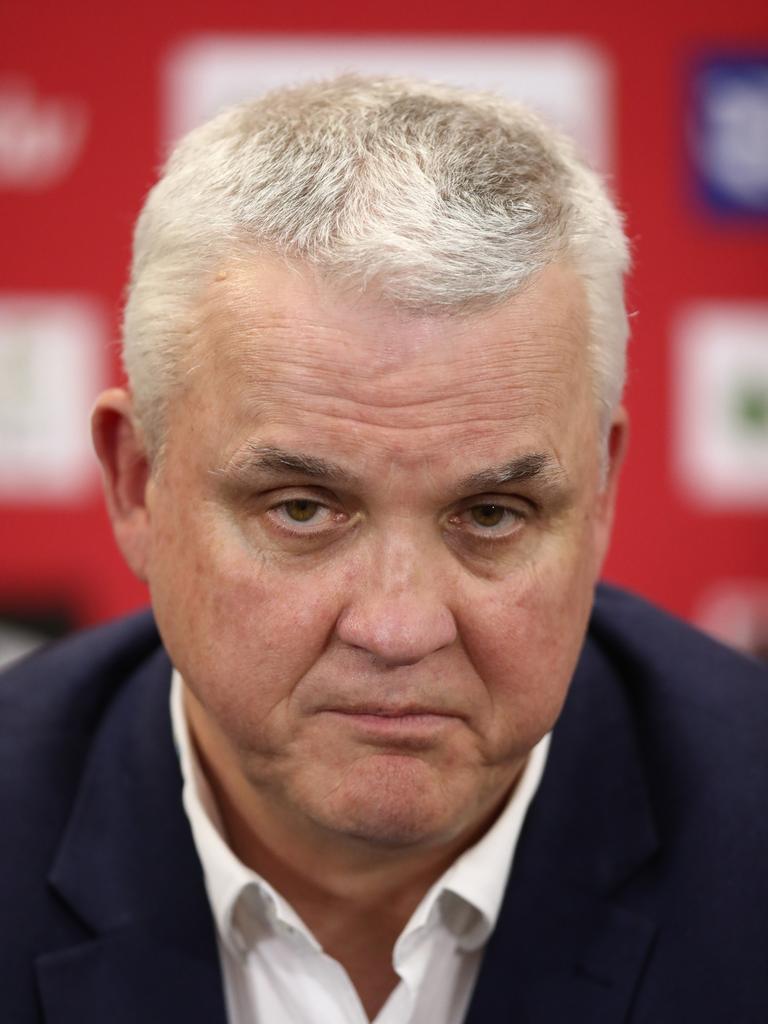 Dragons coach Anthony Griffin. Picture: Jason McCawley/Getty Images
Head and Gentle have received the routine phone calls from management to check on their welfare this week.
What they haven't got is a reason.
They are both still waiting to find out why they won't be at the club next year and with a shot at the finals, why destabilise the system?
No reason has been given, aside from the bleeding obvious. The deck chairs are moving.
Head, who has been climbing through the coaching ranks at Saints from the NSW Cup, to pathways to the assistant role, has a mortgage and a two-year-old at home.
How do you think he's going?
Gentle, the most experienced coach at the Dragons with a rich resume longer than any, is so dedicated to his players that instead of telling the club to stick it, he's been cutting video of the Cowboys while he's at home with Covid.
Head and Gentle are now just more names on the list.
The Dragons are back here again. Making changes.
We all know how this story ends.
Griffin made call to sack assistants
–Dean Ritchie
St George Illawarra has sacked assistant coaches Peter Gentle and Mathew Head – and the decision was made by head coach Anthony Griffin.
In a contentious move, Gentle and Head were formally told Monday evening that they would be moved on for 2023.
Gentle and Head are expected to remain with the club for the rest of this season.
"It's up to the coach – we don't get involved in any of that," said Dragons chairman Craig Young. "We don't micro manage the coach, it's his decision who he chooses with his coaching staff.
"Ultimately it is the coach who will be the one who is judged on performance.
"We don't have any input at all. We obviously have input into who the coach is and then he manages all that with the football manager (general manager of football, Ben Haran).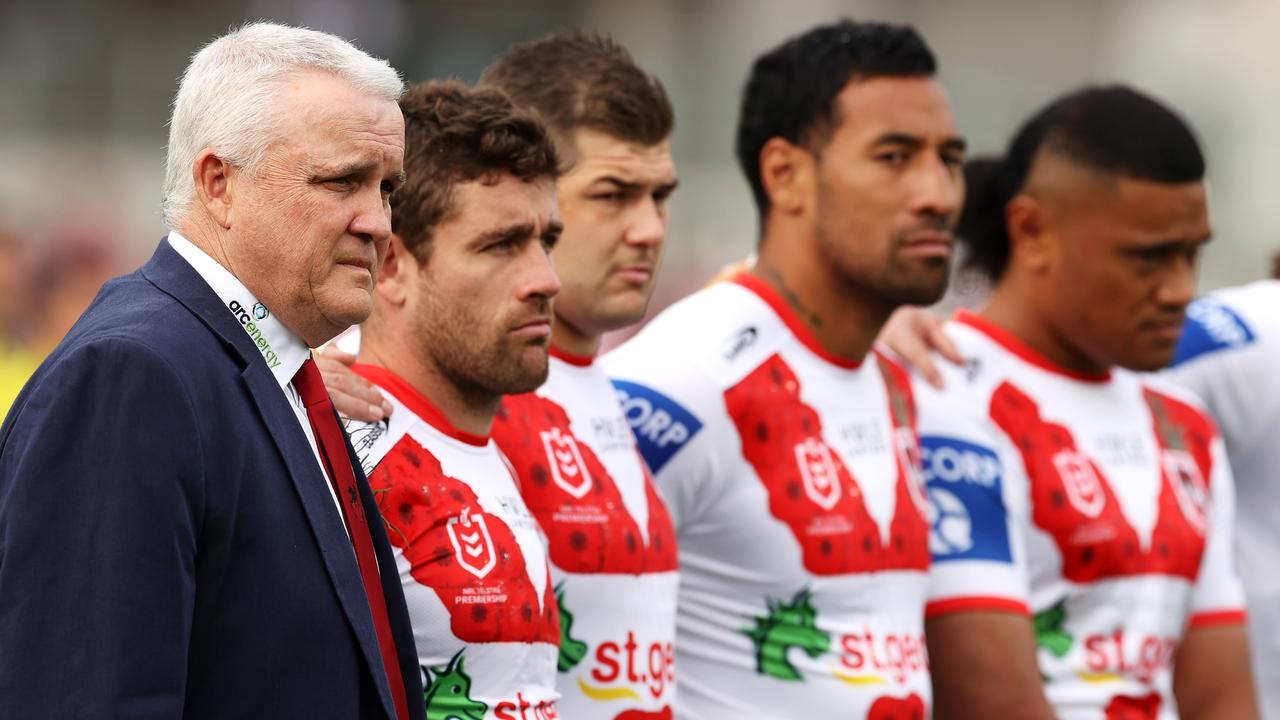 Dragons coach Anthony Griffin made the call to sack his assistants. Picture: Mark Kolbe/Getty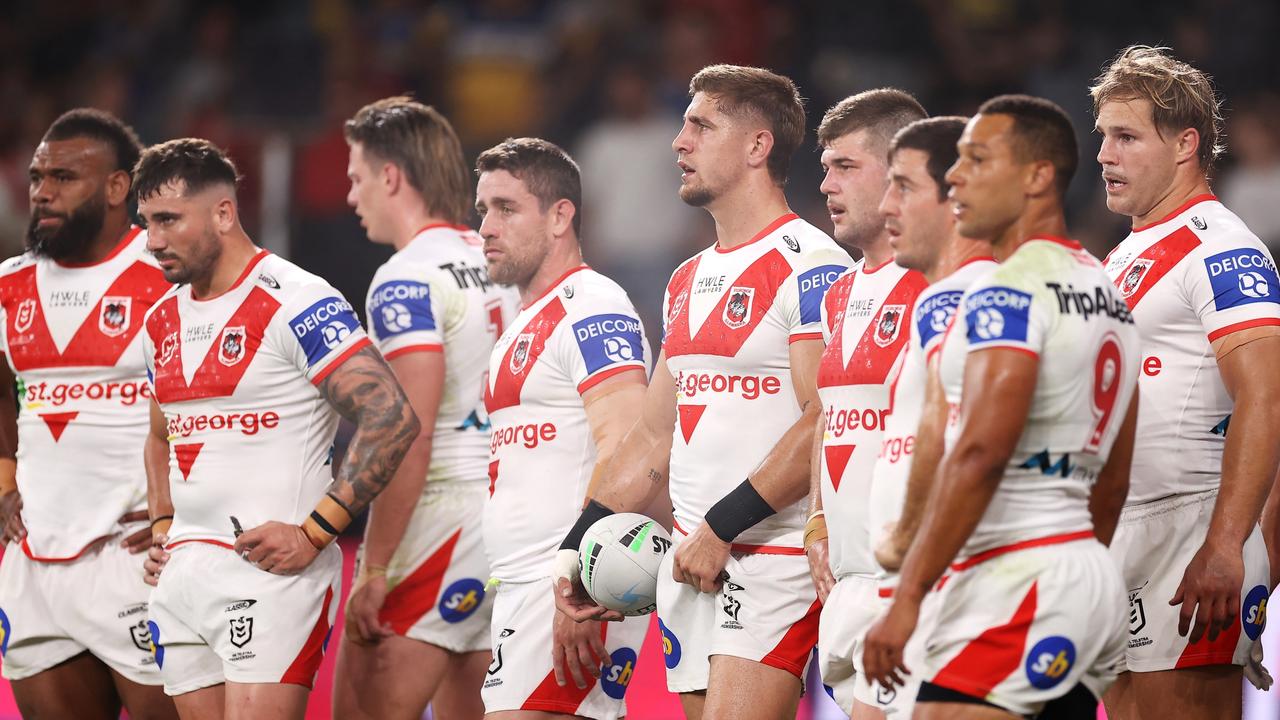 The Dragons are set for a coaching shake-up. Picture: Mark Kolbe/Getty
"As I said, you can't micromanage. If he (Griffin) wants news assistants … it's a tough business at times.
"I have coached both of them (Gentle and Head) and have known them for a long time. They are both very professional in what they do and I wish them well.
"I am sure they will get another gig somewhere."
It is understood Griffin was upfront and admitted it was his decision when talking directly to Gentle.
Sources close to the club claim Head and Gentle are "filthy."
Gentle and Head want to remain until the end of the season to ensure they collect their financial entitlements.
The club maintains they don't have ready-made replacements and a search will now begin.
Gentle, the defensive coach, and Head – who looks after the attack – are popular among the playing group.
Griffin remains safe – for now – as head coach.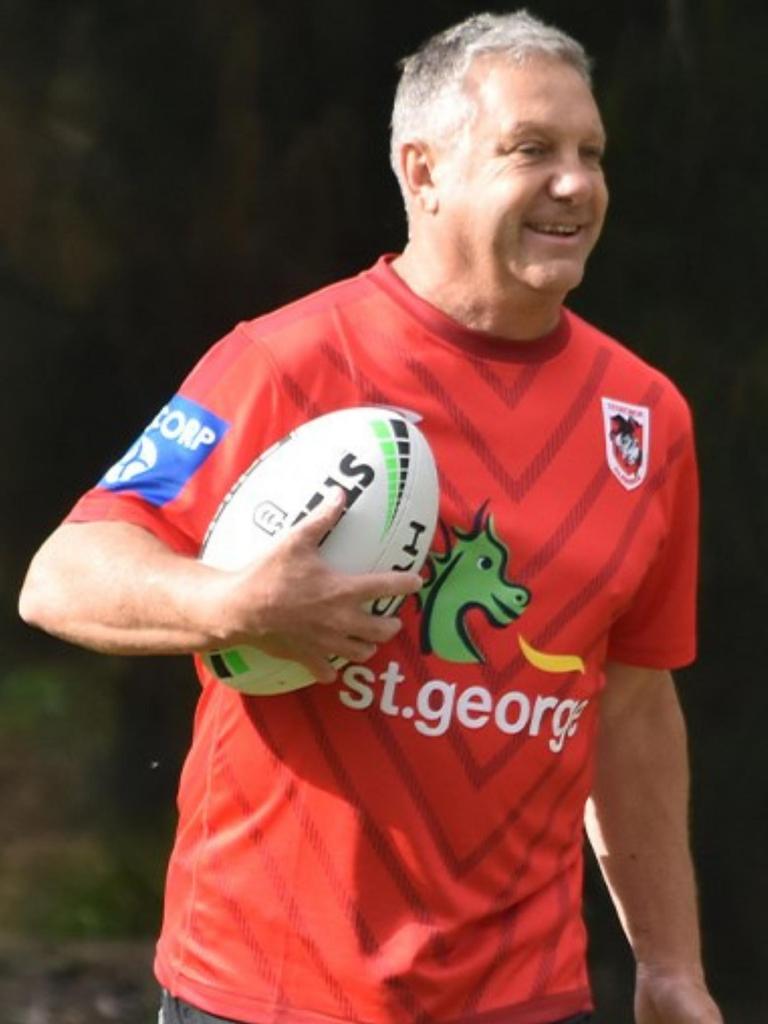 Dragons assistant coach Peter Gentle has been sacked. Picture: Dragons Media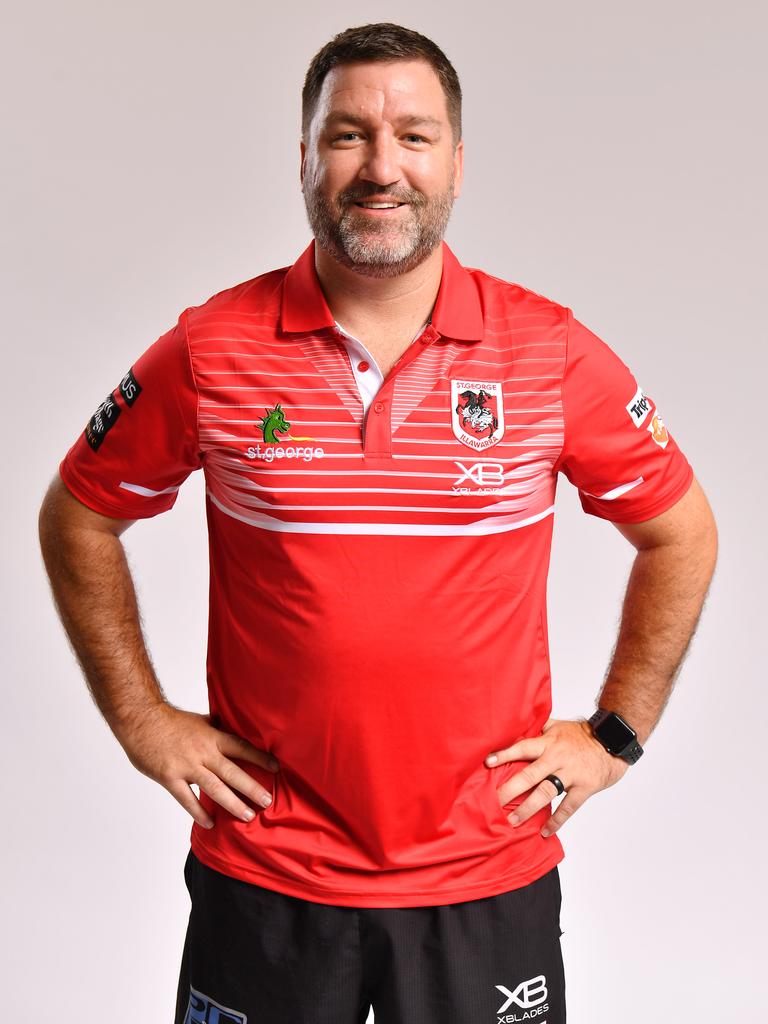 Mat Head is also out the door. Picture: NRL Imagery
Club insiders suggest Griffin felt a need to rejuvenate his coaching staff for next season with his team sitting mid-table moving into round 20.
The Dragons believe interest in their two vacant positions will be high given the club's heritage and roster.
The Dragons remain locked in a dogfight to secure a place in this year's finals.
Saints are on 20 competition points along with Manly, Canberra and Sydney Roosters.
The Dragons face second-placed North Queensland at Jubilee Oval, Kogarah, this Sunday afternoon.
Griffin has one year remaining on his current deal.
There are some at the club that want St George Illawarra to consider bringing Dean Young (North Queensland assistant) and Ben Hornby (Souths assistant) back to the club after Griffin's tenure has completed.
Originally published as NRL 2022: James Graham joins coaching casualty list at St George Illawarra Dragons