NRL 2022: Gold Coast Titans winger Jamayne Isaako reveals Broncos coach Kevin Walters' snub
Kevin Walters has come under fire from spurned Gold Coast star Jamayne Isaako – who says he was 'wiped' by the Broncos coach after defecting from the club.
Isaako will face off against the Broncos club he walked out on for the first time in Friday night's M1 derby at Suncorp Stadium.
It has been two months since Isaako was released from his Broncos contract to take up a short-term deal with the Gold Coast Titans before he joins Redcliffe expansion club the Dolphins next year.
Isaako, 25, became the first Broncos player to defect to the Dolphins when he inked a three-season deal in December last year ahead of Redcliffe's 2023 NRL launch.
Stream every game of every round of the 2022 NRL Telstra Premiership Season Live & Ad-Break Free During Play on Kayo. New to Kayo? Try 14-days free now >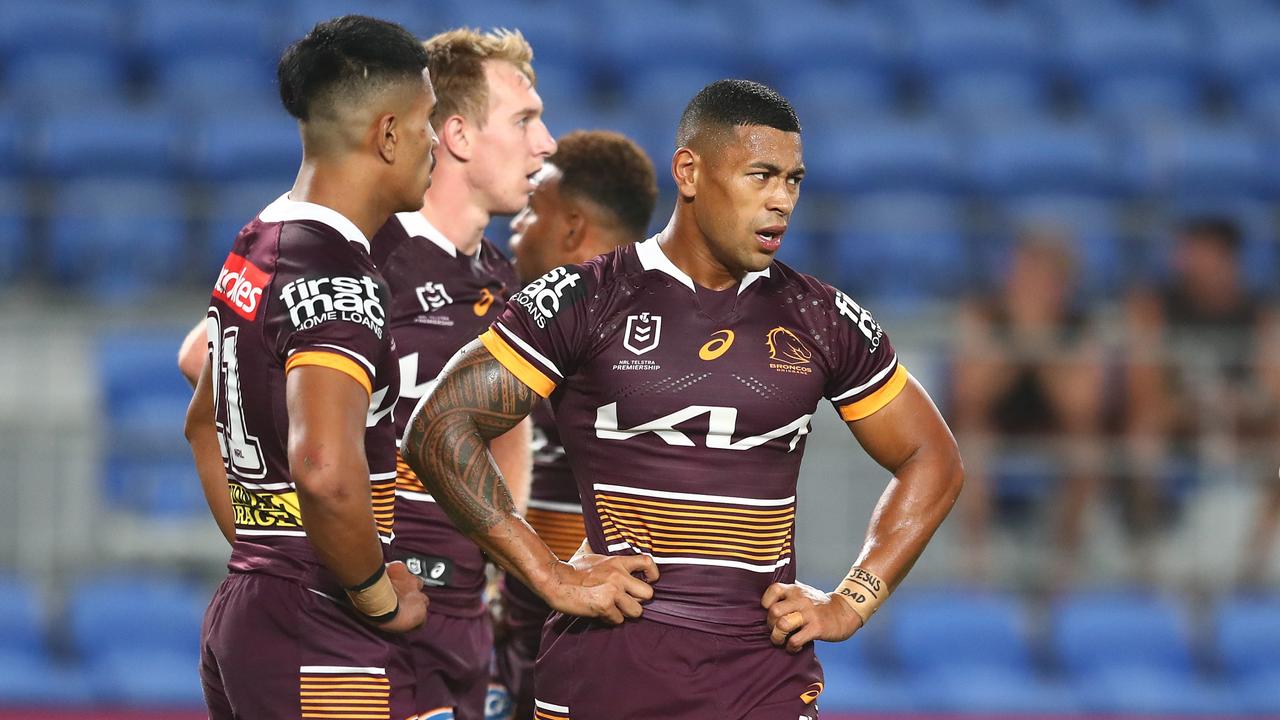 Jamayne Isaako was the first Broncos player to commit to Brisbane rivals the Dolphins. (Photo by Chris Hyde/Getty Images)
According to Isaako, that is when his relationship with Walters and the Broncos turned sour.
"I felt like he did (wipe me) a little bit," Isaako said.
"I signed with a rival club. I don't know whether that made him happy or not. At the end of the day, I was trying to do what's best for me and my family.
"My manager (Jim Banaghan) and I had asked the club whether or not there was a position for me there for the future. From what I got told, they weren't too sure.
"I had to make a decision what was best for my family and I, and I came to that."
Isaako started at fullback in round 1 due to Tesi Niu's hamstring injury but was dropped after Brisbane's upset win against South Sydney, which proved to be his 77th and final game for the Broncos.
On the outer at Red Hill, Isaako sought a release to join the Titans for the remainder of the 2022 season.
While the Gold Coast are sitting in the bottom four, and Brisbane is fifth, Isaako said he was receiving the coaching he wanted at the Titans.
"I just didn't feel like I was getting anything from any of the coaching staff there," he said.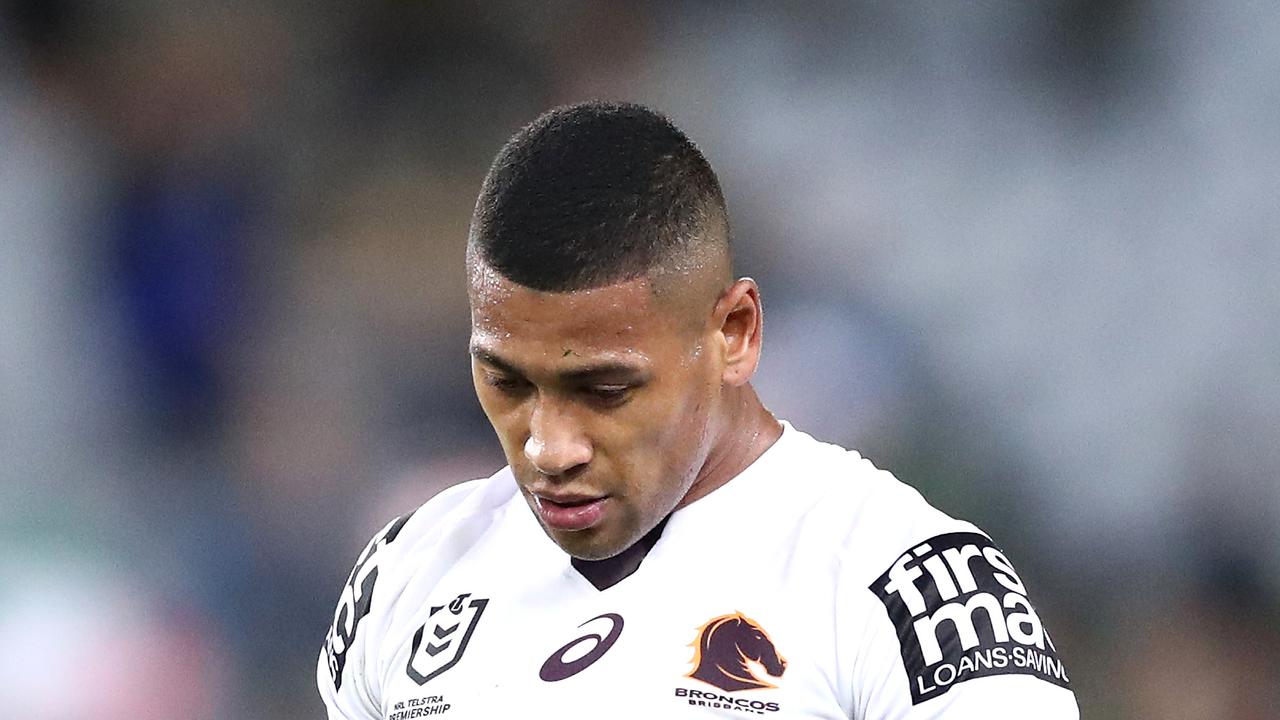 Isaako fell out of favour at the Broncos under Walters. (Photo by Mark Metcalfe/Getty Images)
"I was just turning up to training every day (and not improving).
"There were players they were wanting to keep and I obviously wasn't one of those. I had to explore my options elsewhere.
"At the time, I wanted to be somewhere where I was going to be coached properly and get the advice I needed as a player. Coming off the back of a tough and gruelling pre-season, I thought I wasn't getting that.
"There were a couple of players they wanted to keep and being an older head in the team, I knew my time was up there.
"I thought it was a great opportunity to come to the Titans. I'm getting everything I need from Justin (Holbrook) and the coaching staff.
"I'm just looking to play some good footy for these blokes and finish the year on a high."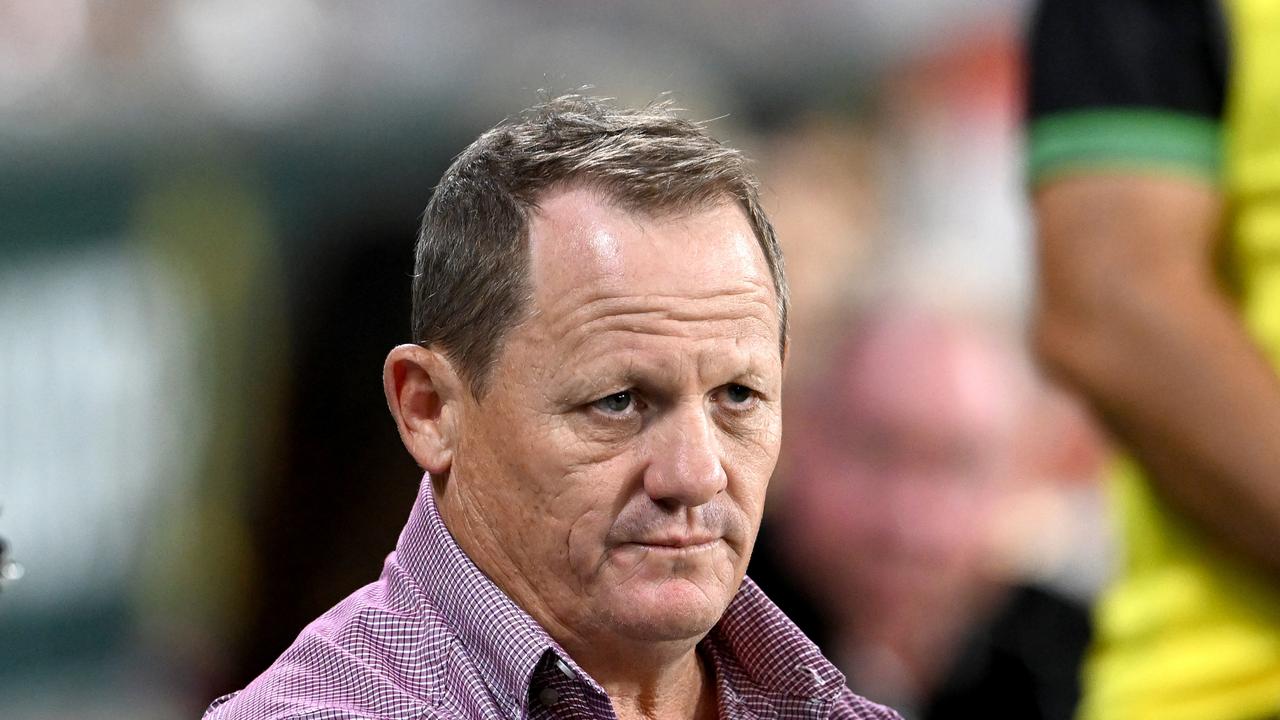 Walters has enjoyed considerable success this season in turning Brisbane's form around. (Photo by Bradley Kanaris/Getty Images)
Walters hit back at suggestions he wiped Isaako and said he was part of Brisbane's plans in 2022 before seeking a release.
"I'm a bit sad and disappointed if Jamayne feels that way, but it was never my intention to make Jamayne feel that way," Walters said.
"Jamayne came to us seeking a release. We didn't want to stand in his way.
"When a player comes and asks you for a release, it's always difficult to convince them to stay. We didn't force Jamayne out, we were happy for him to stay, but he came to us wanting a change.
"I'm not the type of person to hold grudges. Jamayne will always be a Bronco, he has his club number, he played some great footy here and we will always appreciate what he did for the Broncos.
"But it's the nature of footy in this day and age that players may look for opportunities elsewhere and we weren't going to stand in his way.
"I wish him all the best and I hope he plays well for the Titans before his move to the Dolphins."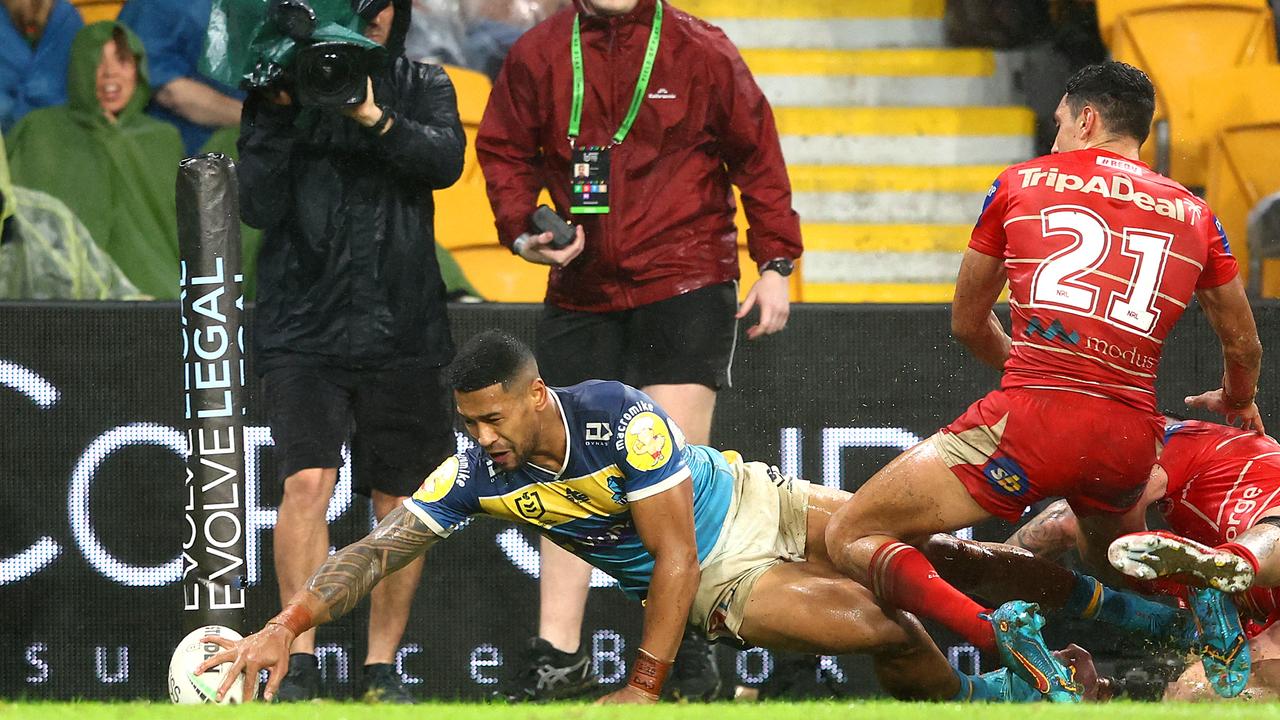 Isaako scored the Magic Round matchwinner for the Titans. (Photo by Chris Hyde/Getty Images)
While he wasn't in Walters' best 17, Isaako may have cost himself a chance to play finals football this year by leaving the Broncos.
Brisbane is gunning for a sixth straight win before the Origin bye while the Titans have only won one of their past seven games.
A loss to the Broncos will make it a daunting task for the Titans to finish in the top eight, but Isaako hasn't lost hope.
"It's been a rollercoaster of a year," Isaako said.
"It has been pretty frustrating being in and out of the team. I've been trying to put my best foot forward to get some wins for the boys and put ourselves in a better position.
"I just want to play some good, consistent footy. Now I'm back on the wing and the spine is back together that has been training all pre-season...I'm hoping to play consistently."
And he can't wait to face off against his former Broncos teammates.
"I'm looking forward to coming up against some old mates. They are going really well," he said.
"I was there from 2015 and I will always have a soft spot for the Broncos.
"I made my debut there and they've done a lot for my family and I. I moved over here on my own. They housed me and looked after me.
"At the same time, most players are starting to realise it's all business. Sometimes you've got to do what's best for yourself."
Originally published as NRL 2022: Gold Coast Titans winger Jamayne Isaako reveals Broncos coach Kevin Walters' snub