NRL 2022: Cobbo the new Lote Tuqiri says Wendell Sailor
Wendell Sailor likes the potential of one of Brisbane's young stars but there's a missing ingredient holding back the team, writes Robert Craddock.
Wendell Sailor believes Selwyn Cobbo will have a long State of Origin career but the Broncos need a defensive hit man to bring the fear factor back to Red Hill.
Sailor, a four-time premiership player with the club, is excited by the potential of Cobbo but feels the team needs a forward enforcer to make the road easier for its emerging talent.
"No-one fears the Broncos,'' Sailor said.
"Payne Haas is a terrific player and he does a lot of hit-ups and tackles but he is not going to cut you in half like a Petero (Civoniceva) or a Shane Webcke.
"You just think the Broncos will always give you a chance because you are not scared of them.
Stream every game of every round of the 2022 NRL Telstra Premiership Season Live & Ad-Break Free In Play on Kayo. New to Kayo? Try 14-Days Free Now >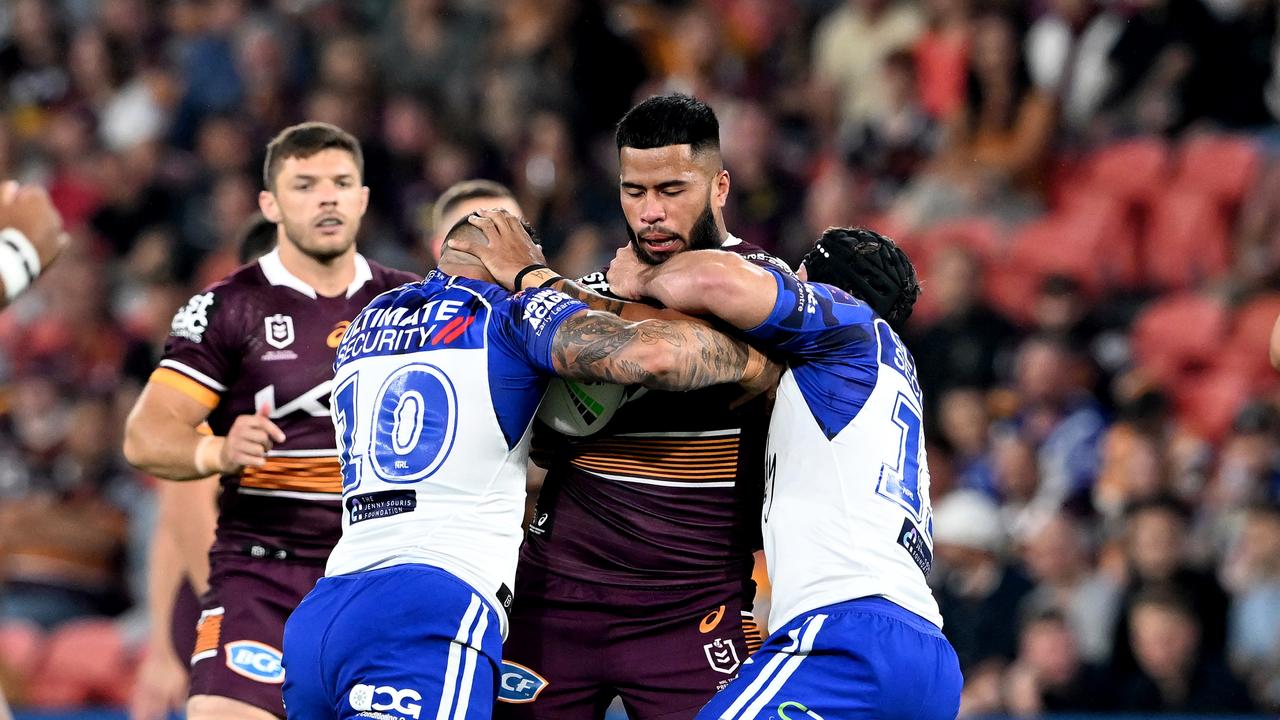 Payne Haas is an enforcer for the Broncos, but they lack a feared hit man says Wendell Sailor. Picture: Getty Images.
"They need someone like a (Felise) Kaufusi. I was a massive fan of Jaydn Su'A and was surprised when he left (in 2020). He plays that sort of role and I think they could with that sort of player.
"You know when you play the Broncos they might go toe to toe with you with players like Kurt Capewell who is a good player.
"But there is no hit man like a Su'A, Peter Ryan or a Brand Thorn … someone who is going to tear you apart.
"Past Broncos sides were lucky in that they had guys like Gorden Tallis you'd think "I will get on the back of that.''
Sailor says Cobbo's potential is exceptional and while he is primarily making his mark at wing Sailor senses fullback could be his spot.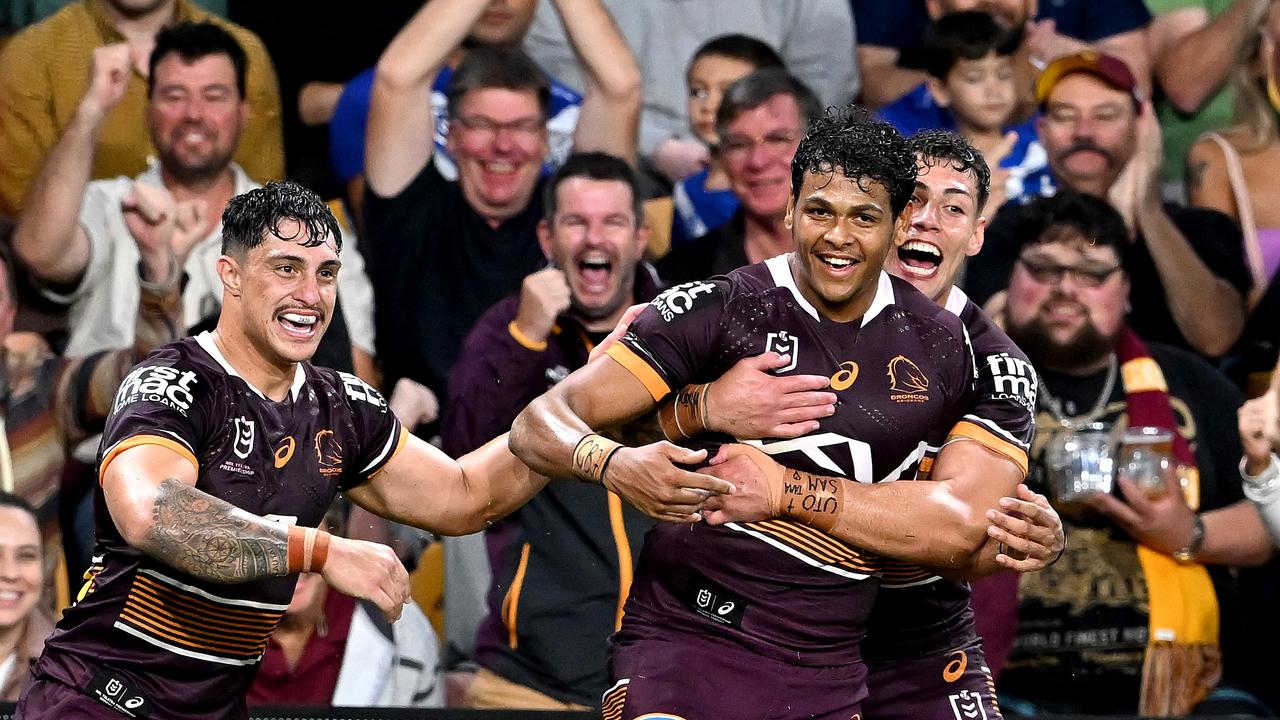 Sailor loves the potential of emerging stars like Selwyn Cobbo. Picture: Getty Images.
"Cobbo is so naturally gifted. I know they play him on the wing but I really think he could take the hits at fullback because he is such a skilful young player.
"He reminds me a bit of Lote Tuqiri in the way he has time on his side. I never had that. I had aggression, speed and a bit of attitude but not that time that some very special players have.
"Every time I watch Cobbo I get excited. I just think the kid has got game.
"There is no doubt he is made for Origin. Players who have time on their side are special.
Those young players get smashed but they find a way to score a try and get involved.''
The Broncos have been posted $3.60 outsiders against the Sharks on Thursday night but would only need to play with the intensity they brought against the Panthers and Roosters to be a puncher's chance of an upset.
Key forward Haas, who is battling a shoulder injury, did sprint work apart from the main group and training on Monday but no decision has been made on whether he will play.
ONLY WAY BRONCOS CAN STOP SHARKS' 'MINI MENINGA'
Tackling guru Trevor Gillmeister has dubbed Cronulla sensation Siosifa Talakai a "mini Mal Meninga'' and believes Broncos defenders should adopt a boxing stance to foil him.
In a NSW State of Origin selection showdown which Broncos five-eighth Tyson Gamble branded "the battle of the beasts,'' Talakai will take on Broncos Kotoni Staggs at Suncorp Stadium on Thursday.
Talakai, who worked as a garbage collector after being axed by South Sydney, has become the talk of the NRL after a sensational start to the season including a one man annihilation of Manly last week studded with one of the most outstanding first half performances of recent times.
Talakai's pace, power, deft footwork and firm fend has sent defenders pin-balling in all directions taking Gillmeister back to the 1980s when Mal Meninga was providing similar challenges for exasperated rivals.
"He is like a miniature version of Mal – they might need a baseball bat,'' quipped Gillmeister, one of the game's most experienced defensive coaches.
"Trying to tackle Mal and players like him was very difficult. You can't always do it but if possible you are best to try and hit them side on. It's tricky. If you go down too early on them they drop down and bump you so you have to go low and late.''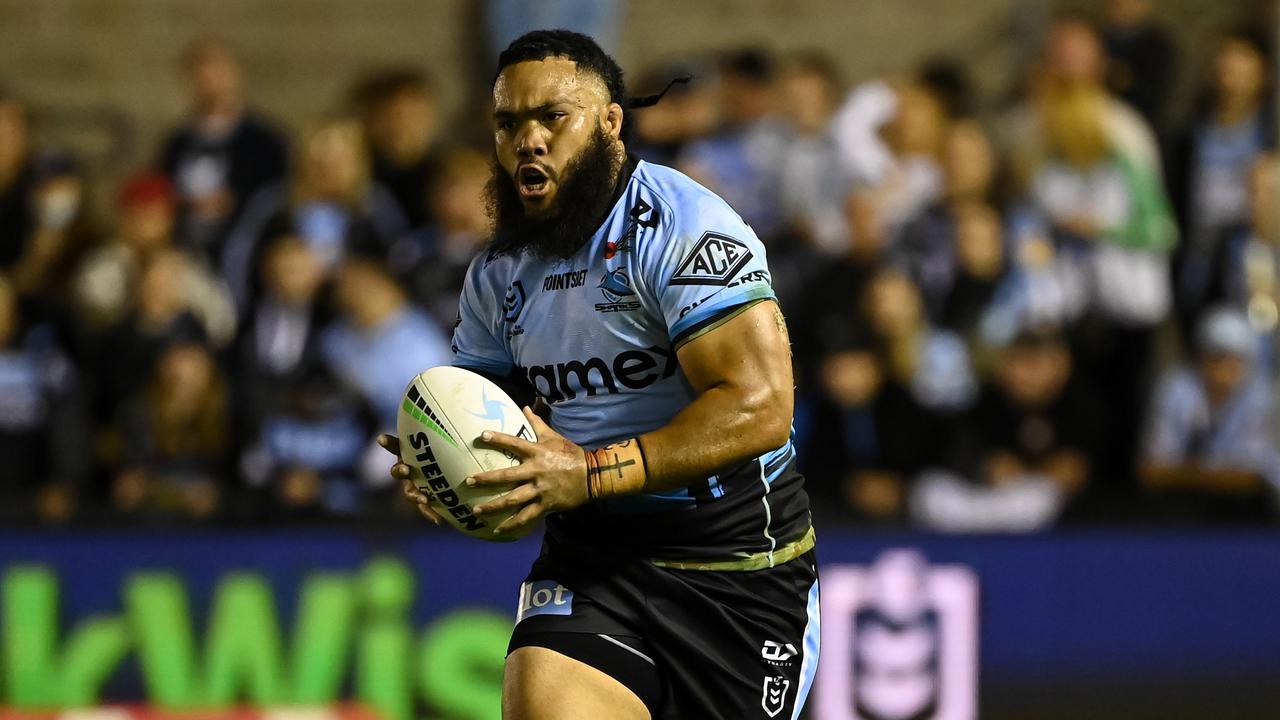 Siosifa Talakai is the most damaging ball runner in the game.
While the placement of the upper body is seen is the key part of a tackle Gillmeister says footwork is also critical to stopping Talakai.
"If you have your feet side-by-side a guy like Talakai will sit you on your arse. You need to have a boxing stance where you have one foot behind the other where you can absorb the impact and come at them again.
"There is only a split second in it. But you need to stand like that to tackle a nugget like him because he has got a bit of footwork as well so you need to absorb the contact.''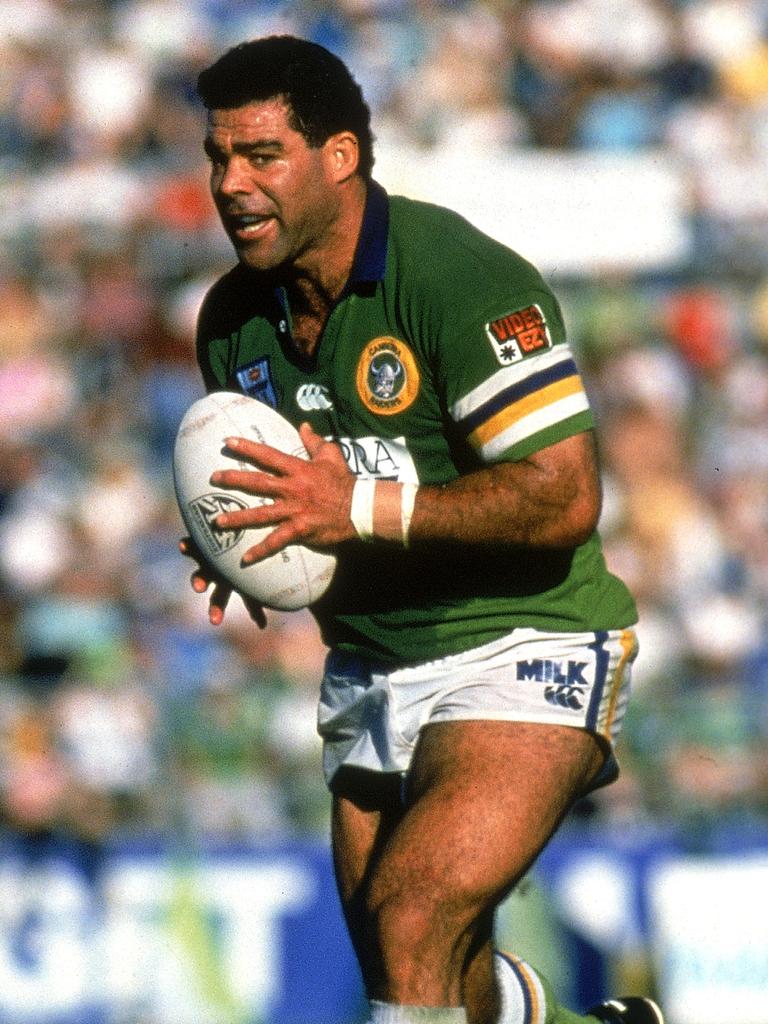 Mal Meninga was a force of nature. Picture: Getty
Gillmeister said the changing trends in tackling techniques had played a role in Talakai's domination of rival defenders.
"Years ago if you could not tackle one-on-one you would not get a game. Now the trick is to get in early and hold on until the other guys arrive. But a player like Talakai can hurt you. Players are not taught to make one-on-one tackles and he will find them out.
"I don't have any sympathy for them. If you cannot tackle one-on-one then rugby league is not your game mate.
"Having said that it is no shame to be sat on your arse. I had that happen to me plenty of times but you have to react and think what you did wrong. Often I realised it was because I had to go lower and later so I would pretend to go high and drop down.''
"Guys like him want you to tackle them high so they can bump you off. Going low and late is the best way. Get under the ball.''
Even teammates are looking forward to the Staggs-Talakai battle.
"It is going to be a good one to watch,'' Gamble said. "It is going to be a good battle. They are both in form. Talakai killed it on Thursday and Tones has been Tones the last few weeks. He breaks tackles. It's the battle of the beasts.''
How JT inspired comeback kid
- Peter Badel
Broncos' accidental hero Te Maire Martin wants the No.1 jumper for the long haul, revealing how some words of support from Cowboys legend Johnathan Thurston inspired his stunning NRL comeback.
Martin was flawless at fullback in his Broncos debut in Friday night's 34-14 defeat of the Bulldogs — almost three years to the day since he suffered a brain bleed playing against the same opponent at Homebush.
When Martin walked off Stadium Australia on April 26, 2019, the last thing he expected was a grim diagnosis of his brain that would trigger his NRL retirement.
Playing for the Broncos one day? Not in a million years.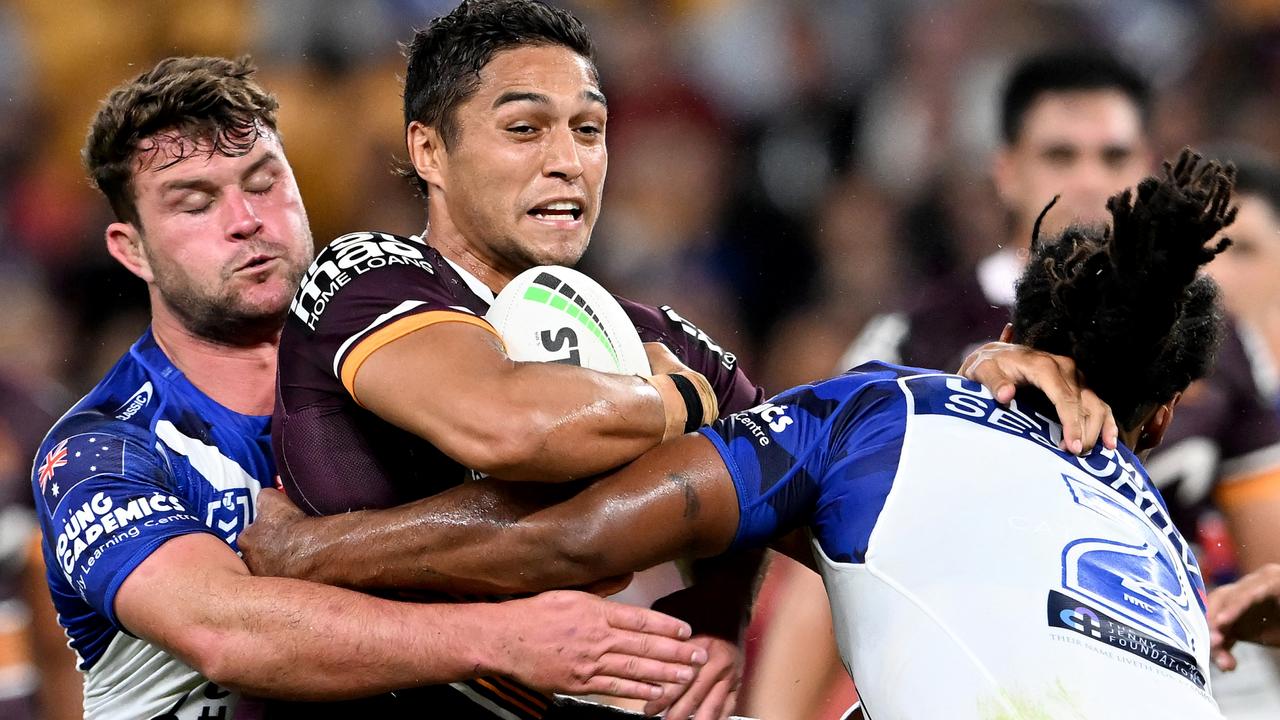 Te Maire Martin had a strong game against the Broncos (Photo by Bradley Kanaris/Getty Images)
So when he suddenly found himself in the Broncos' No.1 jumper once worn by club legend Darren Lockyer, Martin was a nervous wreck until he had a chance meeting in the bowels of Suncorp Stadium with Thurston, who was covering the Bulldogs clash for Channel 9.
The pair were Cowboys teammates. When Thurston busted his shoulder in 2017, Martin stepped up with Michael Morgan and swept the Cowboys to that year's grand final. Thurston's simple message gave Martin confidence he still belonged in the NRL.
"I was pretty nervous before the game," said Martin, playing his first NRL game in 1092 days.
"I ran into 'JT' and he came up to me, gave me a big hug and said, 'Congrats, you will be alright out there'.
"Once I got my first run out of the way and my fist catch, I was all sweet after that."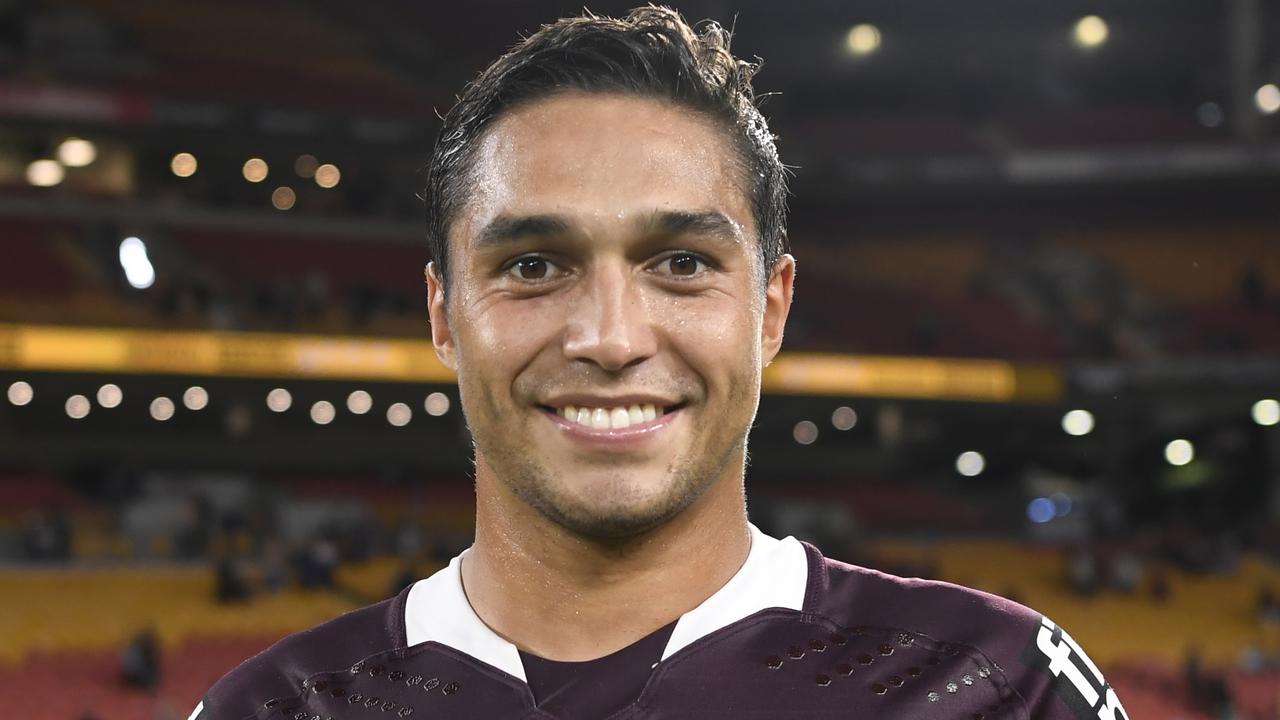 Broncos fullback Te Maire Martin. Picture: NRL Images
Remarkably, Martin looked like he'd never been away. In his 56th NRL game, the 26-year-old was safe under the high ball and produced three trysaving tackles in defence to show his brain ordeal has not affected his courage in collision situations.
Indeed, the only thing more frightening for Martin than tackling a 100kg NRL forward is the thought of being alone.
"I have missed heaps of things about the game, mainly being in a team environment," he said.
"When I went home, I was doing a lot of things by myself, pig hunting and talking to my dogs, but being around the boys every day is pretty cool.
"I remember running out and hearing the crowd ... you take it for granted until it's all gone and I soaked all that up after the game.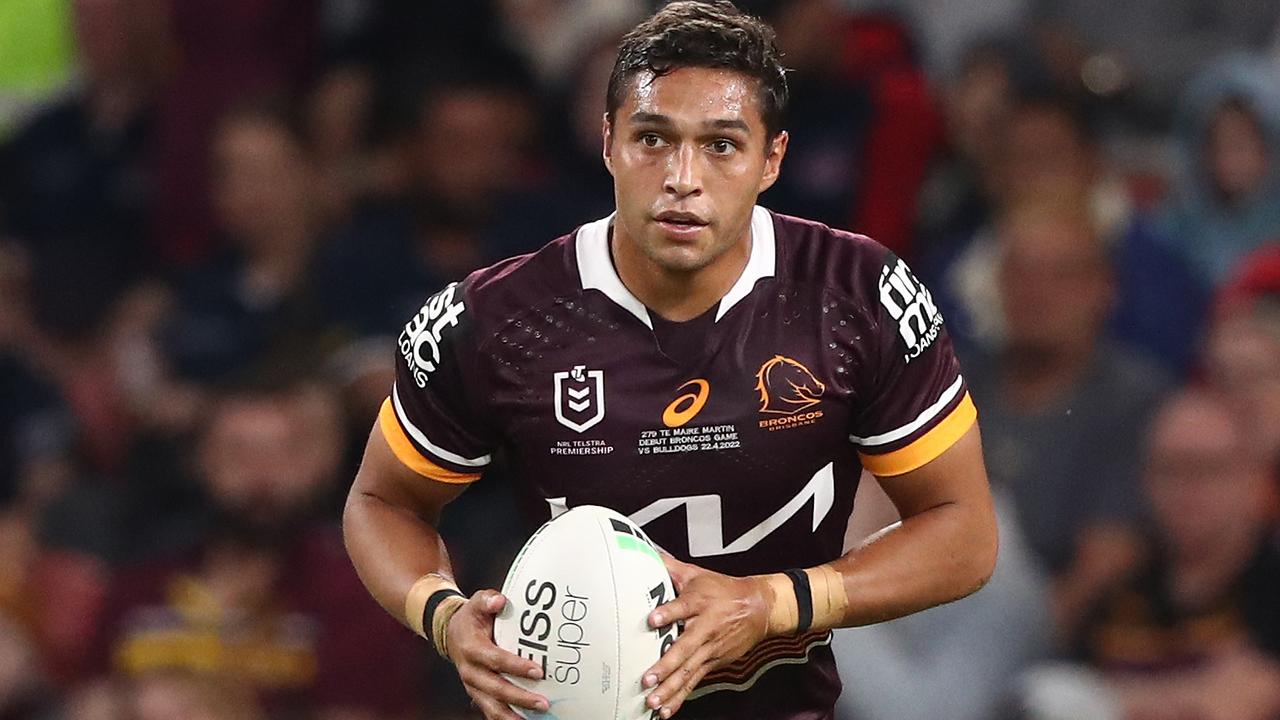 Te Maire Martin wants to make the fullback spot his own at the Broncos. Picture: NRL Images
"Singing the team song, you don't know when it will be your last one. It can get taken away from you so it's made me appreciate these times and not take it for granted."
With first-choice fullback Tesi Niu (hamstring) sidelined for at least 10 weeks, Martin is confident he can step up in the No.1 jumper.
"There's a lot of stuff I still have to learn," he said.
"The main thing any good fullback needs to have is good fitness and if you have that and you set the 'D' (defence) line up, you are doing your job.
"Anything else like try assists or tries is just a bonus.
"A full-back's main job is to set the line up and get the numbers where they need to be. I am still learning that, putting myself in the line and where to put numbers, but it's fun and being on the back of some of our forwards is good."
Originally published as NRL 2022: Cobbo the new Lote Tuqiri says Wendell Sailor