NRL All Stars: Shaquai Mitchell opens up on Indigenous selection and 55kg weight loss
Shaquai Mitchell weighed a staggering 175kg in 2018 playing for Wyong Roos — now he's lining up for the Indigenous All Stars and hoping to catapult into the NRL.
Shaquai Mitchell has shed a remarkable 55kg and is now ready to escape the vast shadow cast by his superstar younger brother.
It's all been made possible through an online fitness program drafted by an Australian fitness guru living in Canada.
The rising South Sydney front-rower and older brother of Latrell Mitchell has been selected in the Indigenous All Stars side for Saturday night's big match against the Maori All Stars at Parramatta.
Shaquai, 25, said he weighed a staggering 175kg in 2018 when playing for Wyong Roos on the Central Coast. With the online help of Jase Stuart, a Vancouver-based Australian dietitian and personal trainer, Shaquai now weighs 119kg.
Feeling fit and mobile, Shaq is ready to show fans that Latrell isn't the only Mitchell family member to excel. And he hopes All Stars selection will help catapult him into South Sydney's NRL side this year.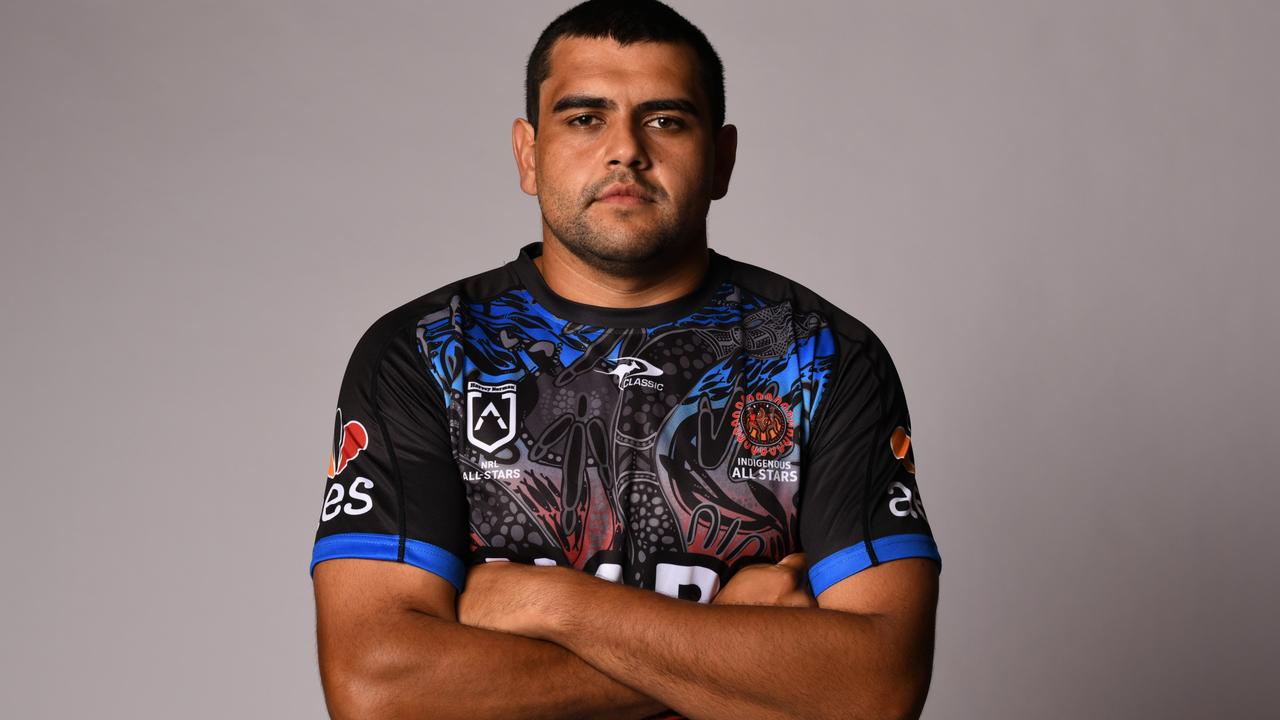 Shaquai Mitchell has been selected in the Indigenous All Stars side. Picture: Grant Trouville
"I want to show people that I'm a footballer just as much as my little brother," Shaquai said.
"If you meet me and Latrell personally, we're two completely different people and players. You will hopefully get to see that on Saturday night.
"Even though we're brothers – and there's only a year separating us – we are different. I have always wanted to play this game but (selection) wasn't in my wildest dreams.
"It's a big opportunity that has come up. I'm a bit overwhelmed and a bit nervous but I believe I'm ready. I'm ready to have a good crack at it, just through all the hard work, through all the training.
"It's a bit scary but a good way to start off the year."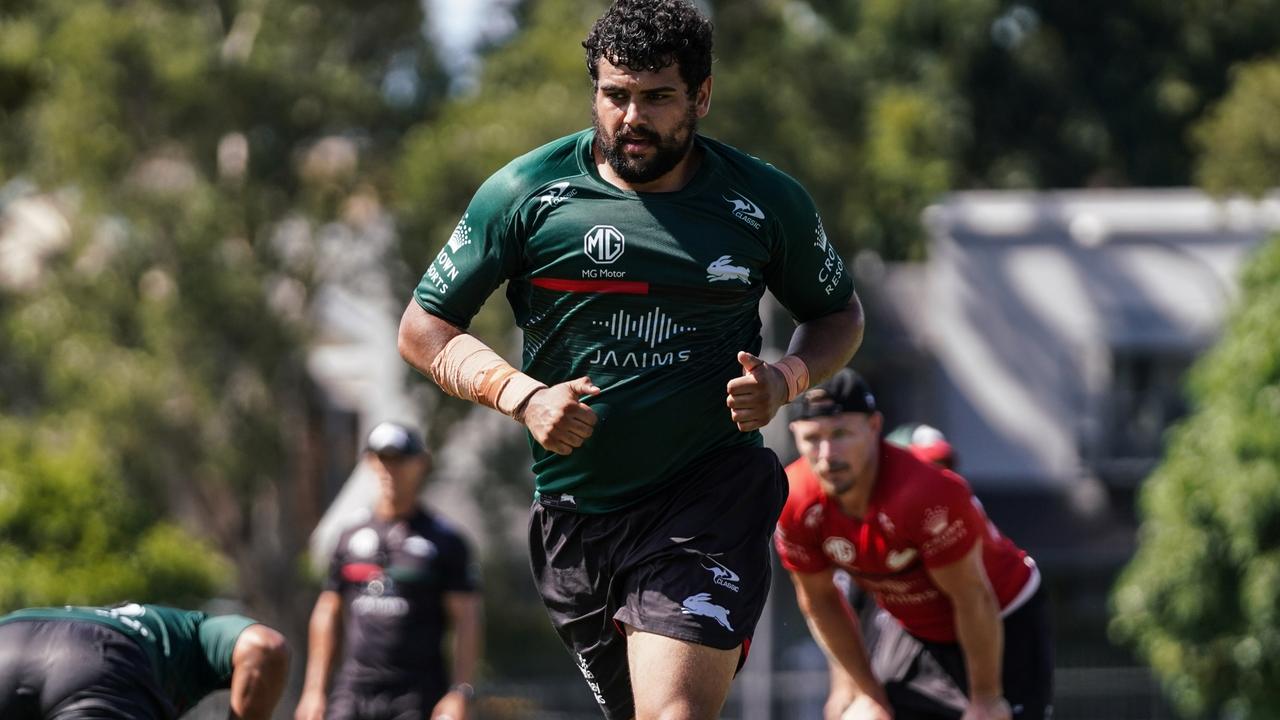 South Sydney Rabbitohs player Shaquai Mitchell at training. Picture: Sunny Brar/South Sydney Rabbitohs
The player hoping to shine on Saturday night is a hell of a lot lighter than the front-rower from four years ago.
"I'm weighing in at about 119kg," Mitchell said.
"At my heaviest, I was 170kg to 175kg. That was in my Wyong years – 2017, 2018. I have lost close to 55kg. It was mainly training and diet. I got on to a program and trained four times a week in the gym. I was counting calories. I was on a calorie deficiency of 1800 calories a day."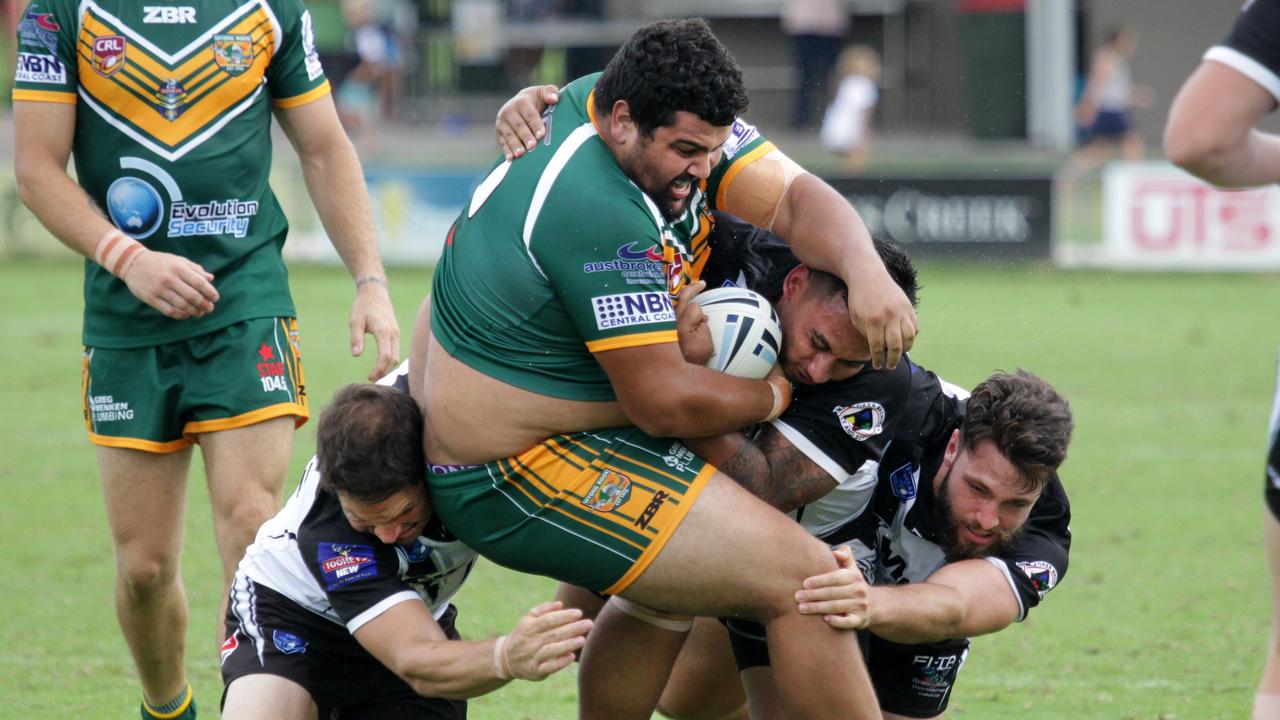 Shaquai Mitchell in action for the Wyong Roos.
Mitchell said Stuart's Better Body Fitness had helped changed his life.
"I have an online personal trainer, Jase Stuart. He's an Aussie based in Canada," Mitchell said. "He helps people around the world that have a similar situation as myself.
"I saw their transformations so I decided to jump on myself and I have never looked back. We connected on Instagram and Facebook.
"He has helped me a lot to change my lifestyle. He wants me to follow guidelines, don't treat them as rules.
"It was a training program to get me going and I went from there. Jase is a big footy fan himself. He told me if I miss a day then I have to make up for it. He was pretty good, he was lenient, and that made me feel comfortable. He didn't ever blow up at me.
"I finished the program when I went into full-time training and our head of performance at Souths (Travis Touma) has been helping me a lot as well. It's been awesome."
Due to Latrell's NRL suspension, Mitchell will be denied the chance to play alongside his brother.
Mitchell started at Souths in 2020 but has played little footy because the NSW Cup competitions were essentially cancelled over the past two years because of Covid.
He has just completed his first full off-season and Souths officials described his new body shape as "unbelievable".
Shaquai Mitchell has completed his first pre-season with the Rabbitohs. Picture: South Sydney Rabbitohs
Indigenous All Stars coach Laurie Daley is pumped to watch Mitchell step out in such a big game.
"Shaq is a front-rower who has great skills for a big man," Daley said.
"He had a little issue with his weight but has lost a few kilos while training with the Rabbitohs in the off-season.
"I spoke to Jason (Demetriou, Souths coach) and he said Shaq wouldn't let us down. Jason has been really impressed with how Shaq has been able to apply himself pre-season.
"This game over the last few years has produced guys who haven't played a lot of first grade, guys like Josh Kerr and Jamayne Taunoa-Brown. Some have never played first grade but have been given an opportunity and they have kicked on."
The All Stars match kicks off at 8.10pm on Saturday at CommBank Stadium.
Pasami Saulo: From career in jeopardy to All Star
By Michael Carayannis
Pasami Saulo will run out for just the second time since a horrific injury left his ankle in the wrong direction when he takes the field for the Maori All Stars on Saturday.
The Newcastle forward was left in agony when he suffered a broken and dislocated ankle playing reserve grade last May. Not only was his season in tatters but there were concerns for the career of the 23-year-old.
"I was gutted when it did happen," Saulo said. "I was in shock. I knew how to deal with the pain. I've had a few injuries in the past.
"It was pretty painful and I felt all this pressure in my leg. I had that feeling to look down straight at it. It didn't look right. I had to find a way to take my mind off it instead of the pain."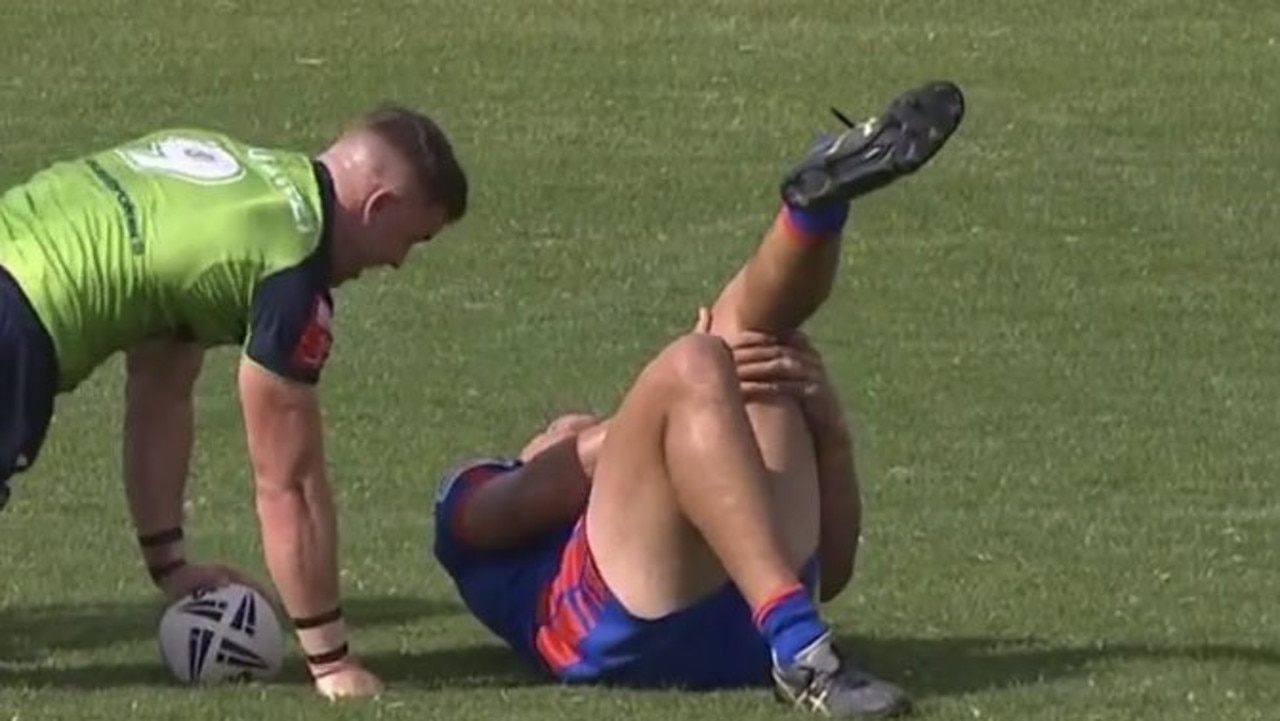 Newcastle Knights player Pasami Saulo suffered a serious injury last year. Credit: Supplied.
But Saulo fought back. He made his way all the way back into the NRL and played in Newcastle's final regular season game.
"The recovery time wasn't even that bad," Saulo said. "It was a happy moment playing that last game.
"I was a bit nervous but the injury was fine because I knew i had done the work. We did a scrimmage before the game. It was such a surreal moment running out again."
Saulo was again left searching for words when Maori coach David Kidwell called to tell him of his inclusion. He played in the 2020 match but given his injury run he felt great satisfaction this time around.
"I was proud to play the last game of the season but to be picked for the Maori team is unbelievable," Saulo said. "I know my family is really happy and proud."
Injuries have restricted Saulo to just 16 matches in five seasons.
"My goals are pretty high," Saulo said. "Making the Maori's is a big tick. I want to be better than I have been the last few years and play the whole season in the NRL. I want to be making rep teams."
While Saulo is excited about running out again on Saturday two of his Newcastle teammates will be missing from the clash. Dane Gagai – who has represented the Maori and indigenous teams – said he was unable to choose one to play for.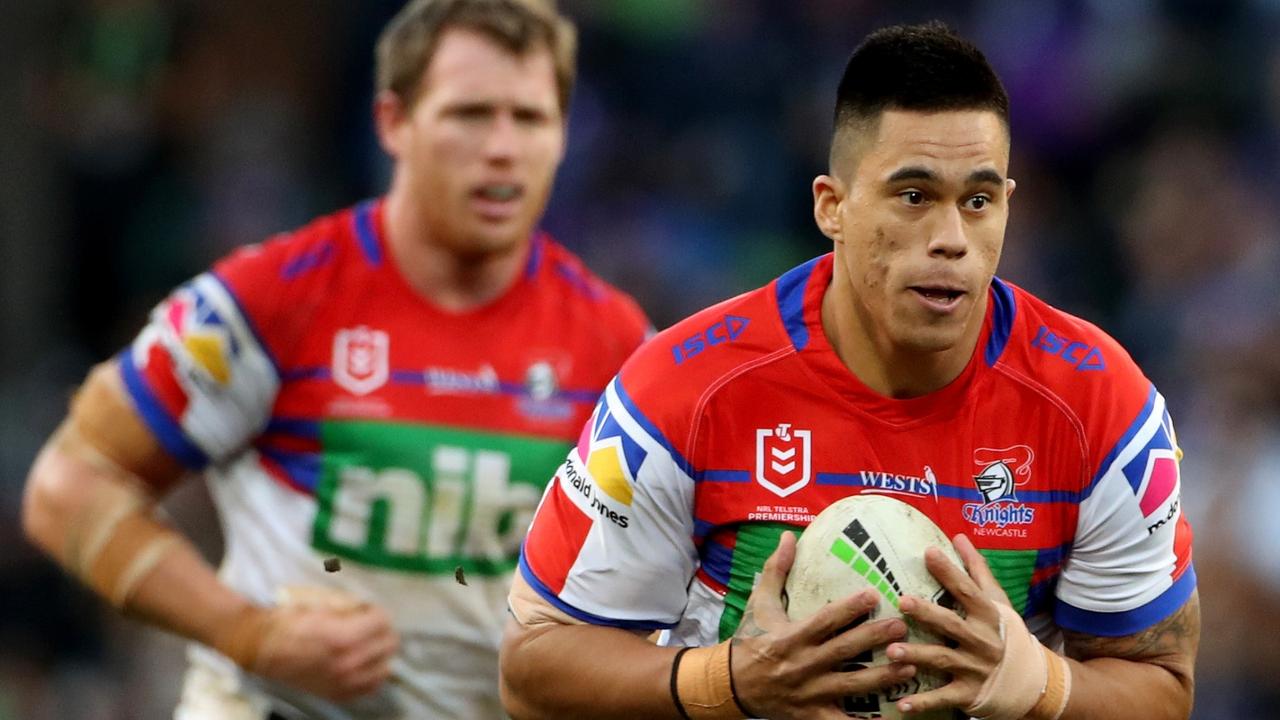 Pasami Saulo is setting his goals high. Picture: NRL Photos
"I have made myself unavailable for selection for the 2022 All Stars game," Gagai said. "The concept is great, I fully support it and love the game. I have represented both teams and while ever they play against each other, I won't chose one over the other."
Meanwhile, Newcastle's head of football Danny Buderus said injury had stopped Kalyn Ponga from playing.
"Like many clubs, Covid has caused significant interruption to our pre season training program," Buderus said.
Having missed a couple of full preseason's due to injury, Kalyn is determined to get as much pre season training as possible.
Kalyn knows what his body requires for a long season ahead and the levels required."
Meanwhile, the NRL has agreed to loosen some protocols for the match after speaking with the players' association. They include players who test positive for Covid-19 and are NSW based can return home to isolate. Players will also be allowed to leave their hotel to meet with family members in a public park but they must wear masks. Players can also order takeaway food.
Next Gen talent added to All Stars mix
Boom Broncos flyer Selwyn Cobbo will make his Indigenous All Stars debut as the NRL's next generation of talent was picked to replace the game's biggest stars.
Cobbo will be one of five Brisbane players featuring in Friday week's clash against the Maori All Stars at Commbank Stadium in Sydney.
The Cherbourg sensation will wear Indigenous colours for the first time alongside Broncos teammates Albert Kelly, Kotoni Staggs and Ryan James while TC Robati has been picked for the Maori team.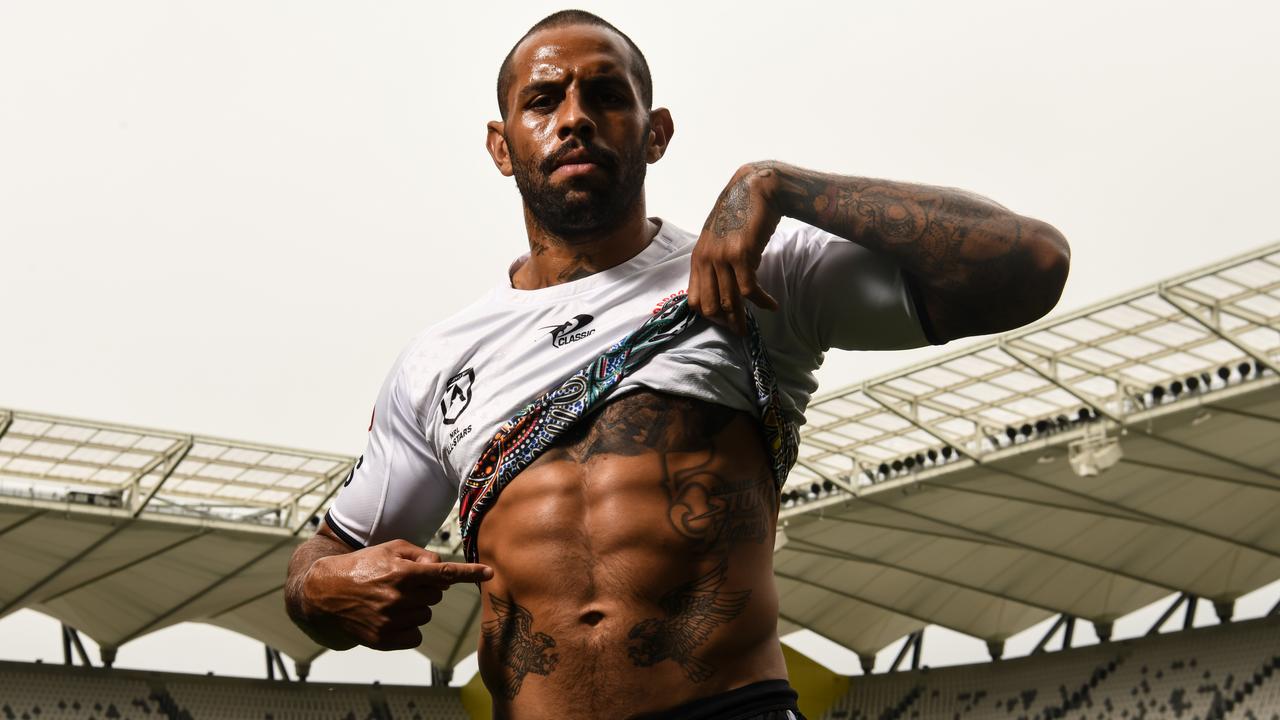 Josh Addo-Carr is among a strong line-up for the Indigenous All Stars. Picture: Grant Trouville/NRL Photos
Kelly will be making his All Stars debut for the Indigenous team along with Cowboys Origin speedster Hamiso Tabuai-Fidow and Cronulla's Nicho Hynes.
The Maori team will see former Roosters playmaker Jayden Nikorima, now with the Storm, make his comeback to the big stage after last featuring in the NRL in 2016.
Nikorima will play alongside brother Kodi in a Maori team headlined by James Fisher-Harris, Dylan Walker and Jordan Rapana.
Titans star David Fifita has committed to the Indigenous team alongside Bulldogs flyer Josh Addo-Carr and rising Sharks fullback Will Kennedy.
The Titans will boast four players in the Maori team in Kevin Proctor, Patrick Herbert, Erin Clark and Esan Marsters.
The game will be missing some big-name players with the likes of Latrell Mitchell (suspended), Cody Walker, Jack Wighton, Brandon Smith, Jahrome Hughes, Joey Manu and Kalyn Ponga not playing.
That has opened the door for the NRL's rising stars like Cobbo to get a taste of the big stage and showcase what they've got.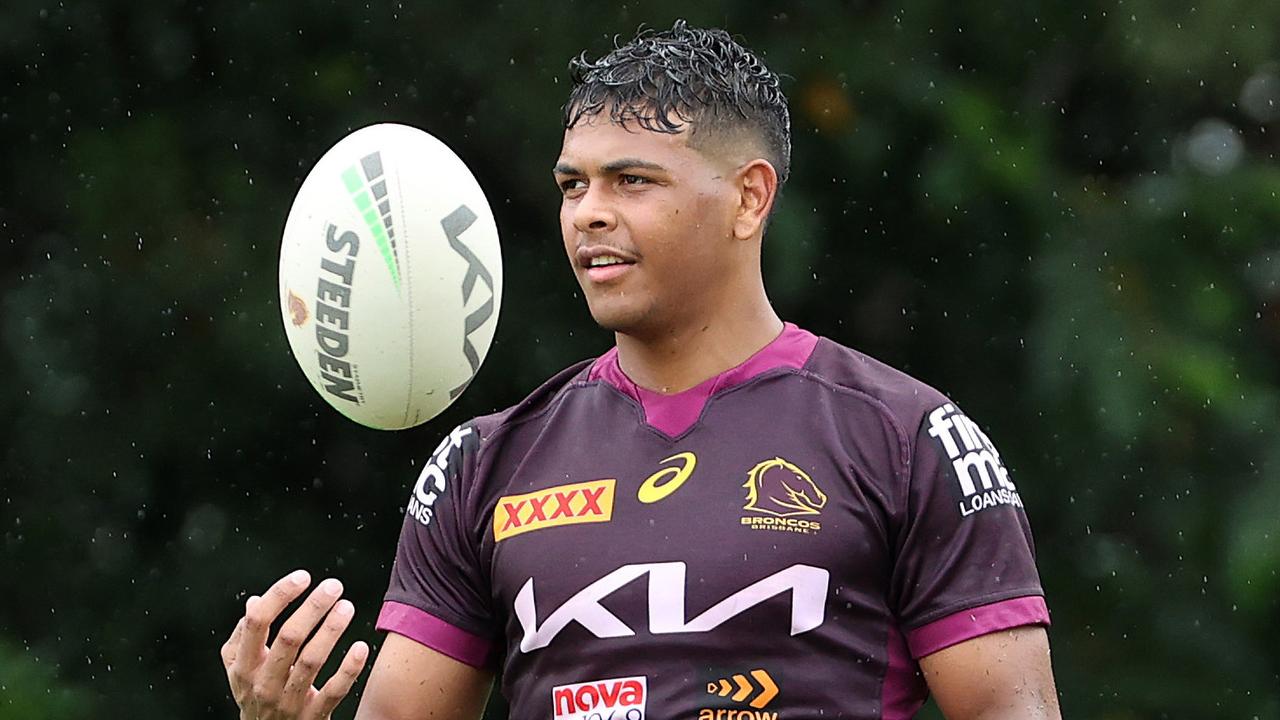 Selwyn Cobbo will make his All Stars debut in the Indigenous team. Picture: Liam Kidston
"There's definitely a fair bit of speed and excitement in this squad," Indigenous coach Laurie Daley said.
"Importantly we have a strong and proud group who will grow from the experience that is All Stars. We have some newcomers to the contest as well which gives us such an opportunity alongside others who are All Stars veterans.
"Our players will be very keen to learn about themselves, their teammates – and to also educate others. That's what makes this game so special."
The NRL has persisted with the All Stars concept despite Covid protocols needing to be put in place to help protect the health and safety of players.
The protocols were hit with resistance by some players and clubs, but the NRL has managed to put together two squads for the fourth instalment of the Indigenous-Maori clash.
Maori coach David Kidwell said his team was proud to represent its heritage.
"I'm so thankful to have a group of players who are honoured to represent their culture," he said.
"This is such an important week for the game and our players recognise this. They will all do what they can to represent themselves, their whanau and their iwi."