NRL 2022: Gold Coast coach Justin Holbrook shakes up Titans in bid to stop rot
The Titans' finals quest could be in tatters within a matter of weeks after a poor start to the season, which has led coach Justin Holbrook to reshuffle his line up in search for answers.
Toby Sexton admits the Titans have copped a "reality check" this season but he has urged Gold Coast fans to keep the faith following a brutal honesty session to kickstart their finals campaign.
The Titans' season is on the verge of critical following a 2-5 start to the year heading into Friday night's daunting showdown with the unbeaten Penrith at Cbus Super Stadium.
Coach Justin Holbrook has attempted to stop the rot by switching five-eighth AJ Brimson back to his preferred position of fullback, axing Jamayne Isaako and prop Jarrod Wallace.
Stream every game of every round of the 2022 NRL Telstra Premiership Season Live & Ad-Break Free In Play on Kayo. New to Kayo? Try 14-Days Free Now >
After a drought-breaking finals appearance last year, the Titans were tipped to continue their resurrection under Holbrook in 2022.
League legend Cameron Smith tipped the Titans for the top six and the club boldly claimed it wanted to win two premierships by 2030, such was their confidence.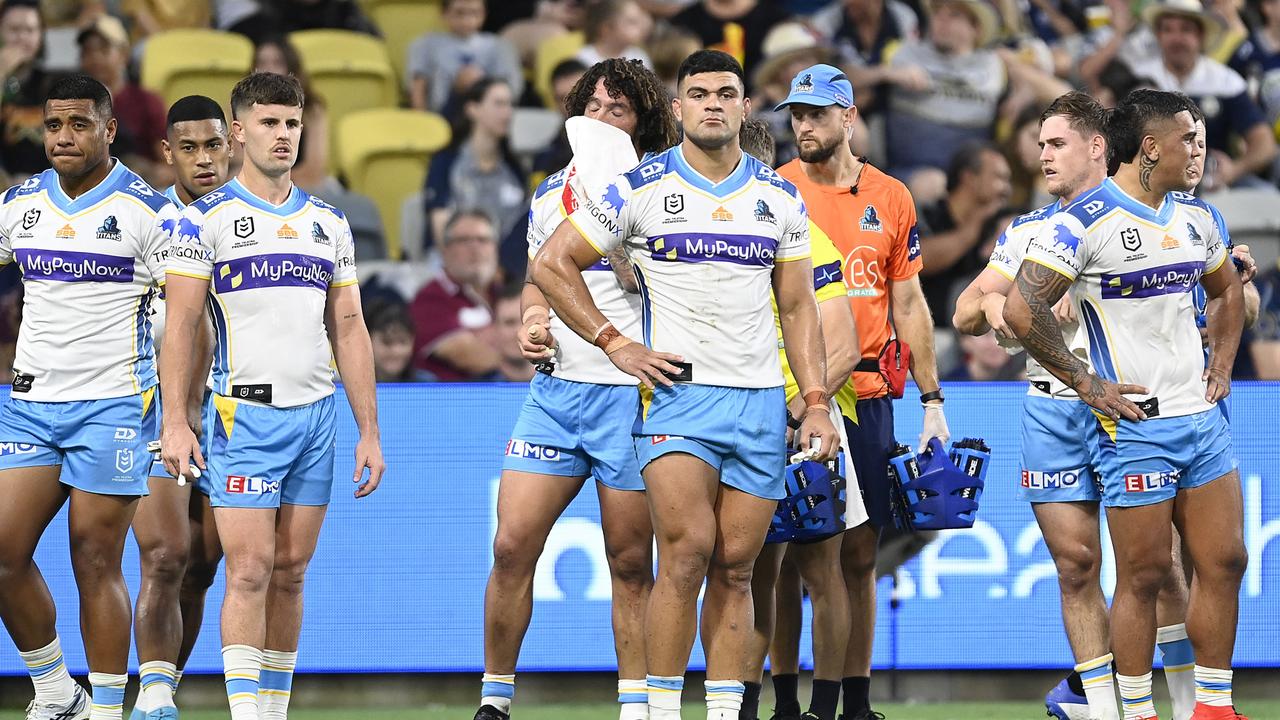 The Titans have struggled to produce their best form this season. Picture: Ian Hitchcock/Getty Images
But the Titans' finals quest could be in tatters within a matter of weeks, with tough games against premiers Penrith and the Roosters (in Mackay) to come.
Despite having the most favourable draw in the NRL, a 2-7 start to the year would be near impossible to come back from, even if the Titans are able to sneak into the top eight with a losing record like they did last year (10-14).
Sexton admitted the Titans' results had been a wake-up call following last year's finals fairytale.
"It's been a little reality check in a way," he said. "We would have liked to have started the season better, but it's only the start of the year and there's a long way left to change it.
"We are a young group and it's part of the journey. You're going to have your ups and downs. We're working really hard to try change that. We don't put all this ­effort in just to lose games.
"We are a very competitive bunch and want to win games. Just stick strong with us because it's going to change soon."
AJ Brimson will move back to fullback for the Titans' clash against Penrith. Picture: Ian Hitchcock/Getty Images
While they had registered scratchy wins against the Warriors and Tigers, the Titans had been in every contest this season until last Saturday's 30-4 capitulation to the Cowboys in Townsville.
The Titans had few answers to North Queensland's attacking brilliance as David Fifita's move to centre backfired emphatically.
The team replayed the Cowboys shocker on Tuesday morning and Sexton said while it wasn't pretty viewing, the Titans vowed to fix up their deficiencies.
"It was (brutal), it's been brutal all year," he said. "It was pretty upfront. That's what you need. We can't be forgetting about what's happened when it's not up to NRL standard and we've addressed that.
"The players are starting to lead a lot of the video sessions as well, which has been really good. We understand the areas we've got to be better at and have addressed them. Now it's a matter of putting them into action. A lot of it is our effort areas that are struggling.
"They are only minor details we've got to fix up. They're not massive problems, they're only minor things. If we can do that it'll go a long way to getting the results we want. Apart from last week, every game has been within six points. We've got to string a few wins together."
Toby Sexton is confident the Titans can turn their form around. Picture: Ian Hitchcock/Getty Images
After four games in his rookie season last year, Sexton's start to 2022 has been patchy as he gets accustomed to running a team in the NRL.
Holbrook released experienced playmaker Jamal Fogarty to the Raiders after last season, but Sexton denied he needed more on-field support.
"I don't think that's the case at all," he said. "AJ (Brimson) is doing an outstanding job at six. Just because we're losing, everyone is trying to find ways to improve us.
"I've got to go back to playing the game because I enjoy it and not having all that pressure on me."
Ruthless Cowboys expose Titans' big Fifita fail
The Cowboys are once again the kings of Queensland after disposing of the Titans to prove they are genuine NRL finals contenders in 2022.
David Fifita's move to centre backfired spectacularly as North Queensland continued its hot start to the season with a 30-4 win against the Gold Coast at Queensland Country Bank Stadium on Saturday night.
After a drought-breaking finals appearance last year, the Titans' rebuild is quickly unravelling with daunting games against the Panthers and Roosters to follow a sloppy 2-5 start to the season.
But it's a different story in Townsville for the Cowboys in coach Todd Payten's second season in charge.
They are the most improved team in the NRL this season and have the ingredients to be a finals force, having last qualified for the play-offs in their 2017 fairytale grand final charge.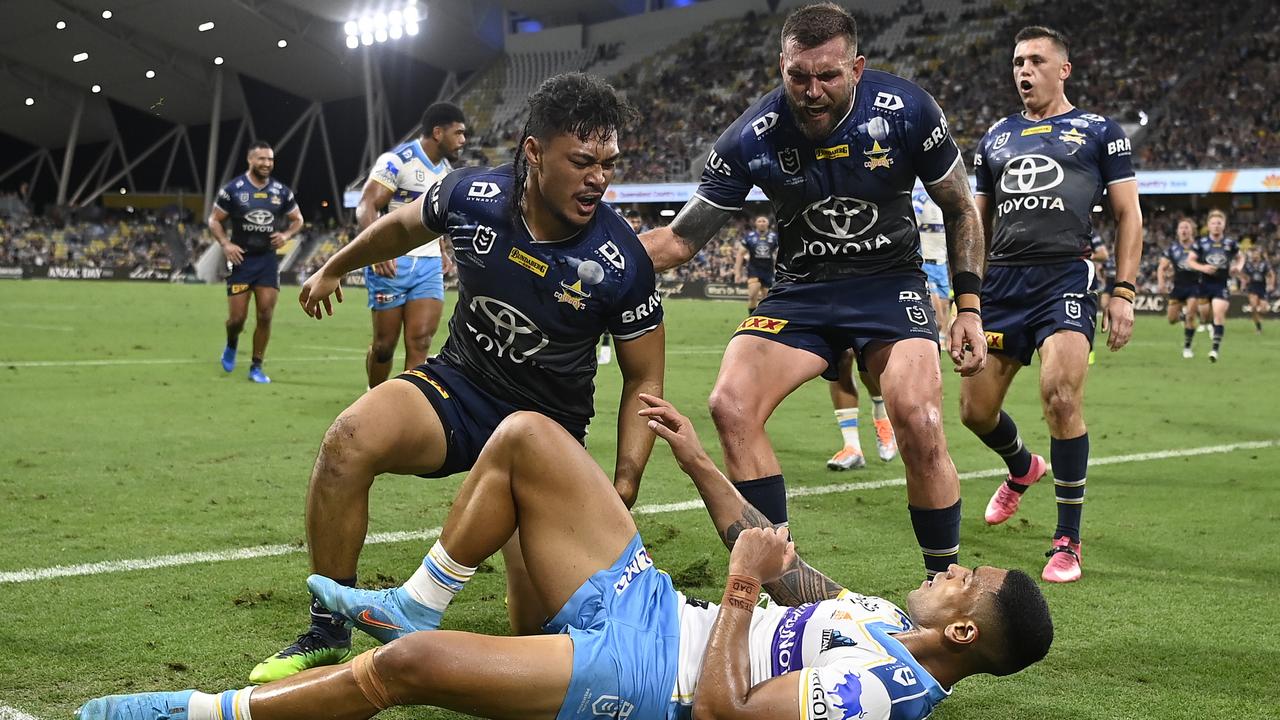 Jeremiah Nanai and Kyle Feldt celebrate another Cowboys try against the Titans. Picture: Ian Hitchcock/Getty Images
With the Broncos and Titans battling, the Cowboys are improving every week and on track to be Queensland's only finals team this year following four consecutive bottom four finishes.
"I'm really happy," Payten said.
"We showed a lot of character. We kept a really potent attacking team to four points.
"I'm loving the commitment the team are showing to each other. That's why we're sitting here smiling. We can't get ahead of ourselves. We need to improve."
COWBOYS IN CRUISE CONTROL
While the Titans are going backwards at a rate of knots, Payten's Cowboys are the NRL's team on the rise.
They have experienced campaigners in great form like Jason Taumalolo, Chad Townsend and Valentine Holmes to go with some of the NRL's hottest young talent.
Boom backrowers Jeremiah Nanai, who scored his seventh try of the season, and Heilum Luki, who iced the win in the 72nd minute, destroyed the Titans.
But it's not North Queensland's attacking spark that is the most impressive aspect of the 2022 Cowboys. If defence wins premierships then the Cowboys are on track to contend for a title in the not-too-distant future.
They went into this round as the second-best defensive unit in the competition, behind premiers Penrith, conceding an average of 15 points per game and improved that record.
The same couldn't be said about the Titans who are leaking an average of 23 points a week.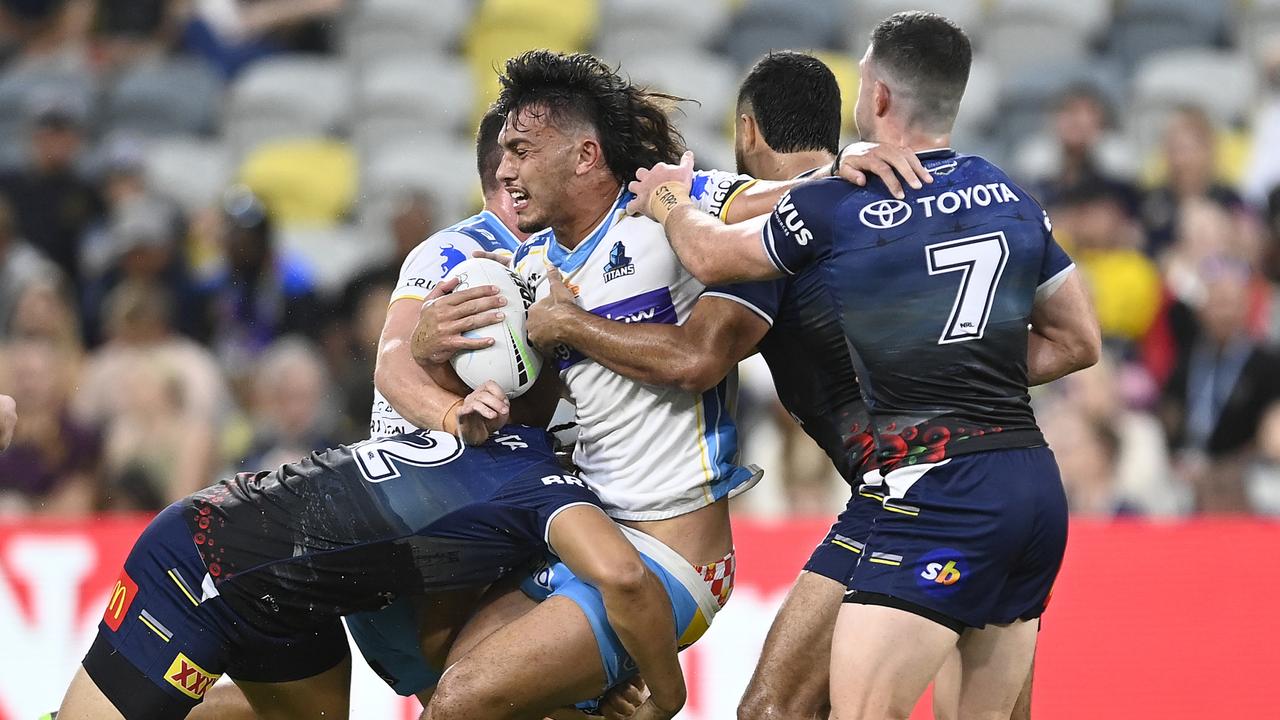 The Cowboys' defence was strong against the Titans. Picture: Ian Hitchcock/Getty Images
HOLBROOK'S $1 MILLION MISTAKE
What was Titans coach Justin Holbrook thinking playing Fifita out of position at centre?
Holbrook made a risky decision to switch Fifita and it backfired big time as the Cowboys exposed his lack of defensive experience in the challenging position.
Holmes wrong-footed Fifita early and he was completely bamboozled by Scott Drinkwater from a slick scrum play.
Holbrook forked out more than $1 million-a-season on Fifita because he believed he was the best young backrower in the game and it made little sense to move him following his two best games of the season.
"We had to do it for injury, but I also wanted to test it," Holbrook said.
"We've got to try things when we're not winning games. He had a limited preparation and it was a mixed bag obviously.
"We're not winning games so we've got to come up with what we think is right. We thought it was right but it clearly wasn't. We've got to think long and hard about the key positional areas where we're not doing enough."
After a one-game finals cameo last year, the Titans are clearly in trouble and their season could be on life support if they don't pick up at least one win in the next fortnight.
Young halfback Toby Sexton has no senior support and props Isaac Liu (37m), Jaimin Jolliffe (28m), Sam Lisone (55m) and Jarrod Wallace (13m) were murdered in the midfield battle.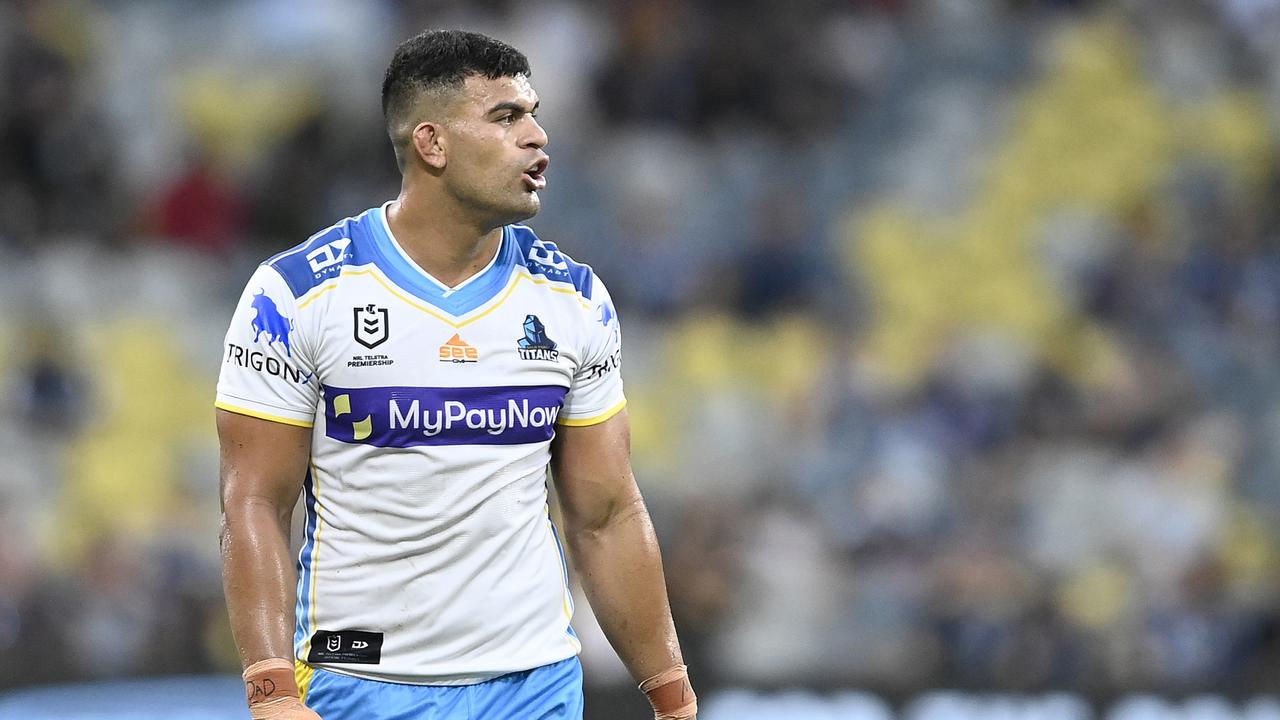 David Fifita's move to the centres backfired against the Cowboys. Picture: Ian Hitchcock/Getty Images
JUST A 'LOVE TAP'
Taumalolo played down concerns over his health after he appeared to suffer a head knock but didn't leave the field for an assessment.
Commentators were stunned after Taumalolo clashed heads with Liu, with replays showing he appeared dazed when dropping the ball.
"It's almost farcical, he was knocked out straight away," said sideline commentator Brent Tate.
"You could see his eyes, he dropped the ball. It's laughable."
The incident will likely be reviewed by the NRL but Taumalolo said there was nothing in it.
"Fine," he said when asked how his head was.
"It was a bit of a love tap. I flinched a bit and then was back on my feet. It's not a problem."
Taumalolo happy to carry Cowboys on his shoulders
Cowboys co-captain Jason Taumalolo insists he won't burn out and be forced into an early retirement if he continues the superhuman performances which have kickstarted North Queensland's NRL revival.
Taumalolo was back to his brilliant best in the Cowboys' comeback win against Canberra last week which helped North Queensland move into the NRL's top eight after six rounds.
The 2016 Dally M Medal champion ran the ball a staggering 25 times for 256m and made 30 tackles in a 71-minute captain's knock to help the Cowboys clinch their third win of the season.
After a horror 2021 campaign plagued injuries and speculation of a fallout with coach Todd Payten, Taumalolo has roared back to life in Townsville as the Cowboys look to snap a four-year streak of bottom four finishes.
In round 1 last year Payten raised concerns about burning out the barnstorming Taumalolo and outlined plans to manage the minutes of his most prized forward, whose 10-year Cowboys contract does not expire until the end of the 2027 season.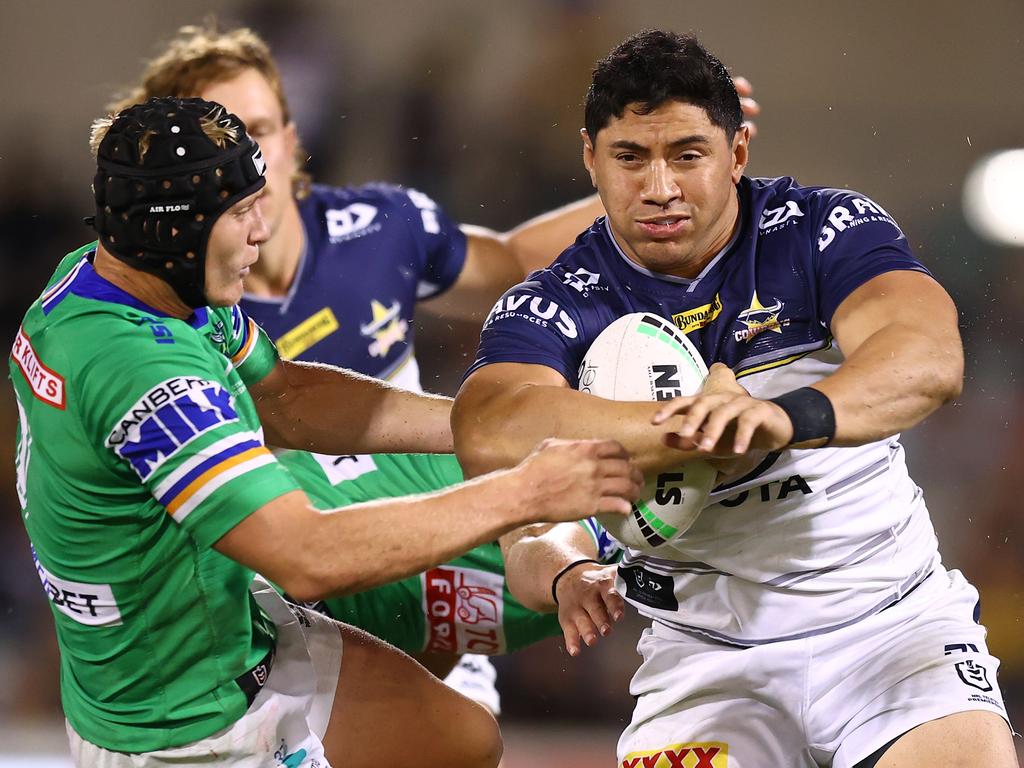 Jason Taumalolo bumps Raider Brad Schneider away. Picture: Mark Nolan/Getty Images
But that talk has been shelved, much to Taumalolo's enjoyment, and the 28-year-old lock is ready to do whatever is needed to keep the Cowboys in the winner's circle against the Gold Coast Titans at Queensland Country Bank Stadium on Saturday night.
"I don't see why I can't (keep playing those sorts of minutes)," Taumalolo said.
"A lot of that has to do with the situation or way the game pans out.
"I can't control how long I play. What I can control is what I do on the field and if I'm playing well enough I can play big minutes.
"When you have players that get injured or sin-binned or a HIA (head injury assessment), that can change a lot with how many minutes I play and how I play as well.
"There's been no discussions at all (about my minutes) and I prefer to keep it that way.
"We will just see how games pan out. He (Payten) can pick and choose when I come off and when to put me back on."
After his mammoth effort against the Raiders, Taumalolo is averaging 16 runs for 157m per game this season to go with 25 tackles.
Now a 217-game statesman, he admitted the Canberra game was taxing, but spirits are high in the north following a lean few years.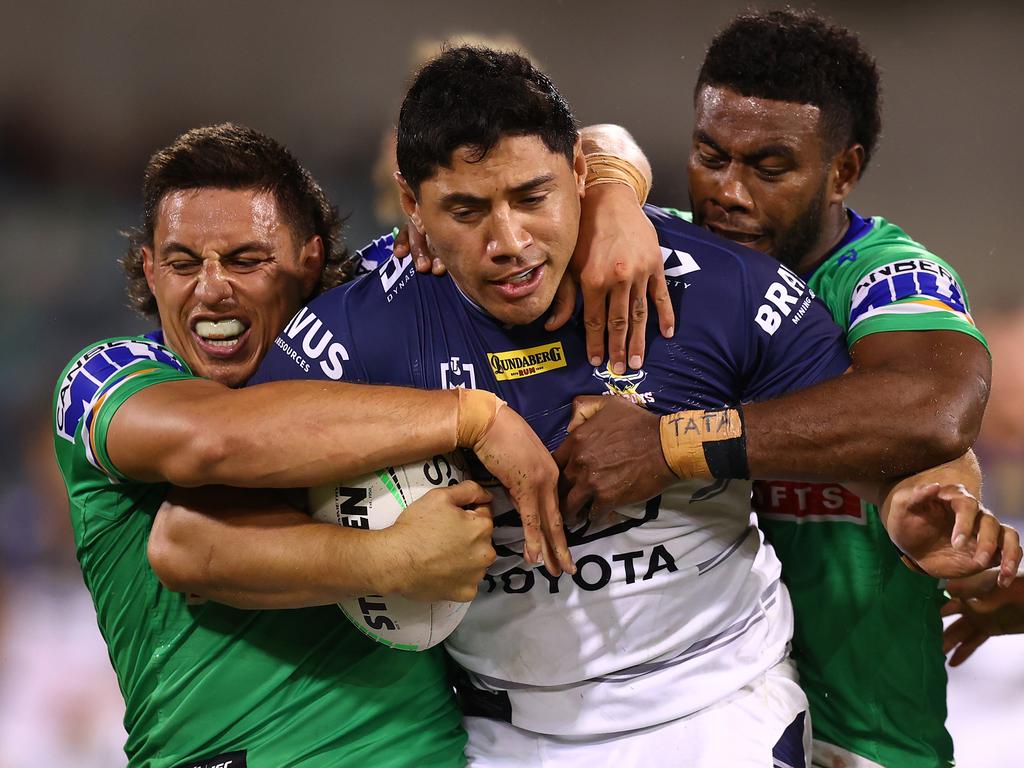 Taumalolo admits he was a bit fatigued after a big game against the Raiders. Picture: Mark Nolan/Getty Images
"It felt like a long day, to be honest," he said. "At the end of the game I felt good. There's a few things I can work on, but it brought back some old memories of trying to help the boys get out of our own end. I was just happy we got the two points.
"We are definitely a better team than what we were last year. That shows with where we're sitting on the ladder and results we're getting.
"Winning obviously solves everything. Morale is high after a tough win."
Taumalolo only managed 15 games last year as three separate broken hands plagued his season on the way to the Cowboys finishing second-last.
They have looked like a different team this year and Taumalolo said he had a point to prove in 2022 following the toughest season of his career.
"I'm trying to find my feet again after the year I had last year," he said.
"I want to build back up this year and keep the momentum going throughout the start of the year and build on it gradually.
"A lot of questions were asked of me and how I was playing last year and rightly so. It was a bit interrupted. I'm trying to make the most of it this year and get back to playing the best footy I can."
Originally published as NRL 2022: Gold Coast coach Justin Holbrook shakes up Titans in bid to stop rot