NRL 2022: North Queensland coach Todd Payten is committed to the club after resurrecting the Cowboys
Todd Payten is the hot favourite to win Dally M coach-of-the-year after resurrecting the North Queensland Cowboys and he has no plans to walk out on the club, despite being linked to a NRL rival.
Todd Payten has declared his long-term future is with the Cowboys after North Queensland's revival put him in the box seat to be crowned Dally M coach-of-the-year.
The Cowboys have been the surprise packets of the 2022 NRL premiership, rocketing up to third spot on the ladder after being tipped my many to collect the wooden spoon.
After four consecutive bottom four finishes, the Cowboys are genuine title contenders.
Stream every game of every round of the 2022 NRL Telstra Premiership Season Live & Ad-Break Free During Play on Kayo. New to Kayo? Try 14-days free now >
At the helm of the Cowboys revival has been Payten, who has overcome a rocky start to his NRL coaching career to be the leading contender for one of the game's top gongs.
And he has no plans to walk out on the club he has helped resurrect after being linked with a return to the Wests Tigers.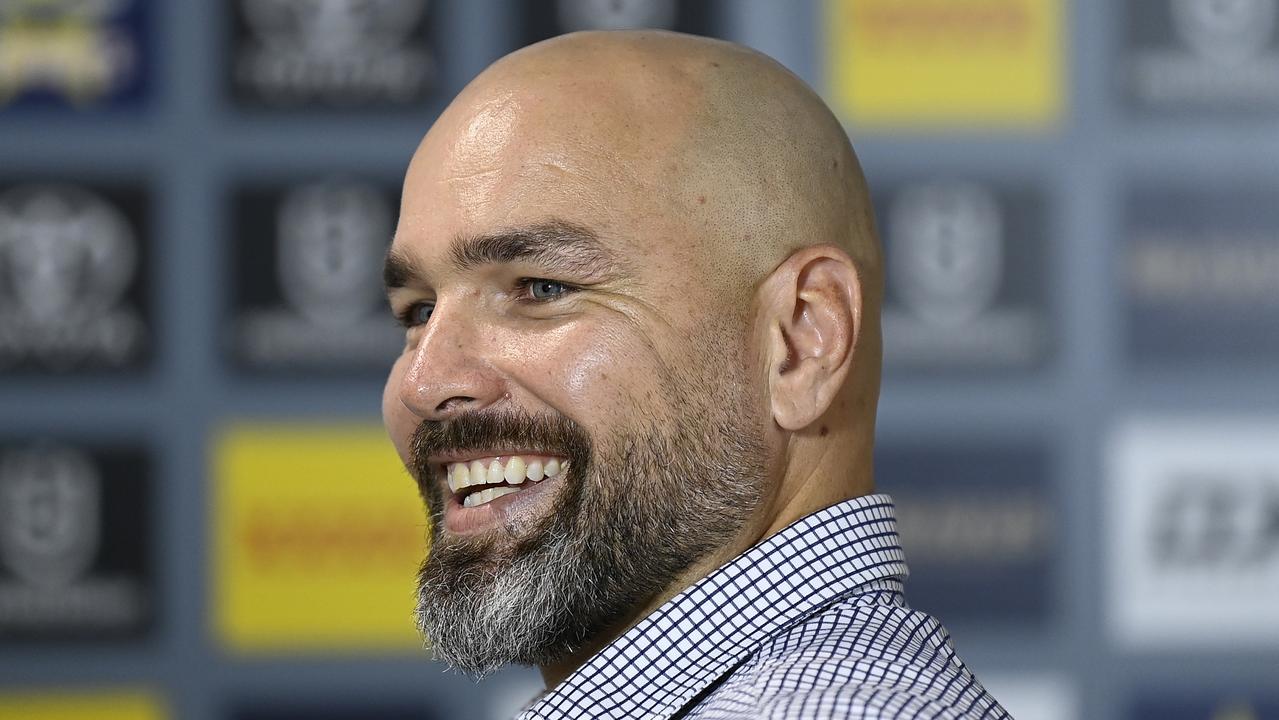 Todd Payten is happy at the Cowboys. Picture: Ian Hitchcock/Getty Images
"Yes, I do," Payten said when asked if he had a long-term future in Townsville.
"I've said all along that this is our home. This is our family's home. This club and town is full of great people and we love it here.
"Our kids were seven, five and three (now 13, 11 and nine) when we first got here. They've done the bulk of their schooling here and are well-connected.
"Life is like a normal family for us. We were flat stick within days of coming back here 18 months ago and everyone is really happy here."
This is how Payten and the Cowboys' brains trust has orchestrated the rise of the north.
TULLY TORTURE TEST
It wasn't long ago that the Cowboys were the pride of Queensland.
With Maroons legends like Johnathan Thurston and Matt Scott at his disposal, coach Paul Green led the Cowboys to the club's first premiership in the epic 2015 triumph against the Broncos.
In 2017, the Cowboys were back in the grand final, falling to Melbourne following a fairytale finals run led by the mercurial Michael Morgan.
But the wheels fell off dramatically, with the Cowboys sinking into the bottom four in 2018 and failing to emerge for four years.
Green was sacked in 2019 and Payten, an assistant of his in 2015, was given North Queensland's top job.
He knew things had to change for the Cowboys to become a force again.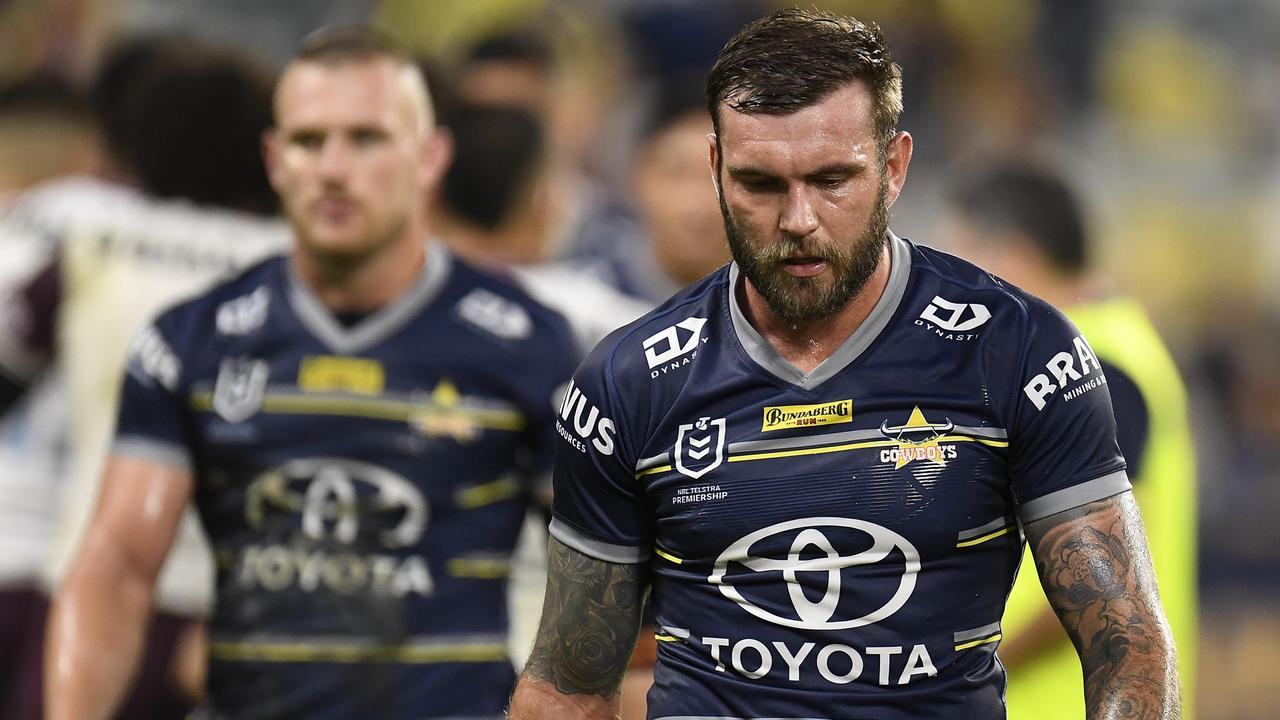 The Cowboys hit rock-bottom over the past four years. Picture: Ian Hitchcock/Getty Images
"Our training consistency needed to change," Payten said. "We needed to train at an intensity level that replicated games.
"At different times in the pre-season last year and during the season, we kept pushing them and things were falling down at training.
"We have built that foundation over time and this off-season was really tough but we were handling the workload and making decisions under fatigue better."
After finishing 15th in his first season, part of Payten's mental hardening of the Cowboys was to put the players through a gruelling army camp heading into 2022.
"There was a deliberate attempt to put our players under physical and mental pressure every day," he said.
"We kept them at training for long days. We didn't inform the guys what we were doing on the park or in the gym. We threw curve balls at them. We needed to get stronger mentally.
"The tempo of the camp (at Tully) was split up in one-hour segments. You would do a physical task for 45 minutes and then have 15 minutes rest and then a problem solving challenge. It wasn't all about physical strength, it was about thinking under fatigue and duress.
"The camp went for 40 hours, so there wasn't a lot of sleep. Building camaraderie was important."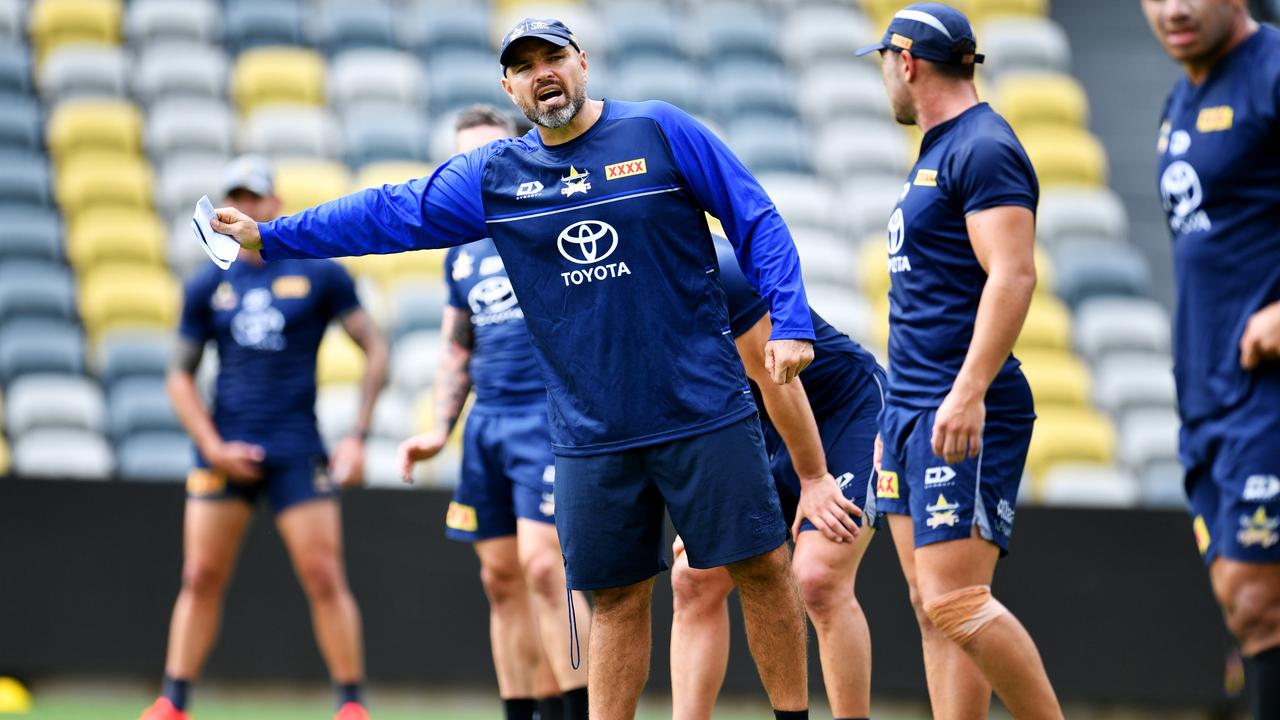 Todd Payten mixed up training to get the Cowboys stronger mentally. Picture: Alix Sweeney
OVERCOMING THE DOUBTS
The early stages of Payten's Cowboys tenure were far from smooth.
He was forced to deal with rumours about a falling out with star forward Jason Taumalolo and criticism of his coaching and demeanour.
Payten released key players like Josh McGuire (Dragons) and Jake Clifford (Knights) and when Morgan was forced into retirement by a shoulder injury last year, the Cowboys were a club in crisis.
Payten, 43, admits he began to question himself.
"We were 6-6 at the halfway point of the year and then only won one game after that," Payten said. "The guys were trying hard but we had a lot of issues with injury, a couple of retirements in Michael Morgan and Justin O'Neill, and made decisions to move players on.
"All of that caught up with us in the back end and we had to throw some kids in that were a little bit raw and before their time.
"You always question what you're doing at different stages, whether you're winning or losing. I was fortunate that, as a club, we understood it was going to take time.
"It was tough. There were a lot of tough moments for us at the back end of last year.
"Some of those experiences have set us up for where we are. We've taken some lessons out of that and it's held us in good stead for this season."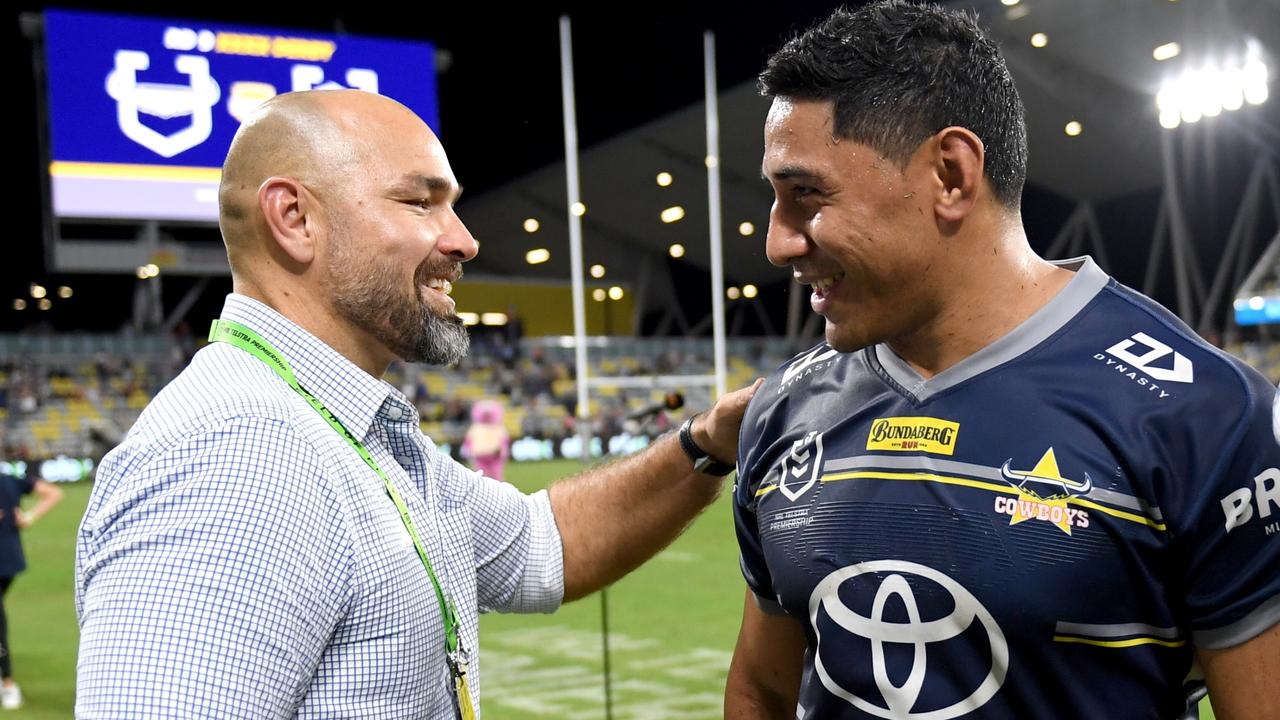 Todd Payten's relationship with captain Jason Taumalolo has been questioned at times. Picture NRL Photos
Cowboys football chief Micheal Luck praised Payten's mental fortitude to back his long-term vision.
"I can't speak highly enough of Todd's mental resilience as a coach," he said.
"We went through some dark places last year and Todd carried it all on his shoulders. To see how hard he worked through that period and the time he was putting into the players and a strategy to turn things around, it looks like the right strategy and Todd deserves credit for it.
"He is so mentally strong. A lot of rookie coaches would have struggled with the external noise, but he set his sail on the course he wanted and he hasn't wavered from that.
"He is a brilliant young mentor to our players.
"He has been there in the NRL as a player himself and his emotions don't fluctuate too much. He doesn't get too down and he doesn't go over the top.
"He has a huge future in the NRL as a coach.
"All the talk about the players being off him was overstated. There were people with agendas and others who just need to create content for their various shows, but Todd held his nerve.
"Todd wanted the way we play to represent our community; tough, gritty, resilient and humble."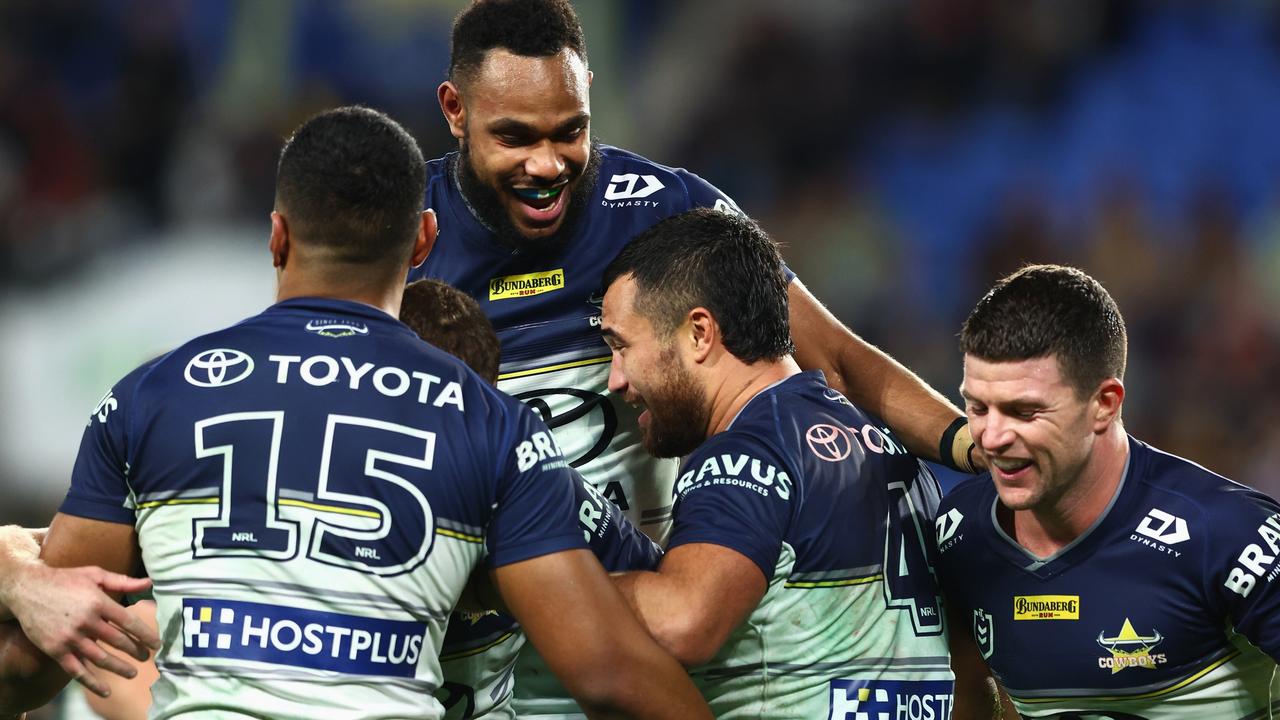 The Cowboys have emerged as genuine premiership contenders in 2022. Picture: Chris Hyde/Getty Images
TAKING THE NEXT STEP
Payten has proven he isn't afraid to make tough decisions.
Apart from axing noted players, he shifted Valentine Holmes from fullback to centre and spent big on signing Cronulla's premiership-winning halfback Chad Townsend, a controversial call that has proven to be a masterstroke.
Payten has helped develop some of the game's top young talent in the likes of Reuben Cotter, Jeremiah Nanai and Murray Taulagi into Origin players.
He brought Scott back to the club in a leadership role and entrusted four-time Dally M Medal legend Thurston to mentor rising playmaker Tom Dearden, who is now in Queensland's Origin squad.
With the help of assistant coach Dean Young, the Cowboys are now the NRL's second-best defensive unit behind reigning premiers Penrith and their remarkable 28-26 comeback win against Manly on Friday night proved they are capable of anything.
Ironically, it was a 46-18 loss to the Sea Eagles last year that was the final chapter in North Queensland's demise.
"We were always hopeful we would travel the way we have so far because of the team and structures we put in place 12 to 18 months ago," Luck said.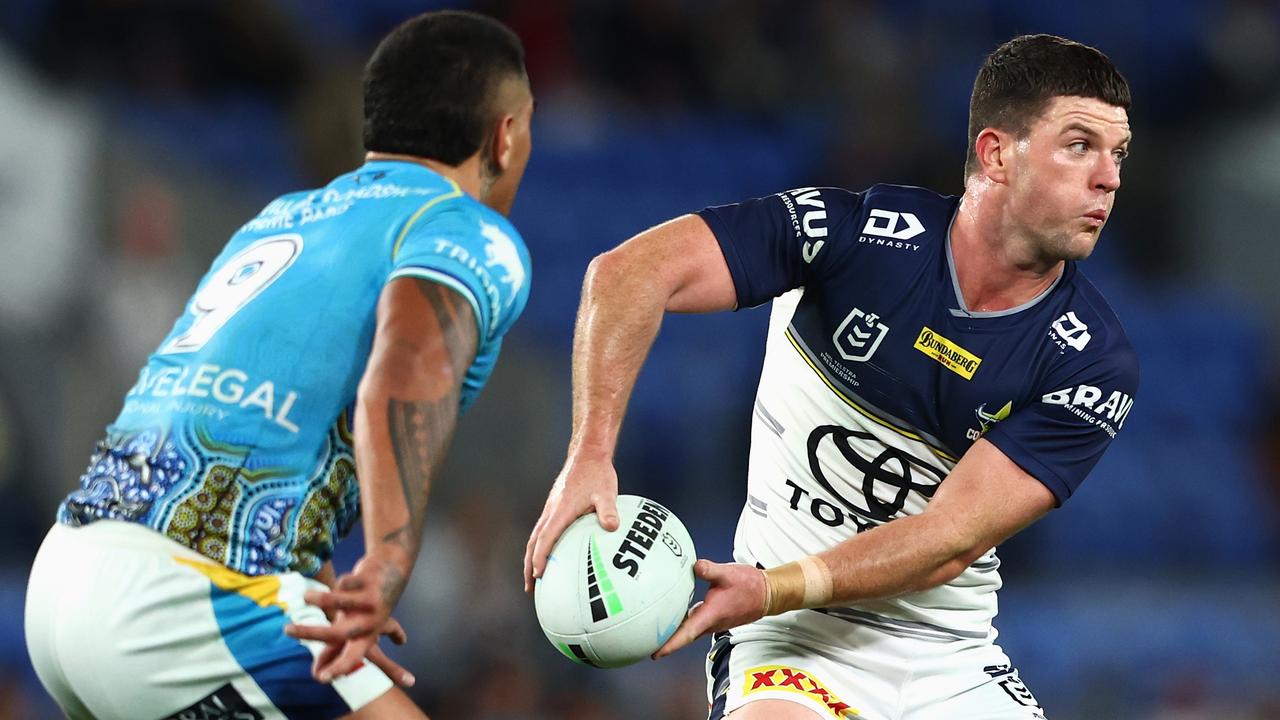 Chad Townsend has made an immediate impact in his first season at the Cowboys. Picture: Chris Hyde/Getty Images
"We had to change some personnel, playing styles and game patterns and we needed some effort and accountability. Todd has been the ringmaster around all of this.
"The turning point was our last game of last season against Manly. We were flogged at home. Manly embarrassed us in front of our fans and you get what you deserve more times than not in the NRL.
"I remember 'Tommy Turbo' (Tom Trbojevic) scored that try where Reuben Garrick got out of his in-goal and they went 100 metres to score and that was the dagger in the heart of our season.
"We sat down and had some tough conversations after that. But we think we have taken some good steps and our young guys being exposed to some situations before their time was a good thing.
"We had to be better for what happened last year, our pre-season was punishing, we really tested their minds, but they have responded.
"The big thing I want to make clear is we have done nothing yet. We are not the finished product. Penrith are doing some great things from the bottom up, they are the premiers and that's where we want to get to.
"We know if we keep our young group of players together, we can have success for an extended period, but the hard work must continue."
Originally published as NRL 2022: North Queensland coach Todd Payten is committed to the club after resurrecting the Cowboys