NRL 2022: Panthers v Raiders round 7 score, match report, ugly scenes as Raiders react to Viking Clap taunts
Penrith Panthers players have leapt to their fans' defence after claims they are "arrogant and classless" for mocking the Viking Clap.
Penrith Panthers forward Matt Eisenhuth says his side's rivalry with the Canberra Raiders is "good for the game" amid calls Panthers fans crossed the line by imitating the Viking clap in their team's round 7 win.
During Ricky Stuart's coaching tenure, Canberra's home crowd has adopted the Viking clap as a means to intimidate opposition teams and show support for the Raiders.
But on Sunday, fans of the ladder-leading Panthers repurposed the Viking clap to mock the Raiders after an error in play. Penrith home fans did the same in the Raiders' visit to the foot of the mountains last season.
Stream every game of every round of the 2022 NRL Telstra Premiership Season Live & Ad-Break Free In Play on Kayo. New to Kayo? Try 14-Days Free Now >
Retired NRL star Issac Luke led criticism of the crowd's behaviour on social media.
"Just seen the Panthers fans doing the Viking Clap. Are they sweet? #BeHumble," he wrote on Twitter.
Penrith's rivalry with the Raiders dates back to the early 1990s when the sides met in consecutive grand finals but has flared up in the past two seasons.
In their clash early last year, Penrith centre Stephen Crichton was fined for pulling Raiders forward Joe Tapine from the sideline and into a Panthers try celebration.
On Sunday, a scuffle erupted after Crichton and stand-in Raiders captain Jack Wighton exchanged words at full-time.
Eisenhuth said he saw nothing wrong with the intensity of the rivalry, suggesting that it was a way to involve fans in the game.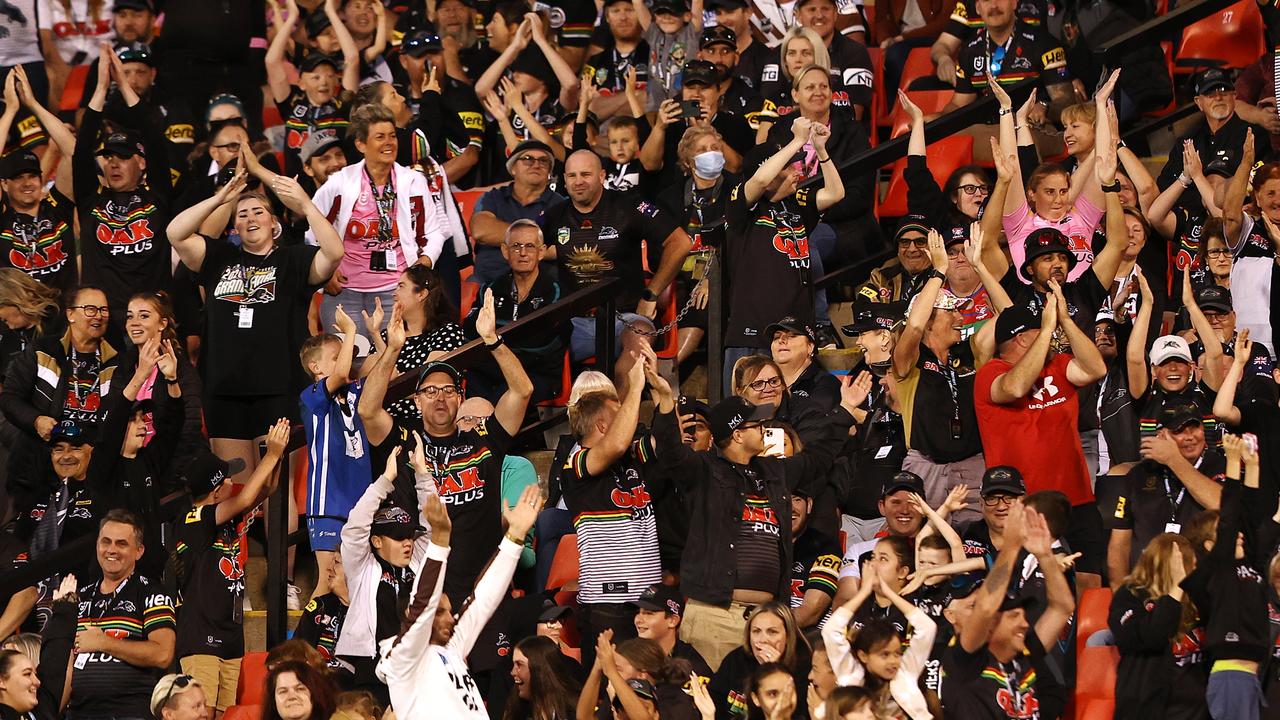 Panthers fans perform the 'Viking Clap' (Photo by Matt Blyth/Getty Images)
"Last year there was a bit of heat and rivalry," Eisenhuth said.
"I guess it's just building. It's just something between the two clubs. Both have got a rich history, both have a history against each other.
"It's probably good for the game, rivalry. Fans love it, the crowds love it. It's good for the game. It can only be a good thing."
Panthers winger Charlie Staines said the Raiders never shied away from the challenge of facing his side and the rivalry was indicative of their passion.
"A lot of teams want to play their best footy against us," he said.
"Every time we verse them, they always turn up, play hard and they always come out physically.
"It's always a good rivalry."
Breakout Penrith star Izack Tago said the rivalry was nothing more than "healthy competition".
"You can definitely feel the tension between the teams. I think it's healthy competition. It's pretty cool," he said.
The Panthers will hope to continue their unbeaten start to the season when they face the Gold Coast Titans on Friday.
The Raiders, meanwhile, risk falling to the bottom of the ladder if they can't defeat the New Zealand Warriors on Saturday.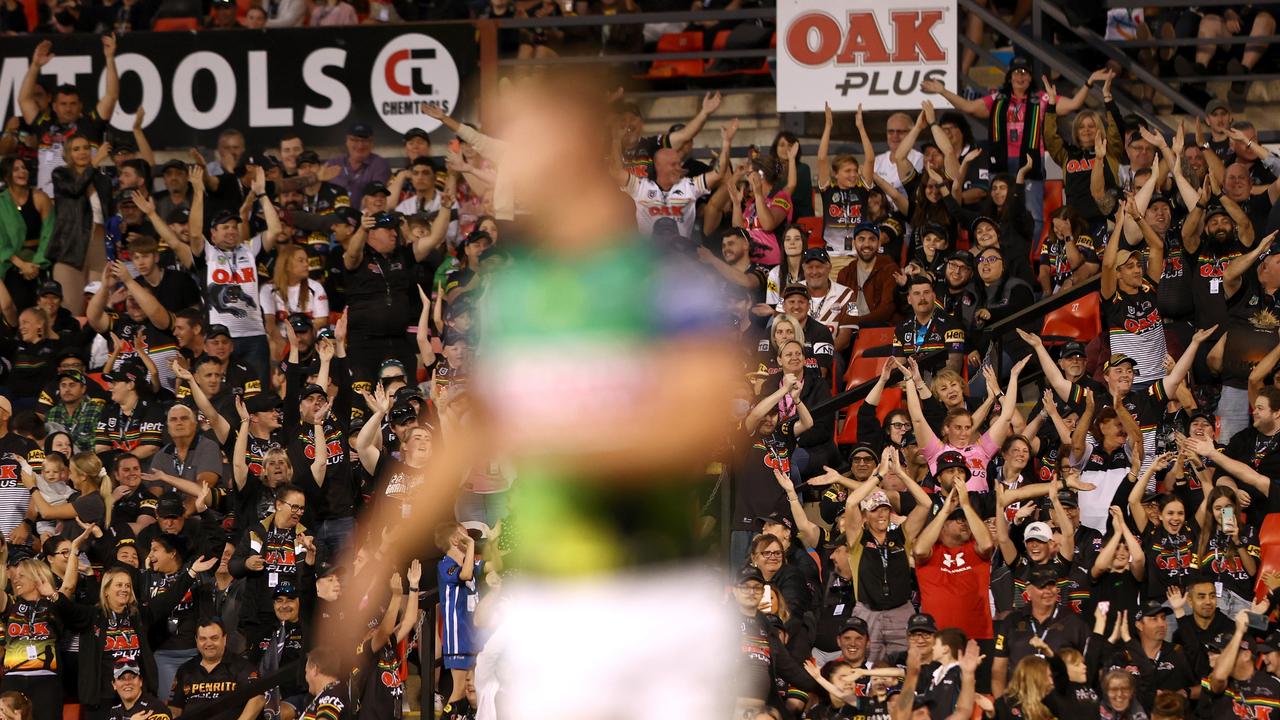 Panthers fans perform the 'Viking Clap', which infuriated the Raiders (Photo by Matt Blyth/Getty Images)
Tempers flair
Canberra was privately seething after "arrogant and classless" Panthers fans taunted the Raiders by performing their own Viking Clap.
It unfolded during Penrith's 36-6 win over Canberra at BlueBet Stadium on Sunday night.
Panthers fans ridiculed Canberra by mimicking the Viking Clap made famous in the NRL by the Raiders faithful.
Social media posts throughout the week indicated that Panthers fans had premeditated the Viking Clap.
"The Panthers are doing the Viking Clap, look out," said Phil Gould in commentary for 9. "Dear oh dear oh dear."
Fans from rival clubs were divided with many claiming it was "theatre" although others said it was arrogant behaviour.
One posted: "That's a low act Penrith, absolutely classless mocking the Viking Clap."
Another wrote: "Panthers fans mocking the Viking Clap, no wonder everyone thinks they're arrogant."
And this: "Something to be said for being humble."
But another fan said: "Great footy theatre. And they have a great team. Enjoy it for now!"
And this was also posted: "I love Panthers fans. Thank you for doing the Viking Clap."
Raiders CEO Don Furner declined to comment.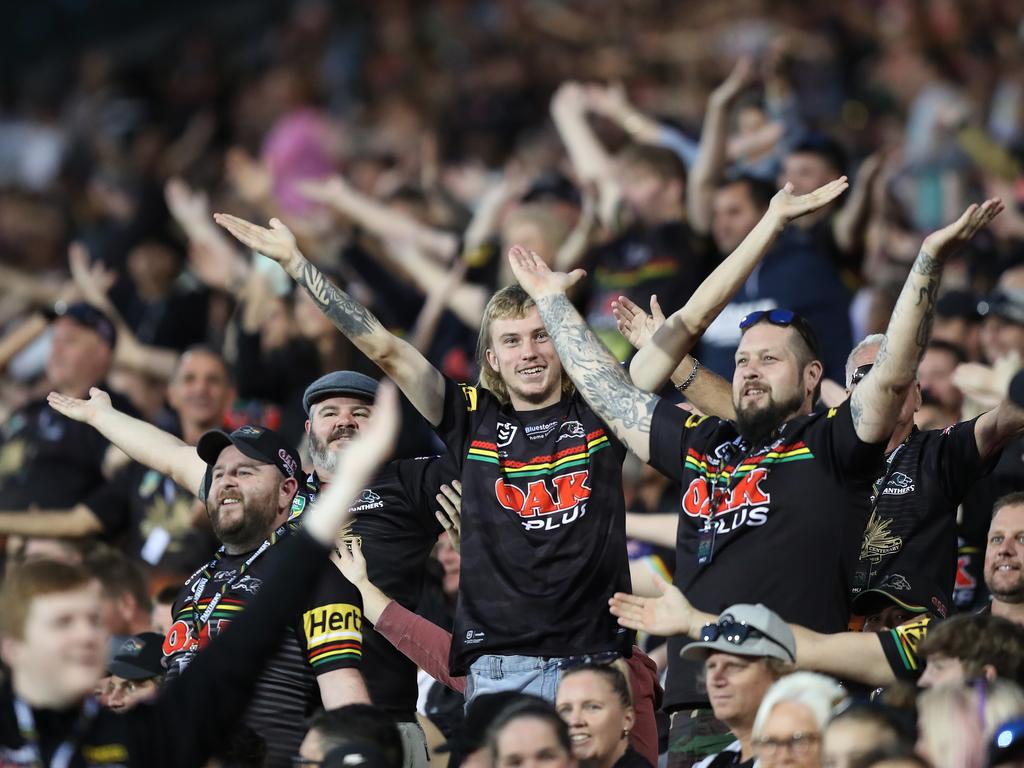 Panthers fans mock the Viking Clap. Picture: NRL Imagery
Fans in both grandstands, hill and concourse areas around BlueBet Stadium twice completed a full-blooded Viking Clap.
The rematch in Canberra in round 21 is sure to be a spicy affair.
The hostility among the two teams started in April last year when Penrith star Stephen Crichton deliberately dragged Canberra forward Joe Tapine into a Panthers post-try celebration.
That prompted Furner at the time to publicly claim Penrith lacked humility before labelling Panthers players "mug lairs."
Panthers fans also recreated their own version of the Viking Clap in that game.
Former Sharks hooker Michael Ennis mocked the Viking Clap after a 2016 game at GIO Stadium.
Mocked and rocked
Stephen Crichton sent NSW coach Brad Fittler an emphatic State of Origin reminder with an eye-catching hat-trick in Penrith's 36-6 drubbing of a Raiders side that had to watch on as the Penrith crowd mocked them with their version of the Viking Clap.
If you didn't already know, these teams do not like each other. It might even be genuine hatred after Sunday's clash.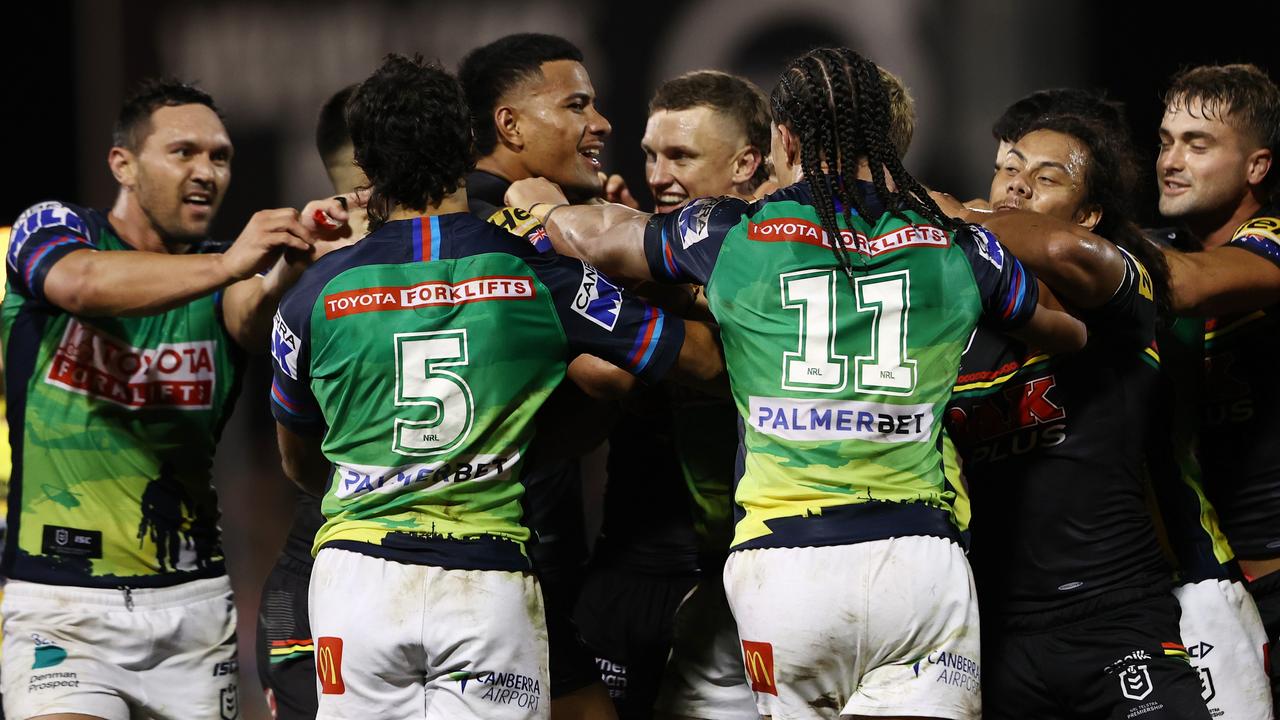 Stephen Crichton of the Panthers during a full-time melee (Photo by Matt Blyth/Getty Images)
On the hour-mark, 20,612 Panthers fans stood as one and unleashed a Viking Clap on their unsuspecting rivals who have spent the past few years using it as a pre-game ritual to fire everyone up in Canberra.
"I've got no thought. Is that really a big focus point?" Ricky Stuart said of the incident.
Just for good measure, they did another after Canberra sent a kick out on the full with six minutes to go. Fair to say that won't be forgotten soon.
"My experience in rugby league is that the away crowd gives it to you constantly," Panthers coach Ivan Cleary said.
"All the best stories are from some of the crowds you have to face. I don't think anyone should get too sensitive about stuff like that. The crowd pay their money and they're the lifeblood of the game."
That was just one of the fiery moments in a game that ended with both teams coming together after the full-time whistle. Naturally, Crichton and Canberra captain Jack Wighton were at the centre of it.
"In the heat of the moment (we were) just going back and forth at each other," Crichton said.
Stephen Crichton and Jack Wighton clash (Photo by Matt Blyth/Getty Images)
"At the end I went to shake his hand, but obviously the fire was still there and we started collaring each other. I spoke with him after the game and we're all sweet and it'll be good to go up against him again.
"I'm not going to just stand there and let him walk all over me (if Wighton does it again). I'm going to let my actions do most of the talking."
Even Stephen
It's clear the Raiders have long memories, especially Jordan Rapana.
Canberra players and officials were filthy last season when Stephen Crichton pulled Joseph Tapine into the celebrations following a try.
It led to some choice words from their CEO at the time, and on Sunday, Rapana got his revenge when he shoved Crichton into advertising after the Penrith young gun opened the scoring.
"This game is always fiery," the Panthers centre said.
"Anything little, everyone takes it personally and that's what comes with the rivalry we have with them. Whatever happens on the field stays on the field.
"I knew that little things like that were going to happen. I didn't want to play it out too much in my head with things like revenge and that, but it was good to just stick to the game plan."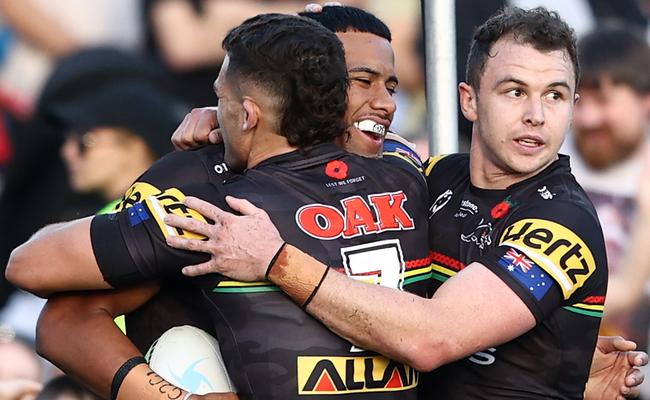 Stephen Crichton scores on of three tries (Photo by Matt Blyth/Getty Images)
From a blue to the Blues
The Panthers appear to have the winning hand as they look to defend their premiership after they made it 21 wins in a row at home, and it's no surprise given they have a stack of individuals who can put in match-winning performances.
Up against the last team to beat them at the foot of the mountains way back when the world looked very different in 2019, the Panthers made it seven-straight wins to start 2022 thanks to Crichton's treble that was scored just metres away from the Blues coach.
"I don't think he'd let anyone down," Ivan Cleary said of his young star's Origin chances.
The 21-year-old has been part of the NSW extended squad before and his combination with the likes of Nathan Cleary, Jarome Luai and Isaah Yeo would make his transition into the Origin side an easy one.
Crichton opened the scoring thanks to some slick hands on the right, fought his way through several would-be defenders for his second and capped off his hat-trick moments later when he was dragged back in a kick chase and was awarded a penalty try.
While there are a handful of worthy candidates who could replace Latrell Mitchell if he is unable to return from injury in time for the series opener, Crichton has the runs on the board and all the weapons required for the Origin arena.
X does not mark the spot
He was called out for a mistake late in last week's loss to the Cowboys, but Xavier Savage's promotion to the starting side didn't go much better on Sunday afternoon.
The youngster is a genuine fullback but started on the left wing where he was barely sighted. He had just two carries for 10 metres in the first half and his only meaningful contribution was a stray hand that gifted the Panthers six more tackles.
The lack of yardage has been a serious issue for the Green Machine this year and their flaw was exposed big time. The Panthers outran them by 800 metres, and at one stage in the second half, Wighton had to kick six metres out from his own line on the last tackle.
This is a team that is completely out of sorts. They were penalised for being offside at a kick-off, sent another one out on the full and were caught blocking chasers around the ruck. They were diabolical and things could get worse in the nation's capital.
Originally published as NRL 2022: Panthers v Raiders round 7 score, match report, ugly scenes as Raiders react to Viking Clap taunts