NRL 2022: The stats that show Penrith's complete dominance of the Parramatta Eels
The Parramatta Eels have played big brother to the Panthers for the best part of half a century - these are the stats that show where the real power lies now.
It's a rugby league revolution half a century in the making that now ranks up with the game's greatest upsets.
How the 'little brother' Penrith Panthers rose from one-time easybeats to become the dominant force in the NRL's battle for Sydney's west.
The Panthers are closing in 'big brother' Parramatta's premiership tally, winning their three titles all in the time since the Eels last tasted glory in 1986.
And this is the proof of why it's time for the once all-conquering Eels to put up or shut up in Friday night's historic showdown at the foot of the mountains.
Stream every game of every round of the 2022 NRL Telstra Premiership Season Live & Ad-Break Free In Play on Kayo. New to Kayo? Try 14-Days Free Now >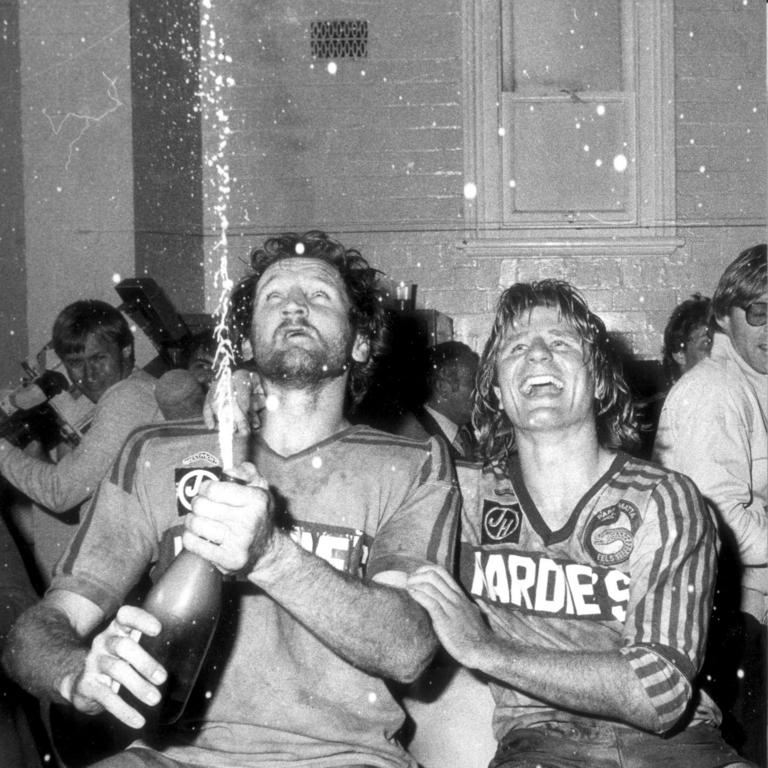 The Eels dominated rugby league, and the Panthers, in the 1980s. Picture: John Burney
On a night at BlueBet Stadium that will mark the end of an era — this being the last clash between these arch rivals at the old ground before work starts on the new stadium next year — the Panthers will be out to mark the occasion by securing a record fifth consecutive victory against their old foes.
It's a far cry from the 1980s when Penrith, led by Royce Simmons and Greg Alexander, were unable to halt the Parramatta juggernaut as the Eels charged to their fourth — and so far final — premiership success.
Between 1975 and 1983 Parra won a remarkable 17 of 18 games between the two clubs, with just the one draw.
But in more recent times results have almost completely swung the other way, with the Panthers winning 15 of 22 since 2011, including the past four encounters.
Parra still holds the advantage in total matches, winning 58 to the Panthers' 44 of 103 clashes.
But overall bragging rights go on the line this season.
If the Panthers get another win on Friday it will be the first time they have beaten 'big brother' in five straight games.
Another interesting side-story to Friday night's showdown relates to how Simmons once convinced a young Brad Arthur to give up playing and try his hand at coaching when he was coming through the grades at the Panthers.
In a twist of fate, Arthur is now trying to restore Parramatta's pride by putting a stop to this Penrith juggernaut.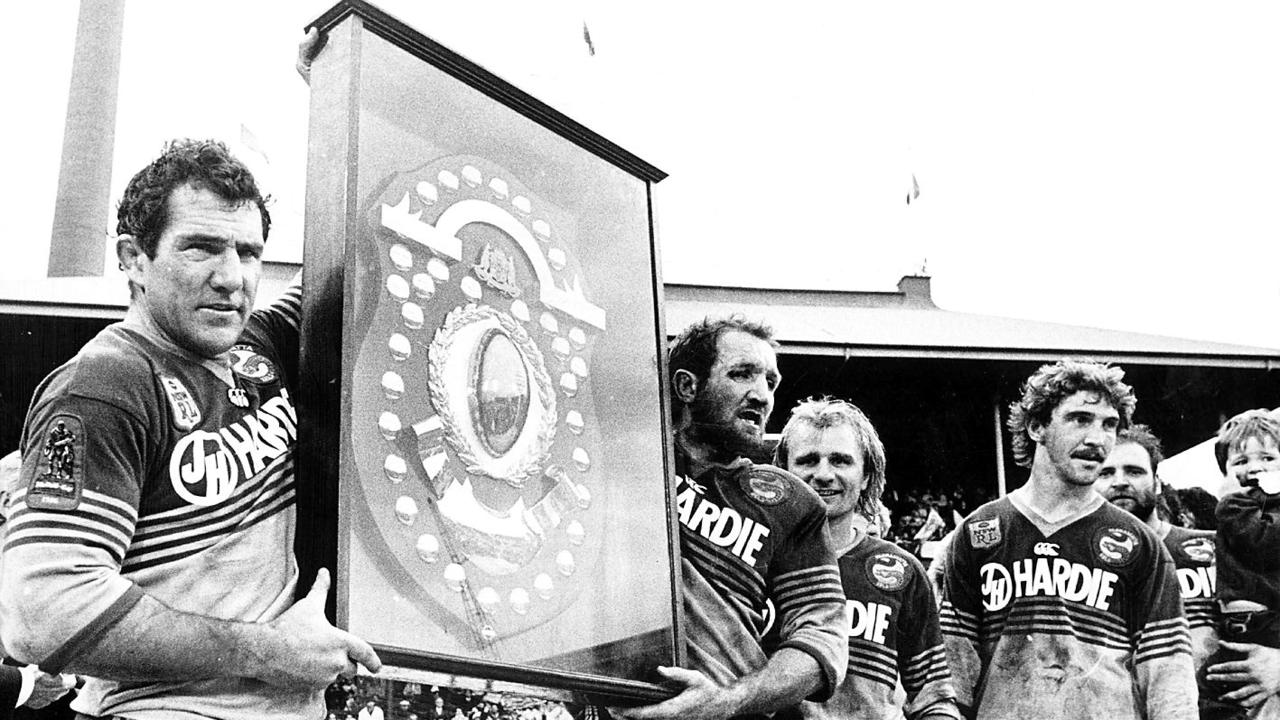 Parramatta's 1986 premiership team featured a stack of stars, (L-R) Mick Cronin and Ray Price holding JJ Giltinan Shield flanked by Peter Sterling & Brett Kenny. Picture: Peter Kurnik
THE GOLDEN EELS
As a boy Alexander reckons he never dared to dream that Penrith could one day dominate Parramatta.
"When I came into grade they were the benchmark and we were a long way from that," he said.
"All I knew was my late teenage years coincided with them winning three premierships and making grand finals in the late '70s too."
He recalled what it was like playing the Eels in that golden era, taking us back specifically to the last round of 1984 played at Penrith Park.
"The biggest game of my early career," was how Alexander put it.
"If we beat Parra then we make the finals, for the first time ever.
"It was played in front of about 23,000. They were in the trees watching it.
"I remember looking up. I was feeding a scrum and there was (Ray) Price sort of yelling at me. And I was looking across the backline. (Peter) Sterling is standing next to me. (Brett) Kenny is there. Ella. Cronin. Grothe.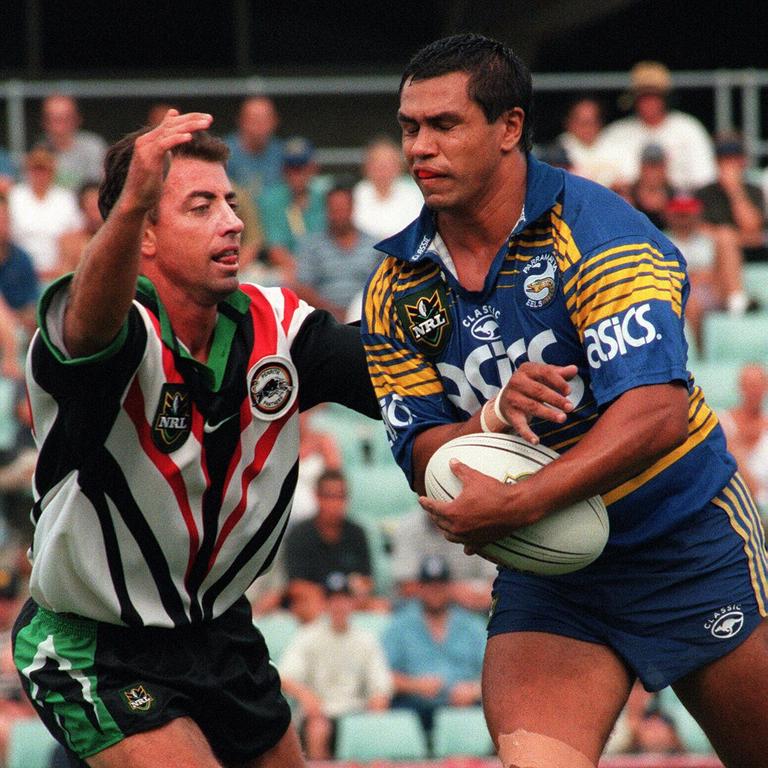 Greg Alexander found wins hard to come by against the Eels.
"You glance across their backline and it is like, how good is that.
"I think we went down 22-10, it was a cracking game.
"But it was a funny thing. Even though the rivalry was great and I was a Penrith boy, I couldn't help but admire the Parramatta team and the players they had in it."
Simmons and Cronin both had clear recollections of a game the next season, when they met for the first time in a final.
The Panthers had come through the backdoor in 1985, winning a 100-minute midweek extra time marathon playoff against Manly before they had to meet the Eels on the Saturday.
Next thing Royce remembers Parra was well on their way to running up a 38-6 score when the Panthers hooker came up with what seemed a good idea to try and inspire his team.
"But I did everything wrong," Simmons said. "I picked the wrong bloke. Wrong time. Wrong everything.
"We were defending and I was under the goalposts.
"I thought if I can put a big hit on here it just might pick the side up a little. And I looked straight up and you wouldn't credit it, I was lining up against Brett Kenny.
"Anyway, as he walked past after scoring under the posts with the ball under his arm 'Bert' just said, 'I seen you coming little Simmo'.
"I was charging up to knock his block off but he just took one step back and one step around me.
"It wasn't funny at the time but it is funny now."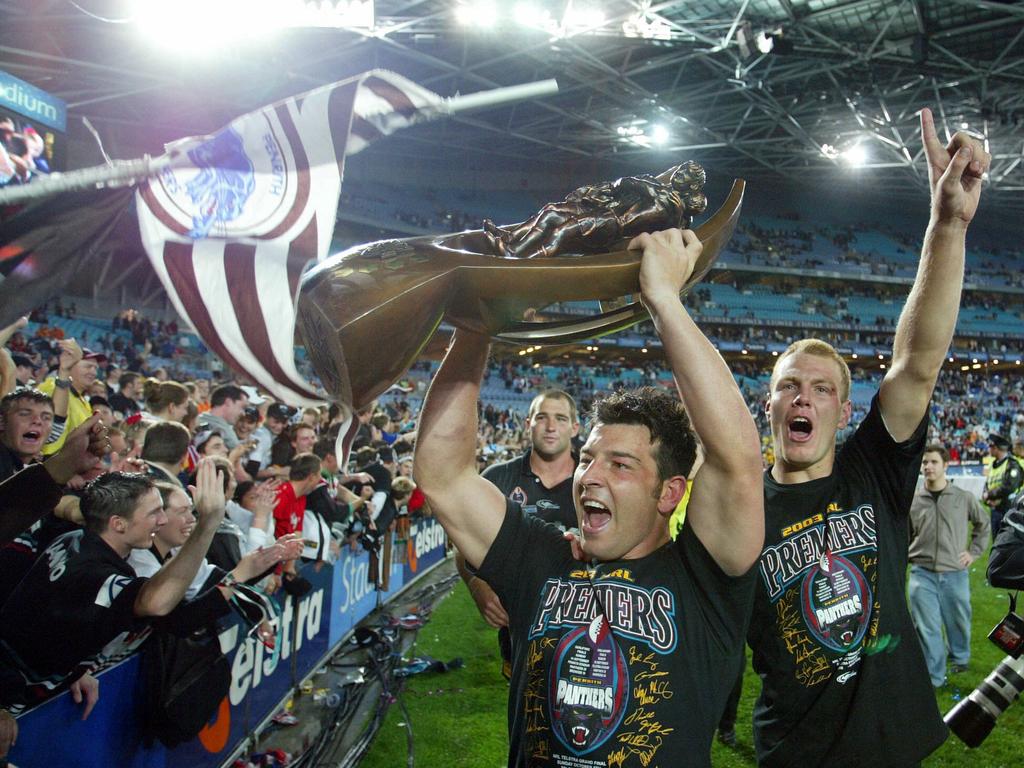 Captain Craig Gower celebrates with teammates and Telstra Cup during lap of honour after Penrith Panthers defeated the Sydney Roosters in the 2003 NRL Grand Final.
PANTHERS' DECADE OF DOMINANCE
Fast forward almost four decades and the boot is now well and truly on the other foot.
From the Panthers' inaugural 1991 premiership that both Simmons and Alexander played in, to the 2003 title Craig Gower captained and John Lang coached.
But today the Panthers' dominance stretches from NRL to grassroots, where they have also taken over from Parramatta as the game's most powerful junior base.
Last year Penrith had 8721 participating in community leagues, compared to Parramatta's 5232.
On top of that the Panthers now have had the most State of Origin representatives, 40 to the Eels' 39.
In NRL the Panthers are first on the ladder and the Eels fifth.
In NSW Cup, it's first v fourth. Jersey Flegg, third v ninth.
The Panthers just won SG Ball grand final — the Eels finished 11th.
In Harold Matthews, Penrith was third and the Eels fifth.
If that all doesn't amount to bragging rights, what does?
Equalling the Eels' premiership tally would surely push them over the top.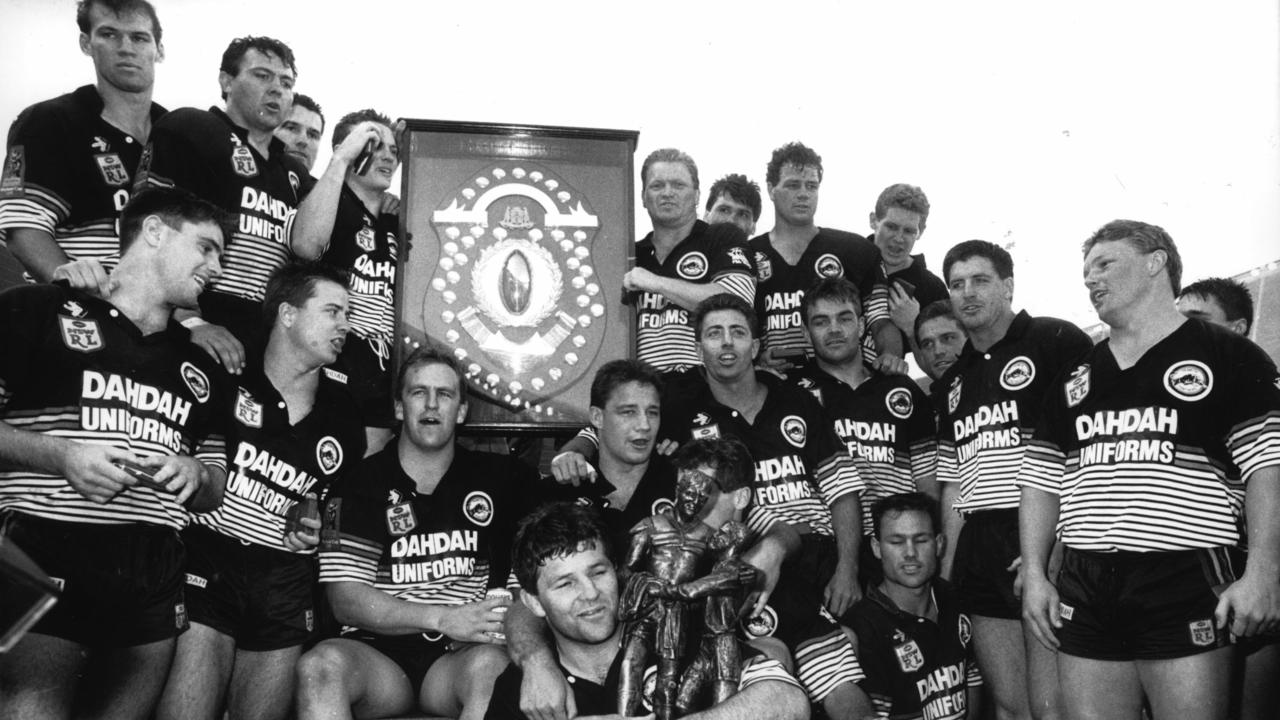 The 1991 premiership was Penrith's first.
ROYCE'S WORDS OF WISDOM
Not one to blow his own trumpet, you can sense pride in the part Simmons played in convincing a young Arthur he should give up playing and concentrate on coaching.
Simmons recalled how he was in charge at the Panthers at the time when he took Arthur aside for a heart-to-heart.
"He was a good player, Brad. Just probably lacked a bit of size and a bit of pace," Simmons said.
"But he had everything else. He was a very, very smart player who knew the game backwards, and he was a very professional young bloke.
"I actually told him to go and look for a little bit of captain coaching in the county to be honest with you, to get a bit of grounding and knowledge in how to handle people. And off he went.
"He is the one that has gone and done all the work. I just recommended it to him. I thought he had too much knowledge of the game to be wasted."
PUT UP OR SHUT UP PARRA
Which gets us back to where we are today.
The Panthers are unbeaten after eight games to start the season for the second year in a row, while the Eels are five and three but coming off a humiliating 35-4 flogging by the Cowboys in Darwin.
This is Arthur's ninth season in charge and so far the Eels haven't made it past week two of the finals on his watch.
With the likes of Reed Mahoney, Isaiah Papali'i and Marata Niukore moving on at season's end, some think this will be their best and potentially last chance to break the drought before the premiership window slams shut again.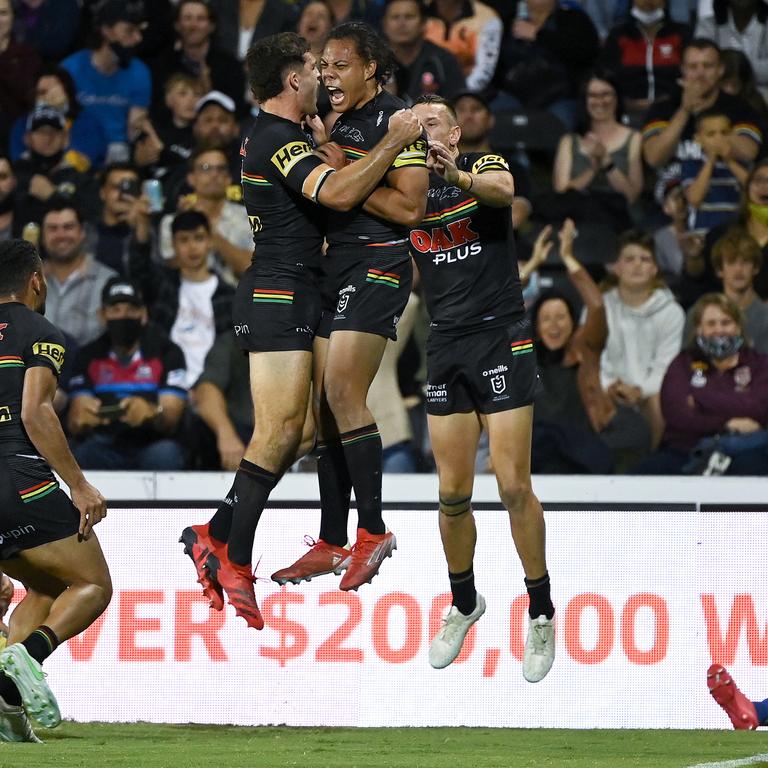 The Panthers are flying high now. Picture: NRL Photos
Asked how crucial this game could potentially be to Parra's season, Ray Price was adamant: "Huge. If they want to prove they can do something this year this is the game that they have got to set alight.
"And I think they can do it.
"I might bag them every now and then but I believe in them.
"We had a bloody good side and we all fought for each other.
"And I am not saying Parramatta don't want to fight for each other (today), but you need to be able to read it better than what it is right now.
"They need to fight for every last point."
Originally published as NRL 2022: The stats that show Penrith's complete dominance of the Parramatta Eels