NRL 2022: Daniel Tupou cops suspension for high shot in Roosters Anzac Day defeat
Sydney Roosters star Daniel Tupou is set for a stint on the sideline for an ugly high tackle that left the Dragons fuming in a spiteful Anzac Day clash.
Sydney Roosters winger Daniel Tupou has been charged by the NRL match review committee for his controversial high tackle on Dragons opponent Mikaele Ravalawa on Sunday.
Tupou was hit with a grade two careless high tackle charge and is facing a one to two game suspension.
Stream every game of every round of the 2022 NRL Telstra Premiership Season Live & Ad-Break Free In Play on Kayo. New to Kayo? Try 14-Days Free Now >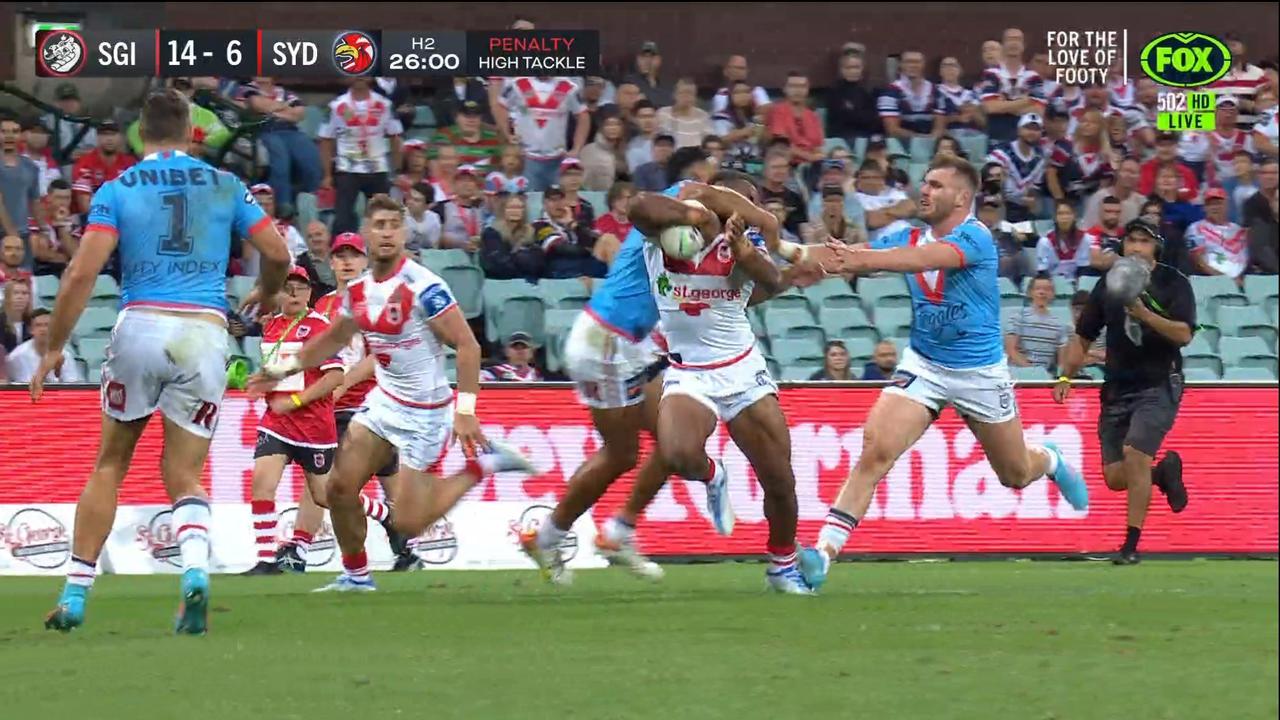 The high tackle came midway through the second half with the match delicately poised.
The Dragons camp remains stunned Tupou wasn't either sin-binned or sent off the high shot.
Even NRL CEO Andrew Abdo claimed it was "direct contact with the head."
The Roosters have 24 hours to enter a plea.
Given the intense scrutiny around the tackle, many in the game believe Tupou will take the early plea and accept his one-game ban.
DRAGONS FUME OVER TUPOU HIGH TACKLE
By Dean Ritchie
St George Illawarra coach Anthony Griffin slammed match officials who failed to sin bin – or even dismiss - Sydney Roosters winger Daniel Tupou for a blatant high tackle on Sunday, declaring: "You would have got two years in jail for that in Magic Round last year."
Tupou's controversial 54th minute high shot on Dragons winger Mikaele Ravalawa overshadowed St George Illawarra's emotional and courageous 14-12 Anzac Day win at the SCG.
And in a rare public barb at one of his referees, NRL chief executive Andrew Abdo also went public moments after the game to question why Tupou wasn't banished.
For some bizarre reason, referee Adam Gee yelled on field: "I don't believe it's as bad as it looks."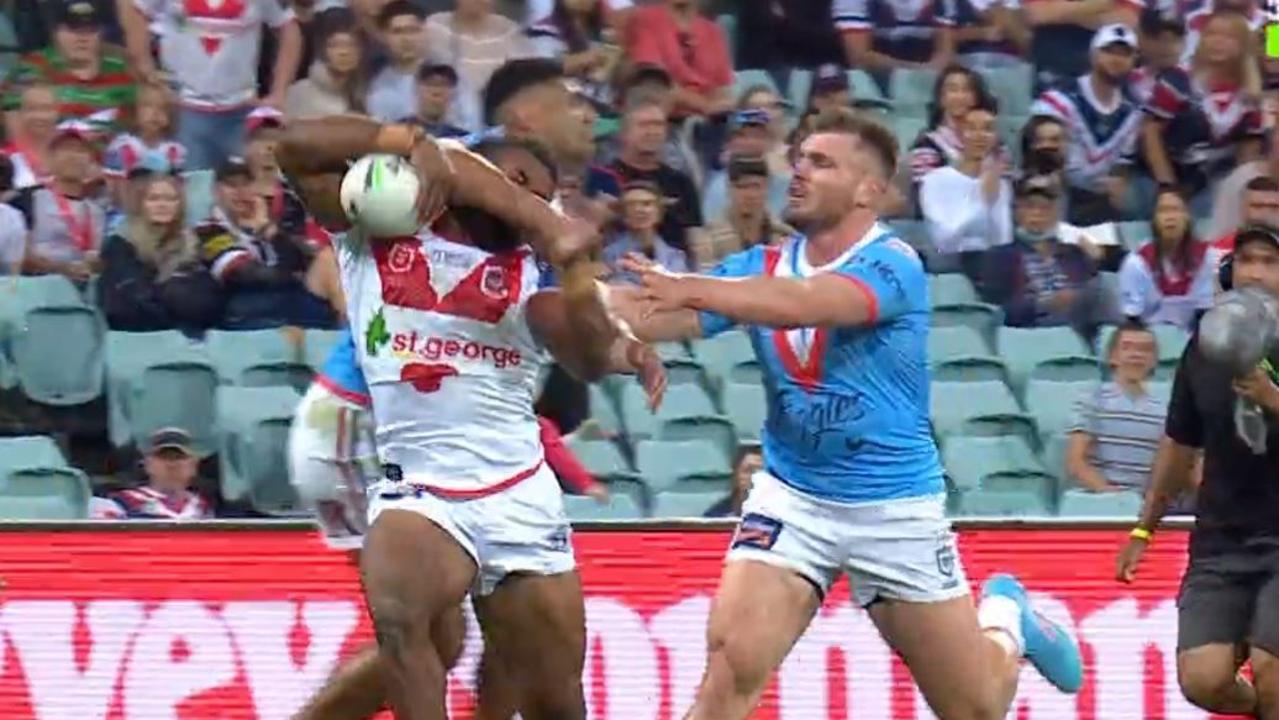 Sydney Roosters' Daniel Tupou was put on report for this high shot on Mikaele Ravalawa.
Dragons players immediately called for a sin-bin and while Tupou was placed on report, he avoided being marched for ten minutes or for the entire game. He is expected to be charged by the NRL match review committee on Tuesday.
"You would have got two years in jail for that in Magic Round last year. I'm serious. He (Tupou) had 30 metres - he'd dropped back on the last play – to decide where to tackle him. It was direct contact with the head," Griffin said.
"I don't understand the rules. I'm not here to bag it or make that the story of the night but it's just black and white given what's been happening. It's not even a question.
"I feel for everyone. I feel for the players, the coaches, because if you're not going to put that in the bin, after some of the things that have been in the bin over the last four or five weeks, I don't know where we go now."
Told that Abdo wanted Tupou marched for ten minutes, Griffin said: "I agree with him. It frustrated me and would have frustrated everyone who watched it on the television too. (It should) at least been in the bin."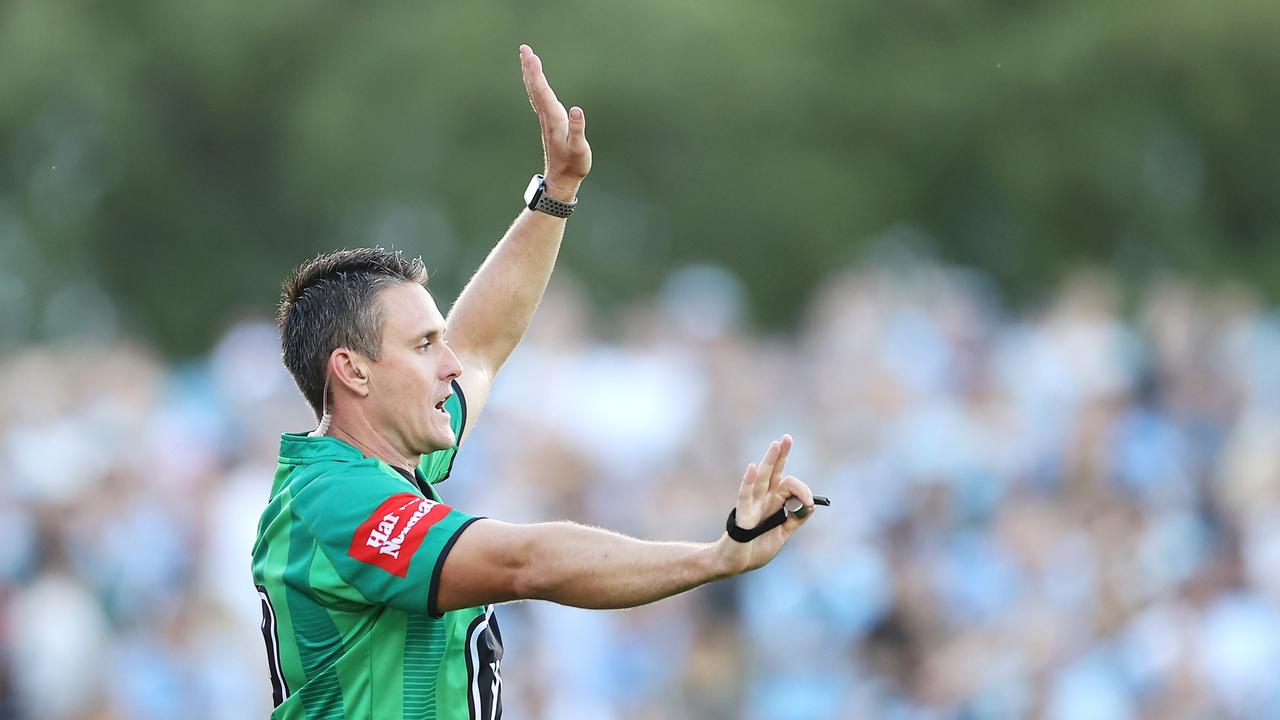 Referee Adam Gee has been criticised for not sending Tupou to the sin bin. Picture: Getty
Dragons skipper Ben Hunt tried desperately to secure answers on the field.
"I went over and asked (Gee) but they said they had cleared it upstairs. There wasn't much I could do about it," Hunt said.
Speaking on 2GB, Abdo admitted: "I was very surprised it wasn't a sin bin… I think it should have been."
Many at the ground felt Tupou may have been given preferential treatment given he is a rugby league 'clean skin'.
The hit prompted former Test fullback Garry Jack to Tweet: "Unbelievable. How does Topou (sic) stay on the field with that tackle?"
Commentating on Channel 9, Phil Gould and Andrew Johns were told Dragons players had demanded Tupou be sin-binned.
"It might be more than that," Gould said. "It won't be a send-off but he'll be in the bin I'd imagine."
Johns echoed Gould, saying: "He's hit him in the forehead."
NRL boss Andrew Abdo was among the voices calling for Tupou to be sin-binned. Picture: Getty
The game was a thriller. The armed forces marched first – and then the Saints went marching in.
A final Roosters raid inside the final minute fell over to give the Dragons their biggest win of the season and send their frustrated fans into raptures.
There were wonderful scenes at fulltime on Australia's most soul-stirring with the club's famous anthem 'When The Saints Go Marching In" echoing around the famous ground.
It was a moving afternoon with a crowd of 35,273 coming together to watch their footy and honour Australia's diggers.
The Last Post – a military tradition - sent fans into a brief yet respectful silence before the noise became deafening throughout a gripping and exciting match which gave St George Illawarra a third win of the season. Victory ended Dragons' seven game losing streak against the Roosters.
A member of the Australian Army Band salutes as the last post is played before the Roosters-Dragons clash. Picture: Getty
St George Illawarra hadn't claimed a major scalp this season prior to kick off. Two previous wins over struggling Newcastle and Warriors were partnered with losses against premiership heavyweights Souths, Parramatta, Cronulla and Penrith.
Showing spirit and guts, the Dragons won despite Jack Bird (broken arm) and Jaydn Su'a (high ankle sprain) playing little or no part in the second half. Su'a could be ruled out for four weeks.
"It was another reason why it was a good day to be a Dragon," Griffin said.
The vital win came on Saints' field of dreams, the SCG. It was there where the famous Red V won 11 successive grand final triumphs between 1956 and 1966. And it was the SCG where arguably the Dragons greatest player, John Raper, was laid to rest at a State Funeral on February 28.
The Roosters played tough to haul back a 14-point halftime deficit before defeat snapped a three-game winning sequence. Skipper and fullback James Tedesco ran for 270 metres for just the third time in his career.
PROOF IT'S TIME TO UPGRADE HUNT'S $1M DRAGONS CONTRACT
By Martin Gabor
This is why the Dragons signed Ben Hunt on a monster deal and it's why the Red V should extend him as soon as possible.
Coming up against a Roosters side that had beaten them seven times in a row, Hunt orchestrated one of the great ambushes to guide his team to a shock 14-12 win at the SCG to somehow have them on the edge of the top eight, although they suffered a couple of potentially serious injuries.
The St George Illawarra skipper has for some reason been the whipping boy when his side loses, but he showed again on Anzac Day that the criticism is unwarranted and that he is the man who can turn this club's fortunes around.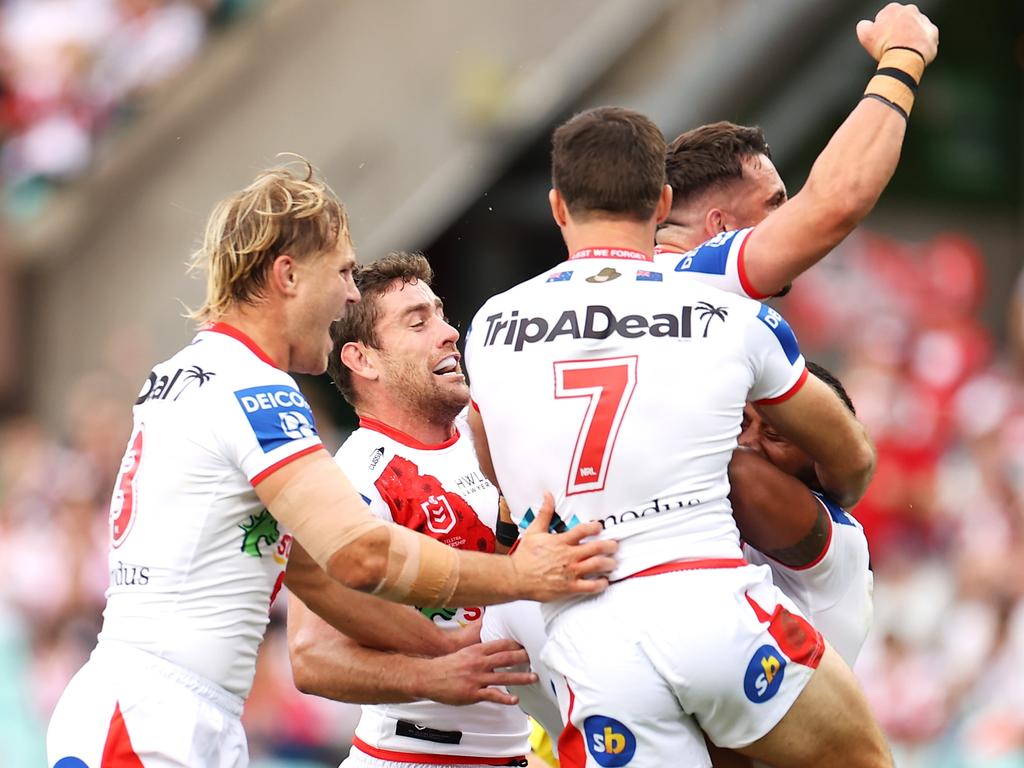 Francis Molo celebrates scoring the Dragons' first try.
"The Roosters were coming at us pretty hard," Hunt said.
"I find those wins pretty special when you're just toughing it out. To hang on, it's right up there (as the best win I've had at the club)."
The veteran No.7 was excellent on Monday afternoon, leaving the red and white faithful in the Bill O'Reilly Stand in raptures as he dazzled with a couple of try assists and a ridiculous defensive stop to carry his side to victory.
He set the tone with a 20-40 attempt in just the fourth minute that turned the Roosters around and fired up his defence for the rest of the first half.
His teammates defended the line time and time again which frustrated the Roosters and allowed Hunt to pick them apart at the other end.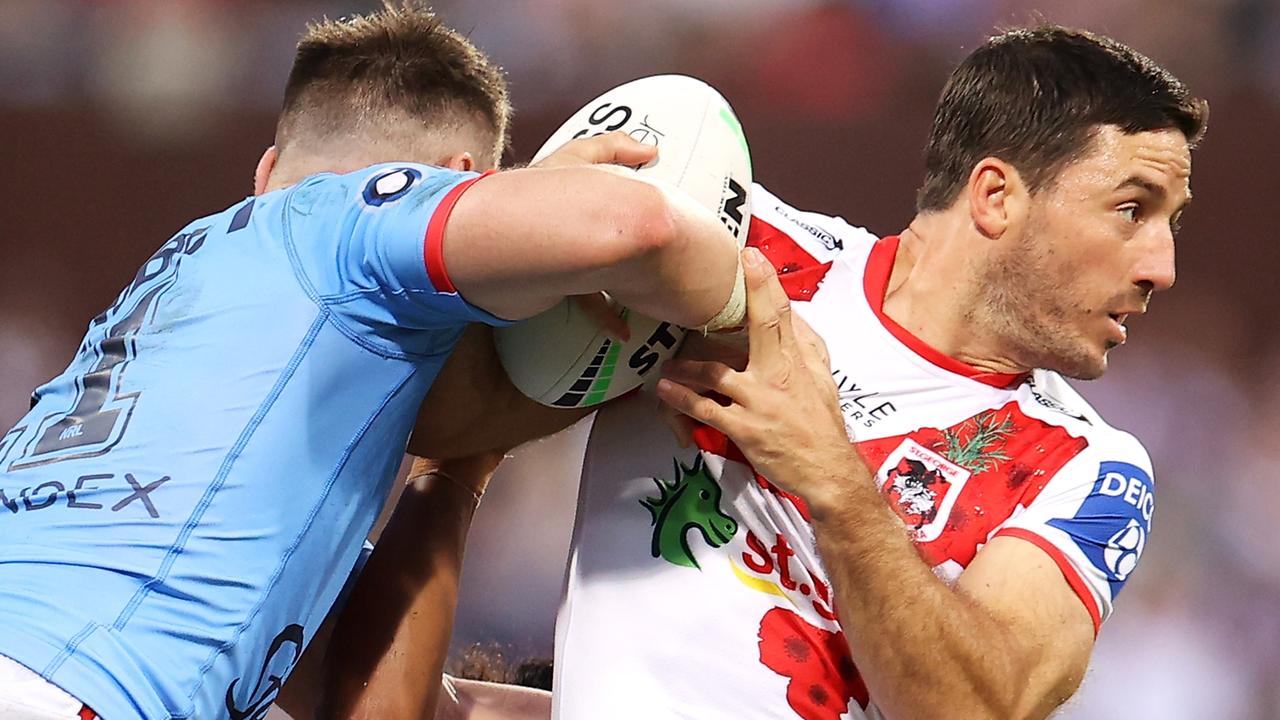 Ben Hunt was simply unstoppable against the Roosters.
He played short for Francis Molo to open the scoring at mind-blowing odds and then kicked high for Zac Lomax, although it was a grateful Jaydn Su'A who scooped up the loose ball to stroll over.
And when the Roosters threatened to steal the win in the second half, Hunt saved his exhausted teammates with a spectacular 40/20 with three minutes to go to save them.
"The 40/20 was the play of the day," Dragons coach Anthony Griffin said.
But they had to defend one more set, and it looked like the Roosters had finally cracked them when Daniel Tupou threw a pass to an unmarked Luke Keary.
Instead, Hunt appeared out of absolutely nowhere to knock it down to stop the attacking raid in its tracks to seal the stunning upset win to add another chapter to the long list of Anzac Day classics.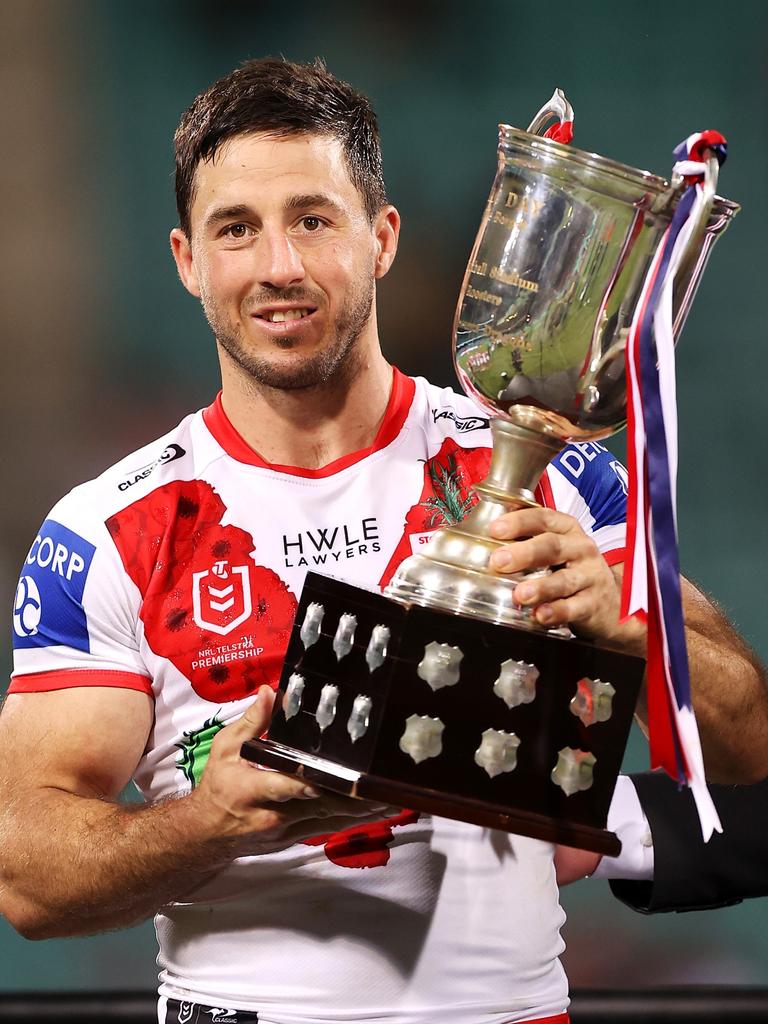 Ben Hunt was the star of the show.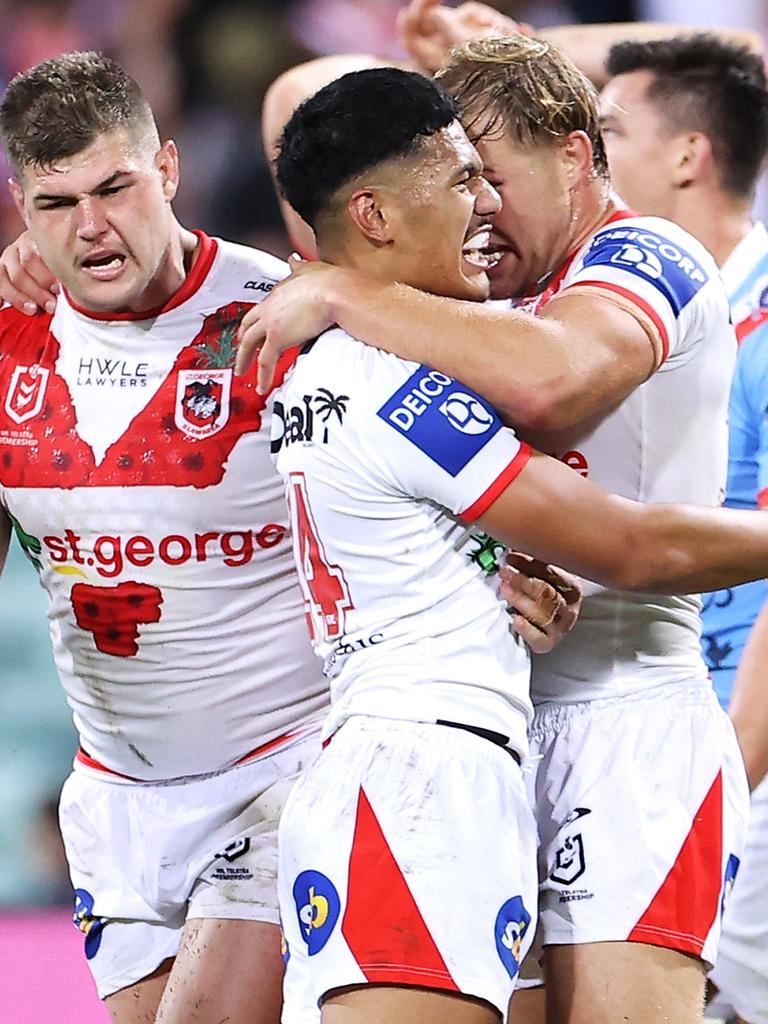 The Dragons held on in a thriller.
ROOSTERS ROASTED
The warning signs were there for everyone to see after they scraped past the Broncos and Warriors with very unconvincing wins in recent weeks.
But the Roosters weren't so lucky against a team that decided to produce its best defensive display in years.
The Chooks almost pulled off another massive comeback but they just fell short after they again failed to fire early and committed eight errors in the first half.
Skipper James Tedesco almost saved them with 270 running metres and a couple of second-half line breaks, but basic errors and an unwillingness to go through the middle cost them in the end as the Dragons just held on.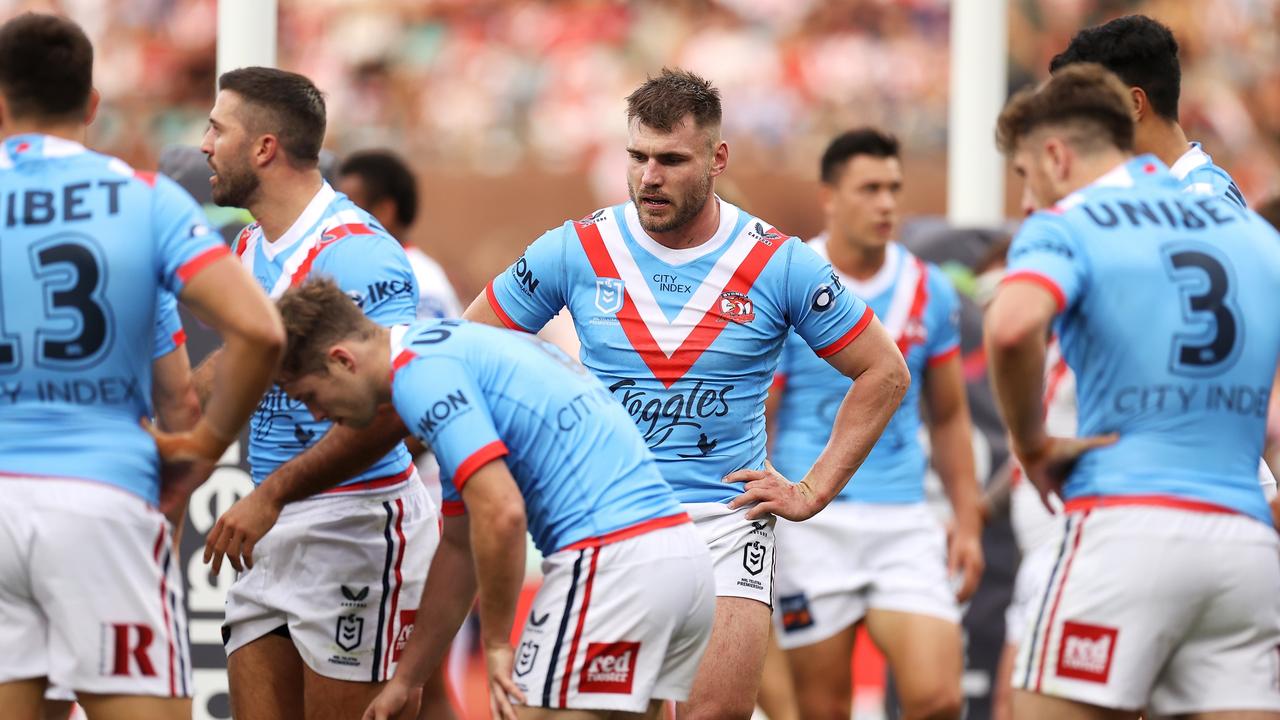 The warning signs had been there for the Roosters.
GET IN THE BIN
Daniel Tupou is one of the nicest guys in rugby league, but there's no doubt he should have been sent to the sin bin for a high shot on Mikaele Ravalawa in the second half.
The Dragons winger made a break down the right edge when he was collected across the jaw by Tupou as he came across in cover defence.
Given the tackle was forceful and made direct contact to the head, it should have been a sin bin under the NRL's laws based on what we've seen this year.
"You would've got two years at Magic Round last year for that. I'm serious," Griffin said.
SUAALII 'HAS GOT THOSE CLASS MOMENTS'
Roosters coach Trent Robinson says he's rapt with the way young gun Joseph Suaalii has returned to the NRL this season and believes it's only a matter of time until he starts getting more opportunities to unleash in attack.
The teenager ran out for his seventh NRL game in arguably the biggest regular season match of the year, and he again more than matched it with his more experienced rivals.
He made 108 metres from his 13 runs and came up with a few massive plays, including a spectacular offload to set up Joseph Manu for a try that set up a grandstand finish.
Joseph Suaalii impressed against the Dragons.
"He's not getting the free ball that we're getting, but you can see there's a fair bit of knowledge about what his role is and he's doing that really well. He'll get more and more opportunities the more he plays. It was really good," Robinson said.
"He's got those class moments. He's got his own thought for a young kid so he's going after moments and not timid about those after only a couple of games, and that's really good to see.
"It's promising for us, so we've got to offer him more opportunities to play that way. I feel like the last two games have been great. It's been such a good start for him."
Expectations are high on a young man who is expected to one day flourish at fullback, but for now, Robinson is more than happy to ease Suaalii into first grade just as he did with Sam Walker last year.
"We've just got to get more and more game time. He'll build his game," Robinson said.
"I know we all get excited. We did the same with Sammy and other players, but it's just getting lots of game time.
"We want those opportunities for him to play, but we also want him to understand how to play NRL and to play NRL really, really well.
"Then he can have 15 years of playing really good footy, so the early days are about teaching him how to play his position, but he'll also have centre and fullback in his game. He'll play multiple positions (but we want) him to play them really well. We just need to set him up well."
Originally published as NRL 2022: Daniel Tupou cops suspension for high shot in Roosters Anzac Day defeat