NRL 2022, round 1: O'Sullivan shines as Penrith Panthers crush Manly Sea Eagles
An NRL journeyman at the grand old age of 22, Sean O'Sullivan's biggest trick wasn't fooling Manly in round one – it took place far closer to home.
If rugby league doesn't work out then Sean O'Sullivan should think about a career in acting.
It might be a bit late to enrol at NIDA, and it's a shame that Neighbours is finishing up, but the 23-year-old halfback deserves the Gold Logie for his acting display leading up to his first game in a Panthers jersey.
After three clubs and 21 games in four seasons, O'Sullivan's career could have been a bust. But it turns out 22 is just as good as blackjack if it means you get to live out a lifelong dream.
O'Sullivan didn't show it but he was more nervous than he'd ever been before a game when he ran out for the Panthers in their 28-6 win over Manly in the season opener.
And it's not like he had weeks to lean on his friends and family to help him prepare for the big day. Everyone only found out on Tuesday that he would replace the injured Nathan Cleary in the No. 7 jersey. And that's where the acting comes in.
Stream every game of every round of the 2022 NRL Telstra Premiership Season Live & Ad-Break Free During Play on Kayo. New to Kayo? Try 14-days free now.
"I was probably the most nervous I have ever been for a game. It just showed how much I care really," he said after he set up two tries in the Round 1 win.
"I have known for a little bit but I had to keep it a bit quiet. No-one knew. Since before the second trial I knew."
So how did he keep it a secret?
"Just a simple 'I don't know yet'," he replied when asked how he kept it from his family.
"They are pretty good with all that stuff. They understand when it's okay for them to know they will know."
Thursday's game was the culmination of a long journey for O'Sullivan to play for Penrith. Stints at the Roosters, Broncos and Warriors readied him for something he'd been waiting for since he started primary school.
"I moved here when I was in Year One, I played for the Glenmore Park Brumbies," he said.
"So it's a dream come true to pull on the Penrith jersey. I used to come here as a kid and watch their games.
Sean O'Sullivan played eight games for the Brisbane Broncos in 2019-20. Picture Peter Wallis
"I believe that everything happens for a reason, but when I left here as a 17-year-old I probably never thought I was going to come back.
"I just think I am probably a little bit older now. I understand. I played the most games I played last year at the Warriors. I am a bit more confident and starting to understand my game a bit more."
The decision to return to the foot of the mountains can't have been too easy given he had the State of Origin winning halves in front of him.
But that was actually the reason he wanted to come back so he could learn from the best in the business, Nathan Cleary.
"He has been amazing this whole pre-season. He is a great teacher and a great mate. I couldn't speak more highly of him," he said.
"That was the main thing why I came here to learn from Nath. I am only 23, so I really felt I could take a lot out of this and head down, keep learning from him and hopefully I nail it.
"Even yesterday I was nervous at captain's run, just the way he spoke to me after. The work is already done, don't be worrying about anything. He is just so calm and hopefully that can come into my game."
Always appreciate seeing Sean O'Sullivan starting in the NRL. 3 ACL injuries in his career, but suffered 2 ACL ruptures at age 10 & 12. Amazing to overcome significant setbacks at such a young age to be where he is now #NRLPanthersManly

— NRL PHYSIO (@nrlphysio) March 10, 2022
With Cleary set to miss the next two games, O'Sullivan has the chance to really settle into this team; a role he will almost certainly reprise if Cleary and Jarome Luai get picked for the Blues again.
He was calm and composed in his first outing and looked like he'd been in the system for years. So, will there be a selection headache for Ivan Cleary when his son is fit again?
"Never, never. He is the best. He can come back whenever he likes," O'Sullivan laughed.
"I'm not even worried about that. I just want to do my job for the team. That is the main thing, that is all I am worried about. For however long Nath is out I execute and we get some wins on the board and then he comes back and does his thing."
O'Sullivan is on a one-year deal at Penrith, which raises the obvious question about his future beyond 2022. It's not as simple because his dad, Peter O'Sullivan, is one of the best recruitment managers in the game
And he just so happens to be at the Dolphins trying to sort out a competitive roster when they join the league next year.
"Nah, nah, nah, he'll do his own thing," Sean said. "And I am happy doing my own thing too."
FUTURE STAR ANSWERS PENRITH'S SOS CALL
He was the man who discovered Greg Inglis, Roger Tuivasa-Sheck, Israel Folau and Latrell Mitchell.
Maybe there was another champion player that NRL recruitment guru, Peter O'Sullivan should have identified.
And he was sitting across the dinner table.
O'Sullivan's son, Sean, was this week issued with arguably the biggest and most daunting assignment in rugby league – replacing the unparalleled Nathan Cleary.
Ignoring the pressure, Sean, 23, established himself as a future star with an enterprising and composed performance in Penrith's 28-6 win over Manly in a round one blockbuster at BlueBet Stadium on Thursday night. He was busy and organised.
It was a superb debut for Penrith given O'Sullivan was thrown into the key halfback position late and for the club's high-pressure first game of their premiership defence. And it was all done in front of a home crowd of nearly 17,000.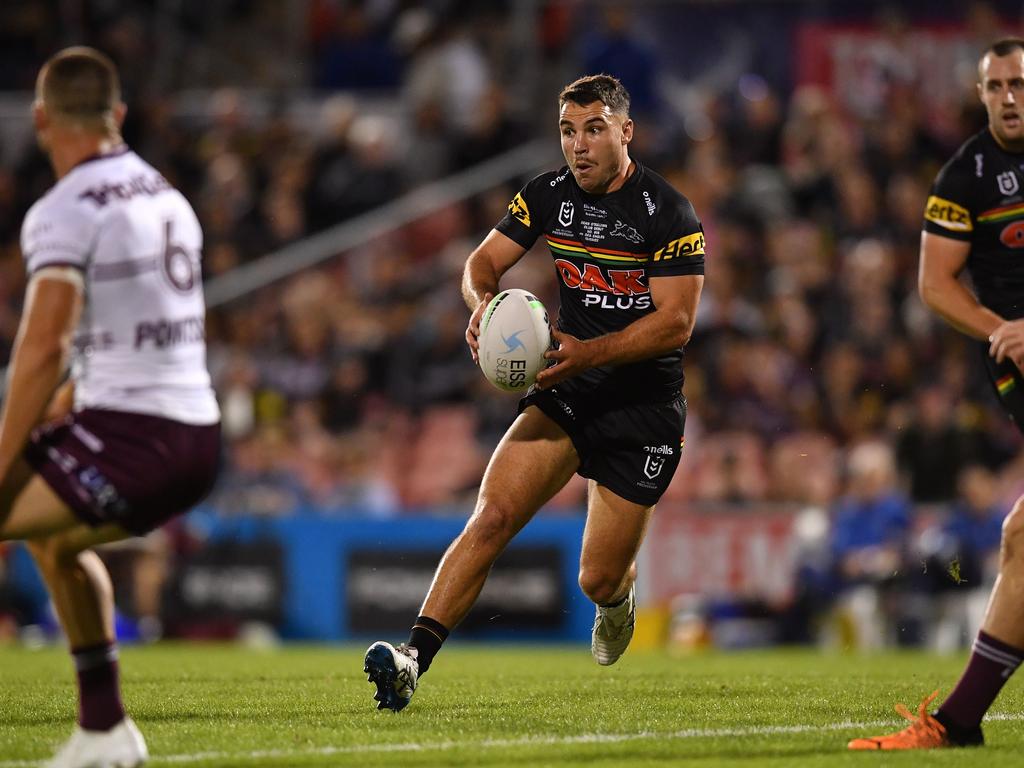 Sean O'Sullivan stepped up when Penrith needed him on Thursday night. Picture: NRL PHOTOS
O'Sullivan made seven runs which yielded 52 metres, made 23 tackles, two line breaks assists, two try assists, one tackle buts and one offload. He picked his time to run, kicked well and refused to overplay his role.
All this unfolded in front of what was essentially his home crowd. O'Sullivan played junior rugby league for Glenmore Park Brumbies in the Penrith junior league. He attended Patrician Brothers College, Blacktown.
Thursday night was a sweet homecoming.
O'Sullivan will obviously make way when Cleary returns in round four but will be back in the top side as a key contributor during the hectic State of Origin period.
Peter has long been recognised as being among the game's top recruitment managers and is currently trying to build the Dolphins a respectable roster for their NRL debut season in 2023.
He would have been a proud father on Thursday night.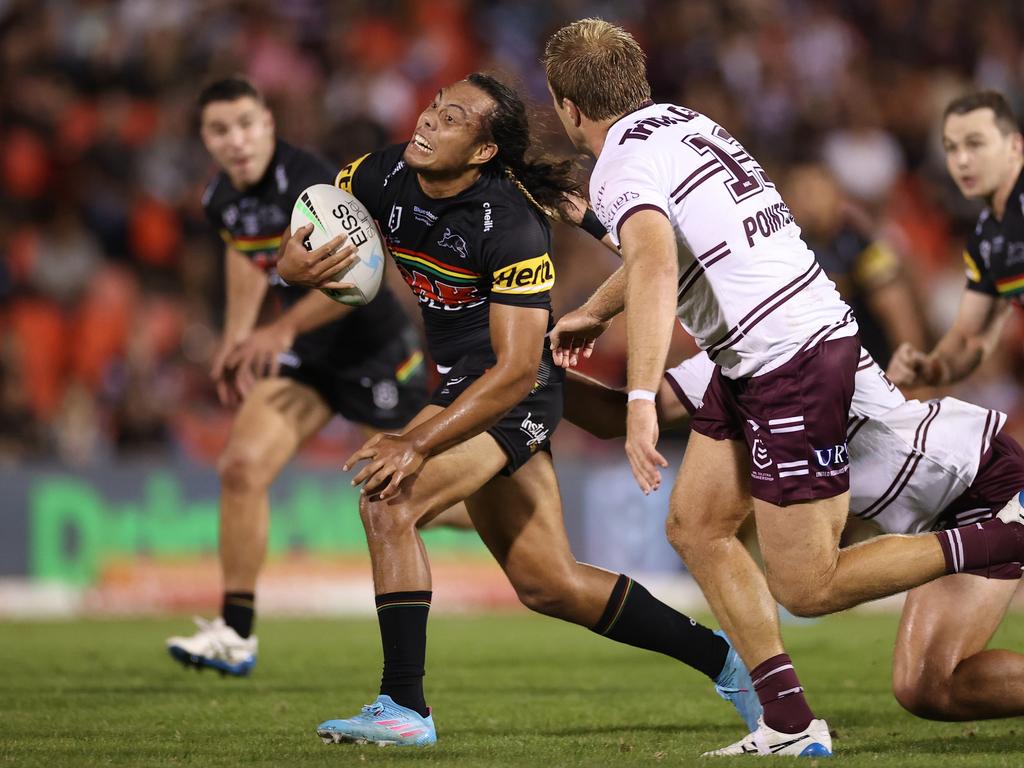 O'Sullivan's control let Jarome Luai (pictured) roam free. Picture: Cameron Spencer/Getty Images
"(O'Sullivan) was outstanding right throughout the 80 minutes," said Panthers coach Ivan Cleary. "He has prepared for this game for the last three months, probably more than that. I was really happy for him; a Penrith boy who left to look elsewhere. He has been in a few different systems.
"He is a good footy head, he loves the game and loves learning. He came back here and has done everything we have asked of him. He played tonight like he prepared. He had a lot of calf cramps through the last half an hour. He battled through that too and still got his job done so it was quite courageous.
"He will have to back it up next week; take in all the accolades and get his head back on the ground, which I'm sure he will."
Panthers skipper Isaah Yeo added: "I thought 'Sully' was really good. He being an out and out half allows 'Rome' (Jarome Luai) to do what he does so well and that's play on the front foot, which he does best. Both of them worked really well together."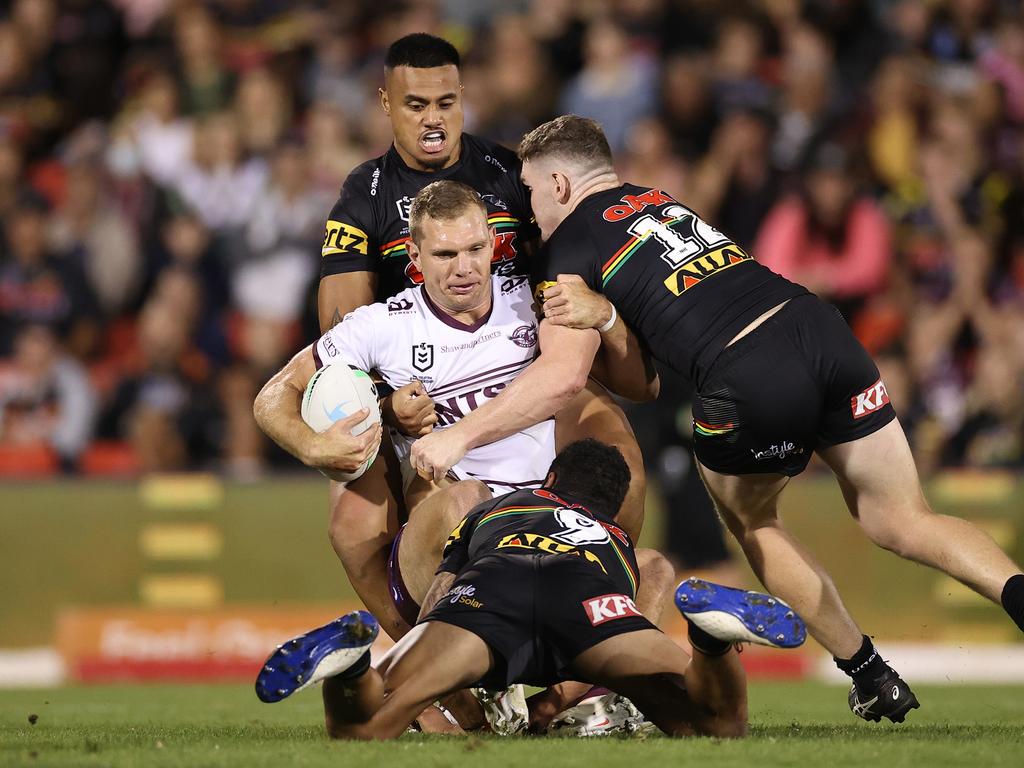 The Panthers swarmed on Tom Trbojevic whenever he was near the ball. Picture: Cameron Spencer/Getty Images
Sean has previously played for the Roosters, Broncos and Warriors but never been given a consistent crack at first grade. That trend may continue at Penrith given he's behind Cleary but he is there waiting and ready for any emergency.
Peter recently told Code Sports: "I knew Sean could have an NRL career if he wanted it ever since he was probably five or six.
"He used to watch under-20s videos with me with the sound off when he was a baby, so I think he was probably always destined to go down that path."
Yeo and fullback Dylan Edwards were inspirational in an emphatic win over a disappointing Manly. While Penrith rumbled, Manly fumbled, the Sea Eagles committing eight errors.
The Panthers kept Manly superstar Tom Trbojevic's contribution to manageable levels.
Victory arrived for Penrith without five of their grand final winning champions. Cleary was out injured while Matt Burton, Tyrone May, Kurt Capewell and Paul Momirovski have moved on.
It is already clear that this Penrith side are back and hungry for a fair dinkum tilt at back to back titles. Penrith lost 36-0 to Parramatta in a trial game – one day people will ignore trial form.
The score line could have been more lopsided given Penrith was denied two early tries through obstruction.
Possibly the best aspect of Thursday night may not have even been the game. It was just comforting and uplifting to be back at a full suburban rugby league ground in Sydney. The sadness and tragedy of recent weeks was, at least temporarily, forgotten.
SCARY SIGNS AS PANTHERS START TITLE DEFENCE IN STYLE
Penrith's premiership defence is off to a terrifyingly impressive start after they tamed Tom Trbojevic to open the new season with a 28-6 win at home over Manly.
Matt Burton and Kurt Capewell are gone from the team that lifted the trophy last year. So is Paul Momirovski. And Tyrone May. And then there's the little matter of Nathan Cleary being out for the first three weeks.
Other clubs have enough excuses to start the year with a couple of losses. Just look at what Manly did last year when Trbojevic was out. But as Matt Nable said in his Fox League promo, "Winners don't quit, and quitters don't win."
From the opening whistle, the Panthers played with an energy that is rarely seen in the opening few rounds when sultry, slippery conditions make teams play safety-first footy.
Penrith moved the ball with the precision and confidence of a side that could easily defend its title, and they've set the early benchmark with their key players showing no signs of a post-premiership hangover.
Isaah Yeo was outstanding for the Panthers. Picture: Cameron Spencer/Getty Images
They had epic tries disallowed, dominated territory, bashed Manly with their defence, and their key players look even better than they did last year.
Dylan Edwards got sets started with countless carries, Jarome Luai and Viliame Kikau ran riot on the left and Api Koroisau was a menace through the middle. And then there's young gun Izack Tago, who scored the first try of the year and looked great at left centre. Scary signs for the rest of the league.
O'SULLIVAN DELIVERS WHEN CALLED
Not many teams can lose a guy like Cleary and produce the sort of footy that Penrith did on Thursday night. And they can thank their fill-in halfback for banking two competition points against a team that is tipped to go deep in 2022.
Sean O'Sullivan has been a bit of a journeyman over the years but he looks at home at the foot of the mountains. He controlled things on the right edge and deservedly set up tries for Stephen Crichton and Liam Martin with perfect passes.
He knew when to run, he passed when he had to and he kicked long and often to pin Manly's back three deep in their own end. He's no Cleary, but he's one of the reasons why this club has now won 18 games in a row at home.
"I was really happy for him," Penrith coach Ivan Cleary said. "He's done everything we've asked of him. He played like he prepared. He was outstanding throughout the 80 minutes."
Tom Trbojevic of the Sea Eagles is tagged by Izack Tago. Picture: Cameron Spencer/Getty Images)
TOM HAS HIS WINGS CLIPPED
He was the man who dominated every 2021 highlight reel, but for the first time in years, Tom Trbojevic had a quiet game. Not just a quiet game by his standards, but one of those nights where he just couldn't get involved.
He played a part in Manly's only try on the stroke of halftime, but his lethal runs through the middle never eventuated because the Sea Eagles never got on the front foot.
It means they have now started the past nine seasons with a first-up loss, and it's a worrying reminder that they can't score points when Turbo is tamed.
"You can't just keep pointing the finger at Tom and saying they handled Tom," Manly coach Des Hasler said. "We've got to handle our game and we've got to promote ourselves better to get ourselves in the game."
PLAYING BY THE RULES
It took less than a minute for the new rules to come into play.
If you want to be pedantic, it took 29 seconds and three tackles for the Panthers to be penalised for jumping the gun in their own half to help Manly march down the field.
The Sea Eagles were awarded the first five penalties of the night, but interestingly Penrith had five of the first six set restarts as Manly struggled to handle their momentum.
As for the new judiciary rules, Haumole Olakau'atu could face the wrath of the match review committee after he was placed on report for a late hit on Scott Sorensen. Based on the changes, he might have to cough up a few dollars.
Originally published as NRL 2022, round 1: O'Sullivan shines as Penrith Panthers crush Manly Sea Eagles