NRL 2022: Cameron Murray has no hard feelings towards Karl Lawton after horror tackle
While Souths skipper Cameron Murray understands how fortunate he was to avoid injury, he can't help but feel a level of sympathy for suspended Manly forward Karl Lawton.  
South Sydney captain Cameron Murray harbours no ill-will towards Manly forward Karl Lawton.
Murray understands how perilous the situation was and how fortunate he was to avoid injury, but he can't help but feel a level of sympathy for Lawton.
From a players' perspective, he says he understands things can go awry. That's exactly what happened at Central Coast Stadium last Friday night, when Murray miraculously avoided being tipped on his head by Lawton in a tackle that went dangerously wrong.
Stream every game of every round of the 2022 NRL Telstra Premiership Season Live & Ad-Break Free In Play on Kayo. New to Kayo? Try 14-Days Free Now >
The tackle on Cameron Murray which saw Karl Lawton sent-off. Picture: Fox League.
Lawton was suspended for four matches after entering an early guilty plea to a dangerous throw on Monday morning. He sent Murray an apology via social media immediately after the game and Murray revealed he responded in kind, letting Lawton know there was no drama between them.
"He apologised, which was nice," Murray said.
"He didn't get an opportunity after the game to come up to me and say sorry. I reassured him that accidents happen and he didn't do it on purpose.
"I just said I understand accidents happen, I appreciate the message and I hope he gets back on the footy field soon.
"There is no hard feelings at all. Accidents happen. I understand how that type of tackle or similar tackle is not tolerated.
"I understand that, but I also more side with a players' perspective and I try to empathise with what he is feeling, and I know he didn't mean it."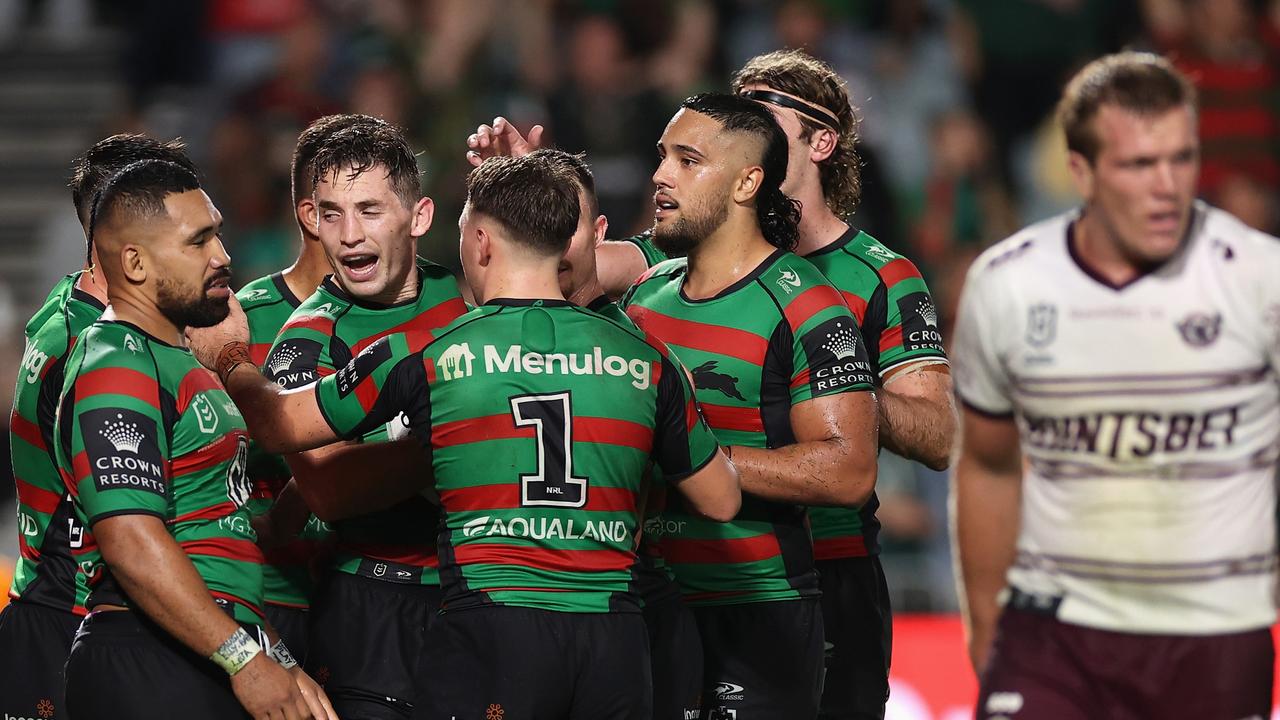 Murray recovered to play a leading role in the victory over Manly.
Some commentators suggested Lawton was unlucky to be sent off over the incident. It was a debate that Murray had no interest in entering.
"It's not really my place to comment or judge whether it should or shouldn't have been a send off," Murray said.
"I got up sweet. That was the good thing about it. Whether it was a send off or not is out of my hands. That is for the referees.
"I was able to walk away from it, so you can look at it a little lighter. I don't want to say laugh at it because I know people have got themselves into that position and haven't been as fortunate as me, in some tragic circumstances.
"So I understand the seriousness of the situation. From a players' perspective, you can look at it from an empathetic side and see he did it by accident and not on purpose.
"I understand how bad he is probably feeling. I can kind of look it from his perspective. I know it was an accident and I know accidents can happen.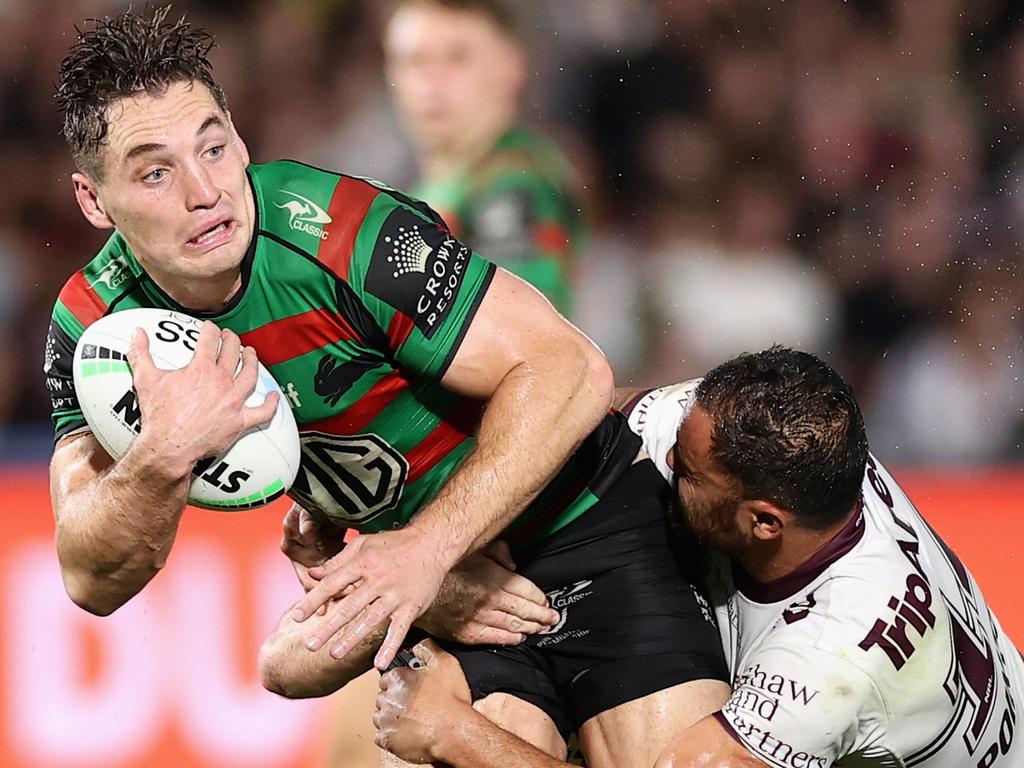 Murray refused to enter the Karl Lawton send off debate
"The good thing is I walked away from it."
Murray now turns his attentions to Thursday night as the Rabbitohs host former captain Adam Reynolds at Accor stadium.
Reynolds missed the opening round game between Brisbane and Souths through injury, which means he will confront his former club for the first time since his departure at the end of last season.
"I am not going to talk to him - not until we play probably," winger Alex Johnston said.
"I'll give it to him after we win. He is a pest. I can pretty much guarantee he will say something and try to get under the boys' skin."
Reynolds never got the send-off his career deserved from the Rabbitohs faithful because the season was shifted to south-east Queensland. Souths players expect he will receive plenty of respect on Thursday night.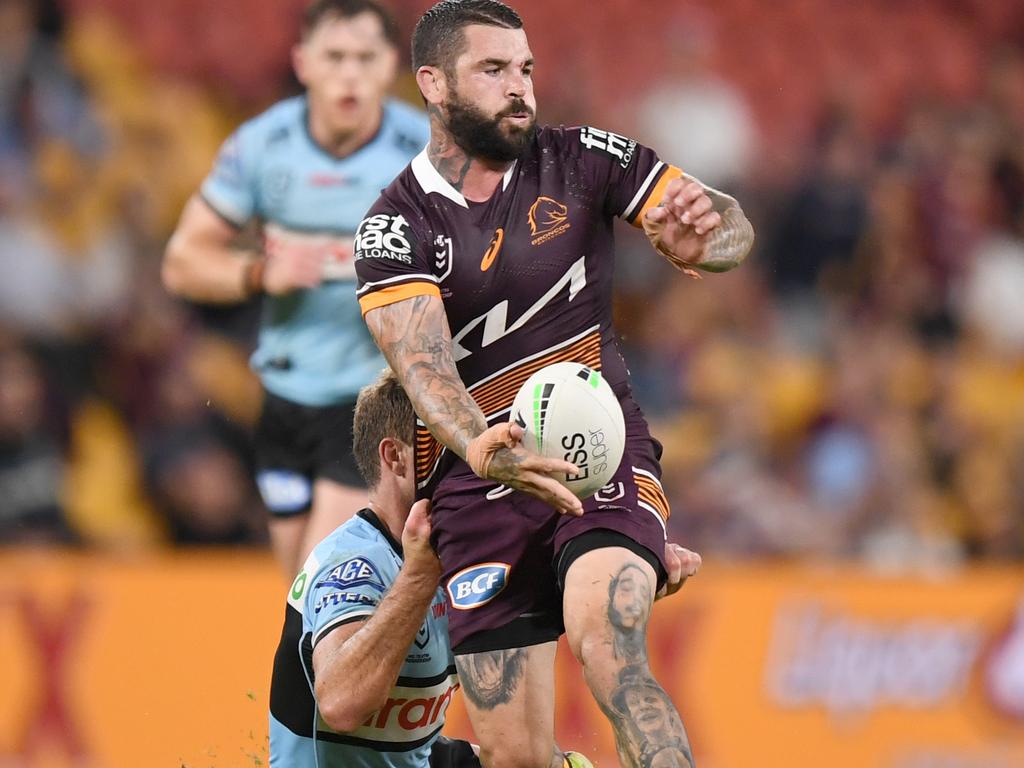 Souths players are looking forward to coming up against Reynolds.
"I am sure there will be sort of a send off this week," Johnston said.
"I am sure the crowd will give him a nice cheer."
Murray added: "I think he will get a good (reception). Souths fans are pretty loyal. Reyno is definitely one of their favourite sons. It doesn't matter what jersey he is wearing - I think he will get a pretty receptive welcome from the fans."
Punishment confirmed for horror spear tackle
- Jasper Bruce and Fatima Kdouh
Karl Lawton will miss the Manly Sea Eagles' next four games after accepting the early guilty plea for his dangerous throw charge.
The referee sent Lawton from the field on Friday night when he threw South Sydney Rabbitohs star Cameron Murray to the ground in a spear tackle.
The Sea Eagles were forced to play more than 70 minutes of the game a man down and lost 40-22 despite their best efforts.
Stream every game of every round of the 2022 NRL Telstra Premiership Season Live & Ad-Break Free In Play on Kayo. New to Kayo? Try 14-Days Free Now >

The following day, the match review committee categorised Lawton's tackle as Grade Three - the most serious charge handed out for dangerous throws.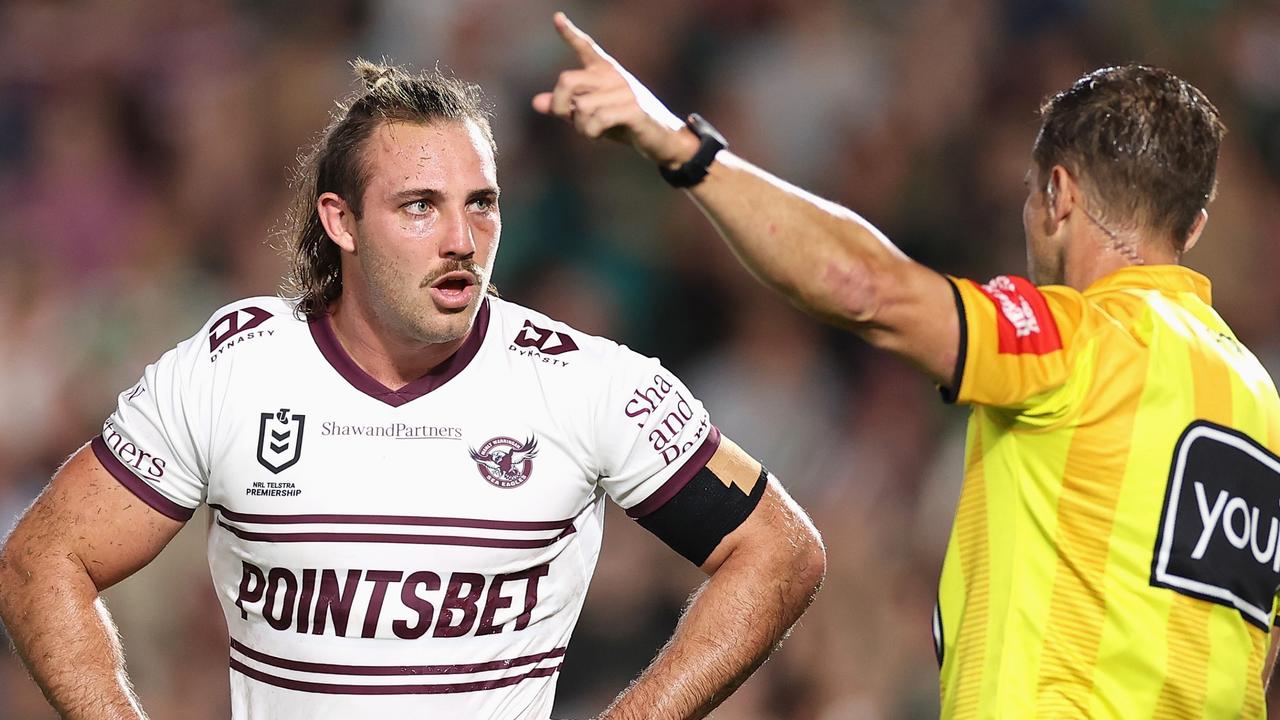 Lawton missed the rest of the game. (Photo by Cameron Spencer/Getty Images)
Lawton had the option to challenge the charge and risk missing five games if he was unsuccessful but on Monday morning, the Sea Eagles confirmed he would accept a four-match ban.
He'll miss upcoming clashes with the Wests Tigers, Brisbane Broncos, Parramatta Eels and Melbourne Storm.
After the game, Sea Eagles coach Des Hasler said Lawton was remorseful.
"He's devastated," Hasler said.
"There was certainly no malice in the tackle but at the same time, there'll be some consequences to face.

"Would you send him or sin-bin him? I thought maybe the decision could've been disputed there but either way, he wasn't going to stay on the field."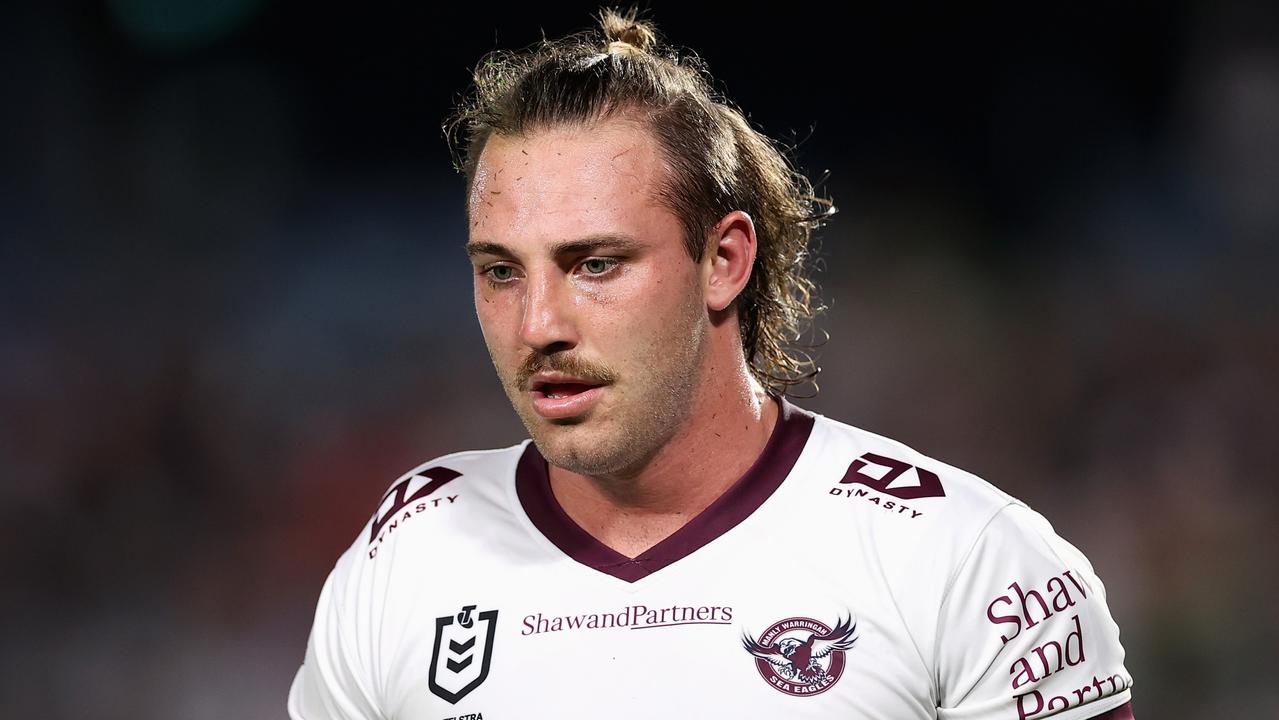 Lawton was sent from the field. (Photo by Cameron Spencer/Getty Images)
Lawton's on-field punishment divided rugby league pundits, with Phil Gould questioning why a player had been sent off when no serious injury had occurred.
"To be sent off for that, when there is absolutely no injury to the other player, that's extraordinary," he said on Channel 9.
"I thought 10 minutes in the bin would've been sufficient," agreed Storm great Cameron Smith.
"I don't think he had any intent at all to drop him on his head. That's a tackle that's gone wrong."

Panthers legend Greg Alexander was among those to agree with the on-field punishment.
"I thought it was a send-off offence," he told Fox Sports.
No problem at all with that send-off for Karl Lawton, that was a horrible tackle putting Murray in a perilous position. WWE wrestlers wouldn't do that #NRLSouthsManly

— Jamie Pandaram (@JamiePandaram) April 29, 2022
"Severity of injury shouldn't influence punishment" applies in Lawton's case, just not in the way those who usually use it intend. Horrible tackle, could've been career altering for ball carrier. They are the tackles that need to be harshly punished regardless of injury severity

— NRL PHYSIO (@nrlphysio) April 29, 2022
Dangerous throws have become rarer in the modern game since the NRL began cracking down on them in the early 2000s.
Lawton was the first player to be sent off for a dangerous throw since 2019.
The tackle on Cameron Murray which saw Karl Lawton sent-off. Picture: Fox League.
Explained: How Wighton avoided bin over ugly lifting tackle
Canberra's Hudson Young may have saved Jack Wighton from being sin-binned but that didn't stop the Raiders five-eighth fromgetting slapped with a possible two-match ban for an ugly tackle on Warriors fullback Reece Walsh.
The Match Review Committee charged Wighton with a grade two dangerous throw after flipping Walsh beyond the horizontal afterlifting his leg before he and Young drove the fullback into the ground.
Referee Chris Butler penalised the tackle and placed Wighton on report but did not sin bin the playmaker.
Wighton escaped the bin even after reviews from Bunker official Steve Chiddy.
NRL Head of Football Graham Annesley said Hudson's presence makes it difficult for Butler to determine the full extent of Wighton's involvement in the tackle.
"I can't really comment on this incident as it is still going through the judicial process, but what I can say about similarincidents in the past is it can be very difficult for match officials to adjudicate live when there is more than one tacklerinvolved," Annesley told The Daily Telegraph.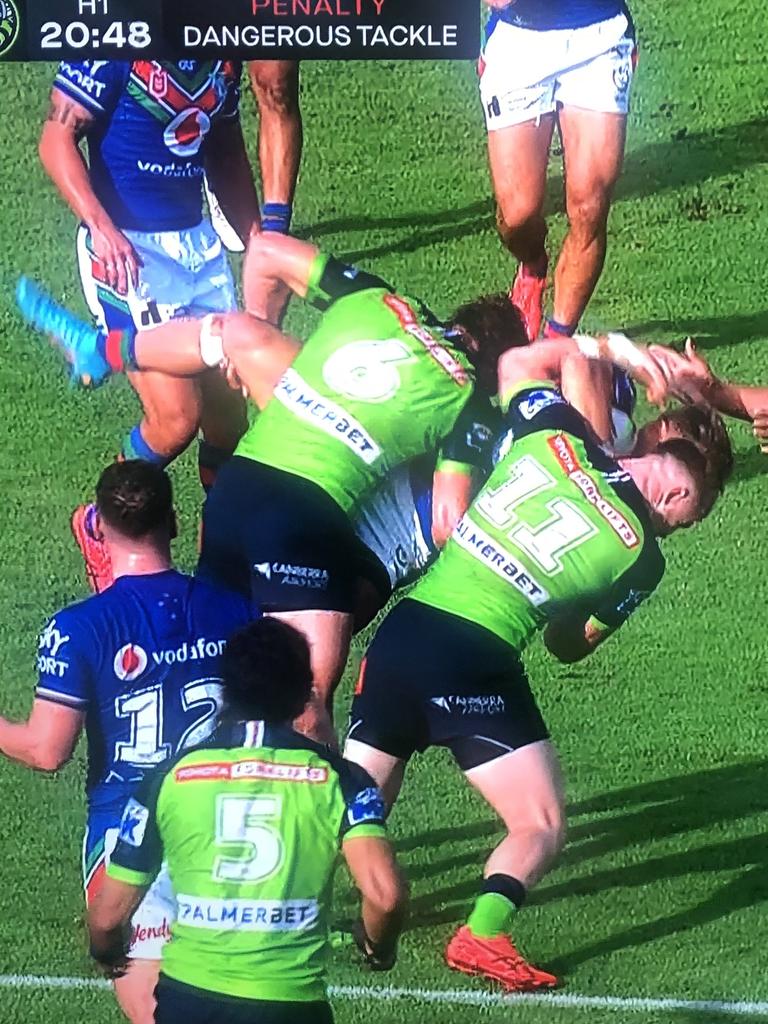 jack Wighton lifts and drives Reece Walsh. Fox League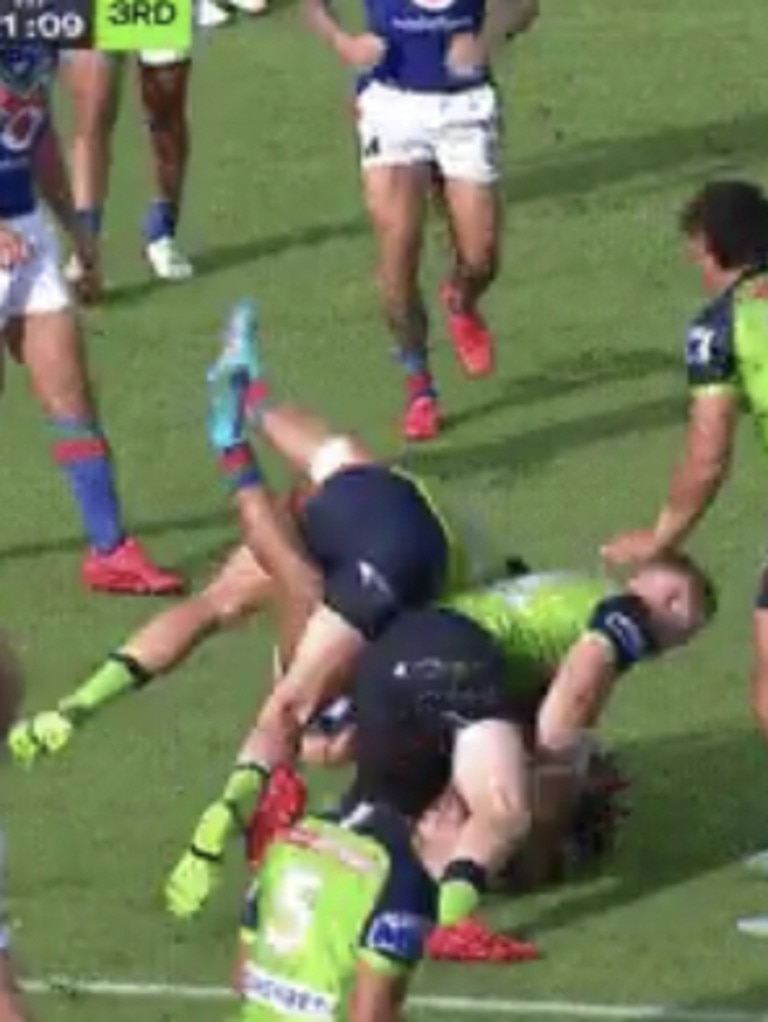 Wighton was placed on report for this tackle on Reece Walsh. Fox League
"Some of these previous cases have involved complex submissions at a judiciary hearing regarding the impact of each playerinvolved, so understandably it can at times be very difficult for match officials to make a definitive decision in real time."
It's the worst possible outcome for the Raiders, with the club slumping to five-straight losses after going down to the Warriors 21-20 on Saturday.
The timing of the suspension could also spell trouble for Wighton's Origin chances.
Wighton is vying to replace the injured Latrell Mitchell at left centre in the series opener on June 8 but will only havetwo games on return from suspension to win over NSW coach Brad Fittler.
Wighton will miss three weeks if he opts to fight the charge at the judiciary and loses.
Originally published as NRL 2022: Cameron Murray has no hard feelings towards Karl Lawton after horror tackle