NRL Magic Round 2022: High tackle crackdown fears after Jesse Ramien controversy
The decision not to send off Jesse Ramien for his high shot last weekend has sparked concerns Magic Round could descend into another farce.
NRL head of football Graham Annesley has moved to allay fears of another Magic Round high tackle crackdown, adamant "we have not read the riot act" to referees.
It comes amid concerns that the decision not to send off Jesse Ramien for his dangerous high shot last weekend could result in another over-the-top reaction at the blockbuster Brisbane event.
Last year's Magic Round was marred by controversy with 14 sin bins and three send offs across the eight games that caused a massive blow up among players, coaches and fans.
Annesley did not hide from his comments earlier this week that he thought Ramien should have been sent off and not sin binned for the tackle that knocked out Warriors forward Euan Aitken.
Watch every game of Magic Round this weekend Live & Ad-Break Free In Play on Kayo. New to Kayo? Try 14-Days Free Now >
But Annesley vowed that did not mean the refs would be under specific instructions to get tougher this weekend.
"They have just been told in the same way they have been told all year to just try and get the decisions right based on the circumstances of the incident," Annesley said.
"But they have been given no direction this week to go harder on that sort of stuff.
"They have to make judgment calls on these things.
"But we haven't read the riot act to them or anything like that.
"It is business as usual this week."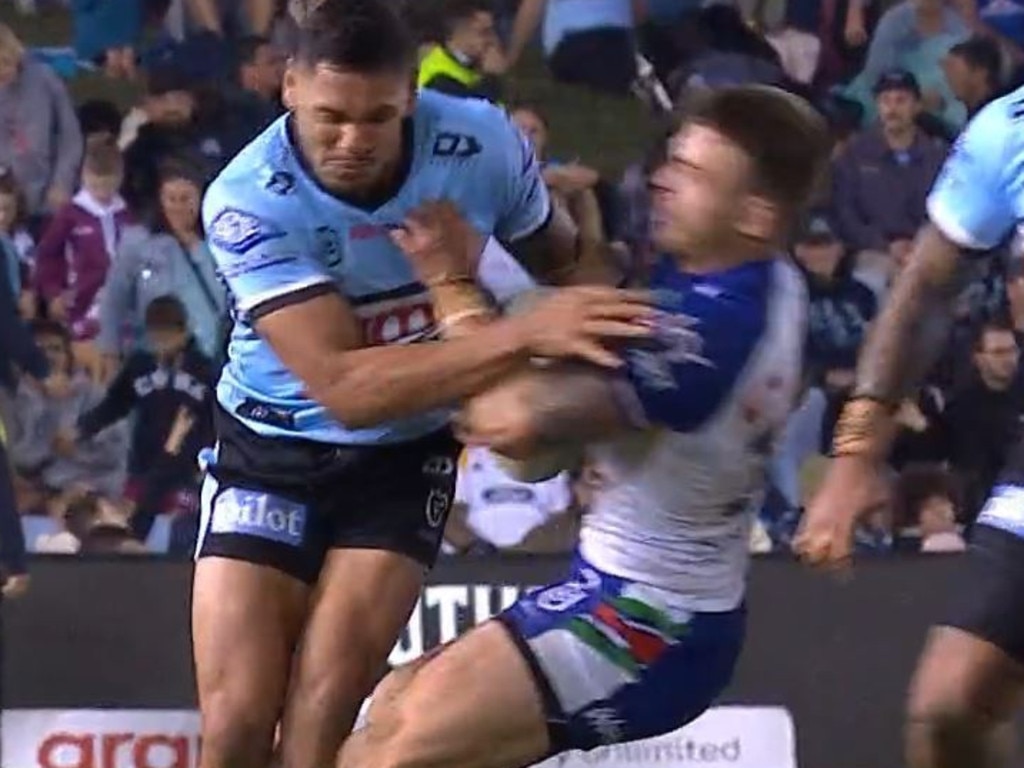 Jesse Ramien wasn't sent off for this vicious high shot on Euan Aitken. Supplied
There was a huge split among experts and fans over the Ramien tackle, although the majority agreed with Annesley that the tackle warranted a send off.
There was also a view among some commentators that the fact Will Kennedy had been sent off earlier in the game for his coat hanger on Reece Walsh may have influenced the match officials' decision not to march Ramien as well.
That is why some people within the game are concerned the refs might be walking on eggshells again this week, worried if they don't hand out tough punishment they will cop the fallout.
"All these things come down to personal opinion," Annesley added.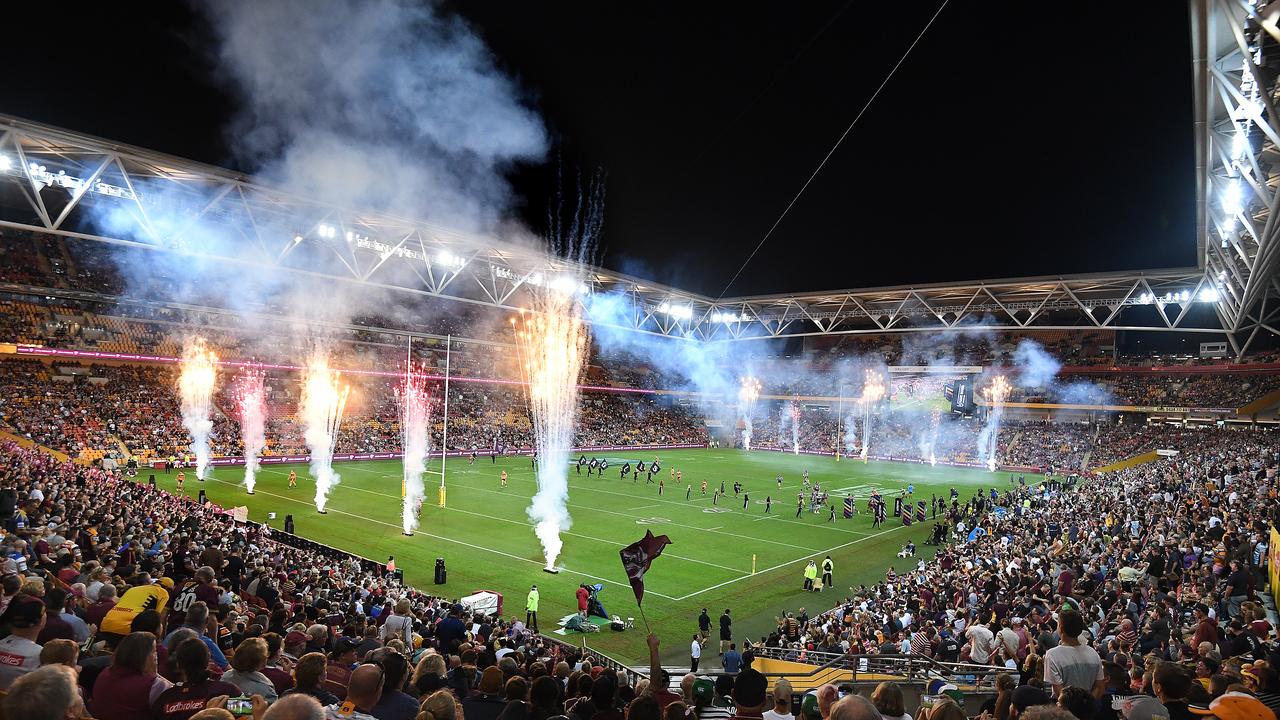 Last year's Magic Round descended into farce after a high tackle crackdown. Picture: AAP/Dave Hunt
"You will have an opinion that the sin bin was probably sufficient. Many others will say (it was a send off).
"All I do is give my personal opinion.
"All I am saying is if he had been sent off I wouldn't have been upset about that.
"At least the referees acted on it (by putting Ramien in the sin bin) and the judiciary has acted on it (by giving him a three-match suspension).
"I am comfortable with that.
"But going into Magic Round they have been given no instructions at all."
Asked if he looked back on the crackdown last year as an over-reaction, he argued it has done more good than bad.
"I think there was an adjustment that we had to have," he said.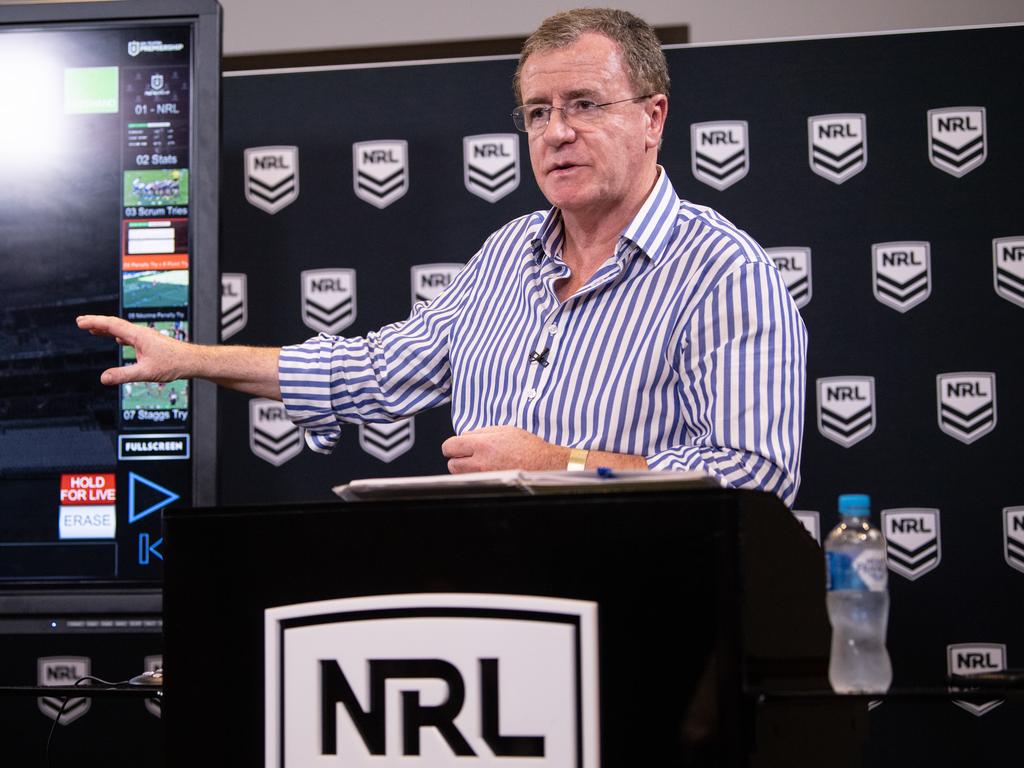 NRL Head of Football Graham Annesley. Picture: AAP/James Gourley
"And I think the results that we have seen since Magic Round, in terms of the way the players have adjusted their tackling style and the reduced number of charges that we have seen … that is all the result of the adjustments that were made last year."
NRL statistics back-up Annesley's claims, with Annesley pointing out that high tackles have almost halved and judiciary charges are down an astonishing 72 per cent.
But it could also be argued the reason for that is that the game has softened its stance against the high tackles compared to what it was like at the height of the crackdown last season.
The fact Ramien was sin binned and not sent off is conclusive proof of that.
Originally published as NRL Magic Round 2022: High tackle crackdown fears after Jesse Ramien controversy