NRL market watch 2022: Latest trade news whispers from Broncos, Titans, Cowboys, Dolphins
Teenage whiz Selwyn Cobbo will sacrifice more than $200,000 to stay loyal to his Brisbane Broncos, but the new contract of rugby league's most in-demand player comes with a significant change.
Teenage sensation Selwyn Cobbo is poised to reject $900,000 offers from NRL rivals and take less to stay at the Broncos in his quest to break Brisbane's 16-year premiership drought.
In a huge coup for the Broncos, Cobbo will sacrifice more than $200,000 and avoid going to the open market to remain loyal to the club he dreamed of representing as a schoolboy.
But Cobbo's new Broncos deal will be reconfigured, with a proposed four-year upgrade to be reduced by 12 months as his management seeks clarity on the contractual future of Brisbane coach Kevin Walters.
As revealed by News Corp on Friday, Cobbo has become the most in-demand player in rugby league, with 14 NRL rivals having lodged expressions of interest in Brisbane's newest backline superstar.
Watch every game of NRL Live & Ad-Break Free In Play on Kayo. New to Kayo? Try 14-Days Free Now >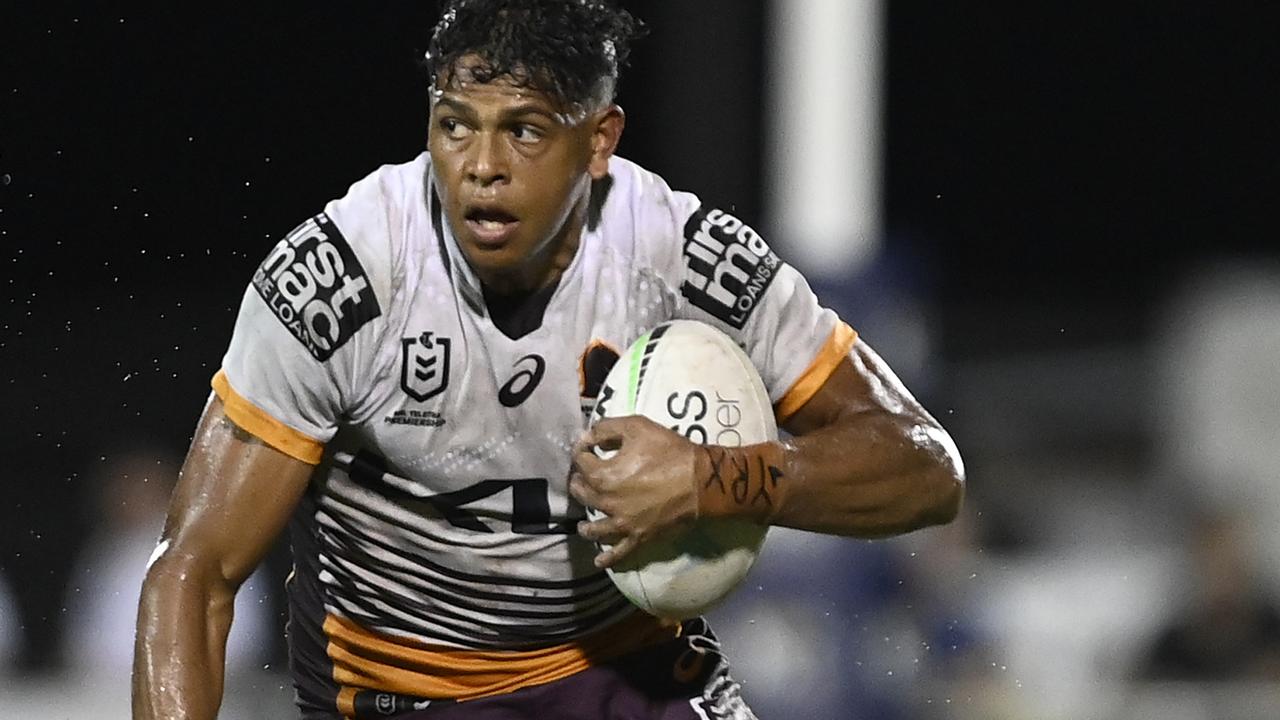 Selwyn Cobbo will extend his time at the Broncos but it will be a shorter-term deal.
Several clubs were ready to blow the Broncos out of the water with monster offers for Cobbo, which they can formally table from November 1, plus the additional carrot of the fullback spot for Brisbane's version of Latrell Mitchell.
Mindful of poaching threats, headlined by inquiries from Roosters billionaire Nick Politis, the Broncos have ramped-up negotiations on a beefed-up deal to keep the classy Cobbo at Red Hill until the end of 2025.
The Broncos will win the battle for Cobbo's signature — but it will be on a shorter-term deal.
The Queensland Origin hopeful is already contracted for next year and Cobbo's tenure will be extended until the end of 2024.
That's the year in which star halfback recruit Adam Reynolds' three-season Broncos deal expires. And with Walters off-contract in 2023, the Cobbo camp wants to monitor Brisbane's progress as a club before the young gun is locked into a long-term mega deal.
Cobbo's manager Tas Bartlett confirmed the Indigenous flyer is on the verge of signing an upgrade in a massive retention coup for the Broncos, who will stave off Wayne Bennett's Dolphins.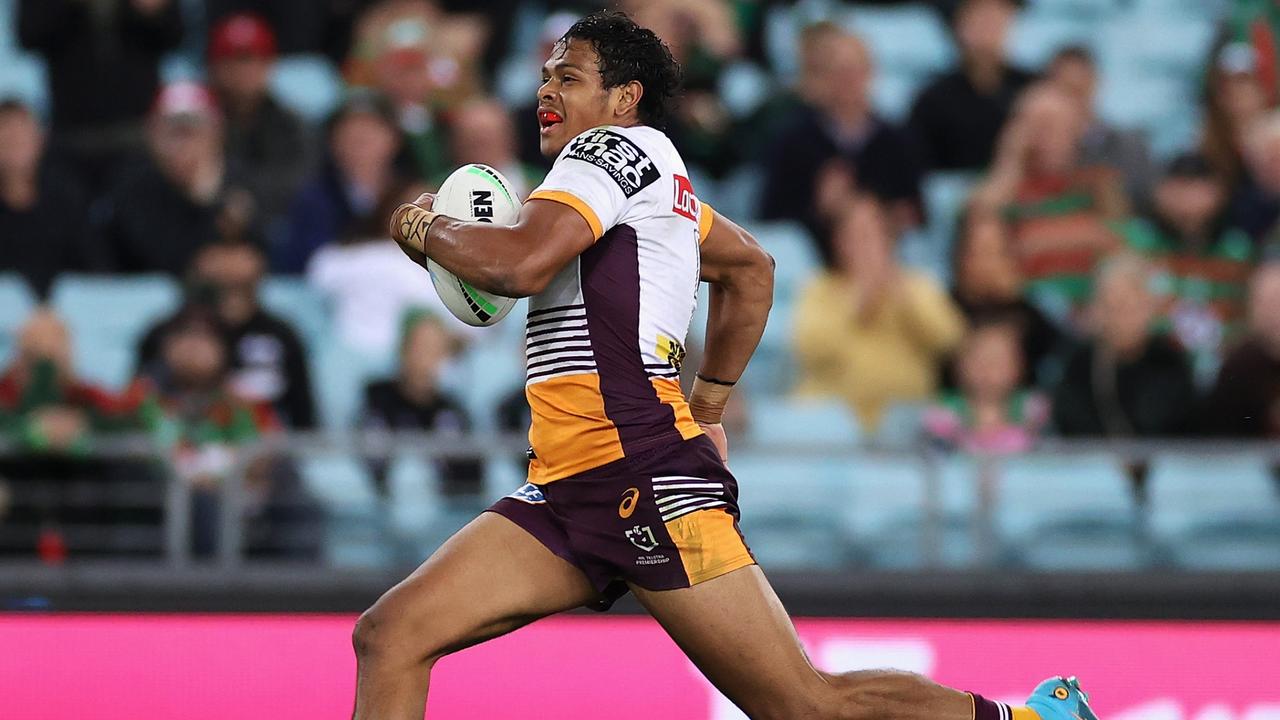 Cobbo will sacrifice more than $200,000 to remain loyal to the Brisbane club.
"We're well advanced in negotiations with the Broncos, we are getting to the pointy end," said Bartlett of PSM.
"Selwyn wants to stay a Bronco.
"He grew up following the Broncos, he is living his dream playing for the Broncos and they have done a lot of welfare work to help get Selwyn to this point.
"The Broncos are in pole position, Selwyn is enjoying playing under Kevvie.
"He wants to show a sense of loyalty to the club."
A shorter-term deal also has benefits for the Broncos.
It would buy Brisbane more time for Cobbo to develop as a player without the threat of a poaching raid and, if required, tweak their salary cap to finance a major pay rise for one of their best backline talents of the past 20 years.
The Broncos accept they could be beaten in a bidding war for Cobbo, as occurred when they lost Reece Walsh (Warriors) and David Fifita (Titans) to a big-money ambush from rival clubs. But Broncos football boss Ben Ikin is backing Brisbane's rejuvenation as a club to keep their posse of rising stars.
"The challenge for us is to build a footy program that convinces guys like Selwyn Cobbo or Herbie Farnworth to stay," Ikin said.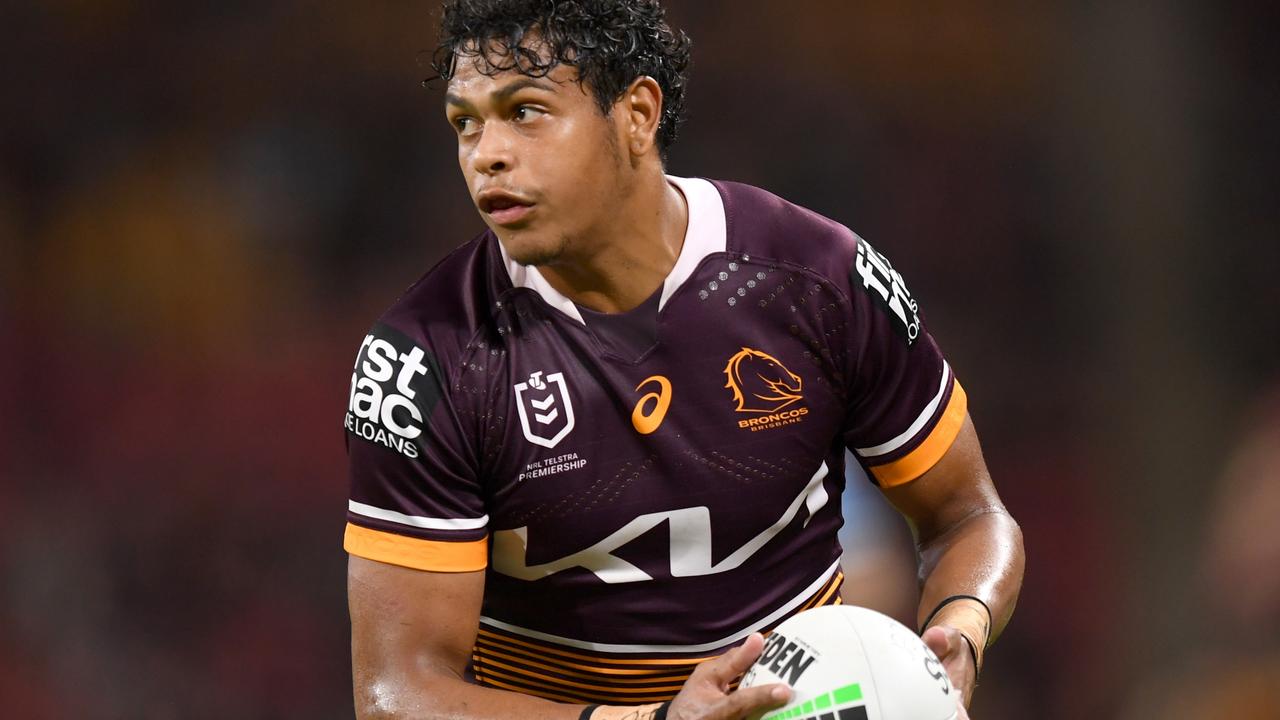 A shorter deal for Selwyn Cobbo also has benefits for the Broncos. Picture: NRL photos
"If we do that, our best kids will find it very difficult to leave.
"We won't be able to keep all our players all of the time, but I'm confident we have a work environment that people love being a part of.
"We would love to keep Selwyn. The good clubs in the marketplace have the ability to keep players and attract other quality players and that's the benefit they get from the strength of the system they have got."
In the lead-up to his barnstorming display against the Knights last Thursday night, Cobbo said he was content at Brisbane. As a 10-year-old, he penned a message on his school blackboard outlining his life ambition ... to play NRL for the Broncos.
"I love the Broncos," Cobbo said. "I grew up watching them and from a young age, I came through their system and through to the top grade.
"The Broncos have done so much for me and I want to perform for them.
"Hopefully we will be back up the top soon."
14 clubs eye Cobbo raid worth up to $900k-a-year
Teen freak Selwyn Cobbo has become the most sought-after player in rugby league with a staggering 14 NRL clubs clamouring to sign Brisbane's version of Latrell Mitchell.
News Corp can reveal the Broncos are under siege to keep Cobbo in the face of a record level of interest spanning almost the entire league as the 19-year-old arrived as the NRL's newest superstar on Thursday night.
The baby-faced assassin tore the Knights apart in Brisbane's 36-12 stampede in Newcastle, his third consecutive blinder which has franked Cobbo among the hottest backline prospects in the code.
A fortnight ago, the Broncos ramped-up negotiations with Cobbo, already contracted for next season, with a view to keeping the boom winger at Red Hill until the end of 2025.
Since then, Cobbo's form has gone to an extraordinary level, with seven tries in three games triggering interest from the code's leading scouts and most powerful figures, including Roosters supremo Nick Politis.
It is understood Melbourne and Penrith are the only clubs yet to reach out to Cobbo's management, with his agent confirming he has been blown away by the slew of NRL teams lining up to poach the Broncos ace.
"I've managed a lot of athletes over the years but no-one has generated the amount of interest like Selwyn," said Tas Bartlett of PSM.
"He is generating all the attention off his own bat.
"I haven't had to pick the phone up to create interest, all the calls are in-bound and I've had 14 clubs contact me to express interest in wanting to sign Selwyn.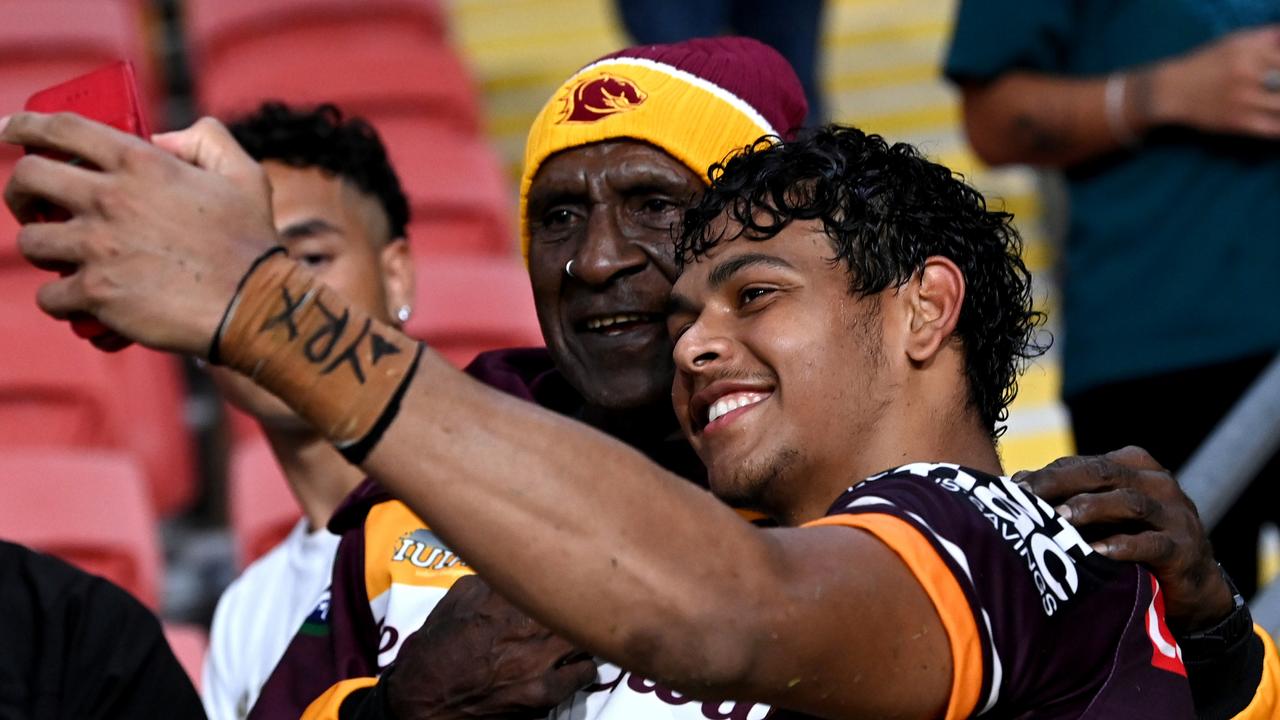 Selwyn Cobbo is a man in demand.
"The interest has come over the last three to six months.
"Some clubs are going harder than others, but the interest has really picked up in the last two weeks.
"Selwyn scored a hat-trick in Magic Round with all the NRL clubs and recruitment people in town and then he backed it up against the Knights.
"It's quite incredible what Selwyn has achieved so far this season ... he is a special talent."
After Cobbo scored a double against Souths in round 9, Roosters billionaire Politis spoke to the rookie's management during a business trip in Greece to inquire about his services.
The Broncos are in the box seat to retain Cobbo. They have a six-month headstart before NRL rivals can strike from November 1, but the one dilemma for Brisbane is identifying the right salary for a teenager whose market value has exploded in the past month.
Rival clubs have revealed they are prepared to pay up to $900,000 a season for Cobbo as part of plans to move him to fullback.
The Broncos cannot afford to match such a figure under their salary cap, but Brisbane football boss Ben Ikin remains confident the club's best backline discovery in 20 years will not leave Red Hill.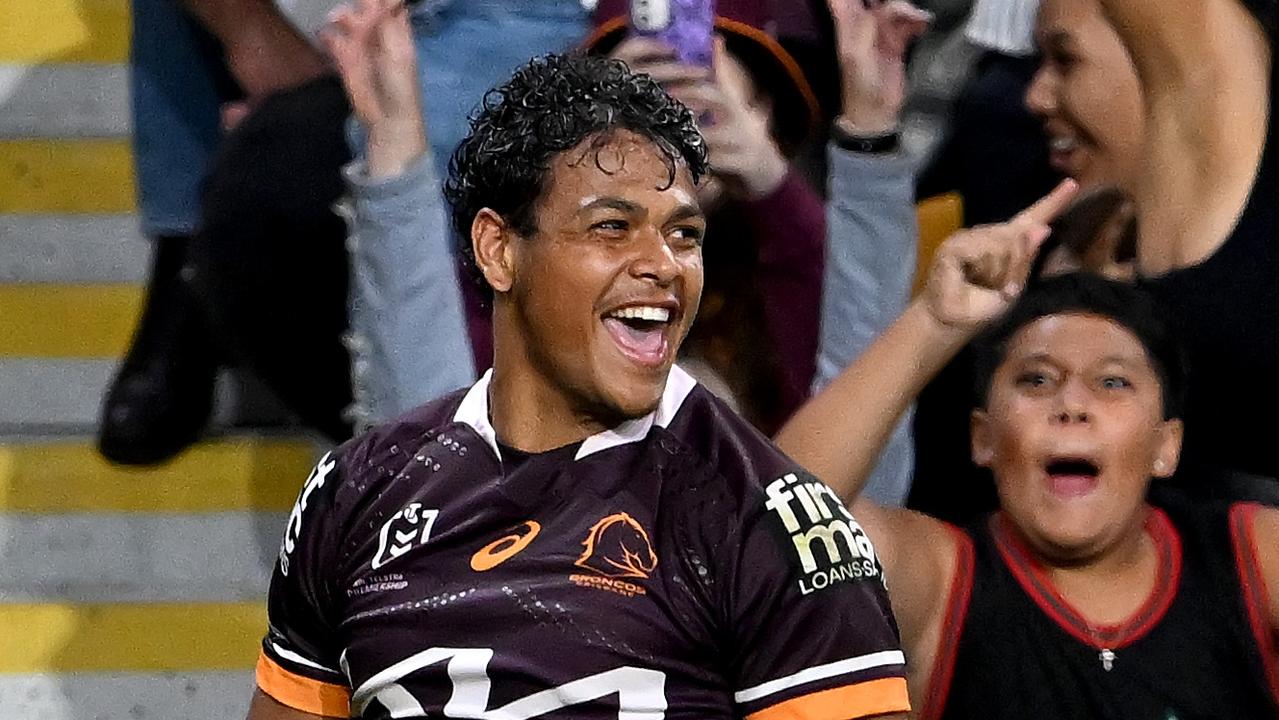 Cobbo has been a revelation in the past month to help Brisbane's climb.
Cobbo is currently on $180,000 and the Broncos are crunching the salary-cap numbers to ensure any upgrade would see the 100kg hulk earn in excess of $600,000 next season.
"I am pragmatic about the situation," Ikin said.
"I can see how well Selwyn is playing and it wouldn't surprise me if a lot of smart recruitment minds at other clubs are seeing exactly the same thing.
"Simon Scanlan (Broncos Academy boss) has done a wonderful job developing our players and that's always our issue as a development club.
"Ezra Mam made his debut against the Knights and he has been with us since he was 13, so clubs are always going to come after our best young kids.
"I know there is talk about Selwyn, but before that it would have been Reece Walsh or Sam Walker and even David Fifita. There's been talk about Payne Haas' contract and Herbie Farnworth has interest, so the talk about Selwyn is nothing new to us.
"It's not an uncommon problem the Broncos face."
Broncos coach Kevin Walters has backed Brisbane's revival as a finals contender to convince Cobbo to stay loyal.
"We are very hopeful we can keep him here," he said.
"Selwyn looks good in maroon and we intend on keeping him here for many years.
"We love what he brings, even at such a young age. He has played some great footy which is great for us as a team and great for Broncos fans and everyone involved in the club.
"We see Selwyn as a long-term player for our club."
TIGERS HALF GRABS BENNETT'S ATTENTION
Wests Tigers are facing a battle to retain Jock Madden with the rookie playmaker shopped to Wayne Bennett to become the Dolphins' foundation halfback.
News Corp can reveal Dolphins coach Bennett has been offered the services of Madden, who is off-contract at season's end and has yet to be offered a new deal by Tigers coach Michael Maguire.
Bennett will spend the next fortnight watching the performances of Madden before deciding whether to table a formal offer for the former Australian Schoolboys ace.
Watch every game of NRL Live & Ad-Break Free In Play on Kayo. New to Kayo? Try 14-Days Free Now >
The 22-year-old can ignite Bennett's interest by producing a sizzling display when he runs out in the No.6 jumper as Jackson Hastings' scrumbase partner for Wests Tigers' clash with crisis-torn Canterbury on Friday night at Leichhardt Oval.
The Dolphins are running out of time to secure playmakers for their foundation season in 2023.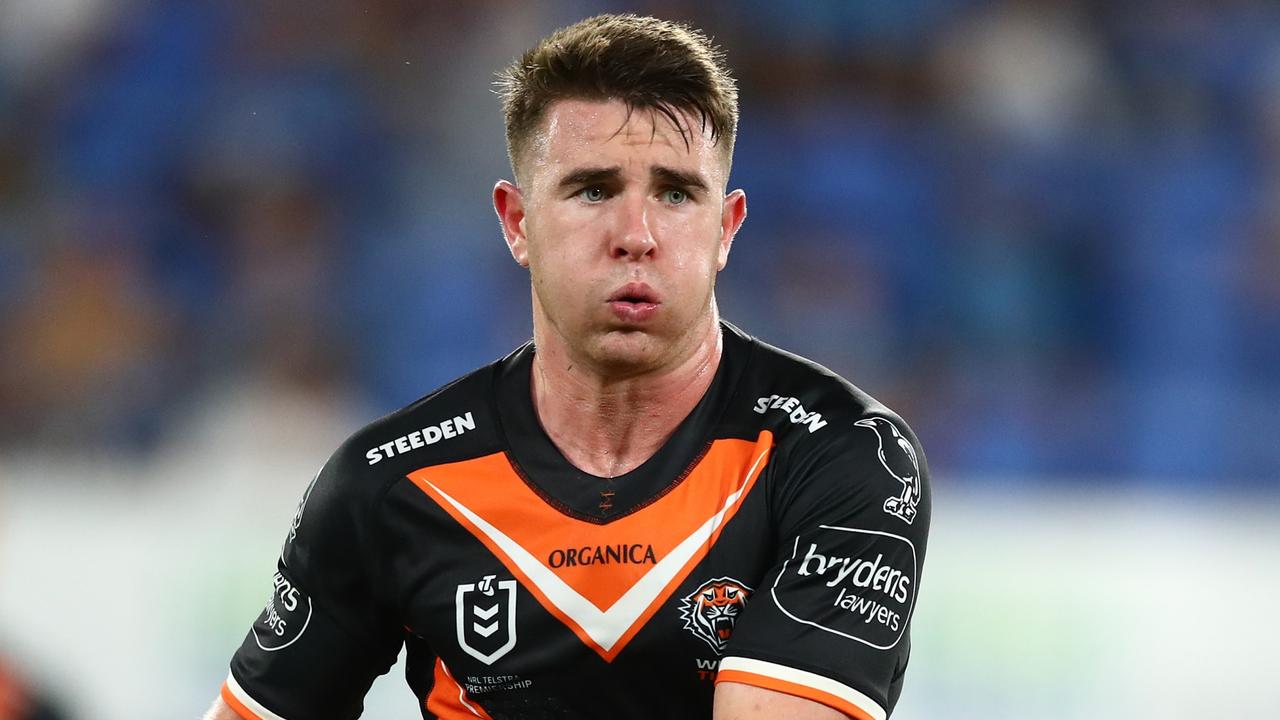 Jock Madden will be monitored by Wayne Bennett over the next few weeks. Picture: Chris Hyde/Getty Images
The new NRL franchise has secured rookie Penrith halfback Isaiya Katoa, but the teenager has yet to play NRL and Bennett is reluctant to throw him in the deep end.
Madden has played nine NRL games since his Tigers debut last season and has shown promise with his kicking game, vision and competitive edge. He is keen to cement the Tigers No.7 jumper, but could be lost to the Dolphins if the Tigers continue to deploy the oft-maligned Luke Brooks or Hastings at halfback.
"He would certainly consider a move to Queensland if the Dolphins were keen," Madden's manager Chris Orr of PSM said.
"Jock just needs a team to give him the No.7 jersey. Now whether that's going to be the Wests Tigers in due course or someone else, he needs a chance to be the seven and run a team. That's what he wants to do.
"He was a halfback for the Australian Schoolboys with [Matt] Burton in the halves. He was the NSW under-20s halfback, he was a premiership halfback in the lower grades. He has gotten some opportunities at five-eighth with the Wests Tigers but he would love a chance to be a No.7 in the NRL.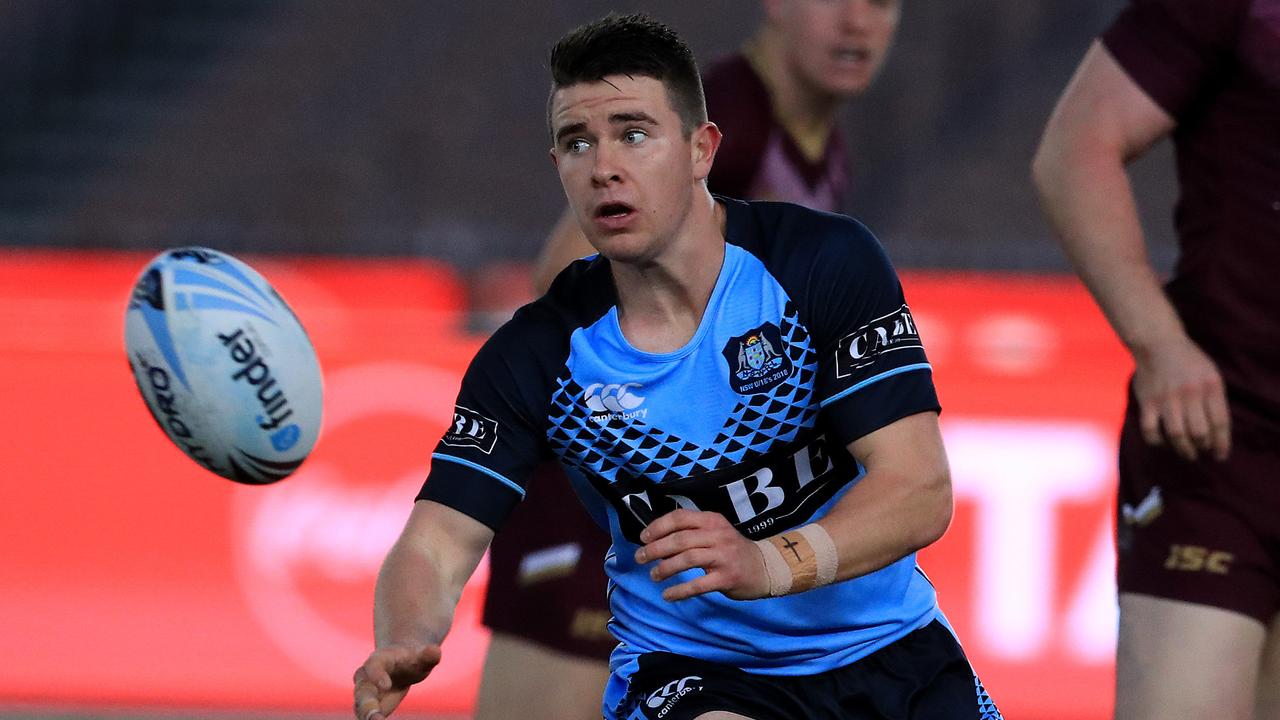 Jock Madden was a star at halfback for Australian Schoolboys and NSW under-20s. Picture Adam Head
"Jock would stay at the Tigers depending on where the club sees him. Do they see him as a fill-in at halfback or do they see him as the long-term solution at No.7? If that's not the case, then Jock will be looking at a club that wants a genuine starting halfback.
"I've spoken to the Dolphins and they are watching Jock closely."
Madden pledged to use the next two weeks, with Brooks out injured, as an opportunity to press his claims for a new contract at the Tigers or another NRL club, starting on Friday night against Canterbury.
"I'm excited to go out there and put my best foot forward and play some good football as well," Madden said. "I got a few runs there at six before, so I'm excited for the opportunity again and to put my best foot forward."
In a boost for Madden's pursuit of a new NRL deal, Maguire said Brooks could be out for up to four weeks with a hamstring injury and would not be rushed back into the side.
CLUBS CIRCLE TITANS YOUNG GUNS AFTER FORAN SWITCH
-Peter Badel
Fullback sensation Jayden Campbell has quashed speculation he could look to leave the Titans as coach Justin Holbrook assured AJ Brimson he had a future at the Gold Coast following the signing of Kieran Foran.
Campbell and Brimson's futures have come under the spotlight after the Titans signed Manly veteran Foran on a two-year deal from 2023.
Foran, 31, has been recruited to bring leadership and experience to a Titans playmaking spine that is lacking direction and has struggled for the most part this season.
But his signing has also raised questions about how Holbrook fits Foran into a young playmaking division that has plenty of talent.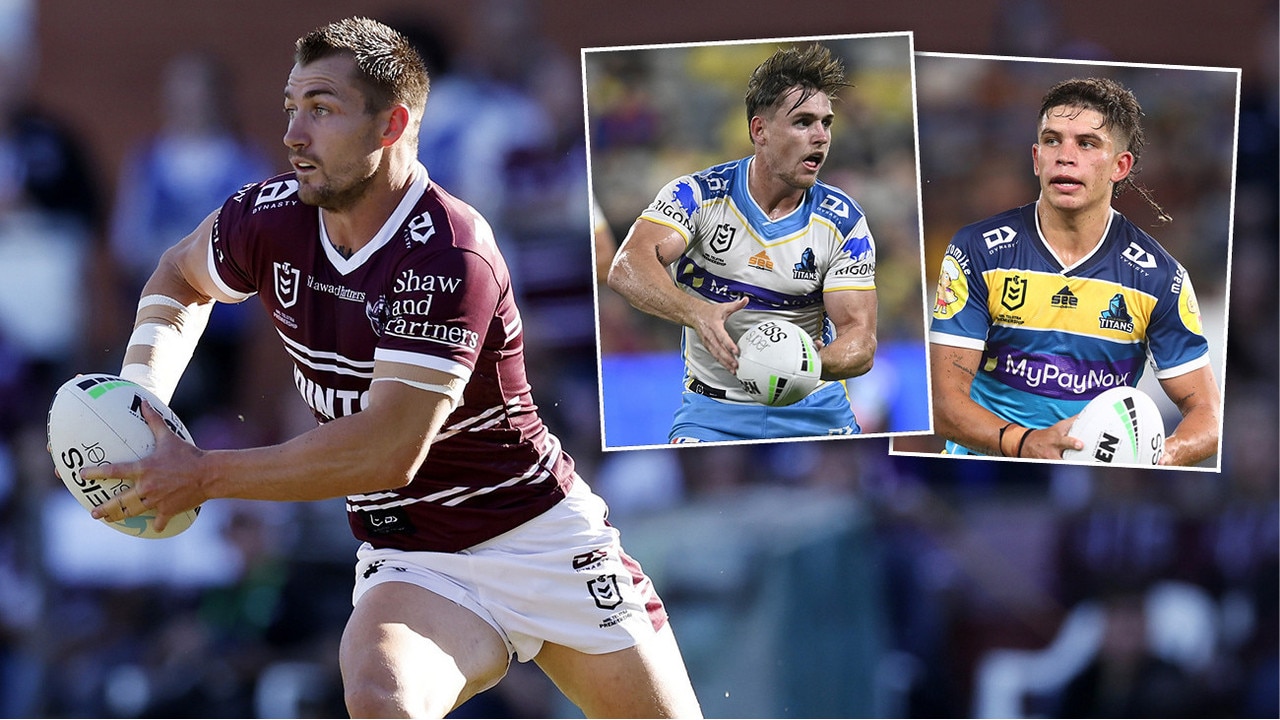 Three into two won't go: What does Kieran Foran's arrival mean for the young Gold Coast stars?
Holbrook has put all of his halfback eggs in the Toby Sexton basket and shifted Brimson from fullback to five-eighth this season to accommodate Campbell in the No. 1.
Foran is most comfortable at five-eighth, which would pit Campbell and Brimson against each other for the fullback duties in 2023.
Campbell's manager has reportedly fielded calls about the livewire's future on the back of Foran's signing and his blistering 240m and 13 tackle busts Magic Round performance against the Dragons.
Contracted until the end of 2024, the son of Titans legend Preston Campbell said he wanted to remain a one-club player.
"I'm not too sure (what Foran's signing means) yet but it's healthy competition," Jayden Campbell said. "Whatever way it works, as long as it's best for the team, I'm happy.
"Growing up I was always a one club person so I'd like to continue that into my NRL career.
"I love it up here. Gold Coast has been good to me and my family so hopefully I can give back to them.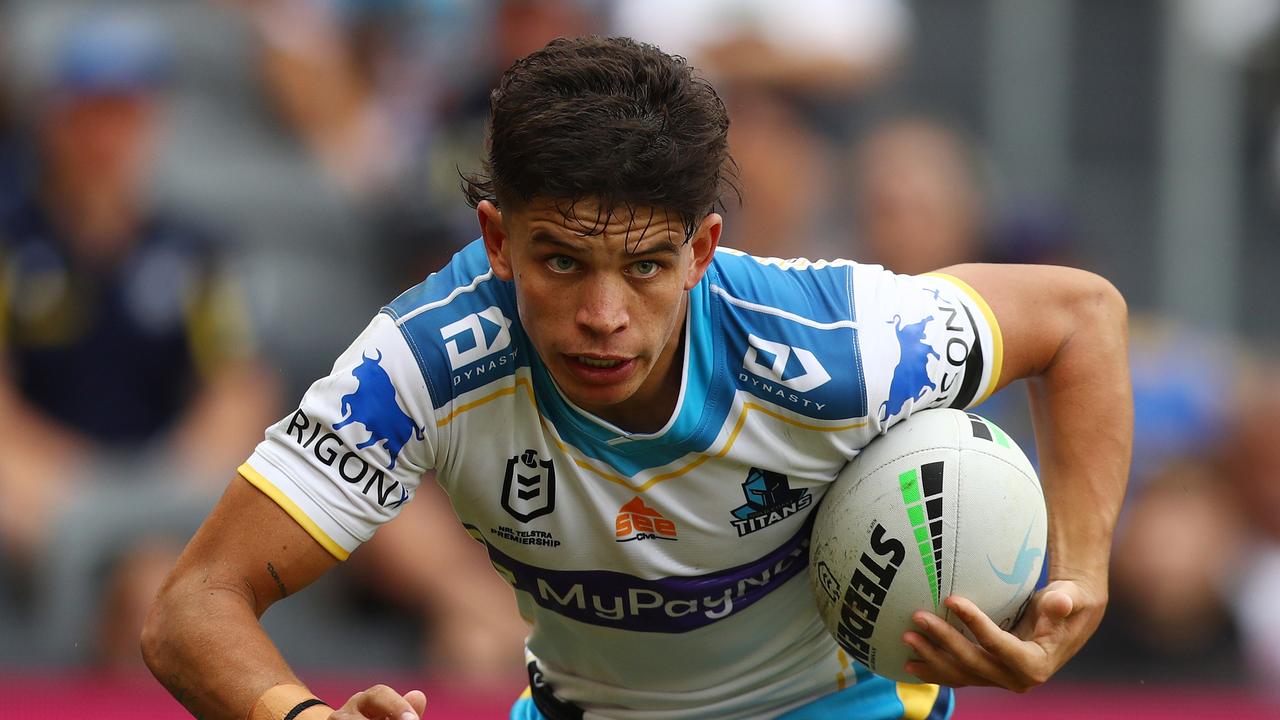 Jayden Campbell returned to the Titans last week - and had a winning effect on the struggling team. Picture: Getty
"I'll play wherever the team needs me. Growing up I played fullback, five-eighth and on the wing a little bit as well. Wherever the team needs me I'm happy."
Brimson, 23, is the other player facing an uncertain future at the Titans on the back of Foran's signing.
While he prefers to play fullback, Brimson has shown promising signs at five-eighth this season despite a persistent abdominal injury that is restricting his training.
Brimson last year committed to the Titans until 2026 and said Holbrook assured him his future at the club was safe.
"I've spoken to him, he just said (Foran) can be good for us and I said 'yeah, pretty keen'," Brimson said.
"He's an experienced player and we've been lacking that the last couple of years, especially in the spine area, so he'll be good for us.
"I'm pretty confident in my own ability and excited he's signed with the club, it's not a detriment. I'm looking forward to learning from him.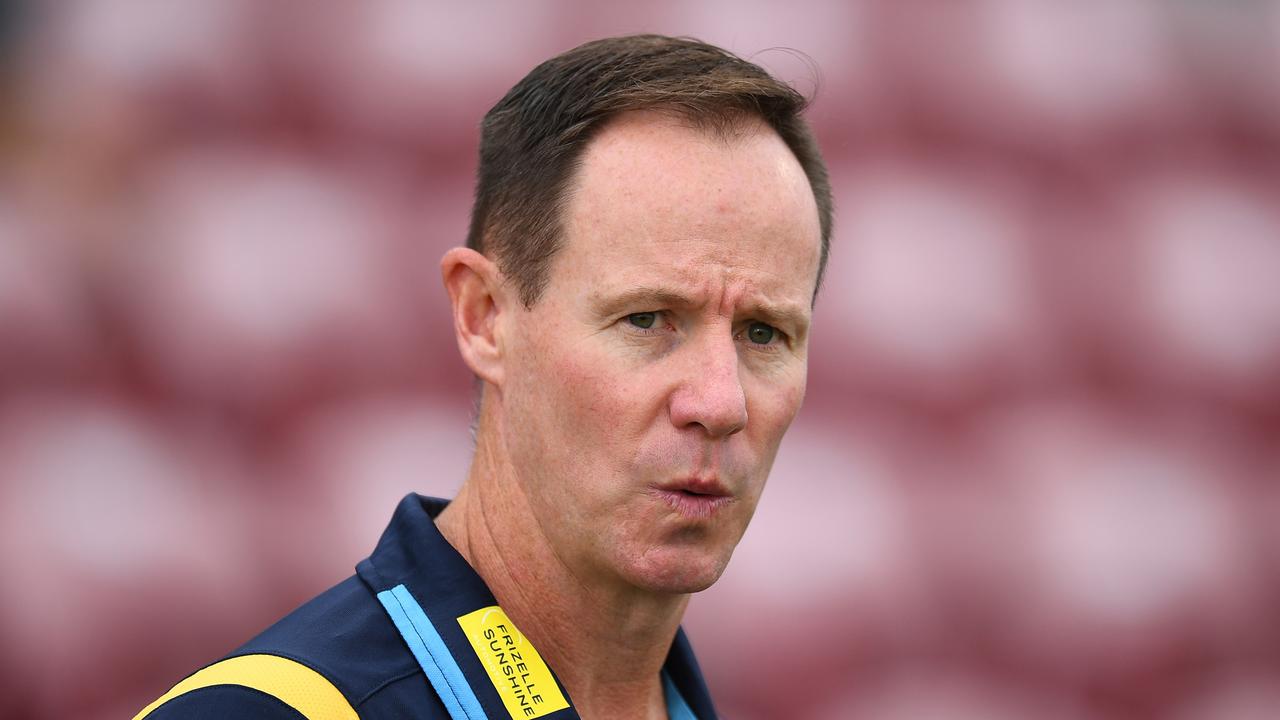 Titans head coach Justin Holbrook has some big roster questions leading into next season. Picture: Getty Images
"I found out through the chatter at the club with the leadership group. I think it's a good signing for us.
"I spoke to (Holbrook) afterwards and he reassured me. I wasn't worried in terms of that, I was excited that he's coming.
"We had a little chat about where we could possibly fit in if we're all fit and healthy. It'll be all right.
"Everything always sorts of stuff out so I'm not worried about next year at the moment.
"Every time I play I want to make the jersey my own, whether it's fullback or six or whatever it is. I'll worry about where everyone's going to fit next year when he comes."
After beating the Dragons 20-16 in golden point, Holbrook has retained the same team for Sunday's home game against Cronulla.
BENNETT'S BIG PITCH TO LURE MILFORD HOME
Wayne Bennett is ramping up his recruitment drive with the Dolphins super coach holding talks with Anthony Milford to bring the NRL's comeback kid back to Queensland.
Milford's seven months as an NRL pariah will end on Thursday night when he debuts for Newcastle against the Broncos and Bennett confirmed he has hatched plans to reunite with his former Brisbane playmaker at the Dolphins.
Milford has signed a short-term deal with the Knights, but there is a view it is only a matter of time before the former Queensland Origin utility joins forces with the mentor who helped shape him into a $1 million NRL superstar.
Now Bennett is upping the ante.
The Dolphins have signed teenage halfback sensation Isaiya Katoa from Penrith, but Bennett concedes the Dolphins need seasoned heads in the halves and former Broncos grand-final pivot Milford ticks the boxes.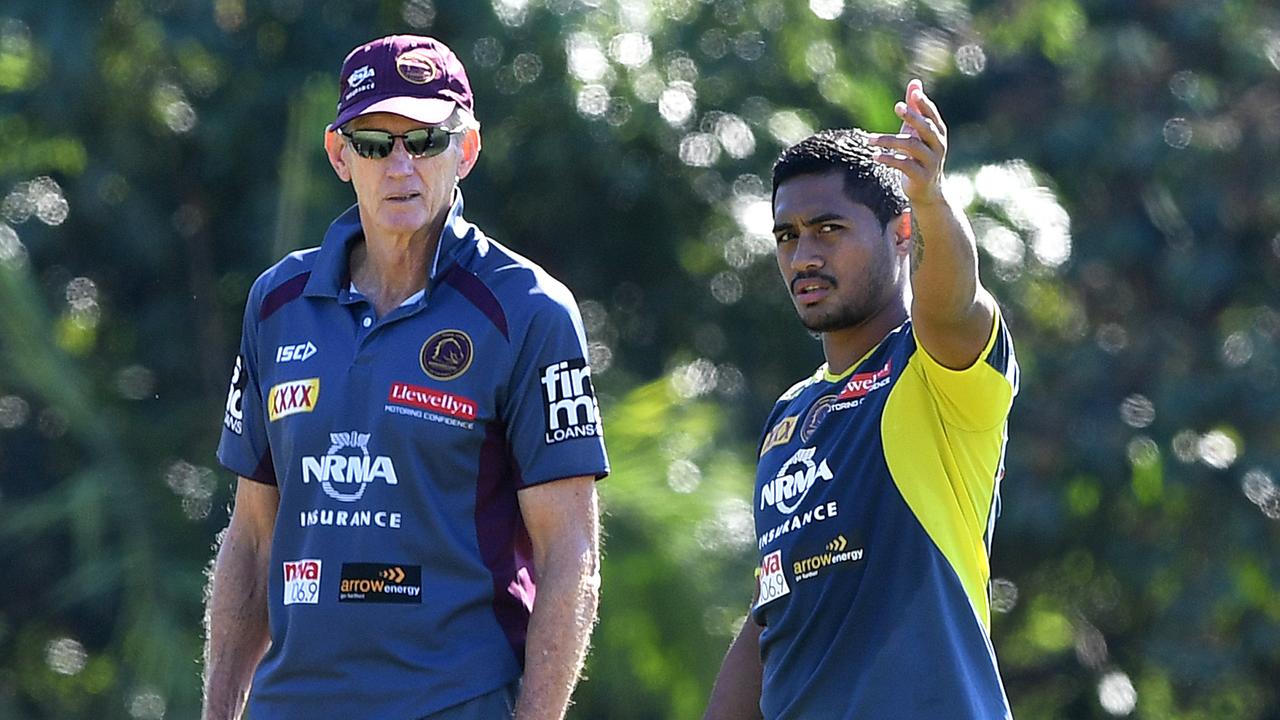 Wayne Bennett is keen to lure Anthony Milford back to Queensland. Picture: AAP Image/Dave Hunt
"Anthony is still on our radar," Bennett said as the Dolphins announced another corporate deal with Budget Direct as their sleeve sponsor for their NRL debut in 2023.
"It makes sense for Anthony to come back to Queensland, but he has to sort himself out now.
"He is back playing rugby league and we'll work the rest out when he settles in again.
"I need experience at Redcliffe in the halves.
"We have a great young kid coming in Katoa, but he is only a teenager and he will take some time to develop.
"We need to put some experienced guys around him, so Anthony would be great for us."
Bennett is also targeting Cameron Munster, but with the Storm maestro contracted until the end of 2023, the Queensland Origin pivot will not be available for the Dolphins until their second season in 2024.
While the Dolphins have signed some experienced forwards, serious question marks surround the most critical component of an NRL roster — the playmaking spine.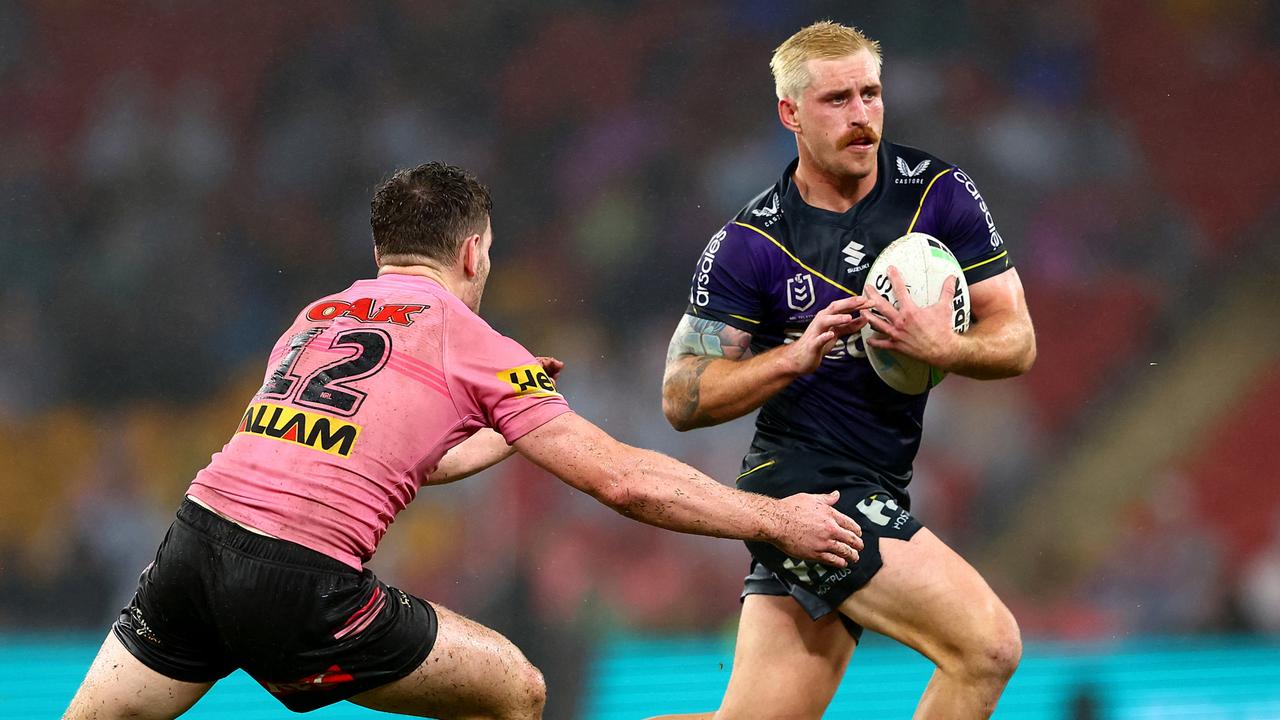 Storm star Cameron Munster is also on the Dolphins' radar. Picture: Chris Hyde/Getty Images
The Dolphins have yet to secure a big-name hooker, halfback or five-eighth. Former Bronco Jamayne Isaako is an option at fullback, but Bennett is confident Milford, who turns 28 in July, could enjoy a second coming at the NRL's 17th team.
Bennett coached Milford for four seasons at the Broncos, with the five-eighth going within a whisker of winning the Clive Churchill Medal in Brisbane's grand-final loss to the Cowboys in 2015.
"He is still young and could play for another five or six years," Bennett said.
"Anthony hasn't forgotten how to play. He has done all the hard yards, he has played almost 200 games, he knows how to get the job done, so he would be good for the Dolphins."
Bennett is pleased Milford has been cleared to return to the NRL after his off-field legal battle. The super coach provided a character reference that convinced a Brisbane magistrate Milford, who was cleared of assault charges, would not offend again.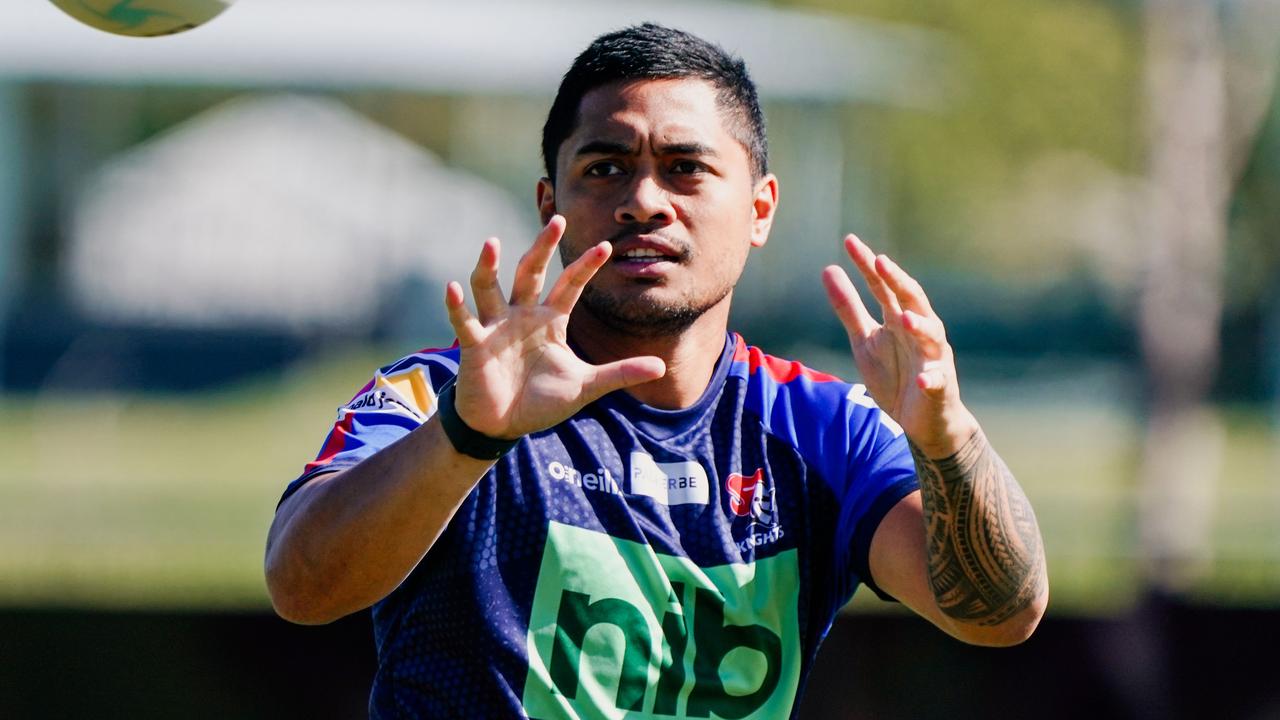 Anthony Milford will make his NRL return for the Knights against his former club Brisbane on Thursday night. Picture: Newcastle Knights.
Now Milford has the chance to rebuild his NRL career with a Knights side banking on his matchwinning potential to shock the Broncos.
"It's great to see Anthony back, he is a wonderful player," Bennett said. "He is 10 weeks behind everyone else, so let's not get too carried away and put too much pressure on him.
"There is a reason we play week after week, Anthony has to get match fit and get his timing right. He hasn't played for six months. The Knights are taking a risk there, but they are prepared to do that and that's fine.
"He will just take some time to get back to where he should be.
"It's just match fitness now, timing and getting to know his teammates."
Fifita opens up on secret Bennett chats
-Travis Meyn
Titans star David Fifita has left the door open for a shock move to the Dolphins after defending his relationship with Redcliffe coach Wayne Bennett.
Fifita broke his silence on Tuesday following revelations he had been in contact with the NRL expansion club's foundation coach in recent weeks.
Sidelined with a knee injury and with speculation surrounding his future at the Gold Coast, Fifita sought guidance from Bennett, prompting suggestions he could be poached from the Titans.
While that will not be happening for the Dolphins' inaugural NRL campaign in 2023, Fifita said little to suggest he would remain loyal to the Titans when he hits the open market in 2024.
Bennett handed Fifita his NRL debut at the Brisbane Broncos in 2018 and they have remained close since, with the former South Sydney coach launching a huge bid to bring Fifita to the Rabbitohs in 2020.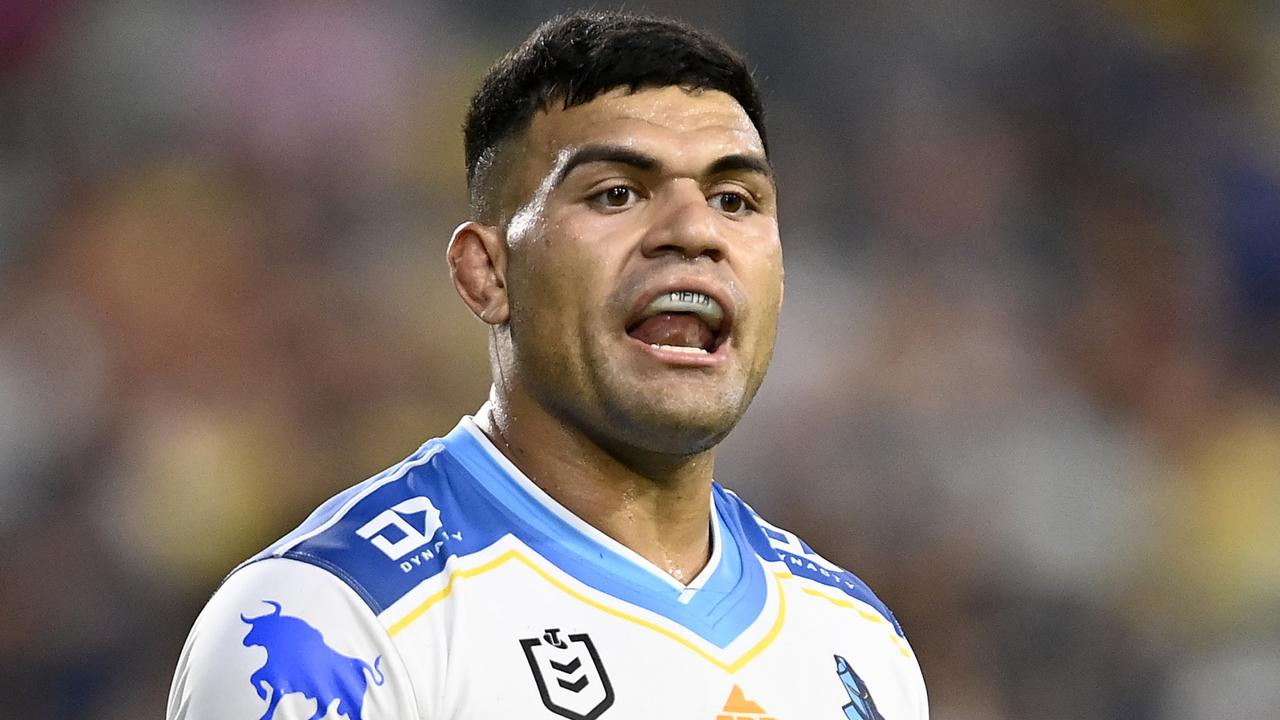 David Fifita is keeping his options open. Picture: Ian Hitchcock/Getty Images
Fifita, 22, defended his decision to seek counsel from a rival NRL coach.
"I have heaps of coaches and I reached out to heaps of coaches," he said.
"I reached out to my high school coach, my missus' coach (Jamie Soward), every coach.
"I've known Wayne for a long time. He's a good bloke, a good fella. He is there for advice.
"It's not just Wayne. My school coach is there, my family is there always. I've got good people around me. I always get feedback off my friends.
"It (conversation with Bennett) was just about how are you going and how's my family going. He's just a good fella. I can't say much about him.
"He gave me the opportunity to play when I was 18 and pretty much looked after me and my family with a house. It's just like that."
Halfway through a $3.5 million three-year deal, Fifita's future has become one of the NRL's hottest talking points.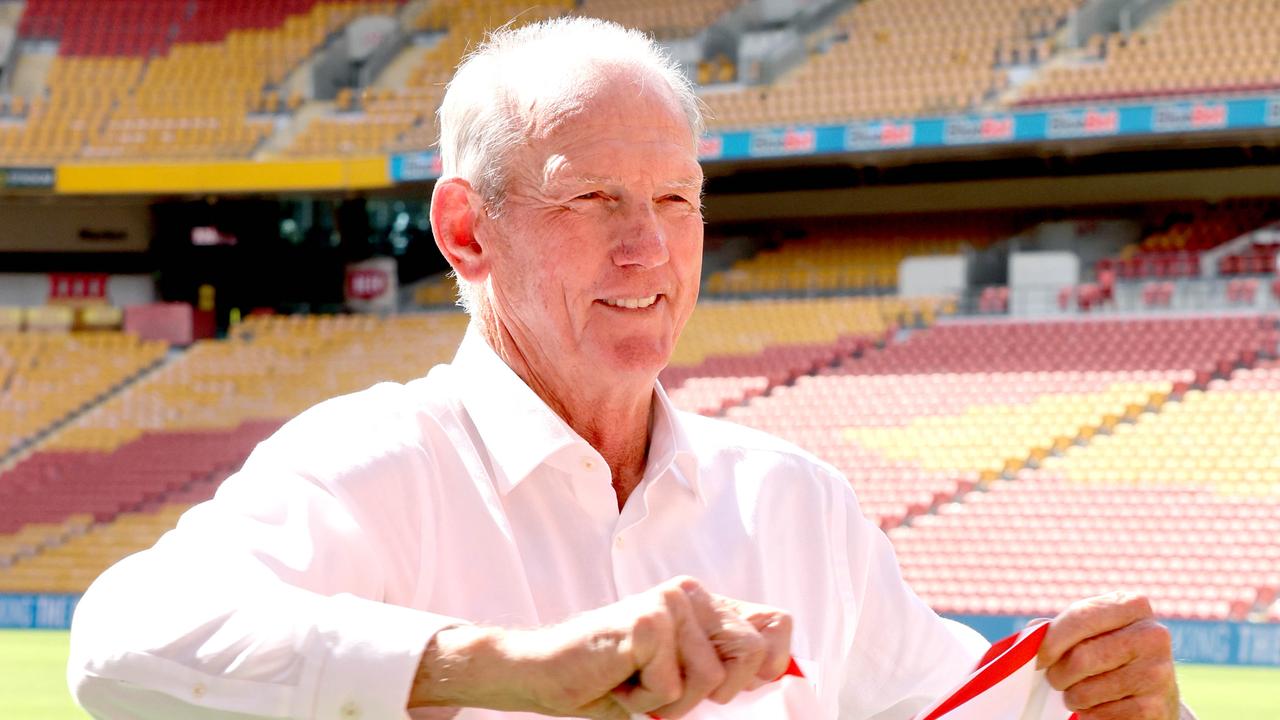 Wayne Bennett gave David Fifita his start in the NRL at the Broncos in 2018. Picture: Steve Pohlner
He has found himself played out-of-position at centre and benched by coach Justin Holbrook this season, raising speculation he could be disgruntled at the Gold Coast.
Off-contract at the end of 2023, Fifita gave a far from convincing response when asked about his future at the Titans.
"Well, I've got another year and a half here," he said. "I'm contracted here until then. So yeah, I'm happy and I'm here. I can't see myself going anywhere.
"You can't predict what happens (after 2023) but I'm here until then."
After coming off the bench, Fifita suffered a grade two medial ligament sprain in his right knee during the Gold Coast's round 8 loss to Penrith and hasn't played since.
He will miss Sunday's home game against Cronulla but is hoping to be back for the Titans' derby against the Broncos on Friday week, which will be the last round before Queensland coach Billy Slater picks his Origin I team.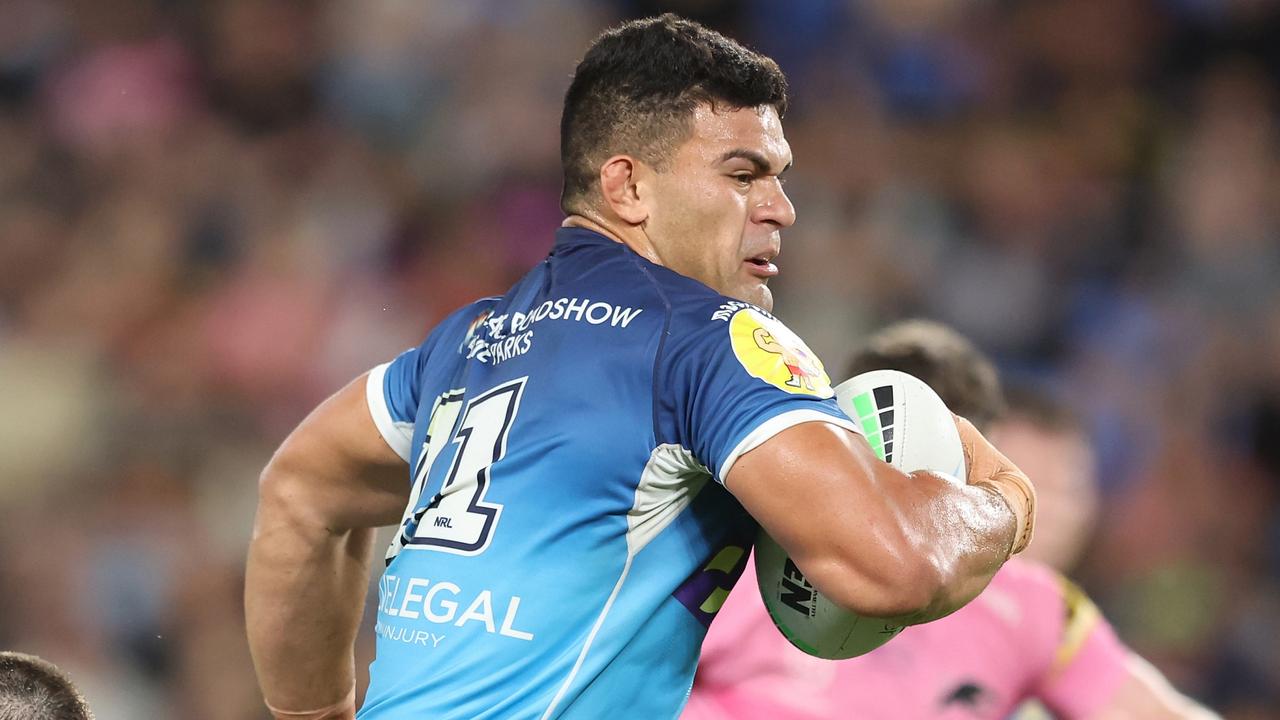 David Fifita is hoping to return for the Titans' clash against Brisbane on Friday week. Picture: Chris Hyde/Getty Images
"The knee is coming along good," he said. "I'm in week two now so hopefully I'll be back in a couple of weeks. My first priority is just getting my knee right. I've just got to get back there and play my best footy.
"That's (back for Broncos game) what they're saying. But I know my body and I've just got to go week by week and take it as it comes. That's three weeks so you do the math, you know, four to six weeks.
"I can't really put a date on when I return. I don't want to come back again and then aggravate it then I'm out for another couple more weeks. I want to get it right and I know the staff at Titans are doing a really good job."
Originally published as NRL market watch 2022: Latest trade news whispers from Broncos, Titans, Cowboys, Dolphins