Herbie Farnworth drops positional bombshell on Kevvie Walters
Re-signed centre Herbie Farnworth has dropped a positional bombshell on Kevvie Walters that is set to put him on a collision course with a superstar teammate.
Just 24 hours after signing a one-year deal with the Broncos, Farnworth has turned up the heat on Cobbo and Te Maire Martin by outlining plans to clinch the contentious No.1 jumper next season.
Farnworth has already started one-on-one mentoring with former Broncos, Queensland and Australia fullback Darius Boyd with a view to shifting from his current role at left centre to the backfield in 2023.
Stream every game of every round of the 2022 NRL Telstra Premiership Season Live & Ad-Break Free During Play on Kayo. New to Kayo? Try 14-days free now >
While Cobbo has starred on the wing this season, he is tipped to make a switch to fullback like the man to whom he is often compared, South Sydney superstar Latrell Mitchell.
Tesi Niu started the season as Brisbane's first-choice fullback before succumbing to a serious hamstring injury which has opened the door for Te Maire Martin to make an impressive return to the NRL in the No.1 jumper.
Now Farnworth is ready to throw his hat into the ring, believing the pace, power and fearless running that has marked his stint at centre can be handy assets at the back for the Broncos.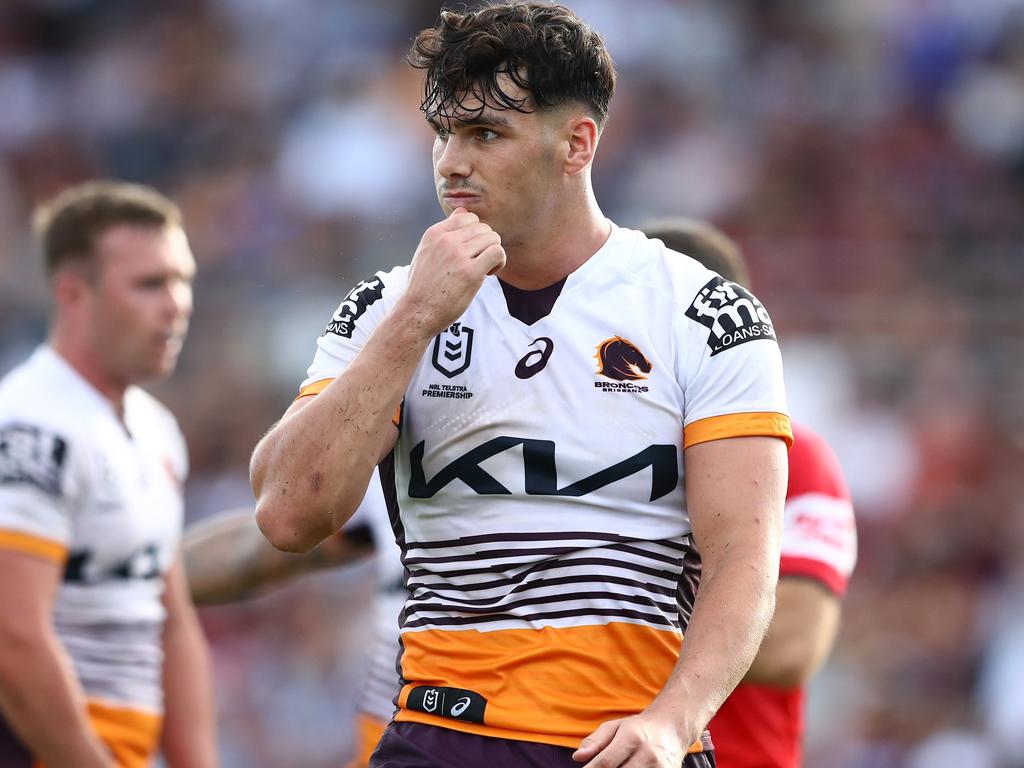 Herbie Farnworth is being mentored by Darius Boyd. Picture: Chris Hyde/Getty
"We agreed on the one year (deal) and fullback is the position I want to play in the future," Farnworth said.
"I have spoken to 'Kevvie' (coach Kevin Walters) about it, I would like to play fullback next year and learn that spot.
"This year I am focused on centre and winning games and helping out the team."
Farnworth had the opportunity to wear the Dolphins' No.1 jumper next season after holding talks with super coach Wayne Bennett a fortnight ago.
But the England-born flyer says his preference is to succeed at fullback with a Broncos club he first joined at 15 after leaving behind a contract with football giants Manchester United to chase his NRL dreams at Red Hill.
NRL ROUND 12 TEAM LISTS: BRONCOS, COWBOYS, TITANS
"Wayne is a legend of a coach. He was the first guy to sign me to the Broncos," he said.
"I never got to be coached by him because he moved on in the pre-season (of 2019) and Anthony Seibold came in.
"It was tough to turn down the Dolphins. They will be a good side and it's good for Brisbane to have another side in the comp.
"But I've been here since I was a young lad and I have been through some tough times. We're coming to the end of that now, so I felt it was only fair to the club, the players and the fans to extend my contract.
"I love living around here and love the Broncos as a club, so it was pretty hard to leave."
Selwyn Cobbo is being touted as a long-term fullback. Picture: NRL photos
Asked about the prospect of going head-to-head with Cobbo for the fullback spot, Farnworth said: "I haven't thought about that one. Selwyn Cobbo is enjoying it on the wing at the moment, I haven't spoken to him about it, but he's a good mate of mine and it will be a good battle if he wanted to be fullback.
"Darius is one of the best fullbacks of all-time, having him here, being close to him and learning off him was definitely a big sell. I am pretty keen to work with him in pre-season (on fullback play).
"Physically, I would suit that position. I played that position in my juniors and since I was 18 or 19 I played on the edges. I would be willing to work hard with 'Darbs' and the coaching staff, I could be a good fullback for this club.
"If Selwyn puts his hand up for the spot, it will be a good battle in the pre-season for the fullback spot for sure."
Herbie's deal a silent warning to Broncos
Kotoni Staggs believes the rejuvenated Broncos can again become a destination club as Brisbane's latest contract victory comes with a silent warning not to lose its way.
As revealed by News Corp, centre Herbie Farnworth extended his contract at Red Hill by a year in a new deal which is both a vote of confidence in the club and a challenge not to drop the ball.
Farnworth could have gone to the Dolphins on a longer deal but after powering through several hard yakka years with the Broncos, has provided a timely show of faith by staying on.
It is, however, unusual that a player in such high demand only extended his deal by one year and the short extension gives him the chance to see whether the Broncos can sustain their revival before he decides on his long-term future.
Farnworth's centre partner Staggs is hopeful the vibe of Brisbane's five-match winning streak will create momentum that will keep more members of the band together.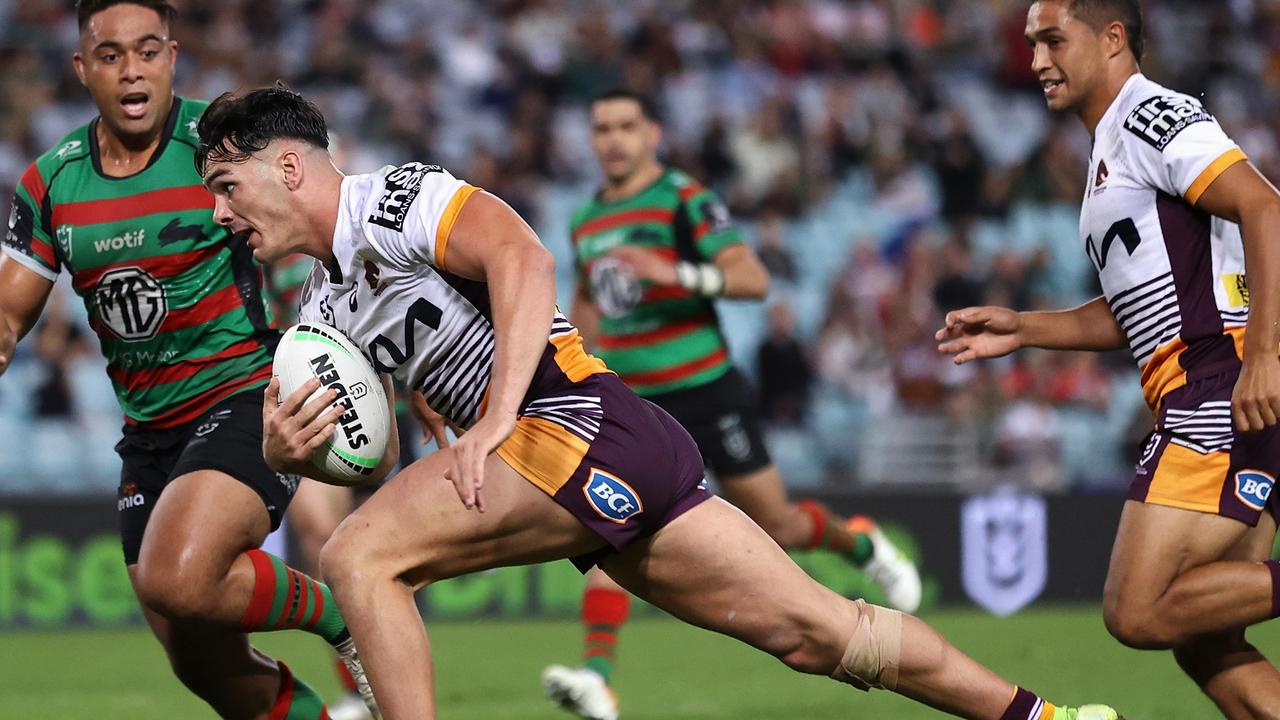 Herbie Farnworth heads for the tryline against the Rabbitohs in round 9. Picture: Cameron Spencer/Getty Images
"When you win there's no better feeling and hopefully what we're doing on the field will make people want to come to play or stay here for a long time,'' Staggs said.
"We were not going too well when I said I was going to stay on but we have rebuilt here and we have had players came from other teams this year and just fitted in really well and playing some good footy together.''
Farnworth said the fact that he had come through with nucleus of players from the Under-20s competition — Tom Flegler, Kobe Hetherington, Pat Carrigan, Payne Haas and Staggs — had influenced his decision.
"We have all come through together and it's good to stay together,'' Farnworth said. "I love it here at the Broncos. I have been here since I was 15 and I am really happy with the all the boys and (coach) Kevvie (Walters). The past two years have been tough but to get the last five wins in a row and the direction the club is headed, that's played a big role in my decision to stay.''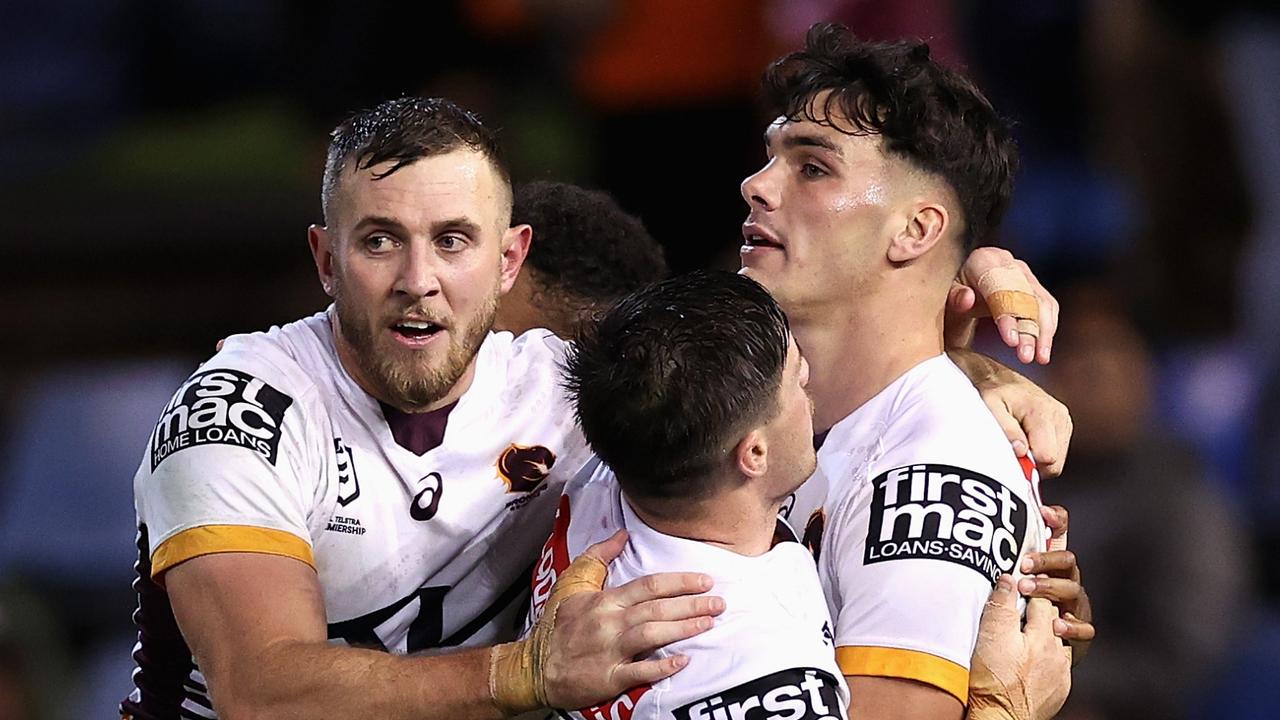 Herbie Farnworth (right) celebrates scoring a try against the Newcastle Knights.
Broncos head of football Ben Ikin said the short term extension with Farnworth could bring the best out of both parties.
"We don't want him to go so we have to keep proving ourselves to Herbie and he has made a decision to keep the pressure on himself to keep proving himself to us,'' Ikin said.
"Ultimately we are all trying to create a program players find difficult to leave. We are enjoying the fact we are a little better than we were but we know we are not where we want to be yet.
"It's good fun to see improvement happening but there is still a way to go.''
Broncos captain Adam Reynolds, who had been battling a groin injury which kept him out of the last match against Newcastle, had a limited training session on Monday but is expected to return for Friday night's match against the Titans.
Broncos ace knocks back huge interest to re-sign
Wayne Bennett's Dolphins have lost the battle for Herbie Farnworth with Brisbane's rampant five-match winning streak keeping the British ace at Red Hill in a huge coup for the Broncos.
News Corp can reveal Farnworth has agreed terms to remain at the Broncos until the end of 2023, in the lead-up to Brisbane's derby clash against the Titans at Suncorp Stadium.
The Broncos will on Monday announce a one-year extension for Farnworth — ending three months of speculation over whether the backline young gun would quit Brisbane to be a foundation signing at the Dolphins.
Farnworth had been seriously exploring his options, having met with Dolphins coach Bennett, while his management had approached NRL big guns Sydney Roosters offering the services of the in-form utility back.
The Roosters rate the 22-year-old and have links to him via former Easts and England lock Phil Clarke, who is family friends with the Farnworths, but the Bondi powerhouse were out of the race due to salary-cap constraints.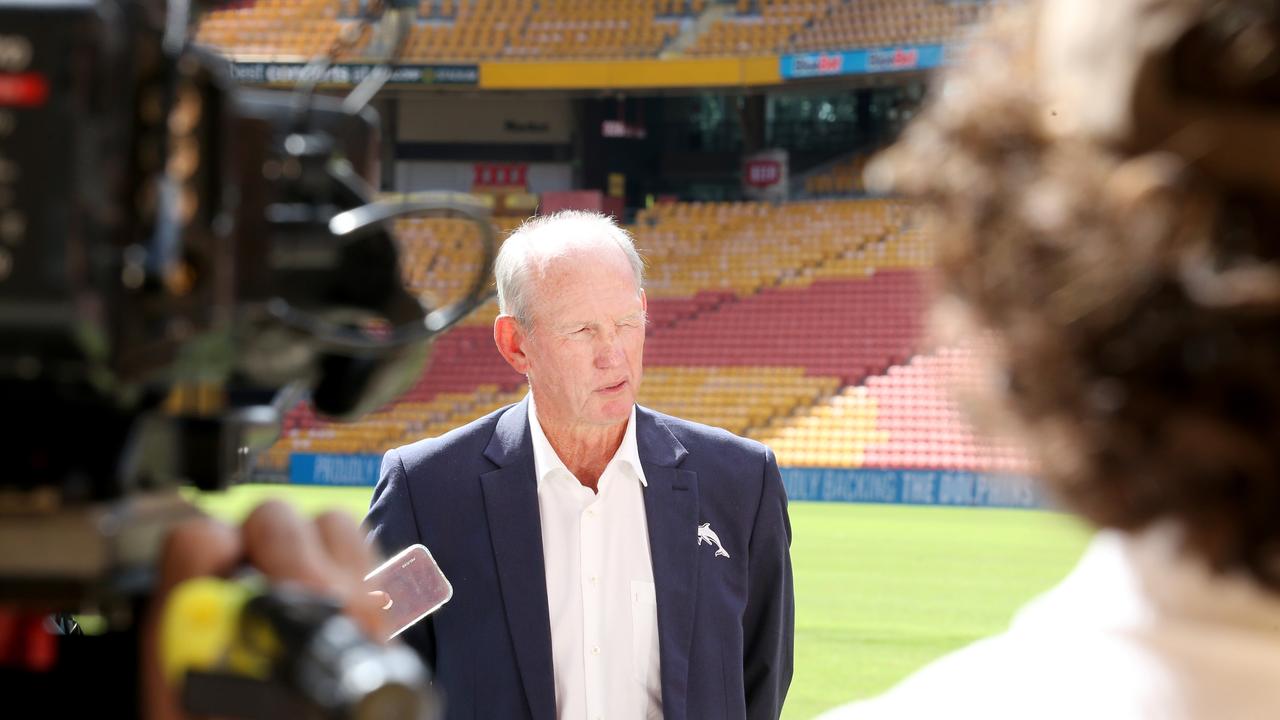 Another one bites the dust … Wayne Bennett and the Dolphins have missed out on another key signing. Picture: Steve Pohlner
While Canberra were also keen on Farnworth, the Dolphins were considered the primary threat because of their proximity to the Broncos and the England World Cup hopeful's preference to stay in Quzeensland.
But Farnworth has pledged his loyalty to the Broncos, who have won the bidding war on the back of Brisbane's stunning form burst which has sent team morale soaring.
The Dolphins were initially hopeful but with each Brisbane victory, their confidence waned. They are making other plans for the composition of their backline, accepting Farnworth would not walk out on a Broncos club that is thriving under coach Kevin Walters and charging ominously towards the finals.
The retention of Farnworth, who has built a lethal centre strike force with Kotoni Staggs, is a major fillip for the Broncos, although he is backing his value to soar by agreeing to only a 12-month extension.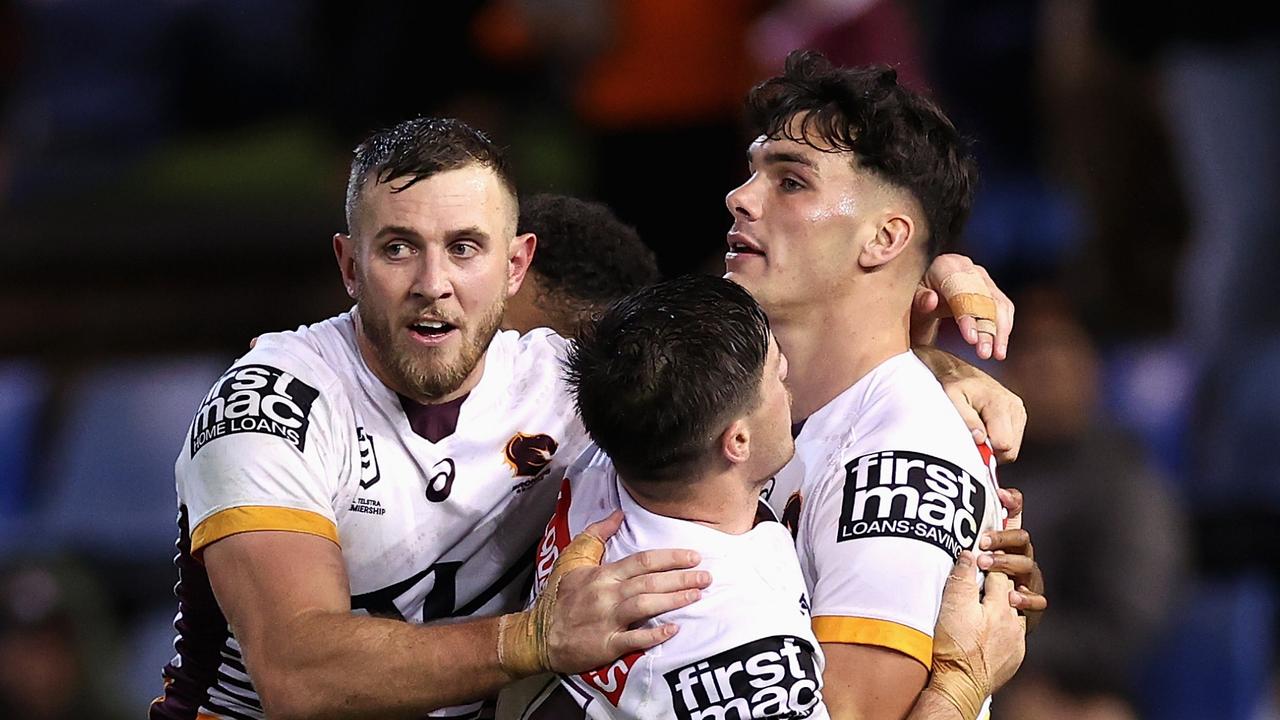 Not going anywhere: Herbie Farnworth has knocked back the Dolphins to stay at the Broncos. Picture: Getty
When the Dolphins won the NRL's 17th licence last year, there was a fear they would decimate Brisbane, but so far they have successfully poached just one Bronco in Jamayne Isaako, who was last month released to the Titans for a six-month cameo.
Farnworth celebrated his 50th NRL game against Manly in Magic Round and the hulking 103kg goalkicking centre has been one of Brisbane's best players this season with his pace, power and workrate.
Walters was always confident the Broncos would stave off Bennett's Dolphins in the battle for Farnworth's signature.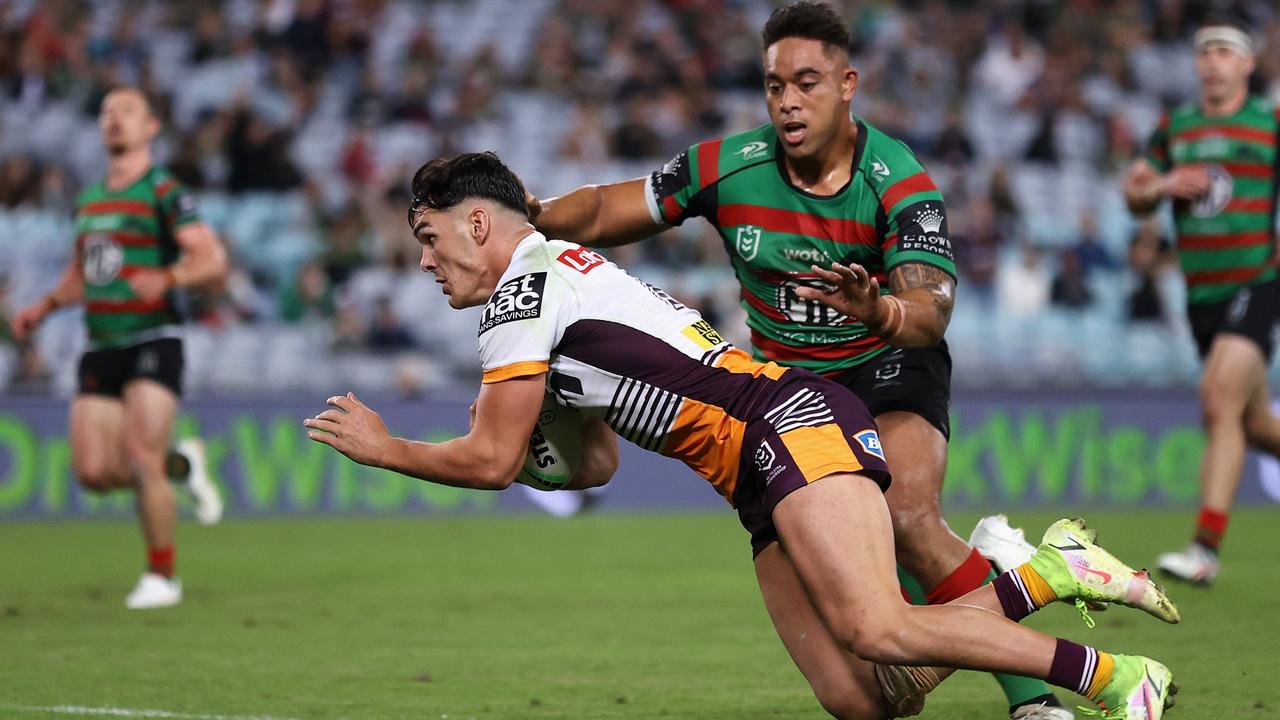 Farnworth has been in dynamic form for Brisbane during their five-game winning streak. Picture: Getty
"The Broncos are going hard for Herbie, too," Walters said.
"These big decisions take time. Herbie is popular with a number of clubs but he is no more popular there than what he is here and I feel he belongs here, he cut his teeth here and what we want him here for many years.
"We see him as a long-term player, he played his 50th game for the Broncos recently and I expect to see him running out in Broncos colours next year that's for sure."
Earlier this week, Bennett said he wouldn't be pressuring Farnworth by slapping a deadline on the Broncos three-quarter.
"We have spoken to him, so we have to wait and see what he is doing," Bennett said.
"Deadlines are a waste of time, they really are. They never work."
Originally published as Herbie Farnworth drops positional bombshell on Kevvie Walters