NRL News: Bid to bring Bears back to NRL, Burton could break free from Bulldogs
Canterbury's season could go from bad to worse, with the last-placed side facing enormous pressure to keep their star five-eighth. That and more in Australia's best sporting gossip column.
The Canterbury Bulldogs are facing a serious battle to keep their best player Matt Burton long term.
Two terrible losses to the Newcastle Knights at Magic Round and the Canberra Raiders the week before have left the Bulldogs at rock bottom, the first team since the South Queensland Crushers in 1996 not to score 100 points in the first 10 rounds.
They've gone backwards since Phil Gould arrived with new signings Burton, Josh Addo-Carr, Tevita Pangai Jnr, Paul Vaughan, Matt Dufty and Brent Naden.
Watch every game of Magic Round this weekend Live & Ad-Break Free In Play on Kayo. New to Kayo? Try 14-Days Free Now >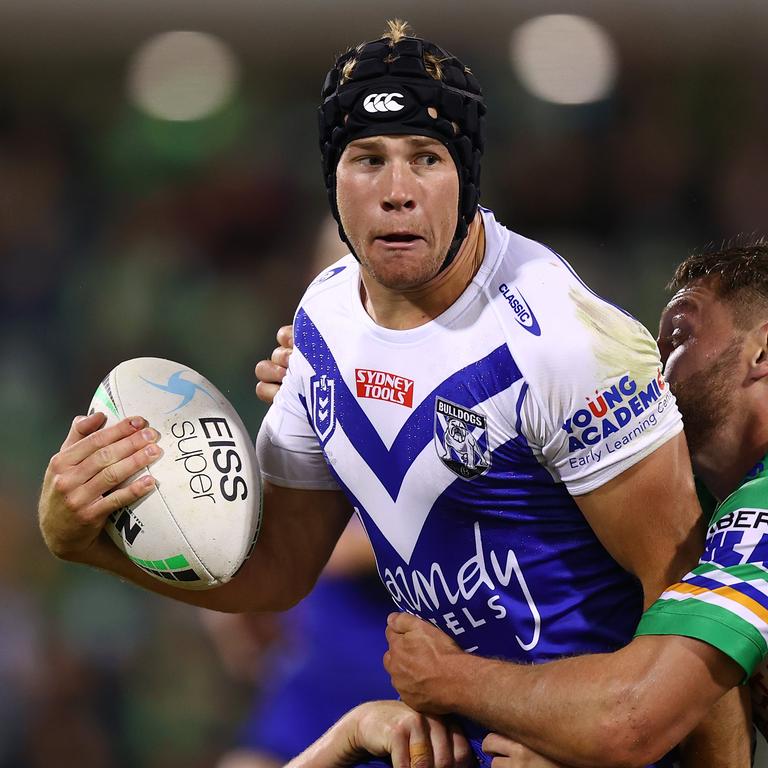 Matt Burton getting paid unders and losing games at the Bulldogs. Picture: Mark Nolan/Getty Images
Interestingly Burton's manager David Riolo says the outstanding five-eighth will more than likely test the open market at the end of the season.
He originally signed for only two years – at an average of $500,000 a season – with an option his way.
There is no doubt Burton could earn 40 per cent more at a rival club – and, importantly, improve his game at a stronger outfit with better coaching.
The Bulldogs have salary cap pressure and have made no move to extend or increase his contract.
WA BEARS MAKE THEIR NRL PITCH
The Western Australia government has reached out to the North Sydney Bears in a shock move to form a joint venture to enter the NRL competition as the 18th team.
The Sunday Telegraph can reveal WA's Minister Sport David Templeman and the chairman of Venues West Peter Bauchop are in Brisbane for Magic Round for talks with NRL powerbrokers about a possible alliance with one of rugby league's most famous old clubs.
The chairman of the North Sydney Bears, Daniel Dickson, has confirmed the two parties had recent talks.
"They are obviously attracted to our heritage," Dickson said.
"The path for us was always to go alone but they have reached out and we'll listen to all options.
"We both have a desire to be in the NRL so anything is possible.
"It's early days but they've been great to deal with."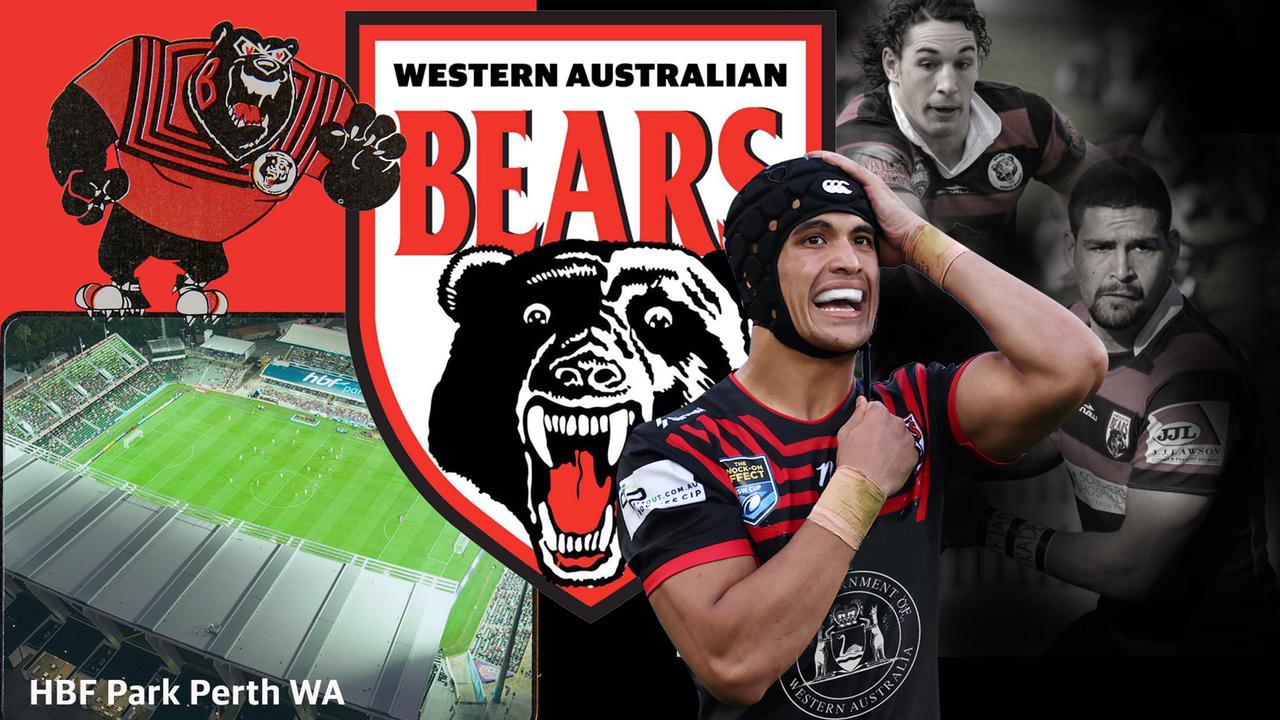 WA have reached out to the Bears in a shock move to form a joint venture and become the NRL's 18th team.
The Perth bid is super impressive in that it has the full support of a WA government that is prepared to invest money into the bid and provide long-term financial support.
It would also open up a new market for the game with huge growth opportunities.
The NRL has added the Dolphins as the 17th team for next year but are keen to add an 18th franchise to increase broadcast revenue from the extra game each weekend.
Commission chairman Peter V'landys and CEO Andrew Abdo will no doubt have talks with WA government officials in Perth for Origin II on June 26.
WA would want the majority of home games to be played in Perth but North Sydney Oval would host up to six games each year.
HBF Park, a modern rectangular stadium, would host the matches in Perth.
The Bears and WA are competing against the likes of Wellington in New Zealand, PNG and Central Queensland in bidding for the 18th team.
Perth lost its rugby league team, the Western Reds, in 1997 after the Super League war.
The Bears haven't had a stand-alone team since 2019. They merged with Manly in 2000 as the Northern Eagles but folded two years later.
* * * * *
SAINT
The most wonderful celebration of rugby league in Brisbane, with fans wandering the streets in the jerseys of the 16 clubs, parties, full restaurants, cafes and bars despite the crappy weather.
SINNER
Something needs to be done about the lack of security at Suncorp Stadium. On an otherwise fantastic weekend, half a dozen boofheads put on a stink in the stands on Friday night. It took security forever to get there and sort it out. This isn't the first episode of fan violence at the venue this year, hence NRL chief executive Andrew Abdo meeting with the Stadium management after the game to demand better security measures.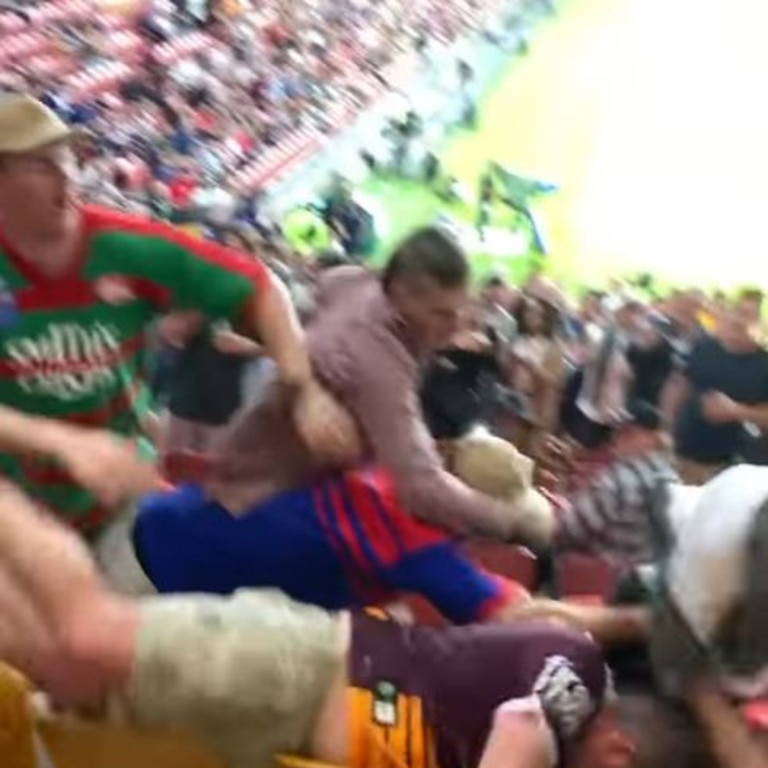 Scenes of the crowd disturbance at Suncorp. Picture: Facebook
SPOTTED
In the old days you'd hop on to a flight to Brisbane for a major rugby league event and walk past half the NRL Commission and senior execs in business class. Not anymore. A ban on travelling from the pointy end was instigated during Covid to save costs and still exists.
SPOTTED
Just 12 hours after his blinder against the Sea Eagles, Broncos halfback Adam Reynolds met his old South Sydney teammates for coffee at the Sofitel in Brisbane on Saturday morning.
SPOTTED
Punters often bag us rugby league scribes for expressing opinions with the old line: "what would you know, you've never played?" Not that you could ever say it to the great Dennis "Bullfrog" Ritchie – and here's the proof. That's Andre Ponga's mate Dennis sitting next to former Kangaroos and Origin winger Rod Wishart in the NSW CHS rugby union team back in the 80s.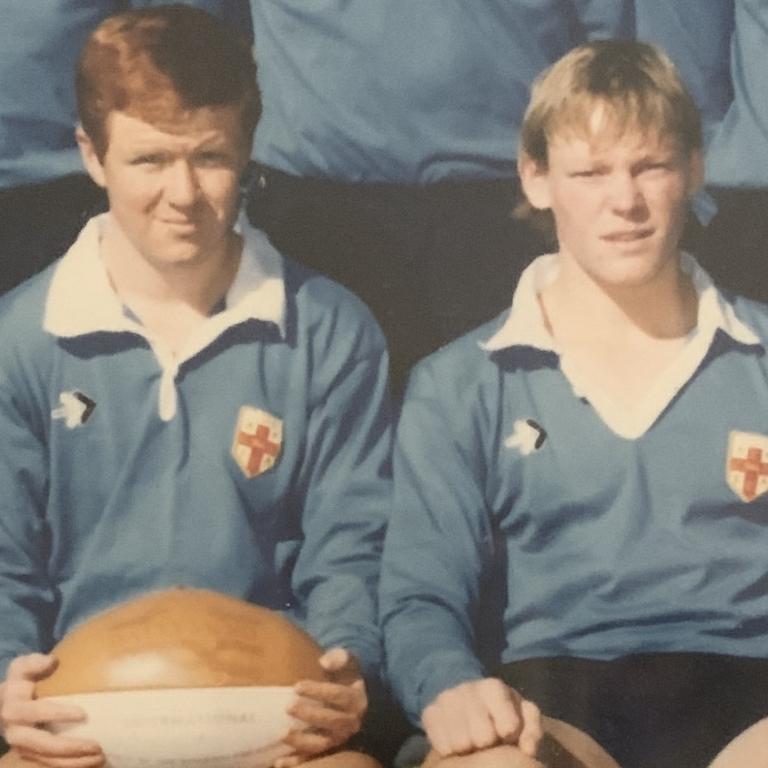 (L-R) Dean "Bulldog" Ritchie and former NRL player Rod Wishart.
SPOTTED
Embattled ex-cricketer Stuey MacGill at Lees Fortuna in Crows Next enjoying Chinese washed down with a white and a red. He even kept the leftovers of the fried rice and Stanley's famous Shatong Chicken to take home in a doggie bag. MacGill is the star witness in a police case against a number of men who are accused of kidnapping MacGill over a failed 2kg cocaine deal.
SPOTTED
Not all boxing champions get the five-star treatment on fight night. Kris Terzievski, the heavyweight who beat Paul Gallen on Wednesday night, had to get a taxi from his hotel in Newcastle to the Entertainment Centre.
SPOTTED
Paul Gallen is renowned for loving a dollar and a sneaky earn on the side. This is why we were shocked the great man rejected a $2000 offer from promoter Matt Rose to wear dark sunglasses to add to the hype around his press conference walkout in the days leading up to the fight.
SPOTTED
We love seeing footy players investing in business ventures. Brothers Dallin and Malakai Watene-Zelezniak have opened a watch store at Westfield in Penrith. Panthers stars Taylan May and Stephen Crichton dropped in last week to check out their stock.
* * * * *
Hannah Hollis is expecting her first child in grand final week. Picture: Steve Pohlner
Fox Sports star Hannah Hollis is pregnant and expecting her first child in NRL grand final week.
The netball and NRL host is 21 weeks pregnant with a little girl and told her colleagues last week.
"It's wonderful, we're absolutely over the moon and can't wait for the new adventure," she said.
"I'm lucky that I've felt really good throughout the pregnancy.
"I've done a lot of travelling this year with the Netball and for Magic Round and it's been fine."
Hollis, 31, is relying on the network's stable of stars for pregnancy and baby tips, the likes of Yvonne Sampson, Jess Yates and Lara Pitt.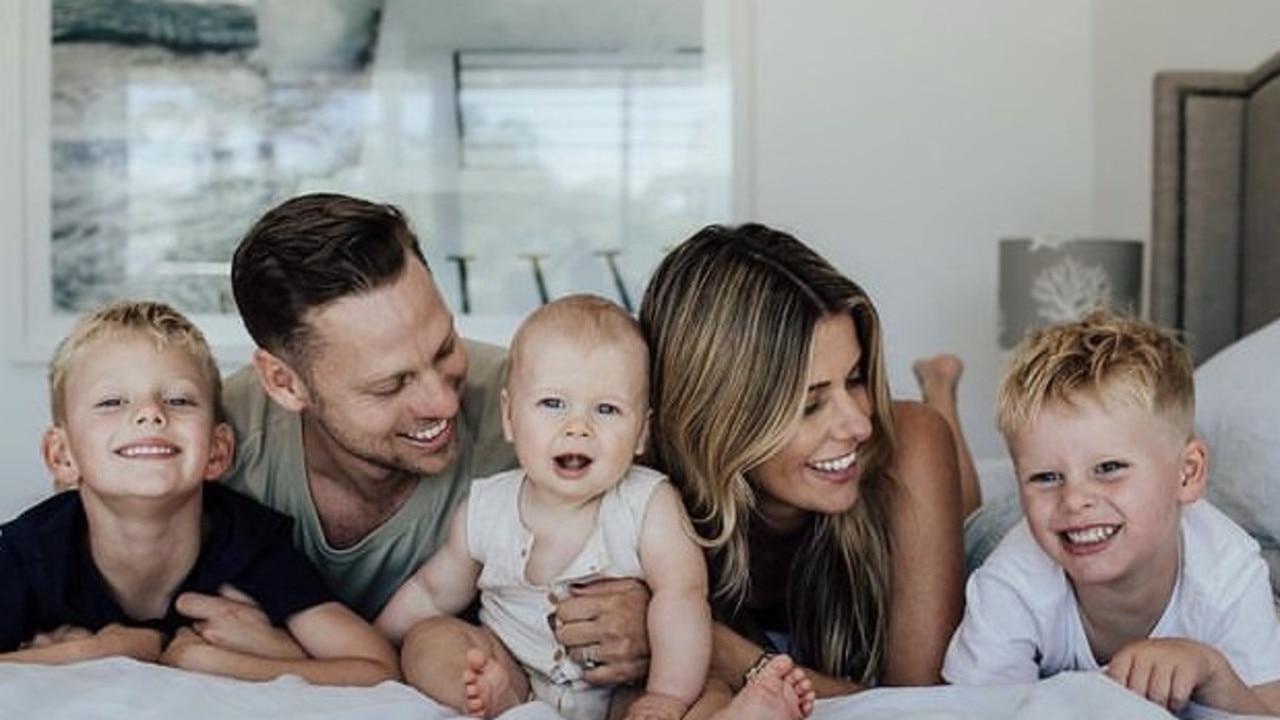 Lara Pitt and her family
"Nearly everyone at Fox Sports has kids and it's wonderful to draw on the wealth of wisdom from the mums and also the dads," she said.
"All the girls have been great. They're all overjoyed, supportive and already sending me advice and accounts to follow for the little tips."
The back end to the footy season will be obviously different to others.
"Grand final week is going to be a little bit different," she said.
"The baby is due the week of the game so we'll be watching on TV.
"The timing is actually good in October. My work is wrapped up for the year and there's a long break until it all starts again next year."
Hollis and her husband Tom are planning to spend the summer on the south coast with their new arrival in a beachside house they recently purchased.
* * * * *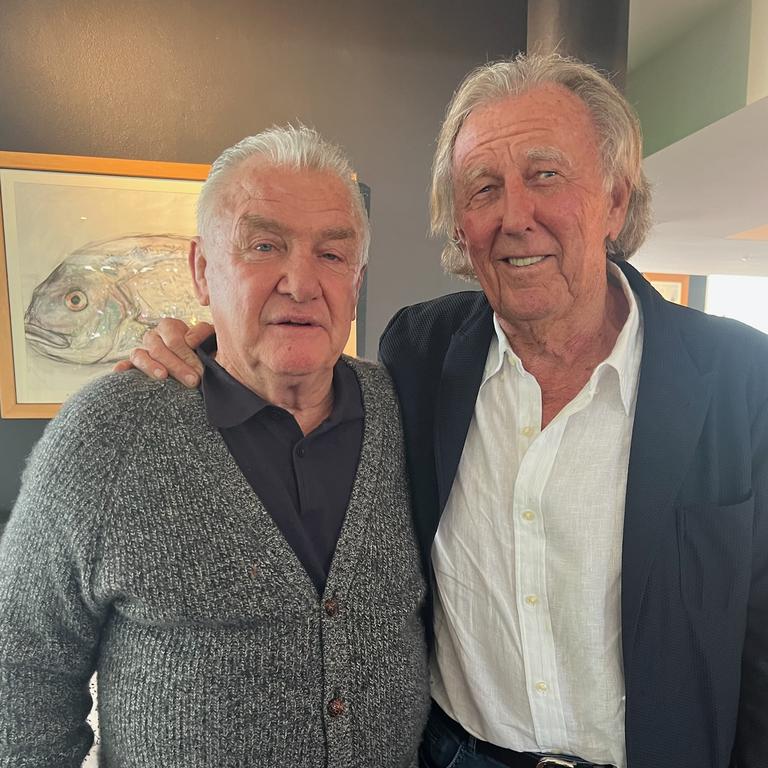 George Piggins and John Singleton
John Singleton caught up with Souths legend George Piggins for lunch on Friday at Grappa restaurant in Leichhardt.
These two are seriously great mates from the old days.
It was Singo who was responsible for getting Piggins to attend the Rabbitohs' 2014 grand final victory over the Bulldogs after he had walked away from Souths over a bitter takeover by Russell Crow and Peter Holmes a Court.
Singo donated $50,000 to the Men of League charity on the condition Piggins attended the game.
"He's the toughest bastard to ever play football," Singo said, "a lovely bloke and a great leader.
"Who else could inspire 80,000 Souths fans to march down George Street.
"Without him, there wouldn't be a South Sydney."
* * * * *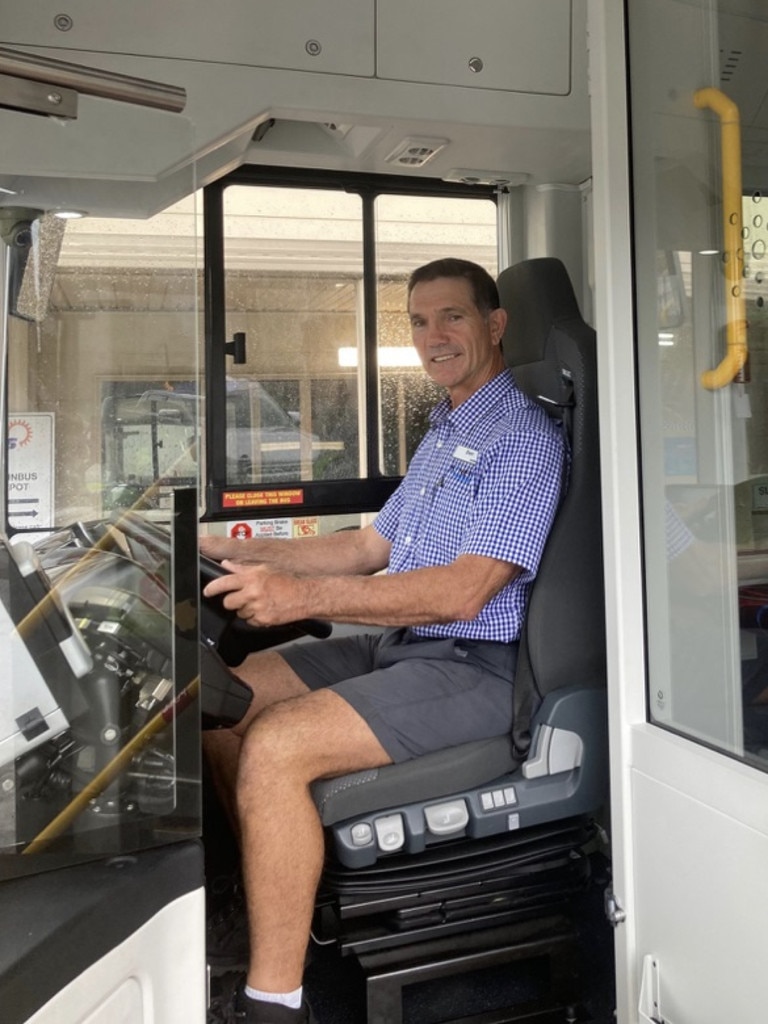 Dan Stains behind the wheel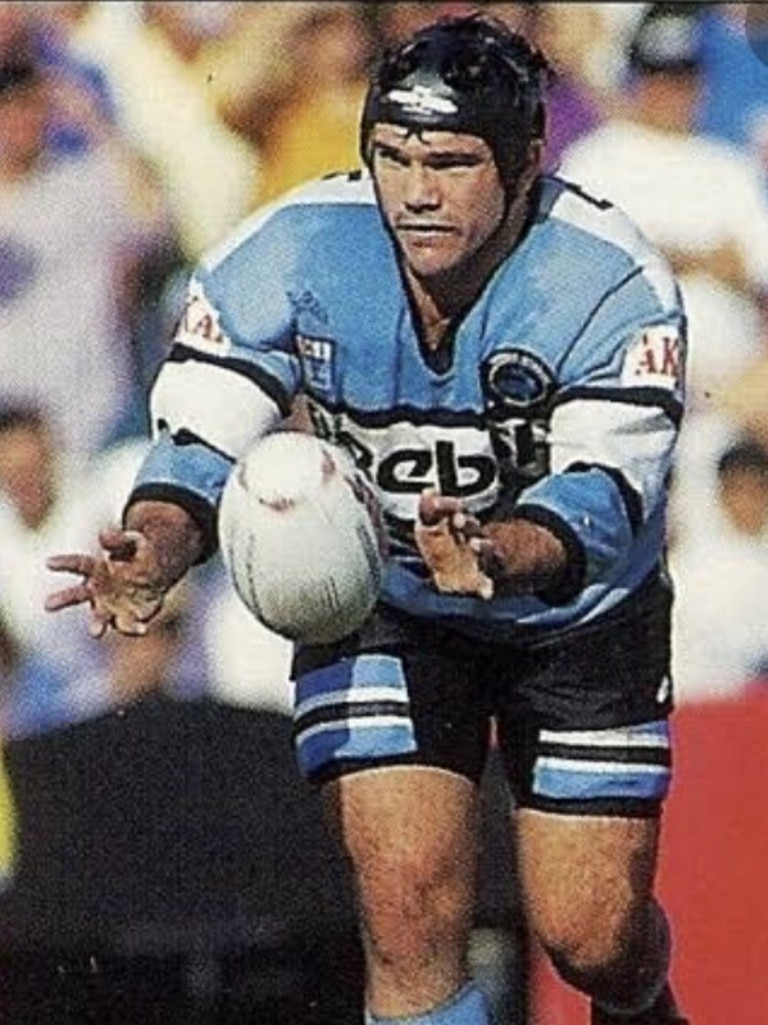 Dan Stains playing for the Sharks
What is it about tough old footy players becoming bus drivers?
Since retiring, Parramatta legend Ray Price and Cronulla hard man Steve Kneen have spent time behind the wheel.
The latest is Dan Stains, the former Maroons Origin forward, who is now steering a bus on the Sunshine Coast.
"I've been doing it for a few months," Stains said, "I'd been inactive for a while and was looking for something to do.
"I had businesses and did OK. I put my kids through private schools but I was looking for a change. It's been great. I really enjoy it, looking after punters in the street."
Now 57, Stains played 170 games at the Sharks and Balmain Tigers from 1987 to 1996.
He still looks incredibly fit and loves watching the NRL.
* * * * *
https://t.co/pFZf0svLr0
Origin does things for the NRL I don't think we really appreciate, I've tried to dive into that, let me know what you think?
If against mid season, give me a reasonable alternative?
Must protect period post NRL season to grow international game in my view

— Christian Welch (@clwelch94) May 11, 2022
Storm front-rower Christian Welch is putting his time to good use while recovering from Achilles surgery.
The 27-year-old spent last week inside the Collingwood AFL club with their coaching staff.
"I was a fly on the wall for the entire week and on game day," Welch said, "I found it really fascinating, especially the strategizing and all the layers to their game. It was a great experience."
Welch is also doing a Masters degree in business at the University of NSW while sidelined.
He is in Brisbane too for the Magic Round with Storm sponsors.
The Maroons State of Origin is still hoping to be back in final premiership rounds in what would be a massive boost for the club's finals campaign.
* * * * *
Retired superstar Benji Marshall is to have a testimonial dinner next month to celebrate his magnificent career.
Old super coaches Wayne Bennett and Tim Sheens plus former teammates Beau Ryan, Robbie Farah and Chris Heighington will share their unique insights at Doltone House in Pyrmont on June 9.
Tickets are on sale now and can be found at www.benjitestimonial.com.au
* * *
The NRL's media boss Daniel Meers is leaving the game after three seasons to lead the media team at Tabcorp.
Meers, a former adviser to Prime Minister Malcolm Turnbull, joined the game during the Todd Greenberg era but forged a close relationship with CEO Andrew Abdo.
"Peter V'landys and Andrew Abdo are the best administrators in sport and have both been incredibly good to work for," he said. "I've been lucky enough to have a front-row seat to see how Peter and Andrew have taken rugby league to a new level."
Meers joins Tabcorp as GM of Communications at the end of the month.
Originally published as NRL News: Bid to bring Bears back to NRL, Burton could break free from Bulldogs