NRL 2022: Ben Ikin's promise to beef-up Broncos' football program won over Carrigan
Wayne Bennett rarely loses when it comes to securing the hearts and minds of those he has coached, but he couldn't match what Ben Ikin offered to Pat Carrigan.
Pat Carrigan has vowed to repay the faith of the Broncos after football boss Ben Ikin won a $1 million contract powerplay over his father-in-law Wayne Bennett to keep the Brisbane ironman at Red Hill.
As Carrigan prepares for Sunday's clash against the Bulldogs, his management has lifted the lid on how close the Queensland Origin hopeful came to quitting the Broncos to join forces with Bennett at expansion rivals the Dolphins.
Dolphins coach Bennett first worked with a young Carrigan at the Broncos in 2018 and believed the hardworking forward would be a perfect fit to help spearhead the expansion team's entry to the NRL next season.
Bennett was so keen he personally met with Carrigan and spruiked the Dolphins vision, armed with a two-year contract and the knowledge he had mentored the forward in Queensland's extended Origin squad in 2020.
But Brisbane pulled out a trump card in new football boss Ikin, who thwarted his long-time father-in-law's poaching attempt by promising the Broncos would beef-up their football program to ensure Carrigan fulfilled his potential.
Stream every game of every round of the 2022 NRL Telstra Premiership Season Live & Ad-Break Free During Play on Kayo. New to Kayo? Try 14-days free now.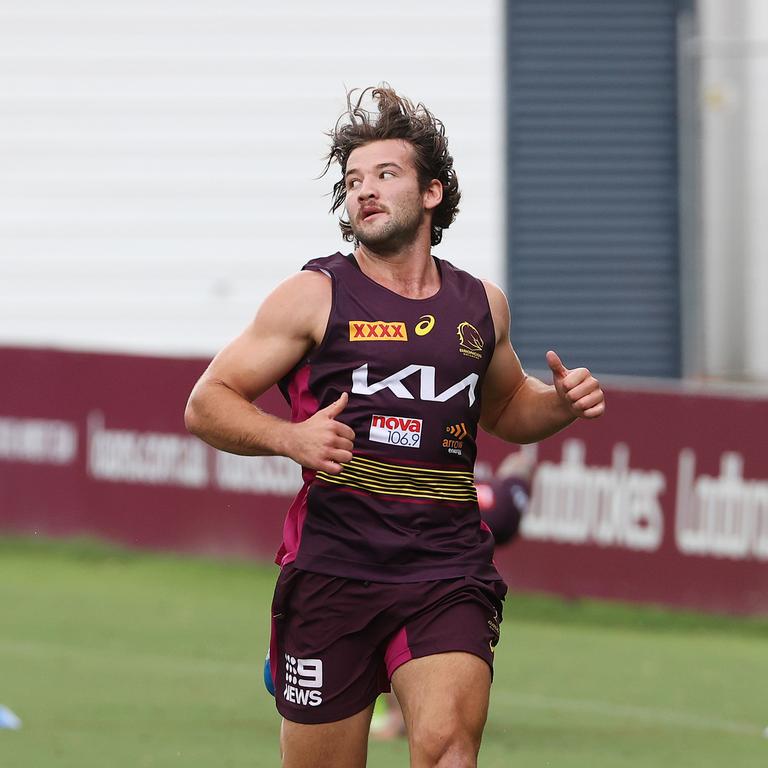 Patrick Carrigan was close to leaving the Broncos. Picture: Liam Kidston.
Carrigan stayed loyal to Brisbane and made a powerful statement in his first game back from a knee reconstruction with a barnstorming display to inspire the Broncos' 11-4 upset of Souths last Friday night.
"Pat seriously weighed up going to the Dolphins," said Carrigan's agent Jeff Jurotte.
"He formed a good bond with Wayne during the Origin series in 2020 and he saw great appeal in being coached by Wayne again.
"The Dolphins were really keen on Pat. We had some meetings with Wayne and it was a really tough call because Pat has great respect for Wayne and he could have stayed in Brisbane playing for the second team.
"The tipping point was the influence of Ben Ikin and Dave Donaghy (Broncos CEO).
"Pat didn't want people at the Broncos telling him fibs or making promises they couldn't keep, but Ikin assured him they would give 'Kevvie' (coach Kevin Walters) more resources and get specialised coaching for the players.
"Ben and Pat have a great connection, Pat is an intelligent kid and enjoyed his chats with Ben.
"Ikin was a major selling point, he assured Pat they would get the club going in the right direction and Pat trusted Ben by signing a new deal."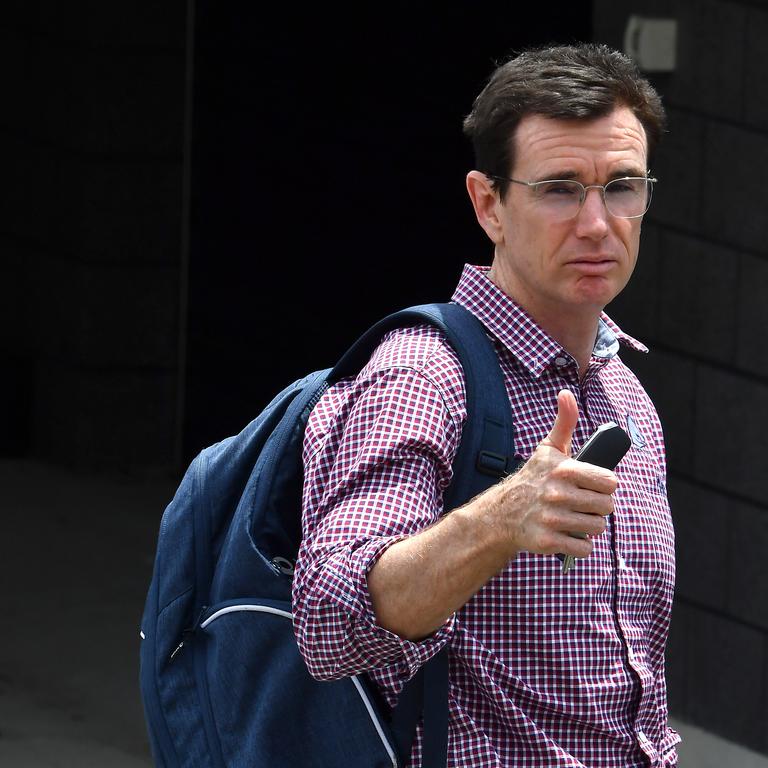 Broncos Head of Football Ben Ikin has promised to beef-up the Broncos' football program.. Picture, John Gass
It is not the first time Carrigan has been chased by a rival club.
In 2019, the Bulldogs – Brisbane's opponents this week – launched an audacious poaching bid. Club legend and former Bulldogs official Chris Anderson flew to Brisbane and tabled a three-year, $1 million package for Carrigan, then aged 21 and yet to play a single minute of NRL.
The Queensland under-20s skipper accepted less to stay at Brisbane and was rewarded with his NRL debut later that season, paving the path for his emergence as one of the Broncos' emerging leaders.
"The Dogs chased him pretty hard," Jurotte recalls.
"Pat had just captained the Broncos under-20s and his family were here, so Pat was keen to take less money to prove himself in Brisbane.
"People don't realise how much work Pat puts in to succeed in the NRL. During the off-season break following his knee reconstruction, Pat was the only guy in the gym, training alone to get his knee right.
"I spoke to one of the Broncos staffers the other day and she said I get to work at 6.30am and Pat is the first guy in the gym doing weights and rehab.
"Pat is the most self-motivated person I have seen. He was aware of the flaws in his game, but he turned the negative of his knee injury into a positive by getting himself fitter and stronger, improving his leg speed and working on his passing game.
"He is so organised with everything he does and that's why Wayne Bennett and the Dolphins wanted him."
Wayne Bennett'sbid for Pat Carrigan was unsuccessful. Picture: Liam Kidston
During his injury ordeal, Carrigan sought the advice of former Broncos skipper Darius Boyd, who fought back from a serious Achilles tear in 2014 to play State of Origin.
Now Carrigan has his sights set on cementing the Broncos' No. 13 jumper and, eventually, clinching a maiden Maroons jumper at Origin level.
"I well and truly want to play Origin this year," he said.
"My first goal this year is to repay the Broncos fans and the boys for missing so much time last year, but I definitely have a goal to play State of Origin for Queensland.
"I have played in the Queensland under-20s and I was part of the extended squad with Wayne in 2020. I learnt so much just being around quality players from other clubs and my goal is to come back bigger and better this season.
"I'm probably the fittest and quickest I have been across the board in the data the club has. I've used the nine months off to reinvent myself and add some things to my game with my speed and passing and working with Adam Reynolds (Broncos halfback).
"I know Queensland have a lot of good players but I'd love to take the next step and pull on that Maroons jersey one day."
'I COULDN'T BREATHE': REYNOLDS REVEALS COVID STRUGGLE
Adam Reynolds has outlined his mission to break Brisbane's 16-year premiership drought after being cleared of Covid to make his long-awaited Broncos debut in Sunday's clash against the Bulldogs.
Brisbane's shiny, new $2.4 million halfback Ferrari will be finally unveiled for their round 2 showdown with Canterbury at Sydney's Accor Stadium – 139 days after Reynolds was officially rubber-stamped by the NRL as a Bronco.
The 31-year-old has endured a frustrating past month, sidelined for Brisbane's three pre-season trials due to general soreness before a shock Covid diagnosis forced him out of last Friday night's grudge match against former club Souths.
But after calling the shots at Brisbane training on Tuesday, Reynolds is fully fit and primed to fire against the Bulldogs in what will represent the first small step in his quest to make the Broncos great again.
Adam Reynolds says his game has given the Broncos more direction and got them back on track to challenge for a premiership. Picture: Nigel Hallett.
The Broncos have purchased Reynolds to help reprise the club's glory days – and Brisbane's new skipper is backing himself to help deliver Brisbane's first premiership since 2006.
"I just want to be successful, that's what is driving me," Reynolds said.
"This club has a great history behind it, but it's our turn now to make our own history.
"We haven't been where we want to be for a couple of years, but it's about setting standards at training and making sure we deliver on the field. There is a lot of talent in the change room, it's just about unlocking that and playing together as a team.
"I think my game will give the Broncos that direction. I'm a competitive person. I like a challenge … and what better challenge than to get Brisbane back on track challenging for premierships again."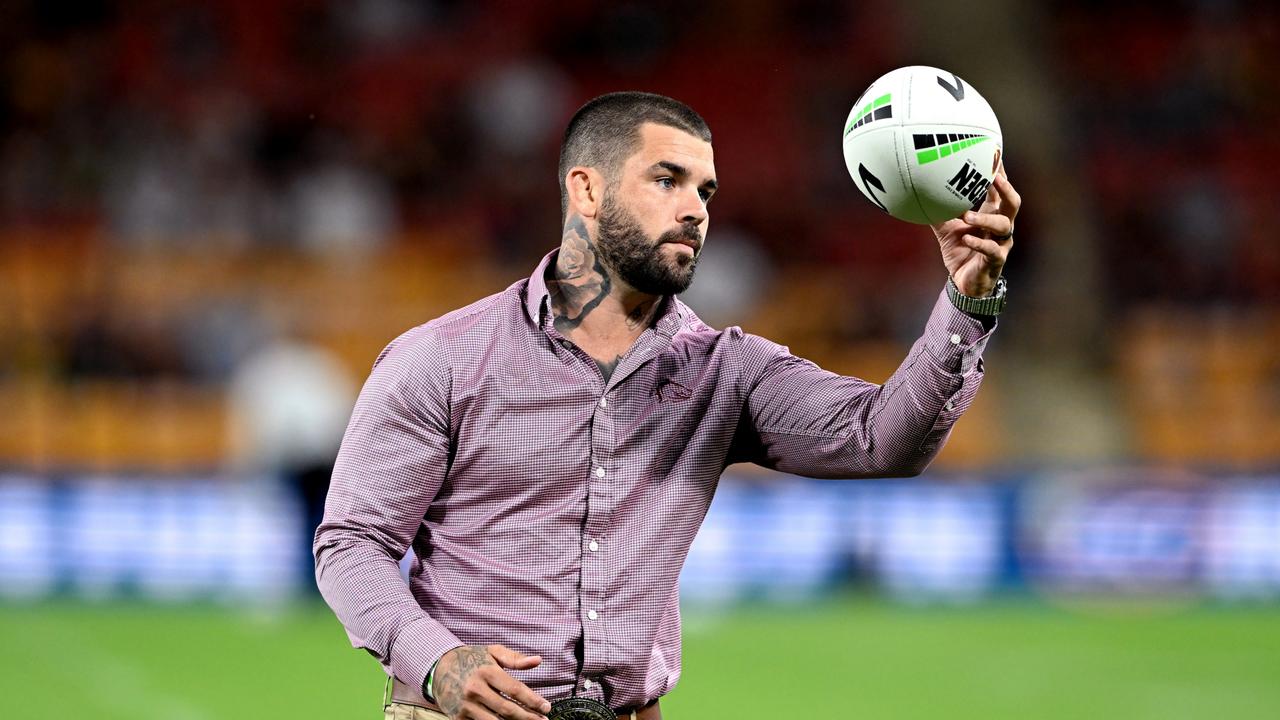 Reynolds watched on from the sidelines as his side pulled off an upset win over the South Sydney Rabbitohs. Picture: Getty Images.
Reynolds was technically eligible to play against the Rabbitohs but Brisbane's marquee recruit says Broncos doctors made the right call by ruling him out of the 11-4 boilover.
"I'm feeling better this week," he said.
"Last week I was under the pump with my lungs. I was just trying to get my breaths back. I couldn't breathe some moments.
"I didn't even think there was anything wrong with me except for a sore throat, but as soon as I got into training mode and started running, my heart rate was up.
"I spoke to numerous people from different clubs about it, they were in the same boat.
"They told me not to rush it back because of the long-term effect it can have.
"I can't wait to finally get out there. It's a big occasion for myself and it will be a proud moment to lead the club out in a Broncos jumper."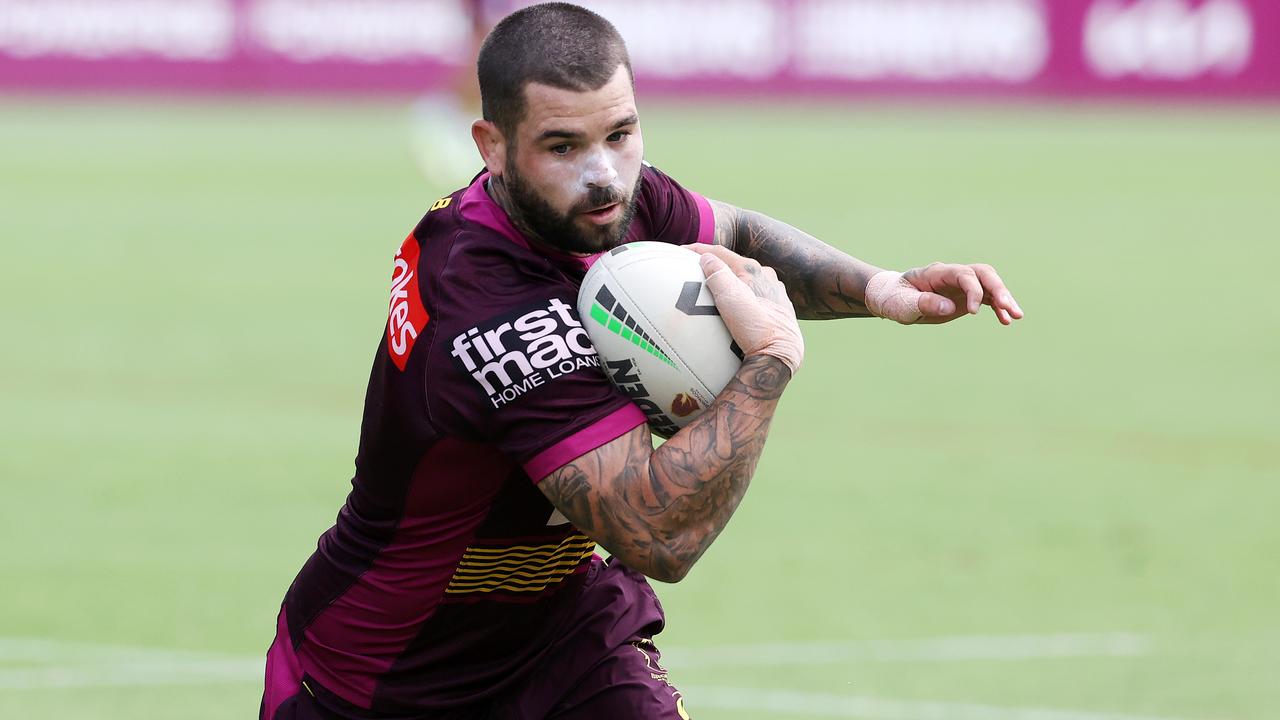 Reynolds will be partnered in the halves by Albert Kelly, after impressing coach Kevin Walters. Picture: Nigel Hallett.
The battle to partner Reynolds in the halves has been decided, with Albert Kelly to shift to five-eighth at the expense of Billy Walters, who has been relegated to the No. 14 jumper as Brisbane's supersub.
In a further boost for the Broncos, rugged forward Kobe Hetherington (Covid) will return to the bench, while Tesi Niu (hamstring) trained at fullback and will start in the No. 1 jumper pending a late fitness test.
Coach Kevin Walters ended any concerns about nepotism at Red Hill by explaining the decision to drop his son Billy to the bench.
"I couldn't split them really, Albert and Bill were both very good last week," he said.
"But I went with 'Alby' because of his association last year with the club.
"He finished the season off well, so he deserved first crack in that position.
"It's good to have depth and competition among players because that inspires guys to be better."
STOP THE FOXX: RISING STAR COBBO'S NEXT MASSIVE TEST
—Chris Honnery
Broncos great Steve Renouf believes defence is key for young gun Selwyn Cobbo to stop Josh Addo-Carr this weekend as the Brisbane halves battle continues to heat up with the impending return of Adam Reynolds.
Cobbo is in for his toughest challenge yet at the NRL level, facing off against New South Wales winger Addo-Carr in Sunday's clash against Canterbury at Accor Stadium.
The 19-year-old Cherbourg product was impressive in Brisbane's season-opening 11-4 win against the Rabbitohs on Friday night, finishing with 162 run metres and four tackle busts, while he came close to scoring a four pointer in the 13th minute.
Now, his next challenge will be stopping the "Foxx" — Addo-Carr — in what shapes as a blockbusting battle on the wing.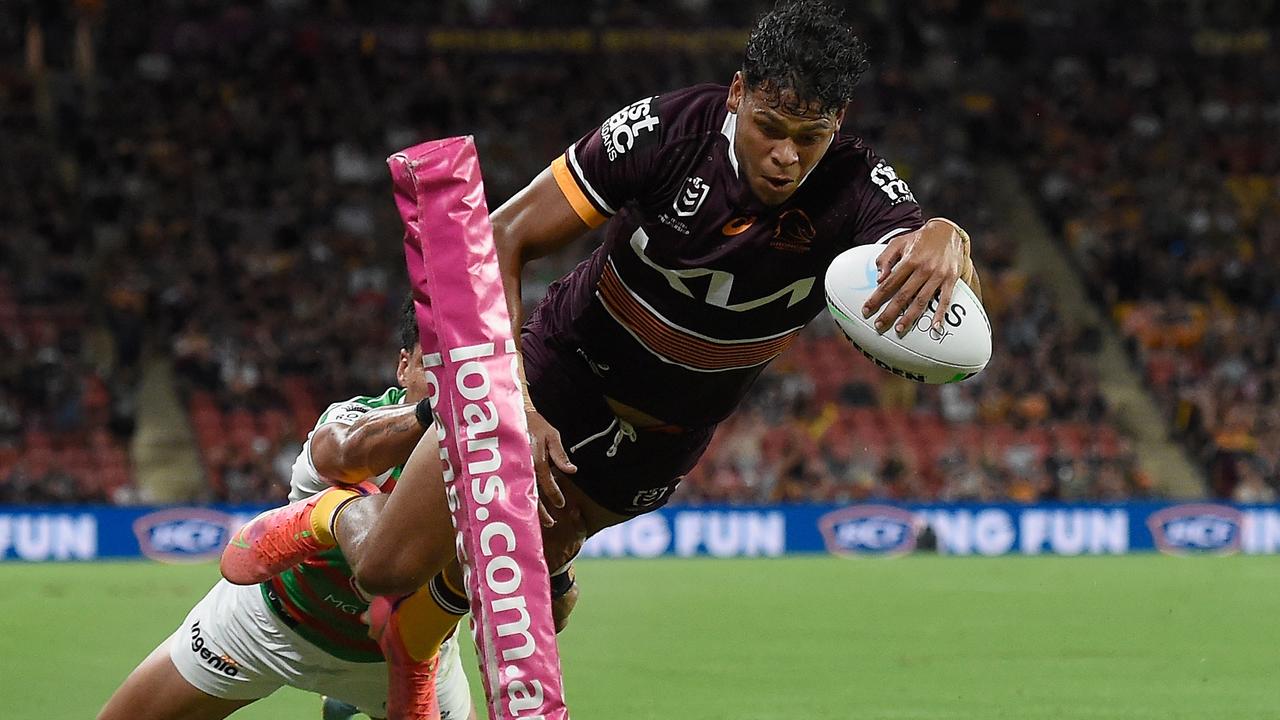 Selwyn Cobbo has Broncos fans excited for the future. Picture: NRL photos
Both teams head into Sunday evening's clash on a high after the Bulldogs scored a 6-4 opening-round victory over North Queensland on Sunday night.
Despite the big-name match-up, Renouf said one area would define whether Cobbo is successful on Sunday evening.
"My advice to Selwyn is don't get overawed by the situation and worry about your own game," Renouf said.
"Just look after your defence first and think about how you're going to stop your opposite number.
"For a player like Selwyn, his attack comes naturally.
"What he's got to concentrate on is his defence, especially against a player like Addo-Carr. He just has to keep him quiet all night and his job is done."
The Broncos will welcome back star halfback and captain Reynolds this weekend as well, which will force coach Kevin Walters to reshuffle his round one halves pairing of Billy Walters and Albert Kelly.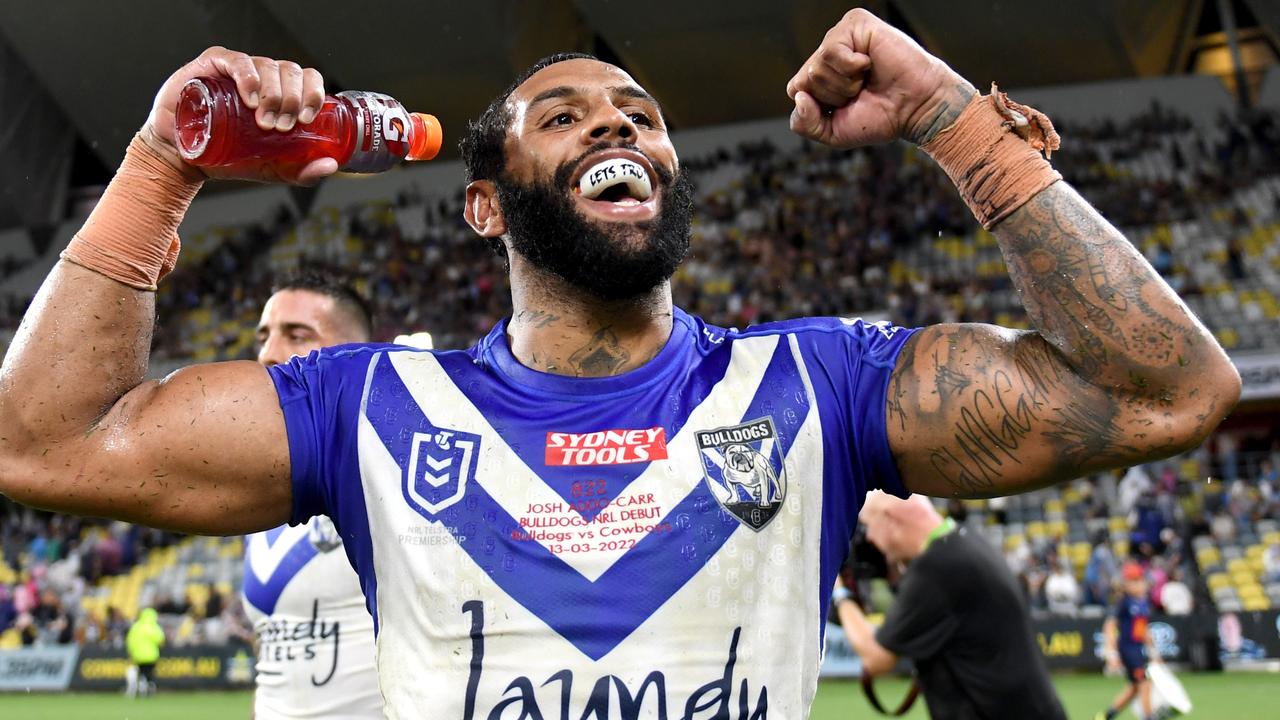 Josh Addo-Carr celebrates the Bulldogs' victory against the Cowboys in Townsville on Sunday night. Picture: NRL Photos
Renouf believed Walters should be moved to the No. 14 jersey as a bench utility and Kelly will combine with Reynolds in the halves.
"Albert is still the front runner for No. 6 and Billy possibly goes on to the bench as a No. 14," he said.
"That's the way it probably should go and probably will go and that's just going on experience.
"A few people jumped on Kevvie (about playing Billy) but out of what he had left in the halves, Billy had first grade experience.
"He's a good player and plays with confidence. He didn't overplay his hand.
"While Albert Kelly can do anything with the ball."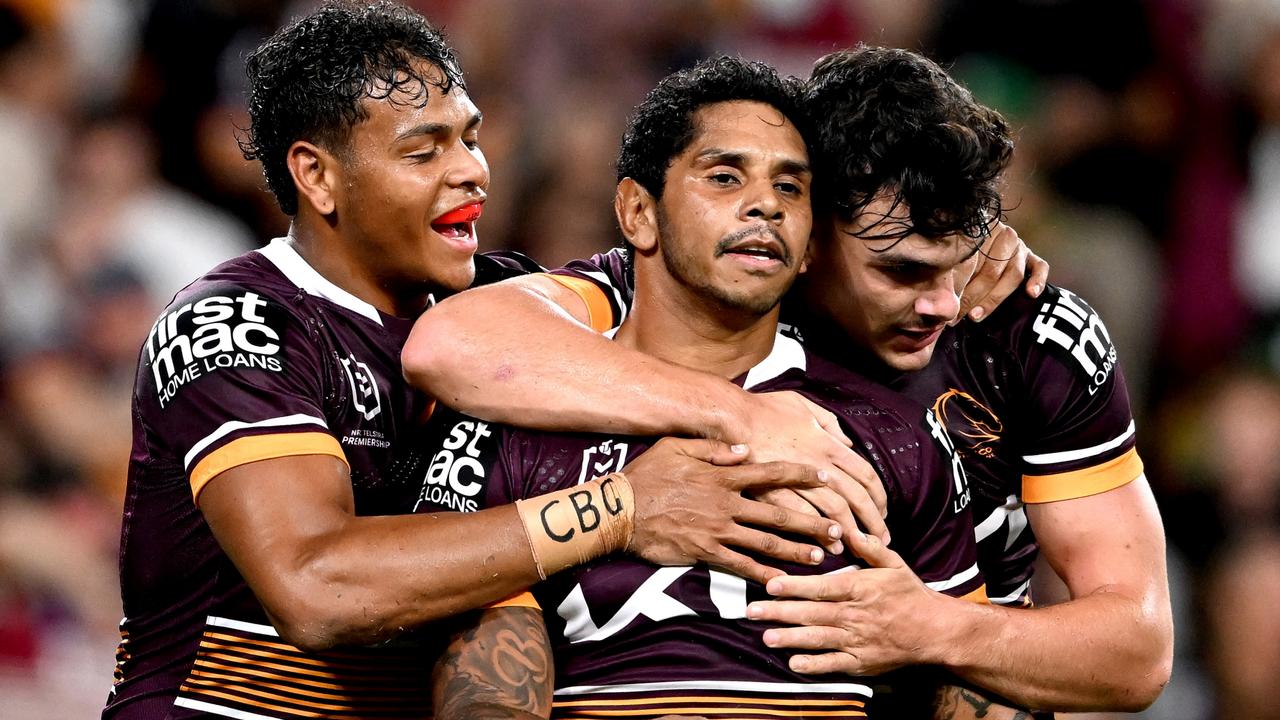 Albert Kelly had a stormer of a game in the No. 6 jersey. Picture: Getty Images
Renouf said the return of Reynolds this weekend will inject the Brisbane playing group with plenty of confidence.
"They were good the other night but getting Reynolds back will just smarten them up a bit more," he said.
"They can't get ahead of themselves because it's only round 1 but they've got to take that one and build on it.
"They beat Souths, who were grand finalists last year, and if they go in with the same attitude, they'll beat anyone."
Originally published as NRL 2022: Ben Ikin's promise to beef-up Broncos' football program won over Carrigan