State of Origin 2022: Cameron Munster dares NSW Blues to target him in Game II
Queensland star Cameron Munster knows he will have a target on his back in Origin II and has dared the NSW Blues to target him. Find out why.
Maroons star Cameron Munster has challenged the Blues to target him after declaring he had been handed a licence to thrill following his Origin I heroics.
Munster will be looking to back up his man-of-the-match performance in Queensland's 16-10 Game One victory when the series moves to Perth on Sunday.
The Maroons five-eighth was sensational in Sydney, producing a memorable second half to guide Queensland to a crucial win on enemy turf. But his efforts have not gone unnoticed, with NSW expected to target Munster at Optus Stadium after he tore them apart.
Stream every game of every round of the 2022 NRL Telstra Premiership Season Live & Ad-Break Free During Play on Kayo. New to Kayo? Try 14-days free now.
As revealed by The Courier-Mail, Blues backrower Liam Martin made a failed attempt to stifle Munster with a series of questionable plays that had little impact.
Ahead of his 15th Origin, Munster dared the Blues to come after him and leave Queensland's sublime spine unmarked.
Cameron Munster has dared the Blues to target him in Origin II. Picture: Zak Simmonds
"They can (target me)," he said. "If they put all their eggs in one basket and just focus on me you've got Harry Grant, Ben Hunt, Daly Cherry-Evans and Kalyn Ponga to wreak havoc.
"I'm more than happy for them to focus on me. It lets the other boys around me play their best games. I'm not worrying about what I can't control. They're going to have a game plan against me so I've got to stick to my strengths and play calm footy.
"I know they're going to try and take my head off and do things that aren't usually done. I have to worry about myself, play my style of footy and let it come when it comes.
"It's a challenge. You're playing against the best and I know they will be coming for me.
"In previous years I've been known for it to get under my skin. I'd do things I probably wouldn't usually do. I'm not that type of person."
Despite his brilliant performance at Accor Stadium, in which he ran for 148m and busted seven tackles, Munster said he was not up to scratch.
His second half was much better than the first and Munster said he couldn't afford to start slow in Perth against a desperate NSW.
Cameron Munster carved up the Bluees in the second half in Origin I. Picture: Mark Kolbe/Getty Images
"The first half was not above par and I knew I needed to be a lot better in the second. I was lucky enough to do that," he said.
"In the second game, I have to do that for 80 minutes. The younger boys look up to us in the spine and we need to lead them around and show them what Queensland is all about.
"Running the ball comes naturally to me. I spoke to Cherry after the first half and I was more playing a general role than sweeping role. We changed that a little bit.
"They're obviously going to do a bit of video and watch us so we've got to change a couple of tactics.
"There's been media around the Maroons giving me a licence to thrill … I'm going to go out there and play my style of footy.
"I know they're going to be coming for me, and I'll have a lot more heat on me than I did in game one, so hopefully I can get away from them."
Munster (Melbourne) and Martin (Penrith) have held many running battles at NRL level over recent years.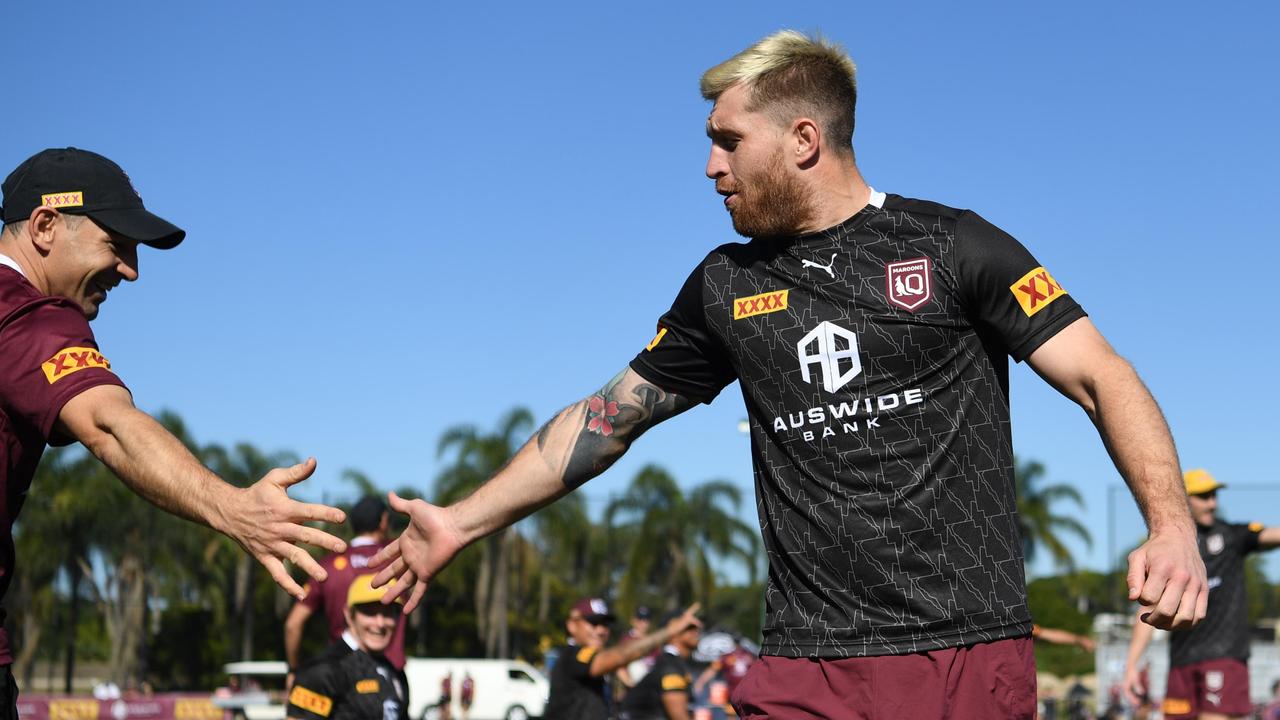 Cameron Munster is expecting plenty of heat from the Blues in Origin II. Picture: NRL Photos
That transferred to the Origin arena in Game One when Martin produced a swinging arm on Munster and then dug his elbow into his ribs as the Blues trailed 16-4.
Munster, 27, said he was expecting Martin to come after him again in Perth.
"We've had a bit of a rivalry ever since he's come into grade," he said.
"I like what he brings, a bit of competitiveness and aggression.
"We've had our fair share of tits and tats with each other. That's footy.
"He is a backrower trying to help his half out by getting at me and trying to make me play a lot earlier than I should.
"He is obviously going to try and get under my skin on Sunday. All the best to him, fingers crossed we can get it over them."
Maroons' master plan for Munster to unleash more mayhem
-Peter Badel
Queensland have given Cameron Munster a licence to thrill in Origin II with playmaking legend Johnathan Thurston helping devise a game plan to allow the Maroons maestro to terrorise the Blues in Perth.
Maroons skipper Daly Cherry-Evans has warned NSW they have not yet seen the best of Munster, who is primed to torment the Blues again on Sunday night after his match-winning brilliance in Origin I.
Munster's masterclass helped stun the Blues 16-10 in Game One and his second-half onslaught was inspired by a half-time meeting of minds, including Cherry-Evans and former Queensland playmaking king Thurston.
Now an assistant to Billy Slater in Camp Maroon, Thurston's knowledge as a 37-game Origin great helped stabilise Munster and Cherry-Evans after they struggled to assert playmaking authority in the first half of Origin I.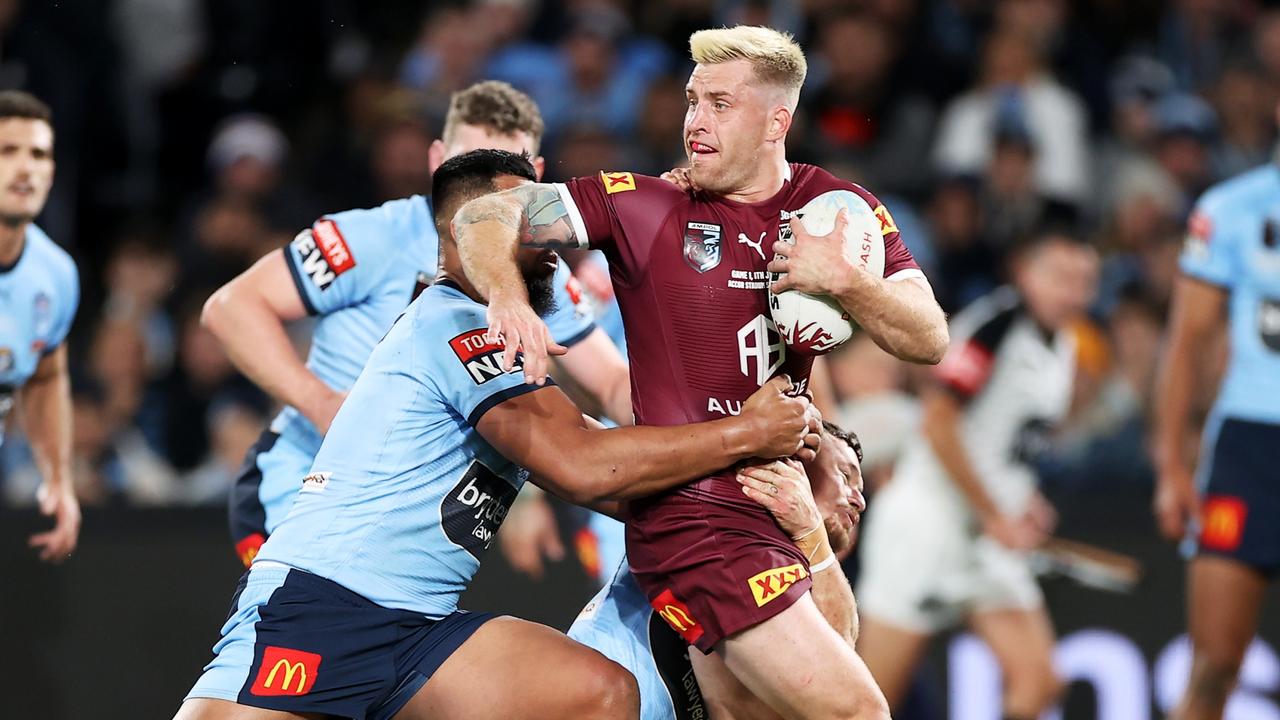 Cameron Munster was outstanding for the Maroons in Origin I. Picture: Mark Kolbe/Getty Images
Munster went on to rip the Blues apart with one of the most dominant halves of his Origin career — and Cherry-Evans believes the Storm sensation is on the cusp of a performance that will bring the Origin shield back to Queensland.
"I think Cam can do something special on Sunday night," Cherry-Evans said.
"I actually think Cam can get better in this game.
"In the first half of Game One, Cam and myself didn't connect too well and that was to do with timing and getting used to each other's styles.
"We have played a lot of footy together, but every series you are implementing new structures and styles.
"After the first half, Cam and I had a good chat with each other in the sheds with the coaching staff (assistants Thurston and Cam Smith and head coach Slater) and we really knuckled down on the style of footy we wanted to play.
"We talked about freeing Cam up in the second half and it showed in the way he played after the break.
"Cam is such a naturally gifted player and it's my job as halfback to help give him that freedom."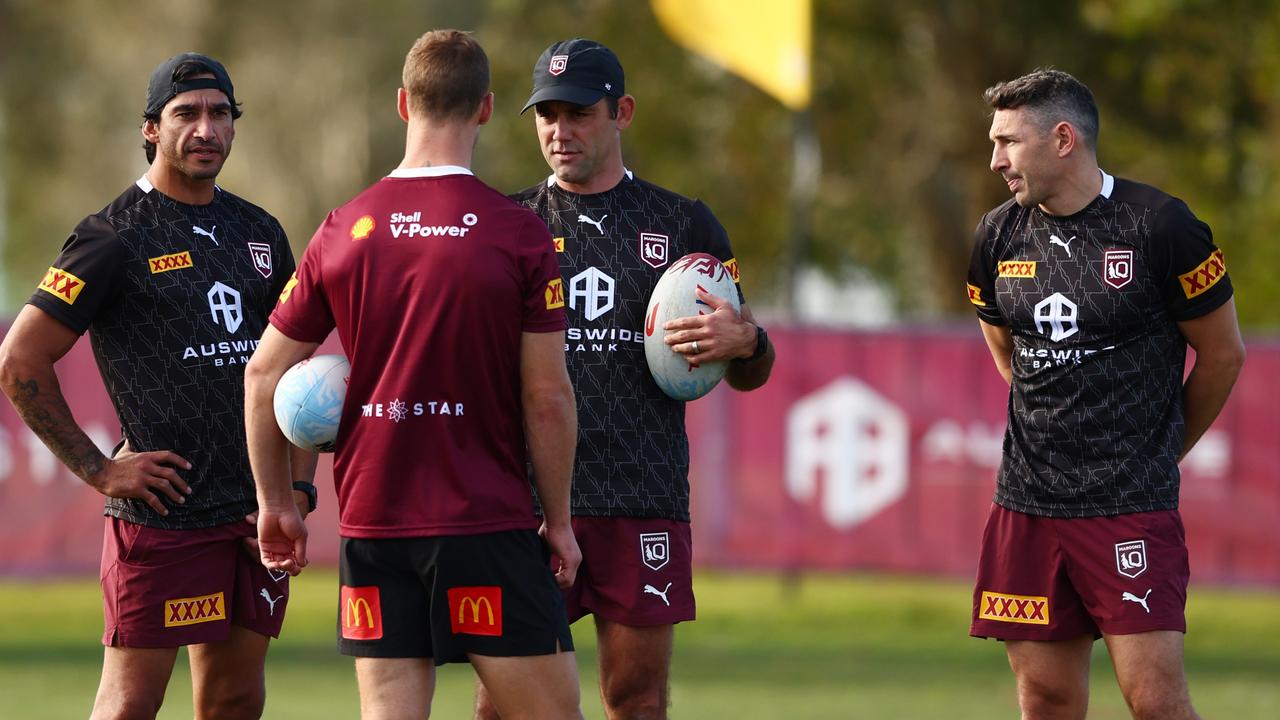 Queensland assistant coach Johnathan Thurston, left, is a key sounding board for Cameron Munster and halfback Daly Cherry-Evans. Picture: Chris Hyde/Getty Images
Munster was magnificent at Sydney's Accor Stadium, amassing 148 metres, seven tackle busts and one line break as he began to pick holes around NSW's rucks and spearhead Queensland's fightback.
The 27-year-old plays his 15th Origin game on Sunday and Maroons hooker Harry Grant said Queensland's key shot-callers had spoken about giving Munster the freedom to attack.
"The key for 'Munny' is not letting him think too much and letting him play natural football," Grant said. "You can see at the moment he is enjoying himself and playing backyard footy.
"Hopefully guys like Daly, myself, Benny Hunt and 'KP' (Kalyn Ponga) can take responsibility for running the team, take the pressure off Munster and let him play his own game.
"In saying that, Cam is always thinking a step ahead and hopefully he is in for another big performance."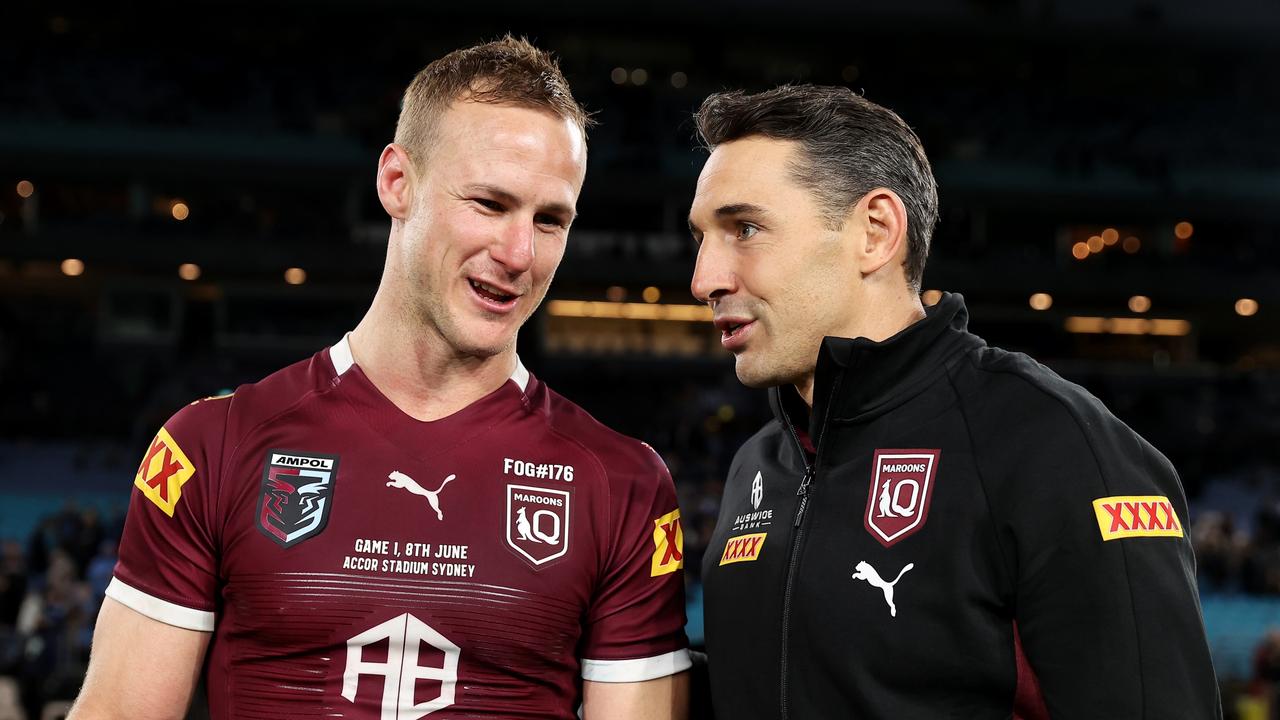 Queensland skipper Daly Cherry-Evans says Munster can get even better in Origin II. Picture: Mark Kolbe/Getty Images
Cherry-Evans says NSW coach Brad Fittler's decision to wield the axe, making seven changes to his Origin I side, was not a shock.
"I'm not surprised to be honest," he said.
"It always seems to be the case in Origin, the team that is 1-0 down is desperate to level up the series, so you have to do whatever you can to keep the series alive.
"Desperate times call for desperate measures.
"I've been on both sides of that before and we are really aware of how desperate they are going to be coming over to Perth, so we're ready for them."
Maroons' secret weapon is ready to dominate NRL
-David Riccio
Josh Hannay, the Queensland assistant coach who spent every waking hour devising the game plan to blunt the NSW attack could be an NRL coach tomorrow, according to rugby league legend Johnathan Thurston.
Which is why, it came as no surprise to Thurston, when told by this column that both the coach-less Bulldogs and Warriors have inquired about the services of the Maroons assistant coach and right-hand man to Sharks coach Craig Fitzgibbon.
"He's a great coach, just so knowledgeable and everyone I've spoken to just loves him,'' Thurston said.

"The three of us (Queensland coaching staff members Billy Slater, Cameron Smith and Thurston) aren't in an NRL system and he's the only one that is, so you could tell when we were running training sessions, his communication and the way he sets up the drills, was exactly what we needed.

Maroons assistant Josh Hannay was a key cog in the Origin I victory.
"If there were an NRL job for him available, in my eyes he wouldn't be a gamble at all.

"He's ready.''
To footy fans, Hannay is the forgotten man on the coaching merry-go-round.
But within the clubland, Hannay's name sits written in the notebook of the good judges, like a Spring time blackbooker.
Such is his lustre, Maroons coach Billy Slater could've chosen anyone, from the King Wally Lewis to Supercoach Wayne Bennett, to sit alongside him on Wednesday night in the coaches box.
He chose Hannay.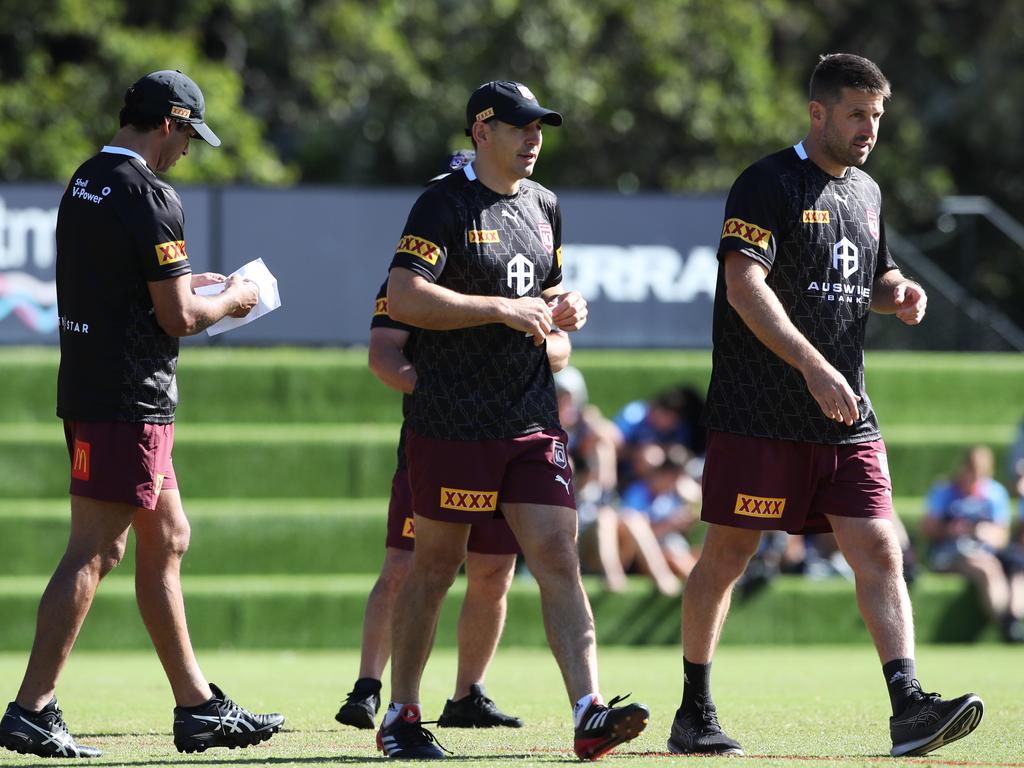 Queensland coach Billy Slater (C) relied heavily on Josh Hannay (R) leading in to Origin I. Picture: Zak Simmonds
"When the QRL first spoke to me, my first priority was to put the right people around the players," Slater said after the Maroons' Origin I victory.
"That's the first thing I needed to do and a guy like Josh Hannay, he knows what this team means to Queensland, but he has a great football mind as well.
"He's been super for us."
It can be revealed that it was Hannay who Slater chose to drive home the plan of how to shut down NSW, including star half Nathan Cleary.
Particularly, Hannay's task zeroed in on communicating and preparing Queensland's edge players how to pressure by rushing or resisting and holding their line when the Blues had the ball.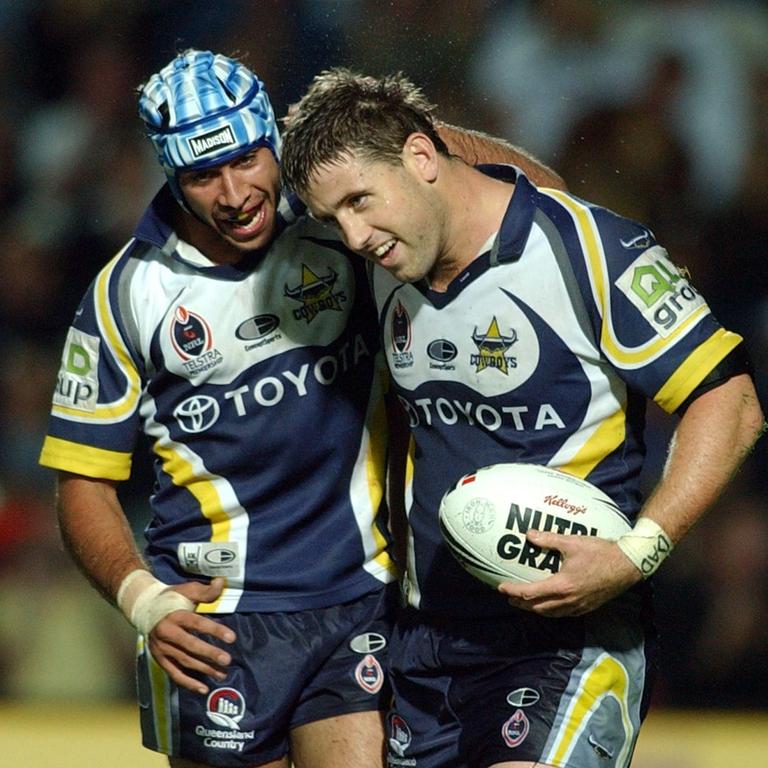 Johnathan Thurston and Josh Hannay were Cowboys and Origin teammates.
Equally, the plan included what those same edge players needed to do to expose the Blues defensive line.

For a number of reasons, there's a quiet maturity about Hannay.
His learnings as a centre, whose career was stymied by knee injuries, under Tim Sheens, Graham Murray, Neil Henry and Ricky Stuart as well as working as a coach alongside Paul Green, Kevin Walters, Slater and Fitzgibbon, have added to his layers.
But nothing beats experience in the hot seat, which came over two separate stints as interim coach for the Cowboys (10-games) following the sacking of Paul Green in 2020 and then again as the 'nightwatchman' for the Sharks following the sacking of John Morris for 19-games in 2021.
The Sharks players still talk about Hannay's clarity in his planning and coaching and ability to bind the club in the wake of the emotional departure of Morris.
Fitzgibbon heard this also and resisted bringing in one of his "own" when he took the Sharks job.
There's no ego either, perhaps instilled by Hannay's admiration for not one particular NRL coach he's worked with, but Liverpool manager and "football's genuine good guy'', Jurgen Klopp.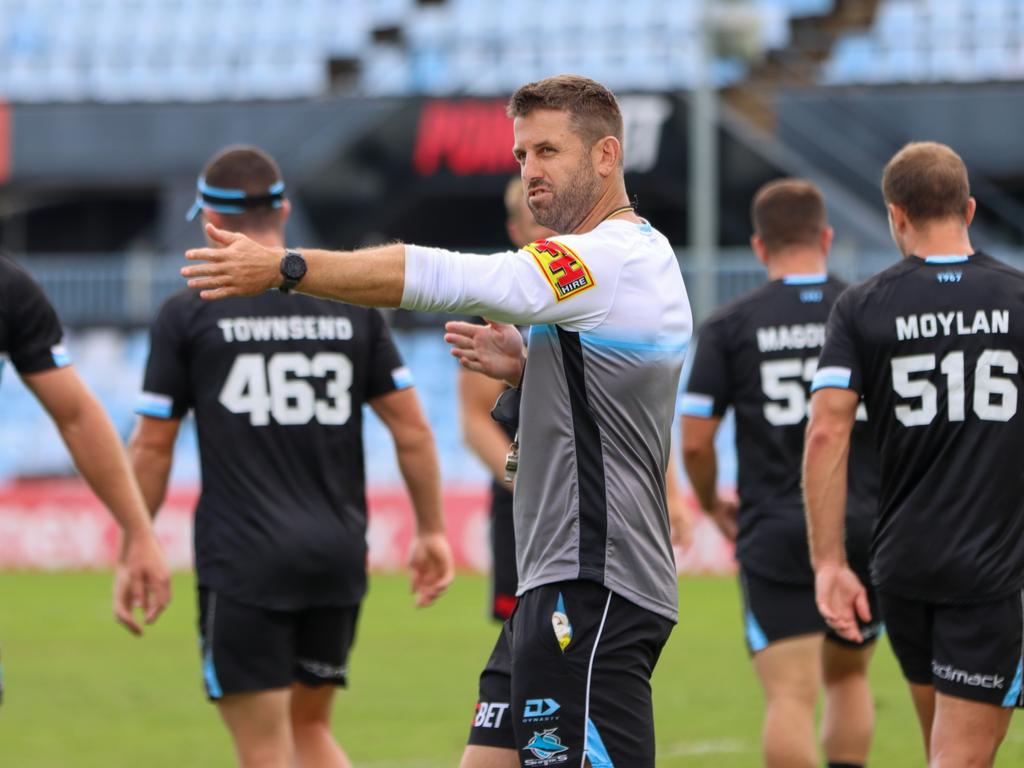 Josh Hannay calling the shots at Shark Park when he was caretaker coach. Supplied
Speak to those close to Hannay and they will tell you he couldn't put Klopp's biography "Bring The Noise" down and that from Klopp, he has faith that he can still remain caring and genuine as a coach, while still being successful.
X's and O's carry weight for clubs searching for a new coach.

But finding a coach without ego, or who doesn't think he's bigger than the franchise itself, is much more difficult.
Hannay still speaks with the soft tone of a Queensland country twang, but it shouldn't be mistaken for someone who isn't afraid of a tough call.

When the Sharks moved to Queensland with the rest of the NRL competition and squad sizes were restricted to 30 last season, it was Hannay as the interim head coach who told the easily distracted Josh Dugan, the second-highest paid player at the club, he wasn't going.
It's almost odd that Hannay doesn't have the profile of his rivals riding the coaching spin-cycle.
The 42-year-old from the small coal mining town of Moranbah in Queensland was so good at 16, he almost created history by becoming the youngest player to make his first-grade debut before it was blocked by the ARL.

He ran out 12-months later for North Queensland as a 17-year-old.
A two-game Maroons player and 150-game Cowboy, Hannay has graduated through the coaching ranks without a player agent flogging him to every club.
I suppose he doesn't need to either.
Not when living immortals like Slater and Thurston are doing all the talking.
Originally published as State of Origin 2022: Cameron Munster dares NSW Blues to target him in Game II