NRL news: Crowd brawl mars opening night of Magic Round at Suncorp Stadium
GRAPHIC WARNING: NRL boss Andrew Abdo has threatened to impose bans following a bloody brawl marred the opening night of the NRL's showpiece Magic Round.
NRL chief executive Andrew Abdo has slammed Queensland rugby league fans and threatened to impose bans following the wild brawl in the Suncorp Stadium stands that marred the opening night of the NRL's showpiece Magic Round.
In yet another black eye for the code which is battling gang violence at junior games in Sydney, it is at Suncorp Stadium in Brisbane where sickening crowd violence is ruining the code and its family-friendly ideals.
Midway through the first half of Brisbane's 38-0 massacre of Manly, several spectators became involved in a brawl that involved multiple punches, a coward punch and one man sent tumbling backwards down three rows of chairs.
The fighting continued for at least one minute at the northern end of the western stand before police and security intervened, with several patrons eventually ejected from the stadium.
"There's absolutely no place for violence at our games," Abdo said.
"Aside from the action the authorities may take, we will also ban any fan who engages in violence in the grandstands. It will not be tolerated.
"Magic Round is a celebration of our game, our fans and families. Almost 150,000 fans will attend this weekend and we will speak with the Stadium, who oversees security, to ensure the right measures are in place."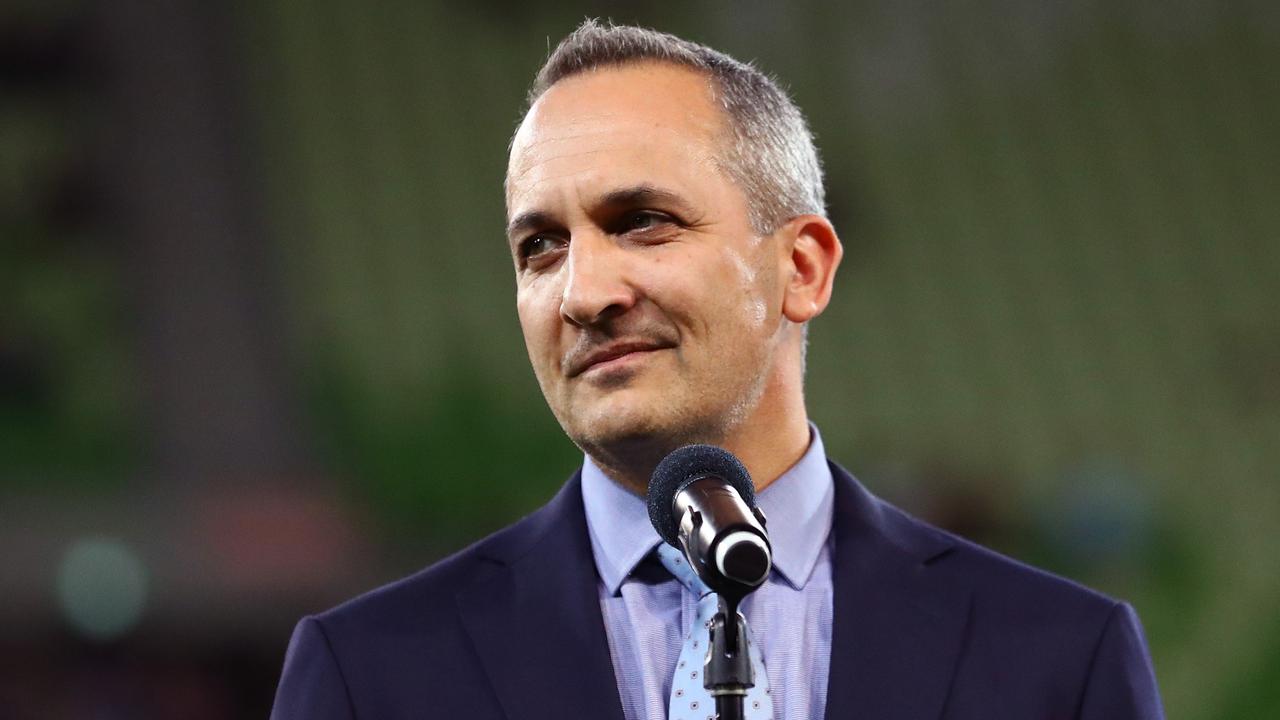 NRL chief executive Andrew Abdo says fans who engage in violence in the grandstands will be banned. Picture: Kelly Defina/Getty Images
However Queensland Police Minister Mark Ryan on Saturday defended the state's footy fans.
Asked whether it was a poor reflection on Queensland, Mr Ryan said it was a "poor reflection on those individuals".
"Queenslanders love their sport," he said.
"There's a couple of idiots out there who have done the wrong thing and they'll be dealt with."
He admitted last night's brawl was "disgraceful".
"I hope they are banned for life from the stadium," he said of those involved.
"This was a couple of yahoos who were engaging in disgraceful behaviour. They will be dealt with by authorities."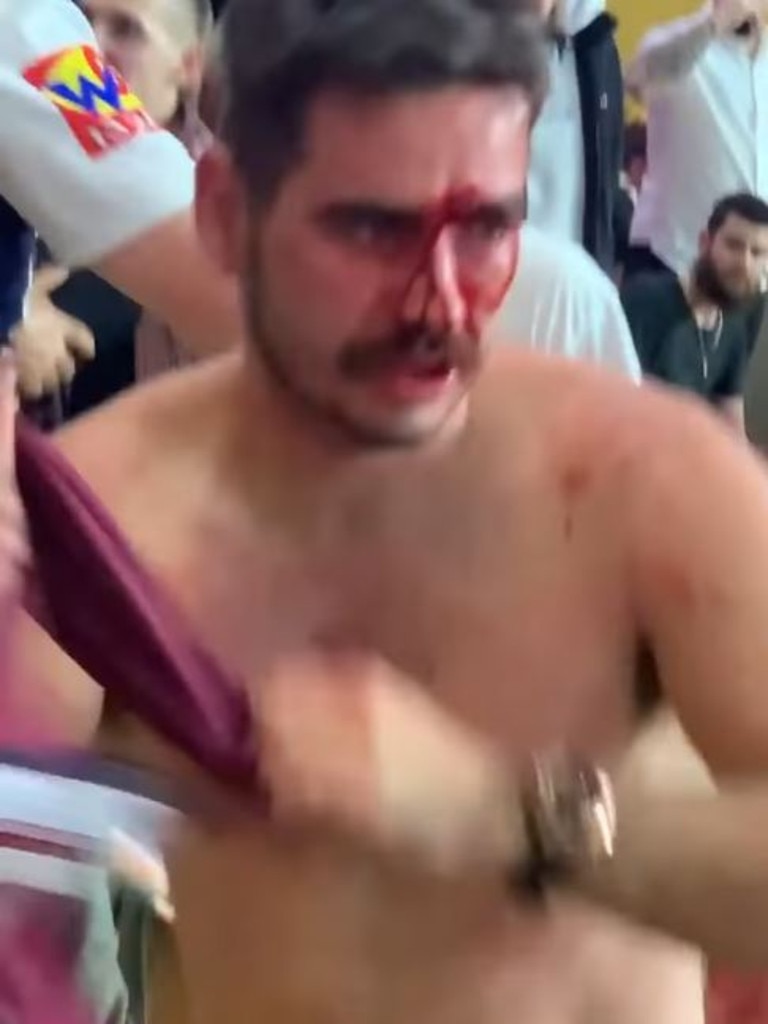 Fans were left bloodied during a crowd brawl on the opening night of Magic Round at Suncorp Stadium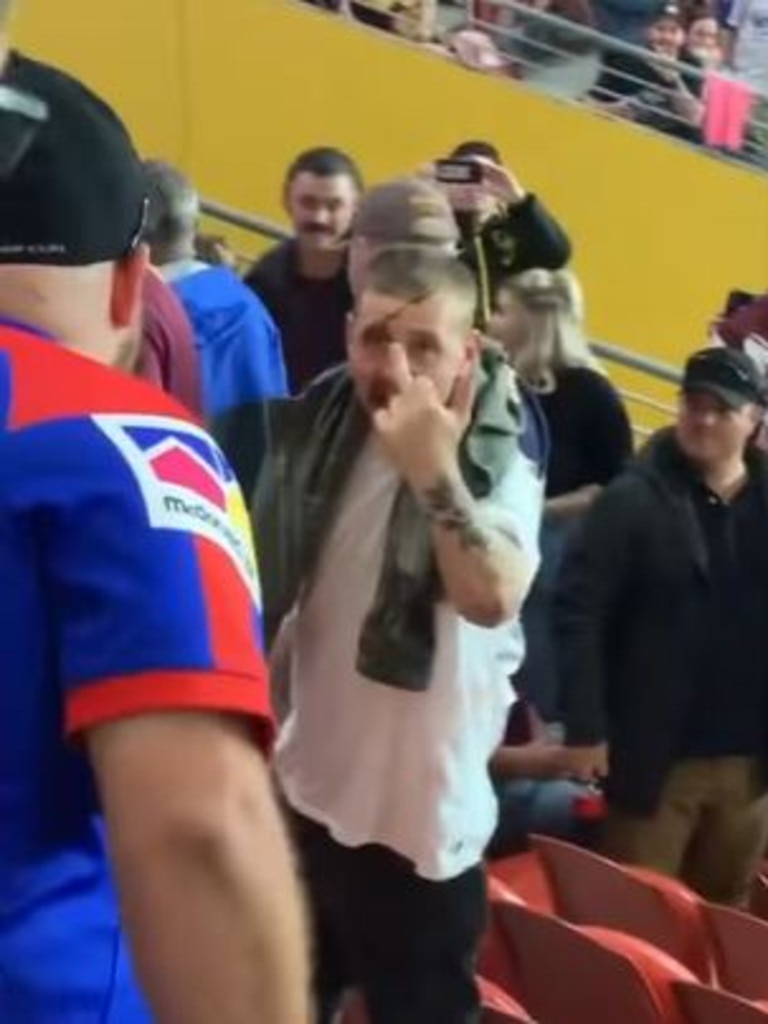 The wild brawl spanned over several rows, as some rushed to get away from the escalating violence, while others stepped in to try and end the carnage.
Queensland police confirmed to The Courier-Mail late on Friday night that one man had been issued a public-nuisance infringment notice.
"As a result of that disturbance, police have attended and taken action against one male," Inspector Adam Guild said.
Guild said that while no formal complaint had been made in relation to the brawl, police would continue to investigate the matter to find those responsible.
Ten move-on directions were also issued to other spectators in the stadium.
The sickening fight took the gloss off Brisbane's stunning win in front of more than 40,000 fans, with Selwyn Cobbo's hat-trick highlighting an exciting new era for the Broncos.
But it's Cobbos and yobbos in Brisbane, where fans are giving Queensland rugby league a bad name with the vision set to dominate news headlines on Saturday.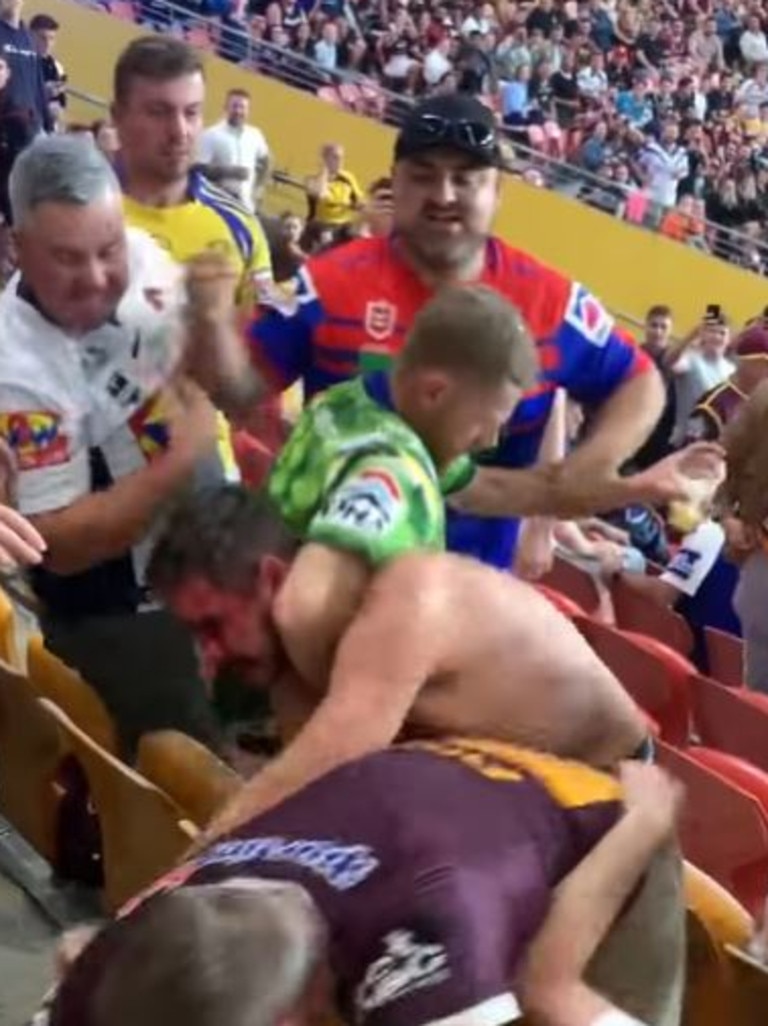 One man continued to fight on despite suffering nasty head wounds.
Vision of the incident was spreading on social media within minutes, while fans in the stadium were also quick to criticise the security for taking so long to act as the entire northern end of the stadium watched on in disbelief.
It is the second ugly incident of crowd violence at Suncorp Stadium this season after the Broncos clash during Anzac Round created shocking headlines for a punch-up in the stands sparked by one man's disrespectful behaviour during the one minute's silence for the Anzacs.
Crowd behaviour has became a major issue in Queensland, particularly as a Titans fan created headlines earlier this season when she ran onto the turf at Cbus Super Stadium before getting thumped in a tackle by security. It was one of several incidents at Cbus.
After two years of reduced crowds due to Covid-19, the behaviour of Queensland fans at NRL games this season has been an utter embarrassment for the state and officials will be concerned about what may happen ahead of the next two days of triple headers at the stadium to complete Magic Round.
Not a copper in sight. Imagine it was an A-League game. Police everywhere, helicopters, riot squad, pepper spray, lead story on the news. https://t.co/pAB6WFooRJ

— Ray Gatt (@Gatty54) May 13, 2022
The Queensland Government announced on Thursday that Magic Round would return to Suncorp Stadium for two more years until 2024, but if such ugly scenes continue to happen with such regularity at NRL games at some point the code may have to consider stronger or more decisive action than just evictions and bans.
Magic Round will continue on Saturday afternoon with South Sydney facing the Warriors, Gold Coast Titans play St George Illawarra Dragons before the biggest game of the round featuring a top-of-the-table battle between Melbourne Storm and Penrith Panthers.
Saturday's triple header is an official sell out, but officials will be desperately hoping for an incident-free day of rugby league where the talking point is the stars on the field, not the drunken fools in the stands.
Originally published as NRL news: Crowd brawl mars opening night of Magic Round at Suncorp Stadium