NRL 2022: Manly to break 10-year Brookvale Oval record against Wests Tigers
Brookvale Oval will break a decade long record dating back to the infamous 'Battle of Brookvale', vindicating the groundbreaking suburban upgrade deal.
This will be the biggest since the notorious Battle of Brookvale.
Manly big game against Wests Tigers has become the club's fastest home ground sellout in more than ten years and proves irrefutably that 4 Pines Park needs - and warrants - a major redevelopment.
The Daily Telegraph can reveal Saturday's 3pm match at Brookvale was declared a 17,000 sell out on Thursday afternoon – still 48 hours before kick-off.
Manly's media department reports the game has become the "fastest sellout in 10 years."
And Sea Eagles chairman and co-owner, Scott Penn added: "Our ticketing department has not seen this level of demand in over 10 years."
Stream every game of every round of the 2022 NRL Telstra Premiership Season Live & Ad-Break Free In Play on Kayo. New to Kayo? Try 14-Days Free Now >
The last game to sell out so quickly was the Battle of Brookvale between Manly and Melbourne when 20,414 fans crammed the Pittwater Road ground.
Manly-Tigers will become the second sell out this round with Penrith officials preparing to close the gates for a big derby against Parramatta on Friday night.

Manly will confirm the game is a sellout on Friday morning with club officials predicting a crowd of between 17,000 and 18,000. The newly opened Bob Fulton Stand – which seats 3000 fans - has again attracted massive numbers.
Manly's sellout is another grand advertisement for suburban football and comes as the NSW Government reached a groundbreaking deal that will deliver upgrades to four stadiums, including Brookvale.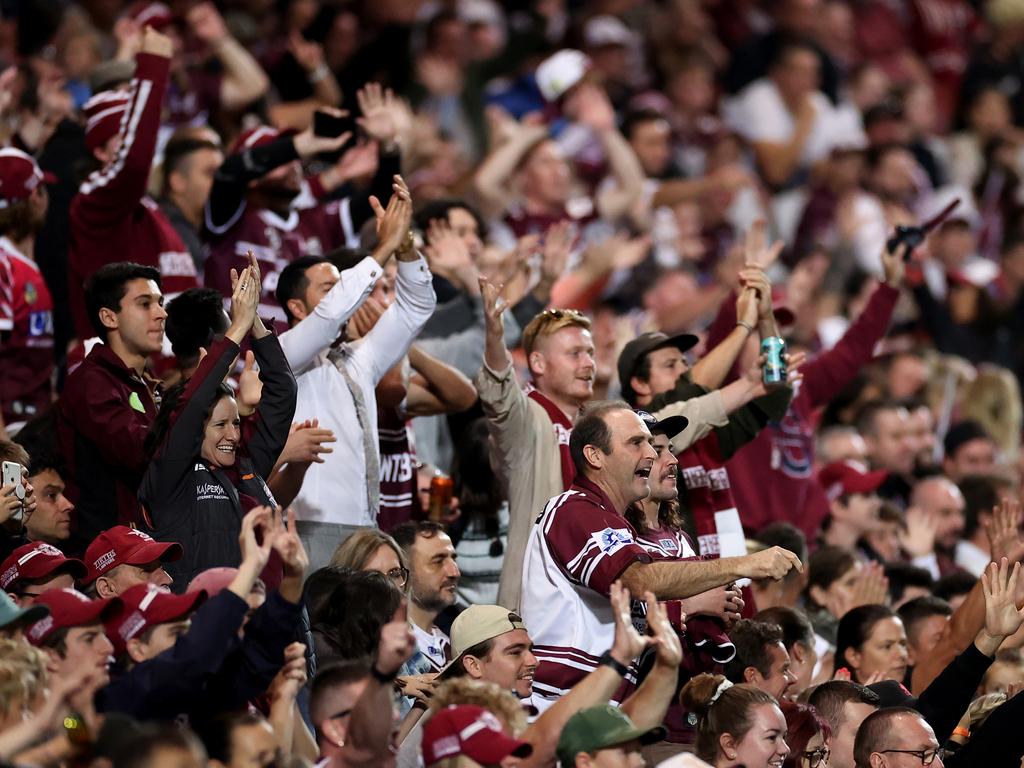 NRL Rd 6 - Sea Eagles v Titans
The Daily Telegraph reported the 4 Pines Park upgrade was "imminent" on March 24.
"It is fantastic to see ticket sales flying for the game this weekend. More importantly we have received fantastic feedback about the new Bob Fulton stand and our fans appreciate how important it is to bring new facilities to suburban grounds," Penn said.
"Everyone keeps saying how excited they are about the potential of the full redevelopment to give the northern beaches a modern facility they can pack out every week. We are very optimistic about the future.
"Peter (V'landys, ARLC chairman) understands that rugby league is tribal and best served being able to watch it live at your local suburban ground."
Manly attracted crowds of 13,261 (round 3 versus Canterbury) and 16,220 (round 5 against Gold Coast) so far this season. And in a throwback to the halcyon days, Manly will host three grades across Saturday.
"It's going to be a sellout, for sure. It's just about sold out already," said Sea Eagles CEO Gary Wolman.
"The State Government made the investment in the new Bob Fulton Stand and everyone is loving it and the suburban grounds. The investment in suburban grounds is definitely working. If you give fans and members a good experience then they will come back.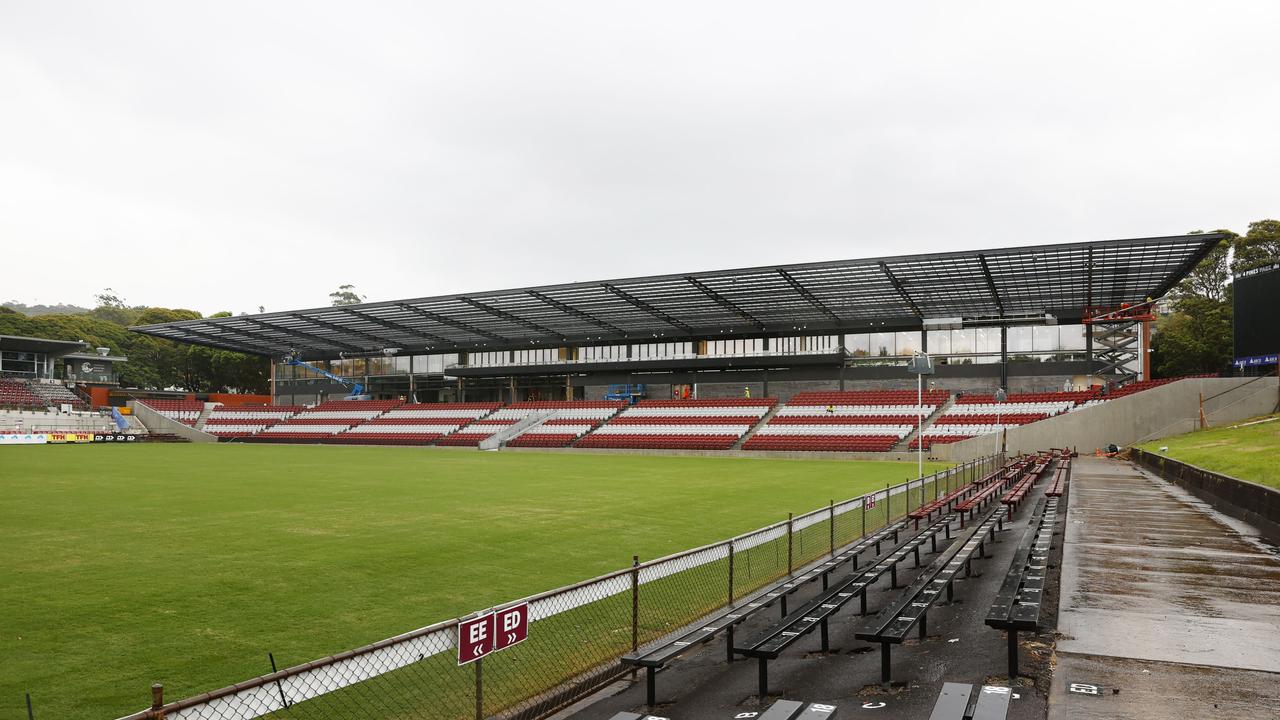 Brookvale Oval's upgrade is imminent. Picture: Richard Dobson
"It (a stadium redevelopment) would be a game changer for us – it would make a massive difference."
Manly will start short $1.15 favourites, according to TAB, with Wests Tigers heavy $5.50 outsiders at the packed Brookie.
"The energy at 4 Pines Park for our last home game against the Titans was unbelievable. It really was at another level with more than 16,000 fans there," said Manly skipper Daly Cherry-Evans.
"The addition of the new Bob Fulton Stand has really made a big difference and the noise and atmosphere from it is incredible.
"We certainly love playing at 4 Pines Park and let's hope our supporters can again come out in force this Saturday and show how good suburban rugby league grounds can be."
Roosters-Rabbitohs turf war to explode
- Dean Ritchie
South Sydney chief executive Blake Solly has lobbed a verbal grenade at his neighbours by telling the Sydney Roosters to butt out of the escalating $900m Sydney Football Stadium turf war.
The Daily Telegraph revealed on Wednesday that the Roosters' high-powered board plan to lobby the State Government in a bid to stop Souths from playing home games at the new Moore Park venue.
The Roosters will even seek out Premier Dominic Perrottet, if pushed, to demand Souths remain at Accor Stadium until their contract ends in 2030.
Club powerbrokers feel the SFS is a Roosters home ground given their input into the design, money injected into the project and that the club was forced to play on the SCG – and have office staff pushed into nearby demountables – over four years during construction.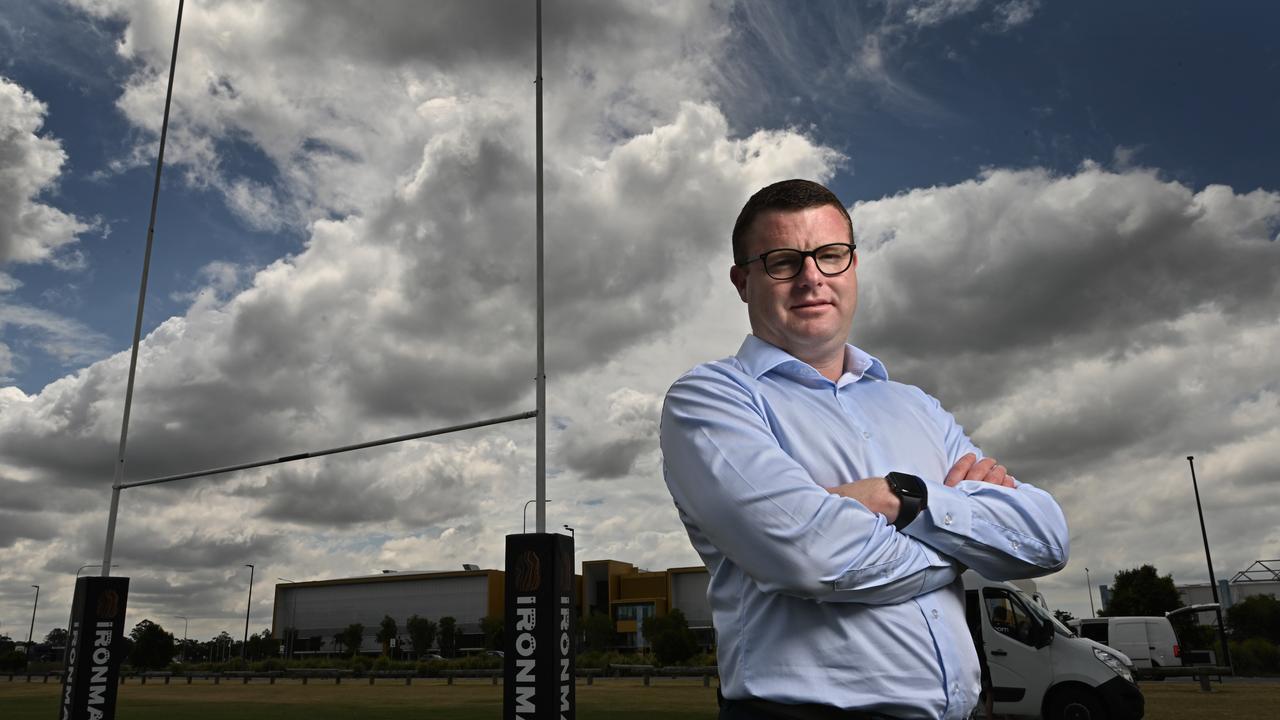 Rabbitohs CEO Blake Solly has told the Roosters to butt out, as they explore moving games to the new Sydney Football Stadium.
Solly fired back on Wednesday, telling their eastern suburbs rivals that the State Government would determine who plays at the SFS - not Roosters officials.
And Solly finished with a jab about where the Roosters' juniors train.
"With regards to the comments from the Roosters, the stadium at Moore Park is an asset of the taxpayers of NSW and NSW Government," Solly said.
"The taxpayers have funded the stadium, and I am sure that the top priority for the NSW Government will be ensuring the people of NSW get the maximum return on that investment - not the wishes of an individual or single tenant.
"It is also a bit rich for the Roosters to be so territorial while their junior representative teams train at Matraville High School (in Souths' territory)."
Souths had vowed to remain at Accor Stadium provided the Government proceeded with a promised $800m revamp. But with the redevelopment having been scrapped, Souths are now exploring a move to the SFS.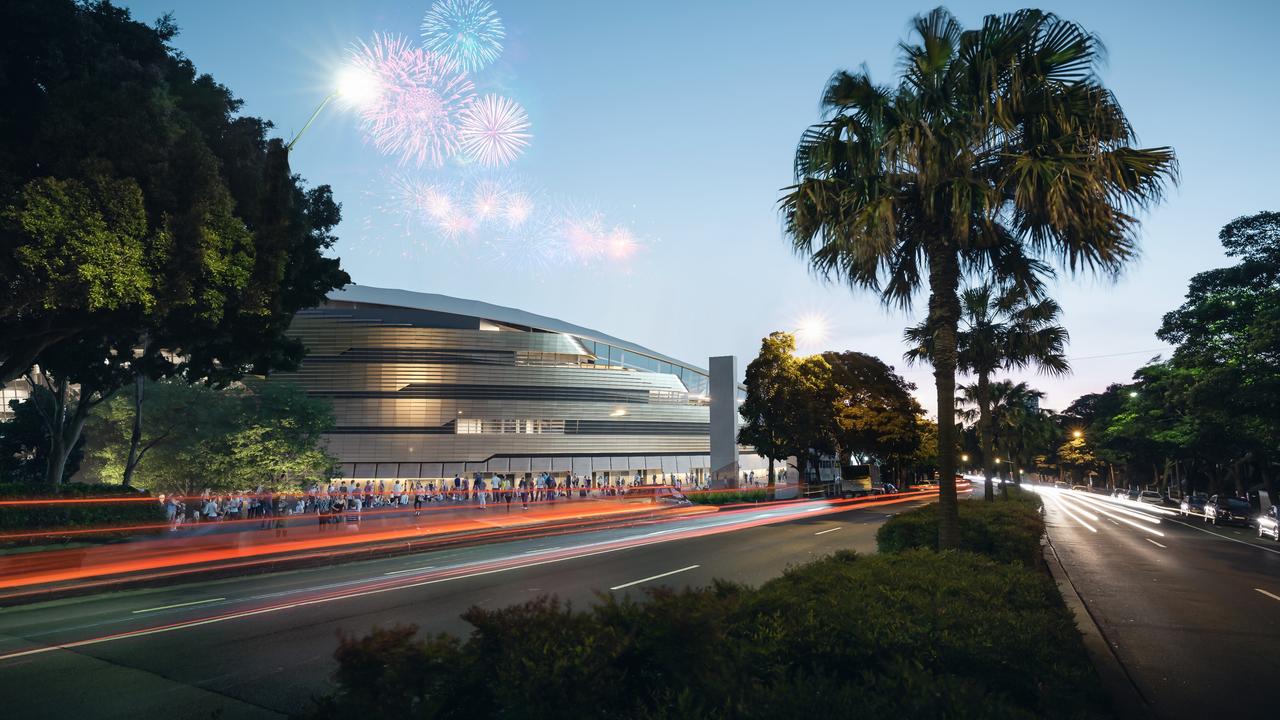 An artist's impression of the new Sydney Football Stadium.
The Daily Telegraph has been told that Venues NSW – who own the stadiums - would prefer Souths to remain an anchor tenant at Accor Stadium but be invited to play two to three games a year – matches the Rabbitohs annually take to regional areas - at Moore Park.
"Since the NSW Government first released a NSW Stadia Strategy in 2012, our club has been vocal supporters of investment in sporting infrastructure across NSW," Solly said.
"We have seen a number of strategies, funding proposals, investment cases and MOU's developed and agreed. Every one of these has identified significant investment into Accor Stadium as essential to it maintaining its place as an elite venue for sport in Australia.
"We have patiently waited for a definitive conclusion on this investment. We certainly do not wish to be critical - these decisions are extremely complex, with many stakeholders and involving a significant amount of investment.
"We have always understood the NSW Government's need for time to properly consider these competing priorities."
Asked whether there was room for fans from two NRL clubs - albeit hated rivals - at the new stadium, Souths coach Jason Demetriou said: "Oh for sure, we've got the most, so yeah, I don't know, if I was SFS I'd be putting Souths in there and packing it out every second week."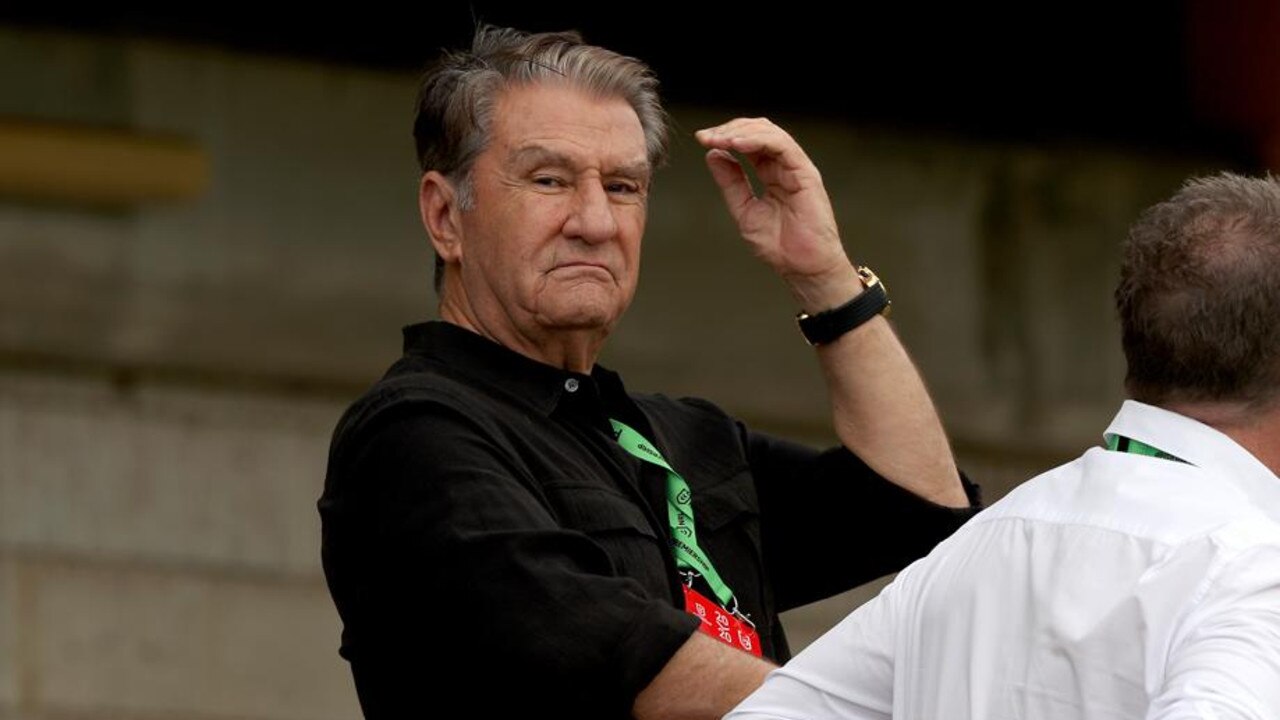 The turf war comes amid plans from the Roosters to stop South Sydney from playing home games at the new venue. Picture: NRL Photos.
The Roosters and Rabbitohs are scheduled to open the new Moore Park stadium with a historic match on September 2.
Pressed on whether the NRL has a preference over where South Sydney play, NRL CEO Andrew Abdo said: "We want them to play at world class venues but we won't dictate to them where that is. It is a call for them to make and will be based on their long-term strategic plan.
"The clubs are autonomous entities. It's a strategic decision for the club in terms of where they play. That's not something the NRL forces on any club. We do then however play a role in helping facilitate and trying to get the best possible outcome.
"What do we want and what does the commission want? We want our fans to get a world-class experience in a great stadium. We will work with the South Sydney Rabbitohs to help them get a great outcome in that regard and support them whatever their strategic decision is.
"The investment into stadiums rests with the NSW Government. We are still waiting to finalise our agreement with them and it has changed over the years."
NSW Sports Minister, Stuart Ayres, did not acknowledge a text sent by The Daily Telegraph seeking comment. Abdo said the NRL would not engage in the argy-bargy between the two clubs.
"That's not a matter for us, we don't own the stadium, which is owned by Venues NSW and the Roosters are tenants of that stadium," Abdo said. "It's a matter for Venues NSW to decide on. It's not something we're going to weigh in on."
EXCLUSIVE: ROOSTERS BOARD IGNITES $900M WAR WITH BUNNIES
The 114-year rivalry between rugby league's fiercest foes has erupted again, this time over the right to use the spanking new $900 million Sydney Football Stadium.
The Sydney Roosters plan to use their high-powered board members and their influential connections to stop South Sydney from playing home games at the new venue when it opens in September.
It includes lobbying the SCG Trust, and taking their case all the way to NSW Premier Dominic Perrottet if necessary, in a dramatic bid to get the State Government to abandon moves to lure Souths to the SFS as cotenants.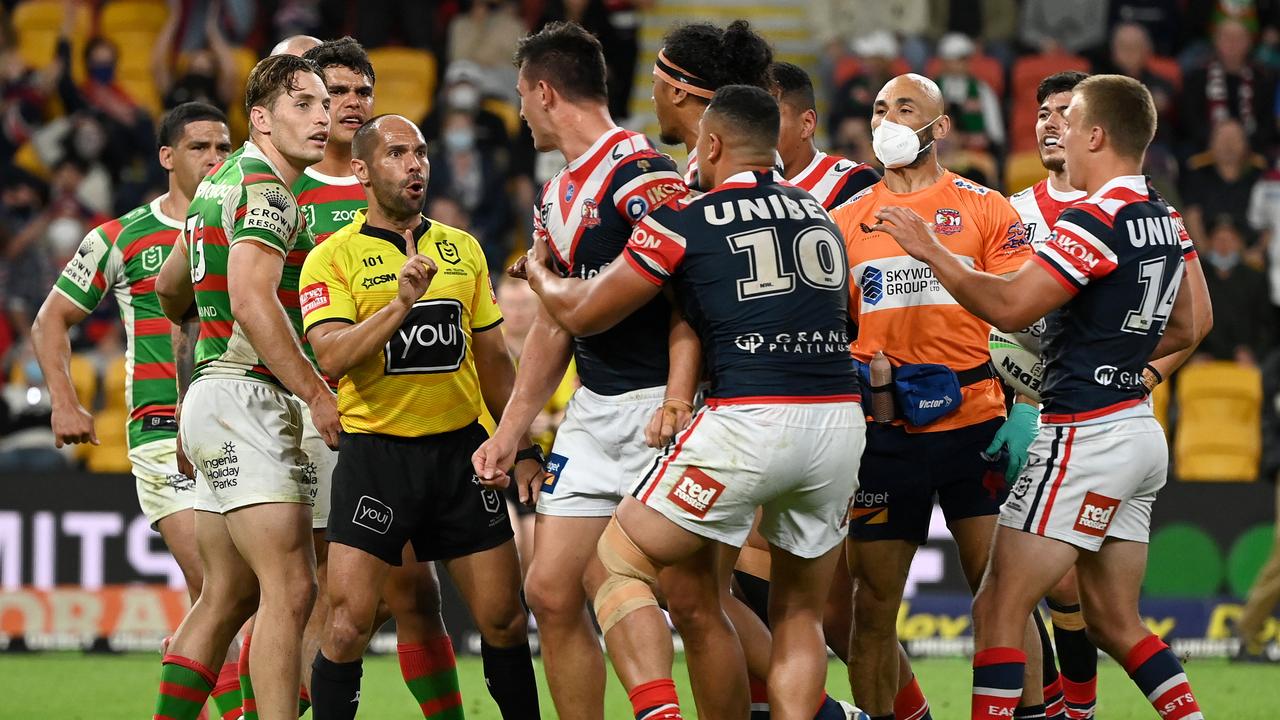 It will be a fiery Round 25 meeting between the Roosters and Rabbitohs at the SFS.
Whatever the result of this spat, the stadium is set for one of the most explosive opening matches when the Roosters and Rabbitohs go at it in a historic Round 25 match on September 2.
The Daily Telegraph has obtained a presentation the SCG Trust sent South Sydney back on August 19, 2020, outlining why the Rabbitohs should consider moving from Accor Stadium, their home since 2005, to the new Moore Park venue.
This, despite the Trust knowing Souths have a contract to play at Accor Stadium until 2030.
READ THE FULL SCG TRUST PRESENTATION SENT SOUTH SYDNEY
The Rabbitohs' commitment to the Olympic Park precinct was made when the NSW state government planned to fund a redevelopment of Accor Stadium to transform the venue into a permanent rectangular facility.
Now, the Rabbitohs are unhappy at seemingly being left without a new venue in the aftermath of Sydney's stadium funding battle, and will use it as a way to seek a release from their deal. The Daily Telegraph first reported Souths' plans for a possible return to the city's east on June 16 last year.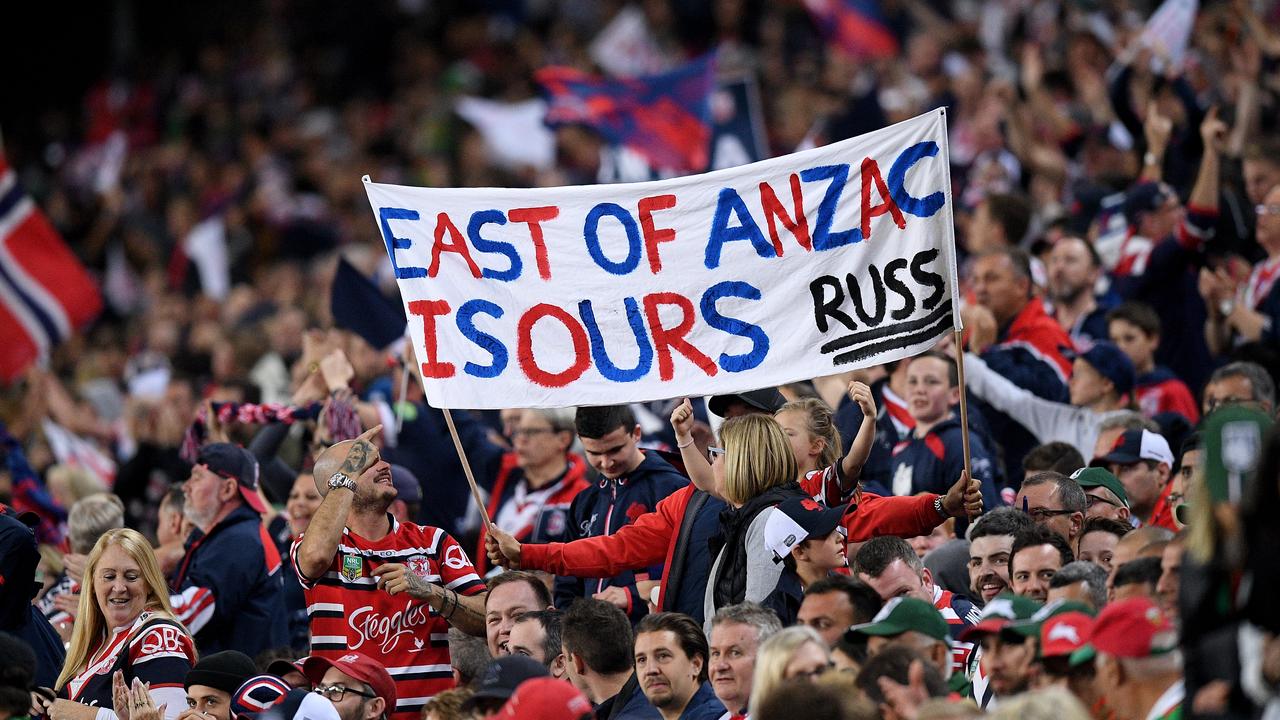 Battle lines have been drawn in Sydney's east. Picture: AAP Image/Dan Himbrechts
Privately, the NRL would be keen on Souths returning to the SFS but that won't happen without a protest from their arch rivals. The SCG Trust will work to try and secure a resolution between the two parties.
Roosters powerbrokers say there is "no way" Souths should be permitted to play at the SFS, claiming it was their club which had provided enormous input into the new stadium and moved games to the Sydney Cricket Ground – and offices into demountables inside the nearby Entertainment Quarter – for four years during construction.
The Roosters argue that their club helped fund a new centre of excellence inside the SFS while Souths have their own high-performance centre being built at Maroubra. The Rabbitohs say the money the Roosters invested was part of a government grant.
"If Souths are allowed back then the Trust and Government will face a massive and relentless nightmare called Nick Politis," a well-placed source told The Daily Telegraph.
"It would be preposterous if Souths went there. We have invested money, time and intellect into the stadium."
The Roosters could offer something of an olive branch to their bitter rivals, saying they would be okay with the Rabbitohs playing their home game against them at the venue.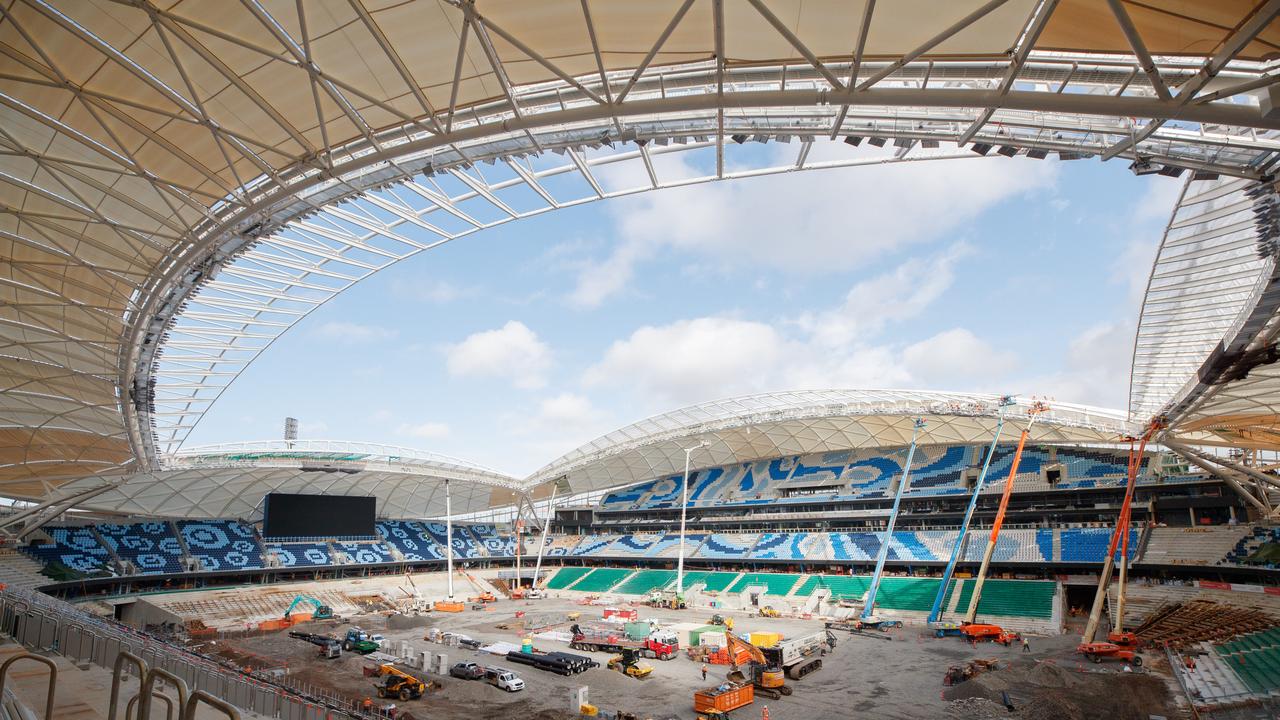 The new stadium at Moore Park will be finished in September. Picture: Tim Pascoe
SCG Trust chairman Tony Shepherd would not be drawn on the pitch to woo Souths, instead saying: "The Rabbitohs are long-term partners at Accor Stadium and have been bringing big events and big crowds to the venue for 17 years.
"They're a great home team and have built a strong membership base throughout Greater Sydney on the back of the match-day experience at Accor Stadium."
The Trust's presentation to Souths, headlined "SCGT and South Sydney", offers a vision about the advantages of playing at the SFS. It included highlighting its world-class facilities, the Rabbitohs' history on the site, a map showing the geographical proximity to the club's sponsors and leagues club, and how other teams have enjoyed substantial increases in crowd figures after moving into more modern facilities.
Roosters chairman Nick Politis is in Greece and was unable to be contacted, while South Sydney CEO Blake Solly preferred not to comment.
Originally published as NRL 2022: Manly to break 10-year Brookvale Oval record against Wests Tigers