NRL 2022: Josh McGuire opens up on weight struggle, St George Illawarra Dragons vs Melbourne Storm news and scores
An embarrassed Josh McGuire has reflected upon his recent seasons and revealed he had a decision to make - walk away immediately or turn his form around.
Josh McGuire says he was a "big fat mess" after conceding he was embarrassed by his form in recent seasons.
The St George Illawarra forward reflected how he played up to being an on-field villain and how a honesty session with himself made him realise his career was now at the crossroads.
McGuire has stripped 10 kilograms off his frame. Part of that was easy to do, having not had multiple beers since pre-season training resumed last November.
"I was heavy," McGuire, 32, said. "Now I'm back down to 103 kilograms where is what I used weigh at the Broncos.
"I wasn't playing the footy I wanted to play. I was comfortable and the bigger you get the more fatigued you get which is when you make mistakes and high tackles. A big factor for me was looking after my body and being more professional.
Stream every game of every round of the 2022 NRL Telstra Premiership Season Live & Ad-Break Free In Play on Kayo. New to Kayo? Try 14-Days Free Now >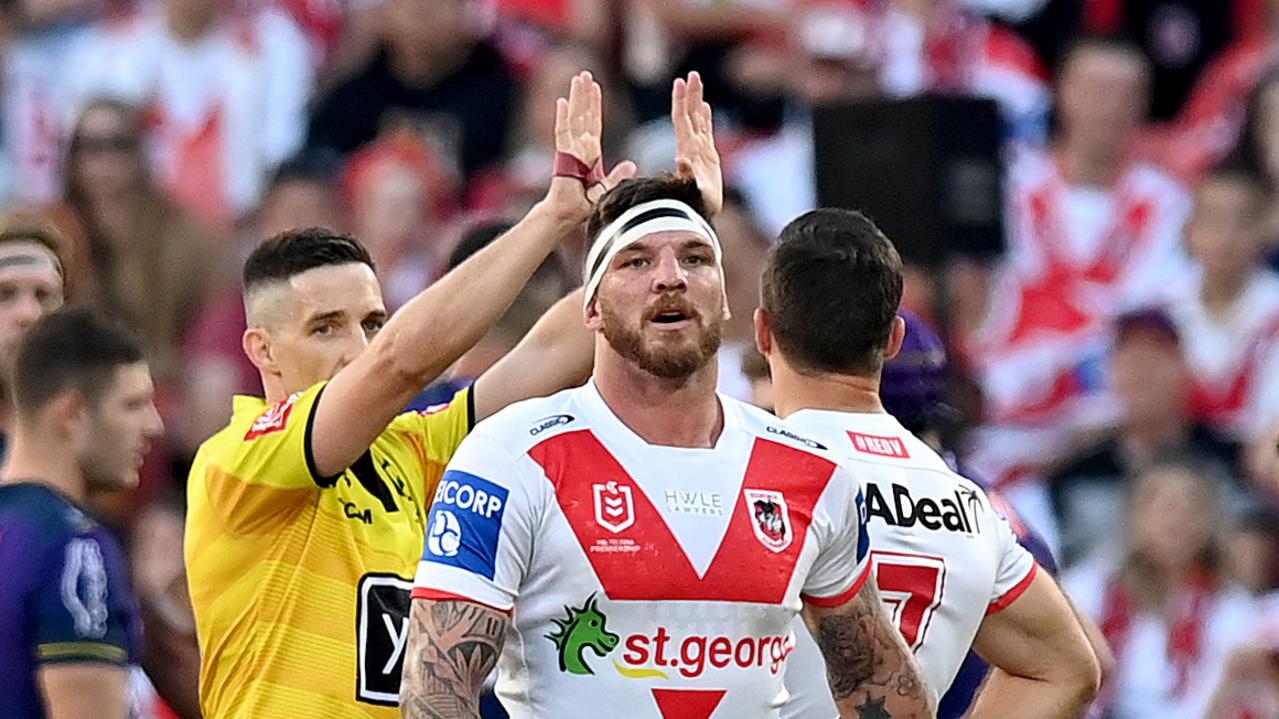 Josh McGuire believes his weight has drastically affected his form in recent seasons, and contributed to the loss of his representative jerseys. Picture: Getty Images.
"I haven't been drinking. I used to be the first one to get to the pub with the boys."
As his weight ballooned his form dipped. McGuire lost his treasured Queensland and Australian jumpers.
He also faced constant scrutiny by the match review committee which culminated in a five week ban last year which delayed his 2022 start. McGuire knew the Dragons were not getting their money's worth out of him after he made the mid-season switch from the Cowboys.
"You get to a stage where you read something long enough to start believing it," McGuire said. "When you start reading you're the villain you start playing like a villain and you do stupid shit you normally wouldn't do. Hard-work and leg speed is what got me to where I was in footy and I went away from that. I was buying into the rubbish. I knew I had to make a change. When I finished last year I had to think about where I was at and how I wanted to finish my career. I knew I had good footy in me but I wasn't giving myself a chance to play good footy.
"There was a stage where I thought I have to stop playing or do it properly. I'm trying to do it properly. I'm trying to do that and be reliable for my team. To play week in week out at a high level which they bought me to do. I hadn't held my end of the bargain.
"I was embarrassed how I let myself get to."
Josh McGuire is over playing the role of pantomime villain. Credit: NRL Images.
Remarkably, McGuire has already won more matches this year than last season. He had just two victories from 17 games last year with matches at the struggling Cowboys before joining the Dragons but since his return from suspension St George Illawarra remain undefeated in their past three games.
He will again start in the back-row for their clash against the Storm on Sunday.
"I knew I wasn't playing the first five games," McGuire said. "I knew it was going to be my longest pre-season so I wanted to come back in good shape. I wanted to hit the ground running and not ease my way into it.
"This has been a small sample size but I know I can play good footy."
WOODS, MBYE DECLARE TIGERS ARE 'EASY TARGETS' FOR CRITICS
Moses Mbye heard the noise surrounding his former club Wests Tigers. So too did Aaron Woods during his time there. Both described the Tigers – a club the duo captained – as an "easy target" to criticism.
While Woods is long-time removed as a Tiger, Mbye is preparing to face his old club for the first time as a Dragon on Sunday.
Mbye had a clean split from the Tigers despite a year to run on his contract but acknowledged his performances at the club did not live up to his hefty price tag.
"It was mutual," Mbye said. "It was going to be beneficial for everyone. I was on a big salary, I wasn't playing great footy and I wasn't in great nick. I needed to see something different.
"The way they handled it was really good. It was stress free. Even that was a good experience. There are no bad feelings at that club."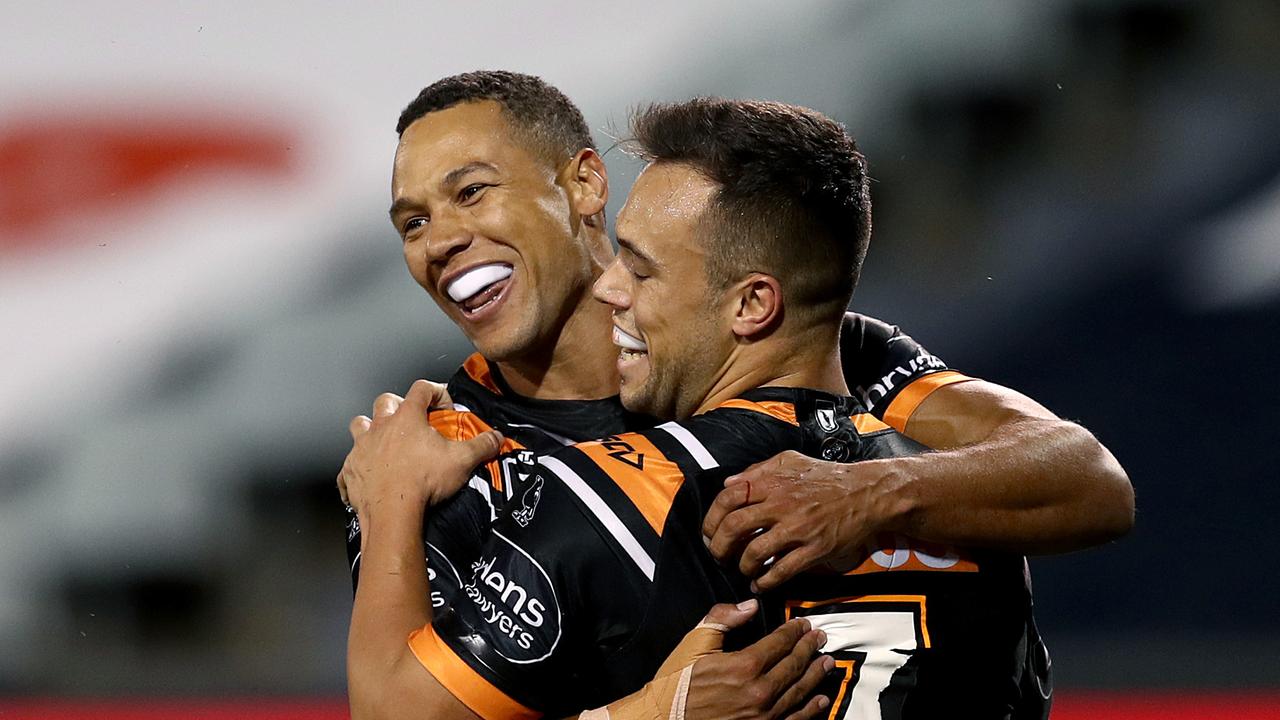 Moses Mbye is set to come up against former team, the Wests Tigers, for the first time. Picture: Getty Images.
Mbye's move to the Dragons may have been stress free but at times the environment at the Tigers was anything but that. He lived under the microscope at the club during his three and a half years there and said at times that was draining for some of his teammates.
"They have had a lot of noise but the noise isn't warranted," Mbye said. "The Tigers are an easy target. A lot that gets said in the media isn't true. There is always going to be noise around teams that aren't going great.
"It would have been a distraction for some players. For me it wasn't."
Tigers five-eighth Luke Brooks has been a magnet for much of that criticism. His form reversal has helped the Tigers to two consecutive victories with Mbye leaping to the defence of his ex-teammate.
"I haven't seen a player as criticised as him," Mbye said. "It's been relentless. If you knew Luke and his character, he can handle it. He is tough and strong-minded. He has injected himself in the games and they have two good results. It would've been a rough ride for him. . I touched based with him last week and he was stoked with the way he was playing."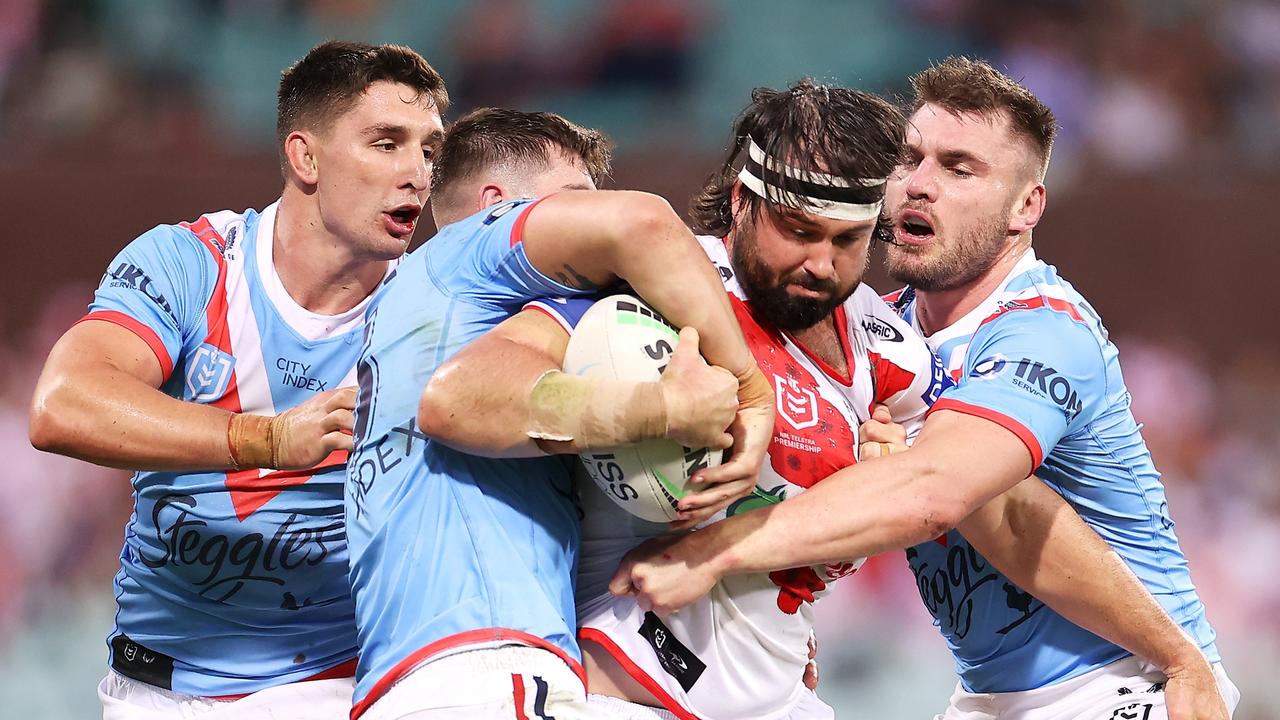 Aaron Woods was axed to reserve grade in the midst of St George Illawarra's poor start to the year but will face his old team on Sunday. Picture: Getty Images
Woods was labelled as part of the big-four alongside Brooks during their time at the club. While Woods, James Tedesco and Mitchell Moses exited the club, Brooks remained.
"All I did was leave the club," Woods said. "I didn't do anything wrong and I thought I copped it hard.
"With Brooksy he stayed. The first couple of years everyone loved him now they are losing and it feels like they are looking for someone to put the heat on because he is one of the main players and one of the captains. Someone has to take the brunt of it.
"There are some individuals and clubs that get targeted and unfortunately for them they get targeted more than others."
The Dragons too have not escaped criticism this year. Woods was axed to reserve grade in the midst of St George Illawarra's poor start to the year.
But the winner of Sunday's game will celebrate three consecutive wins – a feat the Tigers have not achieved since 2018.
"It's such a rollercoaster," Woods said. "Like the Tigers we were under pressure a few weeks ago, Hook (coach Anthony Griffin) was under the pump. That's rugby league."
Jayden Sullivan will start off the bench for Talatau Amone.
Originally published as NRL 2022: Josh McGuire opens up on weight struggle, St George Illawarra Dragons vs Melbourne Storm news and scores