NRL Covid: Canberra Raiders players and staff isolate after positive case
All players and football staff at the Canberra Raiders have been forced into isolation in a new test to the NRL's plans to deal with Covid.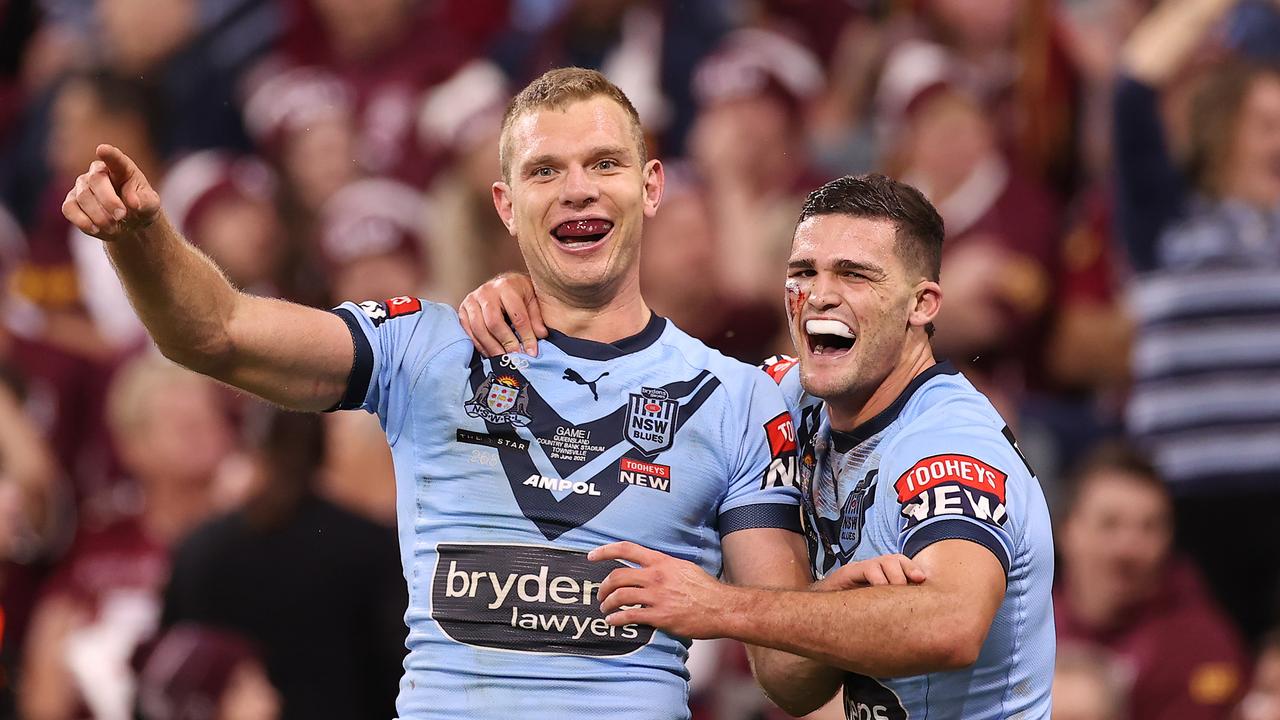 More than 30 NRL players have been forced into isolation after a positive Covid case inside NSW's Emerging Blues camp. Picture: Getty Images.
The NRL's plans for playing through the Covid pandemic will be put to the test again, with the Canberra Raiders the latest club to have players and staff forced into isolation.
The club released a statement regarding the test and how the club has handled the matter on Thursday.
"The Canberra Raiders can confirm a member of the club's football staff has tested positive for COVID-19.
"As a result, all players and football staff have been directed to undertake a Covid test and isolate. The club is following NRL protocols and is awaiting further direction from ACT Health.
"The club will provide any further updates once this process has been finalised."
YOUNG KNIGHT TESTS POSITIVE FOR Covid
Another NRL player has tested positive to Covid-19 with a Newcastle rookie the latest.
Knights development player Chris Vae'lia tested positive on Wednesday. Despite the positive result, the Knights are free to resume training.
"Chris has been in isolation since Monday and will continue to follow required protocols until he is cleared to return to training," the Knights said in a statement.
"All other full-time players and essential staff, who have returned negative results, will return to training today. All will be required to adhere to strict processes and protocols."
Vae'lia is the second player to test positive after Storm youngster Jonah Pezet.
Pezet was part of a NSW emerging camp last weekend which sent a host of NRL clubs into lockdown. Tom Trbojevic and Nathan Cleary are among the players who are unable to train with their teammates for at least one week having been caught up in the NSW camp last weekend.
The Tigers resumed training on Wednesday after a trainer tested positive to Covid-19 last week.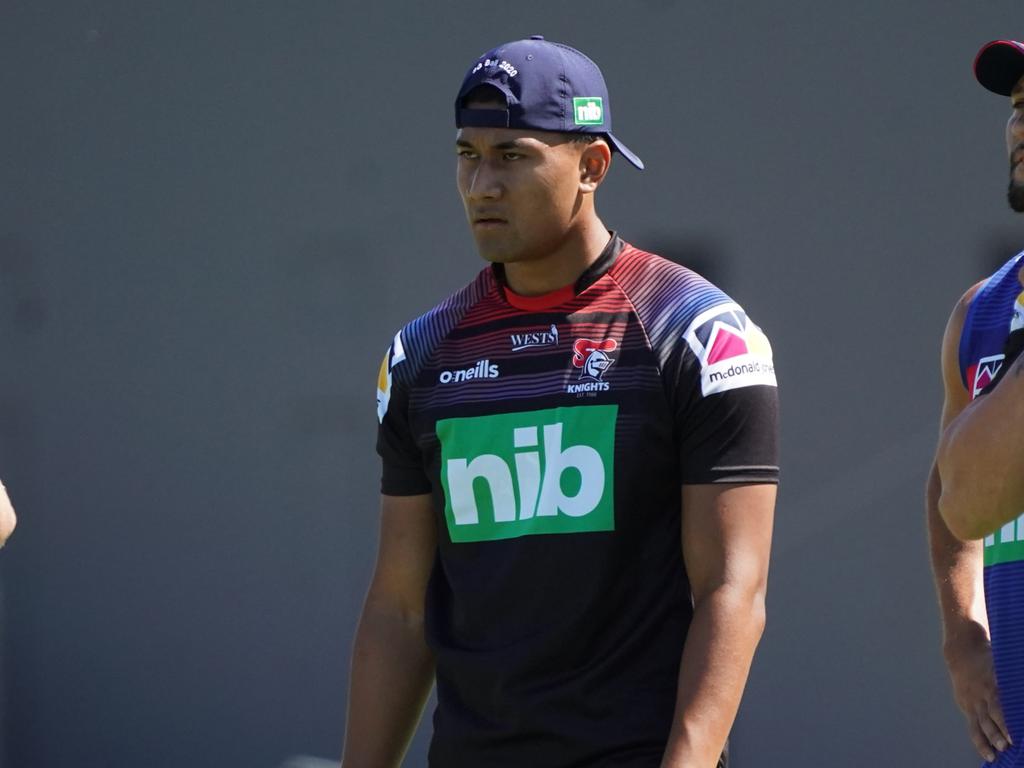 Newcastle Knights young gun Chris Veaila. Picture: Knights Digital
ANOTHER BUBBLE FOR PLAYERS?
Despite being able to return to training, players are under strict conditions. They are unable to do contract or wrestle sessions and they must train in smaller groups.
Clubs are pushing for the NRL to change its biosecurity policy because if this was in-season they would struggle to field a competitive side for at least two weeks.
Players are out of the bubble at the moment but some clubs are considering introducing their own measures. The NRL is expected to step-up its biosecurity protocols when players return to training in the new year.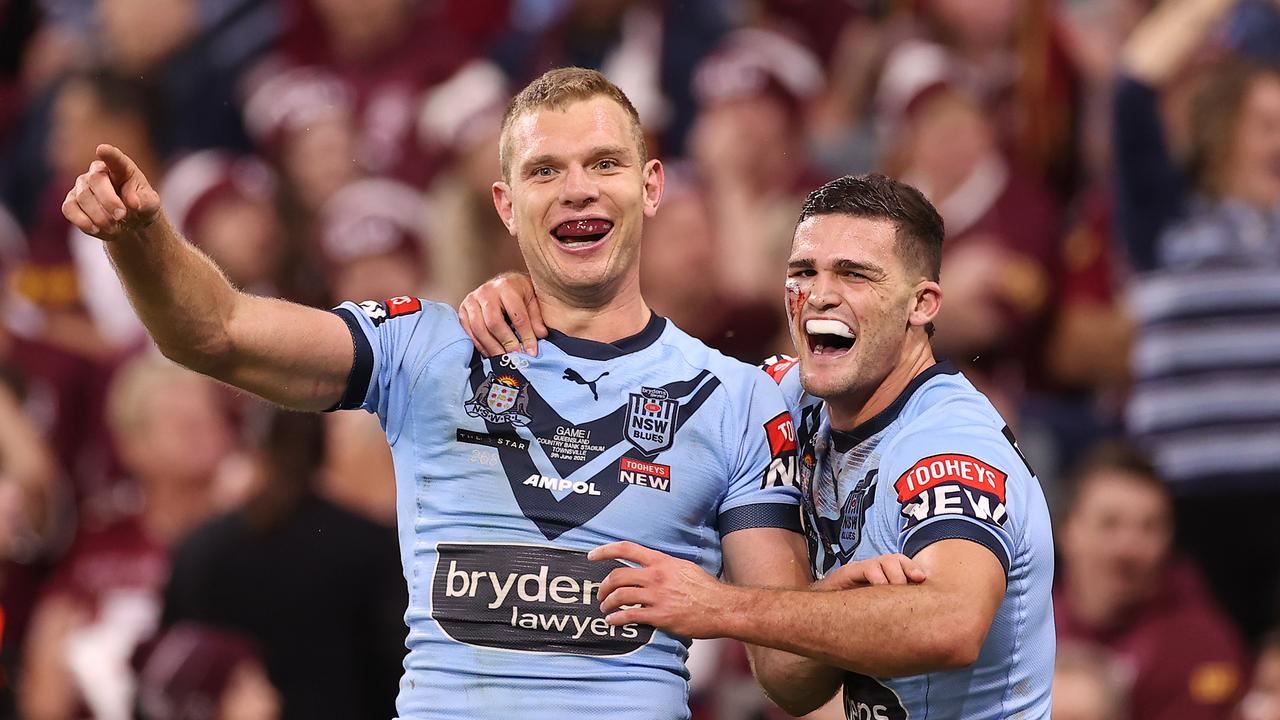 Nathan Cleary and Tom Trbojevic are among players forced into isolation following a positive Covid-19 case recorded at the Emerging Blues camp. Picture: Getty Images
That will include having players rapid tested before each match and even every training session. Players are also likely to be forced into another bubble.
That would mean banning their players from high risk exposure sites, including movies, concerts, night clubs and even restrict the number of guests they can have in their home. Players dealt with strict biosecurity measures during the past two seasons.
The Christmas period means clubs will not be severely impacted this time around but if this was in season they could be without their stars for at least two matches. Clubs will work with the NRL to finetune the procedures in the new year.
In a massive relief for St George Illawarra, Pezet's roommate Jayden Sullivan has tested negative in his first test.
Sullivan was at a training camp with his Dragons teammates on Monday before being alerted to potential exposure with fears the whole squad may have been exposed.
The players must have three tests in a week. The NRL will introduce rapid testing for Covid-19 in the new year. Testing could occur every day but at the very least will happen before group training sessions and matches.
NRL boss Andrew Abdo said he would consider introducing a game-wide bubble next season.
"We don't have the players on strict protocol," Abdo told 2GB. "The key is early detection."
Abdo said the players were 98 per cent fully vaccinated.
Newcastle are set to resume training on Thursday having sent their players and staff for precautionary testing on Monday. They did not have a player at the NSW camp.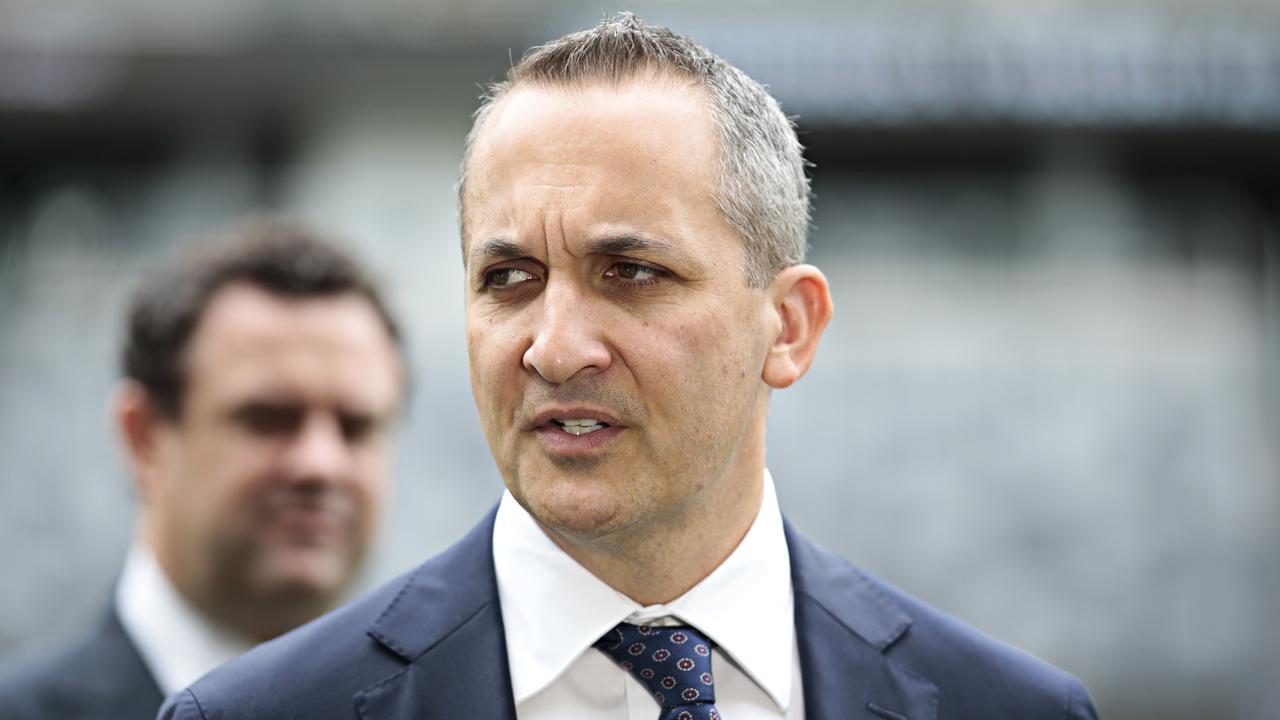 Andrew Abdo said the NRL could introduce a bubble for the teams next season. Picture: Adam Yip
How the NRL Covid drama unfolded
An emergency NRL email sent at 10.27pm on Monday instructed all players and officials who attended a Future Blues camp at Sydney Olympic Park last weekend to be tested on Tuesday morning and then return home to isolate for the next six days.
The player who tested positive to Covid was Melbourne halfback Jonah Pezet, whose father, Troy, played 28 NRL games for Parramatta and South Queensland Crushers.
A NSW women's player also tested positive from the weekend camp, forcing the entire Blues squad, including several NRLW stars, into isolation.
The NSWRL ran the camp for three representative squads – the men's Future Blues, the women's NSW side and the women's under 19s side.
Trbojevic, Cleary and former NSW skipper Boyd Cordner were invited to speak to the young male stars on Saturday night before dinner. As close contacts, and under NSW Government protocols, the three have been ordered directly into isolation.
"It's incredibly frustrating so close to Christmas," Trbojevic said.
The men's camp spanned Saturday and Sunday morning, the women's camp was only run on Sunday. All players from the camp have been ordered to stay away from their NRL clubs this week.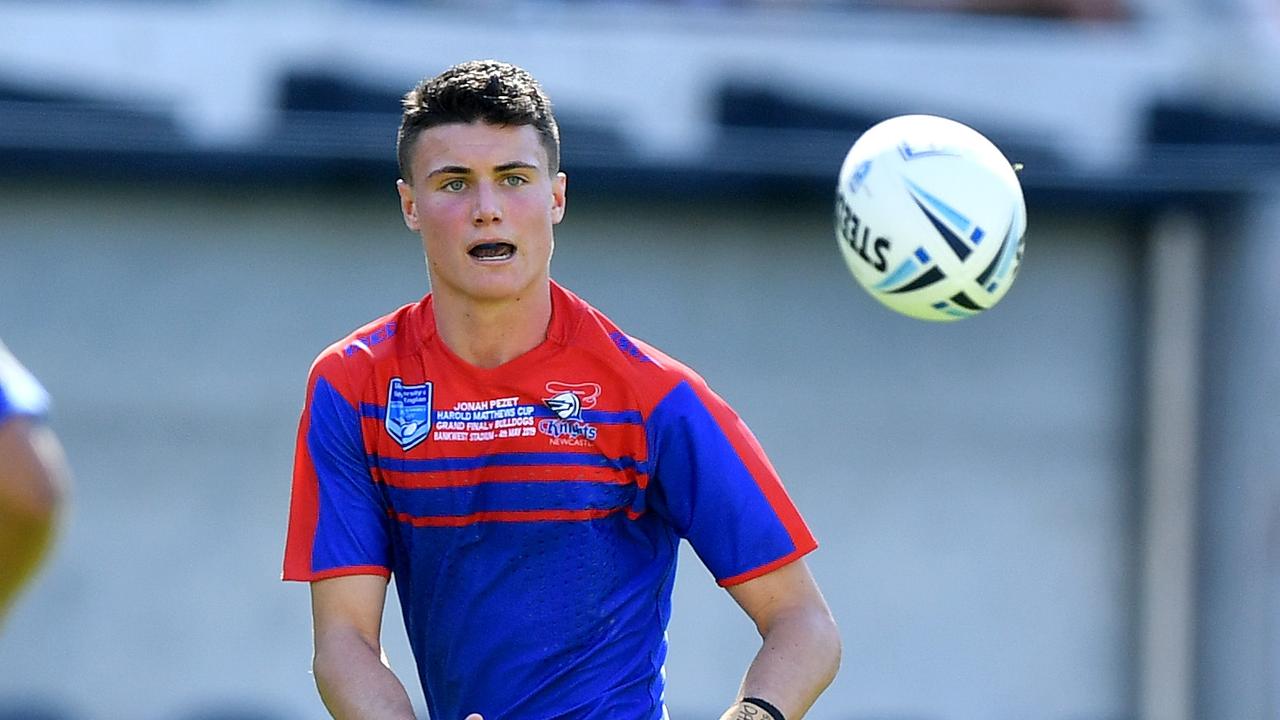 Jonah Pezet is understood to be the first player who tested positive to Covid.
Those NRL stars now in quarantine include St George Illawarra's Junior Amone, Tyrell Sloan and Jayden Sullivan, Sydney Roosters' Joseph Suaalii and Egan Butcher, Parramatta's Will Penisini, Manly's Haumole Olakau'atu and Jason Saab.
Sullivan was rooming with Pezet.
Blues officials now in isolation include adviser Greg Alexander, assistant coaches Danny Buderus and Paul McGregor, consultant Andrew Johns along with fellow officials Mark O'Meley, Andrew Ryan and Hayden Knowles.
Each player and official was Covid tested on Tuesday and will require additional tests on Thursday and next Tuesday. NSWRL CEO David Trodden sent NRL chief executive Andrew Abdo a full list of every person at the camp.
The late-night email from NRL head of football, elite competitions, Graham Annesley, to the NSWRL read: "I have received instructions from our Apollo medical advisers that anyone who attended the emerging Origin Camp over the weekend is considered a close contact of the infected player and under public health orders they must all immediately isolate at home, get a Covid PCR test first thing (Tuesday) morning, return home and remain in isolation for seven days from the conclusion of the camp, regardless of the results of their test.
"Under no circumstances are they to leave home during this quarantine period. I know it is late in the evening, but it is critical that these players and staff are advised immediately and do not return to their clubs in the morning."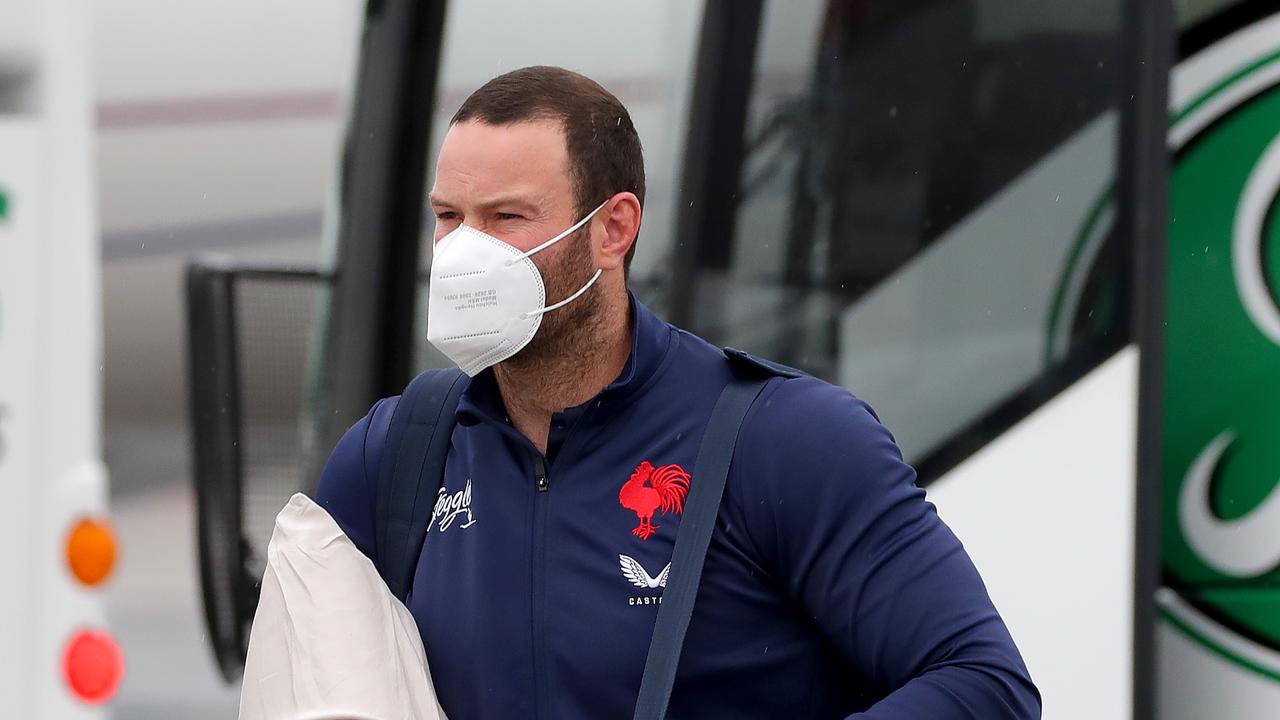 Retired NRL star was also invited into camp to speak to the young emerging Blues. Picture: Toby Zerna
Penrith grand final hero Cleary, Dally M Medallist Trbojevic and ex-Test skipper Cordner were invited into camp by Blues coach Brad Fittler, who couldn't attend because he was already in isolation after a Covid scare during his charity bike ride around NSW.
"It's unfortunate this has happened near Christmas but sadly this is the world we live in I guess," said Alexander, as he waited for his Covid test at Frenchs Forest in Sydney's north on Tuesday.
An email sent by Blues team manager Peter Parr stated: "Just need to be clear that they (those at the camp) need to self-isolate away from others in the household and they can only leave isolation for reasons approved by NSW health such as emergencies, for medical attention and for testing.
"They will need to be tested again at day six and also at day 12."
Pezet left camp early and didn't return to the training fields on Sunday morning when the men's side met with the women's team for a stretching session and breakfast. The two squads were not staying in the same hotel.
It appears likely that Pezet and the female player contracted the virus independently. Both were identified as being positive after leaving camp. Officials would not release the woman's name.