NRL: Brad Fittler mentoring Origin Blues Kylie Hilder to help her become first woman NRL mentor
A woman in the coaches' box is the NRL's final frontier and Kylie Hilder could be that woman. And NSW coach Brad Fittler is helping her make it happen.
Kylie Hilder will have the NSW Origin girls training barefoot this year.
A decision made, she says, while driving.
Which should really come as no surprise.
Especially given, every week, this rookie rugby league coach travels up and down the Pacific Highway for no less than 21 hours — and while covering 1000km — in a Holden SUV provided by the NSWRL.
Stream The 2022 Women's State of Origin LIVE on Kayo this Friday 24th June from 7:45PM AEST. New to Kayo? Try 14-Days Free Now >
At 46, Hilder is breaking new ground.
With the workaholic Forster mum, and now Blues head coach, not only looking to bring down Queensland in next Friday's Origin encounter, but end what is also something of a last frontier for women in rugby league – the NRL coaching box.
Already considered among rugby league's best female minds, the former Jillaroo has this season begun a mentoring program with NSW Origin counterpart Brad Fittler.
NSW Origin coach Kylie Hilder at Blues' training.
Apart from talking several times a week with Fittler over the phone, Hilder also meets regularly inside Blues HQ at Sydney Olympic Park to discuss everything from Origin attitudes and playing styles to those now signature 'earthing' routines.
Which is exactly why those Blues girls are going barefoot in camp this year.
"Which some people might think funny," Hilder says.
"But we'll be doing it because of the reasons behind it.
"Some of those quirky things Freddy does, I don't follow all of them but I'm definitely using those I believe they will benefit our girls this year.
"Like how he's big on enjoying the morning, getting out early for a walk.
"There's a lot of little things like that I'm taking on.
"Freddy is also so impressive with how he brings a group of athletes together. I know he's dealing with NRL superstars but the way he brings them together, it's really something I'm keen to follow too."
Asked about Fittler's influence as a mentor, Hilder continued: "The last three months have been amazing.
"If ever I have an issue, or if ever there's something I'm just not sure about, I pick the phone up and Freddy is there.
"He also reaches out to me quite regularly too.
"I've also been on the road with him a bit recently, teaching leadership courses to high school students, so he has been a massive support."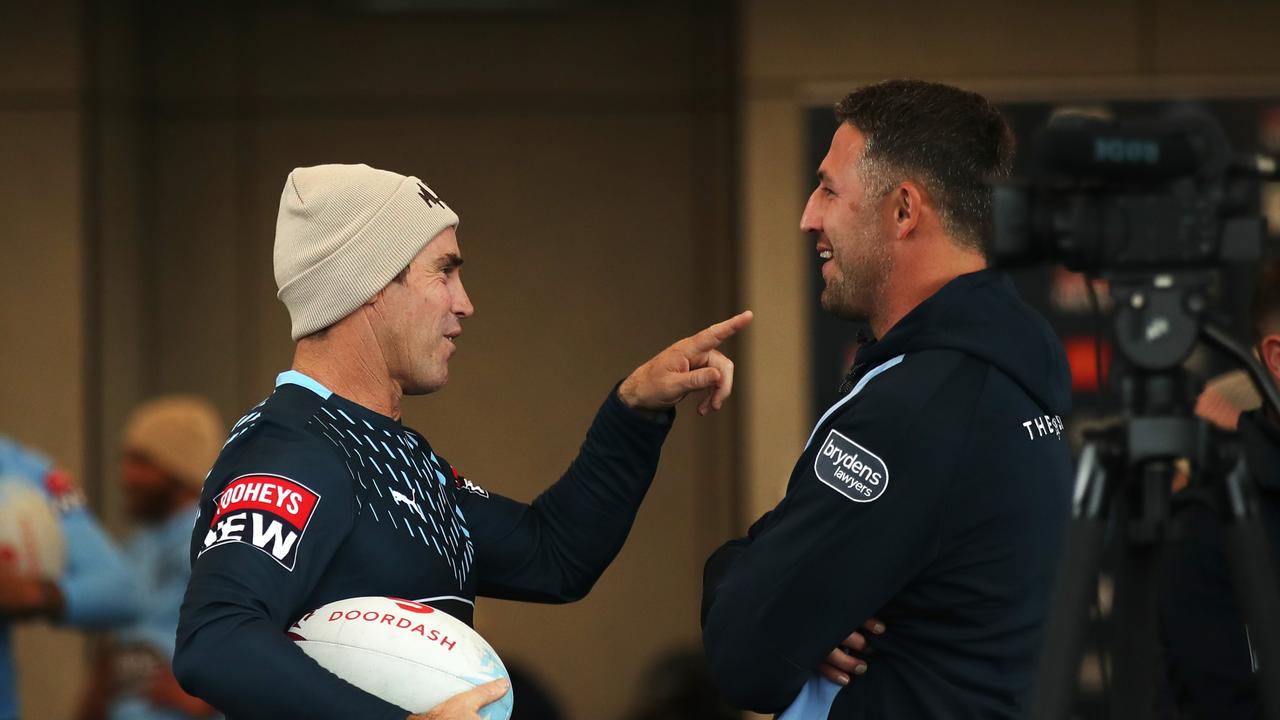 Brad Fittler talks with aspiring coach Sam Burgess, who he brought into Blues camp before Origin I. Picture: Getty Images
While women are now involved in almost every aspect of the NRL landscape – think boardrooms, playing field, even refereeing ranks – the coach's box has long seemed out of reach.
This is what coaches like Hilder, and Queensland counterpart Tahnee Norris, want to help change.
Only last year, the retired No.9 made history as the first female appointed to a major NSWRL coaching role since its inception in 1907.
Then earlier this season, she helped the Roosters to an emphatic NRLW premiership win, working as an assistant to head coach John Strange.
As part of that role, Hilder also liaises with NRL coach Trent Robinson, who she describes as "always offering an ear".
"And now the NSWRL is putting a real emphasis on giving female coaches the tools required to make that step up," she said.
"With rugby league being such a male dominant sport, I know there are people who don't expect females to have that knowledge required to be a coach.
"So we need to empower our women that 'yes, you can do the job'. And if you are the right person for a job, you should get it."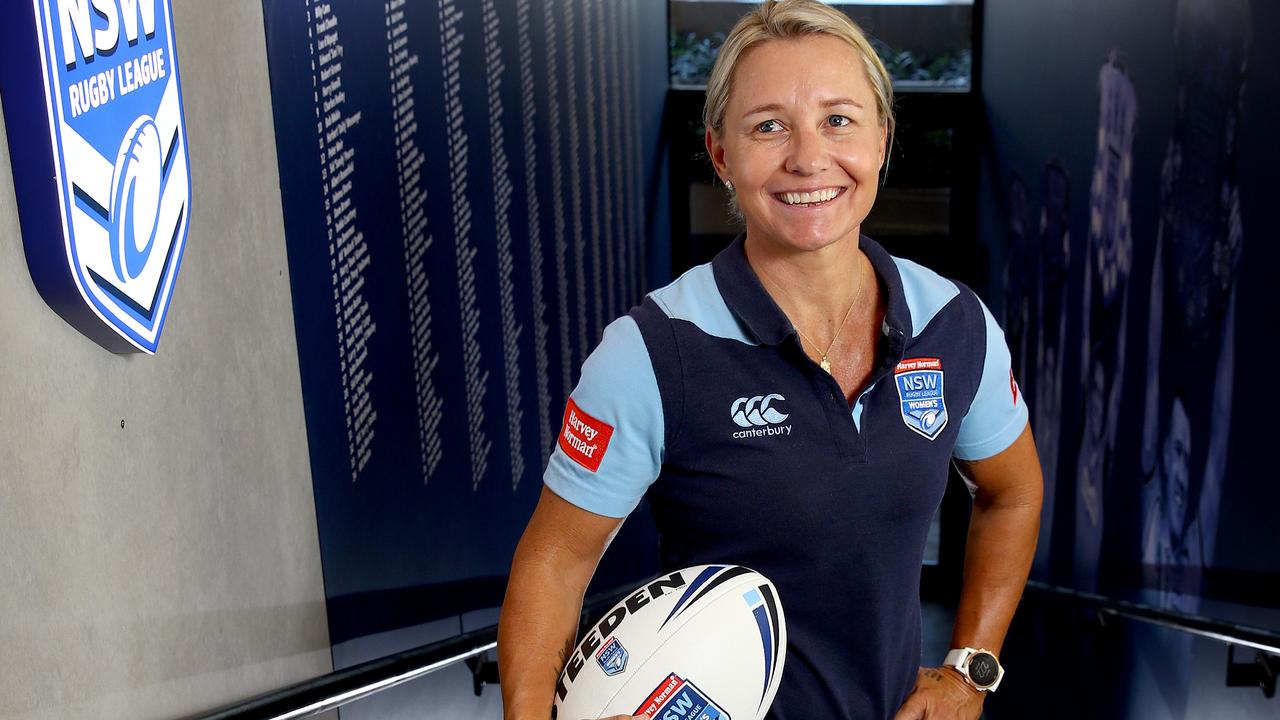 NSW Origin coach Kylie Hilder. Picture: Toby Zerna
Quizzed on her own coaching ambitions, Hilder continued: "Down the track I would love to be the coach of NRLW side.
"But right now my only focus is Origin."
Which means three times each week, this aspiring coach will continue commuting between her North Coast home and Blues HQ.
Elsewhere, Hilder also travels regularly out into the State's west as part of her role as NSWRL women's pathways manager, where she watches games and identifies talent.
"But driving is actually when I got a lot of work done," she says. "It gives me time to not only take calls, but also do a lot of thinking."
Which, again, is why those Blues girls are going barefoot.
Bold off-season plan for Origin series
—Fatima Kdouh
NRLW players are considering a bold off-season plan that is poised to shake-up women's State of Origin and ensure the best players contest the game's biggest showpiece.
Players are eager for a three-game Origin series but are also mulling the idea of playing for their state after the NRLW season, which is aligned to end at the same time as the men's competition in October.
The move could be a chance for the game's best female athletes to have their 'own breathing space' and 'airtime' separate to the juggernaut that is men's Origin, which dominates headlines and media coverage.
"We have a duty to our players and the game to properly review the structure of the competition to ensure the placement of our representative fixtures including Origin are at the best point of the year and provide the opportunity for the best players to participate at peak fitness as well," RLPA's general manager of elite women Lina Caccamo said.
Unlike the men, who are picked for Origin based on club performances, female players must take part in their respective state league competitions, which are run before the NRLW season starts, to be eligible for selection.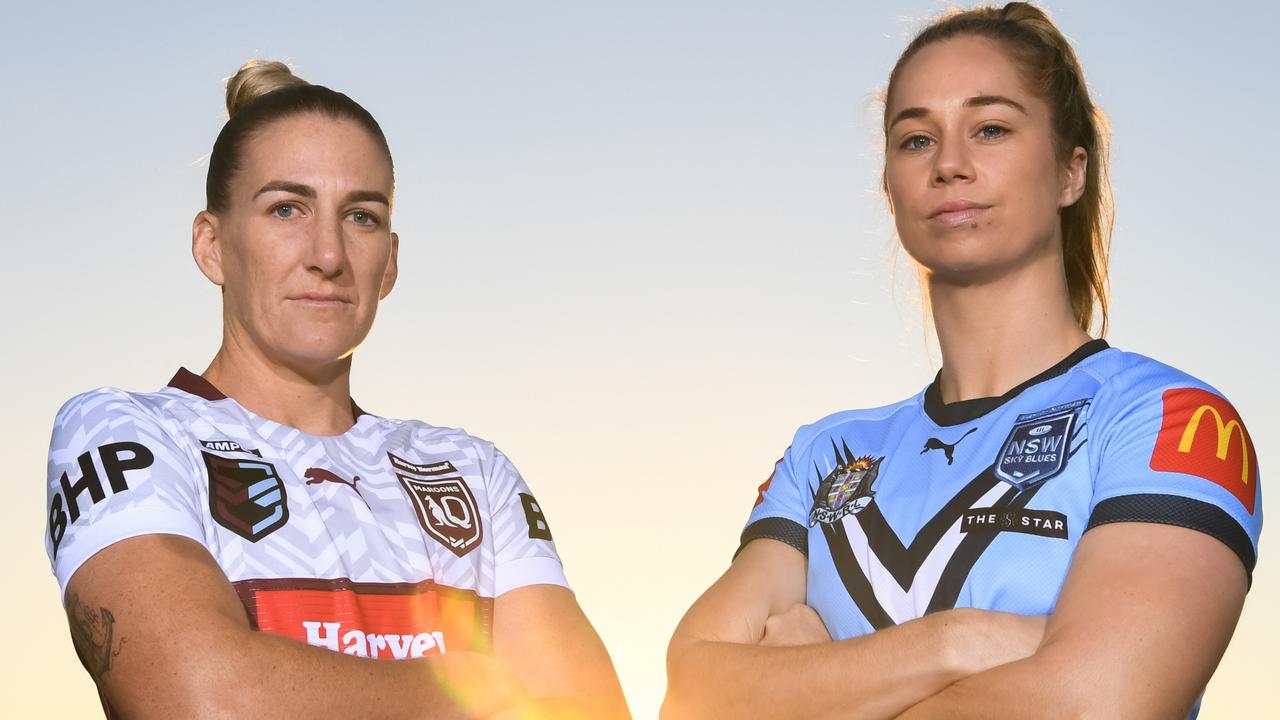 2021 Women's State of Origin Rugby League Captains, Ali Brigginshaw of Queensland and Kezie Apps of NSW. Picture: NRL Photos/Nathan Hopkins
"Would it be better if we played a women's three-game Origin series at the end of the NRLW season? That's certainly the preference of the players," Caccamo said.
"You could pick and play the best players from the NRLW, which would enable state competitions the flexibility to have their leagues played wherever they like within the calendar year.
"The challenge then, though, would be where does international rugby league fit into the current women's schedule that already includes club and representative state games?"
"We need to work through a structure that allows us to play all that football, but still allowing women's rugby league to be given the spotlight it deserves. It's complex, but it needs to be worked through because we see international football as a huge priority for the game and players."
Any potential changes to the Origin dates will be part of wider ongoing collective bargaining discussions that will include pay conditions for representative matches.
"The CBA is our chance to develop a five-year strategic plan, which is supported by the entire industry, that will provide a clear pathway and exciting direction for women's rugby league. Where we land as a collective and with all stakeholders involved is going to be an extremely defining time for women's rugby league."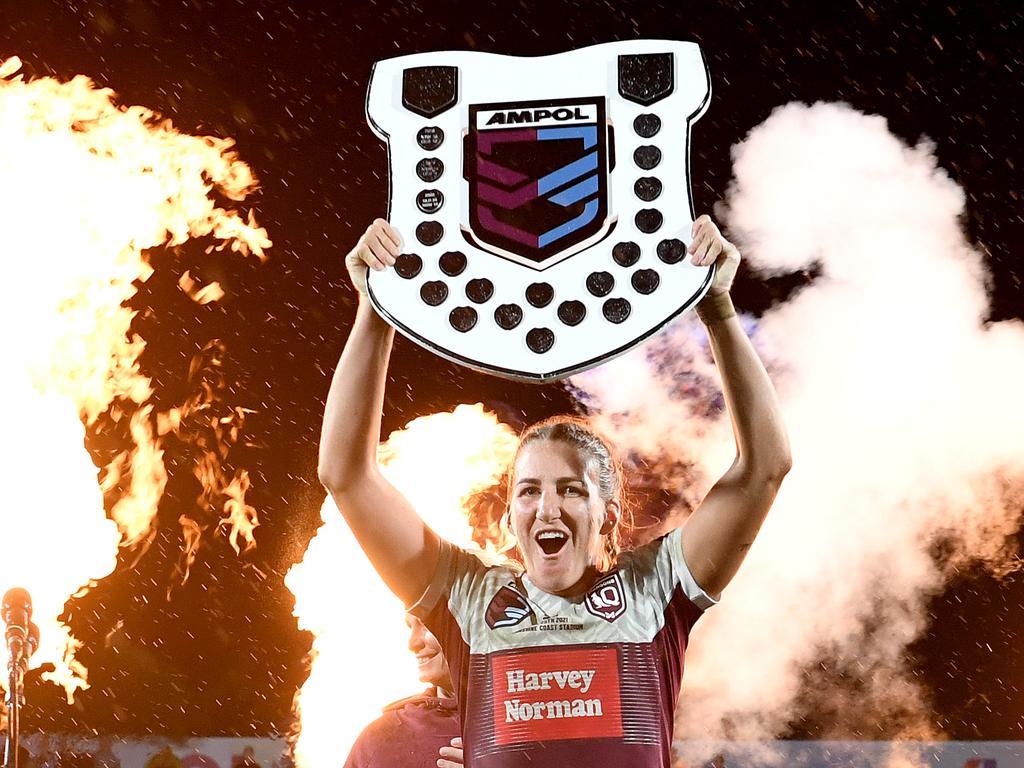 Ali Brigginshaw of Queensland holds up the shield as she celebrates victory after the Women's Rugby League State of Origin match at the Sunshine Coast Stadium on June 25, 2021. Picture: Bradley Kanaris/Getty Images
Reaching pay parity between men and women for Origin matches is also on the cards. The match fee for the men in 2022 is $15,000 and $6,000 for the women.
But Queensland players, who take the field in next Friday's one-off Origin clash in Canberra, are set to earn $15,000 after the QRL topped up the match fee to include payments for training and time spent in camp in the week leading into the game.
Sky Blues players are set to net $8,000 in total, which includes $2,000 for training sessions before going into camp.
While there is a stark difference in pay on face value, the QRL and NSWRL have different contracting models.
The QRL contracted its Origin squad as early as April and players have been training since then as well as playing in the state competition.
The NSWRL has a pick and play model, where players come together as a squad closer to game day.
The RLPA is also working with the state leagues to help bring the two contracting models closer together, which should help close the gap between pay packets.
Triple treat: Women's origin series set to grow again
NRL chief executive Andrew Abdo has revealed women's State of Origin could be a three-game series as soon as 2024 after the governing body made a shock move to expand the NRLW to a 10-team competition from next season.
The best players in NSW and Queensland will contest the Origin shield in a stand-alone fixture for a final time Friday week, before going to a two-game series in 2023.
No timeline was provided for how long it would remain a two-game series but Abdo told News Corp the NRL would 'revisit' the number of Origin matches.
Stream every game of every round of the 2022 NRL Telstra Premiership Season Live & Ad-Break Free During Play on Kayo. New to Kayo? Try 14-days free now.
"I don't think it will be too long before we are talking about a three-match Origin series. We will revisit that (for 2024)," Abdo said.
"But in relation to the calendar and when the state competitions are played, the feedback we got from the state leagues and importantly the players, a two match series is right for where we are right now in 2023.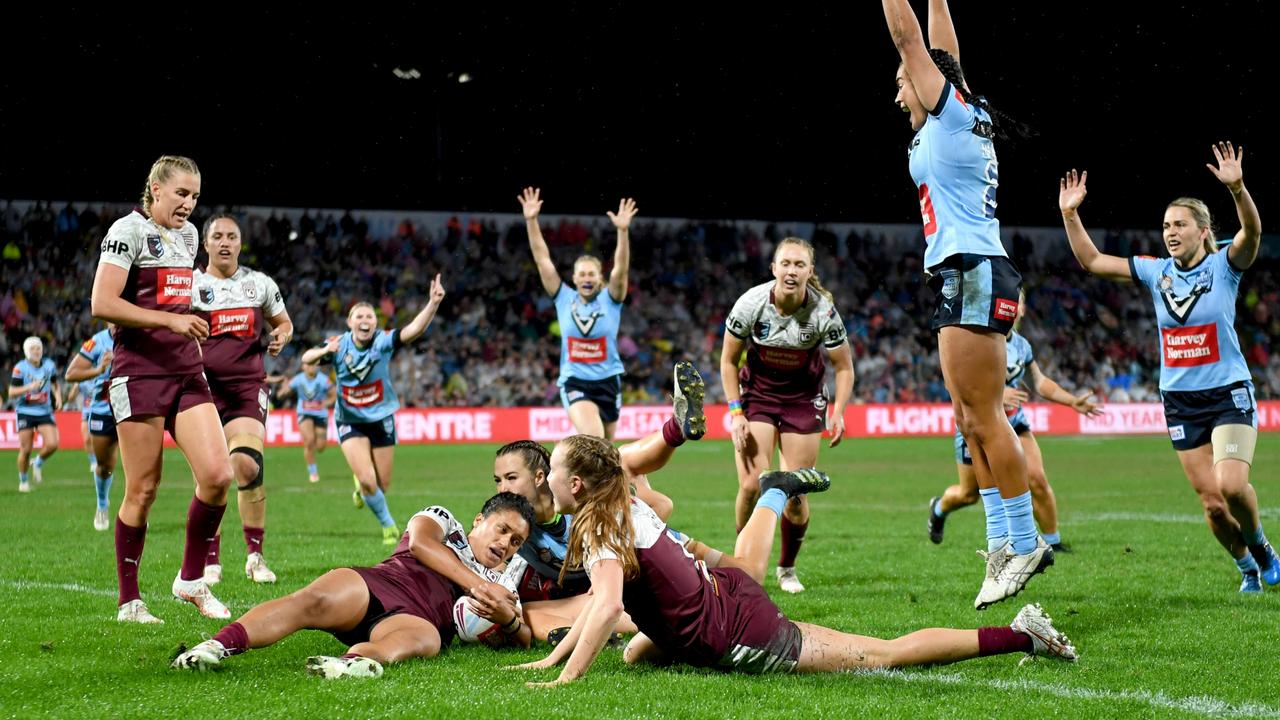 The NRL is considering a three-match Women's State of Origin series. Picture: NRL Photos
"We are conscious that too much football too quickly is probably not the optimal way to approach the calendar."
Last month, NSW Sky Blues coach Kylie Hilder said the women's series was "ready" to expand to three-games as early as 2023.
Both the NSWRL and QRL run state-based competitions between March and June that are used as a springboard for Origin selection.
"The state league competitions are really important as a development pathway," Abdo said. "We want to give an opportunity to as many players to be playing there first."
There is an appetite for women's Origin as a television product. Like the NRLW, women's Origin has proved to be a television ratings success.
Almost 620,000 people watched last year's Origin match across free to air and Fox League.
As well as expanding Origin, the next frontier in the women's game is a broadcast deal separate to the men's game.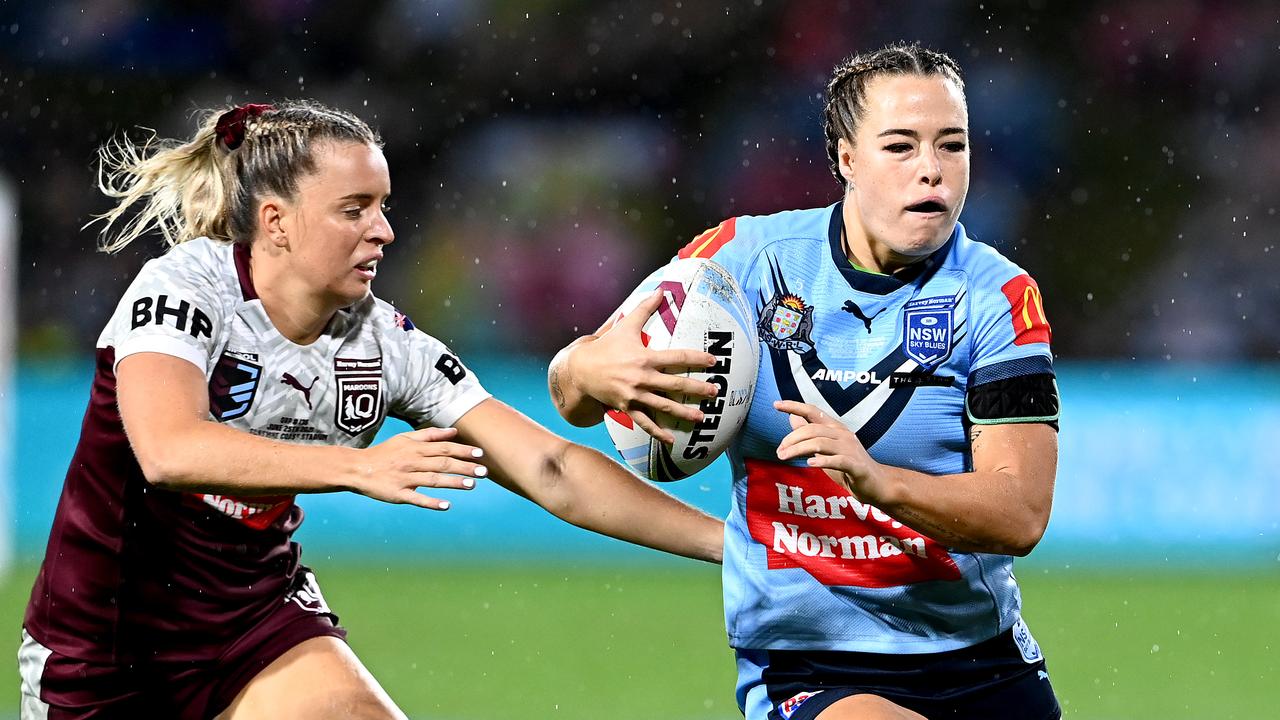 NSW and Queensland will play a two-match State of Origin series next season. Picture: Bradley Kanaris/Getty Images
The current deal runs out at the end of season 2027 and Abdo is confident the NRL will be able to negotiate a historic deal for the women's competition in the new broadcast cycle.
"I'm confident when it comes to negotiating the rights in the new world, in the new cycle, we will have something that is stand alone, compelling and to be valued and potentially be negotiated separately," Abdo said.
Stunning twist in NRLW expansion plans
NRLW players have raised concerns the women's game is growing too quickly after the governing body fast tracked expansion with four new sides to feature in a 10-team competition in 2023.
North Queensland, Wests Tigers, Canberra Raiders and the Cronulla Sharks will be added to the current six-team competition in a major shake-up of the league.
While the commitment to growing the game has been welcomed, there are fears the NRL's aggressive approach could dilute the talent pool, a problem that Newcastle forward and RLPA director Hannah Southwell believes can be avoided.
"Expanding too quickly can come with problems, we don't want to risk undoing all the work we have done to get the women's game to where it is today," Southwell said.
"We've got no issues with expansion, with going to 10 or 12 or 14 teams as the game grows. We just want it to be within reason. We don't want to push it too hard too early."
NSW captain Kezie Apps and Blues coach Kylie Hilder have recently expressed similar concerns.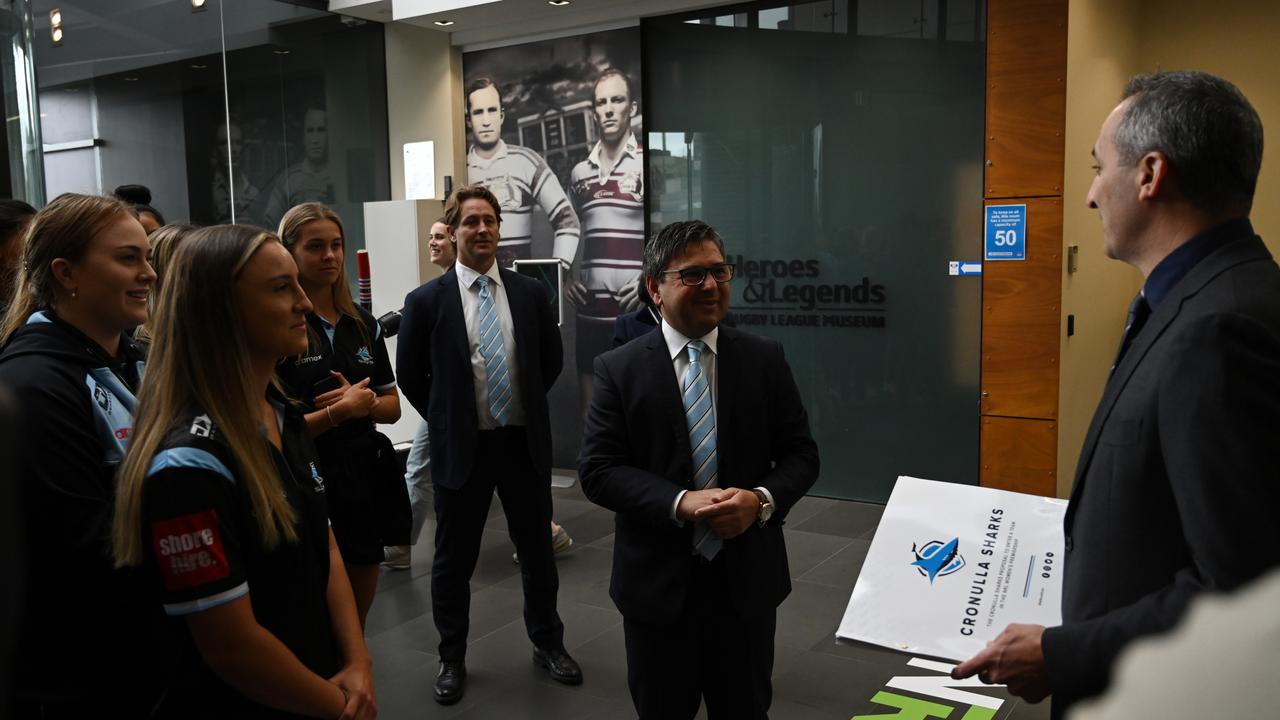 The Sharks playing group present their NRLW pitch to Andrew Abdo. Picture: NRL Images
The AFLW's rapid expansion is a cautionary tale for the NRL.
Some commentators have branded the AFLW 'unwatchable' thanks to blowout scores and the talent gap between foundation and expansion teams. The AFLW will have 18 teams next year after starting with just eight teams in 2017.
The NRL had planned to go to eight teams next season but fast-tracked growth after seeing an explosion in participation numbers, strong television ratings and 'compelling' proposals from the four new teams.
There are currently 35,000 registered female tackle players across the country.
"We've done the analysis, we have flourishing state competitions in NSW and Queensland and a women's national championship. We have participation growing and talent development growing. Each of these clubs have catchments with over a 1000 players," NRL CEO Andrew Abdo said.
"So we know we have enough athletes to sustain a professional competition.
"We're doing this in a staged and deliberate manner to ensure we don't dilute the quality of the game on the field, that's paramount. We are very comfortable that the quality won't be compromised."
Abdo also said the introduction of a salary cap, which will be $350,000 in 2022, will 'ensure talent is spread equally'.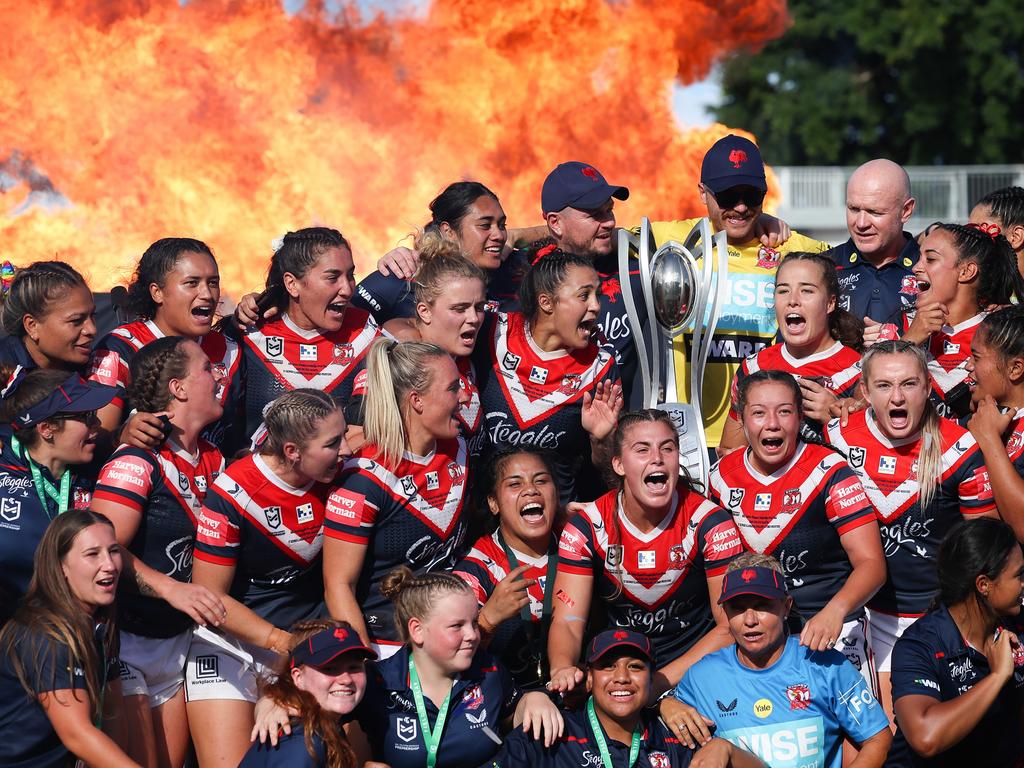 Roosters celebrate their grand final win. Picture: Albert Perez/Getty Images
"Competition is healthy. It's now up to the clubs to hold onto their talent and attract talent. The salary cap also acts as an instrument to ensure there is some form of talent equalisation," Abdo said.
"It's not perfect but it's a good way to ensure talent is spread equally."
Female players are also in for a 'significant' pay rise with the salary cap to increase from next season. The NRL is also considering widening the marquee player allowance, which allows clubs to include only $16,000 in the cap for its two best players.
Abdo couldn't say when female players would be paid enough to become full-time professionals.
The time frame could become clearer once the NRLW and RLPA agree on a historic collective bargaining agreement. The NRLW is the only elite women's competition without a CBA.
"I don't know when we are going to have every player being able to justify playing NRLW full time," he said.
"But I know that as we add more teams, and as we have a competition that looks a lot closer to the men's competition, there is going to be a threshold point.".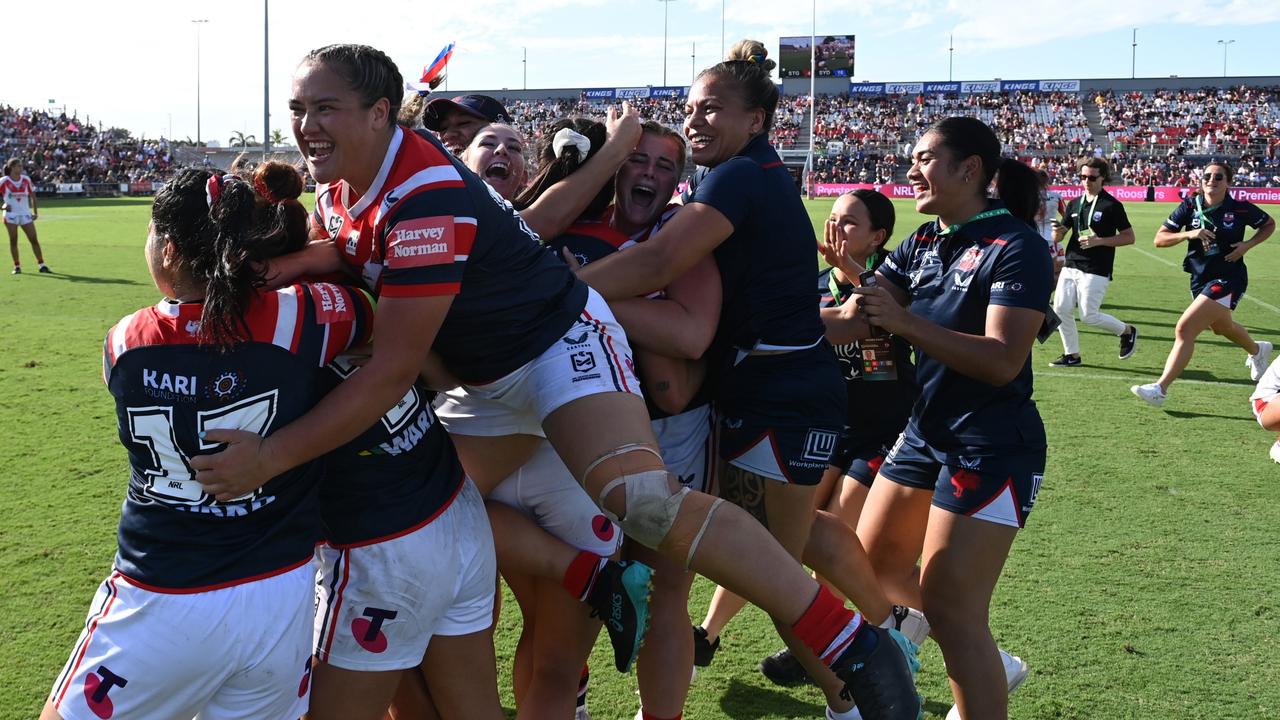 The 2022 NRLW season, which is set to kick-off in August, will feature a salary cap for the first time.
The expansion will see the 2023 competition feature nine rounds plus a finals series.
Abdo said all games will be broadcast on either free-to-air or on Fox Sports. The last NRLW season was a ratings hit, averaging an audience of 64,000 per game on Fox Sports.
The next teams in line for a NRLW franchise include South Sydney and Canterbury.
The New Zealand Warriors, who were a foundation team involved in the first three NRLW seasons before having to withdraw due to the Covid-19 pandemic, did not apply to be part of the 2023 season.
"It's about rebuilding and consolidating their position back in New Zealand and thinking about re-entry into the NRLW soon after, the Warriors are important for our competition. Those athletes in NZ that would like to relocate would be supported by the NRL," Abdo said.
Originally published as NRL: Brad Fittler mentoring Origin Blues Kylie Hilder to help her become first woman NRL mentor