NRLW players won't be pressured to fast-track CBA negotiations
A landmark NRLW collective bargaining agreement is set to be finalised this year but the players' union won't be rushed to catch up with other women's sports, writes PAMELA WHALEY.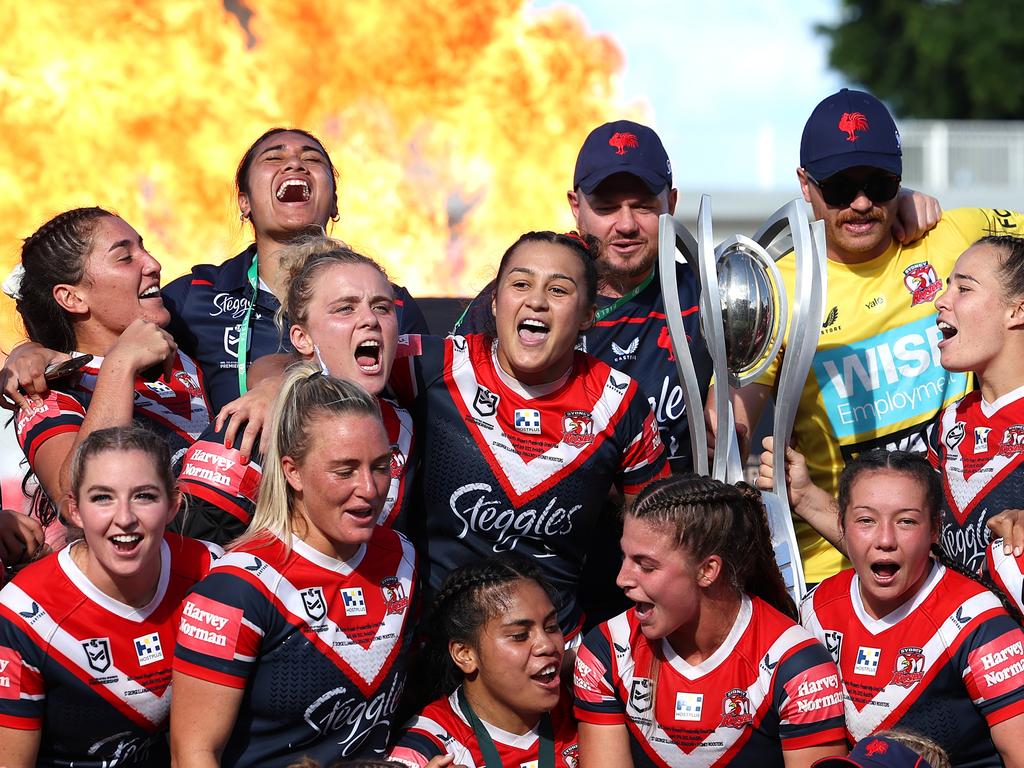 BRISBANE, AUSTRALIA - APRIL 10: Roosters celebrate with the trophy after their victory during the NRLW Grand Final match between the St George Illawarra Dragons and the Sydney Roosters at Moreton Daily Stadium, on April 10, 2022, in Brisbane, Australia. (Photo by Albert Perez/Getty Images) *** BESTPIX ***
The Rugby League Players Association will resist pressure to fast-track the NRLW collective bargaining agreement negotiations with the governing body after the AFLW announced a landmark pay deal this week.
A players' advisory group meeting was held this week where the newly penned AFLW CBA sparked conversation about the conditions NRLW could expect come November 1.
Earlier this week, the AFL announced an increase to the minimum wage for its female players from around $20,000 to $39,000 per season, with a 94 per cent increase in salaries across the board.
Cricket Australia also announced the expansion of the women's national one-day competition as part of a one-year extension of the memorandum of understanding with the players' union.
The NRL and RLPA will head to the negotiating table in the coming months to hash out a historic collective bargaining agreement for the women's game.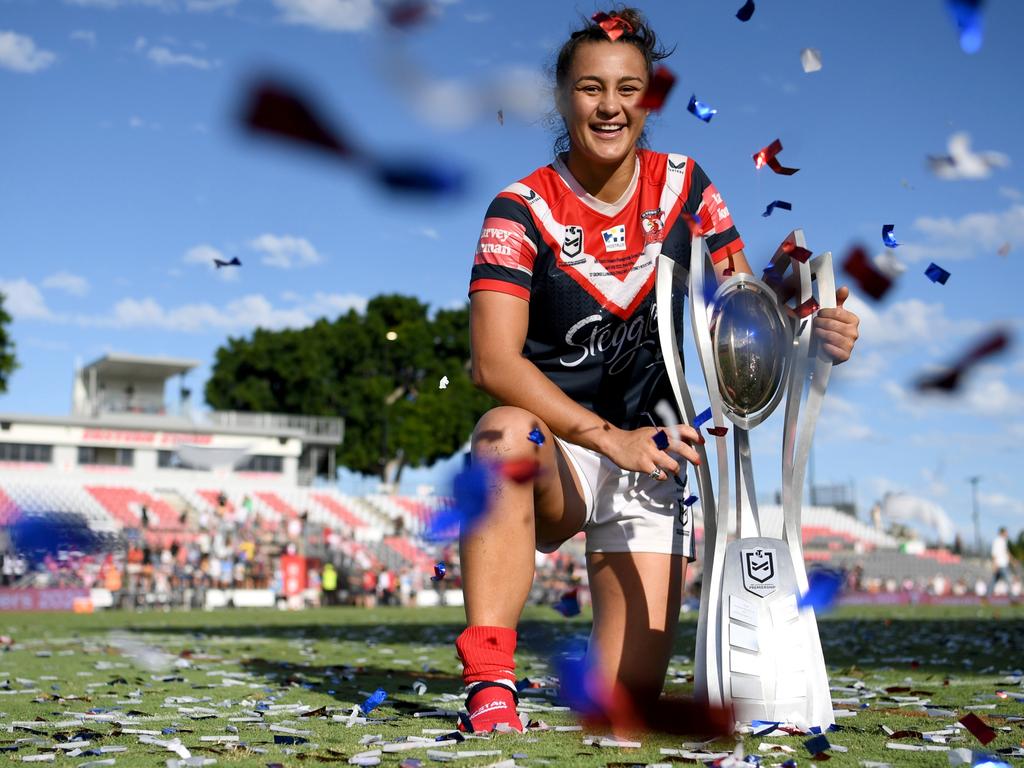 Roosters captain Corban Baxter with this year's premiership trophy. Picture: NRL Imagery
"The new deal won't kick off until November 1 anyway, so I don't want to rush the players to get the deal signed just to say that we've signed it, if we then miss out on locking in some of the best outcomes for them," says Lina Caccamo, the union's general manager of elite women and international relations.
"If we can push certain things through faster, fantastic … but I don't want to be rushed so we can say that we've done ours too."
Currently there is no CBA outlining minimum standards for female players although it's long-been the goal of the NRL to have one finalised.
The union claims they requested NRL financials back in November and are still waiting for that information to proceed with CBA plans, but have been told it will arrive this month.
That information will help dictate the claims the RLPA will make when they start negotiations in the coming months.
It will also show how aligned the players' union and the NRL are when it comes to expansion and investment in the women's game for the future.
Currently, players sign a roughly 80-page contract with NRLW clubs outlining a standard set of terms and conditions, but a CBA would centralise those terms.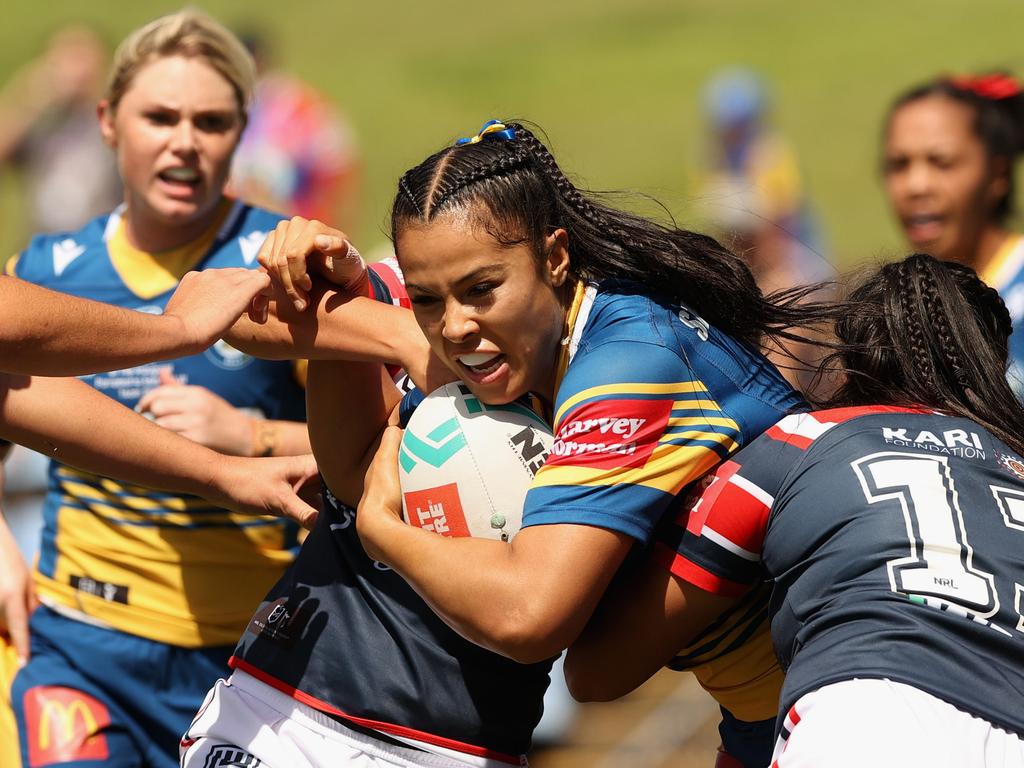 The Eels, Knights and Titans were new teams for the delayed 2020 season, and the number of teams is set to increase. Picture: Ashley Feder/Getty Images
"We're just hoping for improvements, rather than changes. We want improvements to the minimum high performance standards at clubs (among other things). So if we can aim for improvements in all of those areas, that's a win for us," Caccamo says.
"We've pressed the NRL for an information request … so as soon as we can finalise that, we can then start negotiating the individual things. But we can't put that forward without receiving the information we need to be able to finalise everything. On the flip side, I need to take the players through everything.
"We'll do workshops and stuff with the players so they can feel comfortable with what they're backing and be sure that it's purpose-fit."
Meanwhile, the NRL have said they will consider fast-tracking expansion and jumping to 10 teams for next season with a decision expected to be made at the ARL Commission meeting next Wednesday.
Cronulla, Wests Tigers, North Queensland and Canberra have the strongest bids, meaning they could all be included in the women's competition in 2023.
Penrith, Canterbury and South Sydney also submitted bids, although it's believed they would prefer a 2024 inclusion into the competition.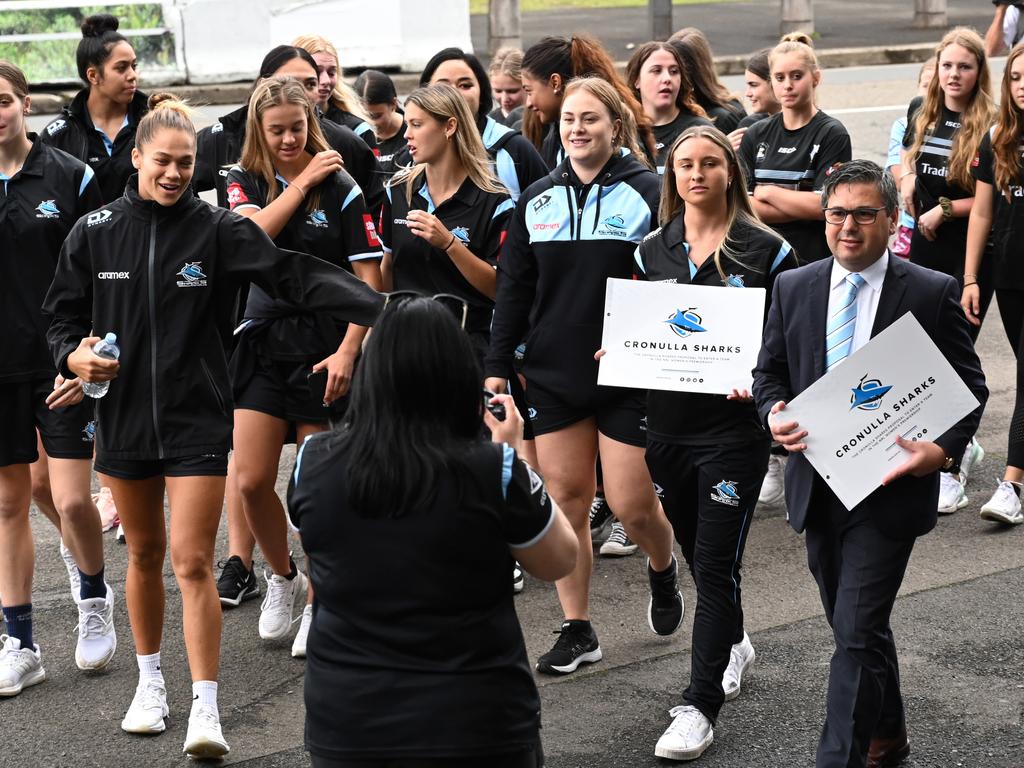 Cronulla presented their proposal for an NRLW license directly to NRL chief executive Andrew Abdo. Picture: NRL Imagery
Although the NRL was initially more conservative with plans for expansion when they were announced in April – announcing two more teams would be added in 2023 and another two in 2024 – the strength of the bids could see them fast-track that timeline.
Should a 10-team competition be announced, it will mean players would be contracted for almost six months of the year due to the extended season.
This would have obvious implications for players who will need to relocate to play, as well as their external employment. Those details are yet to be finalised.
"If that's what they decide we need to make sure the terms and conditions are the best they could be for these girls," Caccamo says.
"I think when you ask (the players) to be prepared for 10 teams they will be, they're really good like that. That's what makes it a reality or would make the NRL confident of jumping straight to 10 because our girls are so good, they just get it done.
"But if they had additional time and could plan six months worth of relocation and supporting work and employment and all of that sort of stuff, of course it's going to make for a smoother transition."
The 2022 NRLW pre-season will start in July, with round one in mid August. The finals will be held concurrently with the men's through September.