'She smashed me': Why Emma Tonegato's talent is exceptional, beyond the professionalism
Olympic gold medallist Emma Tonegato didn't blitz the NRLW just because she was a pro athlete. She blitzed it because she wanted to, writes PAMELA WHALEY.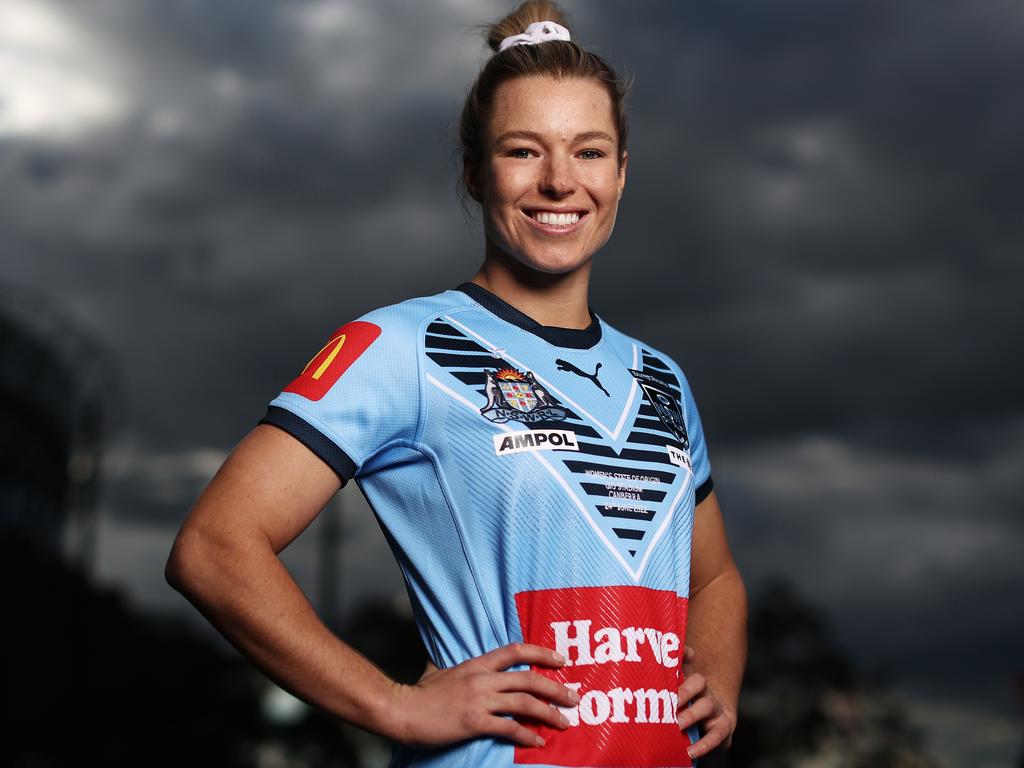 It's been a rapid rise for Emma Tonegato in rugby league. Picture: Matt King/Getty Images
Emma Tonegato was a full-time athlete, yes. But that's not the sole reason she's one of the best female rugby league players at the moment.
There's a nuance missing in the accolades the Australian Rugby Sevens champion and Olympic gold medallist has achieved since she turned her skills to rugby league.
To suggest she blitzed the NRLW because she came from a professional environment to a part-time one does her a great disservice.
She blitzed it because she's just that good.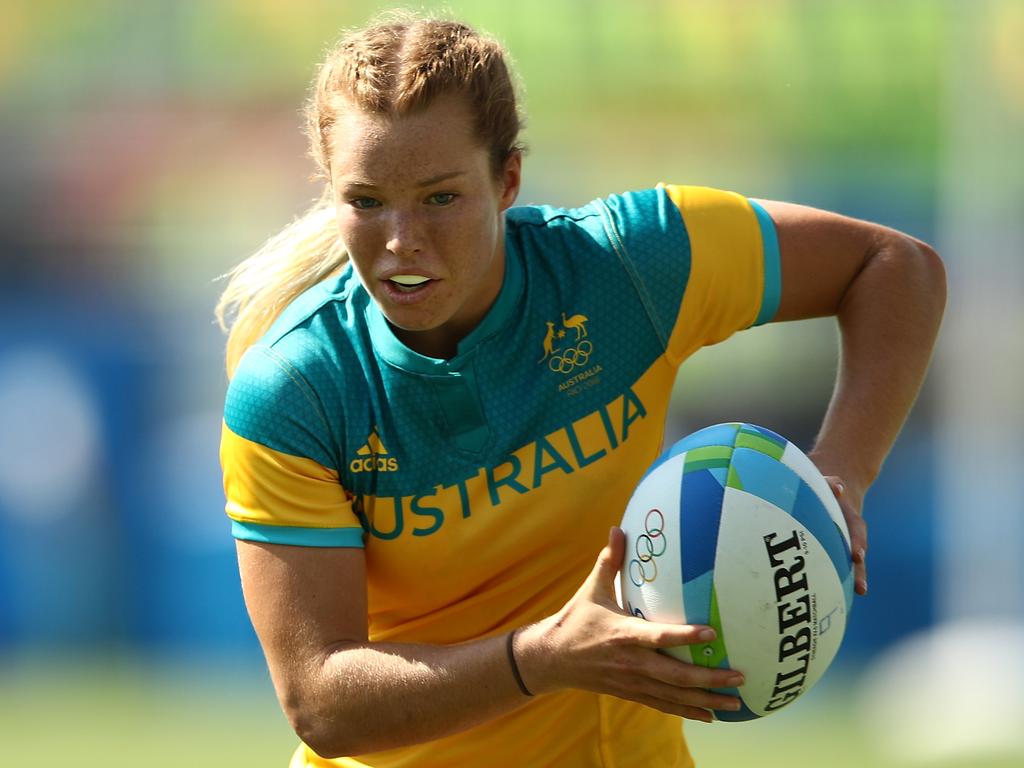 Tonegato was part of Australia's gold medal winning Rugby 7s team at the Rio Olympics. Picture: Mark Kolbe/Getty Images
St George Illawarra coach Jamie Soward had a feeling about her after their first conversation. And then he had another more uncomfortable one when he held the pads in a tackling session.
The professional Australian Rugby system gave her all the opportunities to succeed, but Tonegato's greatness is inherent.
And her tackles bloody hurt.
"When she joined, I hadn't heard of Emma. And that's no disrespect to her, I just hadn't followed the Women's Sevens much at all," he tells CodeSports of the Dragons and now NSW fullback.
"I wanted to meet with some of the players, particularly the senior players, but Emma herself to see why she wanted to come across. I walked away from that conversation thinking, 'She's going to be the best player in the competition'."
Dragons NRLW coach Jamie Soward could see Tonegato's league potential after one meeting. Picture: Bradley Kanaris/Getty Images
*****
The debate about professionalism in women's rugby league is raging at the moment, and given the NRL will move from six to 10 teams in 2023 it's closer than ever.
Tonegato is one of a handful of former professional athletes who have joined the sport and shown the rest of the competition what is possible when the game eventually becomes a full-time reality.
She was an instant success in her first season of NRLW, winning the Dally M Medal alongside NSW Blues teammate Millie Boyle, who also has a background in rugby union, and part of an unlikely Dragons team that made the grand final.
So it's easy to draw the conclusion that she is great because of the professional environment she has been in.
Tonegato shared the Dally M Medal with Blues teammate Millie Boyle, in her first NRLW season. Picture: Bradley Kanaris/Getty Images
"I think everyone just thinks I'm good because I've come from a full-time program, but there's more to it," she explains.
"I am who I am and I have the skills that I have because I've worked hard for it in my own right, and also there is that natural talent element.
"I feel like people think, 'Oh she was in a full-time program of course she's going to kill it', well no, that's just me.
"I don't want to sound like I'm up myself.
"But [it doesn't explain] how you read the game and decision making, it's completely different."
Without ego, she set about learning the game again.
"That's something I thought about when I came across," she continues.
"One, the tackle technique is completely different. I'm pretty lucky at the back that I can stick to how I like to tackle, which is probably low.
"But doing all the training and wrestling was really different for me.
"In rugby, you chop them to the ground and get them to the ground quick and roll away, but in league, you're tackling up high, slow it down and get them to the ground and lay on them, so that took me a little bit to get my head around. The length of the game as well was quite different."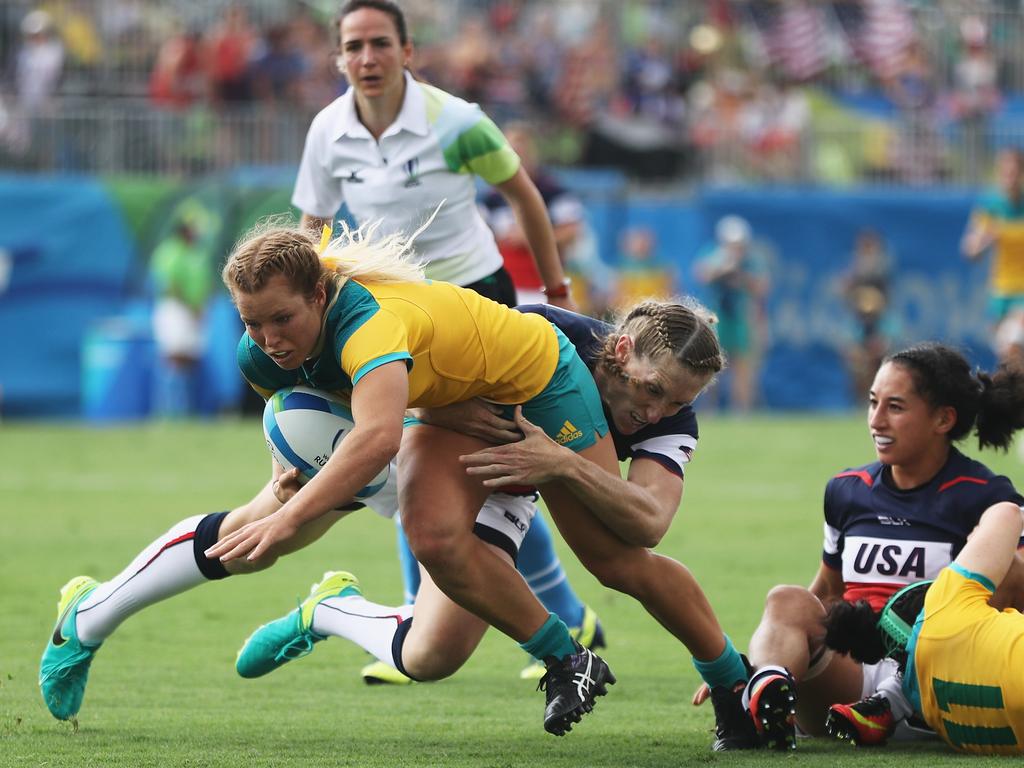 Tonegato had to unlearn her rugby habits to thrive in the NRLW. Picture: David Rogers/Getty Images
*****
In her first meeting with Soward, it was obvious to him that she was not interested in dipping her toe back into rugby league just for the fun of it.
Tonegato and Soward bonded over their competitive streak and a willingness to do anything necessary to win. And that's what convinced him she is special.
"She's so dedicated to her craft," he says.
"Professionalism is obviously something that stands out because a lot of the girls in the rugby league world are still working, and Emma is still working too, but she had lived that full-time athlete lifestyle.
"For me, it was an Olympic gold medallist I was talking to, who has done it all, her willingness to park her ego and want to learn from day one helped that competitive spirit that we both have.
"She just wants to win and play and she plays with such freedom. That first convo, it was early doors and my first coaching appointment but I knew that if they've got that competitive edge, you're halfway there, you don't have to install winning into them because they just want to win anyway. She's come from that."
Tonegato (centre back) bought an Olympic winning mentality into the Dragons NRLW side. Picture: Dan Mullan/World Rugby/Getty Images
Once she got onto the training paddock it became even more obvious.
"She's got a touch background … when she started training, we played a game of six on four and she just brained it," he says.
"It was her fitness that helped her, but the vision she had to accelerate into space and bring people with her stood her above everyone else.
"I said to her, 'You're going to play State of Origin and for Australia this year'. She said, 'Oh, I don't know', but I know it when I've got it right."
*****
Aside from the tackling techniques, Tonegato had to quickly grasp the technicalities of playing fullback, counting numbers in attack and where to stand on the line.
She's an NRL fan anyway and had played when she was younger, but she wanted to get it right.
"We had one session where we needed her to get the numbers right. We both probably walked away from that session a bit confused so we went back to the drawing board and started again and in that session she picked it up," Soward says.
"I filled in for the session holding the pad for her while they were doing a tackling drill, and I didn't like that (laughs). She smashed me and I thought, 'Man, she has great technique'.
"Because she'd had to make one-on-one tackles, so I was never worried about her stopping tries one on one, which, the best fullbacks in the world don't count how many tries they score, they count how many they stop. Her technique is really good, we just needed to hone her skills on where to stand on the line and stuff like that. It took her all of about half an hour and she got it."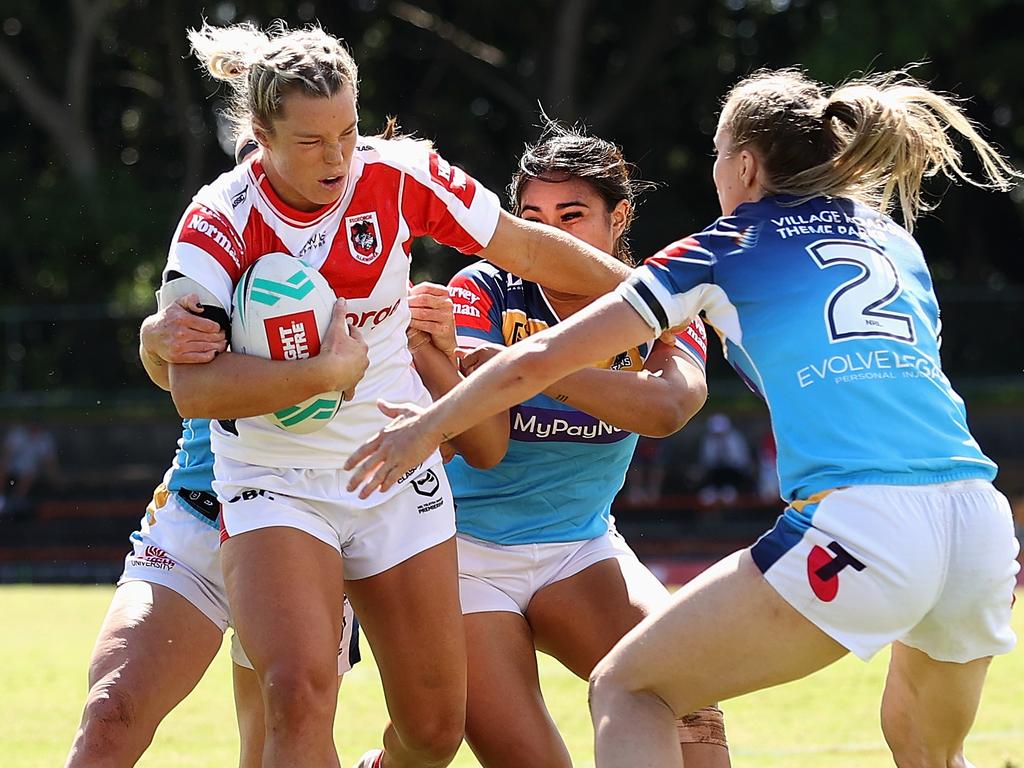 Tonegato had to become used to multiple tacklers in her new sport. Picture: Cameron Spencer/Getty Images
Going back to the drawing board meant going over drone footage and showing her literally where to stand depending on where the play-the-ball was on the field, and how to count the numbers on each side of the ruck.
"I think for her, she thought it was going to be harder than what it actually was, but because she wanted to do it she did it," he says.
"She asked a lot of questions, and that's what I mean about her not being ego driven, she's not like, 'I'm a gold medallist, I know what I'm doing', she just put her trust in me and the coaching staff showing her where she needed to be and she did that. That's a sign of the best ones."
The simple act of asking a question had a huge knock-on effect with her Dragons teammates, too.
It takes on a whole new meaning when an Olympic Gold medallist is not afraid to ask something simple.
"I had that probably with season one with a lot of the girls, where no question is a stupid question," he says.
"I'd rather they ask and then we work it out together, and I think Emma led that.
"We had meetings and she brought up some really simple stuff just because she didn't know, and that helped everyone else. Often we're too embarrassed to ask because we're worried what everyone else would think, but she didn't care, she just wants to win."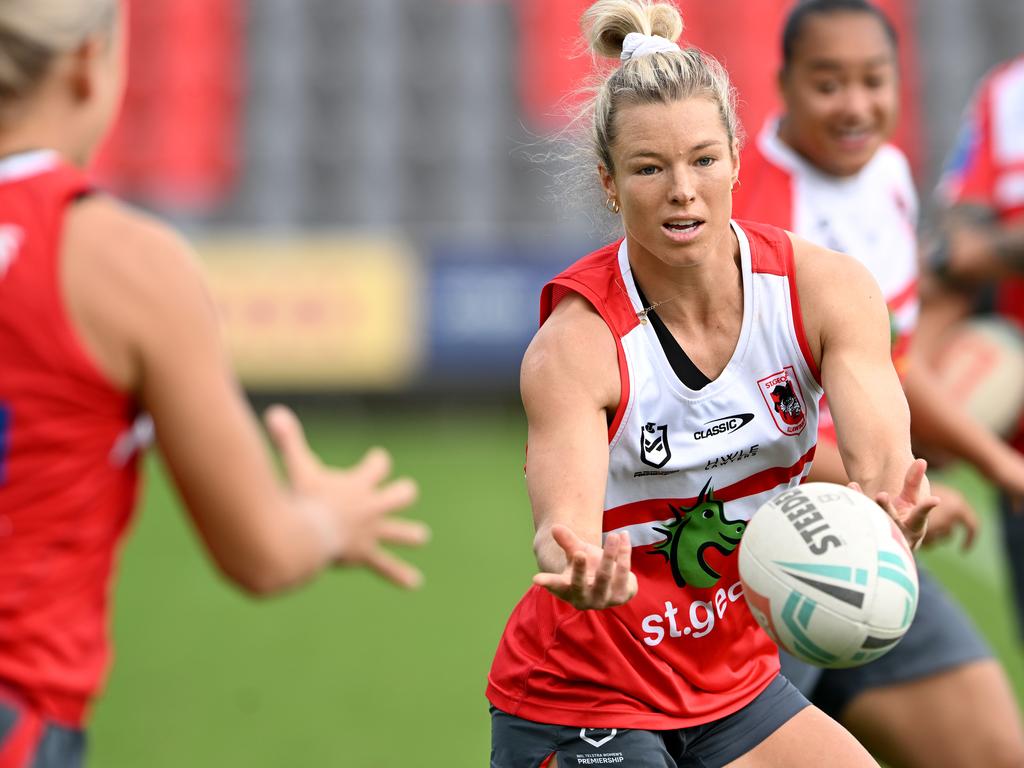 Tonegato was eager to learn from her teammates and coaches in her early Dragons' training sessions. Picture: Bradley Kanaris/Getty Images
*****
Soward's prediction from their first meeting proved to be true.
With the Dally M Medal around her neck and a NSW jersey earned, she is easily one of, if not the best NRLW player in the game at the moment.
It's a career that's becoming more tempting for professional female athletes across Australia, with the NRL opening admitting they want the best talent in the country to play NRLW as the competition expands.
"It's such a good sport, I've had a bunch of people messaging me and everyone has been watching it on free-to-air, it's on at good times and all of that sort of thing," Tonegato says.
"Everyone is saying how good the standard is and how much better it's getting every game. Hopefully we can build on that.
"The expansion to 10 teams will be interesting, it'll be bridging the gap now between the girls that we have now and the girls we have coming through. It's awesome and it's such a good opportunity. You see girls like Brooke Walker, she used to play Sevens and was at AFLW and now she's signed with Parramatta."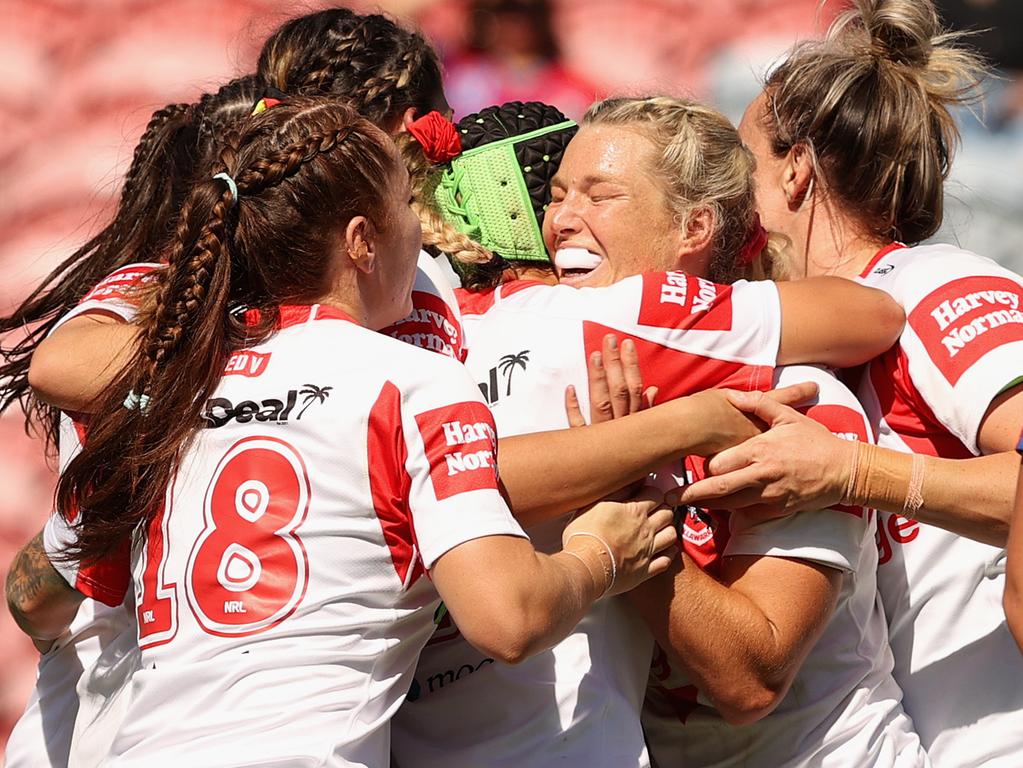 Soward believes Tonegato's success in the NRLW will inspire more cross-coders to play the game. Picture: Ashley Feder/Getty Images
Tonegato's path was different, though. She retired from Rugby Sevens before taking up the opportunity to play with the Dragons because it fit in with her lifestyle.
She wanted to finally graduate from university with her bachelor of occupational therapy – a field that she now works in full-time with Sense Rugby in Wollongong.
As the NRLW competition expands next season and the demands become greater, the balance between work and rugby league becomes trickier. Initially, the expansion has made some players nervous.
Like most, she had to dip into her quickly diminishing annual leave stocks to go into NSW camp for Friday night's State of Origin clash in Canberra. Playing a second season of NRLW, which starts in August, she may have to take leave without pay to cover all her commitments.
But that's a bridge she'll cross when she gets to it.
By signing a new deal with the Dragons she's shown she's not going to just dip her toe in.
She's here to win.