Women's State of Origin 2022: Sky Blues star Hannah Southwell leading the fight for change
Sky Blues enforcer Hannah Southwell does not mince her words. One of the game's most ferocious of enforcers, the NSW star is ready for battle - on and off the field.
Hannah Southwell is in rugby league to take somebody's head off.
Wonderfully, that's her turn of phrase, not ours. Timely, too.
Especially given this most ferocious of NSW Origin enforcers – truly, Google her name alongside the word 'tackle' – is referencing more than tonight's impending showdown with Queensland, or even her signing with Newcastle Knights, but also that breakout role as spokesperson for all things NRLW.
Stream The 2022 Women's State of Origin LIVE on Kayo this Friday 24th June from 7:45PM AEST. New to Kayo? Try 14-Days Free Now >
Still only 23, Southwell is the voice women's rugby league never knew it needed.
With her growing workload as an RLPA representative not only earning rave reviews behind the scenes, but increasingly, being compared to the aggressive playing style which, along with her trademark headgear, has become something of a ­signature.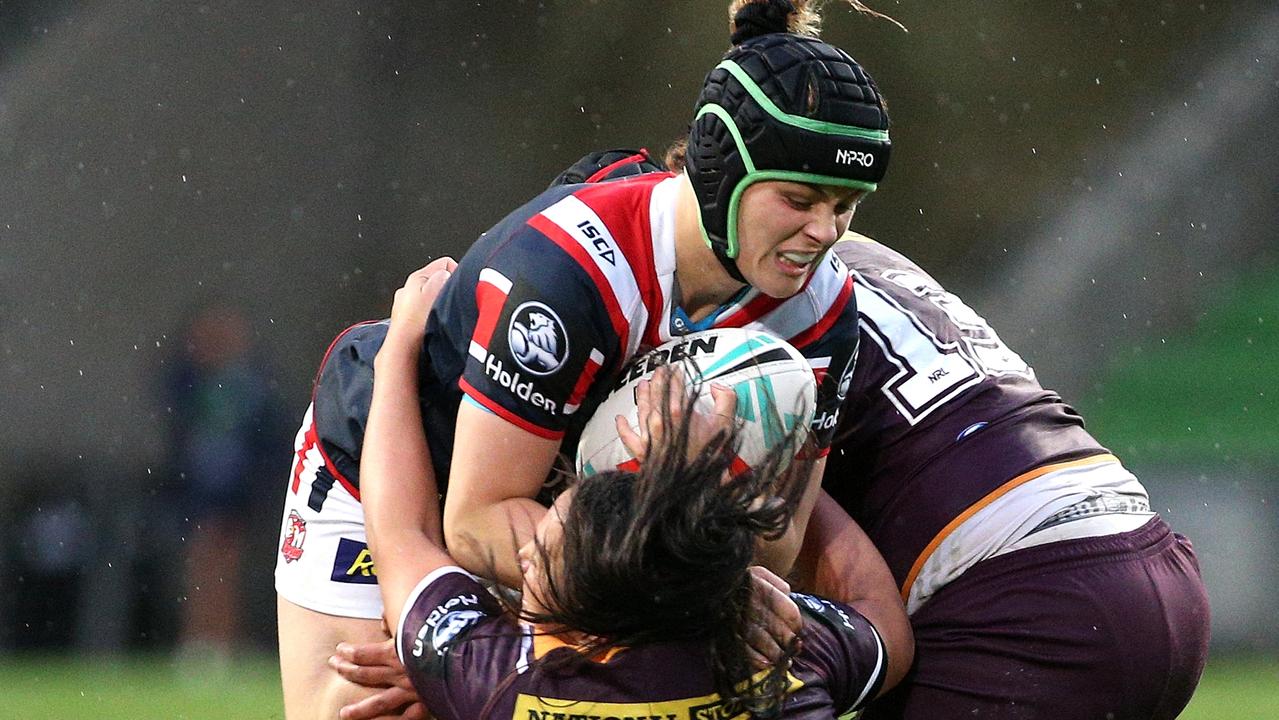 Hannah Southwell is renowned for her aggressive style in attack and defence in the NRLW. Picture: AAP Image/Hamish Blair
Which is why, be it taking on Queensland in an Origin showdown, or NRL executives over coffee and a Milk Arrowroot, this damaging Novocastrian is ­undeniably all in.
Quizzed this week in Blues camp about her role with the RLPA, and if she really does take that notorious tackle technique into boardrooms, Southwell laughed: "Yeah, I think that's true. Once I cross the white line on game day, I'm there to take somebody's head off.
"And I have that same approach (when meeting) with the NRL.
"Obviously you have to be diplomatic. Listen to all sides. But when I'm going into bat for the women's game, it's definitely a similar approach to playing."
Take, say, Southwell's push for NRLW players to earn $100,000.
"And I understand these discussions are tricky," continued the leaguie who has now been a union representative for just over a year.
"But something has to change. Personally, I think we should be paid the same as the blokes.
"But in saying that, we aren't stupid.
"We understand this is a business and that we're not generating the same as the NRL. But still, we are the fastest growing female sport in this country.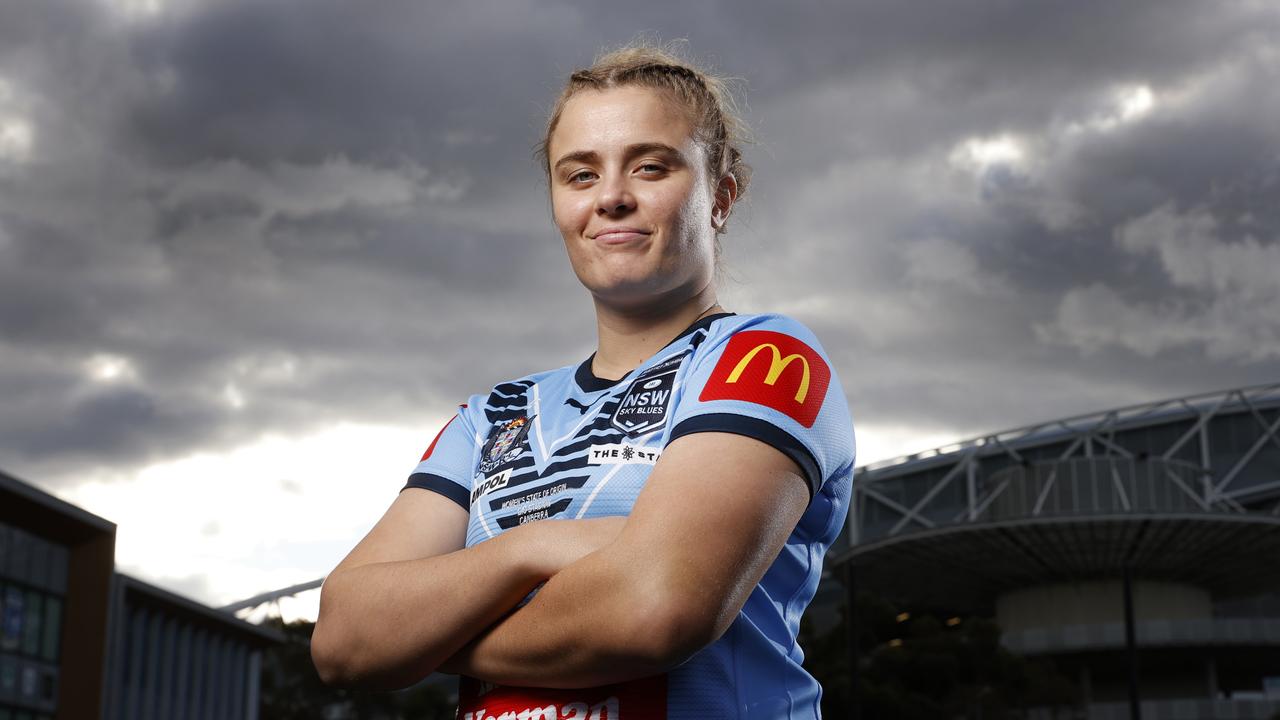 Hannah Southwell is a strong voice for the women's game in her role with the RLPA. Picture: Jonathan Ng
"And there certainly needs to be a high level of investment from the NRL to keep growing this game. So I'd like to see wages at $100,000."
Pushed on the issue, Southwell suggested NRLW players had to become fulltime professionals for the game to reach its potential.
"And if people don't start changing the way they see the NRLW," she warned, "other sports will ­overtake us."
Following the recent NRLW expansion to 10 teams, Southwell also revealed the RLPA was now working overtime to ensure the welfare of those younger players who will be brought in to make up numbers.
So as for Southwell heading that push?
"I really want to be a voice for the women's game and think I can make change," she said. "So I'm happy to speak up for those who don't really want to do that themselves. In the past we haven't had a big voice. But now, yeah, people are ­starting to listen."
Elsewhere, Southwell stressed care must also be taken when determining exactly where the NRLW seasons sit in the Australian sports calendar.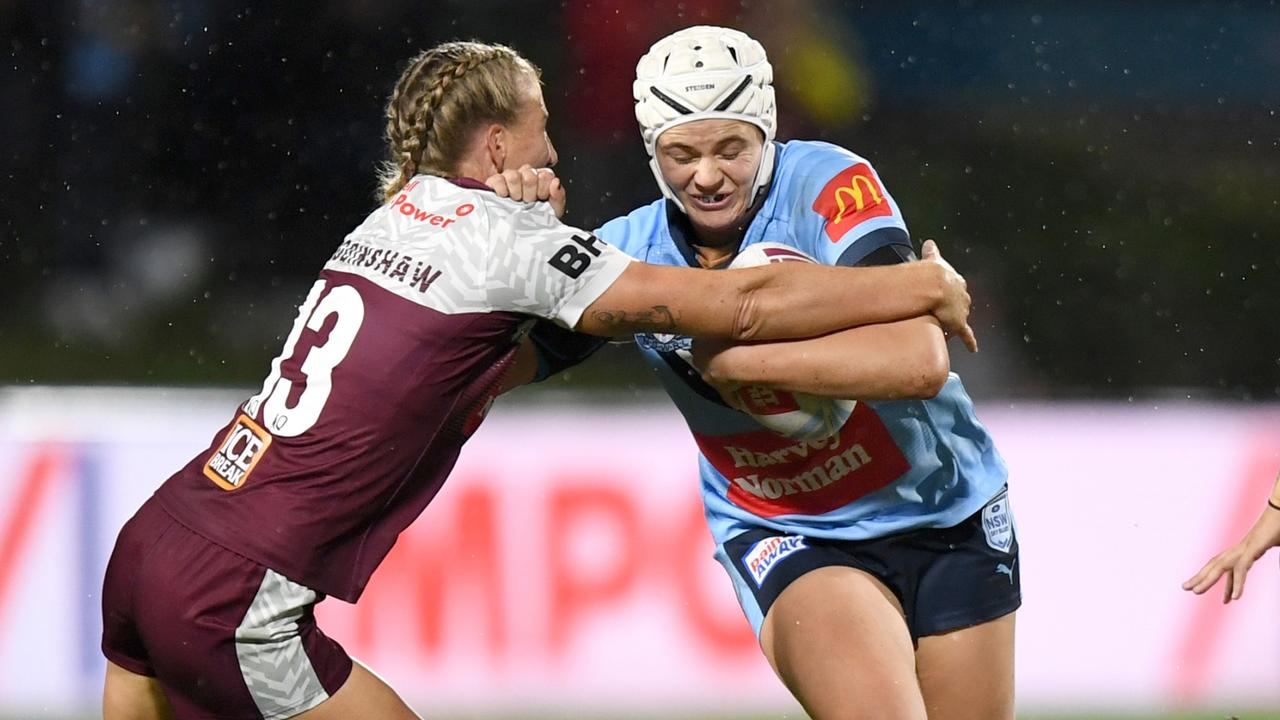 Hannah Southwell is hoping to snare a win with the Sky Blues against the Maroons in Canberra. Picture: NRL Photos
Currently, there are separate arguments for the women playing before the NRL season, after it, even running out on the same day before their male counterparts.
"And to run out in Newcastle before the men played, that would be a dream come true," Southwell said. "I'd have no issues with that at all. Same with playing before or after the NRL season."
A member of the NSW side that lost last year's Origin series by just two points – and after a contentious late penalty goal – Southwell said that, while determined to make amends this Friday night, she had yet to watch a replay.
"Can't bring myself to do it," she laughed.
"Whenever I lose at something … I won't say that I don't lose well, but it does hit me hard. Doesn't matter if it's State of Origin or a drill at training. I like to compete. I like to win."
Dally M winners team up to take down Maroons
-Tamaryn McGregor
Joint Dally M winners Millie Boyle and Emma Tonegato will cast aside their NRLW club rivalries to join forces in the NSW side as they hope to snatch back the Origin shield from Queensland after two years of defeat.
The Blues and Maroons go head-to-head for the 2022 Ampol Women's State of Origin at GIO Stadium in Canberra on Thursday night with Boyle and Tonegato two of the key figures for NSW.
It is the first time Boyle (Broncos and now Knights) and Tonegato (Dragons) representatives will be wearing the same colours, but both players are looking forward to linking up.
Stream The 2022 Women's State of Origin LIVE on Kayo this Friday 24th June from 7:45PM AEST. New to Kayo? Try 14-Days Free Now >
News Corp joined the pair for an exclusive Q&A to reveal what has been happening in the NSW camp before kick-off, what aspect of their game they think will help them beat Queensland and who of their opponents they will be looking to target.

News Corp: What are you looking forward to most for the 2022 State of Origin game?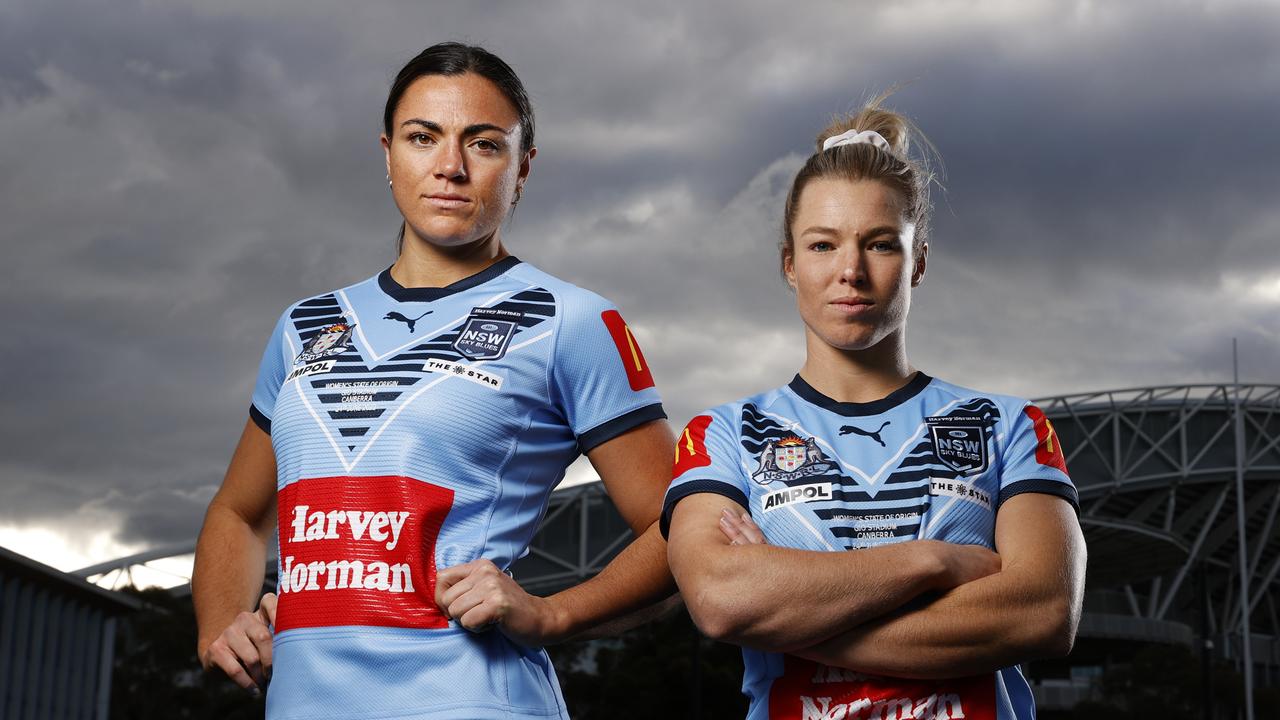 Sky Blues stars Millie Boyle and Emma Tonegato are fired up for the Women's Origin clash in Canberra. Picture: Jonathan Ng
Emma Tonegato: I am looking forward to playing with some of the best players in the women's game, players which I had to verse in NRLW and now am fortunate enough to call teammates.

NC: Who is the team looking to target or watch out for in particular from the Maroons squad?

ET: I think Ali Brigginshaw is always such a threat. She is such an experienced player who controls the game really well and everyone feeds off her.

NC: How have the debutants performed in camp and found the experience thus far?

ET: As one of the debutants I have had such a great time in camp so far. It's really special being around such like minded and women who are at the top of their game.
The fullback is also a Rugby Sevens Olympic medallist after having won gold in Rio in 2016.
NC: How do you compare preparations for and playing in a State or Origin game to a Rugby Sevens Olympic match?

ET: The two games are completely different sports so it's a bit tricky to compare but I think they are special in their own right and will always hold a special place in my heart.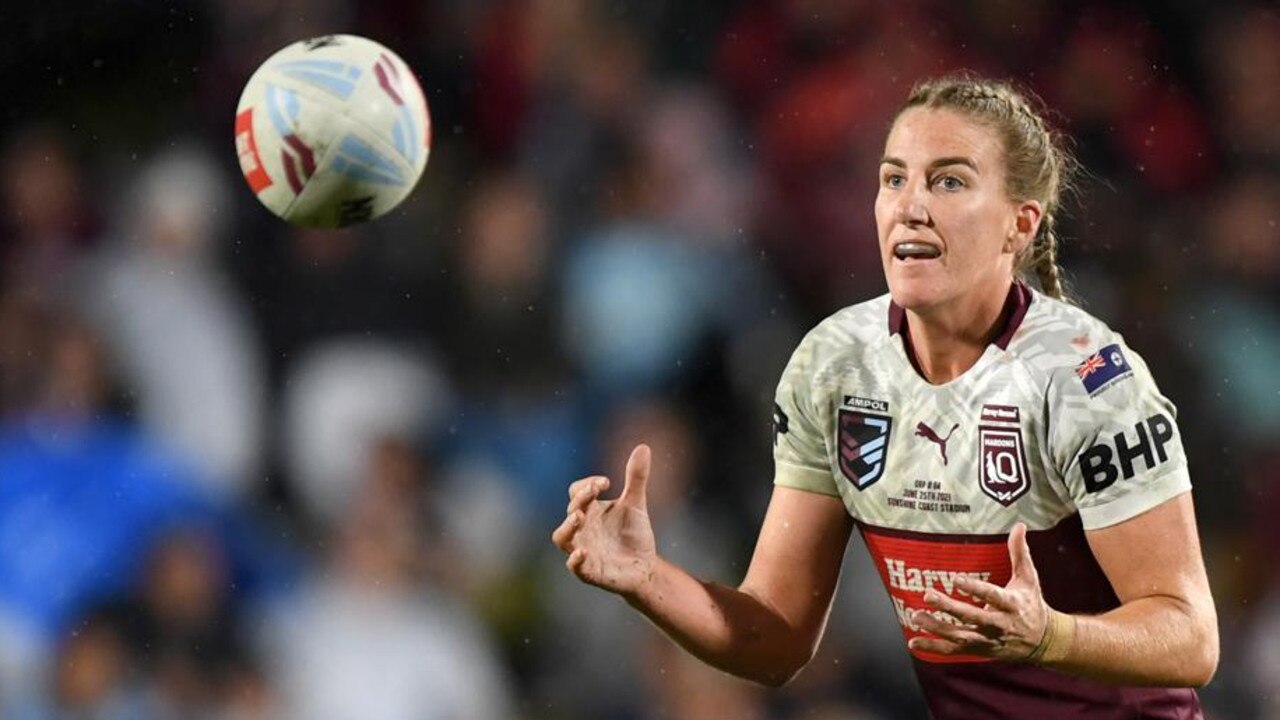 The Sky Blues a wary of Queensland star Ali Brigginshaw. Picture: NRL Photos
The NSW debutant revealed the women's and men's squads are untraditionally rooming separately in 2022 to align with NRL protocols.
NC: From your experience, how hard is it to tackle Millie?

ET: Millie is an incredible athlete and an absolute weapon on the field. She runs so hard and fights until the last mite making her extremely difficult to wrestle to the ground.

NC: What is Millie's secret weapon? How do you think this will give the Sky Blues an edge over the Maroons?

ET: I think her secret weapon is her mindset. She can just take her body to another level and push herself to her absolute limit and I think that will be crucial and prove pivotal in a game as hard as Origin.
NC: What is Millie's weirdest habit.

ET: She lives in 24-hour time.

NC: Where do you think the 2022 State of Origin game will be won and lost?

Millie Boyle: You never know in Origin, it depends who shows up! At the end of the day, the team that scores more points will win and the team that scores less will lose.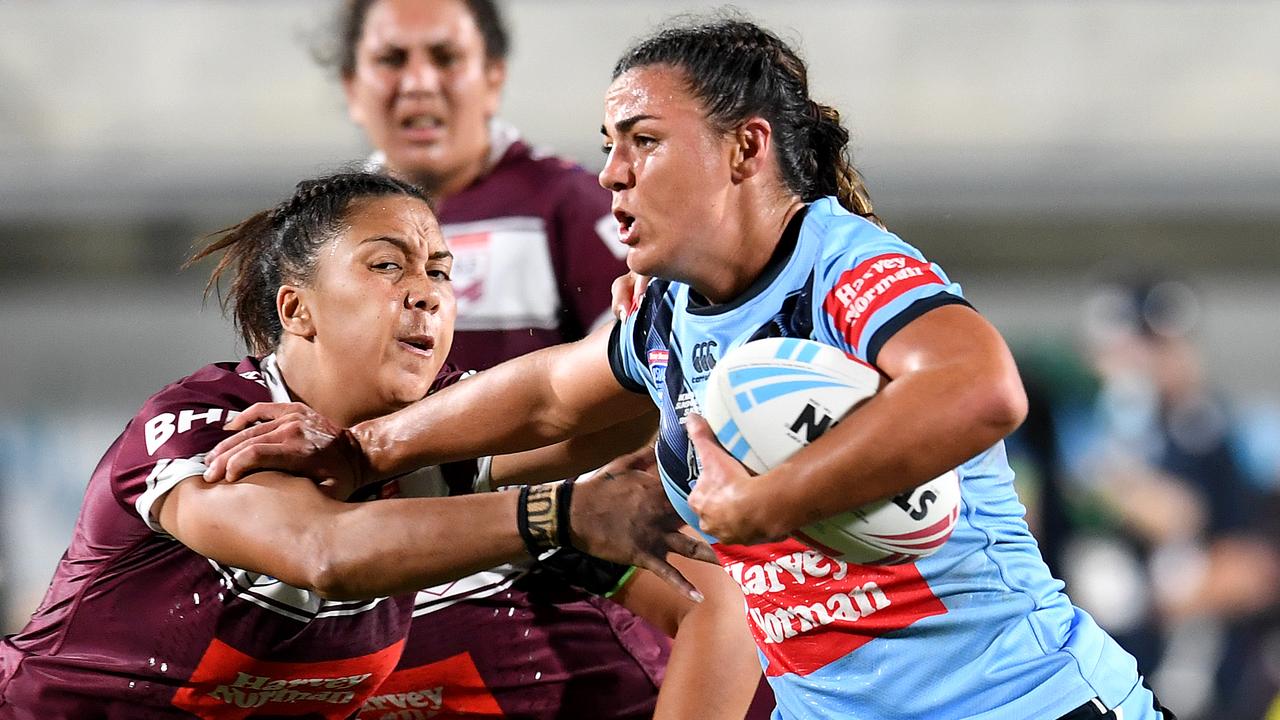 Millie Boyle will lead the charge for the Sky Blues against Queensland. Picture: Dan Peled/Getty Images
NC: How have you prepared for this Origin and how does this compare to previous years?
MB: Prep has been good. It's great to be in Canberra and we're excited for our families to finally come and watch as they haven't been able to in previous years with Covid and the border restrictions.
NC: Who are you looking forward to coming up against most? Why?
MB: The whole team! We're ready to play.
NC: How do you prepare for big moments like this, do you do anything special in particular?
MB: Have trust in your ability, teammates, and staff. It's just another game of footy at the end of the day. Everyone is here because they have earned the right to be here.
The former Brisbane Broncos star, now Newcastle Knights marquee recruit revealed NRL player partner Adam Elliott is "always very supportive" and "can't wait to cheer on the NSW girls on Friday night".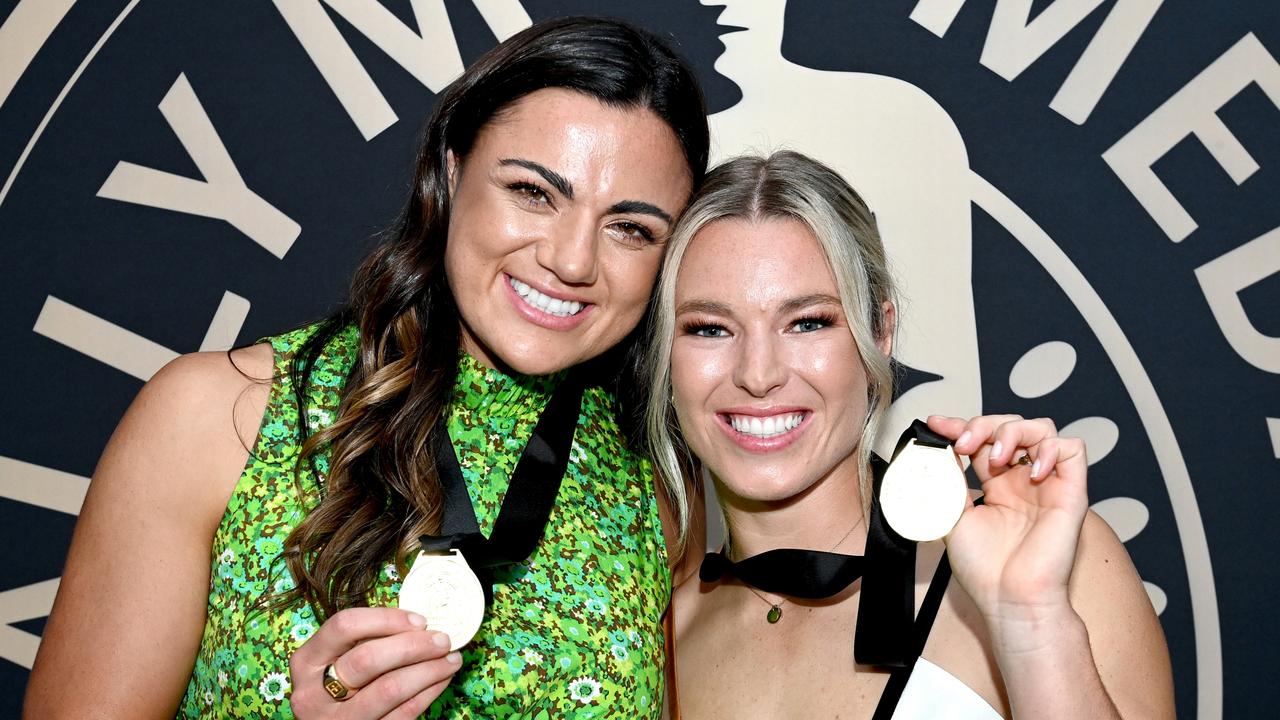 Joint Dally M winners Millie Boyle and Emma Tonegato are hoping to add an Origin victory with the Sky Blues to their stellar seasons. Picture: Bradley Kanaris/Getty Images
NC: What is Emma's greatest strength as a player in the NSW squad?
MB: Emma is competitive, she's very fast, hard to tackle, and a weapon in defence.
NC: Can you give an insight into Emma's pre-game routine?
MB: Emma is very chill pre game and she saves her energy for when she needs it most!
NC: What do you love about playing against and training alongside Emma?
MB: I have always respected her as an opponent, she competes to win in everything she does. Emma brings another level of professionalism to our team and I can't wait to run out alongside her!
Originally published as Women's State of Origin 2022: Sky Blues star Hannah Southwell leading the fight for change