Women's State of Origin player ratings: Isabelle Kelly stars as Sky Blues win 20-14 over Maroons
The Sky Blues boasted the joint winners of the Dally M Medal among a host of big names and it was one of their 'veterans' who produced the knockout blow against the Maroons.
The women's State of Origin clash provided another thrilling match between the Sky Blues and Maroons.
There were plenty of influential players on the night in front of a record crowd in Canberra.
Find who starred on the big stage? All 34 players rated below.
Stream every game of every round of the 2022 NRL Telstra Premiership Season Live & Ad-Break Free During Play on Kayo. New to Kayo? Try 14-days free now.
NSW
1. Emma Tonegato - 7
The reigning Dally M medallist scored a try, threatened, busted tackles, dropped a bomb, dropped an f-bomb (in her halftime interview) then returned after oranges to do it all again in the second half. Outstanding game for the rugby convert who re-signed with St George Illawarra this week.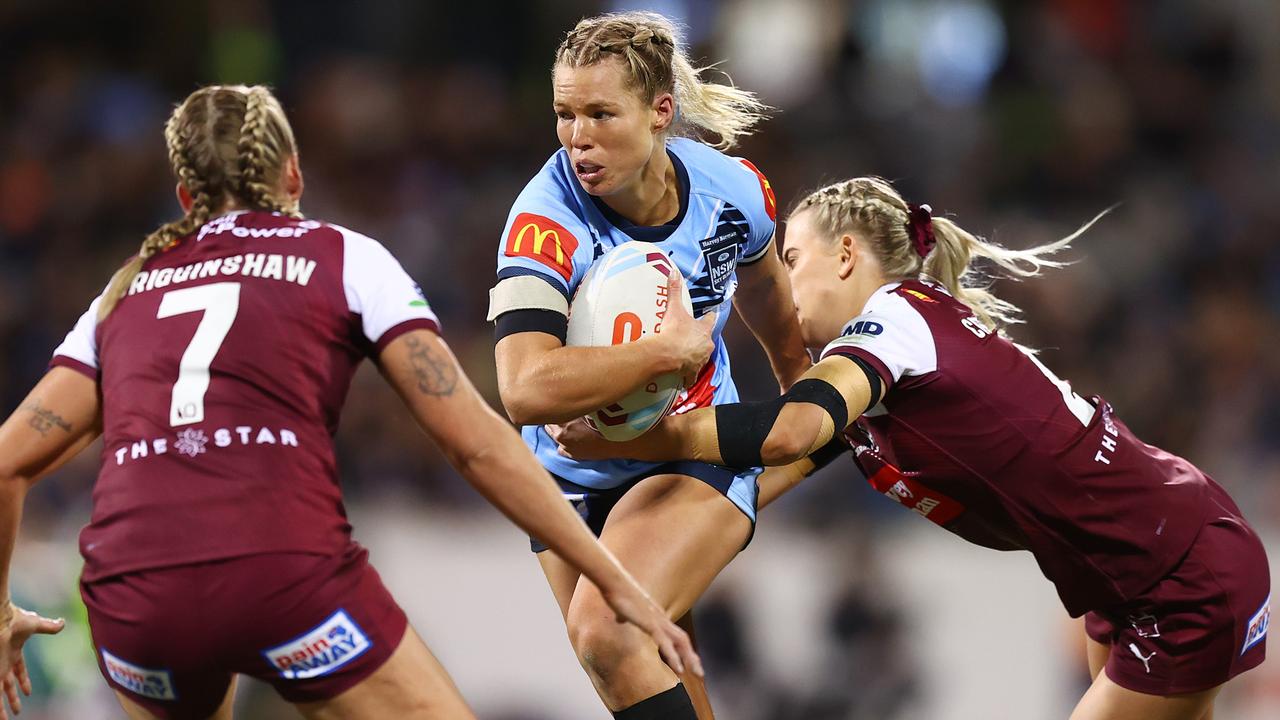 Emma Tonegato scored an impressive try in a strong performance at the back. Picture: Mark Nolan/Getty Images
2. Yasmin Clydsdale - 6
Been a big year for the Scone schoolteacher who won an NRLW premiership, married Knights Old Boy Adam Clydsdale days later and now has an Origin series win. One big error but strong in attack.
3. Jessica Sergis - 8
Nicknamed Winx, Sergis stars almost as often. Outstanding with ball in hand, the primary school support teacher made huge yards through the middle. Exciting times now too for her young students, who this went sent the Blues star a card reading: Miss Sergis when are you coming back? We miss you!
4. Isabelle Kelly - 9
According to the Fox Sports Lab, ran for 192m – or more than 70m more than any other woman on the field – while also making 11 tackle busts, three offloads, a line break, 12 tackles, no misses and zero errors. Also scored the match winner. Perfect? Geez, it was close.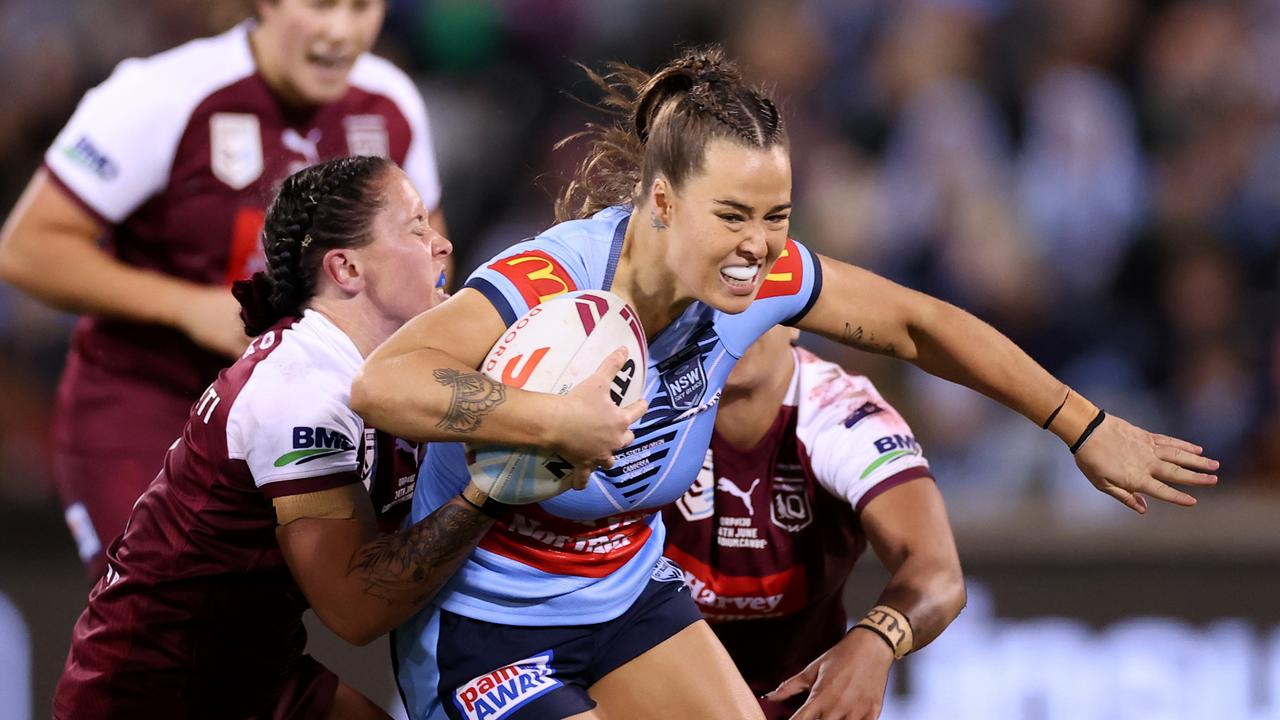 Isabelle Kelly was outstanding for the Sky Blues. Picture: Cameron Spencer/Getty Images
5. Tiana Penitani - 5
Tough night for the Sydney beautician who dropped a bomb that gave Queensland a try and ran for just 36m. Still, undoubtedly much bigger things ahead for the prolific NRLW tryscorer who has signed a two-year deal with Parramatta.
6. Kirra Dibb - 7
Missing from the NSW side for two years, the exercise physiologist made a strong return to the representative arena. Scored a brilliant solo try in the first half and produced a solid kicking game.
7. Rachael Pearson - 6
Only four years ago this Hay tradie was selling raffle tickets at her local pub, foot in a moon boot, when she saw a Jillaroos game on TV and thought, 'yeah, let's give it a crack'. Got burned for a try but was in plenty else and was great with the boot.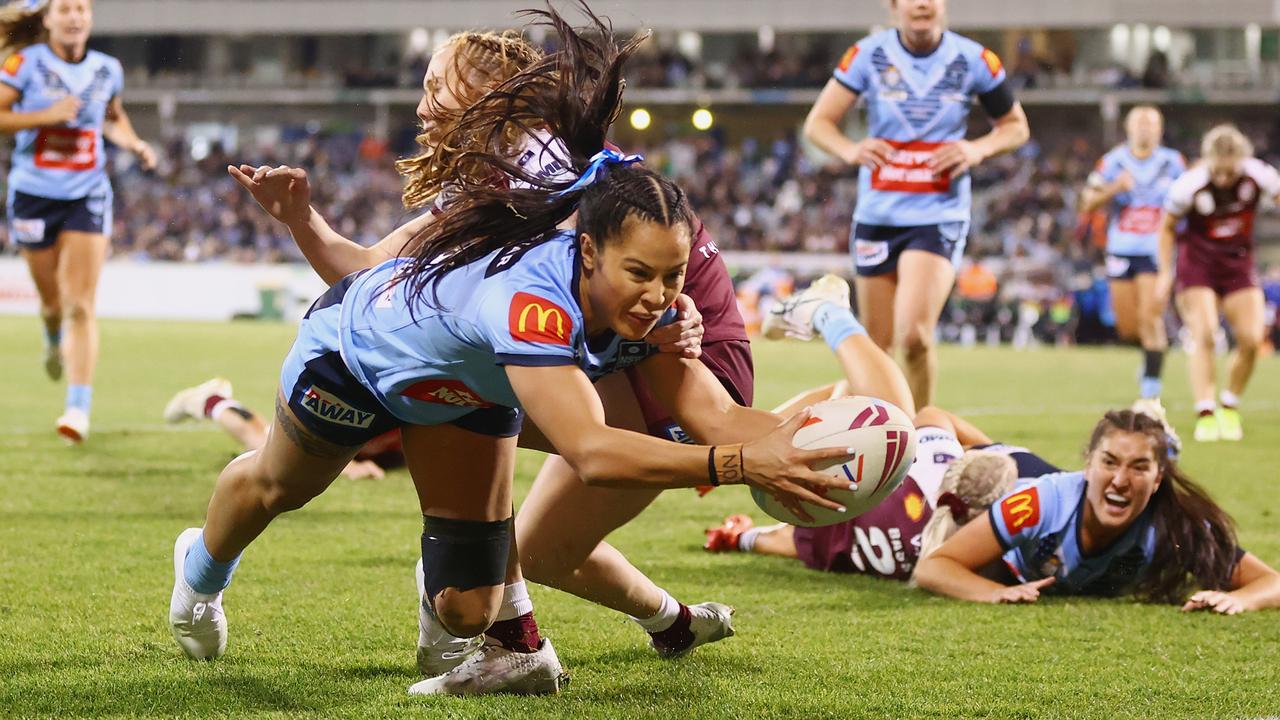 Tiana Penitani had a try disallowed on a mixed night for the winger. Picture: Mark Nolan/Getty Images
8. Simaima Taufa - 7
Run for 125m, or more than any other player on the field. But, c'mon, what were you expecting from a Parramatta prop who can squat 188kg? As always, the Mounties Sponsorship manager worked her clacker off.
9. Keeley Davis - 8
Typical Energiser effort from the Wollongong personal trainer and incumbent Jillaroos No.9. Grubbered perfectly for a first half try to Tonegato, continually schemed around the ruck and was also huge defensively.
10. Millie Boyle - 7
No guesses as to why Newcastle have shelled out $100,000 for the partner of fellow Knights recruit Adam Elliott. Just as you would expect an athlete who finished SAS Australia, Boyle dominated the opening 20 minutes and was solid again on her return.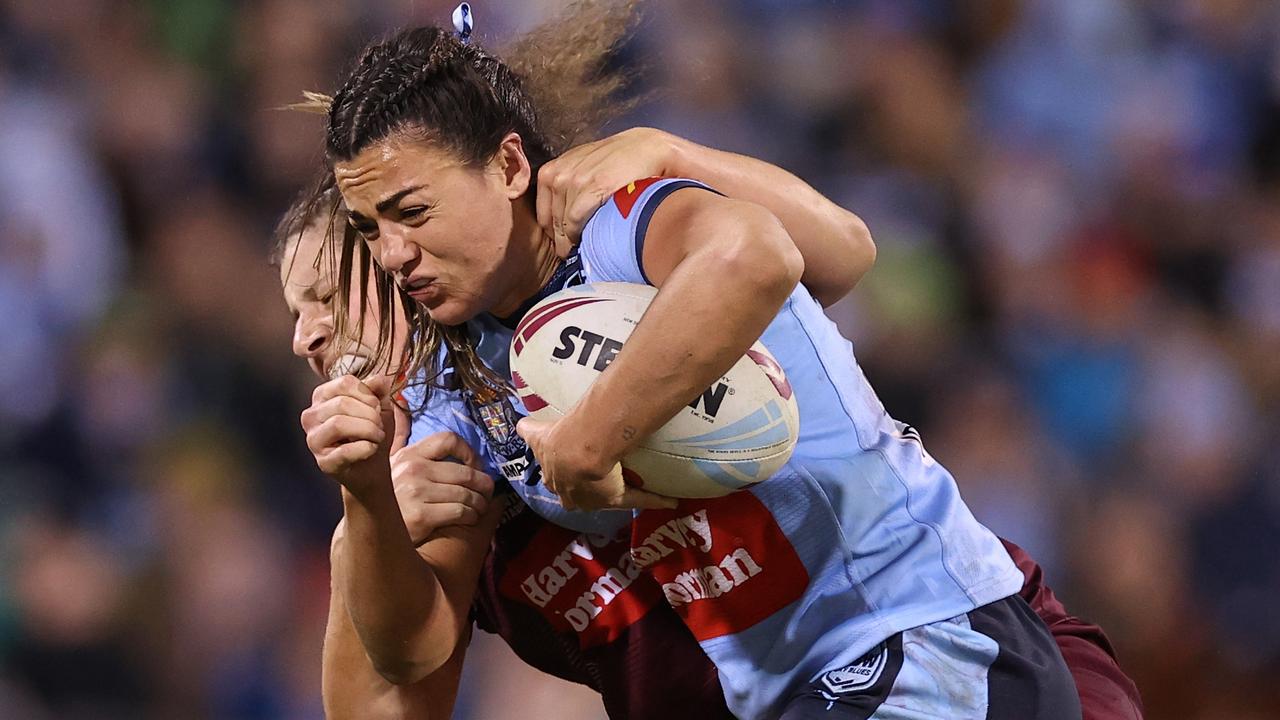 Millie Boyle got the Sky Blues on the front foot with a powerful opening stint. Picture: Cameron Spencer/Getty Images
11. Kezie Apps - 7
Shows all the traits expected of a NSW Origin mainstay and daughter of a south coast dairy farmer. Made more tackles than any other player on the field, including some crucial ones.
12. Shaylee Bent - 5
Not a lot of time for the Indigenous All Star but, regardless, a massive effort to be a State of Origin winner after missing selection last year.
13. Hannah Southwell - 6
Nicknamed Psycho, and plays accordingly. Worked hard underneath that white headgear for the time that she was out in the middle.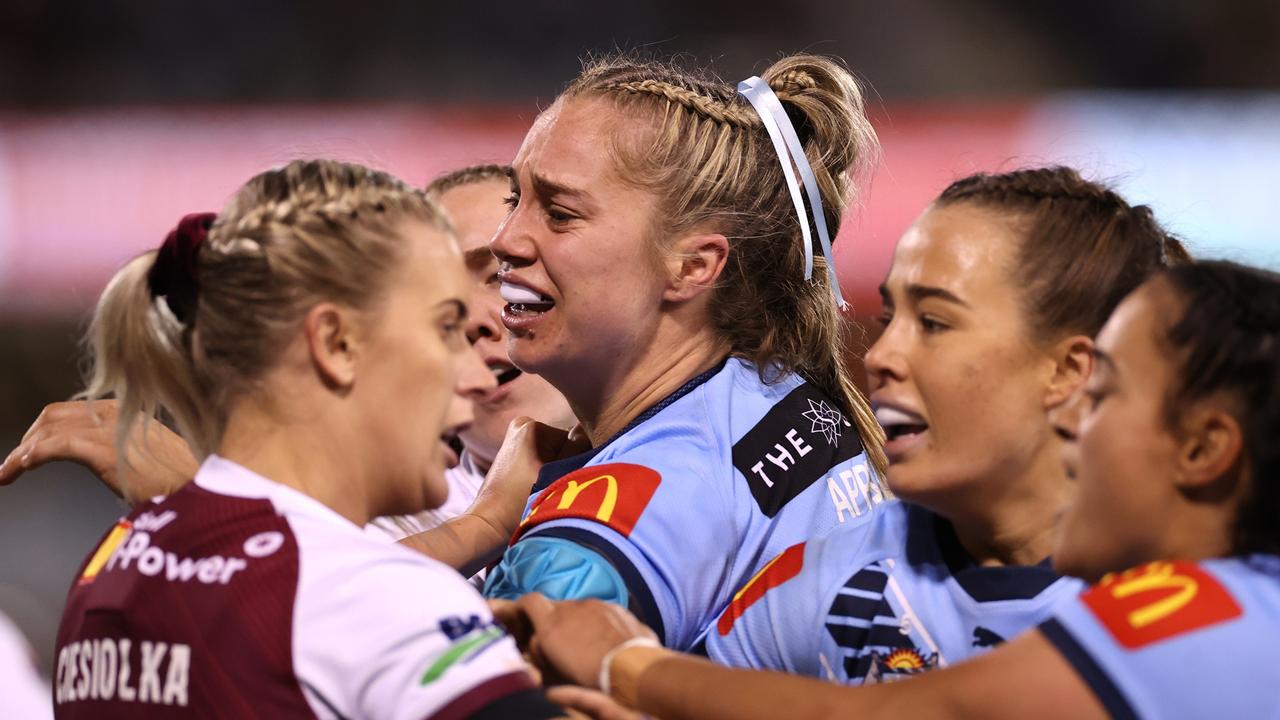 Kezie Apps was strong in defence. Picture: Cameron Spencer/Getty Images
Interchange
14. Quincy Dodd - 6
Solid off the bench, but limited time thanks largely to the huge game of Davis.
15. Sarah Togatuki - 5
Limited opportunities for this Roosters premiership prop who was awarded the Karen Murphy medal on NRLW Grand Final Day.
16. Caitlan Johnston - 7
When the Blues had an opposed session against the Canberra Jersey Flegg side this week, somebody asked how hard the boys should tackle. At which point somebody motioned towards Johnston and said not to worry about too much. Young Newcastle prop brought a wonderful dose of crazy for the Blues.
17. Olivia Kernick - 4
Massive effort to be part of Origin after just hirst year of NRLW with Roosters. Tall backrower got limited time off the pine but is headed for far bigger things.
TOTAL: 105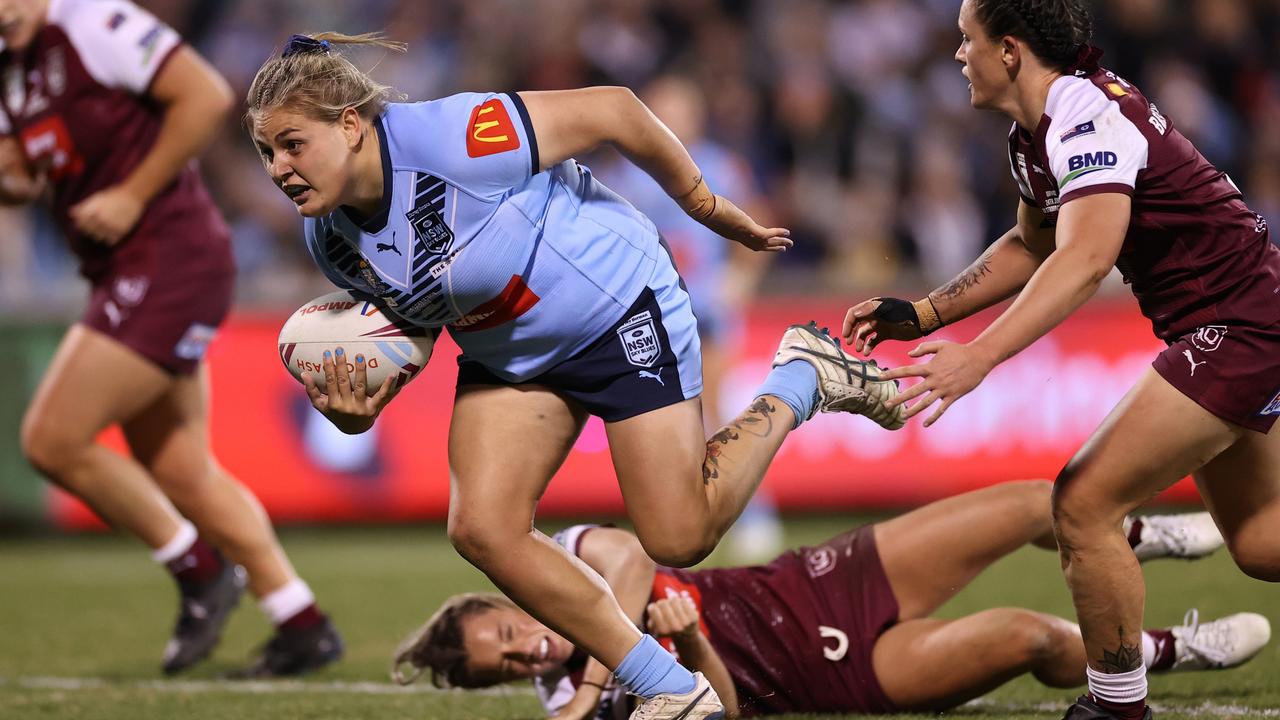 Caitlan Johnston was strong up the middle for the Sky Blues. Picture: Cameron Spencer/Getty Images
QUEENSLAND
1. Tamika Upton - 7
Huge game from the fullback who the Newcastle Knights have shelled out $100,000. Continually looked most likely to cause trouble for NSW
2. Emily Bass - 6
Brisbane rookie nudged out Queensland favourite Karina Brown for the spot and enjoyed a solid, if unspectacular night, tried hard.
3. Evania Pelite - 6
Strong attacking effort from the athlete who has the Olympic rings tattooed on her arm. Scored a great try to keep Queensland in the game with 12 minutes to play.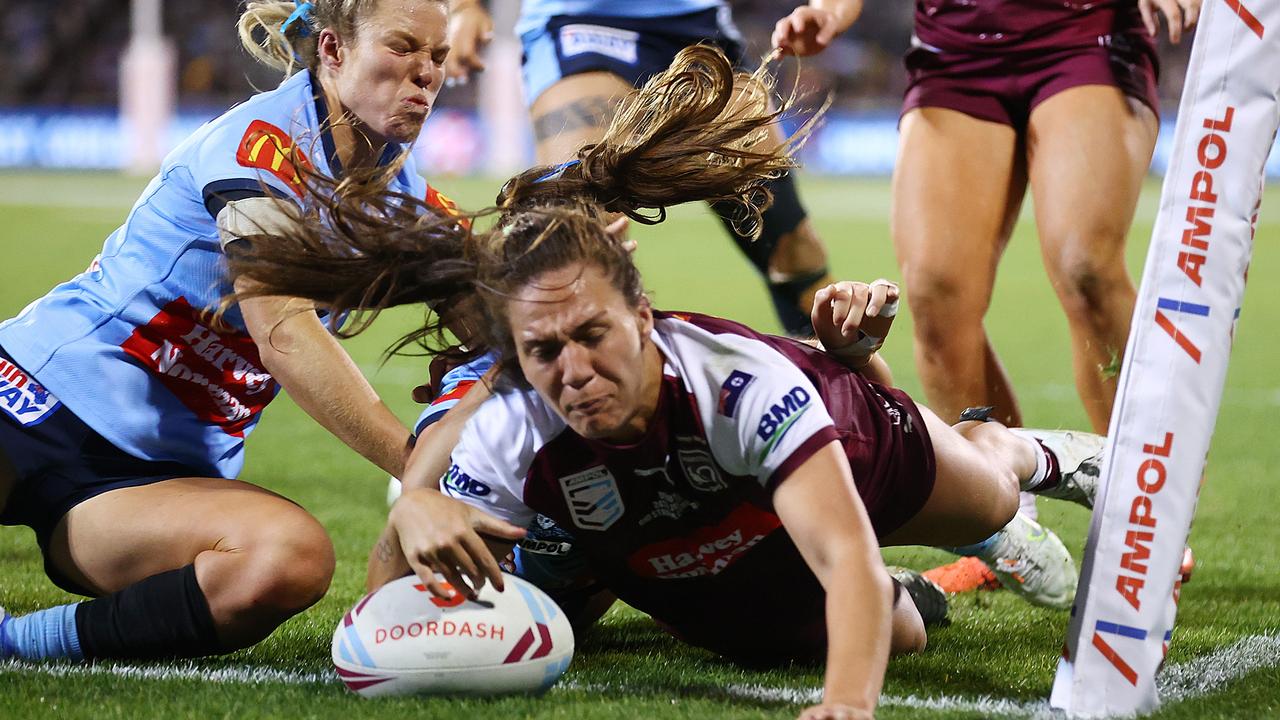 Evania Pelite scored a great try in the corner. Picture: Mark Nolan/Getty Images
4. Shenae Ciesiolka - 5
One of Queensland's favourites, had a tough assignment up against Isabelle Kelly. Who starred.
5. Julia Robinson - 7
Ranked among the fittest players anywhere in the NRLW, this Australian Defence Force product was seemingly everywhere for much of the game and appeared to have scored the match winner before being ruled off side.
6. Tarryn Aiken - 8
While she may only stand just 167cm tall, Aiken's standing as one of the game's quickest was on display when she burned Pearson for a first-half try. With a dozen minutes to play, it was the Maroons five-eighth there again – offloading impossibly at the tryline.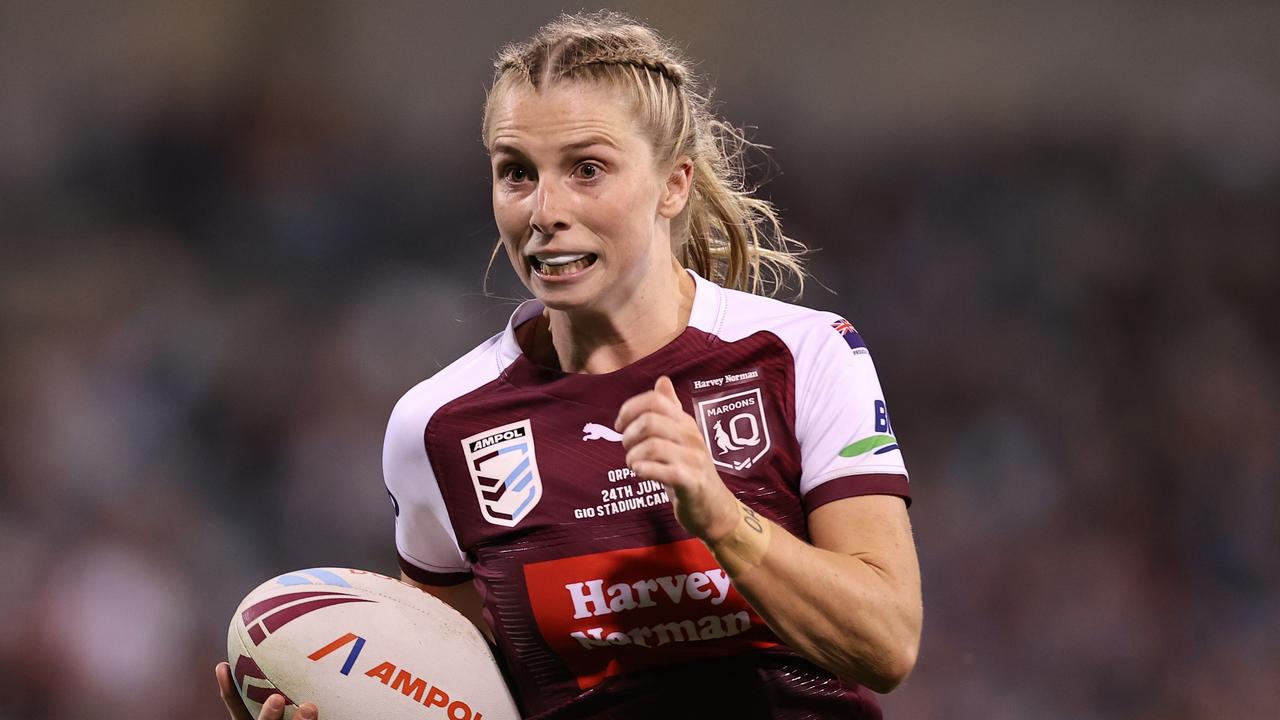 Tarryn Aiken dashed over for an excellent solo try in the first half. Picture: Cameron Spencer/Getty Images
7. Ali Brigginshaw - 7
As expected of a player widely regarded as the GOAT, came up with several big plays, including a towering bomb that would eventually saw the Maroons called back for offside. Also had two goalkicks hit the posts
8. Chelsea Lenarduzzi - 7
Tried hard early but struggled to get her usual signature offloads away. Also came up with an error close to the tryline. Still, ran for 99m which was the most of any Maroons forward.
9. Brittany Breayley-Nati - 6
Unable to play in this game last year because of work commitments, the Maroons hooker made a solid return to the representative arena, including a couple of big defensive plays.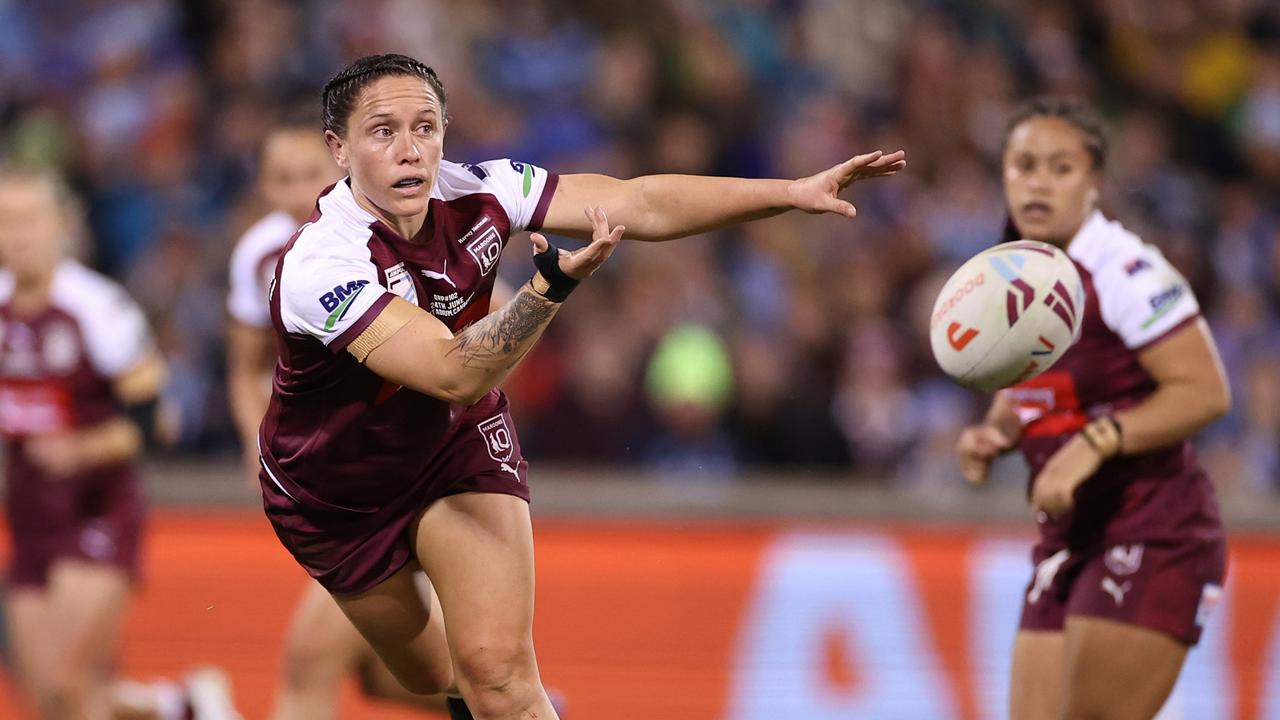 Brittany Breayley-Nati was solid for the Maroons. Picture: Cameron Spencer/Getty Images
10. Shannon Mato - 6
Massive effort to even make Origin after only playing one game for Titans this year before injuring her knee. Worked hard in the middle.
11. Tallisha Harden - 6
Seasoned campaigner, and speech pathologist, worked hard against a strong Blues pack.
12. Tazmin Grey - 5
Player of the Game in Origin last year, Jordan Rapana's sister didn't quite reach those same heights this time around. But having already played with four NRLW clubs, you can see why plenty remain keen on her services.
13. Destiny Brill - 7
Nicknamed The Wombat, this 19-year-old wrecking ball ran hard and tackled harder, with her technique surely leaving some blues nursing the same coloured skin when they wake today. Undoubtedly, a player of the future
Tazmin Gray tried hard to crack the Sky Blues. Picture: Cameron Spencer/Getty Images
Interchange
14. Lauren Brown - 6
Versatile Broncos utility, worked as hard in defence as you would expect a Queensland forward who also happens to run a dog walking business.
15. Jessika Elliston - 6
Big effort in attack from the Gold Coast hairdresser, whose day started long before kick off given every Maroon who wants her hair branded always goes to the 24-year-old Titan.
16. Stephanie Hancock - 4
Despite having enjoyed more farewells than Farnsey, this 40-year-old Queensland legend was looking for one more fairytale farewell. Unfortunately got limited time because of a HIA.
17. Tiana Raftstrand-Smith - 6
Huge effort in the time she was on the field considering the backrower only celebrated her 19th birthday in Queensland Origin camp this week.
TOTAL: 98
Originally published as Women's State of Origin player ratings: Isabelle Kelly stars as Sky Blues win 20-14 over Maroons