Origin Under 19s: Jada Taylor runs 110m to score incredible try
Roosters star Jada Taylor lit up representative round with this stunning solo try on a night in which Jonah Pezet announced himself as a star of the future.
Hold the phone. We have a contender for try of the year after one of the greatest solo efforts we've seen in a long time.
Sydney Roosters' Indigenous Academy Tarsha Gale Cup fullback Jada Taylor stole the show for the NSW under-19s with an incredible length-of-the field try in the Blues' win over Queensland at Leichhardt Oval on Thursday night which still has fans buzzing.
Taylor, who played in the Roosters' grand final-winning Tarsha Gale Cup side in April, fielded a kick deep in her in-goal before she hit the turbo button and raced the length of the field to score a classic try.
Taylor was crowned player of the match with the try the cherry on the top of a five-star performance.
"I think it is just important to get out here and put on a good show for our state and our families," Taylor said. "It is very important and special to receive this award but it was won off the back of a lot of hard work by my team."
It was the highlight of a great night of women's and men's under-19 action in Sydney.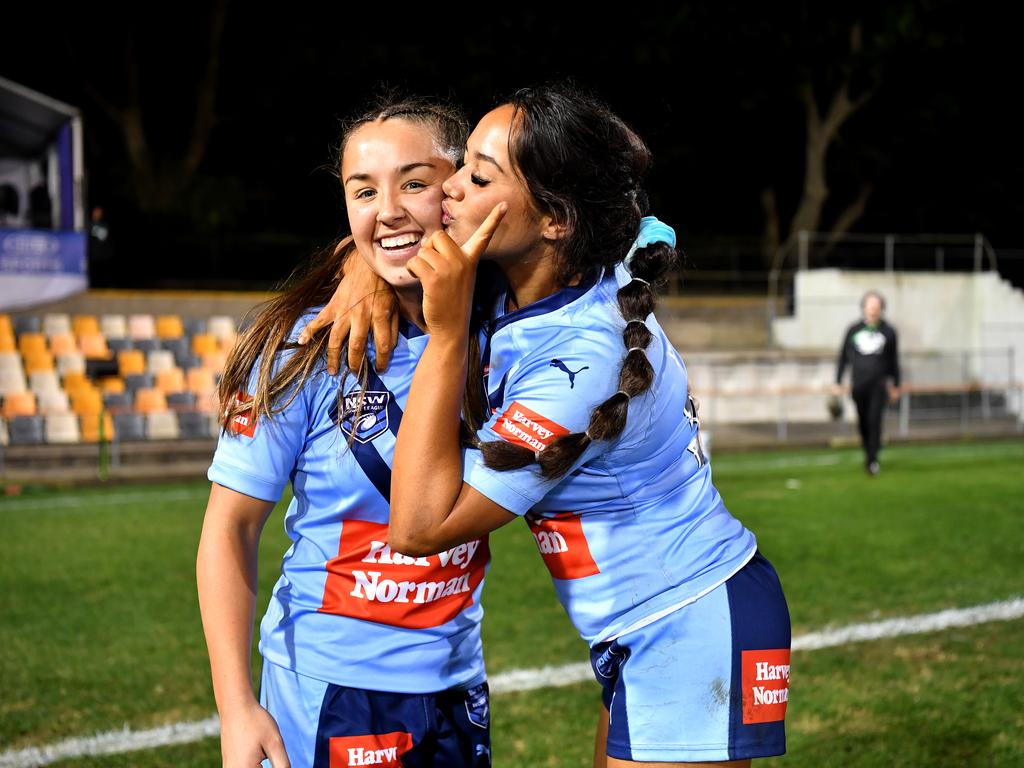 Jada Taylor scored a tremendous try for NSW in the U19 Origin. Picture: Gregg Porteous
Just the casual 118 SC pts from Jada Taylor, NSW fullback tonight, what a great performance made even more impressive by the fact that it was in just 60 mins, making it almost a 2ppm! 🔥🔥🔥🔥

— SuperCoach Guns (@SupercoachGuns) June 23, 2022
STORM'S BEST-KEPT SECRET REVEALED IN BLUES BLITZ

A future NRL star was born at Leichhardt Oval on Thursday night – and his name is Jonah Pezet.
In a Nathan Cleary-like performance that crushed the young Maroons, NSW Under-19s halfback Pezet announced himself as the hottest young playmaker in the country by leading the Baby Blues to an emphatic 32-4 win over Queensland.
The son of former Eels halfback Troy, Pezet laid on three tries in just six minutes during a first-half blitz of blue that saw NSW get one back on Queensland.
Stream The 2022 Women's State of Origin LIVE on Kayo this Friday 24th June from 7:45PM AEST. New to Kayo? Try 14-Days Free Now >
Melbourne's best kept secret until Thursday night, the Storm could be forced into a retention fight after Pezet put his name up in lights with a five-star performance.
"I thought young Pezet was outstanding," Fox Sports commentator Mick Ennis said. "He ended up with four try assists and he controlled the game brilliantly. He is a player of the future no doubt."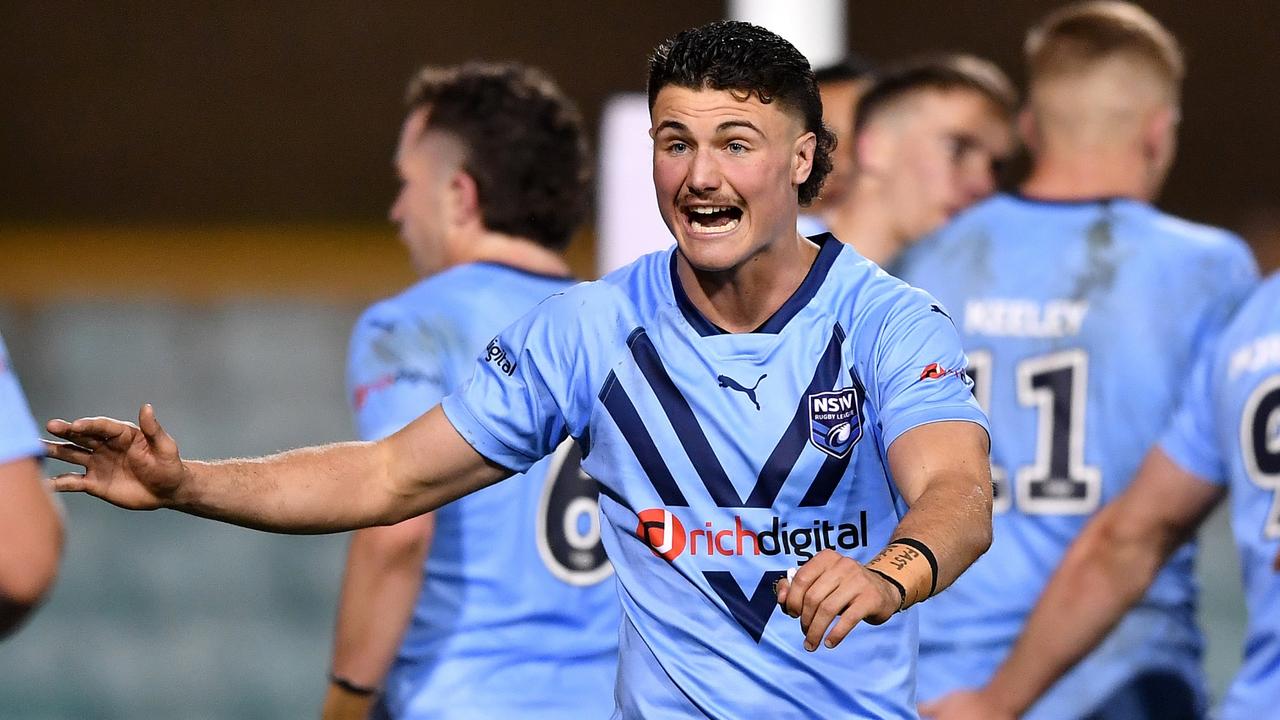 Storm playmaker Jonah Pezet starred for the Blues against Queensland on Thursday night. Picture: NRL Photos/Gregg Porteous
A Gosford product, who is now a top-30 contracted player with Storm, Pezet combined with fellow half Thomas Weaver to put on the points after his forwards laid the platform by rolling the Maroons in the middle.
"First of all, I would like to thank Queensland for the game tonight," Pezet said. "To our boys, thanks for the week. It has been outstanding. It was a great way to end the week."
NSW were forced into a fight after Queensland scored first.
Following a bruising opening that was befitting of an NRL match, the young Maroons made the Blues pay for giving away a penalty when Thomas Duffy kicked behind the line to set up his Cowboys teammate Jacob Mene.
Up 4-0 after Duffy failed to convert the sixth minute try, the Maroons threatened again when teen sensation Robert Toia found himself in space.
Signed by the Roosters and on a fast-track to the NRL, Toia failed to find his winger and sent the ball sailing into touch.
Cue the blue blitz.
In a stunning flood of points that showcased the skills of generation next, NSW scored four tries in 10 minutes to have Queensland fearing a flogging.
Beginning when Raiders giant Utuloa Asomu crashed over in the corner to level the ledger.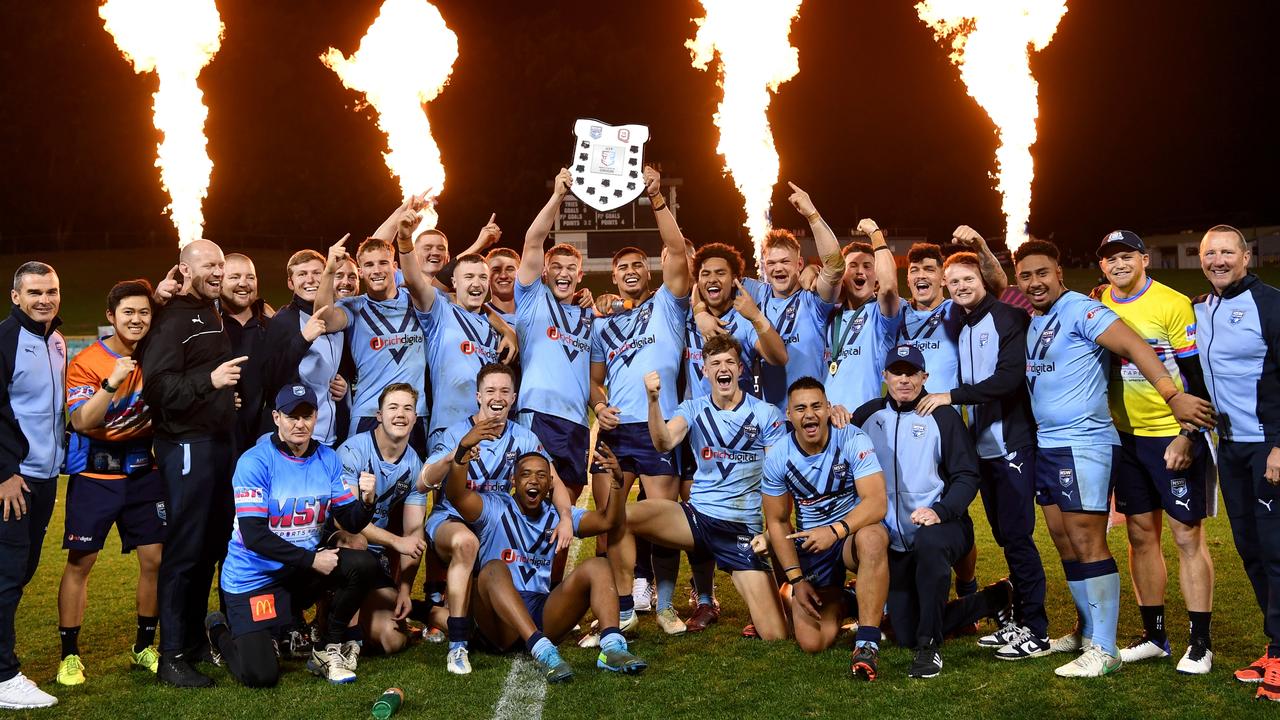 The NSW Blues Under-19s celebrate their big win. Picture: NRL Photos/Gregg Porteous
Then Pezet put his name up in lights by laying on the next three tries.
Proving himself a playmaking star of the future, the No. 7 went through the hands to put Paul Alamoti over in the 19th minute.
Pezet then went to his boot to set-up tries for Jack Bostock and then Thomas Weaver.
Heading to the sheds with a 24-4 lead, NSW survived a scare when Maroons prop Xavier Va'a dropped the ball over the line in the 42nd minute.
Blues stars laud teen machines
-Fatima Kdouh
South Sydney's Terrell Kalo Kalo is so fast that veteran Rabbitohs would fight over which team the rising fullback would play in during training drills in the pre-season at Redfern.
And Rabbitohs fans got a glimpse of what all the fuss was about when the boom teenager lined up for Blues Under-19s at Leichhardt Oval.
"In the pre-season we were doing some conditioning games, we were playing offside touch and us older boys were fighting over him to be in our side so we didn't have to defend him, he's that quick," South Sydney hooker Damien Cook said. "He is going to be something special for sure as long as he keeps his head down and is willing to learn."
But Kalo Kalo's blistering pace is only a small part of what made senior Rabbitohs take notice of the budding outside back.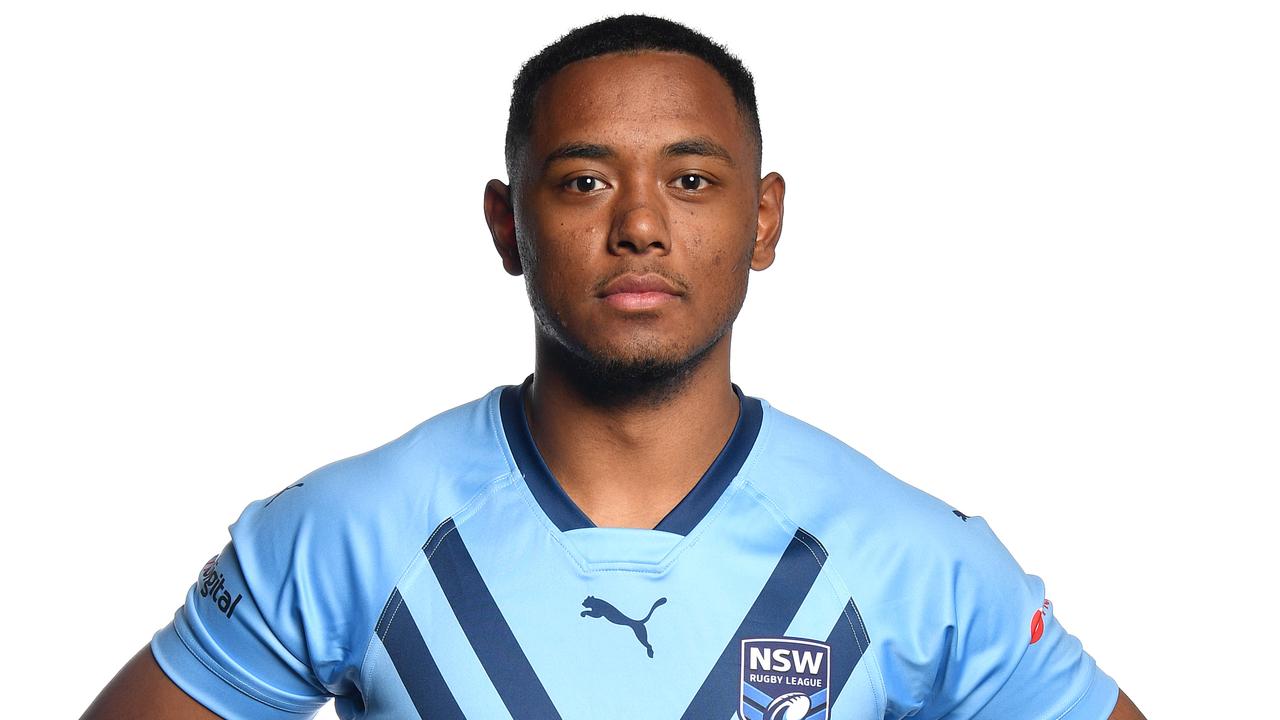 Terrell Kalo Kalo has impressed his Rabbitohs teammates with his skills. Picture: NRL Photos/Gregg Porteous

"In the NRL pre-season we had some big tough days and he never shied away from the hard work in the big conditioning sessions we did," Cook said. "He never took a backward step for a young kid doing that day in day out was really good to see.
"He has that character about him where you know he is not going to give up. He put a bit of size on. His speed and his passing ability is just pretty incredible for a young kid."
Thursday's one-off Origin match – which was the first junior Origin game since the start of the Covid-19 pandemic – was not only a chance to watch rugby league's best upcoming talent but a peak at future representative stars.
Seven players named to start for the Blues on Sunday night at Optus Stadium have represented NSW at the junior level, including South Sydney's Cameron Murray, Brisbane's Payne Haas and Canterbury's Matt Burton.
Burton tuned in from Perth to watch Bulldogs teammate and teen prodigy Paul Alamoti. The rising centre is one of the NRL's brightest prospects and was on the radar of a number of rivals, including Sydney Roosters.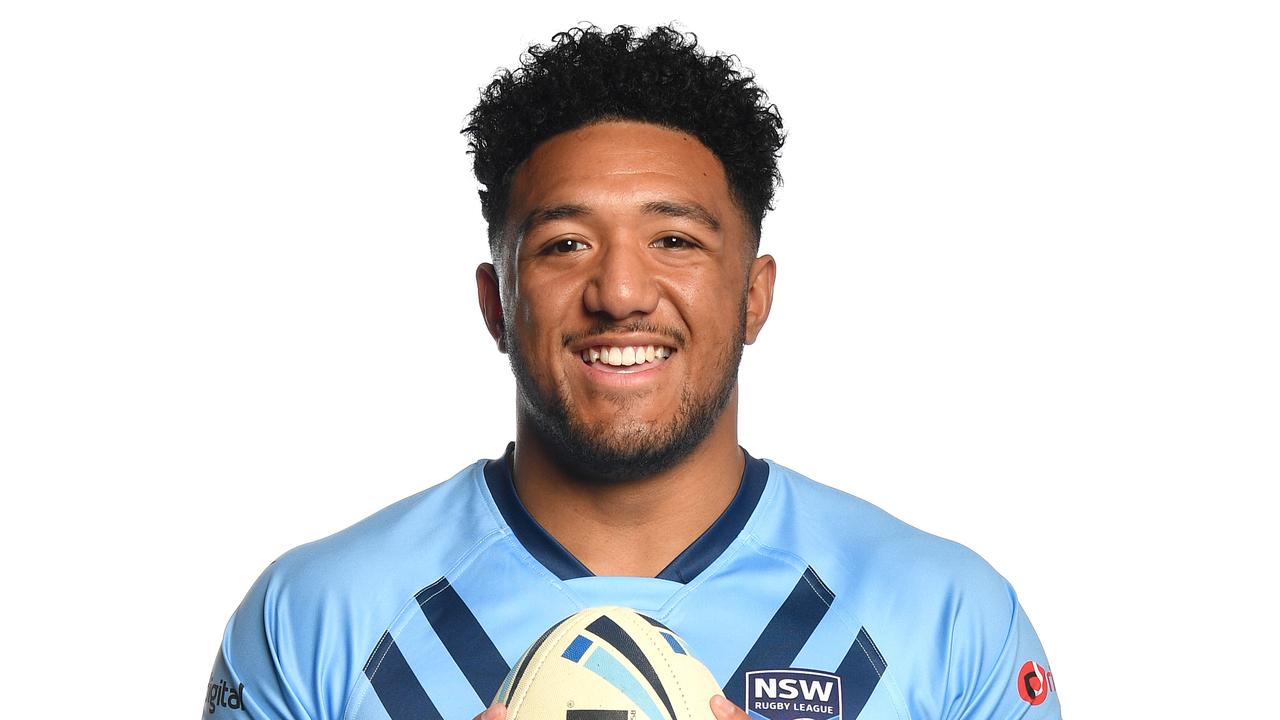 Paul Alamoti scored a try for the Blues under-19s on Thursday night. Picture: NRL Photos/Gregg Porteous
"He is an absolute machine, it is awesome he got picked in that side. He is going to kill it," Burton said. "He's big and strong. He is a massive body, his footwork and his speed out on the field is immense. I have only watched him a couple of times but when I have seen him in full flight, he is an absolute weapon."
Roosters star Joseph Suaalii was eligible to play in Thursday's match but was selected as part of Brad Fittler's extended Blues squad for Origin II in Perth.
"The club made the decision for me to be with the Blues, my first priority was to get a spot in Freddy's squad and I was lucky enough to get picked for another camp," Suaalii said.
Canny Queenslander's Origin pedigree
-Peter Badel

Queensland have unearthed the next Cameron Smith with the Maroons unleashing Broncos hooking sensation Blake Mozer in Thursday night's under-19s showdown with the Blues.
The 18-year-old is rated one of the hottest young prospects in Queensland rugby league and the classy hooker showcased his skills against NSW at Leichhardt Oval.
Former Maroons skipper Smith terrorised NSW for 14 years in the senior Origin arena and Mozer would love nothing more than to walk in the footsteps of the legendary hooker he has idolised since his youngest days.
Such is Mozer's talent, he was promoted to train with the Broncos' NRL squad in pre-season while still only 17.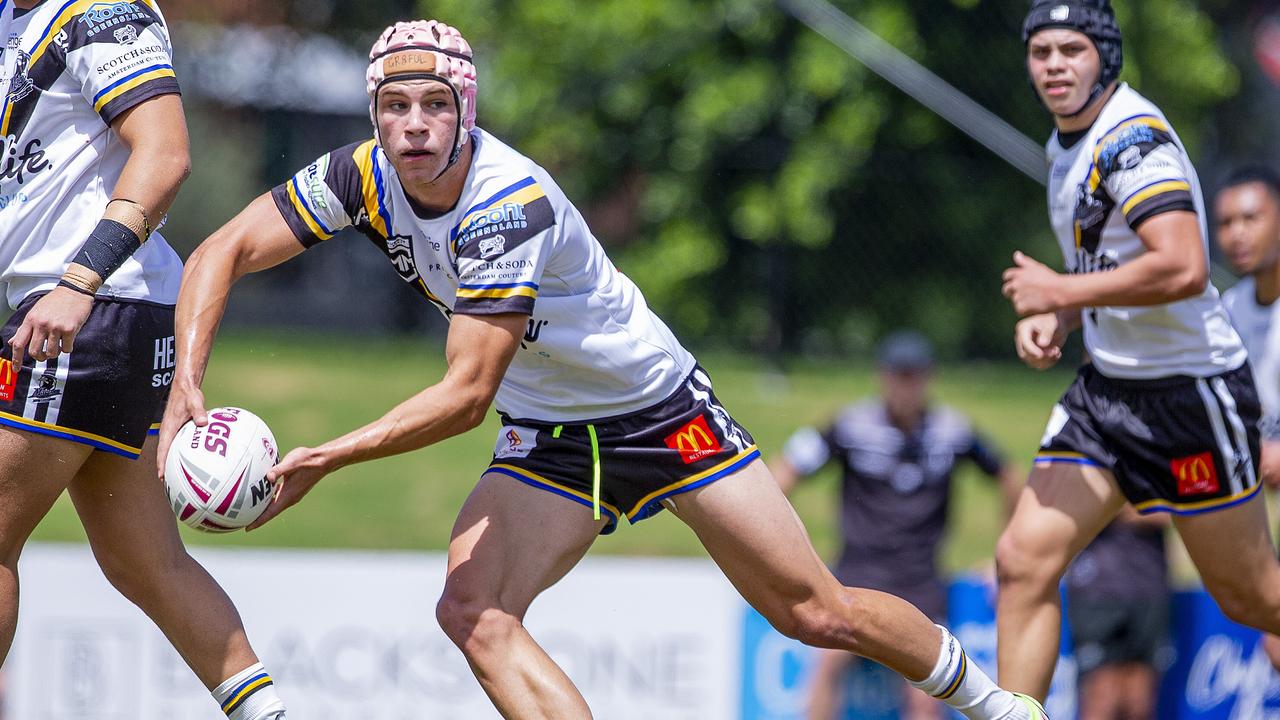 Blake Mozer wants to follow on the footsteps of Maroons legend Cameron Smith. Picture: Jerad Williams
Since November, Mozer has celebrated his 18th birthday, won man-of-the-match honours for Souths Logan in the Mal Meninga Cup grand final and made his Queensland Cup debut a fortnight ago against the PNG Hunters. Now Mozer is hoping to emulate Smith by bringing down the Blues in the Queensland No. 9 jumper.
"It means everything to wear the Queensland jumper," Mozer said before the match. "As a kid, I loved watching Origin on a Wednesday night and it's surreal to think I'm wearing that Maroon jumper against NSW.
"It's an honour to be in this position. There's thousands of kids who would love to be playing for Queensland so I feel privileged to be in this squad."
Like Smith, Mozer is tall for a hooker. He stands 183cm — the same height as the NRL legend — and plays with the same guile, vision and composure at dummy half that saw Smith become peerless in his craft.
In the Mal Meninga Cup grand final in May, Mozer tore Townsville apart, scoring a try and having a hand in three of Souths Logan's six other four pointers to spearhead a 38-26 victory.
"Cam Smith has always been my hero," Mozer said.
"If I had to choose someone from the Broncos, I would say Darren Lockyer, but being a hooker, I loved watching Cam Smith.
"I liked the fact he wasn't the fastest player, but he didn't have to use speed or strength to get the better of his opponents.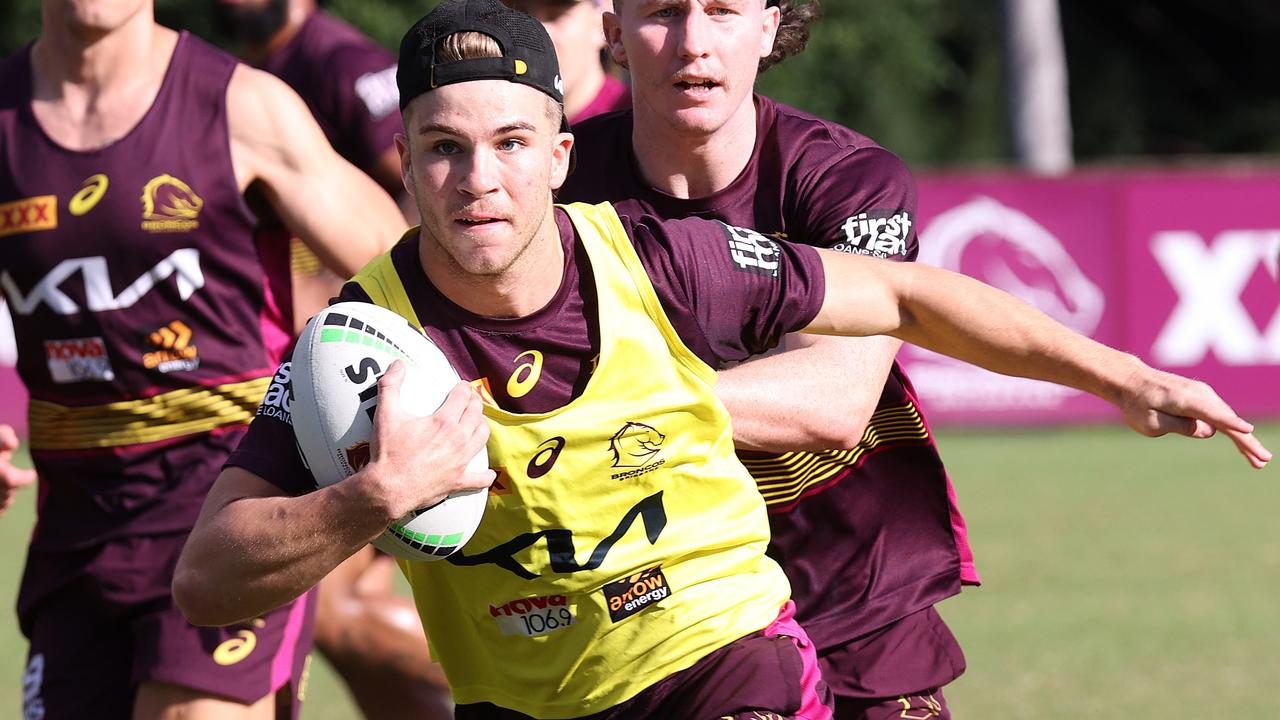 Mozer idolised Cameron Smith as a kid and wants to walk in the legend's footsteps by playing Origin at the senior level for Queensland.
"He just used his brain and his knowledge of the game and that's how I like to play my footy, I like to out-think the opposition."
Broncos development boss Simon Scanlan said Mozer, who has bulked up to 87kg after putting on 5kg in the past six months, is a future NRL superstar.
"He is an outstanding young talent. One of the best kids we have ever had come through the Academy," Scanlan said.
"He has a similar physique to Cameron Smith. He is tall for a hooker, he is lean up top but he has very strong legs, just like Cam.
"What he does at junior level is what works at senior level. He isn't just running over the top of smaller kids, the clever stuff he does will work in the NRL.
"He has so much time for a young bloke and rarely takes the right options.
"The big thing is he wants to win and he wants to be the best. When you have a kid who not only has talent but has the work ethic and desire to be the best, that's when you get a star."
Originally published as Origin Under 19s: Jada Taylor runs 110m to score incredible try