Outside the square: Ryan Papenhuyzen combines Buddhism and Billy Slater's teachings in pursuit of greatness
Ryan Papenhuyzen has already climbed some of rugby league's highest mountains while barely stopping for a breath. Now with pressure and his profile increasing all the time, he's preparing to do it all again.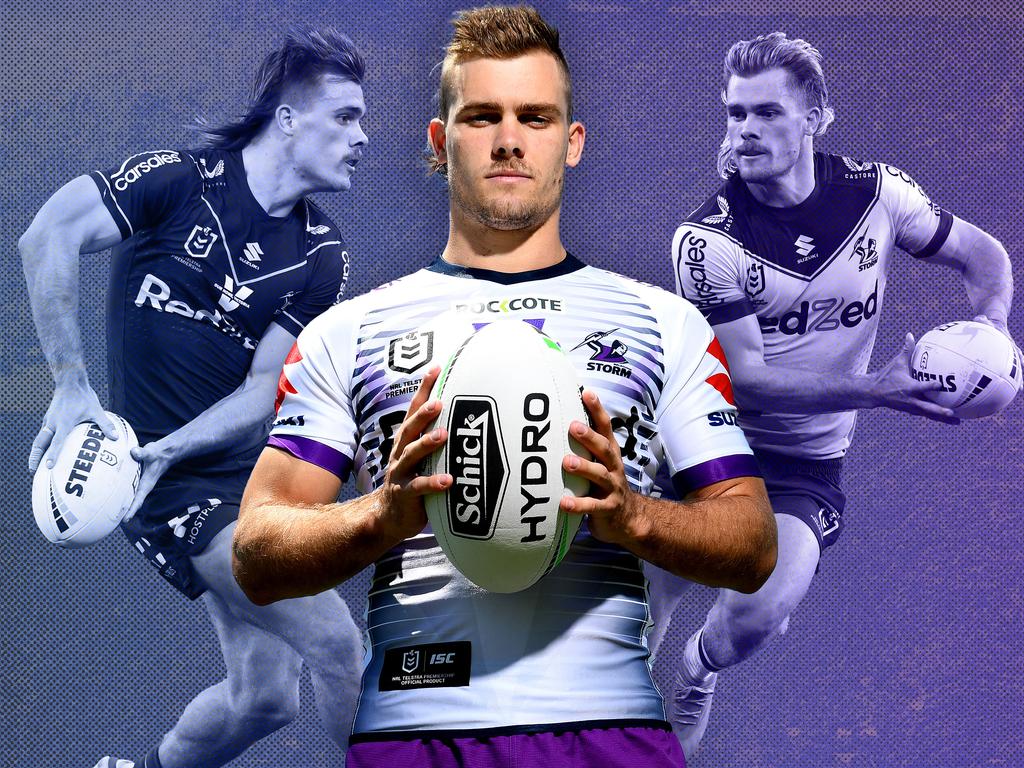 Ryan Papenhuyzen takes a zen approach to football and life.
The NRL is uncompromising, aggressive, volatile and at times downright violent with its collisions and confrontation. That's just on the field. Off it, the ever-increasing scrutiny and the pantomime circus nature of the game can wear down the most unflappable individuals.
When Ryan Papenhuyzen first moved to Melbourne to begin his bid to join the madness in earnest, he settled himself into a routine that lasted "about 280 days" to ensure he did the same.
Mindfulness, gratitude and breathing to achieve a calm state before turning in for the night. Now that Papenhuyzen's profile is shooting through the stratosphere, the 23-year-old Storm fullback has returned to the Buddhist teachings that guided him during his earliest NRL days, the glass half full ethos resonating with him now more than ever.
"I did a lot of gratitude work when I first moved down to Melbourne to try and get me over being homesick or to prevent that happening. I did that for about 280 days straight, just practising gratitude and mindfulness," Papenhuyzen says.
"I found that made me feel a lot better and I have gone back to doing that. I've started keeping a journal, and on the back of that chilling out and doing some diaphragm breathing before I go to bed to get myself in a calm state.
"It sounds really simple but these are areas that are really big for me and I think are going to be even bigger in professional sport in the coming years. I want to get a head start on all of that, especially with the nature of games these days and the position I am in where I am going to have to keep making big decisions under pressure.
"I just feel like practising mindfulness, gratitude and doing that breathing work are things that can bring you back to a state of mind where you are able to do that."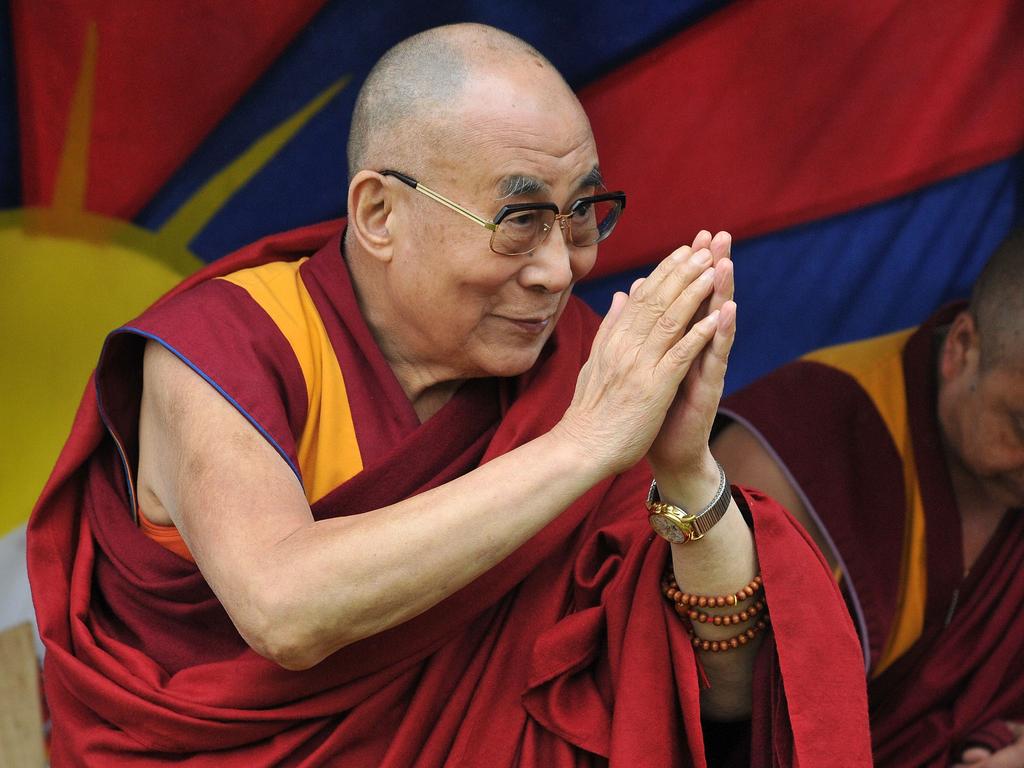 Ryan Papenhuyzen uses Buddhist techniques to stay mindful. Picture: Jim Dyson/Getty Images
Papenhuyzen, when asked how this all plays out for him in his own day-to-day, goes on to explain the practical application of his philosophy.
"It is about being grateful each day for things you have got in life, even if it is just waking up and writing three things down," he says.
"Then, before you go to bed, writing a few more things down that have happened during the day. The more you do it the more it comes naturally and the more you are able to appreciate the scenario you are in and what you have access to.
"You can start really small like that, and then you can identify how you feel during the day. If something sets you off, why did it set you off? Then, how can you turn back to a normal state where you can make good decisions?"
And to put a Storm stamp on it all, he refers to his routine as "the one-percenters" that can decide premierships.
Champagne supernova
Papenhuyzen's star shone like a supernova from the moment he exploded at Suncorp Stadium in Magic Round of 2019 in a 64-10 win over the Eels. Off the bench that night, a four-syllable surname that many would not have been able to pronounce when he ran on, was instantly on the lips of fans and scribes by game's end. His three line breaks, three try assists and try was a tour de force of speed, skill and will.
The hits and memories kept coming, culminating less than 18 months later in Melbourne's 26-20 grand final win over Penrith where he received the Clive Churchill Medal in a performance that stamped him as one of the game's best fullbacks.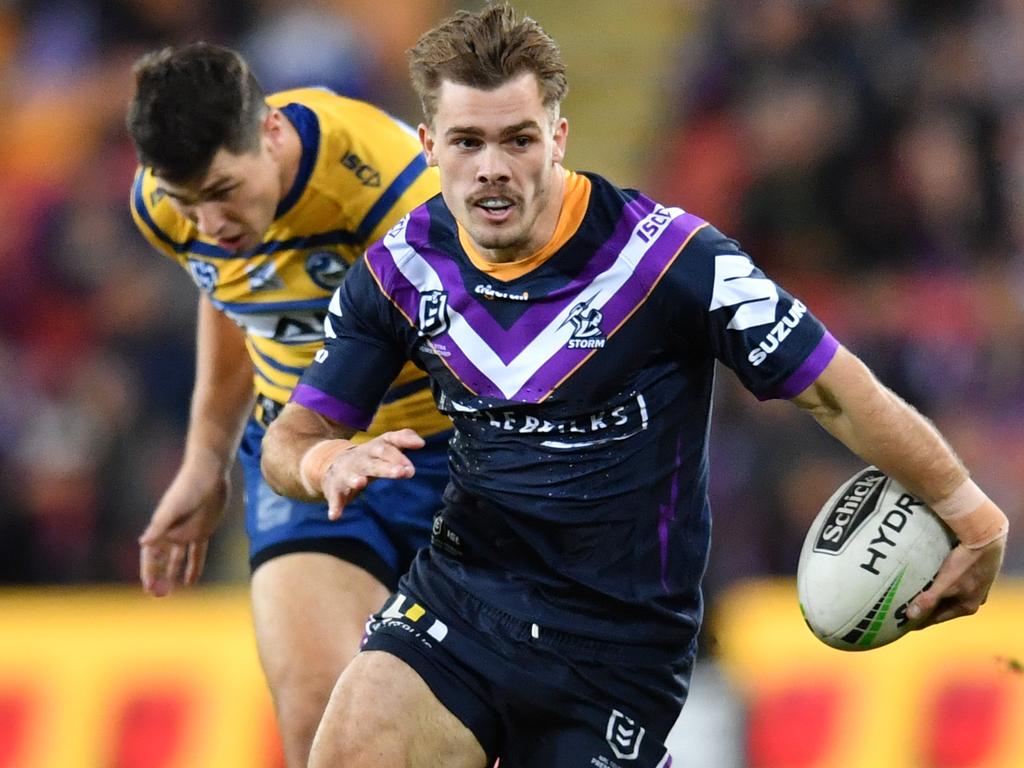 Ryan Papenhuyzen exploded onto the scene in his NRL debut against the Parramatta Eels. Picture: Darren England/AAP
Papenhuyzen stopped to take a breath after the decider and realised his journey had whizzed by him. He'd been a bullet train, full speed ahead, without soaking up or thinking too much about the adulation and success.
"It was definitely a crazy start to my career but I have listened to people talk about experiencing success early and wishing they had lived in the moment at the time," Papenhuyzen explains.
"When I reflected on it I thought, 'If I had lived in the moment, would it have got to me?' Looking back, I am really happy that I experienced it, but because it was all a bit of a blur I am just really motivated to get back there and win more premierships.
"It is more about chasing that feeling again and creating a legacy in the game, and we have got a pretty special team to do it. When you are in a special team at a special club there are no excuses. You've just got to do your job and work hard.
"It wasn't about thinking, 'I've got here now and that's enough'. It is about trying to be better and replicating what some of the wonderful people have done at this club in previous years."
A clean slate
None have been better at replicating blue-chip performances than champion fullback Billy Slater – be it with Melbourne or right across the game. Instinctive play was of course an aspect of Slater's repertoire, but the magic of his movement was a result of muscle memory finetuned on the back of rehearsal after rehearsal at training.
Slater is now mentoring Papenhuyzen each week, and the master's own story rings loud and true with his star pupil.
"Bill's first NRL game was the first time he played fullback. So talk about clean slates, he started pretty much from nothing and developed by analysing other fullbacks and being a student of the game," Papenhuyzen says.
"He'd see what worked, and with a bit of trial and error and a few sprays from Bellyache (coach Craig Bellamy), he soon identified that you have to be an all-round player. You can't just have one string to your bow, and that is what he has reiterated to me coming through."
The elite players in the NRL are on all the coaches' tip sheets. Papenhuzyen has been analysed ad infinitum, and will continue to be. He must find other threats and other skills to stay at the top.
Ryan Papenhuyzen has been picking the brain of Billy Slater. Picture: Chris Hyde/Getty Images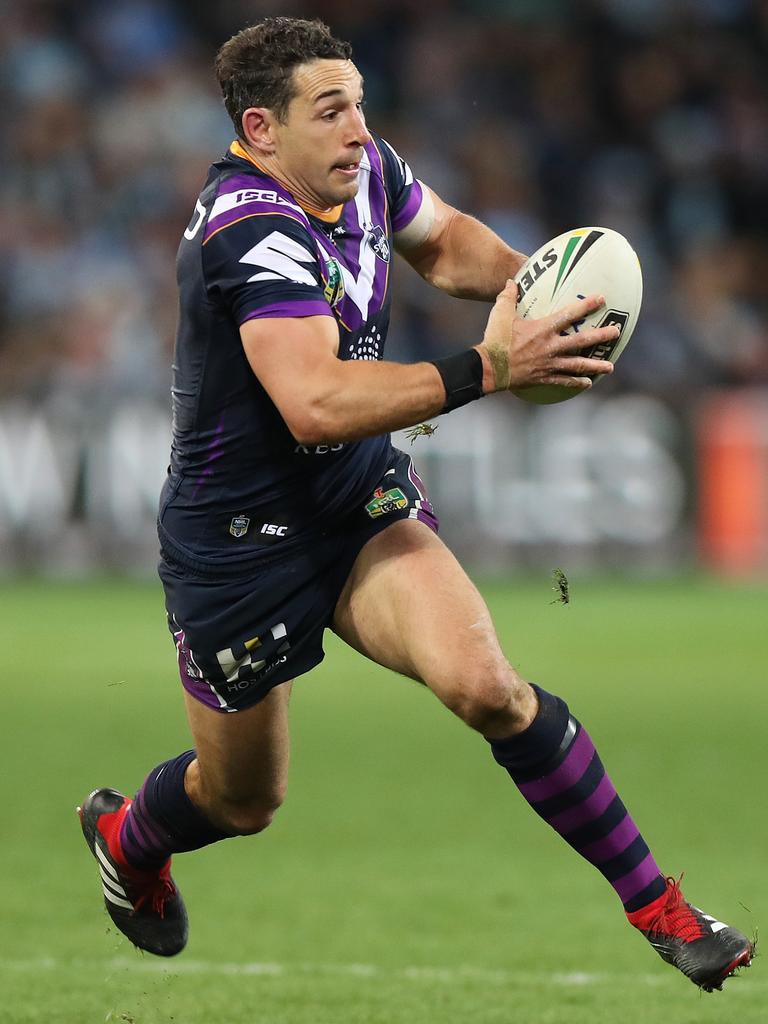 Billy Slater works with Papenhuyzen every week. Picture: Brett Costello
"That is exactly what Bill relays to me and I take it on board," Papenhuyzen says.
"It's hard work, but you listen when you have Bill teaching you those things.
"I am just grateful. I couldn't ask for more. Bill cares as much about my development as I do, and that's pretty cool.
"He's in once or twice a week and will shoot videos through, give me a call or send me a message. He is proactive about it.
"His love of the game is reflected in his TV commentary with the way he analyses and speaks about it, and it is exactly the same when he talks to me about making me a better player.
"There is a tactical side to everything, but Bill keeps it simple. He'll say, 'Here's your strengths', but at the same time he says, 'Think about your footy'. It is a whole range of things."
The need for speed
Papenhuyzen has also reunited with an influential figure in his formative years at the Storm with Adam Basil – who represented Australia at the 2004 Olympics in the 4x100m relay – returning to the club's high performance team.
Basil's technical nous as a speed coach ensures his student doesn't lose a lick of speed despite adding three kilos to his frame and that his hamstrings keep him on the paddock.
"When I first went to the Storm I was just this young kid from the Tigers with bad hammies and Adam took me under his wing when he didn't know me from a bar of soap," Papenhuyzen says.
"We got in to training a month before everyone else started and did a lot of work on the technical aspect of running and trying to get the reps in so when I got introduced back into pre-season I was ready to go.
"He went away for a couple of years and Marcus Kain came in and pretty much kept the same program ticking along and was really helpful.
"Now Adam has come back in. I have had two really good speed coaches who both show a passion for running, speed and owning that area. They have been good for my development and make sure I can turn up for each session and run fast."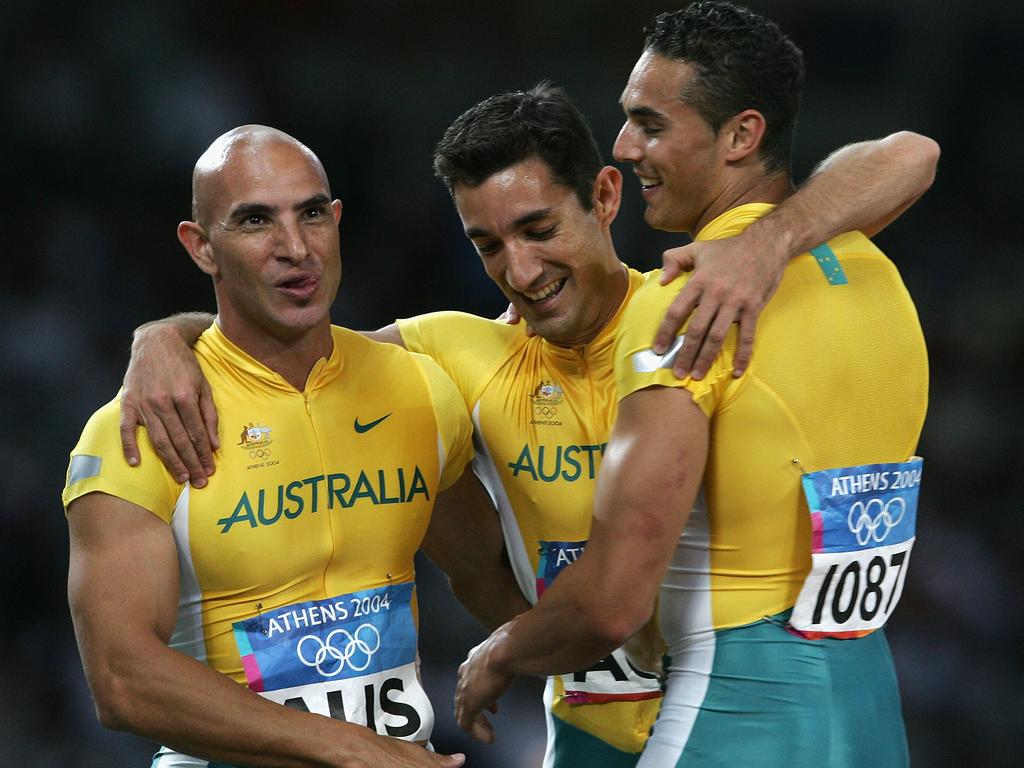 Former Olympic sprinter Adam Basil (left) is Melbourne's high performance coach. Picture: Andy Lyons/Getty Images
Gone to the dogs
It is no surprise that a speedster with a big heart would be a fan of the greyhound. Papenhuyzen is more than that. As a welfare ambassador with Greyhound Racing Victoria and the Greyhound Adoption Program he is ensuring dogs find suitable homes once their racing days are over.
"I am really passionate about rehoming them after their career and I did that with my first dog, Gary's Gift. We successfully rehomed him," Papenhuyzen says.
"I love them as pets. They are great fun and I have seen them genuinely loved in the racing side of things too. My role, and where I can have a big influence, is having a say about making sure they find homes after their careers. It is really pleasing to see that around where I live in Richmond [in Melbourne] that greyhounds are probably the number one dog. They are chilled, love a cuddle and are great companions."
Kiss Me Kate and Absolute Ruby, two greyhounds Papenhuyzen had an interest in, have retired and been rehomed.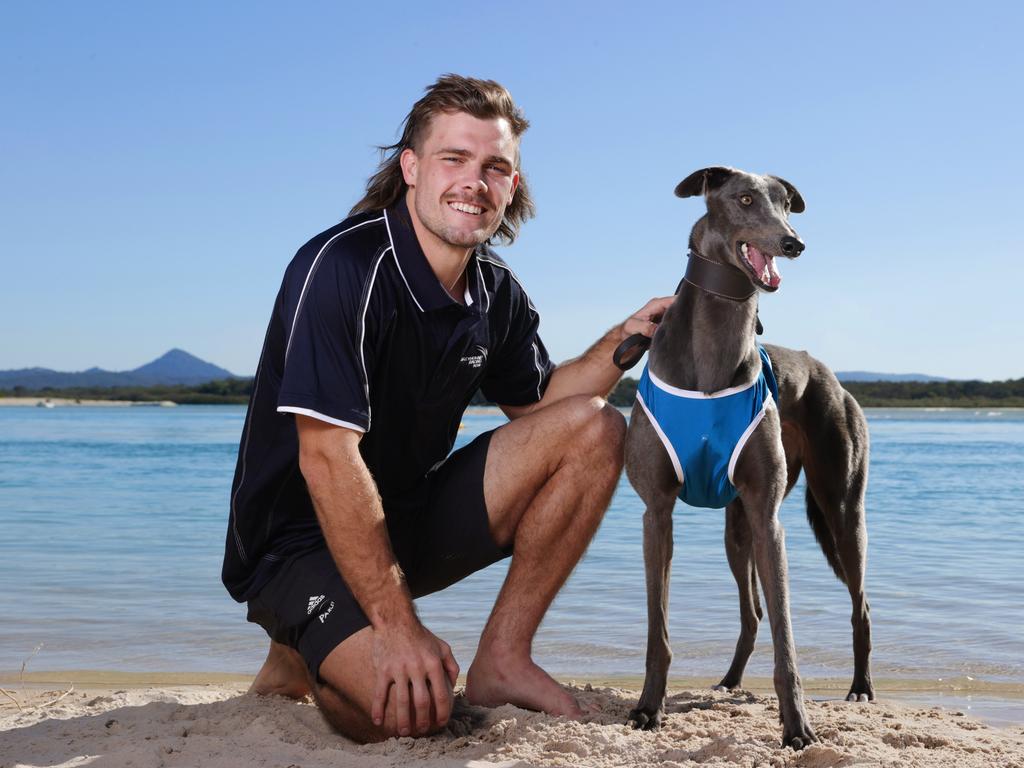 Ryan Papenhuyzen is a welfare ambassador for Greyhound Racing Victoria. Picture Lachie Millard
"At the moment I have got three pups coming through and they are at the raring stage at the moment, and just developing and getting used to running," he says.
Papenhuyzen and Storm teammates Jahrome Hughes and Kenny Bromwich are also co-owners of a business called Four Point Collectibles, which is developing as quickly as the Storm flyer covers the turf.
"We dabbled in sports cards for a while and now we are moving into the crypto space and NFTs. You've got to change with the times," Papenhuyzen says.
"It is pretty much a pop culture kind of business and we are discovering new things and educating people on how they work with a few podcasts. It is very early on still but we are just trying to put the pieces of the puzzle together and tie it in to work alongside footy."