NRL 2022: Parramatte Eels win 22-20 over Penrith Panthers | Match Report
The reigning premiers have finally lost a game in 2022, with the Eels snapping the Panthers 21 home game win streak despite being on the end of a shocking referee blunder.
Joey Johns reckons the knock on was so obvious, even Mr Magoo would have picked it up.
But referee Gerard Sutton?
Um, no.
Which at some time in coming days, will require explaining from within NRL HQ.
Especially given that in a genuine NRL slobberknocker – and before a packed Penrith Stadium crowd – the final outcome was very nearly decided by a Sutton clanger.
Specifically, one which arrived with under 90 seconds to play in the first half.
When one of the game's leading whistleblowers allowed Penrith to play on, and score, after a blatant knock on by backrower Viliame Kikau.
Which by the finish, wouldn't be the difference.
But, geez, imagine the headlines today if it were.
Watch every game of Magic Round this weekend Live & Ad-Break Free In Play on Kayo. New to Kayo? Try 14-Days Free Now >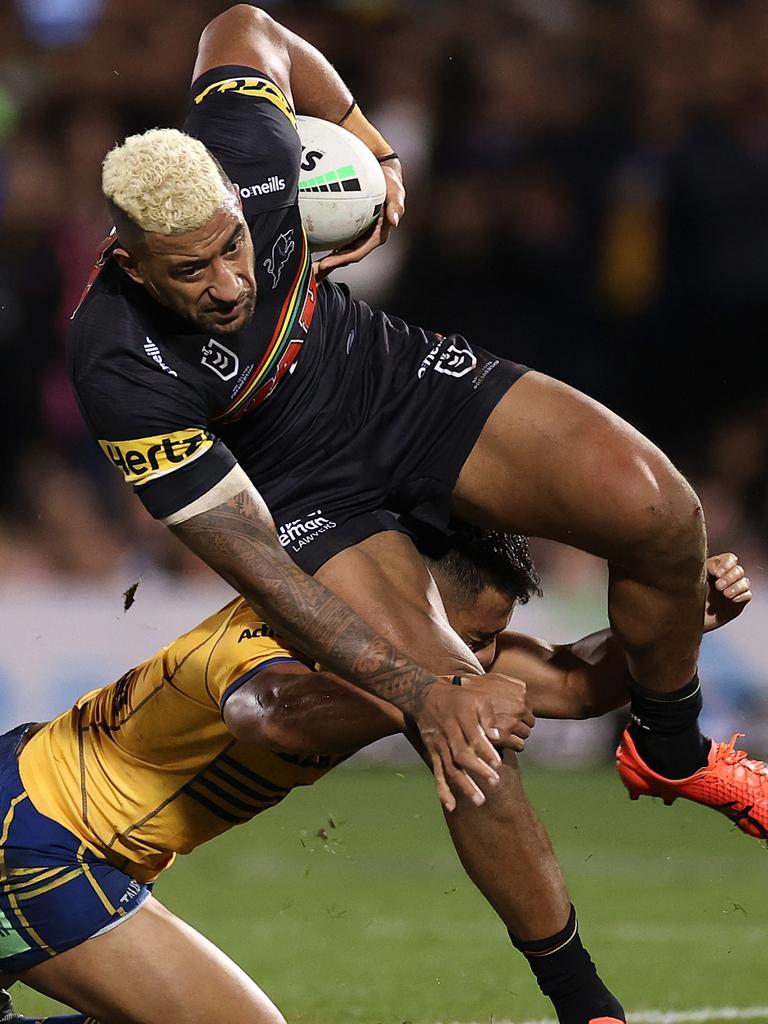 The clanger that almost cost the Eels. Picture: Getty Images.
The Panthers scored a try after Viliame Kikau lost the ball. Picture: Getty Images.
Roughly 90 seconds from the break, Kikau made a break around halfway when, inexplicably, the Steeden popped free from that oversized left mitt of his and fell forwards into the grass.
Which everyone saw.
Or almost everyone.
Rather than calling a halt to the game, Sutton waved for play to go on.
Worse, we assume, after receiving verbal confirmation from his touchie.
Who himself was holding a flag only metres away.
So play on is exactly Panthers did.
Big time.
With breakout centre Izack Tago scooping up said ball to start a phase that, within one tackle, would see Nathan Cleary break away upfield and, within a tackle of that, have Taylan May scoring in the corner.
Ironically, from a deft Kikau grubber.
Which at the time, levelled the scores at 10-all.
And as the teams left the field for halftime, saw Parramatta skipper Clint Gutherson remonstrating with Sutton.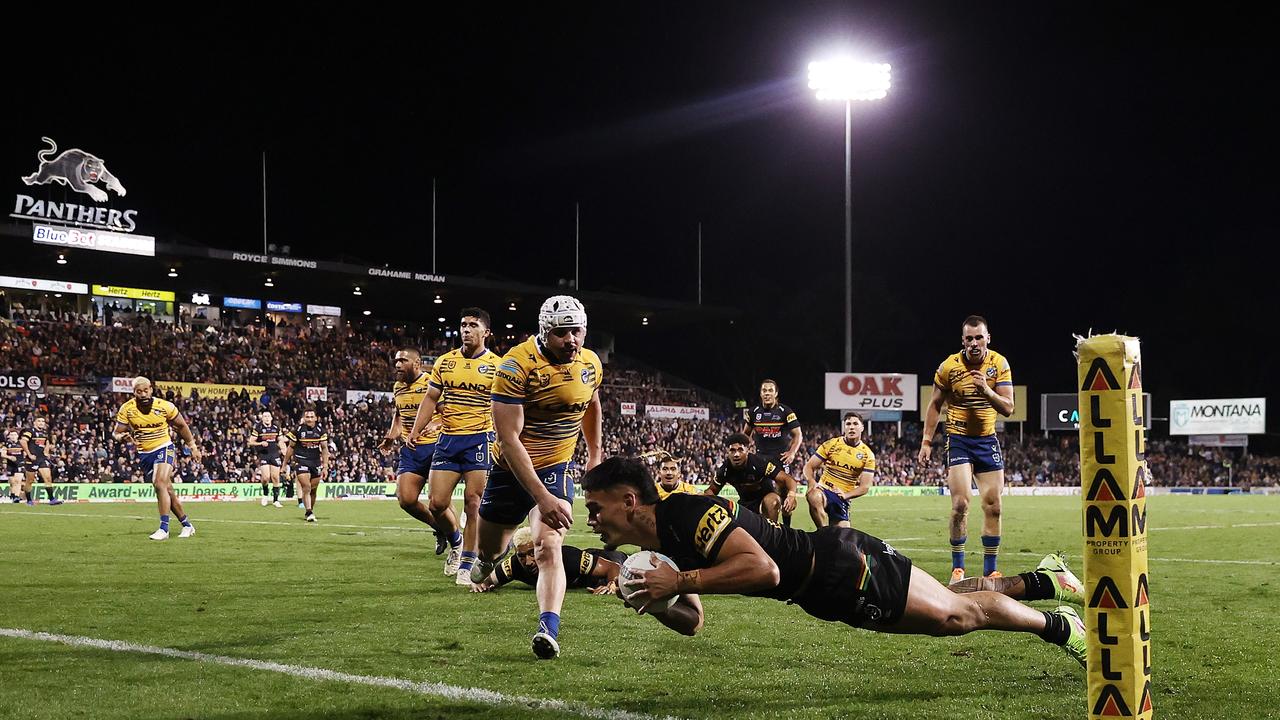 The Taylan May try ended up not being a deciding factor, but the referees will come under scrutiny. Picture: Getty Images.
Yet speaking after the game, both 'King' and Parramatta coach Brad Arthur credited the win on the ability of Eels players to ignore the clanger and get on with the job of winning.
"I thought we had a tough call going into half time," Arthur said, in what may be one of the great rugby league understatements.
"But there was no chat about it at halftime – at all.
"We only spoke about what was working for us and what we needed to do better.
"Maybe in the past we would've stayed stewing on that decision.
"But we just got on with it."
Gutherson agreed, adding: "We'd used our challenge in the first two seconds (of the game) on a bad call".
Later, when pushed on his reaction to the Kikau call in real time, Arthur continued: "We didn't worry about it.
"As a coach, being nine years in now, I need to be able to move on from it as well.
"Worrying about it wasn't going to help us.
"We knew it was a mistake. But you know, we made plenty of mistakes tonight.
"I make plenty of mistakes too.
"So we just had to move on from it.
"And I think that's better in the team this year."
BEST IN THE WEST: EELS FINALLY READY TO BREAK DROUGHT
Magic Round came a week early as the Eels pulled off the great escape to bust Penrith's 21-game winning streak at home in a pulsating western Sydney derby that featured one of the worst decisions of the season.
There was chat this week that the Panthers were playing so well that they might go through the season undefeated, but the 22-20 result has thrown the comp wide open and given Parramatta fans new hope after last week's horror show in Darwin.
Much was made of the decision to play Dylan Brown in the centres last week, but he returned to the halves and fittingly scored the winner as he latched onto a Mitch Moses bomb that was inexplicably allowed to bounce to cross with 10 minutes to go.
"I think it's the proudest I've been at my time at the club," Arthur said of a team that has now won in Melbourne and Penrith in 2022.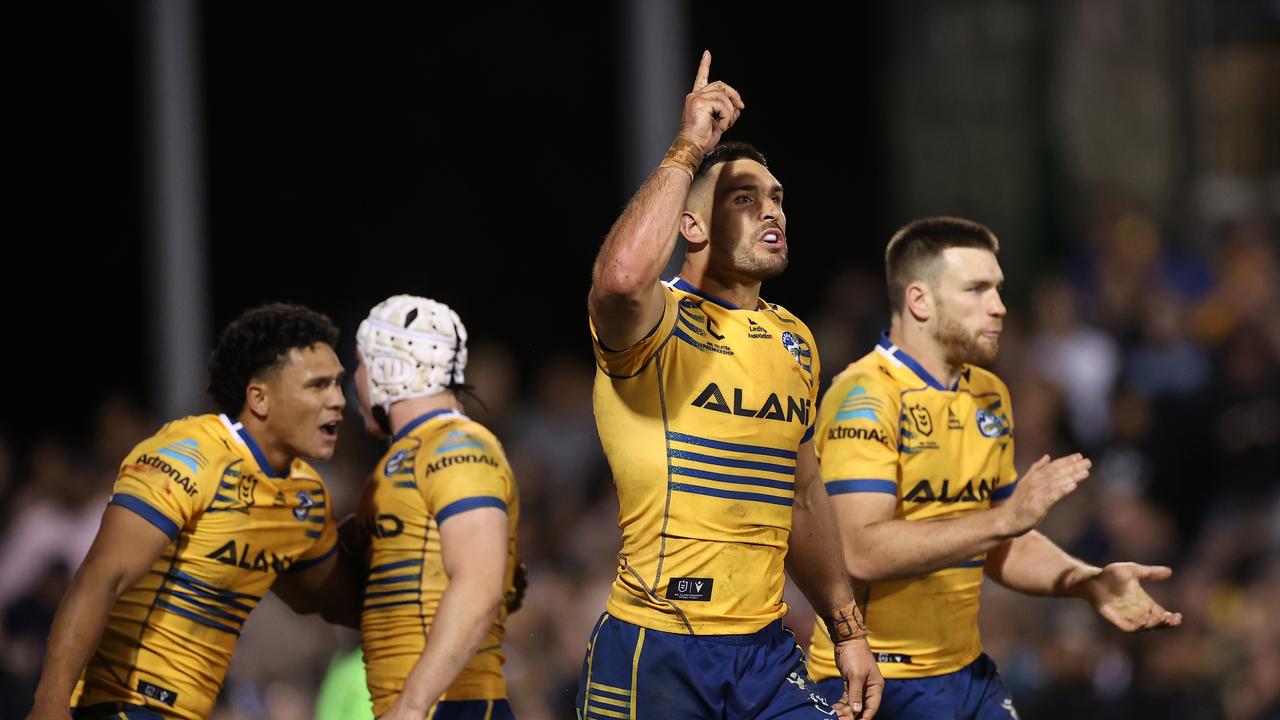 The Eels have beaten Storm in Melbourne and Panthers in Penrith to prove they're the real deal in 2022. Picture: Getty Images.
"It's a bit disappointing that we didn't compete as hard as that last week.
"We're not an elite team, but we showed that we can be. Elite teams do that every week."
You can never write the champions off, and they gave themselves a sniff when Spencer Leniu barged over with three minutes to go, which gave Nathan Cleary one last crack to level the game at the death.
It was all set up for the game's golden boy in the golden west, but his two-point field goal from 42 metres out never looked likely.
"The boys are disappointed," fill-in coach Andrew Webster said.
"They want to win every game, but we also know that we're not going to be perfect for the whole season."
BLUE AND GOLD STANDARD
This is a massive result for the blue and gold army who showed the rest of the competition that the Panthers are beatable.
In front of a heaving crowd of 21,548 fans, Parramatta took it to the defending premiers from the opening whistle, unafraid of a team that has manhandled opponents for the best part of three years.
Captain Clint Gutherson led from the front with their first try and then popped a peach of a pass to set up Ryan Matterson in the second half to give his side the lead.
It was a true skipper's knock from a man who spoke so well during the week as he and his teammates rallied around coach Brad Arthur and his son Jakob.
"It's exactly what we need from our leaders," Arthur said.
Not many teams can force Panthers fans to leave BlueBet Stadium early, but then again, not many teams play like that for 80 minutes against a side that is meant to be invincible.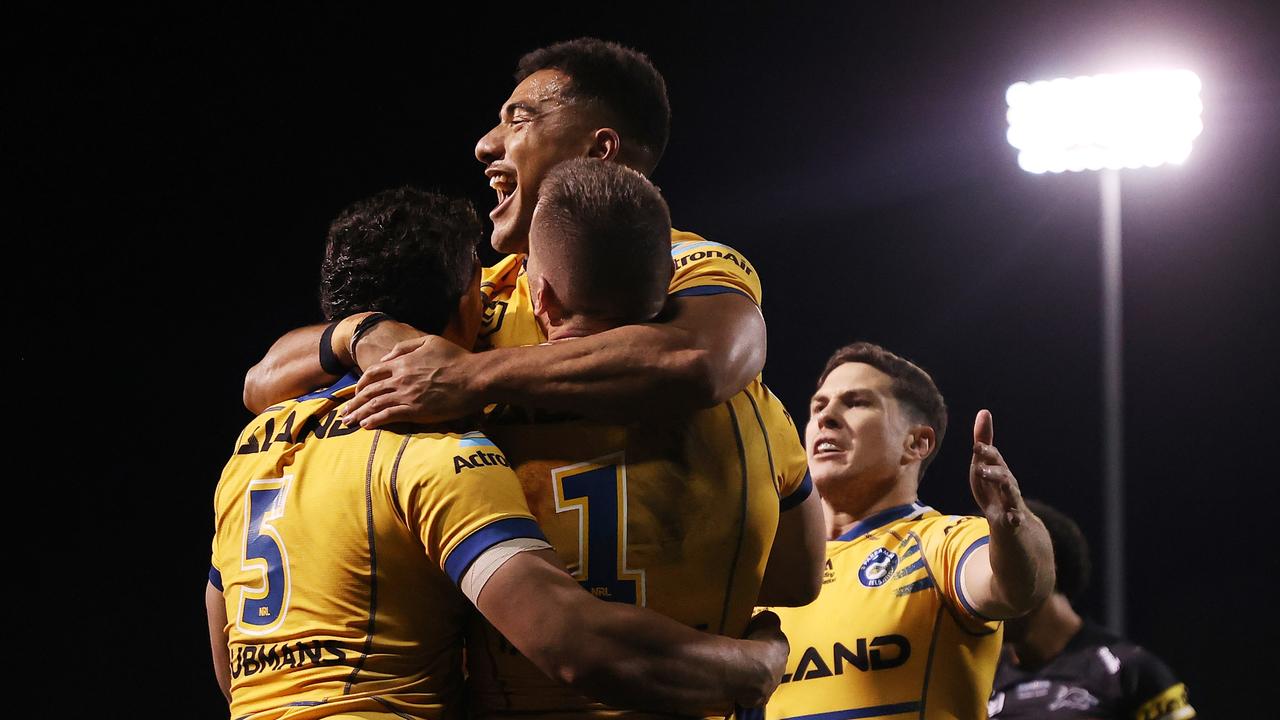 The Eels put their shocking Round 8 loss in Darwin behind them to bounce back in incredible fashion. Picture: Getty Images.
ARE YOU REFFING SERIOUS?
Every decision was always going to be scrutinised within an inch of its life given the magnitude of this game.
The Reed Mahoney penalty try could've gone either way and the Brian To'o no try was the correct decision, but how on earth did the officials get the Viliame Kikau knock-on so wrong?
Some loose carriers can be hard to judge when there are several hands close to the ball, but the bullocking back-rower was in the clear with no one near the Steeden.
It was a clear error. Even the most one-eyed Panthers fan knew it. But referee Gerard Sutton inexplicably allowed play to continue.
Lo and behold, the Panthers scored a couple of plays later through May. And who set it up? Yep, it was Kikau, who dropped it perfectly onto the boot for the most controversial four points of the season.
"I thought we had a tough call going into half-time, but there was no chat about that at half-time," Arthur said.
"Maybe in the past we'd be stewing on that bad decision, but we got on with it."
IVAN'S HOSPITAL PASS
Andrew Webster just can't take a trick. After he lost a couple of games as the interim coach at the Wests Tigers in 2017, he must have thought that he was a big chance of winning his first game, albeit unofficially.
With Ivan Cleary in hospital with an infected knee and assistant coach Cameron Ciraldo out due to Covid, Webster found out at lunchtime that he'd be calling the shots on the biggest stage possible.
Things looked pretty good with 20 minutes to go, but he would have been feeling pretty sick and sorry as he watched the Eels hang on for a famous win.
The Eels snapped a 21-game Penrith win streak for Panthers, dating back to July 2019. Picture: Getty Images.
MAY THE FORCE BE WITH YOU
Two days after Star Wars fans around the world celebrated their most important day, Taylan May used the force to justify the decision to retain him on the left wing.
The fact May kept his spot says plenty about his standing in this team because it meant the returning Brian To'o had to shift from the edge he played in last year's Grand Final to play on the right flank.
May isn't the tallest, strongest or quickest winger in the league, but he is the fastest Panthers player to score 10 tries after he reached the mini-milestone in just his eighth game.
MASSIVE BLOW FOR PANTHERS AHEAD OF EELS CLASH
—Dean Ritchie
Penrith have been thrown into disarray just hours before their big local derby against Parramatta with both their senior coaches in doubt for the game.
The Daily Telegraph can reveal head coach Ivan Cleary is battling an increasingly painful medical issue with his knee and may be forced to watch the game from home.
And Panthers assistant coach Cameron Ciraldo has been cut down with Covid and will be absent from BlueBet Stadium on Friday evening.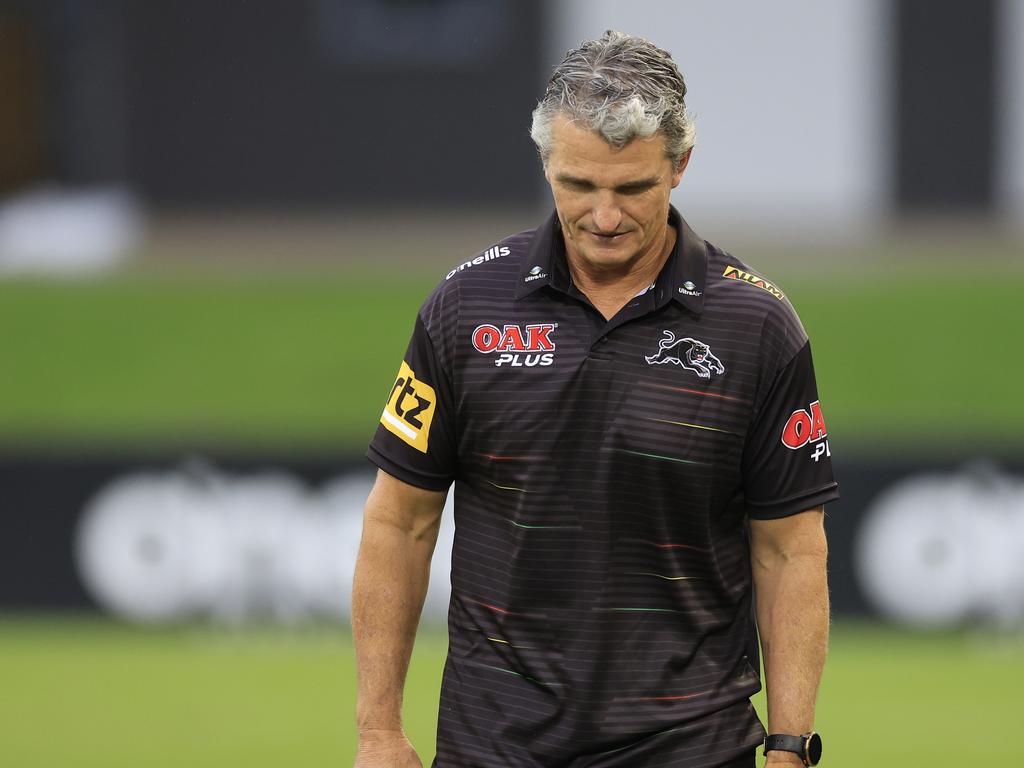 Penrith coach Ivan Cleary may miss the game against the Eels. Picture: Mark Evans/Getty Images
If both are forced to miss the game, Panthers assistant Andrew Webster will step up into the head coaching role against Brad Arthur's Eels.
Cleary has been troubled by a knee issue for some time now and was seen limping badly at Penrith's captain's run on Thursday. He will make a decision on whether to attend the game just a couple of hours before the scheduled 7.55pm kick-off between the NRL's first and fifth-placed teams.
Ciraldo has entered seven days of isolation under Covid protocols.
Webster served as an assistant coach at Wests Tigers before joining Penrith.
In 2017 Webster spent two games as Wests' interim head coach after the club sacked Jason Taylor just three games into the season. Cleary then joined the Tigers as their new head coach before departing for Penrith and later bringing Webster across.
The potential of losing both senior coaches would be a significant blow to Penrith's hopes of winning a ninth successive game to start the season, and five straight against bitter rivals Parramatta.
Originally published as NRL 2022: Parramatte Eels win 22-20 over Penrith Panthers | Match Report