The missed conversion and a special prayer: Inside Penrith Panthers' grand final watch party
It's the intimate moment Penrith's stars relived, for the first time, their NRL grand final victory. See what they had to say about the historic night.
As the image of Nathan Cleary looking to the heavens and saying a prayer is replayed on a big screen on the turf at Penrith, coach Ivan Cleary looks to his son.
"Talking to grandad?," Ivan asks.
On the night of Penrith's 14-12 grand final win over South Sydney at Suncorp Stadium last October, the halfback looked to the night sky and said the prayer he wanted answered most.
"Yeah, just saying a prayer to grandad, I think he looked after us," Nathan replies.
It's the touching ritual that the star halfback has been doing to honour his much-loved grandfather and biggest fan since his death.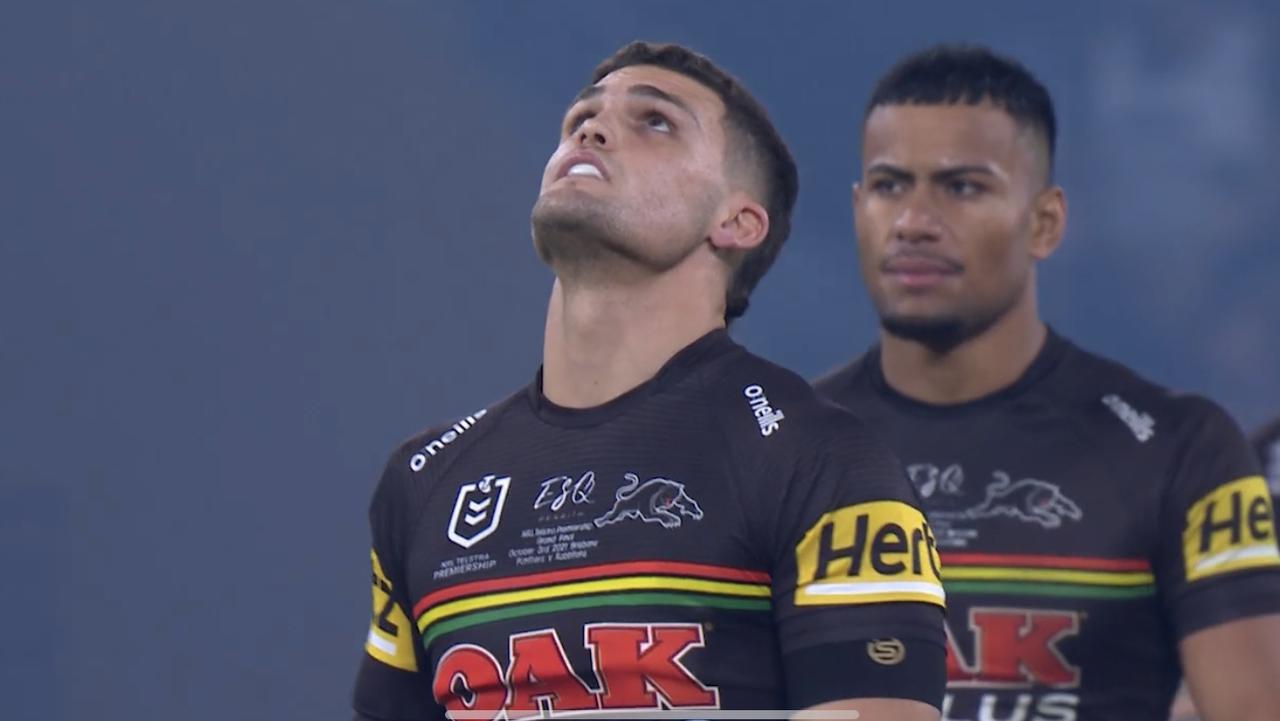 Nathan Cleary looks to the skies before the 2021 NRL grand final.
"I do that pretty much before every game," Cleary told The Daily Telegraph.
"It's just a prayer to get looked after and to say a prayer to my grandad as well, who was a massive footy fan and No.1 supporter … I just ask him to look over us."
The father-son duo were joined by teammates Isaah Yeo, Brian To'o, Jarome Luai, Stephen Crichton and Dylan Edwards at Penrith's Bluebet Stadium as Fox League treated the group to a grand final watch party, complete with lounges, a big screen and pyrotechnics in the middle of the field.
It will air on Saturday night after the trial match between the Gold Coast Titans and Brisbane Broncos.
The group dissect where the Provan Summons Trophy was won and delivered to Penrith for the first time in 18 years, following the heartbreaking 2020 defeat against Melbourne.
"There was definitely no demons from last year," Nathan insists.
INJURIES
For coach Ivan — who carried at least eight injured players into the grand final, including Nathan's seriously compromised right shoulder – the health of his players was a recurring theme.
"His knee was ordinary too, when he went down in that first tackle I was just like 'oh no'. So that was my first worry, the injuries," Ivan said as he watched the replay of enforcer James Fisher-Harris take the first hit-up of the match.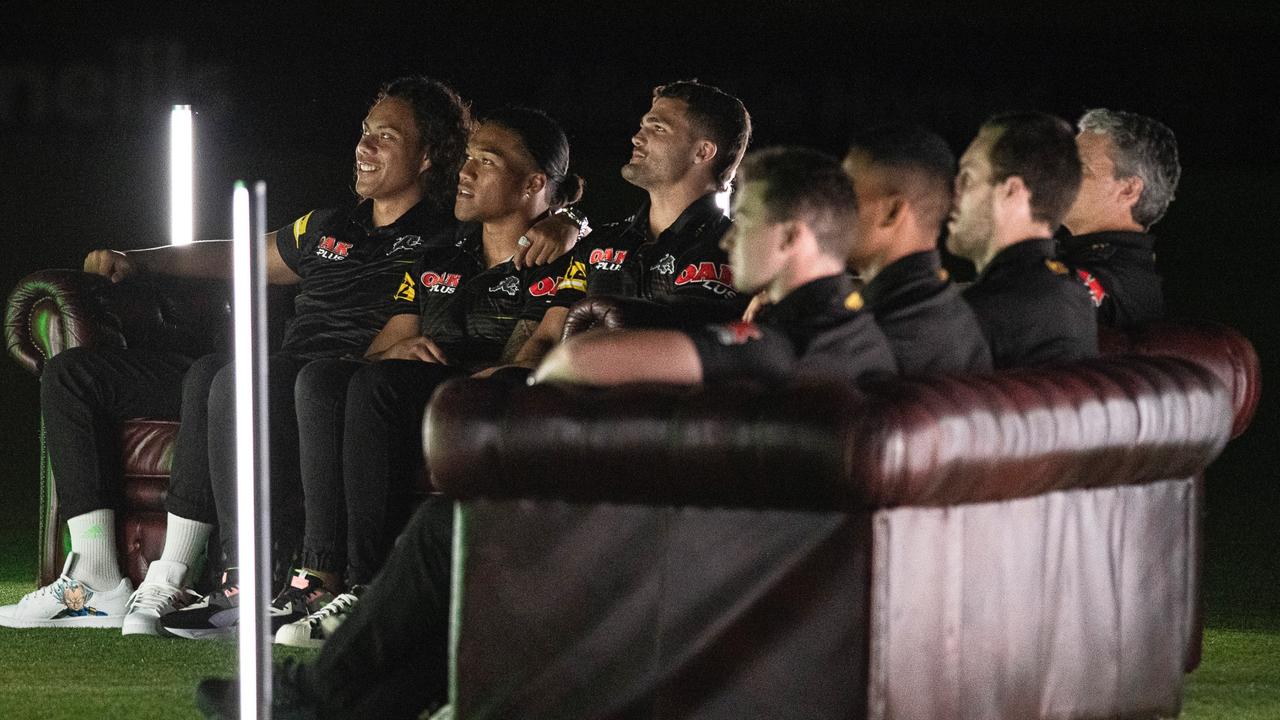 The Penrith Panthers sit down at Bluebet Stadium for the first time since their grand final heroics to watch the match. Picture: Fox League
ROLLING THE DICE
Nathan reveals he went against co-captain's Isaah Yeo's reluctance to use a captain's challenge two minutes into the match.
He instead decided to back his halves partner, Jarome Luai, who had been ruled to have lost control of the ball trying to play it.
"Yeoey never likes challenging," Nathan said. "He was looking at me on this one and was like, 'nup'."
"Back your brothers, bro!" Luai quipped.
"I'll always back Romey," Nathan replied.
SOUTHS' DEFENCE
While Penrith threatened the Rabbitohs' line on a number of occasions in the early exchanges, the defence was up to the task.
"They were scrambling well all game," Nathan says.
"It's funny," Ivan adds, "When a team scrambles well it just becomes infectious."
GRAND FINAL SERVICE
With hooker Api Koroisau taking a hit-up close to the line, Yeo finds himself in the unfamiliar position at dummy half.
"Outstanding service from dummy-half," Ivan says, jokingly, referring to the Yeo pass that helped set up Penrith's first try through Matt Burton.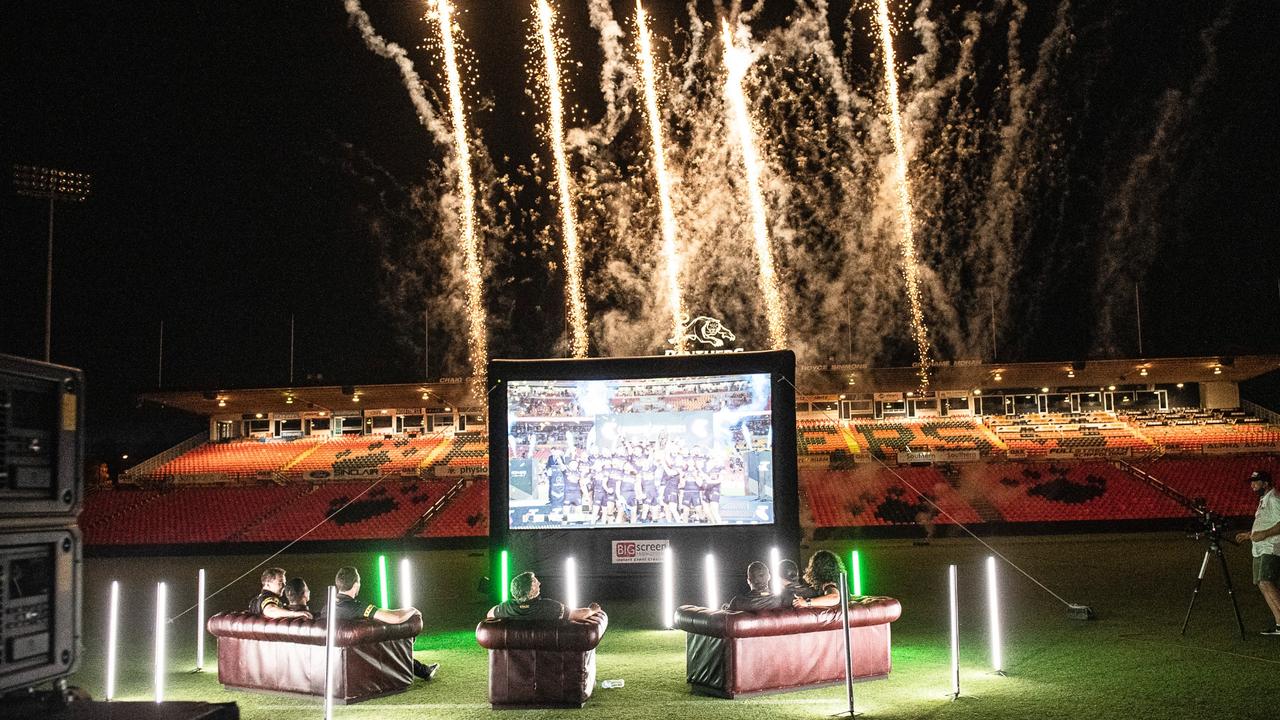 Fireworks go off in the background as Penrith watch their grand final celebrations on the big screen. Picture: Fox League
THE CONTROVERSY
"Did you sneak that one in a bit further as well?" Ivan asks Nathan of the successful conversion, a reference to the halfback moving the ultimately unsuccessful conversion attempt several metres infield from where To'o's try close to the sideline the mark in the previous week's 10-6 preliminary final win over Melbourne.
"Nup, I wasn't trying to cheat," Nathan tells him.
FRANTIC FINISH
With five minutes on the clock, Penrith lead 14-12 after a Souths comeback and Rabbitohs sharpshooter Adam Reynolds is lining up a conversion attempt to equalise the match.
"I was at panic stations at that time," Yeo said.
Nathan agrees.
"I thought he was going to get it. I was thinking how we were going to set up a field goal."
Reynolds misses the sideline conversion, which Yeo compares to the Johnathan Thurston conversion attempt in the 2015 grand final that cannoned off the post in the dying moments.
"I've seen him kick so many goals from that spot. It's funny though, I had this weird feeling he might miss," Ivan said.
Watching the grand final was easier the second time around for coach Ivan Cleary. Picture: Fox League
NATHAN CLEARY, CLIVE CHURCHILL MEDALLIST
Not only did coach Cleary climb his Everest with his son, he got to drape one of the game's highest individual honours around Nathan's neck.
"This was definitely starting to feel like a dream at this point. There were too many good things happening at once," Ivan says.
"So proud of Nat, especially how much he's worked through this injury in particular, and just how much criticism he copped from last year's game. It was like a dream at that stage."
Go inside the Panthers' emotion-charged grand final watch party on Fox League live after Saturday night's trial between the Titans and Broncos.