NRL news: Parramatta Eels defend recruitment strategy, back Brad Arthur to develop fresh talent
Parramatta's football boss Mark O'Neill is backing Brad Arthur's proven record of developing Origin-class players to ensure the club's NRL premiership window won't slam shut at the end of next season.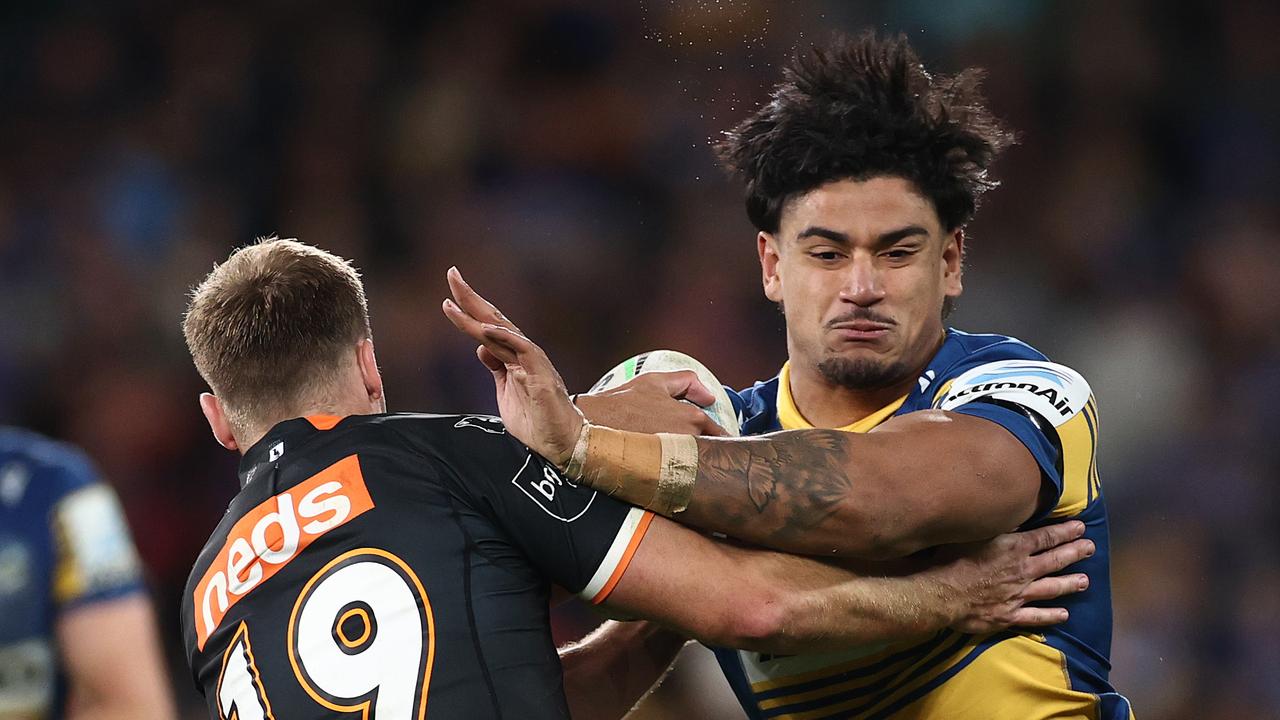 Oregon Kaufusi is set to leave Parramatta for the Sharks. Picture: Cameron Spencer/Getty Images
Parramatta's general manager of football Mark O'Neill has backed Brad Arthur's proven record of developing State of Origin class players to ensure the club's NRL premiership window won't slam shut at the end of next season.
This is despite young prop Oregon Kaufusi becoming the fifth Parramatta forward to sign elsewhere for 2023.
It comes as the Eels prepare to issue a passionate Christmas message to members aimed at defending a recruitment strategy that is coming under increasing criticism.
Kaufusi's decision to agree to a lucrative three-year deal with Cronulla follows Reed Mahoney signing with Canterbury, Isaiah Papali'i linking with Wests Tigers, Marata Niukore moving to the Warriors and Ray Stone joining the Dolphins.
Every one of those players Parramatta would have loved to have kept but they just couldn't match the offers from elsewhere.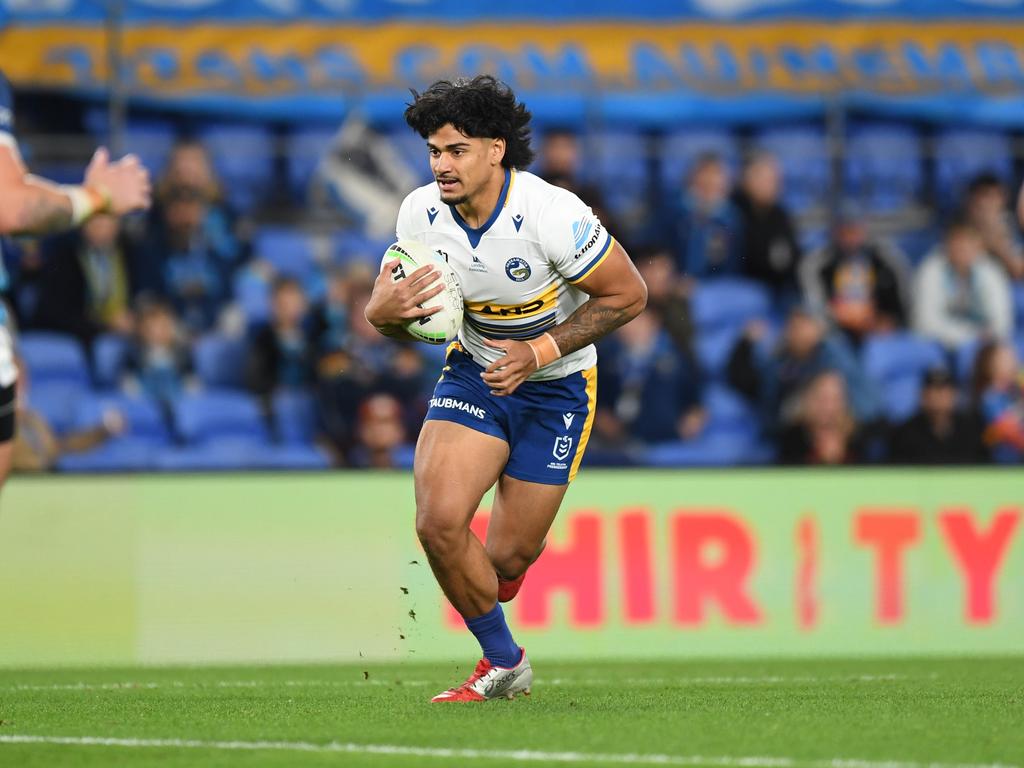 Oregon Kaufusi has signed a three-year deal with the Sharks for 2023. Picture: NRL Photos
In Kaufusi's case it would be particularly tough for Eels fans to swallow given he is a legitimate local junior who was developed from grassroots to NRL level, having represented NSW under 16s, 18s and 20s, as well as the Australian Schoolboys.

For years Parramatta have been trying to get some credibility back in their pathways system, but losing Kaufusi on the back of Stefano Utoikamanu to the Tigers last year is extremely disappointing. The 22-year-old has told the club it is not just about the money the Sharks could offer him (believed to be about $1.2 million for three years) but also that he wants to become a regular starter.

He understandably sees his chances better at Cronulla than biding his time behind Junior Paulo and Reagan Campbell-Gillard.
O'Neill did not attempt to hide his disappointment but said it was "the reality" of modern sport.
"You know I understand the disappointment of losing local juniors probably more than anyone because I have been a product myself of the pathways program, and I love the romance of one club players who have come through from the grassroots," O'Neill said.

"But, as a club, we do need to have some financial discipline if you want to remain competitive. That is not to say we let them go with our full blessings, not by any means, because we would love nothing more than to keep that squad together forever.
"However, the reality in sport now is that won't happen."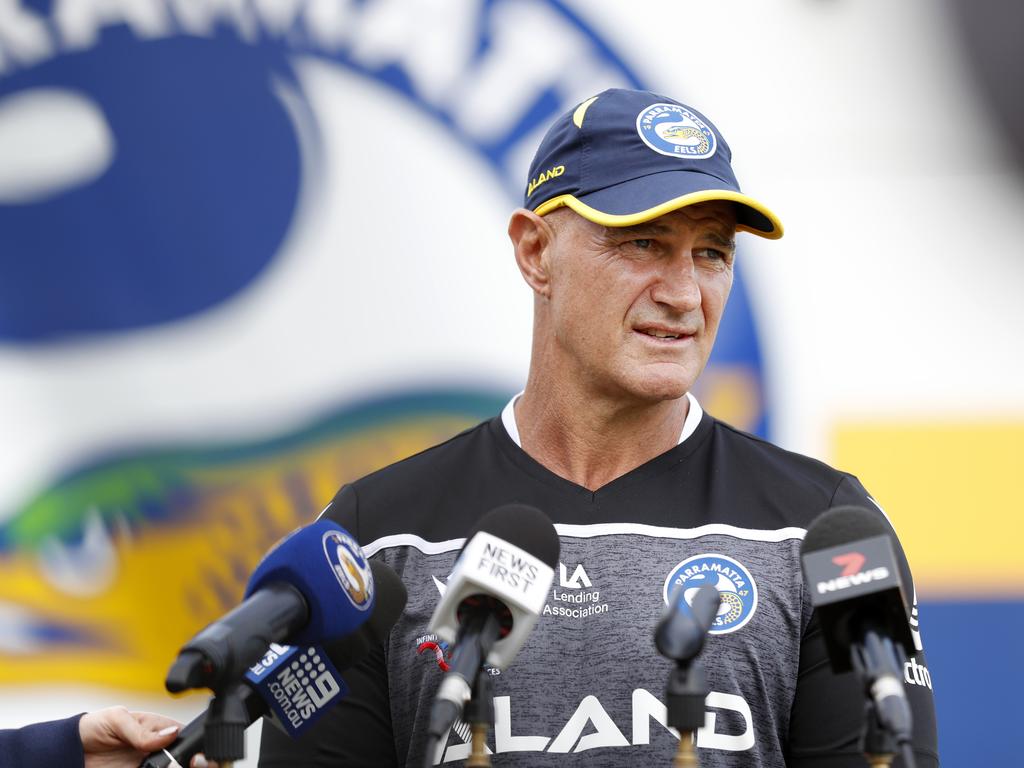 Eels coach Brad Arthur has a good record of developing players. Picture: Jonathan Ng
But it could also be argued all clubs work to the same salary cap, yet none of the top teams seem to struggle near as much as the Eels when it comes to managing their cap.
Compared to the five players Parramatta will let go after next season, Penrith have only lost Api Koroisau and Viliame Kikau (and they just won the comp), while Melbourne will be without Brandon Smith and Felise Kaufusi.
So far the Roosters and Souths have avoided any significant setbacks to their future rosters since the November 1 trade season opened for 2023.
Parramatta also has Dylan Brown and Maika Sivo yet to take up contract options in their favour for 2023 but, despite the recent exodus, the club is privately confident both will stay.
Yet the overall recruitment situation has many Parramatta fans concerned that if the Eels don't go all the way next year their premiership window will slam shut beyond that.
But O'Neill has faith in Parramatta's development system under Arthur's coaching ability.
He explained that the likes of Clint Gutherson, Mitch Moses, Nathan Brown and Junior Paulo all made their State of Origin debuts while playing under Arthur, while Mahoney probably would have been the fifth this year had it not been for injury.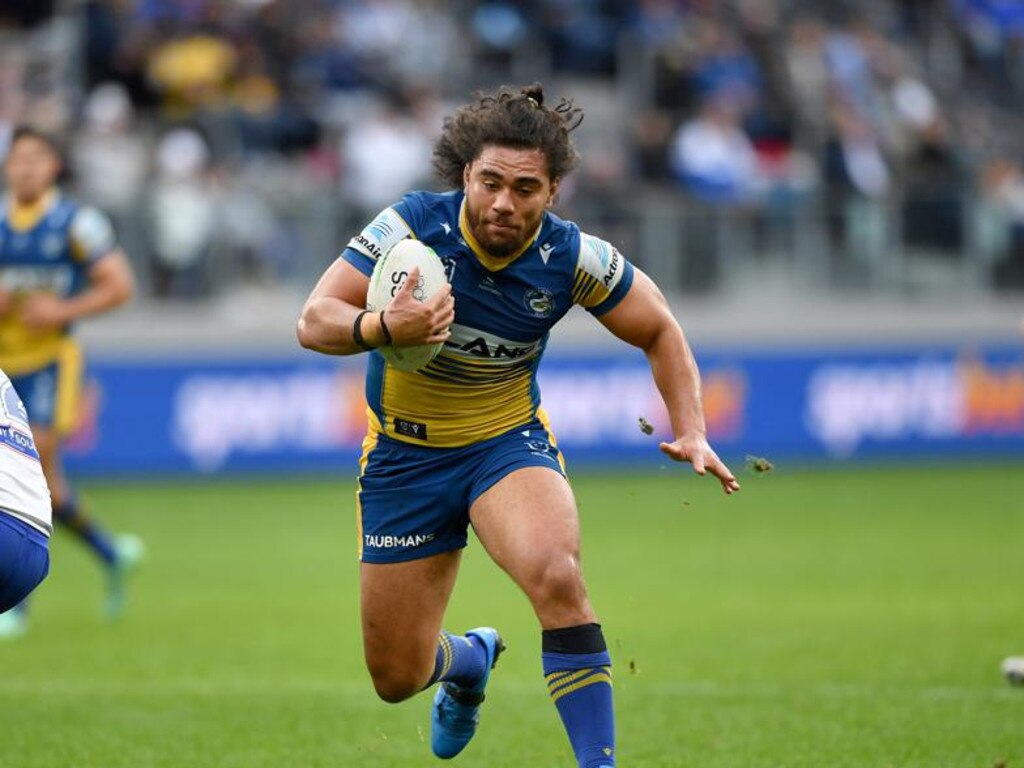 Isaiah Papali'i will move to Wests Tigers in 2023. Picture: NRL Photos
"I understand people are talking about that (that the premiership window will shut) but I am not sure that is necessarily the case because I will tell you why," O'Neill said.

"Brad has a track record in terms of taking a player from point A to point B. "If we look at the top echelon, Origin players, of the last few years we have had five Origin players and four of them debuted in the Origin team.
"We also have had five players selected in the Emerging NSW squad this year.
"Then you have the ones like Papali'i, who has played his best footy here, Marata is another, Carty (Bryce Cartwright) has turned his career around.
"From a coaching perspective, purely, that shows we can help players achieve their goals and dreams.
"Now the challenge for the recruitment team will be to find those next ones who we can coach the socks off and do something similar with them."
Oregon Kaufusi set to leave Parramatta

Parramatta is on the cusp of another shattering recruitment setback with young gun prop Oregon Kaufusi expected to link with the Cronulla Sharks.
It is understood Kaufusi will announce he will join the Sharks on a three-year deal worth around $1.2 million from 2023, to continue the club's rebuild under new NRL coach Craig Fitzgibbon.
But for the Eels, the loss of local junior Kaufusi, at just 22, is a significant blow, and comes on the back of fellow rising prop Stefano Utoikamanu leaving to join Wests Tigers just 12 months ago.
It also follows gun hooker Reed Mahoney's recent decision to sign with Canterbury, Isaiah Papali'i heading to the Tigers, Marata Niukore to the Warriors, and Ray Stone to the Dolphins — all in 2023.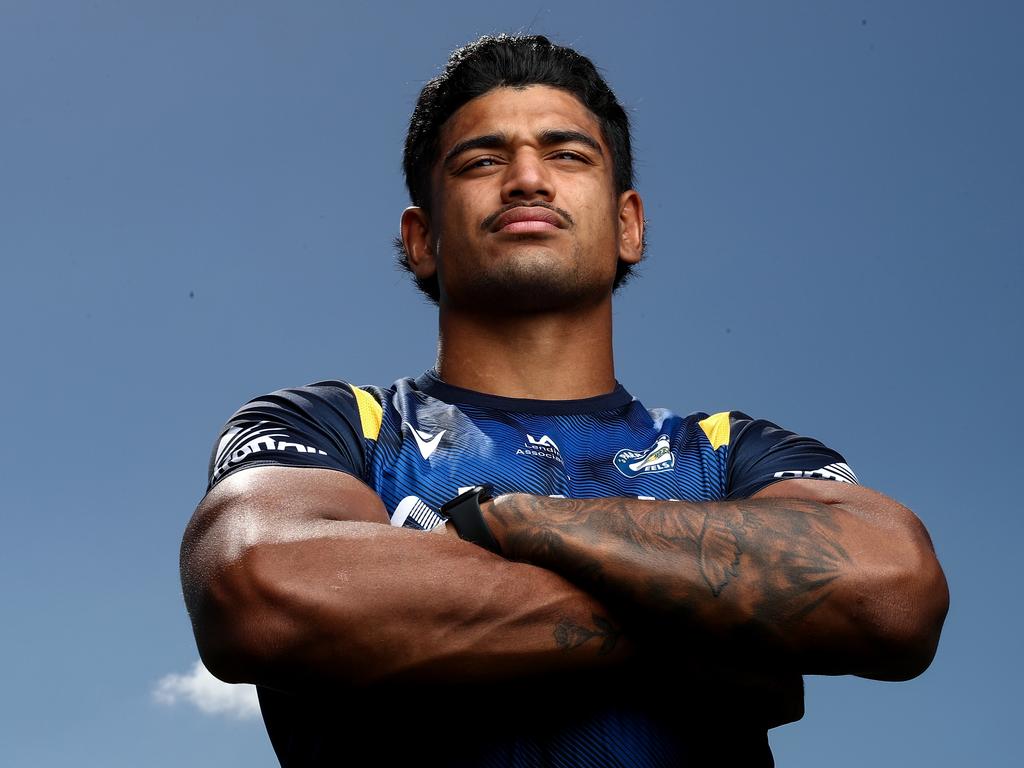 Oregon Kaufusi will reportedly sign a three-year $1.2 million deal with Cronulla. Picture: Brendon Thorne/Getty Images
News Corp understands that as well as salary cap constraints at Parramatta, Kaufusi was also keen to establish himself as a starting prop.
With regular starters Reagan Campbell-Gillard and Junior Paulo re-signing until the end of 2025 and 2026 respectively, Kaufusi's opportunity at the Eels had diminished.
But there is no denying the club had put a lot of work into his development, after he came through the junior system playing alongside the likes of Mahoney and Dylan Brown.
Kaufusi has represented NSW in under 16s, 18s and 20s, while also playing Australian Schoolboys.
He has so far played 44 top grade games since debuting in 2018 and had stepped up into a more significant role in the forwards rotation off the bench.
Cushioning the blow somewhat will be the emergence of young forwards David Hollis, Jock Brazel and Larry Muagututia, with Hollis, 20, expected to push to make his NRL debut in 2022.
Parramatta have also lost hooker Reed Mahoney to the Bulldogs. Picture: Ashley Feder/Getty Images
The Eels on Monday also announced the re-signing of young stars Jake Arthur and Sean Russell, as well as late-blooming forward Makahesi Makatoa, until the end of 2023.
Exciting young outside back Haze Dunster last week also joined captain Clint Gutherson in committing to the club for the next four years.
Canberra's Bailey Simonsson has linked up with Parramatta immediately, and his former Raiders teammate Josh Hodgson has agreed to join him for the 2023 season.
Parramatta Eels General Manager of Football Mark O'Neill said: "Since arriving at the Eels, Makahesi has impressed us with his great attitude and toughness, but it was his determination and incredible resilience which earned him his NRL debut and made him become an important member of our NRL squad.
"Both Jake and Sean have come through our Junior Pathways system and earned their top 30 positions. Jake is one of our most committed players, earning himself a debut this year in one of the most difficult positions. Sean was equally impressive in his debut performance on the wing, both players have an exciting future ahead of them.
"We're incredibly proud of all three players, not just for their hard work and dedication, but also their wonderful character off the field."