NRL 2022: Paul Kent calls for Brad Fittler to quit as NSW Blues State of Origin coach
When Brad Fittler took over the Blues we put up with his alternative training ideas because they were winning. Now the shine has worn off and Freddy must go after another failure, PAUL KENT writes.
Some questions never get a satisfactory answer, like the old tree falling in the forest, does Spudd Carroll dye his hair, was the first golf shot ever invented a shank, or can a horseshoe fit in a boxing glove?
To add to the growing list, if a Blue walks on grass with bare feet, does it make an ounce of difference?
It is a reasonable enough question after Wednesday night's Origin decider where the Maroons, who never stray from their formula that does nothing but work, put a blunt sword to the Blues for the ninth time in the past 10 deciders.
This might be it for the Blues, at least as they currently stand.
Hopefully, anyway.
Stream every game of every round of the 2022 NRL Telstra Premiership Season Live & Ad-Break Free During Play on Kayo. New to Kayo? Try 14-days free now.
The Blues failed to get the job done in the Origin decider at Suncorp Stadium. Picture: Chris Hyde/Getty Images
Queensland, just keep on doing what you are doing.
It appears the hippy, hippy shakes have finally got the better of the Blues — the latest was Mick Fanning's breathing coach being brought in to toss the Blues into a pool and teach them how to breathe, clearly not believing that most of them have been doing it all their lives already — and it is time to say enough is enough.
Brad Fittler should quit.
When Fittler first took over NSW and brought his alternative training ideas to camp it was tolerated because NSW won the first two series and confident Blues fans were tipping a dynasty.
Since then Fittler has lost two of the past three series, both considered unlosable, three of the past four games, and every time the reason for it — questionable team selections — has been a big part of the cause.
The Maroons added to their Origin legend with Wednesday night's victory. So did the Blues, sadly.
The line is becoming clearer with each season that the game has become a game between Patriots and Mercenaries, an allegation Queensland always labelled on NSW and which causes great offence to the Blues, as it should.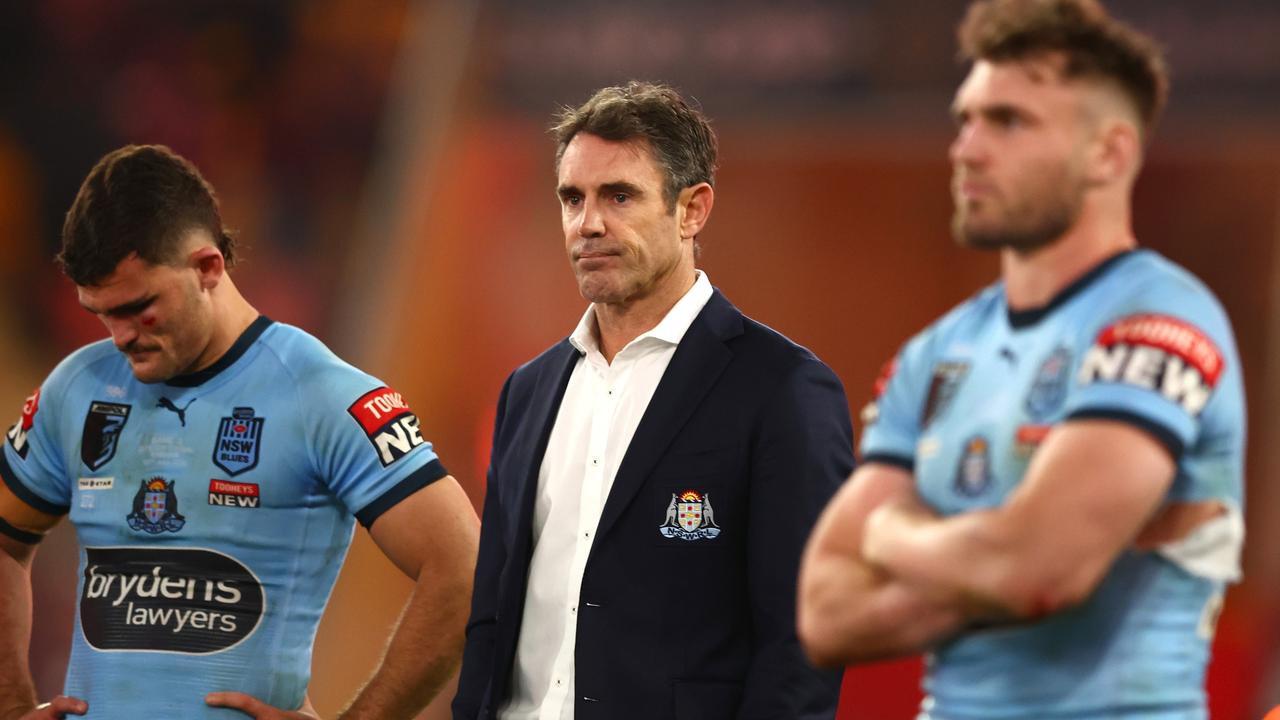 This has become an all-too-familiar sight for NSW coach Brad Fittler and the Blues. Picture: Chris Hyde/Getty Images
Doesn't make it wrong, though.
For too many NSW players the game is a status. Increasingly a stopover between club football and playing for Samoa or Tonga or wherever the next destination is, a box checked on the way through.
They don't want to play for NSW as much as they want to play Origin, and for all it brings.
Some commentators speak solidly of the passion of Jarome Luai or Daniel Tupou playing for Samoa or Tonga without recognising this same passion is also missing from their Origin efforts.
Anybody that dares suggest the passion is not the same is beaten into submission.
Yet when Billy Slater knocked on Tom Dearden's door to tell him he was starting for Cameron Munster, ruled out with Covid, Dearden teared up and had one message for Slater: "I won't let Queensland down."
Tom Gilbert later spoke of a lifelong dream being realised, running out on Suncorp Stadium, in front of family, for Queensland in an Origin decider.
Wonderful stories which wrap neatly into the Origin legend.
If the expansionists had their way, though, and Origin was opened to the best of the best, no matter from where they hail, Dearden and Gilbert would not have got a start.
That's what will be missed.
The Blues, meanwhile, wonder what it is, declare they have it in equal doses as Queensland and then claim it is irrelevant when it becomes clear they don't have it.
Where Queensland is always clear on who they are and what they stand for, the Blues are full of mixed messages.
Take the treatments of Jack Wighton and Dane Gagai.
Gagai missed 18 tackles in the first two Origins, enough for some to question his selection.
Slater refused to consider it.
"We have our team," he kept saying.
Wighton was NSW's best in a losing game one, missed game two with Covid, and the best Fittler could do to reward that was pick him as 18th man for game three. In other words, Jack got good seats.
Stephen Crichton, Matt Burton, Jarome Luai and Clint Gutherson arrive back in Sydney. Picture: Justin Lloyd
Worse, Wighton was replaced by Stephen Crichton, who missed selection in game one because of concerns over his defence. But because Crichton was part of the game two 44-12 romp, he was retained for the decider at Suncorp. Perhaps the Blues thought they were just going to pick up from where they left off in Perth.
And Queensland's first try came through Crichton's edge.
Jake Trbojevic was dropped for game one when he is everything the Blues need and claim to be. The mistake was conceded with his selection in game two.
Josh Addo-Carr was dropped because he was not tall enough, supposedly, the Blues fearing an aerial assault. Then it became his kick returns, then his defence.
No wonder Latrell Mitchell, himself once unceremoniously dumped from Origin, withdrew from selection ahead of Wednesday's game.
Logic has abandoned the Blues and, as much as the players try to stay loyal, they see countless examples of Fittler not returning that loyalty.
Before Wednesday's decider Phil Gould, NSW's best Origin coach, said the trick to deciders was to take what was learned from the first two games and put it into place for the third.
The Blues, having chopped and changed with no clear intention what they stood for, again turned in a performance that mirrored that.
Slater knew what he wanted Queensland to look like and stayed consistent with it throughout, and was brave when he had to be.
After the sunshine and roses of those early years much of the shine has gone. It stops being quirky or even interesting when you lose.
In some ways it resembles his club career at the Roosters, where under mounting pressure, Fittler began spending too much time in his own head, questioning his decisions, zigzagging back and forth, and some bizarre decisions were made.
Maybe some coaches are just better at short-term stints.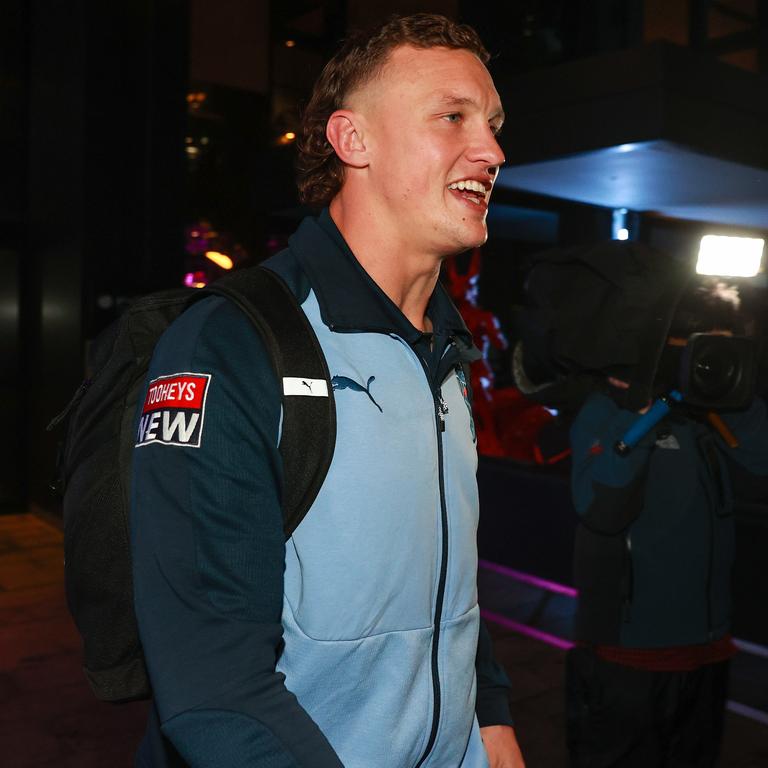 Jack Wighton's omission is an indictment of Fittler's decision-making. Picture: Justin Lloyd
Jack Gibson never did more than three years as head coach at any club. Warren Ryan never did more than four years.
Both figured that, after that long, that they had had enough of the players or, more to the point, the players had had enough of them.
What is missing for the Blues is what happened well after the lights went out at Suncorp Stadium, somewhere about two in the morning.
The Maroons were in their dressing room, seated in a circle still, still in their jerseys, singing John Denver's Country Road and other songs.
Nobody wanted to leave.
Finally, Allan Langer hustled them together.
Boys, he said, we're going to the Caxton.
And so they stood and walked to the Caxton Hotel, still in their playing gear, still unwilling to leave each other's side, and they walked into the pub where the bar staff had their beers lined up and waiting on the bar.
SHORT SHOT
Give a monkey a typewriter, they say, and eventually he will type a sentence.
And so with that the Wests Tigers might have just got it right with Benji Marshall's unorthodox deal to eventually take over as head coach at the club.
There is no doubt Marshall's appointment was dreamed up in somewhere like the marketing department. No doubt it was designed to extinguish the legitimate criticism of the club's senior administrators.
No doubt it is a high-risk play. But it just might work.
My problem with arguing against the absurdity of the Tigers naming Marshall as their future coach is that eventually I end up arguing against myself, not for the first time.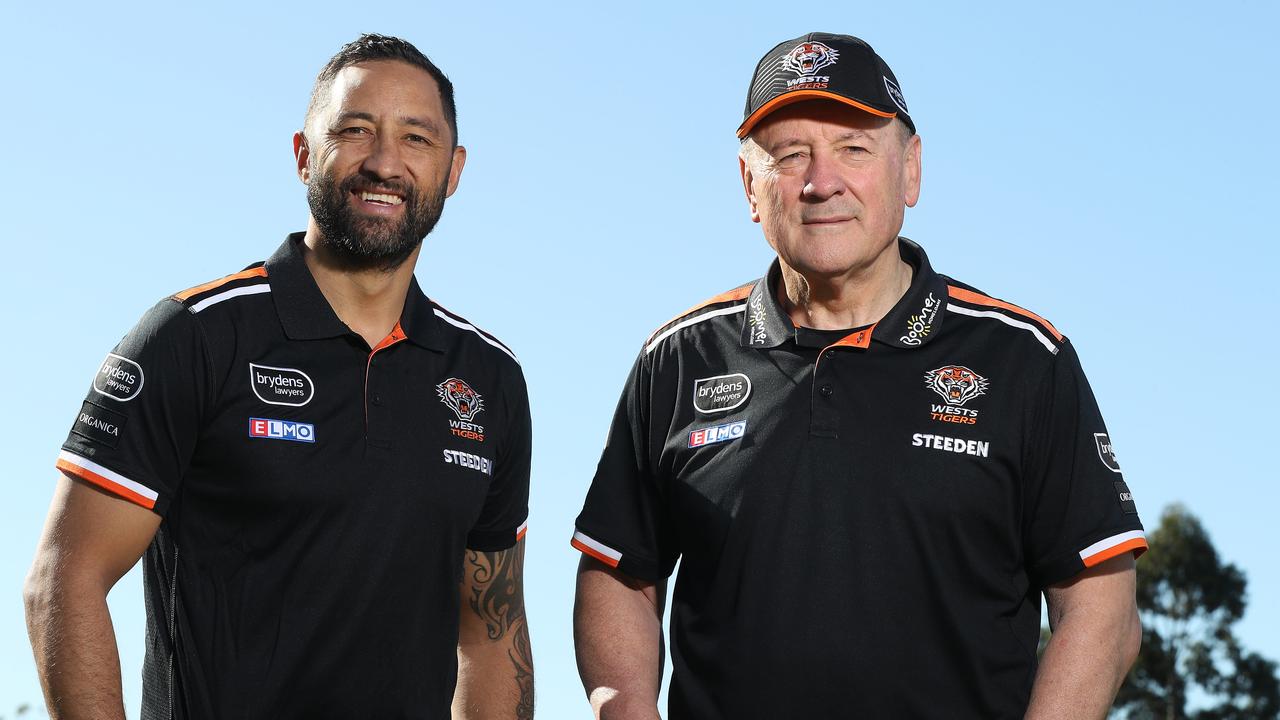 West Tigers coaching duo of Tim Sheens and Benji Marshall. Picture: David Swift
For too long now the game has been stymied by scared clubs making safe decisions with their coaches, who all tend to prefer to fail safely than to risk it all in the pursuit of winning.
So assistants at successful clubs keep being appointed at struggling clubs, with limited success because all they do is coach a paler version of the style that worked at their former club where there were better players to implement it.
The Tigers' appointment of Marshall, and his flare for the unpredictable, challenges that, so all power to him.
I truly hope Marshall is not only successful but challenges the cookie-cutter style that every team tries to play, which his long-term appointment gives him the safety net to do.
Originally published as NRL 2022: Paul Kent calls for Brad Fittler to quit as NSW Blues State of Origin coach