Paul Kent: Coaching merry-go-round in full swing as Titans deny Justin Holbrook facing the axe
The coaching drums are beating everywhere in the NRL, but one club has moved to silence rumours of an impending change at the top, writes PAUL KENT.
The drumbeat out of Queensland, from the Gold Coast region, beat loudly on Tuesday that former Cowboys coach Paul Green is quietly being positioned to replace Justin Holbrook.
This will come as naturally some surprise to Holbrook, whose contract states he still has time to run at Gold Coast, but it lasted only until Titans co-owner Rebecca Frizelle bypassed any declaration that Holbrook had the full support of the board, the usual death knell, instead swearing on her life that Holbrook was safe.
"It hasn't even come on the radar," she said. "He is very safe."
Stream every game of every round of the 2022 NRL Telstra Premiership Season Live & Ad-Break Free During Play on Kayo. New to Kayo? Try 14-days free now >
The drums are beating everywhere at the moment.
Shane Flanagan banged his own drum on Tuesday for the Bulldogs job, declaring on a Fox League podcast his intention for the job, how he could resurrect the club, and just what he would do with son Kyle at halfback.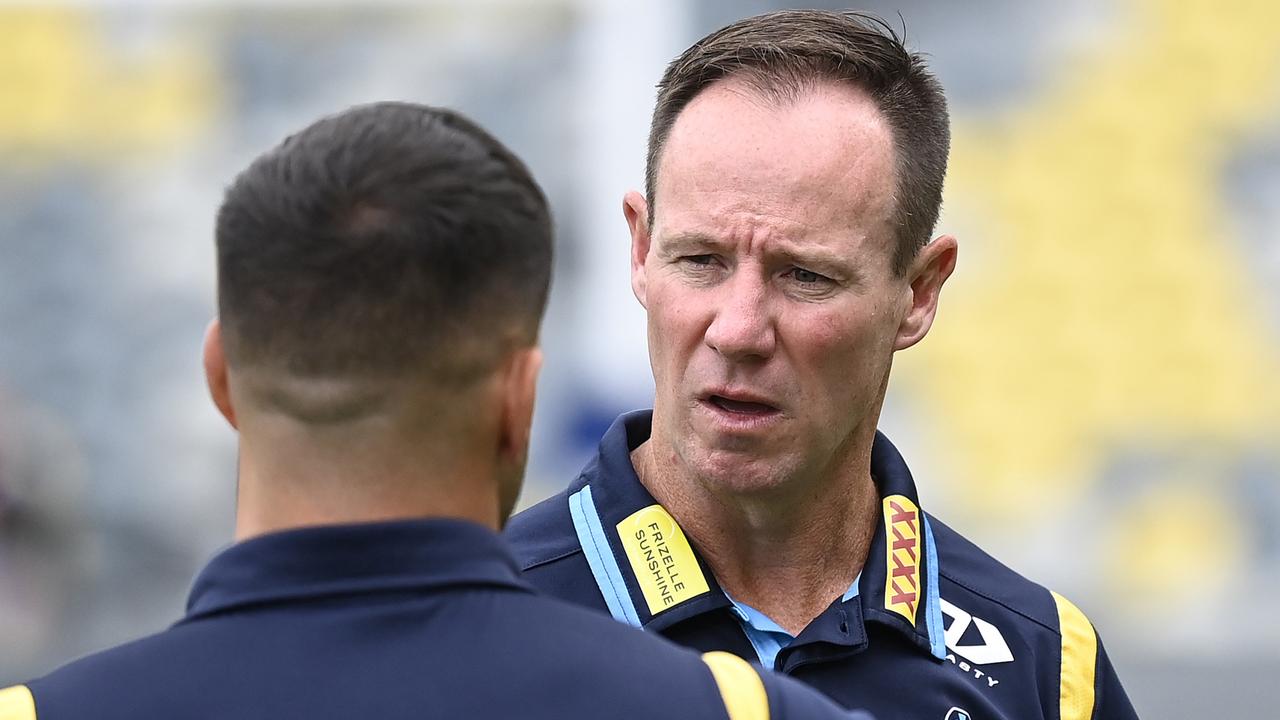 The Titans insist coach Justin Holbrook is "very safe" in his job. Picture: Ian Hitchcock/Getty Images
Flanagan made similar comments on 2GB on Sunday. There is no point hiding his interest.
Meanwhile, across town those with a keen ear for percussion revealed Michael Maguire has until round 13 to elevate his Tigers to 10 premiership points or his tenure at the Tigers will be shortened considerably.
The logic is that 20 premiership points is the minimum required to qualify for the finals and if a team isn't at least halfway there, by the halfway point of the season, then it remains too big a task over the rest of the season.
With Maguire off-contract at the end of next year, the Tigers are at least considering whether to take an early start on next year if, as they fear, the Tigers' halfway position isn't where they believe it needs to be.
Clearly, silly season has arrived in the NRL.
Struggling teams are assessing their position and trying to get a headstart on turning it around, screwing eyeglasses into their left eye sockets and taking a good solid look at where their football operation is.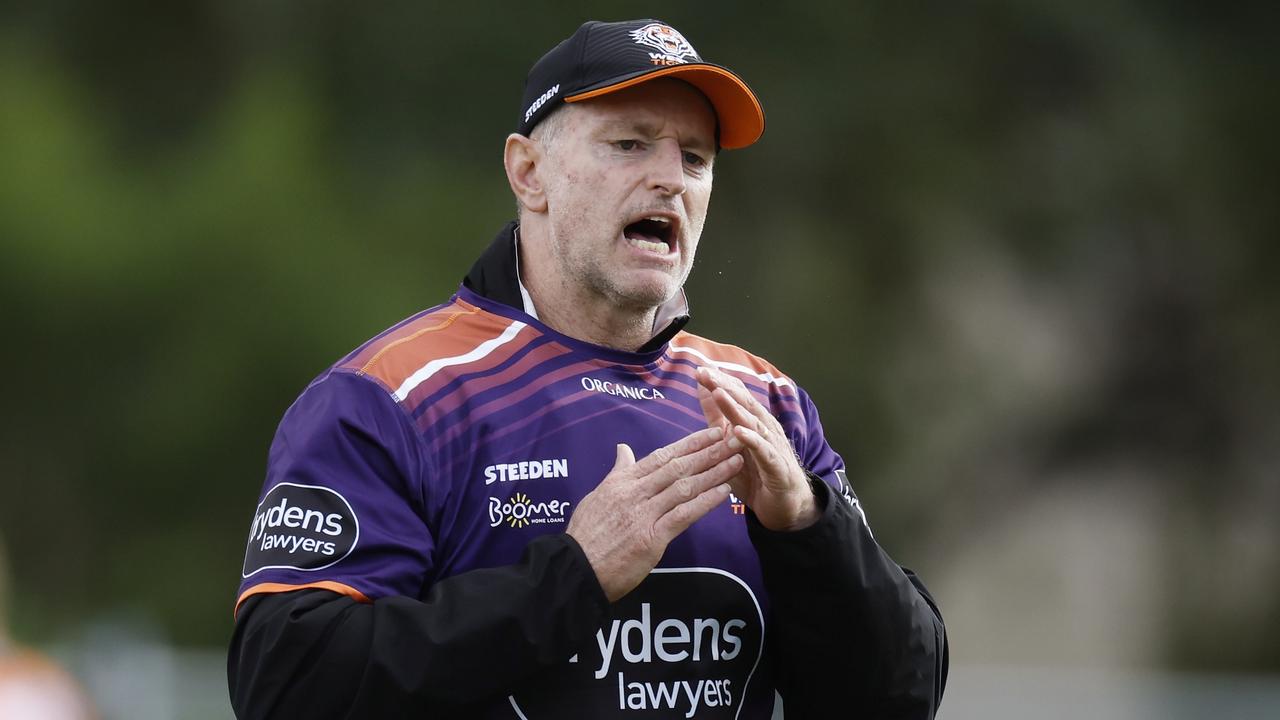 Wests Tigers coach Michael Maguire is off-contract at the end of next season. Picture: Mark Evans/Getty Images
Football club members, they know, no longer have the patience they once did.
Everybody is in a hurry nowadays.
It began with Trent Barrett's exit at Canterbury last week, with the Bulldogs clearly in the hunt for a new coach and rival clubs aware that if they don't get their own backyard sorted quickly they could be with their second choice.
As Flanagan said, there are only 16 jobs available.
He is the natural choice, but his problem might be whether he is too much coach for the Bulldogs as they currently stand.
The club is in something of a flux at the moment, wondering how to find a coach with the experience and toughness to work under Phil Gould, and his hair trigger, aware that a rookie coach might not have the nous to plot the Bulldogs' return journey to contenders.
In Flanagan's favour is he knows how to revive a club, all on his own. He achieved it several times in several different ways at Cronulla, lifting the Sharks from near last when he took over, and then again when they had to rebuild from the peptide scandal, to win a premiership in just six-and-a-bit seasons.
"Every day I went to work to make sure the organisation I was working at was the possibly the best organisation," he said.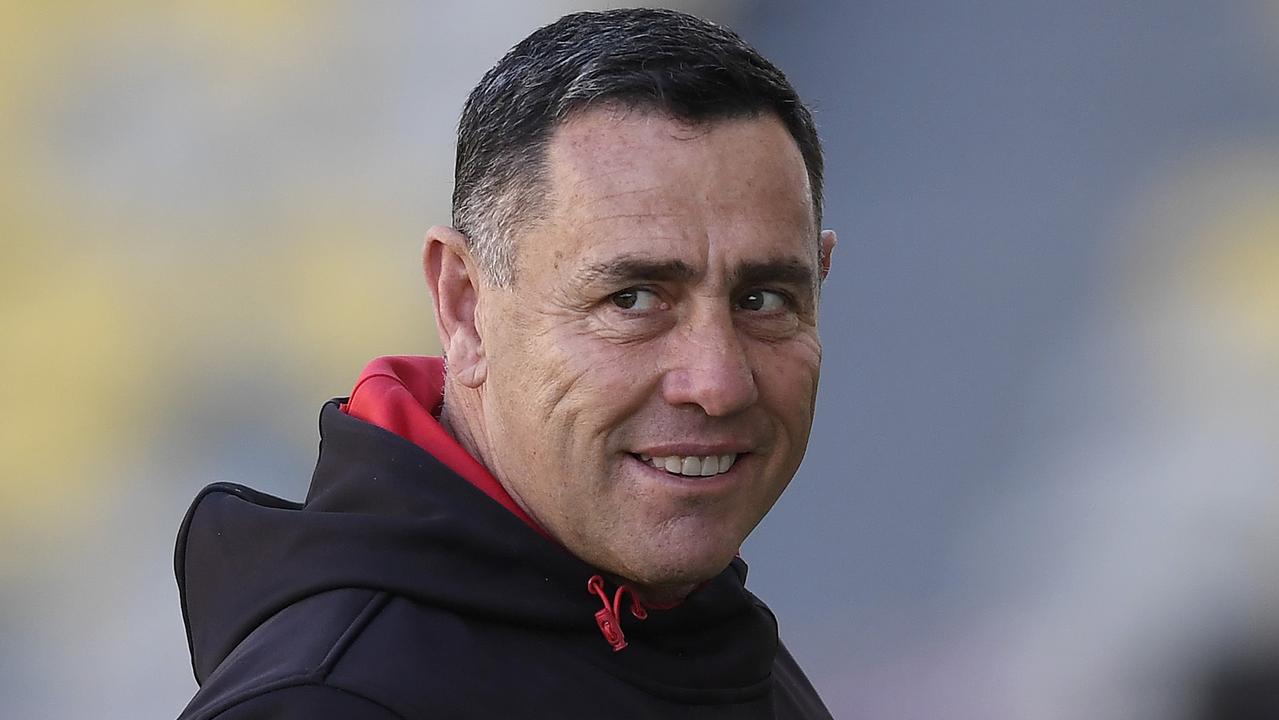 Shane Flanagan has made his interest in the Bulldogs job clear. Picture: Ian Hitchcock/Getty Images
"I got the best people involved, the best people in sports science, the best coaches involved."
Where the Sharks were once an athletic, freewheeling team, Flanagan bought into their new DNA and turned them into a team built more with grit than grace.
"When I first went to the Sharks, the Sharks needed to decide what sort of DNA they wanted to be," he said.
Paul Gallen was the captain and the toughest hombre in town. As the leader, Flanagan knew they would follow Gallen.
"His leadership and his DNA rubbed off on the club," Flanagan said.
"We knew what we had to do each game to live up to our DNA."
Flanagan made the clubs effort areas measurable.
If they wanted to win tackles one, two and three after a kick chase, he said by way of example, they could see that and measure it.
Players were accountable.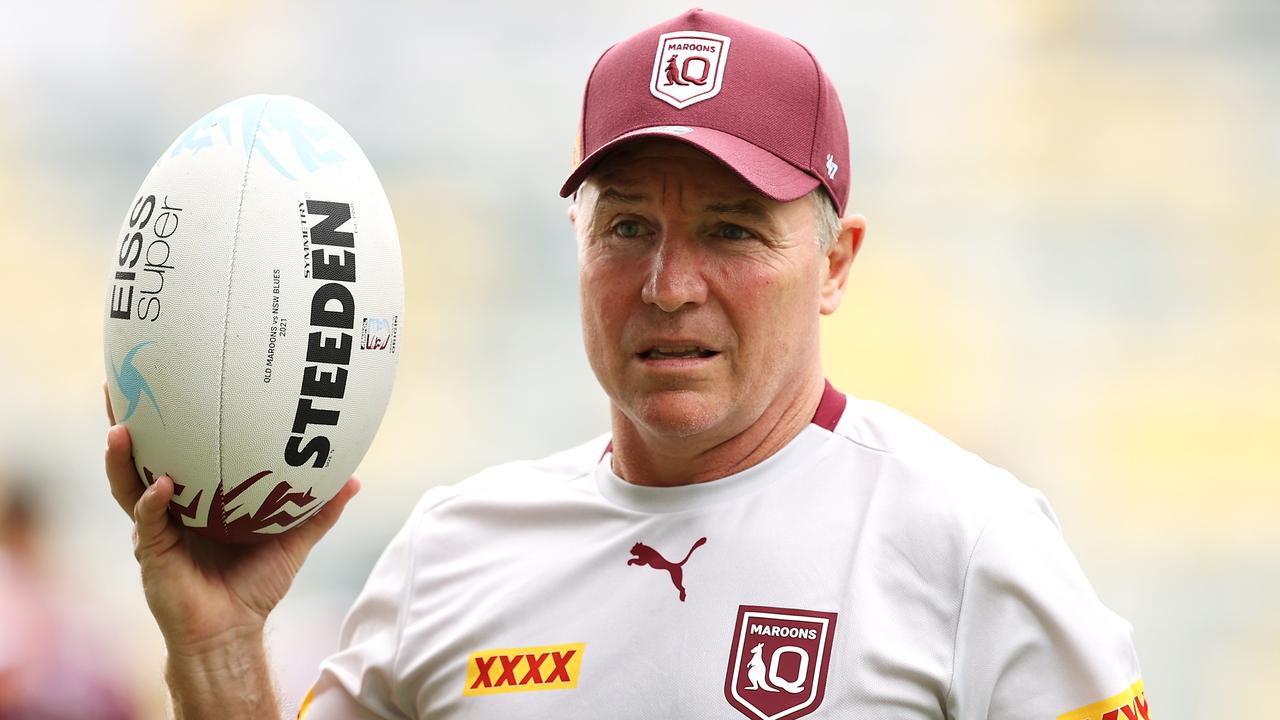 Paul Green is waiting in the wings for head coaching role. Picture: Mark Kolbe/Getty Images
Coaching to their identity must be music to the ears of Bulldogs officials searching to rediscover the Bulldogs' Dogs of War DNA, something Gould alluded to as Barrett packed up his locker.
It is also the kind of honest improvement the Titans are currently exploring.
Green flew into Sydney on Tuesday and when he turned up for coffee with Pete the Greek and other regulars at the Cronulla coffee club eyebrows shot up into the upper atmosphere.
Immediately the assumption was that Green was in town to interview for the Bulldogs job, although Green explained he was actually in town to present a talk on mental welfare, his sideline business since leaving the Cowboys.
Everyone quickly got the drift that even if the Dogs were interested, Green would not be interested.
After missing the Brisbane job, though, and also being strongly considered for the Dolphins job before NRL honchos intervened, believed to have raised their preference for Wayne Bennett and the soap opera he brings, Green no doubt eyes the Titans job favourably.
It sounds like a waiting game, though.
Originally published as Paul Kent: Coaching merry-go-round in full swing as Titans deny Justin Holbrook facing the axe