Paul Kent: Lottery of charges shows how NRL match review committee has lost its way
This explanation of why Storm forward Nelson Asofa-Solomona wasn't charged for breaking an opponent's teeth is another example of how the MRC has lost its way, writes PAUL KENT.
Entry is free for the moment but, if this continues, they will soon have to start charging.
Before this week's show begins, though, it is important to nail down that there are two indisputable facts.
The first is that Nelson Asofa-Solomona tackled Warriors hooker Wayde Egan.
The second is that Egan needed dental work on Monday to repair two cracked teeth.
Stream every game of every round of the 2022 NRL Telstra Premiership Season Live & Ad-Break Free During Play on Kayo. New to Kayo? Start your free trial now >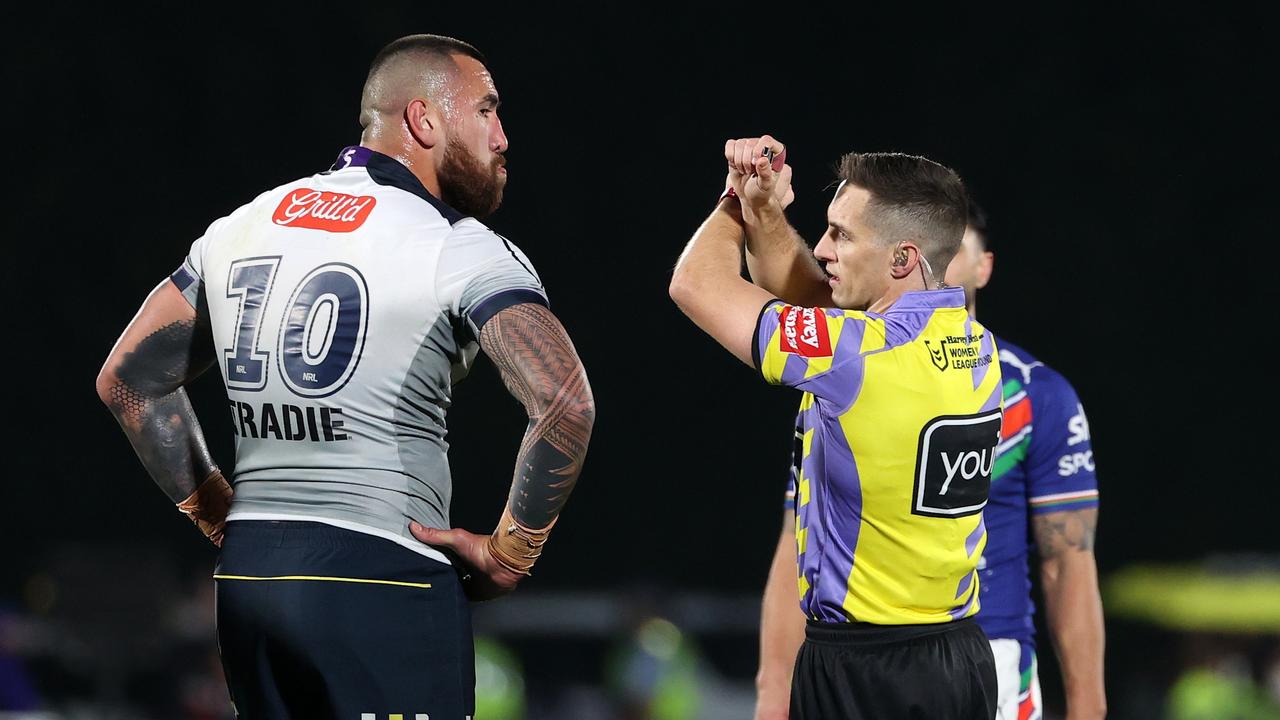 Nelson Asofoa-Solomona wasn't charged after being put on report for a tackle on Wayde Egan. Picture: NRL Photos
Normally it would be a straight line to figure out what happened in between but, this being The Great Human Comedy, let the hilarity begin.
The MRC was supposed to have undergone significant review over the summer, only for the changes to be rushed in late, mere hours before the season began, with little to no attention paid to what was the problem in the first — the potential for human error.
Somehow overlooked in the bid for improvement was that there was nothing wrong with the charges, just the people in the business of doing the charging.
So in a bid to help the audience understand on Monday, NRL head of football Graham Annesley introduced his straight man, MRC manager Luke Patten, to explain why the MRC decided Asofa-Solomona had no charge to answer.
The first piece of information identified was that Felise Kaufusi was also in the tackle, Patten said, "so it was two big men on a small man".
In swift order Patten then broke down the tackle.
There was space between Asofa-Solomona's left arm and Egan's head, "so there's no crush or no force or pressure applied to Egan's neck area".
It continued …
"There's a couple of other things we had to clear in this tackle," Patten said. "We see that there was clear separation from Nelson's right arm as player Egan gets thrown to the ground."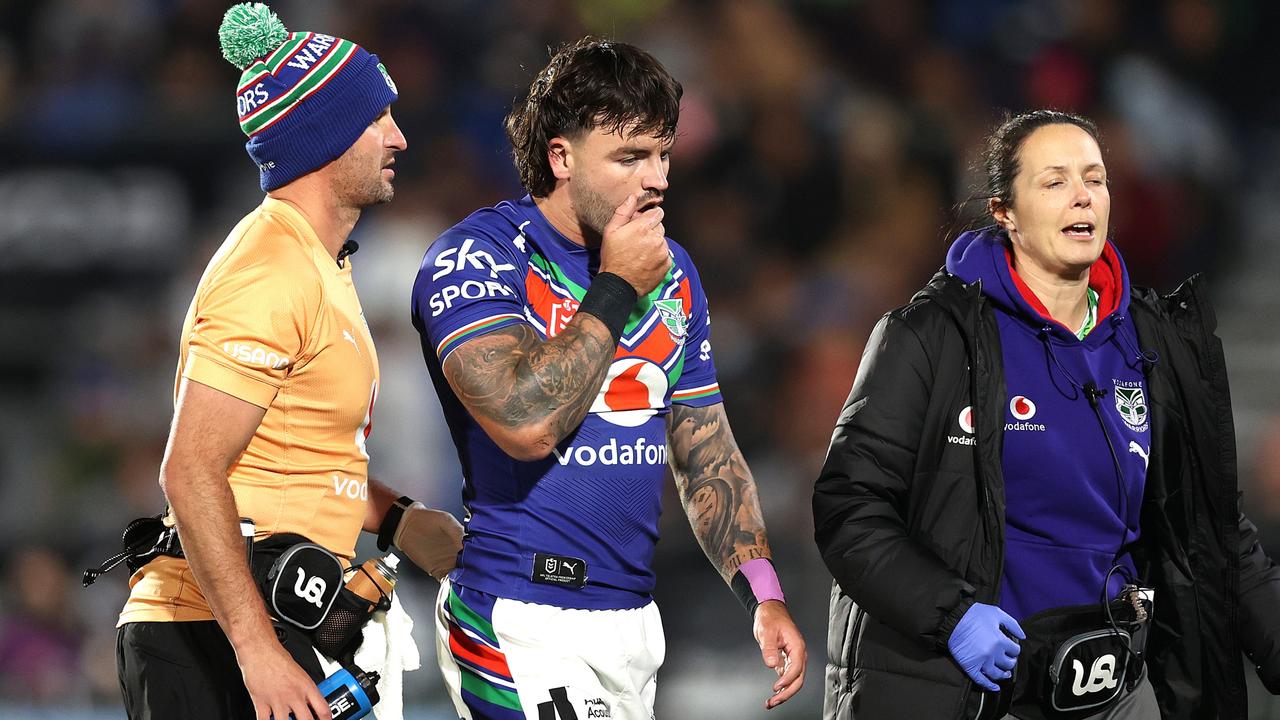 Wayde Egan left the field clutching his jaw after the tackle by Nelson Asofa-Solomona. Picture: Phil Walter/Getty Images
Given there was "clear separation" from Asofa-Solomona's right arm, there was no head slam, as "you would see that arm isolate the head and really slam it into ground".
By then, and this is just a layman's view, Asofa-Slomona's right elbow had already smashed Egan in the mouth.
Check the video for yourself.
All sorts of jujitsu explanations are then given, about angles of the arm, bracing diagonally across the chest and all that, a pseudo science that appears designed to confuse rather than inform.
Put together, it all highlights how The Great Human Comedy has lost its way.
To briefly venture outside of rugby league there is clear separation, for instance, before a fist cracks a head in every boxing match you will ever see.
Yet The Great Human Comedy apparently has no understanding of this, that there has to be separation before any contact. It is simple science.
"Hopefully," said Annesley after Patten closed the act, "what you can hear from that explanation is the range of factors that the Match Review Committee considers."
Which is everything, apparently, but the cracked teeth.
Or that Egan walked off the field cradling his jaw, saying later he thought it was broken.
This "clear separation" stuff is absurd, given the separation clearly did not last, as Egan's teeth would testify if called.
It is one more example of a match review committee that has lost its way.
It is not the system that is broken but the people within it.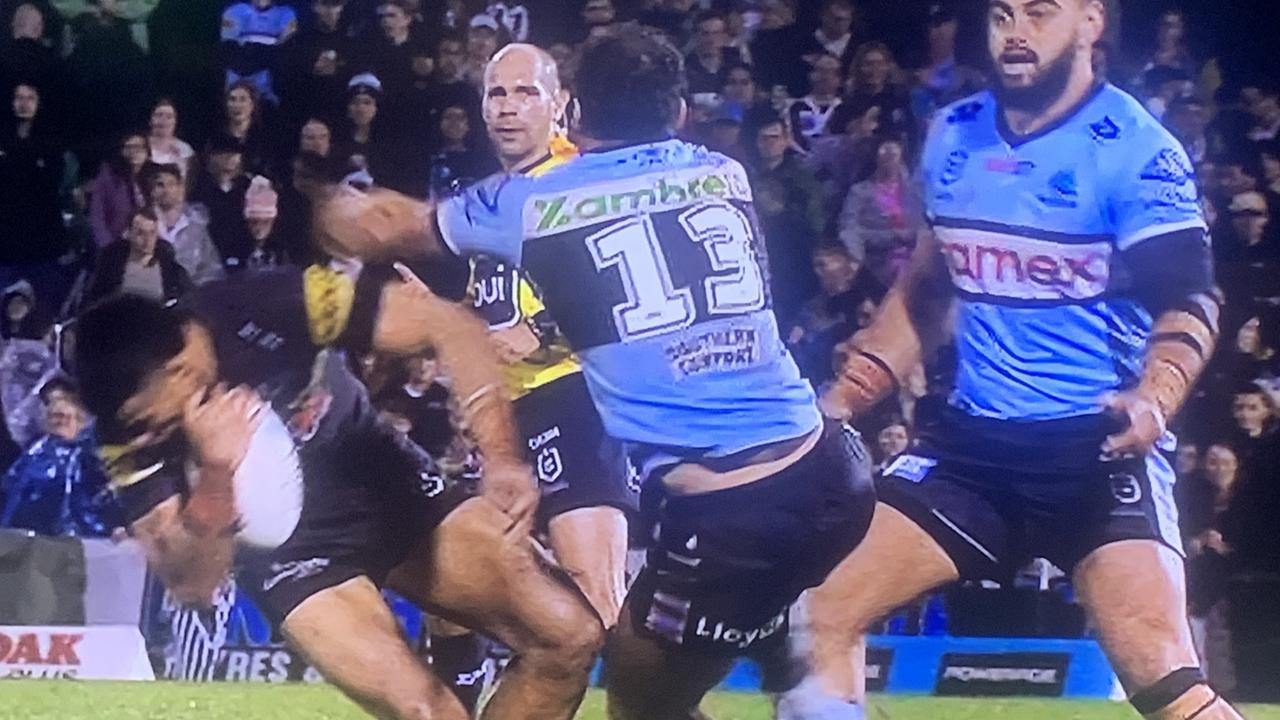 Cronulla's Dale Finucane was suspended for two weeks for a high tackle on Stephen Crichton.
Just a week ago Cronulla captain Dale Finucane was suspended for two weeks for a high tackle and, while a dozen different explanations were offered on why it was illegal or not, among the reasons the judiciary found him guilty was that he failed in his duty of care to the ballrunner Stephen Crichton, who needed plastic surgery on his ear.
Annesley was asked about this seeming contradiction between Finucane and Egan's cracked teeth.
"That's a factor that the Match Review Committee have to weigh up and, again, everybody will have their own opinion on that," he said.
"They saw it was a very physical tackle but a lot of tackles in our game are very physical and they have to determine whether our rules have been breached or not."
Clearly it is a lucky dip.
Corey Waddell got five weeks last week for an eye gouge that looked similar in grip to Josh King's effort on Jazz Tevaga, which got no charge, and on it goes.
It is illegal to hit a player in the head where, even in the pseudo science the match review committee subscribes to, still finds the teeth located in the head.
For the time being, anyway.
Originally published as Paul Kent: Lottery of charges shows how NRL match review committee has lost its way