Paul Kent: Origin may not need a fight, but it needs some spite
Selling State of Origin to the non-diehard rugby league audience used to be easy, writes Paul Kent, then the game lost its white-hot anger.
Few will recall, and the history books will say nothing of it, that Australia's shallow first step into reality television began the night in 1993 a nosy cameraman followed Mal Meninga deep into the huddle of the Queensland Maroons — before a Kardashian had ever been invented — keen to get a glimpse of how the players really revved each other up.
The Maroons assembled in a tight circle midfield and Meninga began what was going to be his final rev-up before kick-off, and as he told his Maroons this and that, well, the whole thing seemed a little, shall we say, tame.
Stream every game of every round of the 2022 NRL Telstra Premiership Season Live & Ad-Break Free During Play on Kayo. New to Kayo? Try 14-days free now.
"And markers! We've got to work from marker!" he went, somehow borrowing the game plan from 2022.
"It all stems from then," he continued.
"If we can stop them in the marker area, they won't get any yards against us.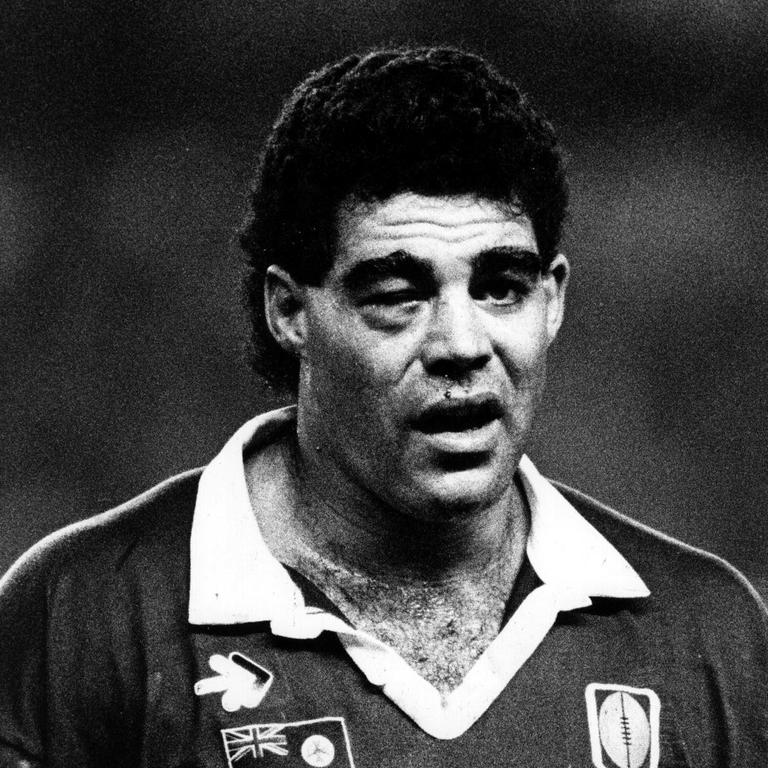 Mal Meninga knew the toll Origin could inflict better than most. Picture: Anthony Weate
"We've got to do it for 40 minutes, have a rest, and then another 40.
"We've got to do it!
"We'll win the game in the 80th minute because we've got to do these things."
It certainly wasn't the brimstone and flame most thought Origin players forged their mettle on.
But then, the longer Meninga spoke the more his eyes flicked back to the cameraman, standing behind Allan Langer, until it dawned that this little meeting was prearranged given Meninga's tacit permission, and that perhaps we weren't seeing what really got said in such moments.
But, as happens, about the time it began to dawn on the television audience that life was a whole lot duller among teammates than what we were led to believed, it also seemed to dawn on Meninga that this censored version he was presenting wasn't cutting it with his teammates either, and that he was going to need to put a little chilli on it if his team was going to buy the message.
And as suddenly as that it happened.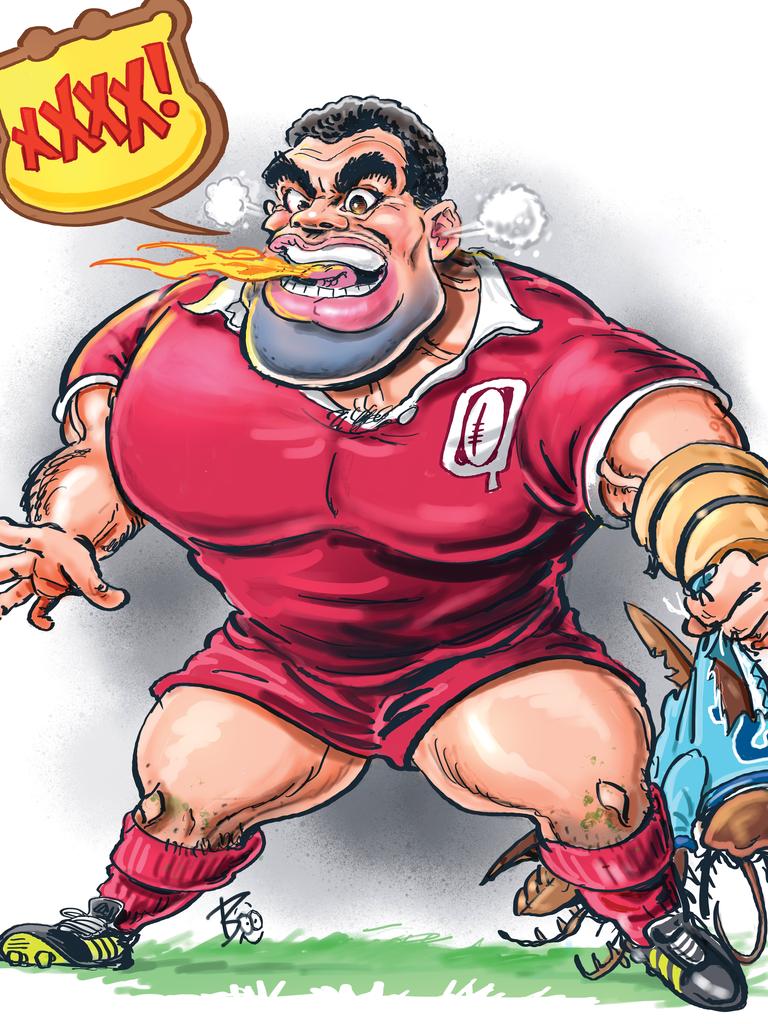 Mal Meninga let the expletives fly in 1993. Digital art: Boo Bailey
"These c …. will get so frustrated with us f … … tackling, and f … … putting them on the ground …"
And, at that, the director in the broadcast truck began jumping over live bodies to fade down the sound, too late as it turned out, and as the sound wound down the silvery tones of Darrell Eastlake told the millions watching that, "Er, well that's a first here, anywhere, listening to State of Origin …"
Darrell, always a stickler for accuracy, was saving the audience from the experience of Meninga telling the Maroons how they were going to twist this arm and crush that sternum over the next 80 minutes, punctuated in his own special way, and if nothing else the genius of Meninga as a leader shone through.
When the moment mattered he did what had to be done, making the television audience suffer instead of his teammates.
Meninga's pre-game Origin speech would become part of Origin folklore, another chapter in a game that was built on its rawness but has become, in recent years, not much more than a faster version of the NRL home and away rounds.
(L) Wally Lewis was always fired up when he played New South Wales.
It must be hard to believe for those familiar only with the modern game, where players talk of completing sets and controlling the ruck, and a good kick-chase, and whose heads retreat into their necks like shy turtles when somebody dares mention their opponents or, heaven forbid, a topic with a little meat on the bone.
Once upon a time Origin players didn't care what their opponents said, and listened only long enough to form a retaliation.
Origin was built on the legend of Wally Lewis, who hated NSW so much and was so overt about it that it eventually cost him his Test career.
So how the NRL goes about selling its behind-the-scenes documentary it has planned next season will be one of the great feats of modern marketing.
NRL boss Andrew Abdo told me this week that selling a documentary like the Netflix Formula One series Drive to Survive, or the cricket series The Test that was on Amazon Prime was an absolute must for next year's series.
Sadly, it is far more difficult than it should be.
Just a few years back Karl Stefanovic had a production ready to go until then-Queensland coach Wayne Bennett pulled the plug, privately citing something about the sanctity of the dressing room and trying to keep up the curtain that surrounds camp.
So far Origin coaches Brad Fittler and Billy Slater have rejected the idea that something from the Origin legend is missing in recent seasons, even at the same time Abdo recognises the game must work to get it back.
That they will need to be convinced makes for tough work for the NRL and the respective state leagues.
Perhaps they are too close to it all. The NRL understands that while the rusted on fans remain there has been a shrinking of peripheral fans that disappeared about the time the game banned the punching.
Sunday's game is being sold in Perth with a juiced up version made by the cuts from recent Origin games but very different from how it first forced itself into unfamiliar homes.
Where once the game was marketed at an almost primitive level — based around the brawls and big hits, which sparked a fascination for non-league fans, and even the peripherals — the vision being sold for Perth shows the odd big hit, some catch and wrestle and a few tries being scored.
The NRL recognises more needs to be done and realises the marketing value a documentary would bring.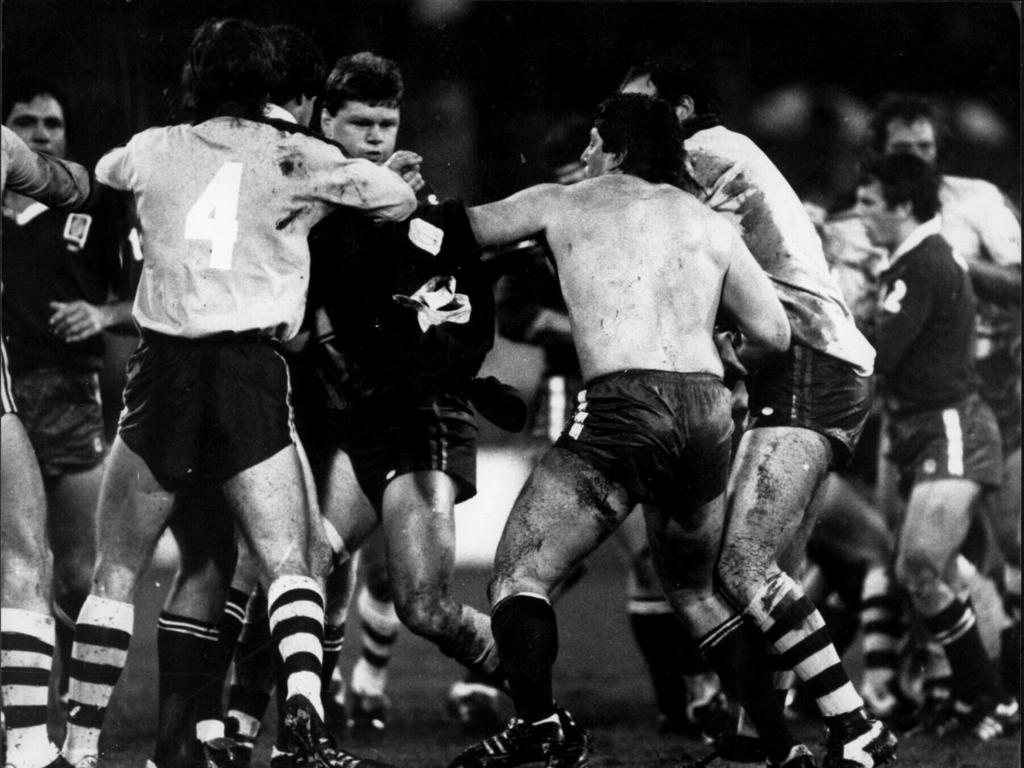 An all-in brawl erupts between players during the 1984 NSW vs Qld State of Origin game at the SCG. Picture: Supplied
Yet even if Abdo does manage to somehow get cameras inside camp, he then has to get them to talk.
After all, the strength of any sporting documentary is always its absolute honesty. Private conversations around corners won't cut it.
Fans are too smart nowadays to fall for a con, a sanitised version without genuine emotion. And anyway, it goes against everything Origin was built on.
"We need a bit of that grit coming out," Abdo said.
Why players are so reluctant to be truthful to promote the game they are paid handsomely to play, is anybody's guess.
A choice insult perfectly aimed will not make the victim want to tackle them any harder once the game starts, for instance.
They won't want to win the game any more.
Boxers and UFC fighters say the most absurd things to each other, often truthful, knowing their opponent is going to try to hit them as hard as they can anyway.
The key might be different altogether, that they also see a direct correlation between what they say to sell a fight and what they get paid.
In Origin, it is a flat match fee, whether they grunt or not.
Or it could be that they are genuinely friendly nowadays, in this modern game, the white hot anger of Lewis now cold.
If they don't change with the times, though, it might not just be the King that's cooled.
* * * * *
The difference between participation sport and elite sport continues to be lost, or deceptively ignored, by those pushing the cause for transgender women to compete at the highest level.
Former NSW rugby league player Caroline Layt led the cause this week after FINA's announcement that transgender women must from now on swim in the open category, which was quickly followed by the International Rugby League announcing transgender women would be banned from the Women's World Cup later this year on safety grounds.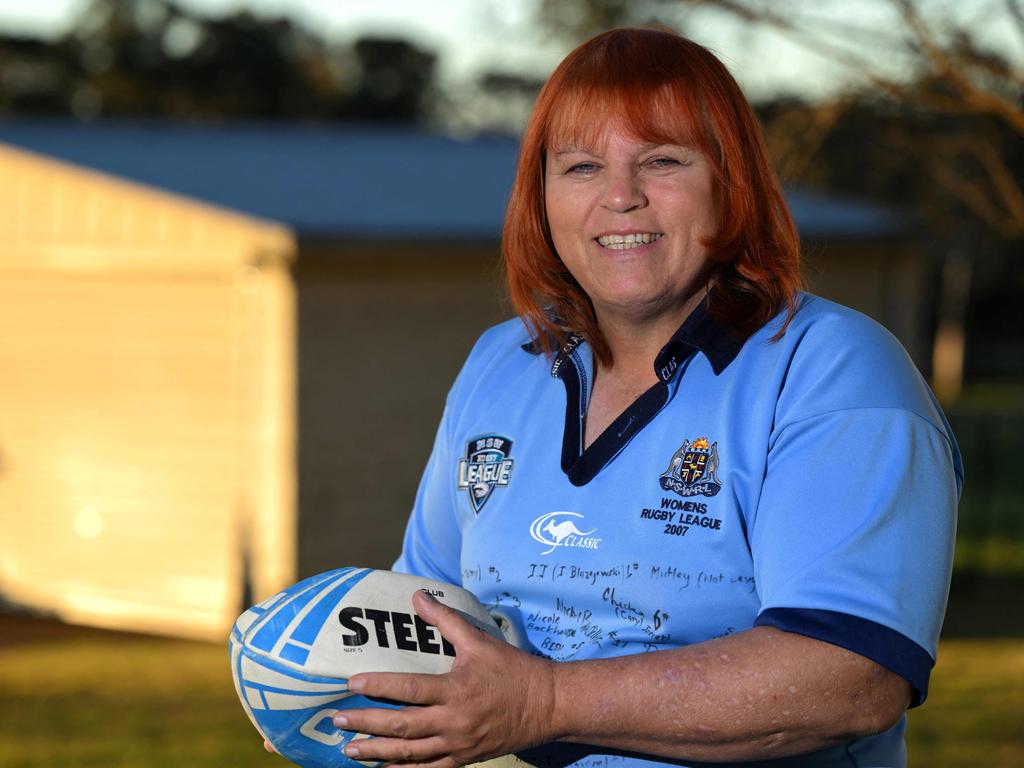 Transgender Origin player Caroline Layt. Picture: Saeed Khan/AFP
Layt explained she played elite rugby league for five years and "nobody got killed" and that this decision would just drive transgender women underground.
But was it really "inclusive", as goes the argument?
Layt was chosen to play wing for NSW in 2007, at the age of 41, 11 years after she transitioned to a female.
Say what you like, it wasn't inclusive for the woman who missed out on playing wing for NSW, who might have been chosen had Layt not been playing and benefiting by the physical advantages she developed as a male youth going through puberty; the greater muscle density, greater bone density, lung capacity, VO2 max, and all that.
The solution will never satisfy everyone.
But the difference between elite sport and participation sport should always be respected, or the integrity of the sport will be lost forever.
Originally published as Paul Kent: Origin may not need a fight, but it needs some spite