Paul Kent: Phil Gould's Kyle Flanagan talk full of hypocrisy and worry for coach Trent Barrett
Phil Gould's claims that he gets to decide when Kyle Flanagan returns to the Bulldogs' NRL side should be a huge cause for concern for coach Trent Barrett, PAUL KENT writes.
Only five minutes with Phil Gould is necessary before he will have you convinced man never walked on the moon, a man can putt better with a pool cue, the sun rises in the west and that, given enough time, monkeys can put toothpaste back in the tube.
Gould is one of the game's most convincing orators.
In his podcast this week, Six Tickles With Gus, or somesuch, Gould found himself "loathe" to respond to the "jackals in the media" who questioned the timing of Kyle Flanagan's return to first grade, where he will play with just a week's worth of ballwork under his belt since last winter against the best team in the NRL.
But, bless him, he did so anyway.
Stream every game of every round of the 2022 NRL Telstra Premiership Season Live & Ad-Break Free In Play on Kayo. New to Kayo? Try 14-Days Free Now >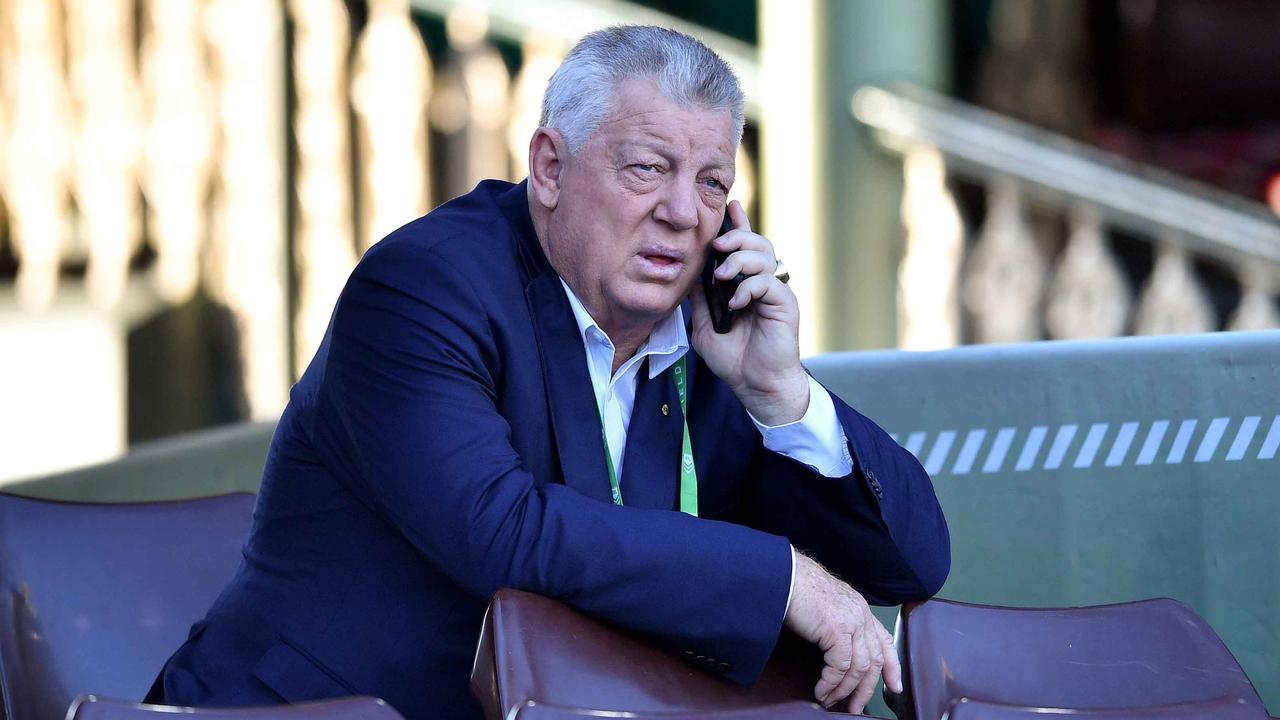 Canterbury head of football Phil Gould. Picture: NRL Images
What followed was a convincing and yet oddly contradictory defence.
For instance, before this week Flanagan had never trained a minute with five-eighth Matt Burton, which he explained was for a number of reasons, such as Burton's late arrival to the Bulldogs after winning a premiership with Penrith, Covid shutdowns and Covid cases.
Yet in all that, they couldn't find a single afternoon together?
It was well known around the game that Canterbury had encouraged Flanagan to look elsewhere.
That never got a mention, though.
Gould said he met Flanagan's father Shane and his manager Wayne Beavis and spoke to several others about how to best restore Flanagan.
"But I asked them to leave that to me, that we didn't want too many coaches from the outside interfering, and we just needed him to settle down here and enjoying his football, which he has done."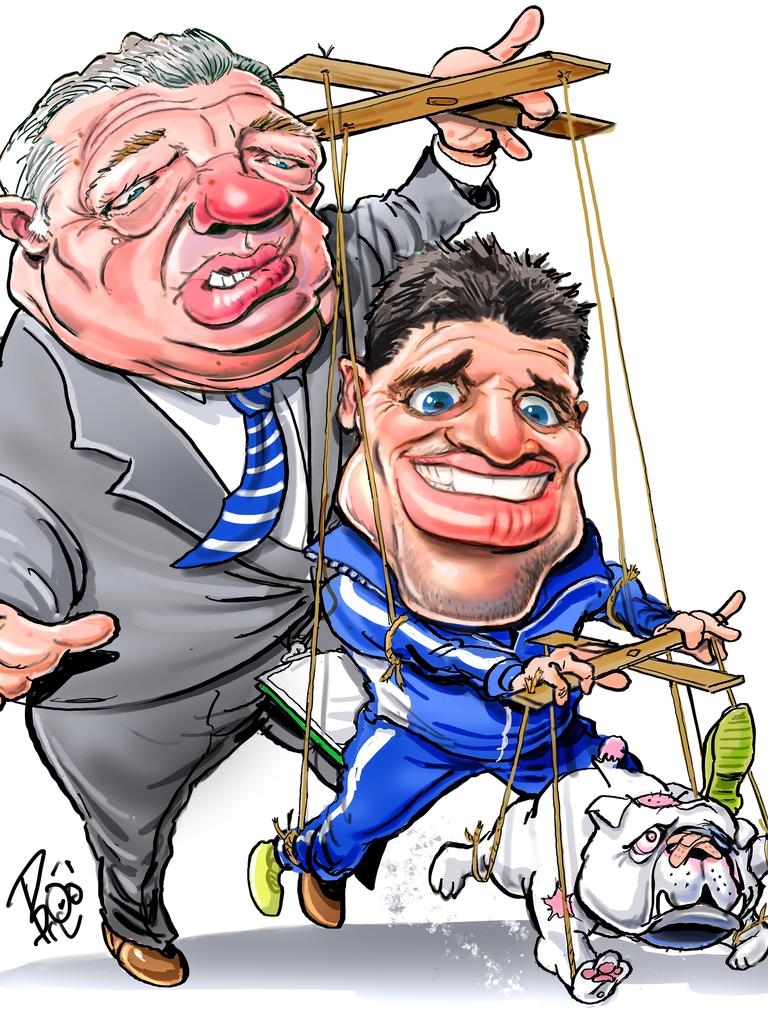 Phil Gould has plenty of sway as the Bulldogs football chief. Artworl: Boo Bailey
Yet soon after he was saying, "I'm not part of the coaching staff. I don't do coaching."
He told Flanagan he needed to reset his career, which meant time in reserve grade.
"I told Trent Barrett, I said that 'Kyle's unavailable for first grade until further notice'."
Four-bell alarms should be sounding in Barrett's head by now.
Gould is making decisions above him that directly affect Barrett's coaching and his chance of success, but, should Gould's decisions fail, which would be measured by the Bulldogs not winning enough games, then Gould is also the man charged with sacking him.
Barrett's only way forward is to have an unbending faith that Gould will have welfare as a priority.
Unfortunately, the form guide does not read well.
Gould had absolute power at Penrith and it made for some curious decisions.
He sacked Ivan Cleary because he was "tired". He hired Anthony Griffin to replace Cleary without bothering to interview others, confident Griffin was his man, and when Griffin got the Panthers to fourth on the ladder he sacked him because, he said, he did not think Griffin could deliver them a premiership.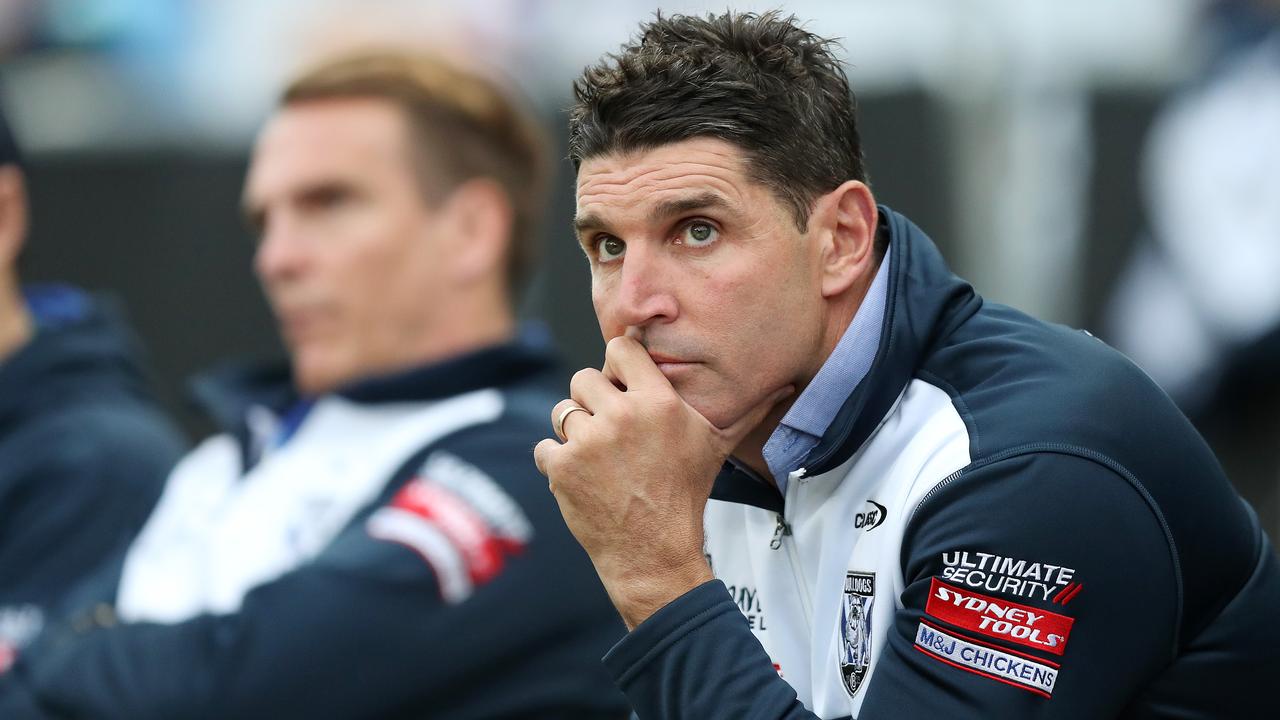 Canterbury coach Trent Barrett was sidelined from making decisions around Kyle Flanagan, according to Gould. Picture: NRL Images
Griffin was gone while Gould remained, still gainfully employed, to continue chasing that elusive premiership. That Gould had often said his job would be complete once the Panthers won a premiership was lost in the noise.
Cleary was eventually brought back to finish the job, against Gould's wishes, and it quickly came to a flashpoint, with Gould leaving the club.
All Cleary did after that was go on and win the premiership last year, 10 years after Gould was appointed general manager of football, but two years after Gould left the club.
It is enough to inspire a tremendous migraine in Barrett.
The arrangement is a throwback to the old days when coaches managed a team handed to them by a selection committee.
It was Jack Gibson who finally had enough of this, arguing it was his head on the chopping block, so Jack made it a condition at every club he coached that he was the sole selector.
Jack argued he was tired of the selection committees and their all care, no responsibility approach. If he was going to fail, he figured, then he wanted to fail with players he coached and selected.
It has been done that way ever since.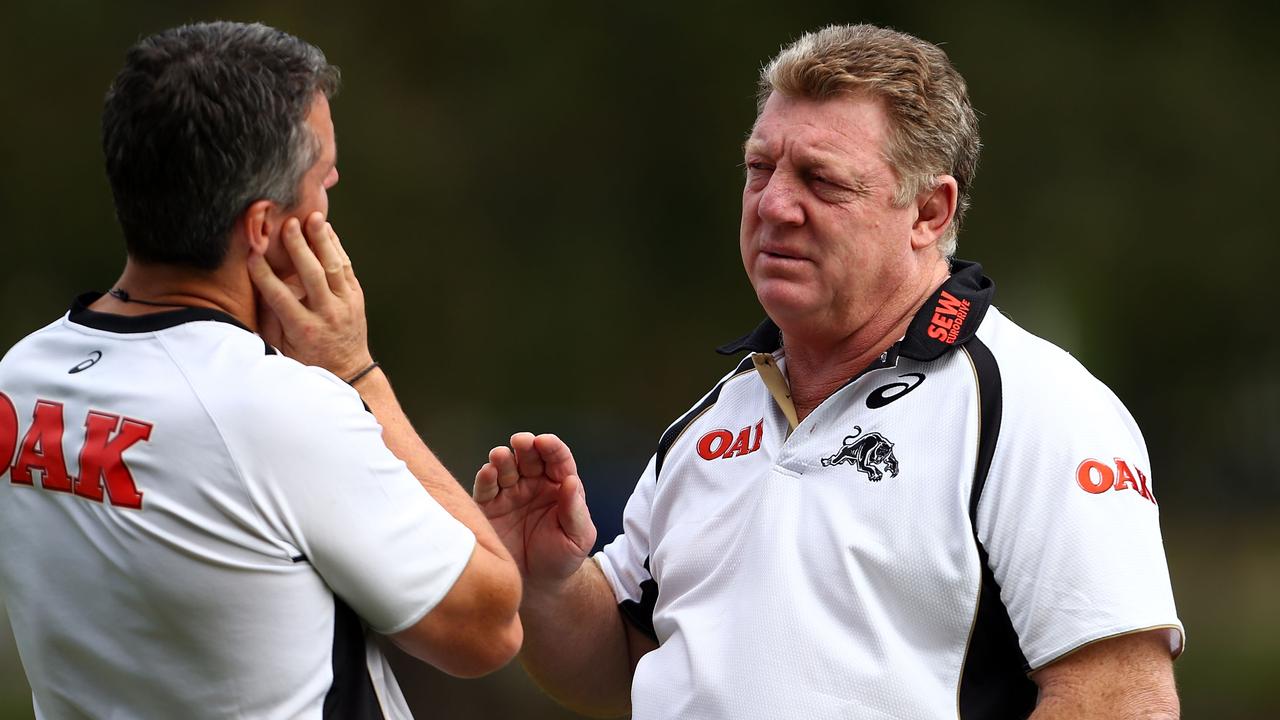 Ivan Cleary and Phil Gould in 2014, before the coach was sacked. Picture: Renee McKay/Getty Images
Yet as NRL teams transition to overseas models where general managers are hired to oversee the roster and their team's long-term planning — as opposed to the coach, whose focus is generally on winning immediately — it is only natural there is small friction.
But general managers overruling the coach on players already in the system is unheard of.
Gould has built a considerable reputation around the game as one of clubland's best roster managers, the go-to troubleshooter when salary caps get bent out of shape.
He certainly improves every club he lands at, at least for a period.
Around the game, though, Gould's recruitment strategies at NRL are known for their short-term success. Part of the complexity of Gould is that this sits at odds with his investment in junior pathways, which he builds for the long haul.
As most clubs understand, the problem with constantly making short-term decisions is it often means lots of long-term mistakes, which can be hard to repair.
Yet Gould backs himself to deal his way out of trouble, and is accomplished enough to do so.
Plus the short-term sugar hits provide breathing space.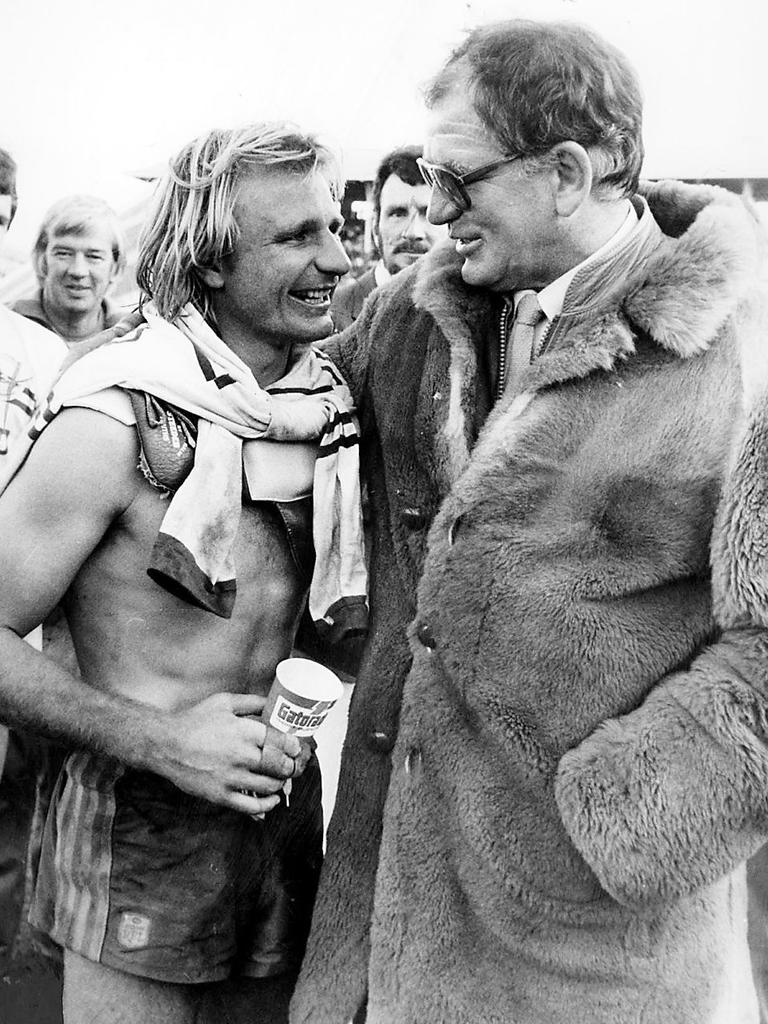 Jack Gibson, pictured with Peter Sterling after the 1983 grand final.
It is happening now at the Bulldogs.
Barrett struggled all last year with a team that could not score points.
The Bulldogs (340 points) had the worst attack in the NRL. That was more than 100 points less than the competition's next worst attack, the Broncos (446 points).
Yet their new recruits for this season are Matt Burton, a five-eighth who has grand final experience as a centre, middle forwards Tevita Pangai Jr and Paul Vaughan, winger Josh Addo-Carr and fullback Matt Dufty.
Barrett needed a halfback more than anything but Gould was unable to deliver.
And for four rounds already this season the Dogs struggled without a playmaker assisting Burton, something not lost on the players.
"Kyle knows what he has had to work on and I think for us it is pretty important to have a natural number seven, which is maybe what we have been missing," Paul Vaughan said Wednesday.
Flanagan, the one true halfback at the club, was unavailable under Gould's orders.
So the first rounds were sacrificed, apparently, for the greater good.
Now the push out of Canterbury is that Flanagan has been rebuilt and is finally ready to resume his NRL career.
Gould declared it.
"To be brutally honest," Gould said, "I am the one who has controlled the Kyle Flanagan off-season and preparation, and I am the one who has made the decision about when and where he comes back into first grade."
So not Barrett.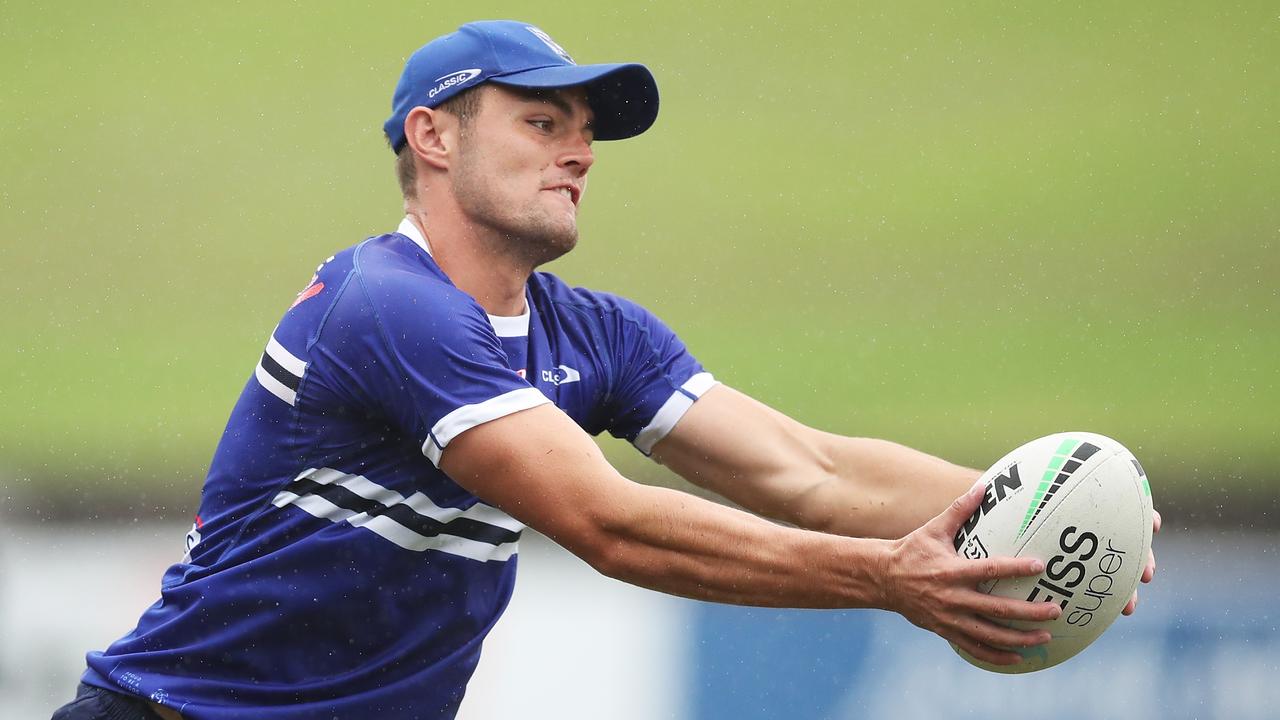 Kyle Flanagan's off-season preparation has been handled by Phil Gould, according to the Bulldogs' general manager of football. Picture: Matt King/Getty Images
"Trent wanted him in the side, but he came and asked me for permission to do it. I could have easily said no if I didn't think he was ready. I said yes.
"So it's my responsibility for how Kyle has been prepared for this season and when he comes back into the NRL.
"Not Trent Barrett, not the Bulldogs. That's me."
So Flanagan is ready because Gould says he is ready. Barrett's opinion, clearly, remains irrelevant.
He left Manly to find clear air as a coach and now he finds himself more oppressed than ever.
And the Bulldogs insist they are on the road to success.
Gould, of course, has them convinced of this.
V'landys' big battles
ARL Commission chairman Peter V'landys had his sleeves rolled up during the week, taking on the TAB as part of its planned demerger which will cost Racing NSW millions.
So V'landys is pushing for appropriate compensation.
This is the boss's battlefield and he has a proven track record since taking over Racing NSW of extracting maximum dollar whenever racing's earnings are at stake.
The toughest job he might have, though, is taking on the NRL coaches as he tries to turn around the cynical tackling techniques that continue to drive fans mad.
The rumoured crackdown raised during the week did not eventuate, at least not so far, with NRL head of football Graham Annesley saying yesterday that all referees have been instructed to adjudicate consistently over the 100m of the field and not to focus on certain areas.
But tackling techniques designed to slow the play-the-ball down — which is now every team's greatest priority given they know the game is won and lost at the ruck — continue to be disguised and utilised in games.
The coaches are continuing to coach subtle ways to win the ruck.
All sorts of acts are occurring in tackles to make the tackle look clumsy and accidental, and no fault of the tackler, as they buy more time at the ruck.
In some cases, though, the referee's instructions are ignored because the players know they have several seconds to respond to them, which is all they need.
And everyone seems happy to accept this.
Until the game says enough is enough, though, and penalties start being whistled to allow the referees to regain full control of the ruck, it will continue.
V'landys and the bosses at League Central are aware, knowing the time is nearing.
Originally published as Paul Kent: Phil Gould's Kyle Flanagan talk full of hypocrisy and worry for coach Trent Barrett