State of Origin 2022: Billy Slater won't accept underdog tag for Queensland Maroons
Billy Slater will take a leaf out of Craig Bellamy's coaching manual as the former champion fullback sets about adding a ruthless winning edge to the Maroons.
Billy Slater says he will not accept the Maroons being called "underdogs" as the new Queensland coach moves to break a 42-year interstate tradition in his plan to reclaim Origin ­supremacy from the Blues.
As he prepares to pick his inaugural team, Slater is presiding over a cultural overhaul of Camp Maroon, saying he will no longer stand for Queensland being treated as Origin's second-class citizens.
Over four decades, the magic of State of Origin has been built on the narrative of underdogs Queensland consistently punching above their weight in a desperate quest to topple the might of a NSW regime armed with twice the playing stocks.
Stream every game of every round of the 2022 NRL Telstra Premiership Season Live & Ad-Break Free During Play on Kayo. New to Kayo? Try 14-days free now >
But on Slater's watch, the days of Queensland being positioned as Origin's embattled ­Little Brother are over.
The 31-game legend was at the vanguard of Queensland's golden era under Mal Meninga, when the Maroons charged to a record nine Origin series wins in 10 years.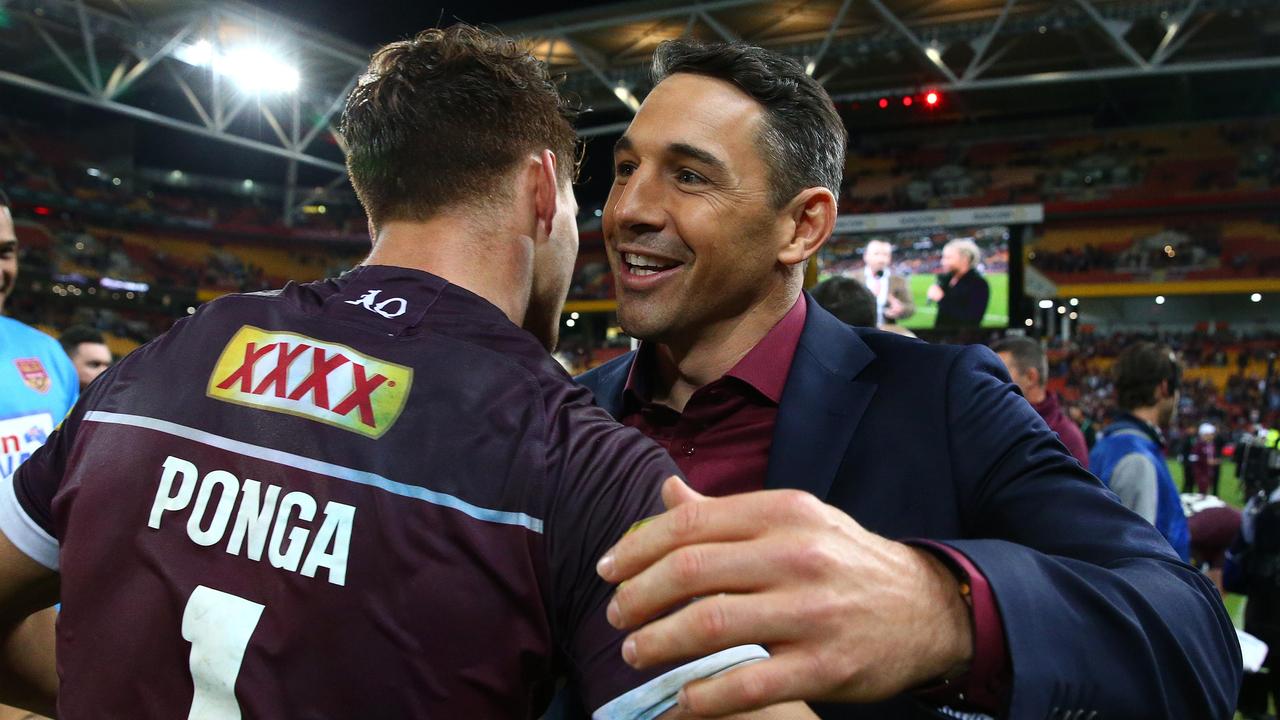 Queeensland coach Billy Slater is changing things up in Camp Maroon. Picture: Adam Head
At his club side ­Melbourne Storm, Slater was a proven winner, claiming four premierships and two Clive Churchill Medals.
Now rugby league's greatest fullback is bringing his ruthless winning touch to the Maroons, firing his first salvo at the Blues by declaring the famous "underdog" tag is dead ahead of the Origin series opener in Sydney on Wednesday week.
"We are not the underdogs," said Slater as he prepares to unveil his first Queensland team.
"As a player, I never went out onto the field in an Origin game thinking the Blues are better than me and it won't start now.
MAROONS SELECTOR: PICK YOUR TEAM
"I don't want people to see us as a team of underdogs without a chance this year.
"I'm a confident person. I don't go into things with a whole heap of doubt in my mind. I look at our group and if we play our best football, I believe we have the group to win the series."
Slater's powerful stance is refreshing after decades of paranoid ­Queensland coaches happily trading on the underdog tag in a strategic ploy to amplify psychological ­pressure on the Blues.
The former Queensland custodian has every reason to believe he can deny NSW a fourth series win in five years. He has assembled one of the most formidable off-field units in Origin history, with future NRL ­Immortals and Maroons legends Cameron Smith and Johnathan Thurston to be on board as his Queensland assistants.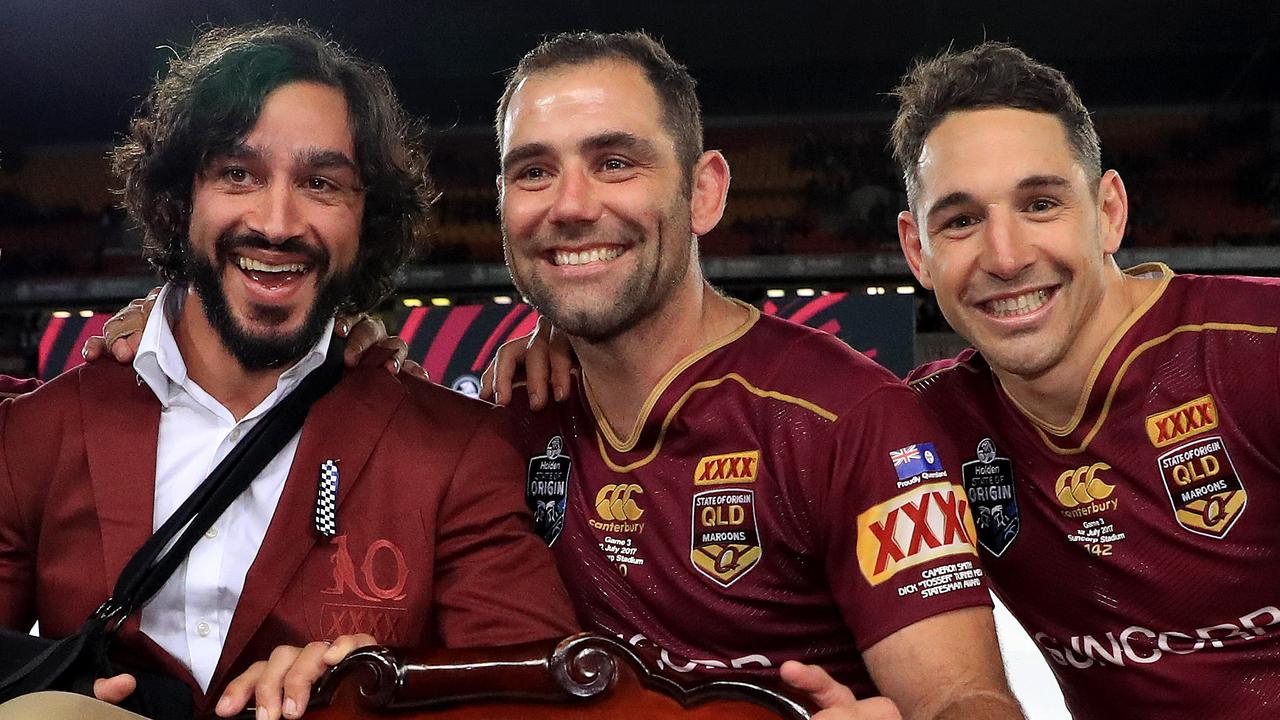 Queensland greats Johnathan Thurston and Cameron Smith will be part of Billy Slater's Origin coaching team. Picture: Adam Head
Slater also has enormous respect for his other staffer Josh Hannay, the former Queensland Origin centre who is a highly-regarded assistant to Craig Fitzgibbon at Cronulla.
"I'm confident," he said. "The most important thing for me was to identify the right coaches in the right positions to assist our players to be their best during the week.
"Having Cameron, 'Johnno' (Thurston) and Josh on board, three guys who have all played Origin, gives us great knowledge.
"Now I will be building our program to suit us and give us our best chance of playing well.
"I will look to build that togetherness and understanding each other's strengths and how each player assists each other to make the most of our individual strengths."
Renowned for his work ethic as a player, Slater is bringing his attention to detail to the Queensland job.
For 72 hours between Monday to Wednesday each week, Slater forensically breaks down all eight NRL matches from the weekend. Using a computer program available to all NRL coaches, Slater uses eagle-cam footage to study the habits of players on his Queensland selection radar.
It is classic Slater. No shortcuts. No easy rides to the top. If he learnt anything from Craig Bellamy at Melbourne, it is that greatness starts with the one percenters. The Maroons will have every angle covered.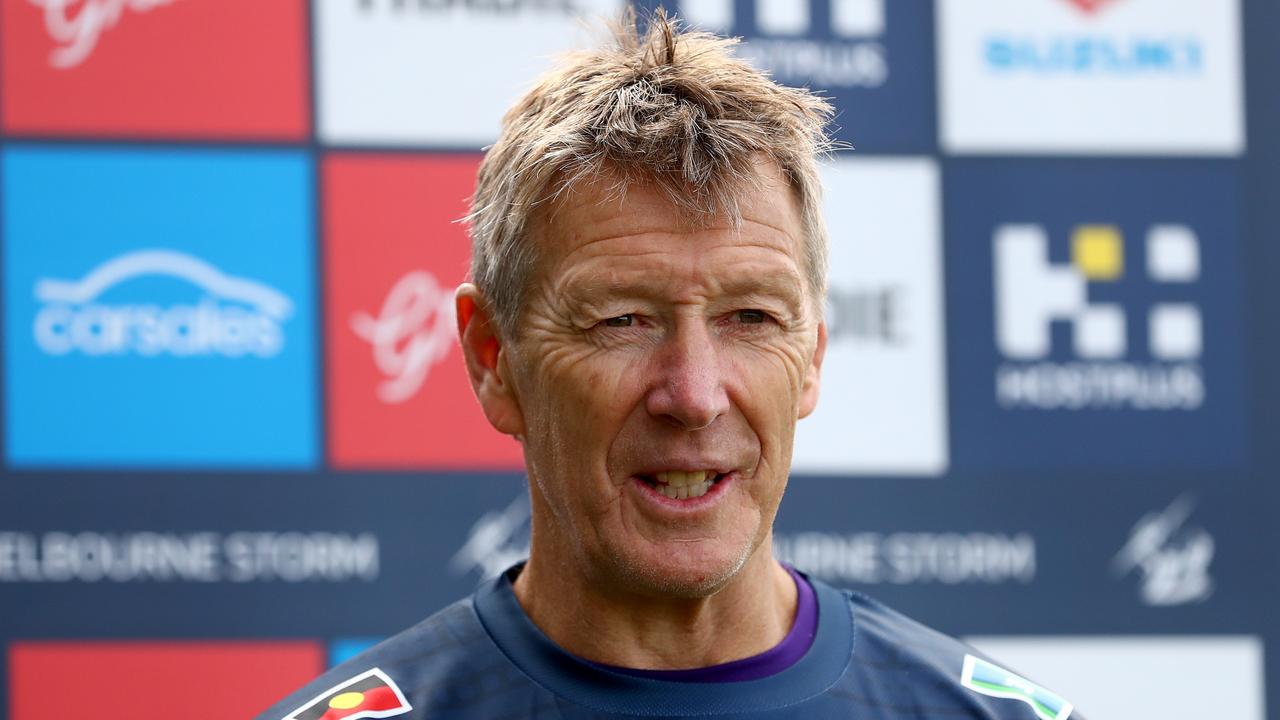 Craig Bellamy's attention to detail in coaching has rubbed off on Billy Slater. Picture: Kelly Defina/Getty Images
"I can guarantee this – we will not be complacent," he said. "Sometimes I'm up at night thinking about the game at random times. I'm taking this Queensland position seriously.
"It's a prestigious role in my eyes.
"Seeing Craig's work ethic at Melbourne showed me you very rarely get lucky in this game. You have to earn everything at this level. There is no magic dust or shiny game plan. It's simplicity. It's hard work. It's putting in the time to be successful and trusting people to all do their jobs and that's what I want for this ­Queensland team.
"I watch every NRL game, every week. I have eagle-cam footage and I'm analysing all the (Queensland) players in contention.
"I zoom in on them and you get a good read of a player's mentality and their individual efforts when you watch the high-shot angle.
"You see all the structures and the little detailed stuff around what players are doing off the ball … how they are moving and who is making those little efforts.
"I have a lot of good Queensland players to choose from but actions will dictate who we pick for Game One."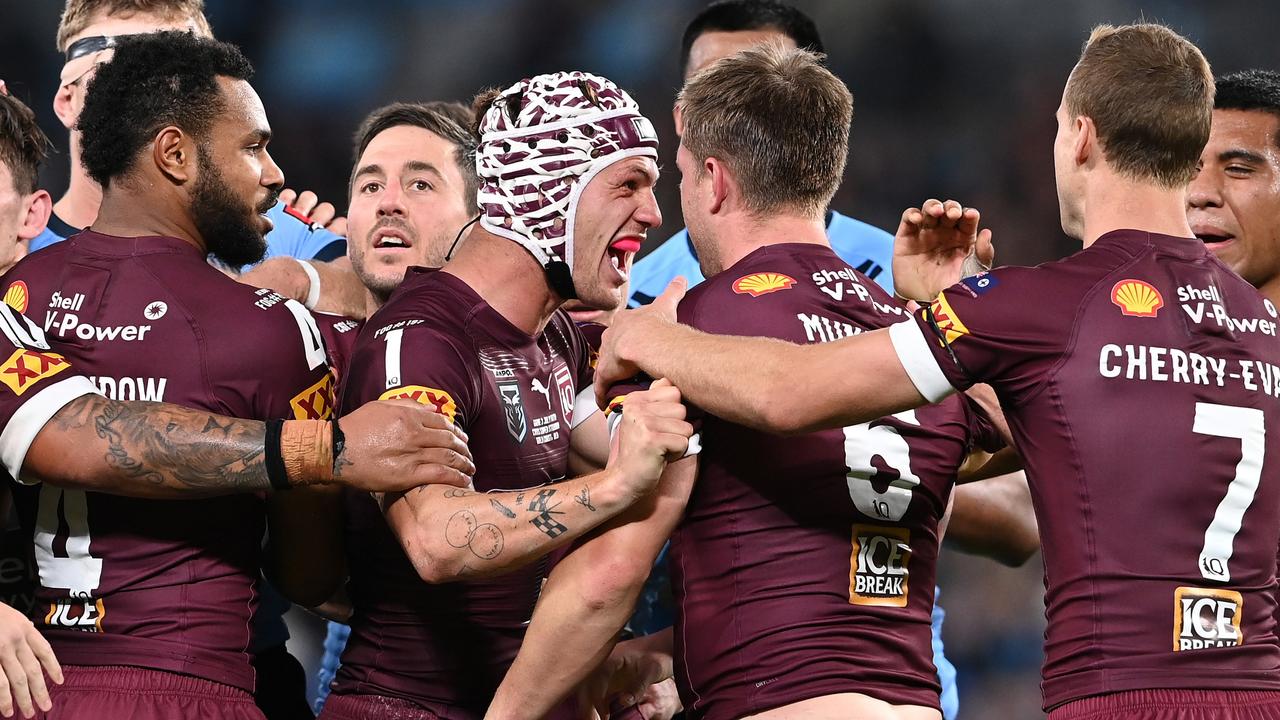 Billy Slater will have plenty of talent in his Maroons' squad. Picture: Bradley Kanaris/Getty Images
Queensland's 2021 series loss under Slater's predecessor Paul Green was a debacle. Aside from unforeseen off-field dramas, including the Ronaldo Mulitalo eligibility scandal, the Maroons were carved up on the field.
Their 50-6 loss in Game One was Queensland's biggest rout in Origin history. In Game Two, the Maroons were mauled 26-0 – their worst shutout on home soil at Suncorp Stadium.
Slater has put that series under the microscope. In an alarming statement, his well-trained eye spotted problems in the opening seconds in Townsville.
Asked what went wrong, Slater said: "It was evident in the first set of the whole series for me. We didn't stick in our contact in defence and NSW just rolled through the middle. While they didn't score straight away, that was the alarm bell for me.
"When you fail to do little things in defence, they are only minute things, but they end up making a huge ­difference.
"Little problems in defence start to accumulate and then it becomes a snowball which gets out of control. NSW's best players got freedom and they went to work.
"If you don't do the little things well, you put a whole heap of pressure on your team in the Origin arena."
The tale that should terrify NSW fans
-Paul Kent
The magic inside is the great concern for those of us dwelling south of the border, where we take a perverse comfort in there being a life beyond a footy game and share a common belief that banjos are best played under water, but where there is no Billy Slater.
The power of Origin has always been the narrative. Take any slogan you like, best of the best, mate against mate, a walk down Caxton St with Billy Moore by your side, whatever they use to sell Origin, the narrative of Origin, and the emotions it stirs, is its true mortar.
It is Beetson stepping on to Lang Park with chalk on his chest and his fists taped like a prizefighter, Wally Lewis with the ball in hand and menace in his eyes, Benny Elias with his head swathed in blood and his mum gently dabbing it away, Steve Mortimer falling to his knees, the mountain finally climbed …
Every sport is only as strong as its narrative, which makes Slater the most feared man in NSW right now.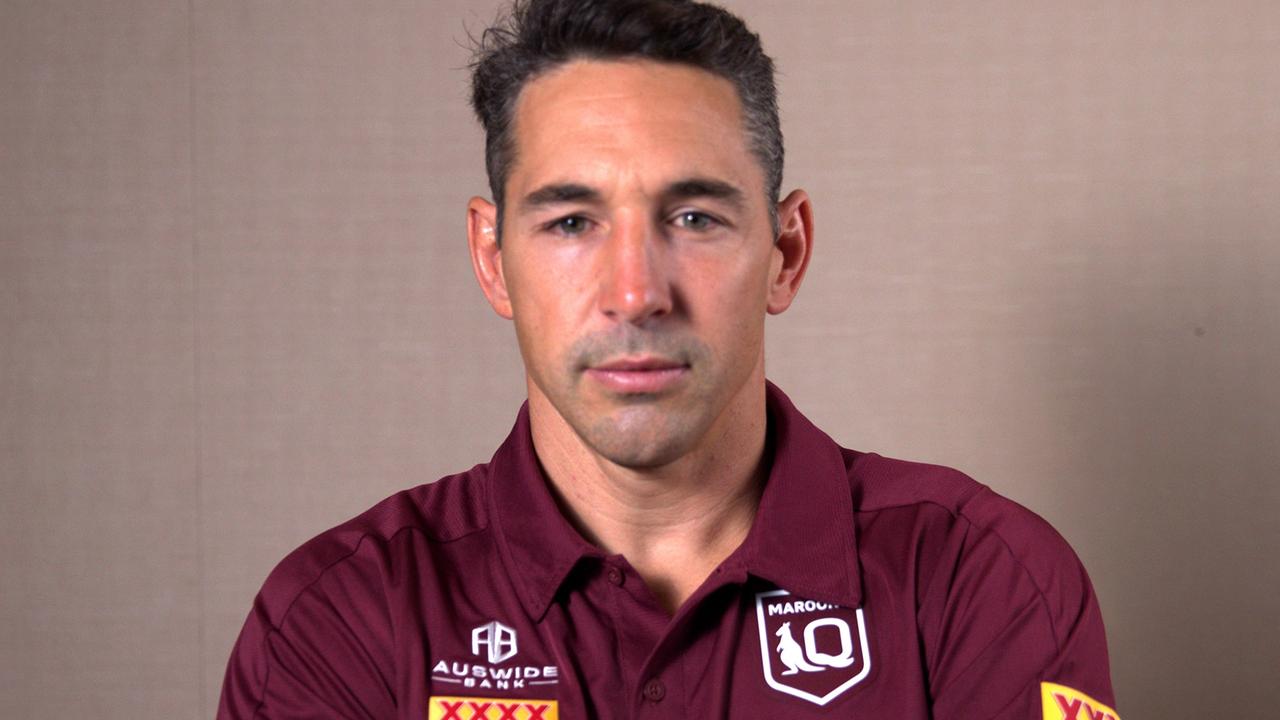 Maroons coach Billy Slater knows what Origin is all about. Picture: QRL
Slater understands the myths of Origin better than most, and, best of all, he is selling it.
There is no greater threat than a man with a purpose.
The journey for Billy Slater began when he was 16 and he filled his car with his clothes and headed to the big smoke to chase a dream that was already well formed.
It was an immediate warning of intent: don't get between this guy and whatever he wants. Nothing was going to stand in his way, and we all know what he did for the best part of the next 20 years.
There was nothing he did not win, and over that time he became bigger than himself, the greatest fullback to play the game.
Gorden Tallis says it best.
"Billy's got something that we all want," he says, and says often.
It is nothing in particular, because it is everything. Put Lewis, Alfie Langer and Beetson in a room to build a Queensland Origin player and they will build you a Slater.
Still, it looked an act of quiet desperation when Slater was first appointed Queensland Origin coach. Slater had no coaching experience to speak of, not even at an assistant level, and many great coaches, like Slater's own coach at Melbourne, Craig Bellamy, had failed to transition into Origin coaching.
Wayne Bennett was unavailable, Paul Green had emptied the bucket, Meninga was busy with the Titans and Australia, Kevin Walters was resurrecting the Broncos, and so the shortlist was empty.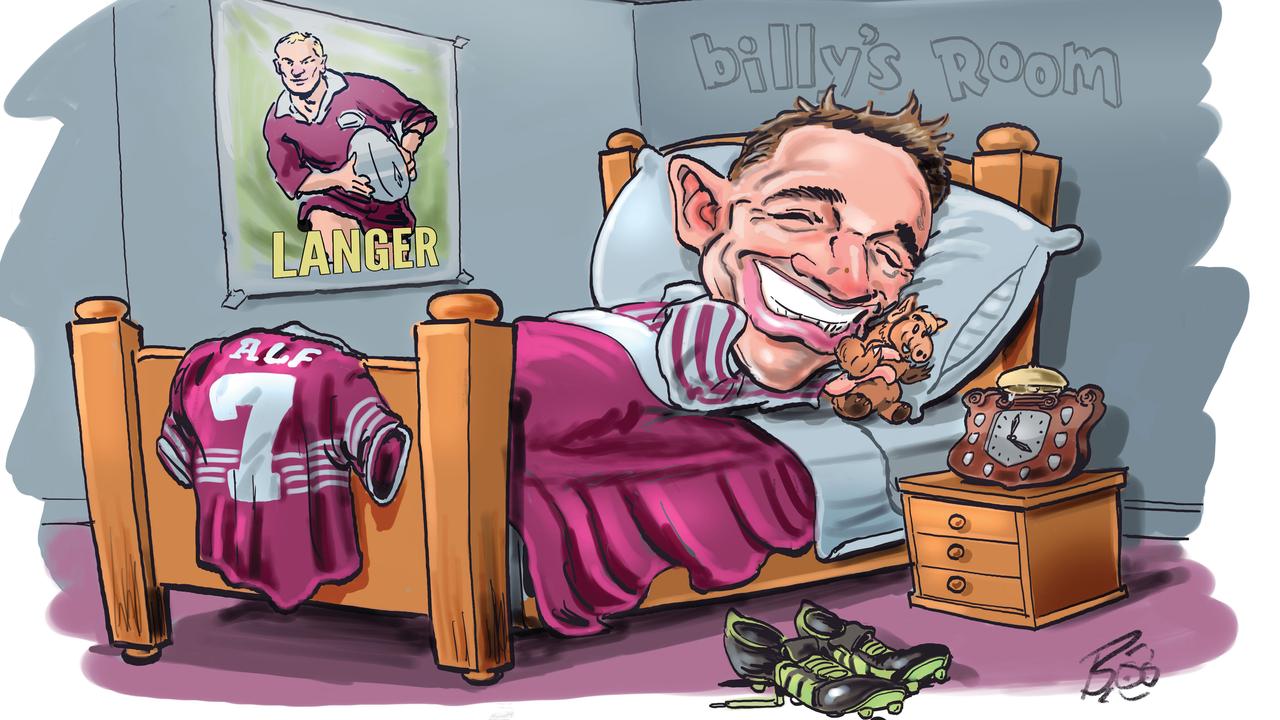 Billy Slater grew up wanting to play for the Maroons. Digital art: Boo Bailey
The QRL took the familiar model of taking one Origin great, a spoonful of hope, and hoping his experience as a player transferred into coaching.
It was a gamble right up to the point Slater accepted the job, and it did not take the QRL long to know that Slater understood what it took better than most.
Talking to Queensland Rugby League boss Rohan Sawyer one day, Slater told him a quiet truth about Origin.
Origin, he told Sawyer, was 80 per cent culture and 20 per cent footy, an understanding that should drive an ice pick through the hearts of NSW fans.
For the past couple of years the Blues have trotted out a team that is as good as any team that has ever worn the sky blue.
At the same time, just two years back Queensland ran out a side that was not the worst Maroons team ever assembled, although it was in the frame, while last year's team was only slightly better.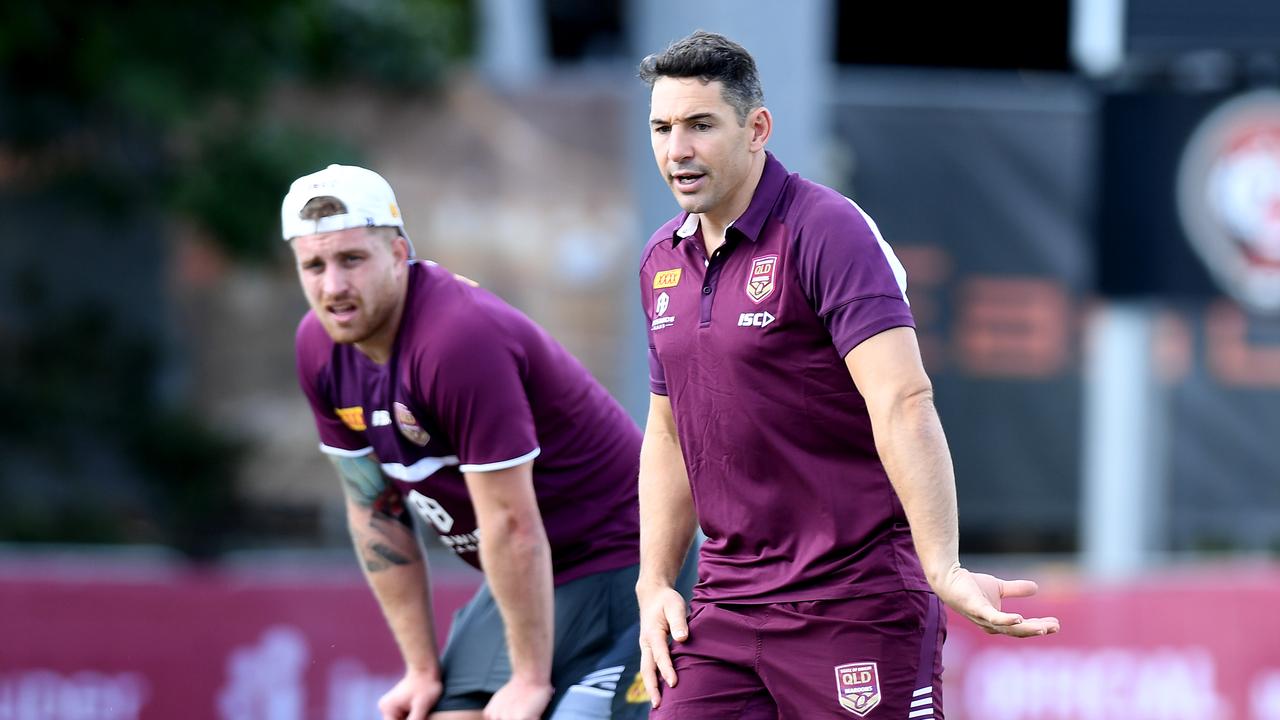 Billy Slater will take the reins as Queeensland coach for the first time this season. Picture: Bradley Kanaris/Getty Images
But in that team list Bennett had picked players who he knew were not necessarily the most talented, but who were tough and would fight for every bone.
Bennett figured out years ago the secret to successful coaching was not to fall in love with the flashy players, the ones who can do things others can't, but to find the players who can help you win.
It is a young coach's mistake, nearly always the final lesson the successful coaches learn.
QLD MAROONS SELECTOR: PICK YOUR TEAM
By some coincidence this was always Queensland's Origin philosophy. Why back in the 1980s players were famously pulled out of reserve grade to play for the Maroons, and more recently why the likes of Nate Myles was picked no matter how he was playing because he would pull on that Maroon jersey and give the Blues the short end.
Slater understands this.
Every time he talks to Sawyer or another Maroons official, he is highlighting the performance of a player, like Reuben Cotter, for instance, who have that heart ticking inside that makes them a Queenslander.
He understands the Origin narrative.
For all the chat out of NSW, the uncomfortable truth from a great majority of NSW defeats is that not enough players with Origin DNA are picked for the Blues.
In the past two years one of the best NSW teams ever put together has taken on one of the worst Queensland teams, yet the scoreboard reads three games apiece.
Slater will pick his team Monday and come July 5 will take them to Warwick for the Maroons' annual fan day, ahead of Game III, for what is really a Trojan horse motivator.
Meninga always let the story be told that fan days were an opportunity to let the fans come into contact with the players but it isn't so.
NSW BLUES SELECTOR: PICK YOUR TEAM
"Mal said to me one day," says Sawyer, "that 'the main reason I did it, and I never told anyone, was so that the players understood how much it meant to the young kids'."
Meninga understood the players took something back into camp with them after those fan days. The look on a child's face. The want in their eyes. What it meant to play for Queensland, and it found a place in their chest and sat there to become fuel when the Maroons ran onto the stadium grass.
It is something Slater intrinsically understood.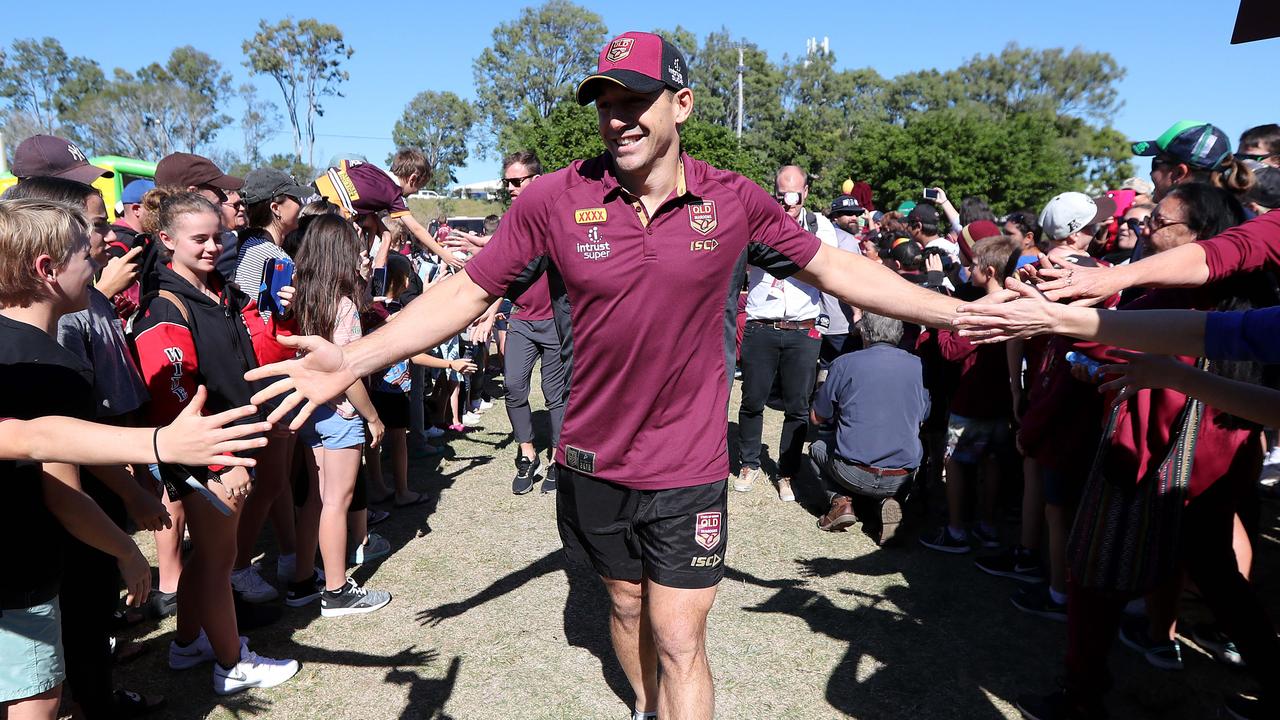 Billy Slater at a Queensland Origin fan day at Hervey Bay in 2018. Picture: Peter Wallis
Earlier this year Slater assembled some of Queensland's emerging Origin stars in Townsville and Brisbane to begin the campaign.
He talked to the young men and began to sell the power of the narrative and, when the moment was right, when the hairs on the back of their neck were primed and ready, he picked up a small child's jersey.
A jersey that should terrify NSW.
He unfolded it in front of them, a replica Queensland State of Origin jersey, with Langer 7 on the back, and as this tiny jersey bloomed in front of the table, Slater told them that this was his jersey, a birthday present when he was a small boy, and that it was this jersey, that he still keeps, that inspired him through his Origin career.
He played for the child that wore that jersey, he told them, and he dreamed big, and he only ever wanted to play for Queensland and the kid that wanted that jersey, and now the time was theirs to play for that young kid inside.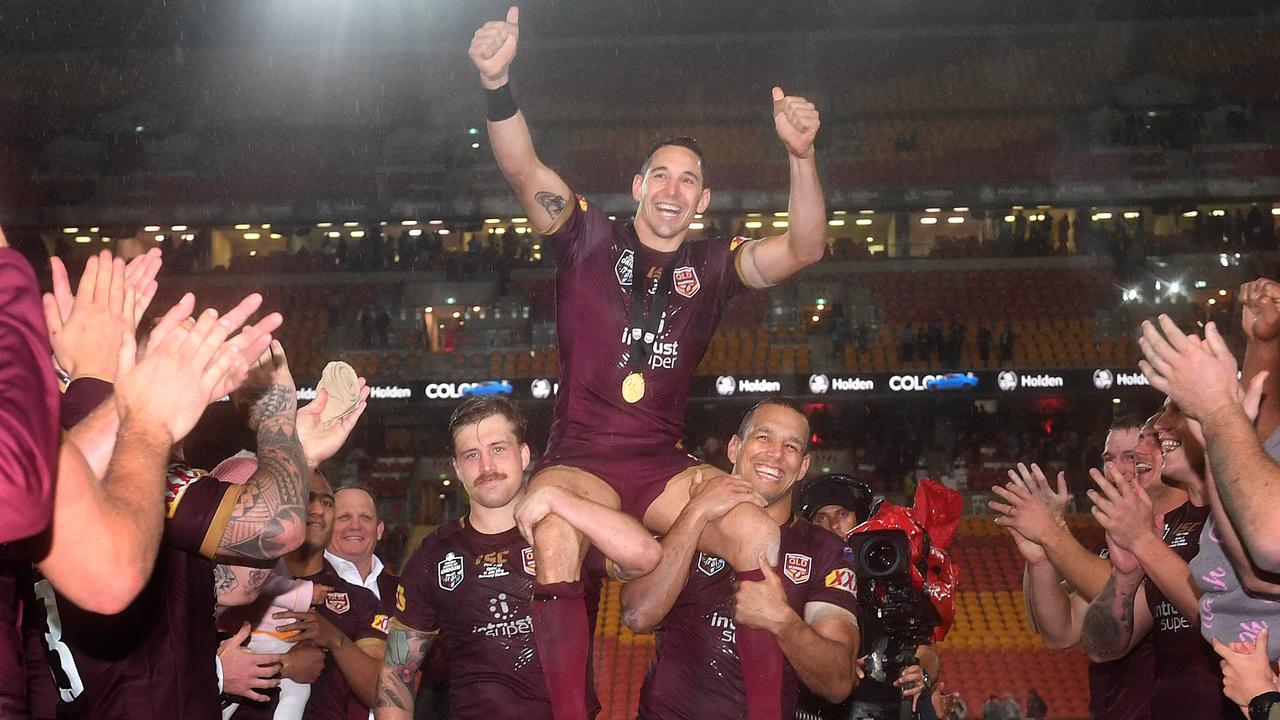 Billy Slater farewelled the Origin arena as a player in 2018. Picture: AAP Image/Dave Hunt
SHORT SHOT
Warriors owner Mark Robinson must be a great bloke, the kind you hope walks into each of our lives one day.
Few people get payouts high into the six figures for no real reason at all, which is what the Warriors are asking us to believe was the case when the club released front-rower Matt Lodge earlier this week.
Lodge didn't want to go to New Zealand when the Warriors returned home next year, which is peculiar because he was signed to play for a New Zealand-based team, so the club not only released him immediately but paid out the rest of his contract.
What a deal.
If Lodge requested the release, which everybody seems to be in agreement over, there remains a couple of questions that nobody has yet adequately answered.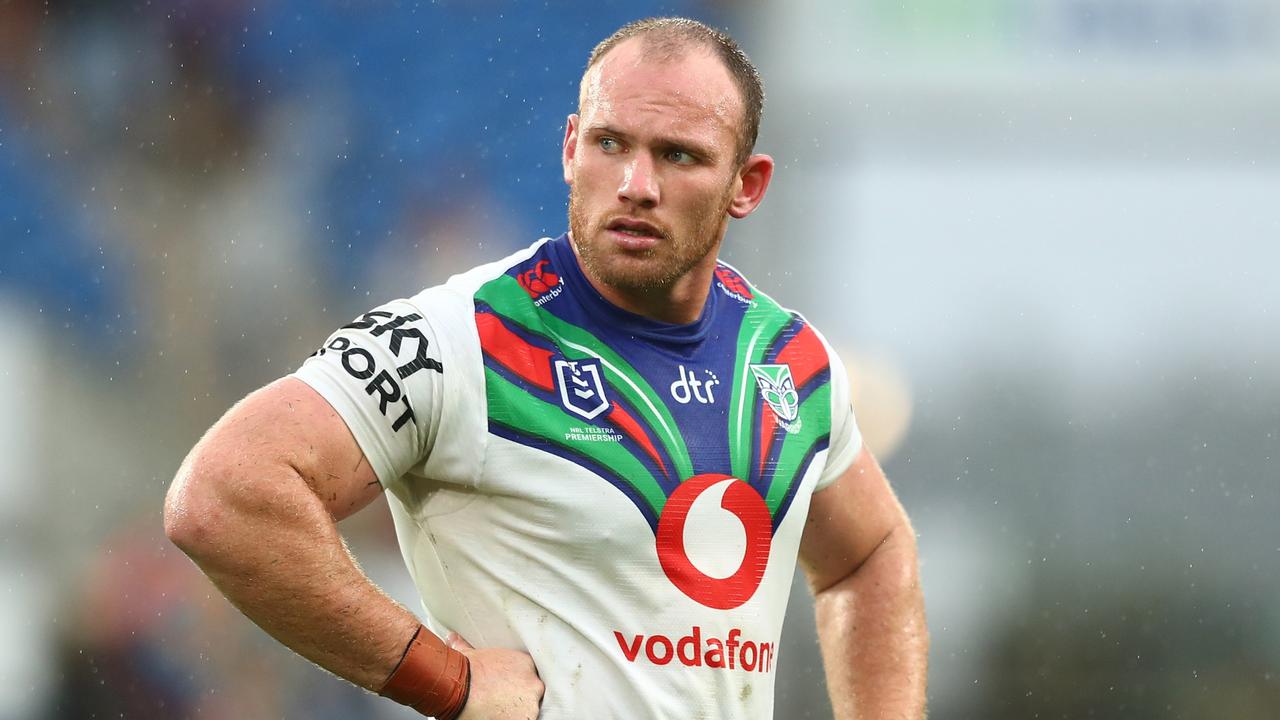 Matt Lodge left the Warriors with a handy payout. Picture: Chris Hyde/Getty Images
Why did Robinson pay out Lodge the rest of his contract, into next year, if it was Lodge requesting the release?
Why did he elect to carry the amount on next year's salary cap, which will surely affect the club's buying capacity, if he could have released Lodge without any payment?
Sadly, we live in the social media age where assertions can be made without any evidence whatsoever and with next to no recriminations, and so ugly rumours have gone around about racial comments made by Robinson which Lodge used as leverage to leave the club, with full payment.
Both Robinson and Lodge have denied that.
Outside that, the lack of transparency is an ugly look for the game.
Originally published as State of Origin 2022: Billy Slater won't accept underdog tag for Queensland Maroons