New coach Jason Demetriou wants his players to know what it means to be a Rabbitoh
Wayne Bennett may be gone but successor Jason Demetriou has gone to great lengths to make his first few weeks in the hot-seat something to remember, tapping into South Sydney's rich history.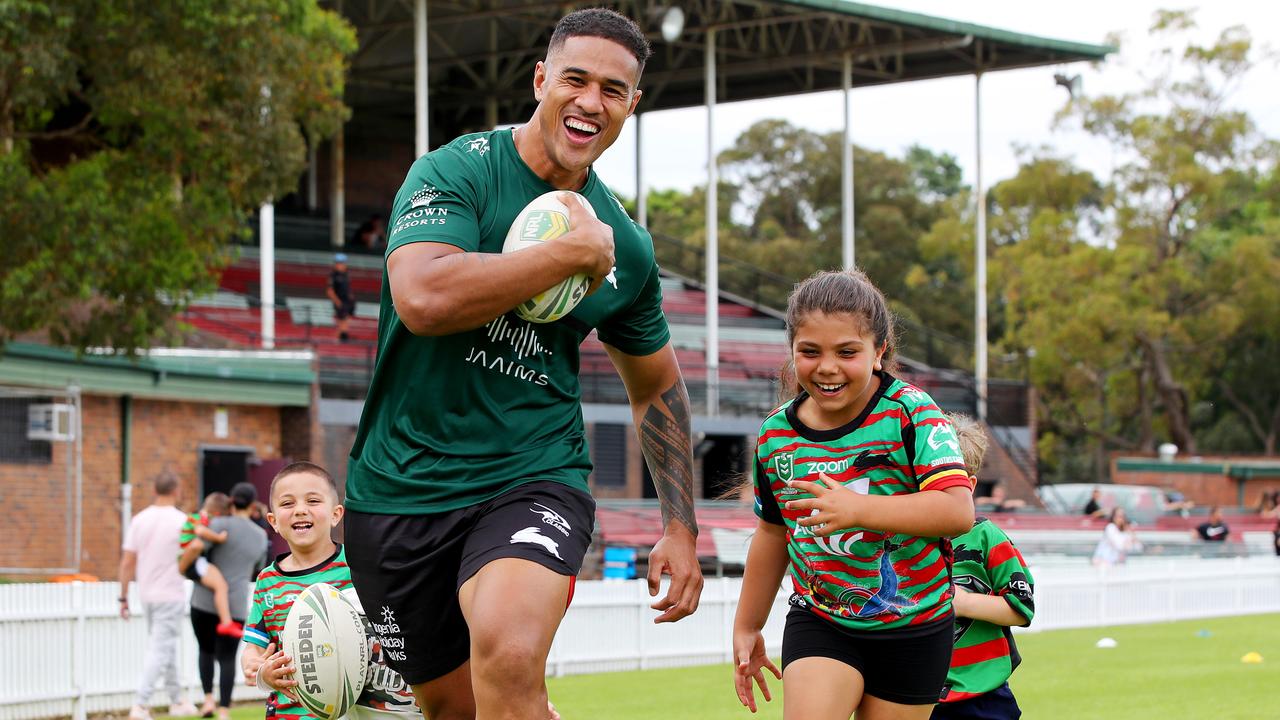 New South Sydney recruit Michael Chee Kam pictured during his first week of training, taking part in a kids coaching clinic at Erskineville Oval. Picture: Toby Zerna
Michael Chee Kam arrived for pre-season at South Sydney expecting to be flogged on the training track. Instead, he was given a history lesson, a tour of the building and sent into the community.
The same applied to former Canberra hooker Siliva Havili. Ex-Broncos half Anthony Milford will be given similar treatment next week as he kicks off his career at Souths.
Rabbitohs coach Jason Demetriou has only been in the hot-seat a matter of weeks but has already made some significant changes.
The most significant may be the way he has inculcated the Rabbitohs' news boys in what it means to play for the cardinal and myrtle, and how fortunate they are not just to play rugby league for a living, but to do so at a club like South Sydney that has such an intimate connection with its supporters.
It means Chee Kam spent this week in meetings with the club's staff, learning what they do and how emotionally invested in the club they are. Once those meetings were over, he was in the community with Souths Cares – the club's charitable arm.
It opened his eyes to the power of Souths.
"It has been unreal and crazy to see why they are such a great club and organisation," Chee Kam said.
"I started on Wednesday. We came in early in the morning and did a quick session. Then at 9am, we had half an hour each and met every person in admin and heard how much the club means to them.
"Then we jump in with the Souths Cares crew, which is an amazing organisation. We were doing zoom calls to classes outside Mudgee and areas like that.
"Yesterday, we were out at Campbelltown. I didn't think I was going to be out at Campbelltown and Camden again after leaving the Wests Tigers.
"We learnt about their history and why they are called the Rabbitohs. It feels like when you get on the field, you are playing for something more."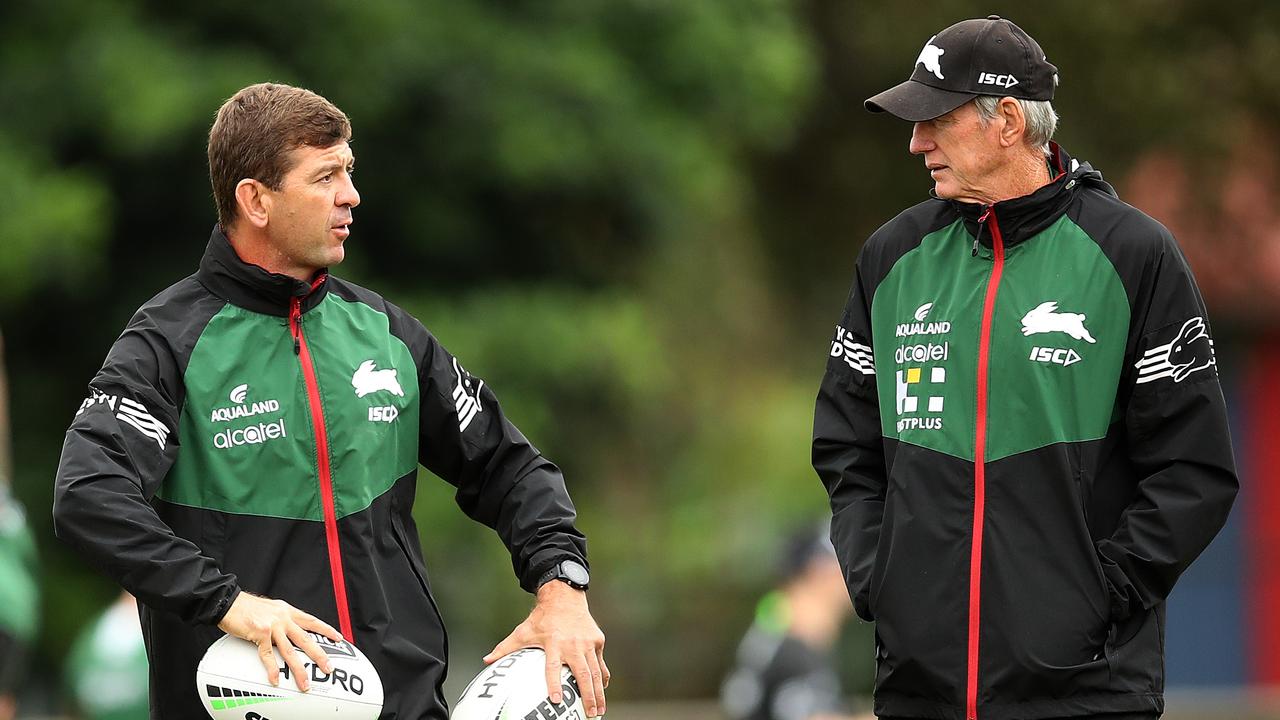 Wayne Bennett has departed and Jason Demetriou is quickly making himself at home as South Sydney's head coach. Picture: Phil Hillyard
Which is exactly what Demetriou was hoping to achieve. Having spent three years working under Wayne Bennett, Souths is now his team.
Being head coach carries with it a responsibility and Demetriou has wasted no time putting his own stamp on the club.
"There are a few aspects to it," Demetriou said.
"One is some humility and understanding the privileged position they are in. The second one was more about when you play for Souths, it is more than what goes on the field.
"We're a footy club, not just a footy team, and you want the players to meet the community staff, the corporate people, the membership people so they understand there is a whole team of people helping this team to be successful on the field.
"The third thing was mainly for them to appreciate how lucky they are to do the job they do. So they spend some time working 9-5 and get an appreciation of how lucky they are."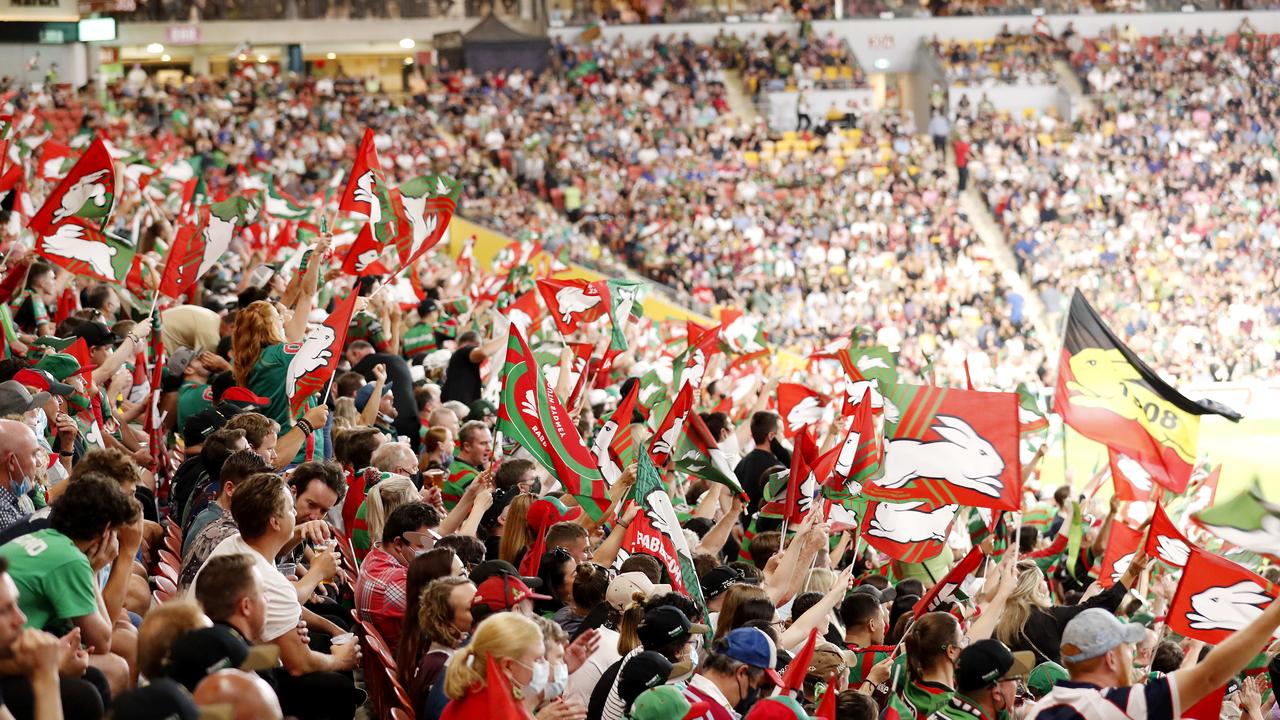 New players quickly learn that Rabbitohs fans care deeply about their club and its traditions. Picture: Josh Woning
What makes it even more significant is the timing. The Rabbitohs are about to celebrate two decades since their reinstatement to the competition.
Their return to rugby league was driven largely by the very community that Chee Kam and others have been visiting in recent days.
Demetriou got a taste of it himself when he first joined Souths with Bennett three years ago. He quickly learned that Rabbitohs supporters care deeply about their club and its traditions.
It is now his responsibility to protect that legacy.
"Next year being the 20 years since our reinstatement is a good time to reflect and remember that this was a community that fought harder than most to get this club back into the NRL," Demetriou said.
"I don't think you can understand that unless you get out there and understand what it means to the people on the street.
"It also open up avenues for them to think about life after footy and what an NRL club can offer to players once their career is over or if they don't reach the heights they might have wanted to reach."
– News Corp Australia Sports Newsroom