Josh Hodgson's Raiders career has been under constant speculation but the hooker is staying put in 2022
Raiders star Josh Hodgson has set the record straight on his immediate career after a year plagued by constant speculation.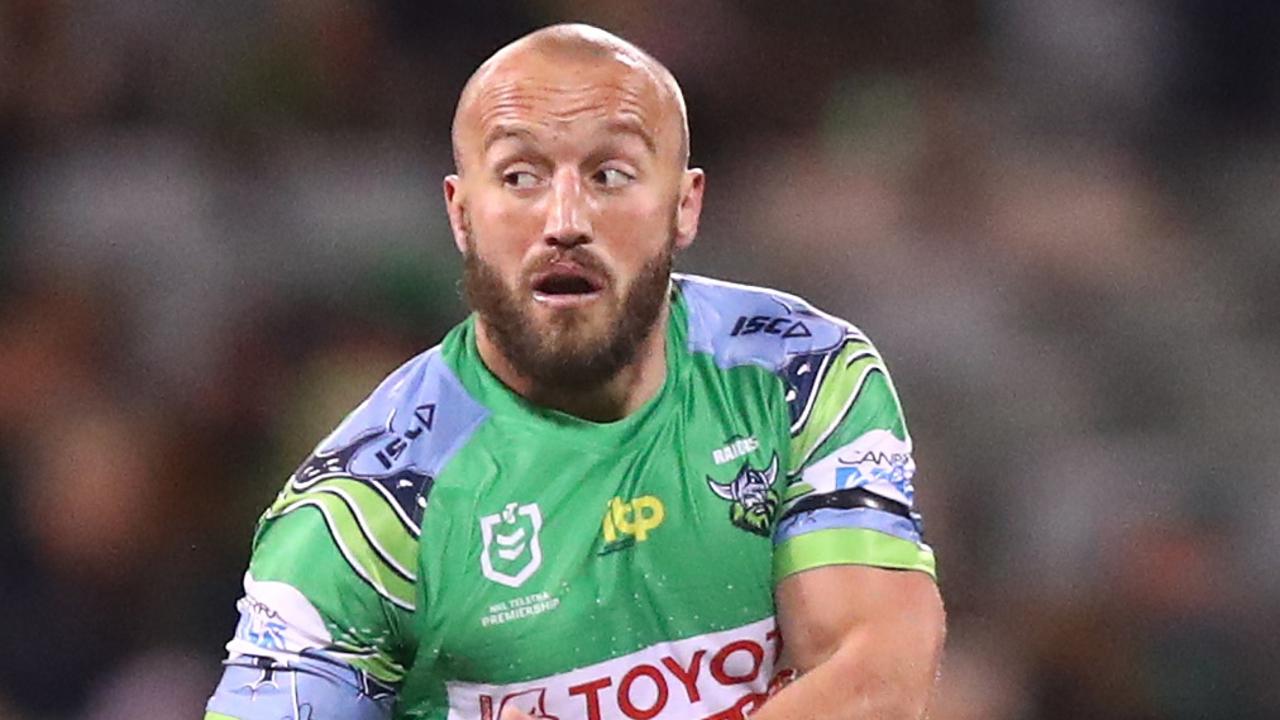 Hooker Josh Hodgson in action for the Canberra Raiders last season. Picture: Mike Owen/Getty Images)
From constant speculation about his playing future at Canberra to talk of early releases, Raiders hooker Josh Hodgson has seen all the headlines.
The most recent rumour to do the rounds on social media had Hodgson joining his nephews Bailey and Jaylen at Newcastle as an immediate replacement for Jayden Brailey after the Knights co-captain ruptured his achillies in pre-season training.
"I've had more links than a gold chain recently", Hodgson told The Daily Telegraph.
"There's nothing in it, no."
Before agreeing to join Parramatta from 2023, Hodgson had been in talks with the Wests Tigers, where a contract release for 2022 was on the table.
But Hodgson insists he is staying put in the nation's capital and has 'unfinished business' at the club which launched the Englishman's NRL career back in 2015.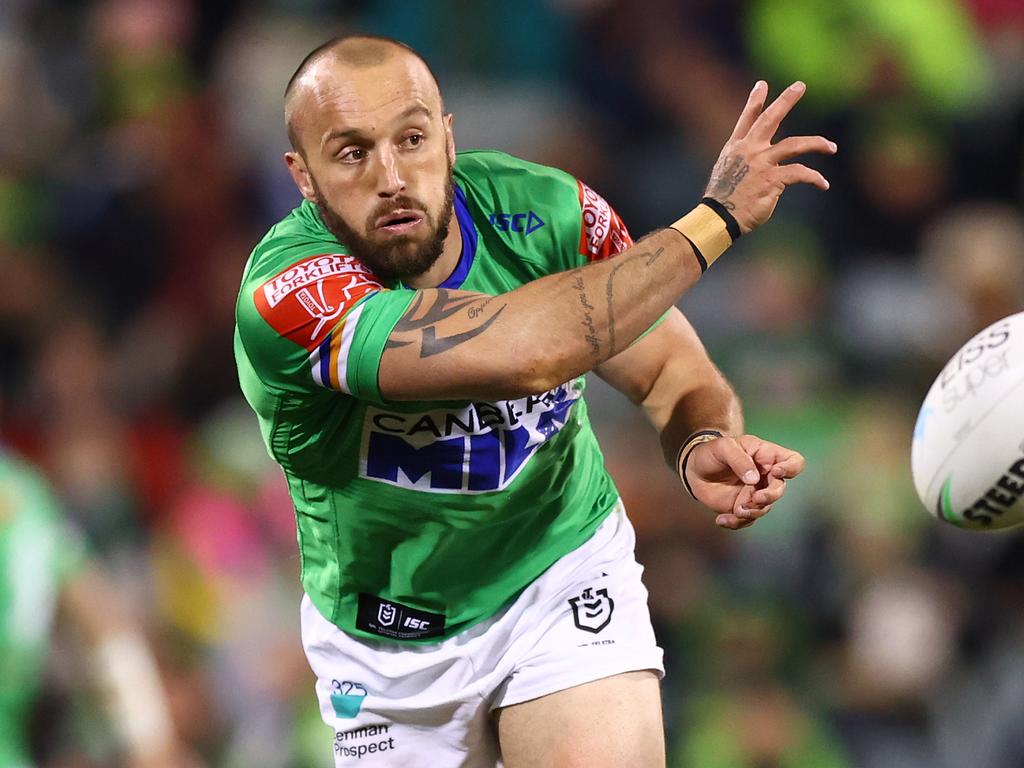 Josh Hodgson puts all the speculation to bed. Picture: Mike Owen/Getty
"Yeah of course, you always want to leave on a high and my ultimate goal is that you always want to win the competition," Hodgson said.
"That's what I'm striving for everyday when I come out here for training. When I'm training on my own at the gym or whatever I'm doing, it's to try and make sure we are striving to win in it."
After helping guide the Raiders to the grand final in 2019, Canberra's first in 25 years, Ricky Stuart's men failed to make the top eight last season.
"We've certainly got the potential as a team but as we saw last year things can certainly go wrong," Hodgson said.
"You have to make sure you have that cohesion and feel good around the team and we've started the pre-season well, the new faces have freshened up the place. There is a buzz around the place."
One fresh face Raiders fans can expect to see more of is junior NSW Blues representative Trey Mooney, who was an instrumental part of Canberra's SG Ball title win last season.
At 188cm and tipping the scales at 106kg, Hodgson believes the 19-year old Eels junior is destined for big things this season.
"Trey will debut this year in my opinion, I really think he will," Hodgson said.
"I think they way he is training during the pre-season and just the way he has been with his work ethic is second to none. He's got it in spades, you can't teach that. Everything he has achieved up until now has been on the back of hard work."
With Tom Starling unsigned beyond 2022, Hodgson believes the Raiders No.9 jumper is in safe hands in the long term with youngster Adrian Trevilyan.
The 20-year-old Trevilyan is a highly touted prospect from Queensland and was the Peter Sterling Medallist as the most outstanding player in the Schoolboy competition in 2019.
"I've had a fair bit to do with him. He's been with us for a couple of years. He's a quiet kid but he is certainly skilful and has a bit of ability about him," Hodgson revealed.
"He's got that kind of build, where's in between and he's kind of similar to myself, he's a bigger nine and when he fills out he can play a bit of lock too.
"I think that's the way the game is going, that's one thing I have been trying to tell him, just try and get that extra string to your bow. There's more of a chance of getting a spot on the bench if you're a couple of men down. He's got the body type and skill to do that."