Nick Cotric rediscovers the fun in his game as the Canberra Raiders push for finals
Nick Cotric had to find his feet in Canberra again, but now that he's found the key to happiness, the Raiders are reaping the rewards, writes PAMELA WHALEY.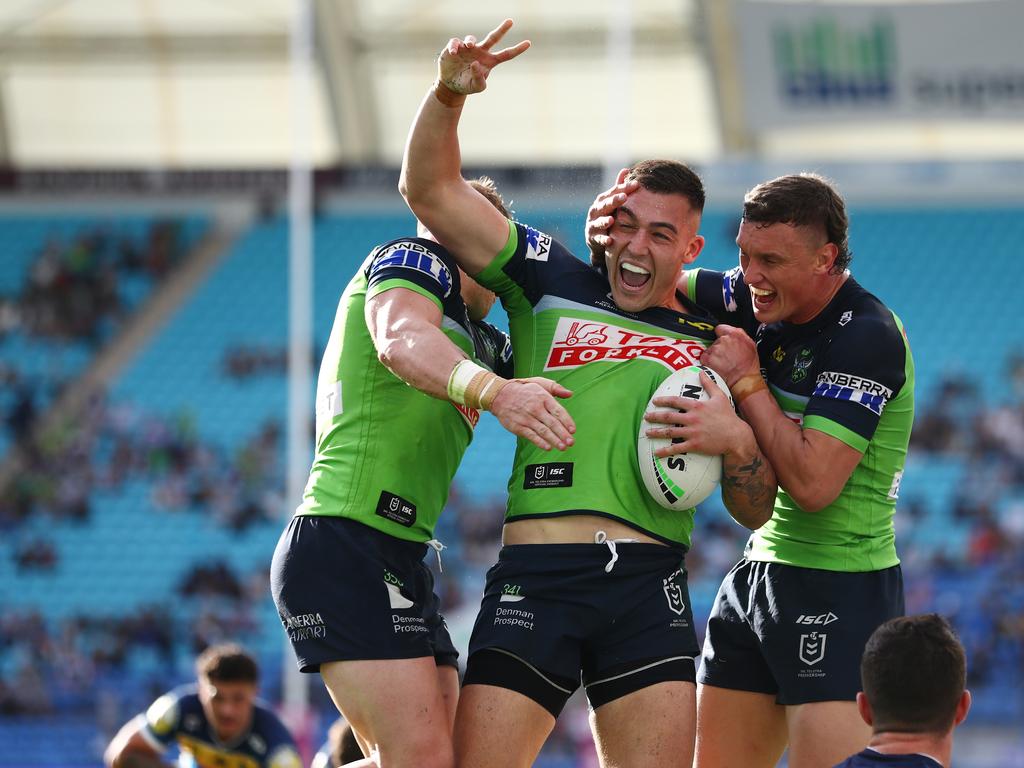 Nick Cotric has rediscovered his mojo with the Raiders. Picture: Chris Hyde/Getty Images
After a tumultuous season with Canterbury last year Nick Cotric has found his happiness again at home in Canberra.
A case of turf toe midway through the 2021 season threatened to rule him out for 12 months, and then a shoulder injury was discovered while he was off healing. He underwent surgery, and finished the first year of a three-year deal with the Bulldogs with just 14 games.
It was a miserable time for the once representative winger, who has realised how important a happy life away from the field plays into his on-field performances.
"It's been good, I just wanted to get back to playing this year and enjoying my footy and I feel like I've been doing that," the 23-year-old tells CODE Sports.
"It's been good to get a few wins under our belt, so I've been enjoying myself with the old boys again.
"[Coming back to Canberra] was just about finding my feet back in the team again and it's been good. The coaching staff and the players have been amazing.
"The main thing for me is making sure that I'm enjoying my footy and I'm really doing that this year. I'm enjoying training and doing the little things right and focusing on getting my body right. It's had a few injuries [at the Bulldogs] and even this year I had my quad go wrong, but the key for me is staying happy. That's when I play the best."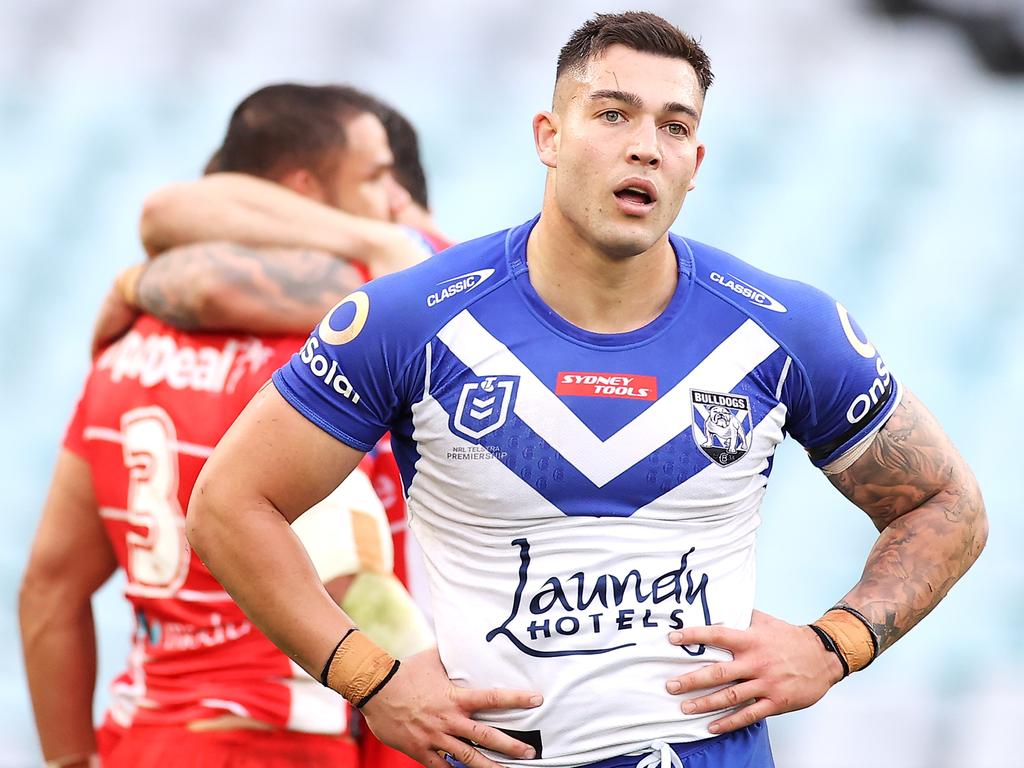 Nick Cotric struggled with the Canterbury Bulldogs. Picture: Mark Kolbe/Getty Images
When he arrived at the Bulldogs Cotric was a NSW Origin winger, playing one game in 2019 and was a part of the 2020 Blues camp in Gosford.
But his run of bad luck in 2021 forced him out of those conversations ever since.
"I just want to play the best I can for Canberra and try to get back in that jersey," he says.
"There's a fire in the belly to get back into that jersey and play another game so that's definitely one of those goals."
Living alone in Canberra just a minute down the road from teammate Emre Guler, he has found some stability and balance in his life again. It helps to cope when things go wrong, as they often do in the career of a professional athlete in a high-pressure sport.
The pair met while playing under-15s for the Raiders nine years ago, and when not at training, are still inseparable in their spare time.
"The best thing for me is when I'm off training I don't think about footy," he says.
"I just go and enjoy my life with me and my friends, go in the sauna, do some extra gym with Emre. Just chilling out and not thinking about footy 24/7 and trying to get my body right.
"I do enjoy my footy but at the same time I like just my own time too, just chilling out. It's a balance."
The extra detail he's paying to his body now is reaping benefits on the field, and over the second half of the season – like the whole team – Cotric has come alive again.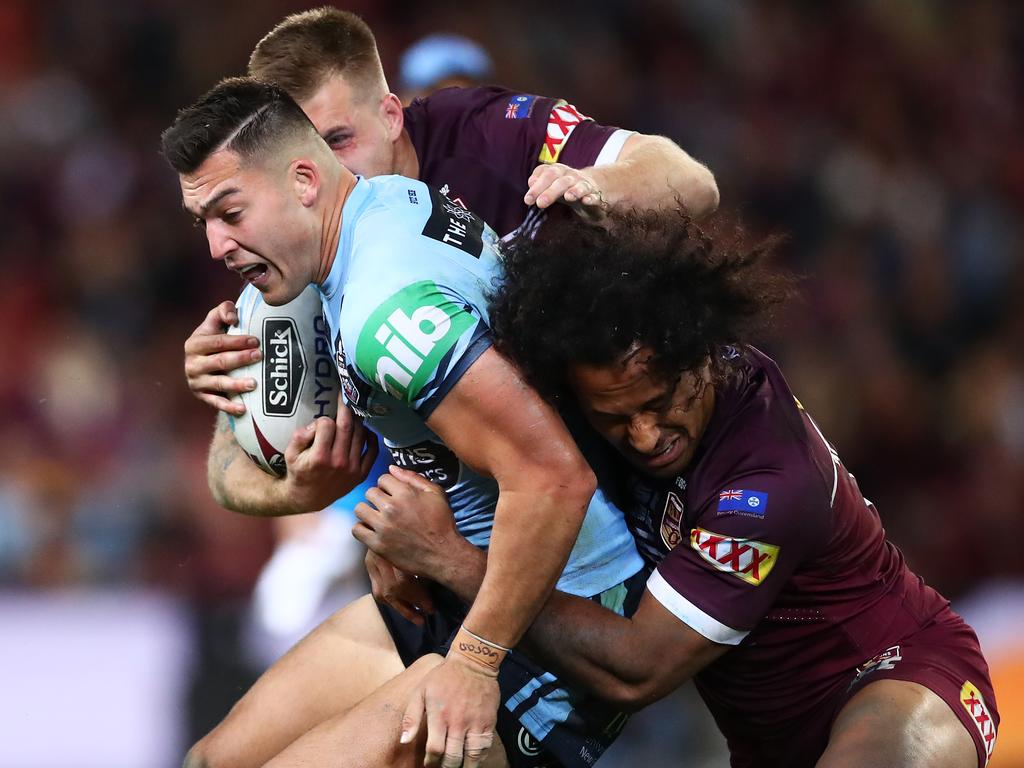 Nick Cotric is determined to get back in an Origin jersey. Picture: Cameron Spencer/Getty Images
*****
It started out rocky for the Raiders this year with just two wins from their first eight games.
Injury and disruptions caused instability in the crucial spine positions, with hooker Josh Hodgson suffering an ACL injury that ruled him out for the year in the season-opening win against Cronulla.
New halfback Jamal Fogarty also suffered a knee injury on the eve of the season that wiped him out until round 12, so the club turned to a combination of Brad Schneider, Tom Starling and Matt Frawley to plug the gaps alongside fullback Charnze Nicoll-Klokstad and five-eighth Jack Wighton.
The upheaval wreaked havoc on their early season form and they struggled to settle into a rhythm, winning just two of eight games, including a five-game losing streak.
Across that time, they ranked dead last for run metres per game (1190). But it all changed with a win against Canterbury in round nine and they've been on an upward trajectory ever since. The numbers show it too, going from last in run metres per game across all NRL teams, to now sit fourth place between rounds nine to 20 with an average of 1506.
Similarly, their post-contact metres have gone from 15th in the NRL with 399 to third with 511 across the same period.
Their completions have been higher, from an average of 71 per cent per game in the first eight games (last in the NRL) to 78 per cent and ranked 10th.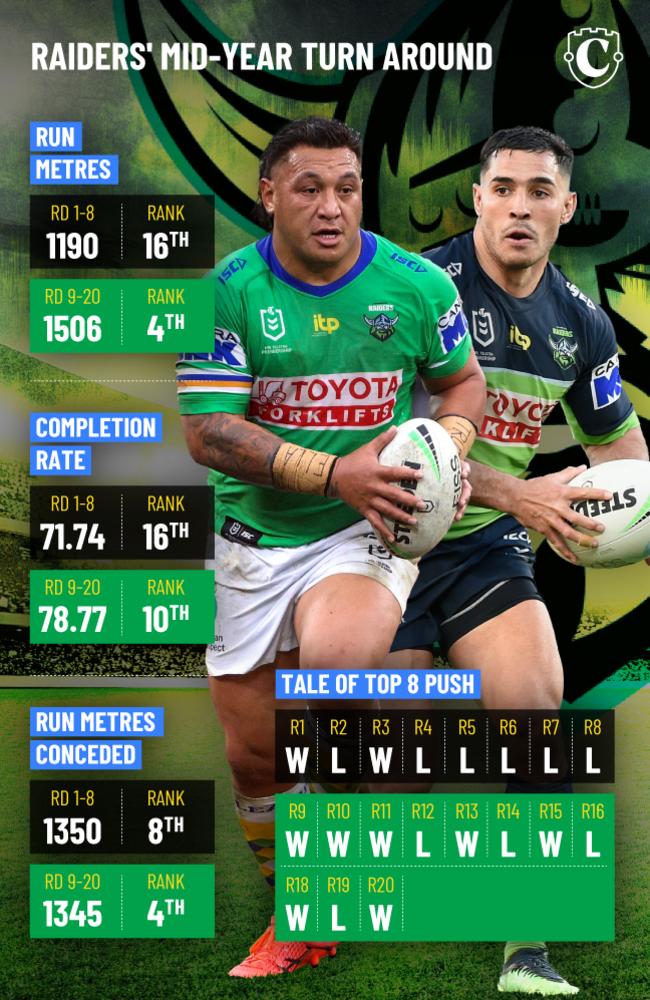 The Raiders have excelled since round nine.
It's simple – more completions means more ball in-hand, which means the fancied forward pack can make more metres and a stable halves combination is in a better position to win games.
More energy means they're better defensively too. Comparing the first eight games of the season to the last 11, they've gone from eighth in the NRL for metres conceded to fourth.
Their tries conceded have gone from four a game (ranked 13th) to 2.82 per game (ranked second).
It smells an awful lot like a push to the finals across the last five games of the season.
"We had a few injuries and ins and outs and whatnot, and I think the players who came in did a good job too, but it's good to finally get everyone on the same page and have everyone enjoying their footy and having fun. That's what it looks like on the field now," Cotric said.
"It'll all depend on the last five games so I guess everyone just has to give it all they've got and leave nothing in the tank and see if we can get through to the semis.
"We [talk about it] a little bit, but we focus more on what we can do as a team. If everyone does their job we can perform and the team goes really well. It works best when we focus on ourselves."