Redfern raised, Red Hill now: Adam Reynolds' path to leading Brisbane, and the road still to come
Adam Reynolds bled red and green and never saw himself leaving Redfern. But now Brisbane is where he plans to grow old and grey as he buys all-in to the famed Broncos culture, with help from Wayne Bennett.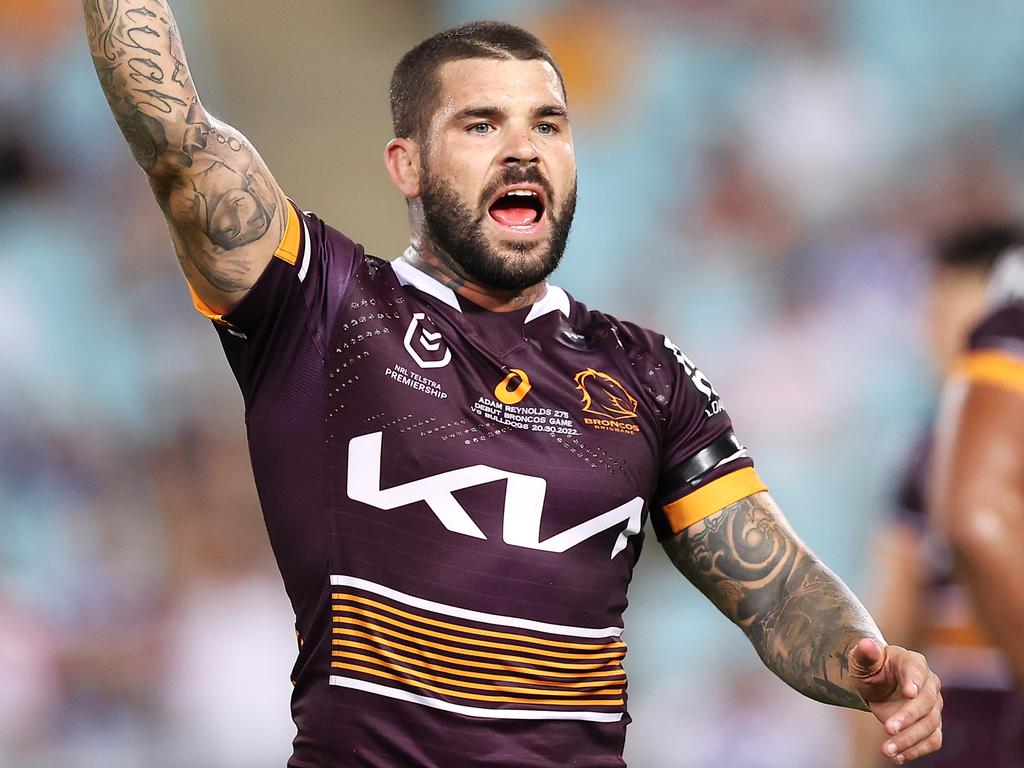 Adam Reynolds has only played one game for the Broncos but he's already loving life in Brisbane. Picture: Mark Kolbe/Getty Images
Ben Ikin muses that Adam Reynolds' timely arrival at Red Hill may well have been "written in the stars".
When the former Rabbitohs champion was made captain, he became the first full-time Broncos skipper since Wally Lewis to have not previously played with the club or had the 'Brisbane DNA' embedded deep within. Ikin concedes it is "something new".
"And I guess the last couple of years have been pretty new for Brisbane," the Broncos head of football adds, referencing the wooden spoon and 14th placed finishes of the past two seasons.
"It is different to where we have been before. I will say – that based on where the club has been the last couple of years and knowing what we had in front of us – to think that Adam Reynolds was coming off contract, that Souths didn't want to extend him beyond the one year and that there was part of him that wanted to be up here in Brisbane and living in Queensland … we got very lucky … so very, very lucky.
"It was like it was almost written in the stars."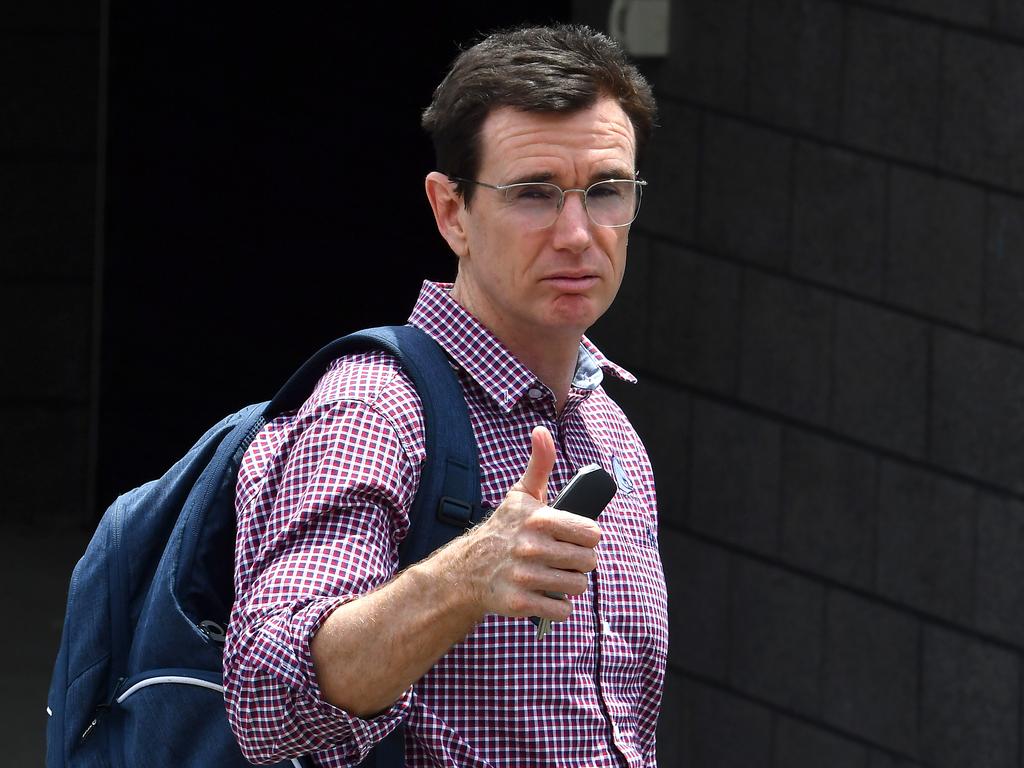 Ben Ikin believes Reynolds' signing was fate for the Broncos. Picture: John Gass
Ikin has had several months to watch Reynolds at Red Hill and function as a virtual security blanket and "an extension of the coach to the playing group".
"Clearly you don't need to talk to Reyno for too long to realise his footy intelligence is off the charts," Ikin says.
"You have also purchased someone who you know the coach can give a game plan to and who will understand it at the deepest of levels, and then be able to articulate what's required to the players and deliver it when the coach isn't around.
"That gives the coach and Adam's teammates a great sense of comfort, so they feel more relaxed and a little less stressed. The game therefore just seems a tad simpler.
"My experience with Reyno is that everyone just feels a whole lot safer since he's arrived."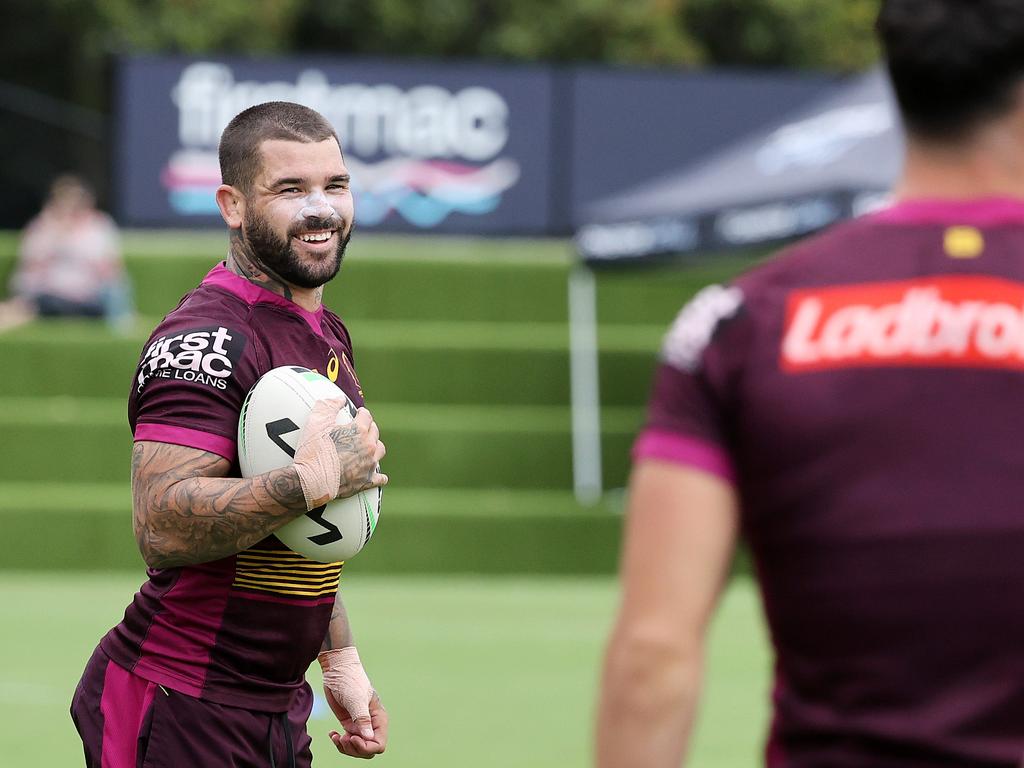 Reynolds has had an immediate impact around the young Broncos group. Picture: Nigel Hallett
The man himself, who grew up in the heart of Redfern and envisaged playing out his entire career at South Sydney, is in turn feeling safe, secure and ready to grow old and grey in Brisbane.
"I have sold up in Sydney and moved everything out of there," Reynolds, a father of four, says. "I call Brisbane home now and will probably call it home for the rest of my life.
"It has been an easy transition for me and it feels like we have been here for years. The company around me has allowed it to be that way. Down at the Broncos, and throughout Brisbane, we have been welcomed.
"The kids are the same and have settled in at their new school and have all made friends. They are older and wiser and understand exactly what goes on in my life and why we had to move."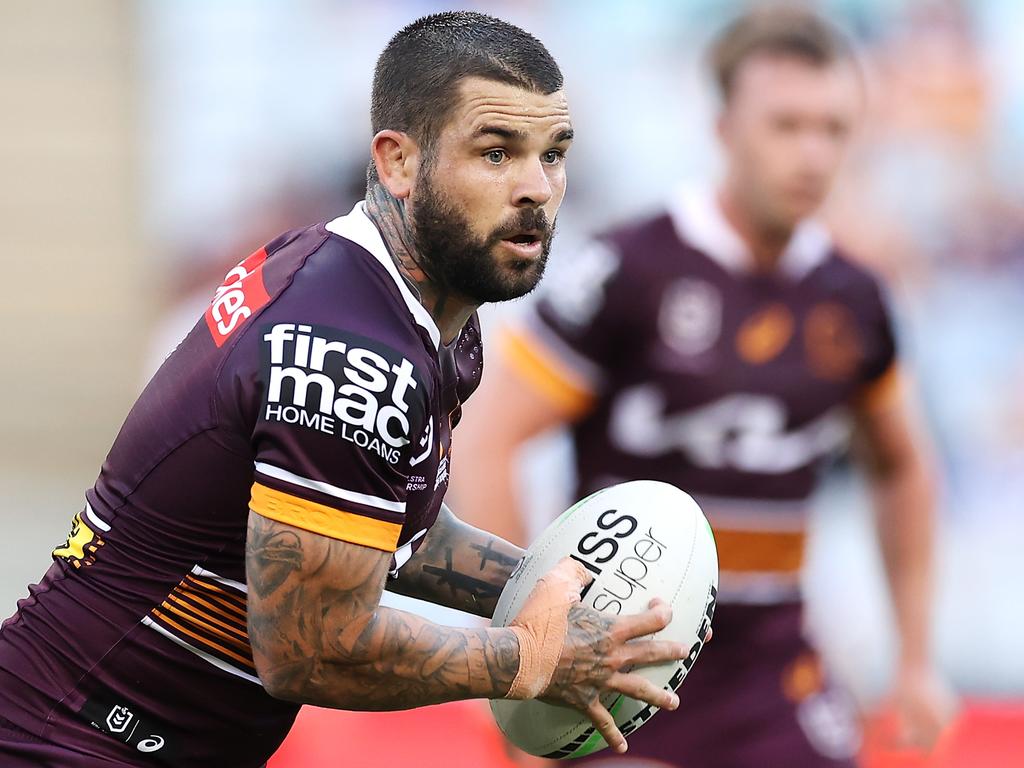 Reynolds is already Brisbane through and through. Picture: Mark Kolbe/Getty Images
Wayne's wisdom
Reynolds, 31, still speaks to his former coach Wayne Bennett regularly and it was his words of wisdom that helped solidify Reynolds' move to the Broncos. The duo maintain what Reynolds calls "a great relationship", with the younger man drawn to the elder statesman's "knowledge about life" as much as his football nous.
Last year Reynolds went to Bennett and told him about the inadequate one-year Souths offer, and then later about Brisbane's pitch. The conversations were decisive.
"What stood out to me was Wayne's love for the club," Reynolds says.
"He set up the foundations of the Broncos and spent most of his life there, but no matter what happened in the past with him leaving … he never said a bad word about the club to me. He always backed it, and that was strong for me when I made my decision.
"Last year I was honest with Wayne from the start about what I was thinking. He urged me to stay at Souths if it was possible but I told him straight up that one-year was never an option for me, without the security for my family. Once he heard Brisbane was keen to sign me he was all for it.
"He then gave me feedback about what was to come with the media attention, how when things are going good up here everybody loves you, but when things are going bad everyone is on the other side of it."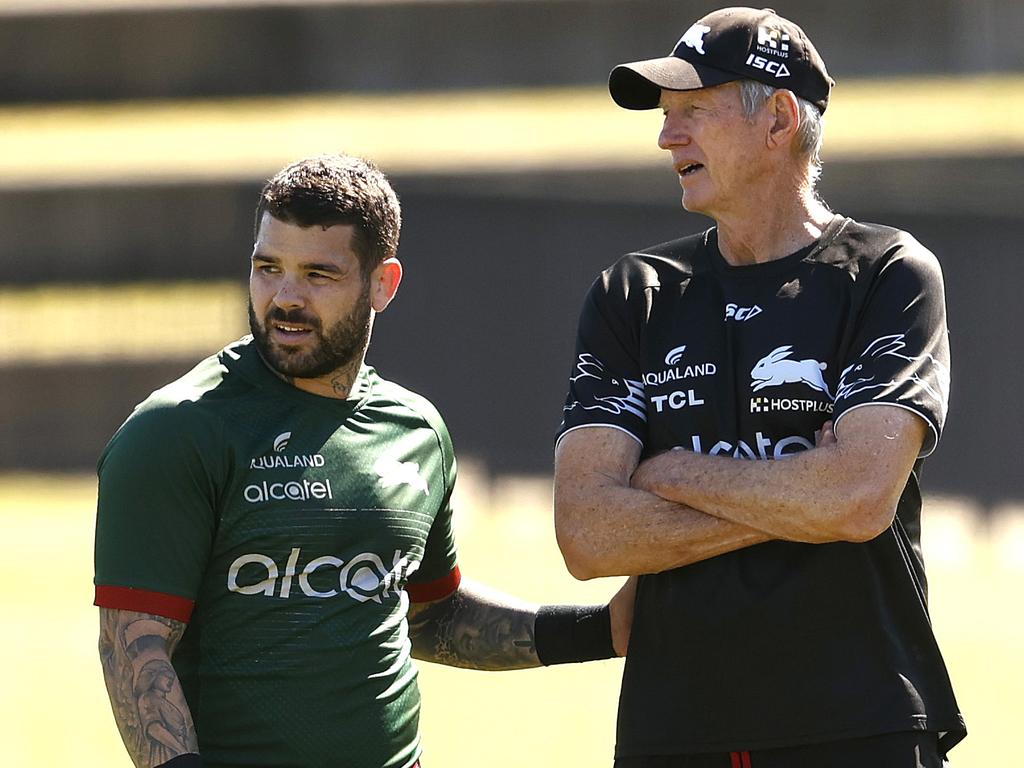 Bennett gave Reynolds plenty of advice about what to expect at the Broncos. Picture. Phil Hillyard
Becoming a Bronco
Former Broncos skipper Corey Parker, a one-club man, came into the Broncos lower grades with the likes of Justin Hodges in the late 1990s.
Parker talks about the "Broncos DNA" that was embedded in him and all the captains since Lewis, pointing to a challenge Reynolds, after playing 231 NRL games at Souths, will have through no fault of his own.
"We came through when there were back-to-back premierships in 1997 and 1998, and then again in 2000," Parker says.
"The expectation of winning was just where it was. I don't know how Adam Reynolds can turn up at the club and feel that DNA, because he's never been there before. That's not a criticism of him, it's just the way it is.
"Hodgo and I were young kids who aspired to be Broncos, but I have no doubt that at no stage in his youth did Adam Reynolds aspire to be a Bronco."
Corey Parker (R) knows Reynolds has what it takes to lead the Broncos. Picture: Liam Kidston
Reynolds says loving the Broncos, and loving being a Bronco, is a way of life he is embracing. It turns out the club was always close to his heart.
"I have taken a keen interest in the history of the game and of all clubs, but I always had a soft spot for the Broncos," he says.
"Playing against them over the years I always felt the aura around them. I'd see them arrive at the ground decked out in flash kit. As a young kid I watched the big games – the 2006 grand final and a couple in the late 1990s and 2000 – and the Broncos were often involved in them.
"It is very similar to South Sydney to be honest. The Broncos are proud of their history, proud to show it. They hang it on their walls and rightly so.
"I watched Darren Lockyer very closely. I admired how he was cool and calm as he went about his business, but also demanding when he needed to be.
"Everyone had respect for him."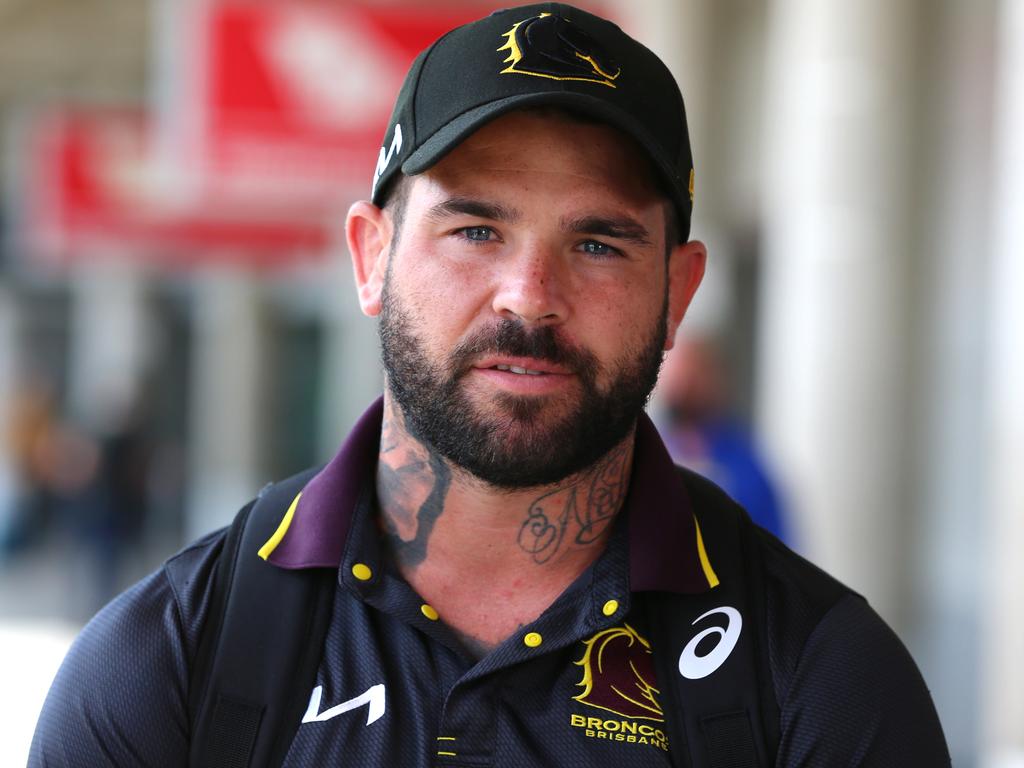 Reynolds has already taken on the spotlight that comes with being Brisbane's No.7. Picture: David Clark
Parker burst into tears when told by Anthony Griffin he would be Broncos co-captain in 2014 with Hodges.
For Reynolds it wasn't such an emotional moment, but one he embraced with a great sense of responsibility.
"Kevvie [Walters] kept me back one day after one of the meetings and told me he was going with me as captain," Reynolds says.
"It was a proud moment to be trusted to lead the team out. I loved the role at South Sydney and the responsibility that came with it. The Broncos have a great history of outstanding captains and to be put up alongside those guys is a great honour and a great privilege."
Reynolds was proud to be entrusted as Brisbane captain by Walters. Picture: Steve Pohlner
Parker, in two captaincy stints at Brisbane, has a fair concept of what is ahead for Reynolds as captain, and a warning to boot.
"When the shit hits the fan people are looking at you. When the glory is going on, they are looking at you," Parker says.
"When you walk down the street – win, lose or draw – people identify you as captain of the Broncos, and because the club means so much to you, as captain you take it home with you. It is personal.
"I firmly believe Adam Reynolds won't understand he is captain of the Broncos until five or six rounds into the competition. A lot of the Brisbane public think Adam Reynolds is going to be the saviour, and that's not fair on him, but that's Brisbane."
Reynolds is comfortable with the pressure and expectation, and a firm believer in a Broncos revival.
"It hasn't been too rosy in the recent past but we are fighting hard to get us back where we need to be and I see no reason why we can't play finals and challenge for grand finals," Reynolds says.
"To do that you've got to have players that can do some damage. We've got that. You've got to have experience. We've got that.
"The ingredients are there and Kevvie Walters has been fantastic. He's not too different to Wayne. He knows how to get the boys up and genuinely cares about the players and the place."
The new environment has helped Reynolds thrive. Picture: Nigel Hallett
Redfern raised, Red Hill now
Reynolds' journey has many parallels with that of his former junior coach and Rabbitohs legend Craig Coleman, South Sydney's halfback for all but the earliest years of the 80s.
Coleman can also understand why the Rabbitoh diehard had to leave Redfern.
At the end of 1992, after playing 208 first grade games for Souths, Coleman went to see his good friend and CEO Terry Parker.
"I wanted to be a one-club player at Souths like Adam did," Coleman says.
"Terry, who was very good to me for my entire career at Souths, said, 'The new coach doesn't want you and thinks you are finished and I won't make you an offer to embarrass you'.
"I knew I still had a few years left. I went and captained the Gold Coast for two seasons and finished my career at Wests with my hero Tom Raudonikis.
"For Adam, a three-year deal is better than a one-year deal, especially with the decent money he is on. You can't blame him for looking after himself and his family. I reckon the last couple of years have been his best, so he will be a great asset to the Broncos.
"Personally, I thought Souths should have kept him because you don't let someone like him go unless you have someone to replace him, and at the moment we don't."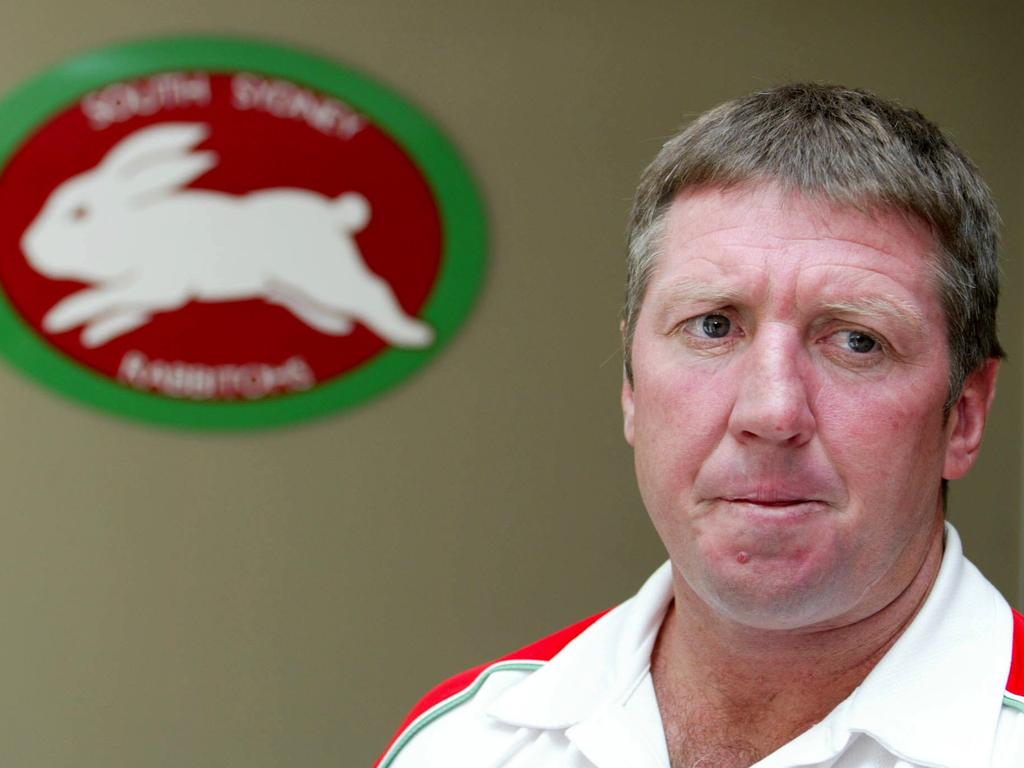 Souths legend Craig Coleman felt the club should have done more to keep Reynolds. Picture: Brett Costello
Coleman grew up in the Waterloo and Redfern suburbs, just like Reynolds, and watched him come through the juniors before coaching him. He knew then he had a special player on his hands.
"He's a Redfern kid, the same as me. I lived in Walker St and he was one street behind me," Coleman says.
"I watched Adam play as a young boy for La Perouse and [Alexandria] Rovers and then I made him captain when I coached him in SG Ball at Souths when he was 15 and 16. He was never flustered even though he was a year younger than the others in SG Ball, just a skinny little kid.
"I thought that might hold him back but I made him captain because he was a couple of steps ahead of the rest and had plenty of tricks in his bag.
"He went on to break Eric's point scoring record. He's been a fantastic player for South Sydney, one of my favourites."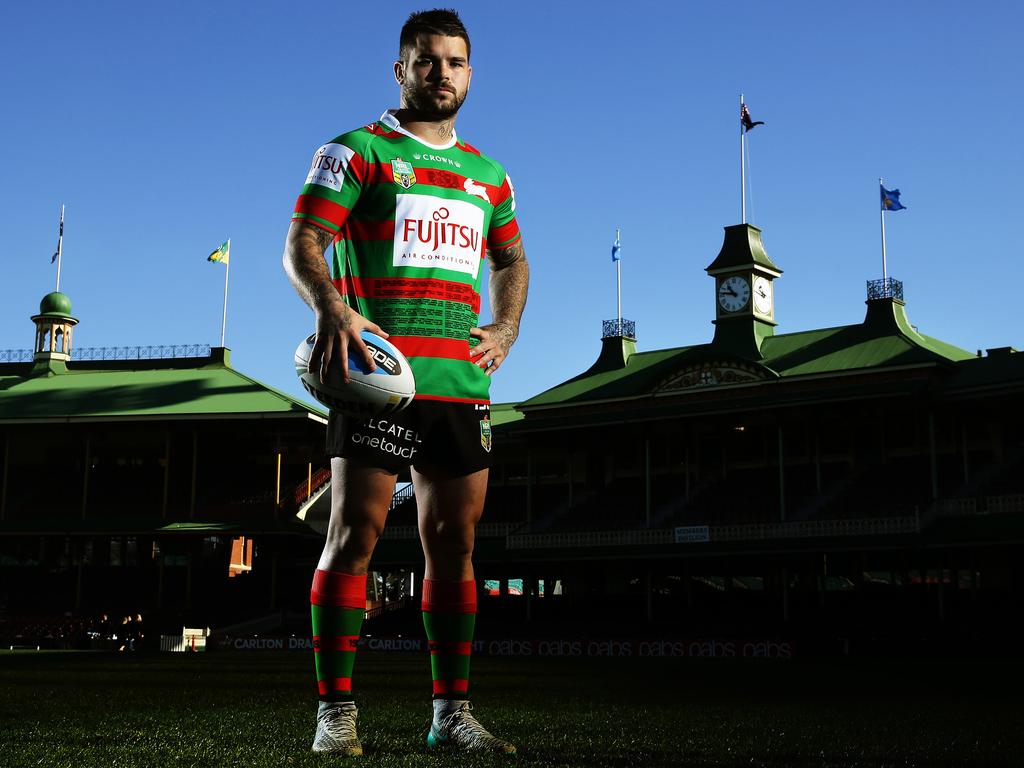 Reynolds in a Souths jumper already feels like a distant memory. Picture: Brett Costello
But time moves on and right now the Broncos are relishing every moment Reynolds spends at Red Hill.
In the pre-season he calmly and deliberately spent about 30 minutes in a one-one-one tutorial with centre Herbie Farnworth, showing him the intricacies of stepping his opponent on the outside and getting a left-hand flick to a winger away.
Farnworth practised it over and over, the fruits of their labour on show in last Sunday's win over the Bulldogs with his superb step to score two crucial tries.
"That is what you are buying when you buy someone like Adam Reynolds … someone who so easily and comfortably moves amongst the playing group and offers advice," Ikin says.
When Reynolds is reminded of his Farnworth tutorial his response reveals plenty.
"That's why I am excited about the club and the direction it is heading, and just another reason I signed here," he says.
"Down in Sydney I watched the Broncos kids coming through the grades and the pathways system. That excites me. It was a no-brainer for me to come here and try and do something special."