NRL 2022: Brisbane Broncos' winning streak ends after 32-20 loss to Melbourne Storm
The Broncos' winning streak is over but, in their hard-fought loss to premiership heavyweights Melbourne, they showed they are genuine finals contenders.
Brisbane's superb seven-match winning streak is over as the Broncos' nightmare Melbourne hoodoo continued with a gutsy 32-20 loss to big guns the Storm at AAMI Park.
Missing talismanic injured skipper Adam Reynolds, Brisbane came flying out of the blocks and a Broncos boilover loomed when fill-in halfback Tyrone Roberts piloted the visitors to a shock 16-6 lead after 27 minutes.
But just as Brisbane dreamed of exorcising their Melbourne demons, the Storm came alive, with two-try halfback Jahrome Hughes leading a second-half blitz to bury the brave Broncos.
Stream every game of every round of the 2022 NRL Telstra Premiership Season Live & Ad-Break Free During Play on Kayo. New to Kayo? Try 14-days free now >
With scores locked 16-all at half-time, all-star Storm halves Cameron Munster and Hughes oozed the class Brisbane craved, the latter crossing five minutes from time as Melbourne posted 26 unanswered points to snap Brisbane's golden run.
It was Brisbane's 11th consecutive loss to the Storm — and the 21st defeat from their past 23 games against Melbourne's bogey men.
"That last seven or eight minutes before half-time was a killer for us," Broncos coach Kevin Walters said. "We knew coming here would be tough. We were good, but we weren't great and fell just short."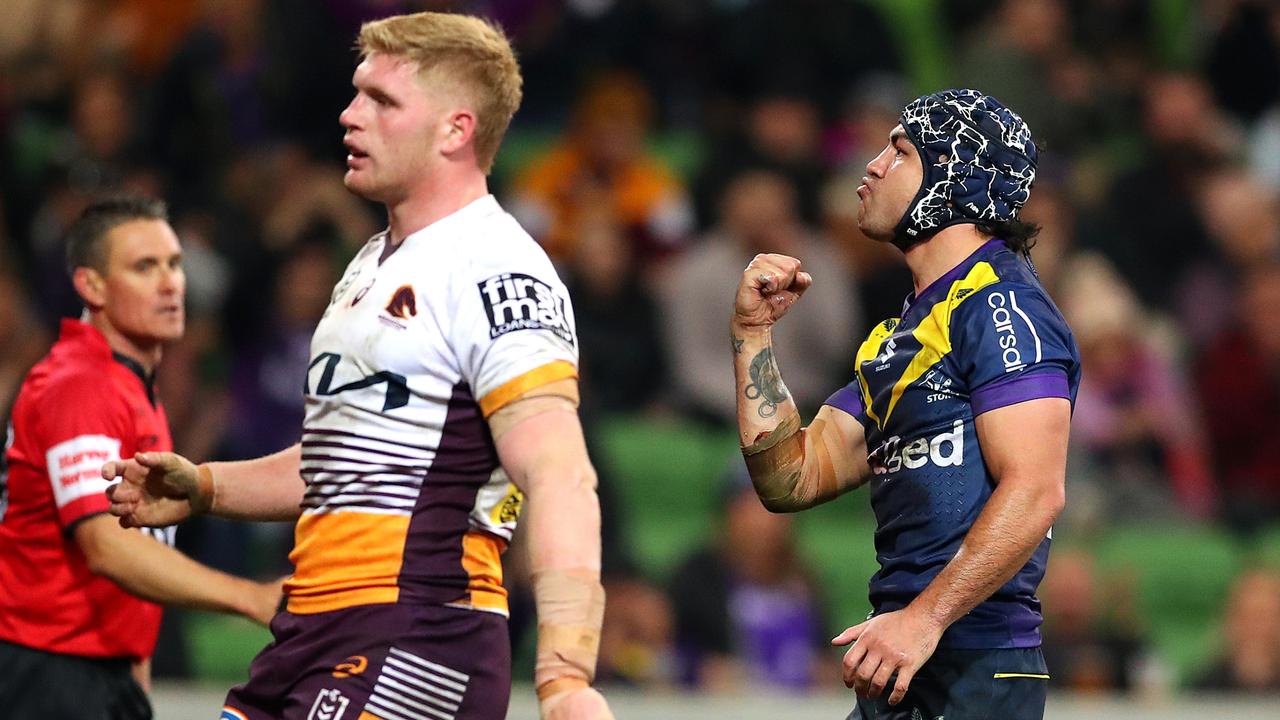 Storm halfback Jahrome Hughes sealed the win for Melbourne with his second try of the match. Picture: Kelly Defina/Getty Images
HALF HIS LUCK
The loss of Reynolds was expected to be an insurmountable hurdle but his No.7 replacement Roberts gave Brisbane every chance with a fine game.
On a train-and-trial deal worth $1000 a week, the 31-year-old summoned every strand of his 158 games of NRL playmaking experience to expertly drive Brisbane's offence.
Roberts threw a sweet long ball for Selwyn Cobbo's 27th-minute try to give Brisbane a handy 16-6 lead and his general-play kicking was impressively sound.
When teams lose, invariably it's their halfback that fails with game management. But Walters could not have asked for more from his fourth-choice playmaker.
"Tyrone stepped up nicely," Walters said. "He hasn't played a lot of NRL the last few years and I thought he did a really good job for us."
OATES FOR ORIGIN
Queensland coach Billy Slater needs a winger to replace the injured Xavier Coates for Origin II on Sunday week. When Slater convenes with Maroons selectors on Sunday night, Corey Oates has to be in the conversation.
Corey Oates continued his good form, notching another try. Picture: Kelly Defina/Getty Images
In his 10th season of NRL, Oates is playing the best football of his career.
He has 12 tries from 14 games this season and when he crossed for his second in the 25th minute, Oates joined wing legend Wendell Sailor in equal fourth place on Brisbane's all-time tryscoring list with 110 career four-pointers.
It is understood Slater is leaning towards blooding Cowboys rookie Murray Taulagi, but Oates, a veteran of eight Origin matches, would not look out of place in a ninth Maroons jumper.
"Corey has put himself in the frame all season with his form," Walters said.
"If they did pick him, Queensland couldn't go wrong. He has been great for us and it would be nice to see him get that reward."
SLIPPERY SELWYN
Brisbane's wonder boy Cobbo came crashing back to Planet Earth at AAMI Park.
Just 10 days ago, he was the toast of Cherbourg after celebrating a dream Queensland Origin debut. But the joy of the Maroons' epic win was suddenly a world away as the Storm capitalised on two Cobbo mistakes to launch their fightback.
Selwyn Cobbo had a mixed night against Storm. Picture: Kelly Defina/Getty Images
Eight minutes after scoring for a 16-6 lead in the 27th minute, Cobbo spilled a Hughes chip kick for Munster's try which whittled the deficit to 16-12.
In the 57th minute, Cobbo slipped over for Dean Ieremia's try and when the Storm winger posted his second seven minutes later, scoring down the Maroons rookie's flank for 26-16, the Broncos were toast.
THE REAL DEAL
Despite their second-half collapse, this was an encouraging display by the Broncos. They stuck it to Melbourne in the opening 40 minutes of the top-four blockbuster and were far from disgraced without their most important player Reynolds.
On this evidence, the Broncos are bona fide top-four contenders. They are a finals-quality team.
"While we are disappointed, we can walk away having learned a few things and when another game like this comes up, we will be better for it," Walters said. "The Storm have been the benchmark team and we are on the way up."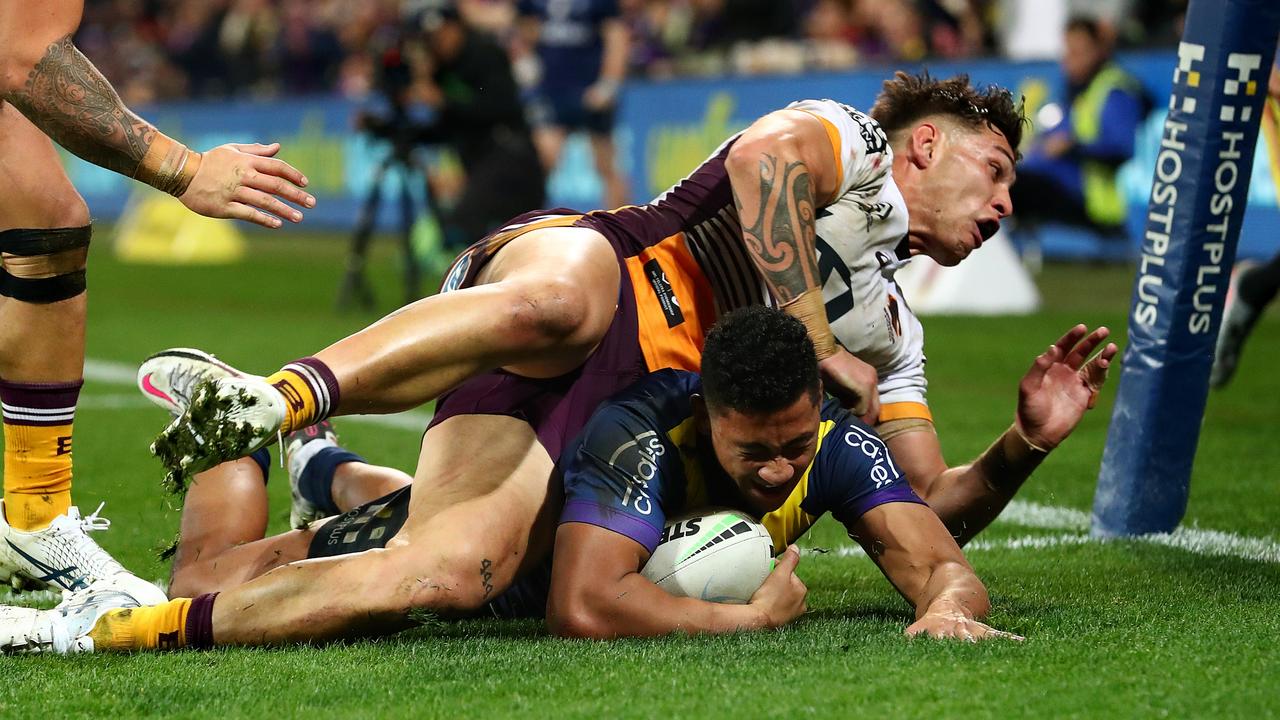 Jordan Riki couldn't stop Dean Ieremia scoring in the corner. Picture: Kelly Defina/Getty Images
$800k cap squeeze ruined star Broncos signing
Jahrome Hughes' manager has revealed the champion Melbourne halfback was offered to the Broncos to spearhead Brisbane's planned revival under coach Kevin Walters.
On Friday night, the classy Hughes and five-eighth partner Cameron Munster led the Storm attack as they snapped Brisbane's seven-match winning streak in a top-four showdown at AAMI Park.
But Hughes could have easily been in Broncos colours, with the Kiwi Test ace shopped to Brisbane bosses, just weeks after he piloted the Storm to their premiership win over the Panthers in the 2020 NRL grand final.
Hughes' agent Tas Bartlett confirmed the then newly-minted premiership playmaker, off-contract at the time, was serious about joining the Broncos, only for a possible move to collapse due to salary-cap pressures and Brisbane's administrative upheaval.
In a Sliding Doors moment, the Broncos eventually signed Souths halfback Adam Reynolds, while Hughes has gone on to ink a four-year upgrade that will likely see him finish his career at the Storm.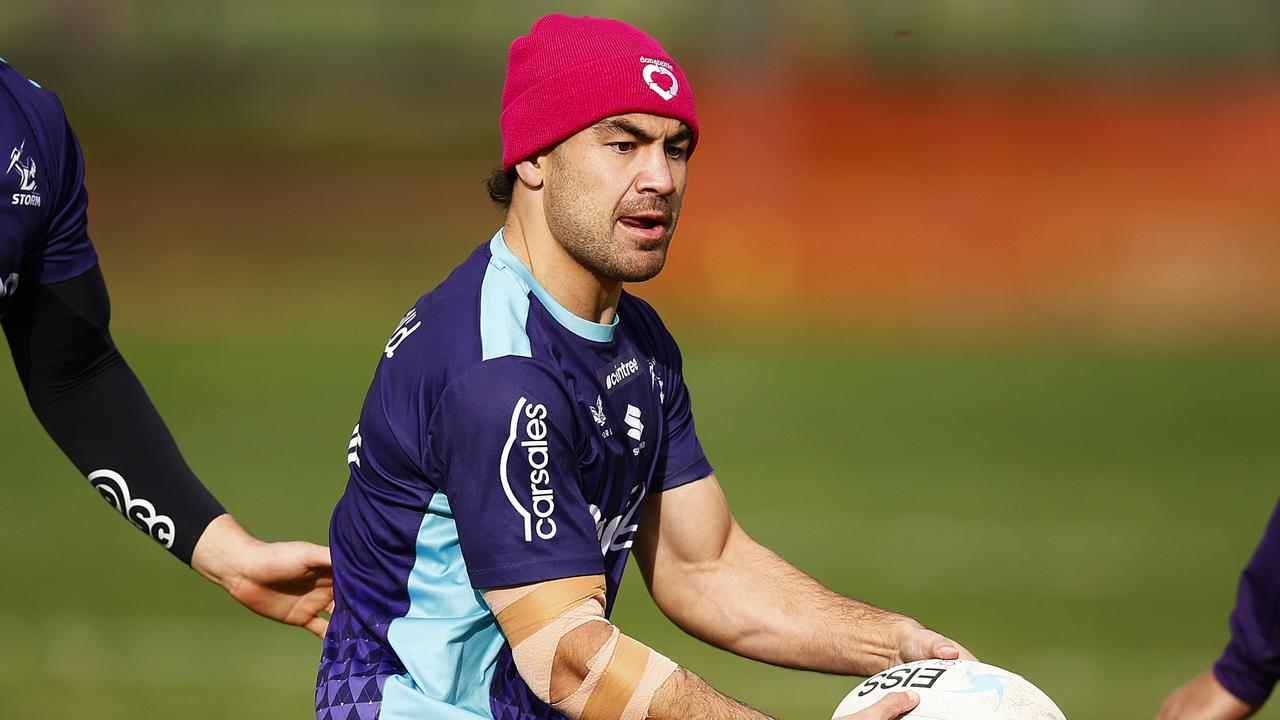 Brisbane lost the services of Jahrome Hughes back in 2020. Picture: Daniel Pockett/Getty
"I actually offered Jahrome to the Broncos," said Bartlett of PSM.
"It was in November 2020 and the Broncos were in a bit of uncertainty.
"Kevin Walters had just started as coach and they were sorting out a new CEO, so a lot of roster and recruitment decisions had been put on hold.
"Jahrome had just won a premiership at the Storm and I'm not sure if the Broncos felt he was out of their budget, but Dave Donaghy (current Broncos CEO and ex-Storm boss) knew Jahrome from Melbourne.
"If he was in the driver's seat as Broncos CEO, I think he would have signed Jahrome in a heartbeat."
Donaghy started at the Broncos on May 1 last year. Two weeks later, the Broncos signed Reynolds to a three-year deal worth $800,000 a season, the very salary Brisbane's previous management baulked at when they were offered the services of Hughes.
"At the time, the Broncos hadn't signed Adam Reynolds and Hughesy was coming off-contract," Bartlett said.
"We met with the Titans and we spoke to the Warriors and the Broncos. Jahrome was open to coming back to Queensland because he was looking to settle on the Gold Coast and I thought the Titans or Broncos could have been a good fit.
"The Titans never made it to the stage of making an offer and the Broncos said they couldn't afford $800,000 for Jahrome at the time. But on reflection, it would have been good value, especially as Jahrome is four years younger than Reynolds.
"Jahrome was absolutely serious about joining the Broncos or Titans. Since that time, Jahrome has become entrenched in Melbourne's senior playing group and he has just signed a long-term deal to finish his career with the club."
Hughes says he can't be happier at the Storm and has relished the mentoring of coach Craig Bellamy in his career-defining switch to succeed Cooper Cronk in the Melbourne No.7 jumper.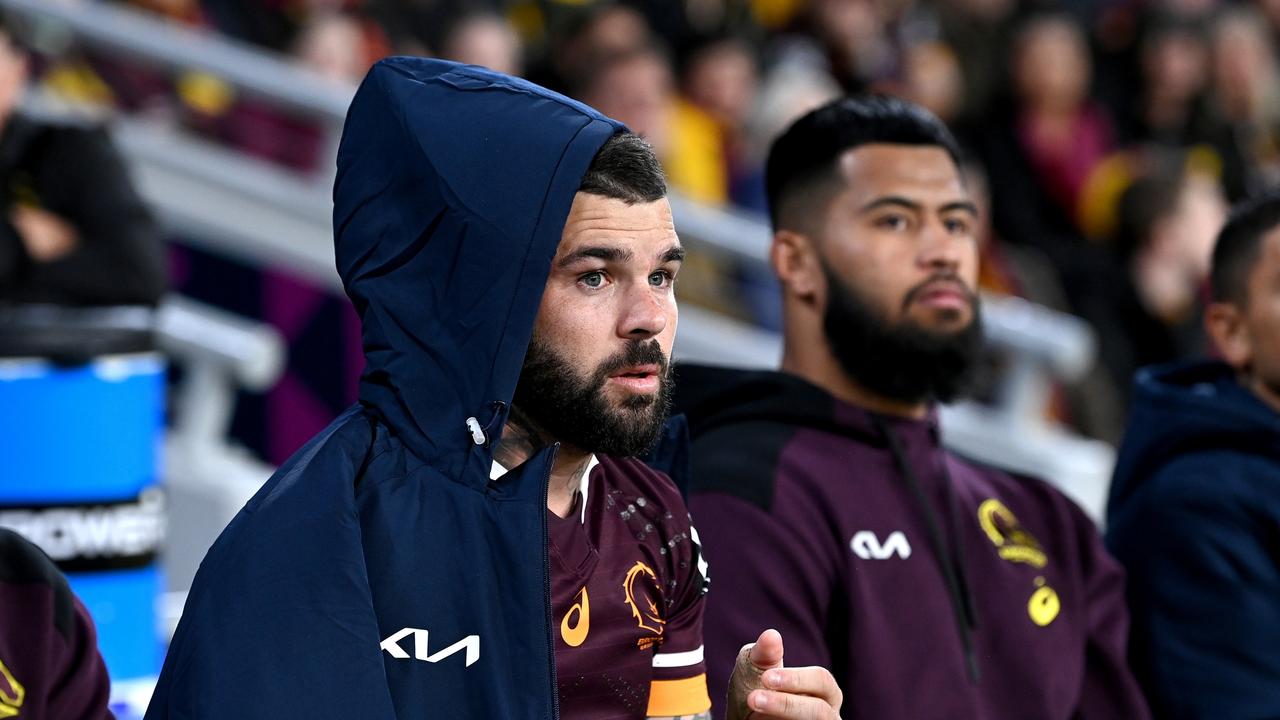 Adam Reynolds is facing an extended period on the sidelines. Picture: Bradley Kanaris/Getty
"I have got a lot of help to move into this position," Hughes said.
"Craig simplified the job for me. He didn't want me to change my game too much, he just wanted me to change positions and add a few things to my game with my kicking.
"Cooper Cronk helped me a lot in that area and Cameron Smith was still playing when I first made the transition, so he made my job easier.
"It seemed like a big move but personally I didn't feel it was too hard because Craig did a lot for me to succeed at halfback.
"My strength is my running game and I still make that the major part of what I do. I am still learning more as a playmaker and adding more attributes to become a better halfback."
Bellyache's premiership praise for Kevvie
Melbourne super coach Craig Bellamy has hailed Kevin Walters as the "winner" the Broncos have been missing and believes the club legend has the skill set to be the mentor that breaks Brisbane's 16-year premiership drought.
Before Friday night's Storm-Brisbane top-four blockbuster at AAMI Park, Bellamy spoke of his 35-year friendship with Walters - and why his good mate 'Kevvie' can be the Broncos' breakthrough coach.
Bellamy recalled the image of a dejected Walters after Brisbane's last trip to Melbourne 12 months ago, when the Storm carved up the Broncos 40-6 in the rookie coach's fourth game in charge at Red Hill.
Now the Broncos return to Melbourne as a bona fide finals contender, entrenched in the top-four and shooting for an eighth consecutive win - Brisbane's best winning streak since their grand-final campaign in 2015.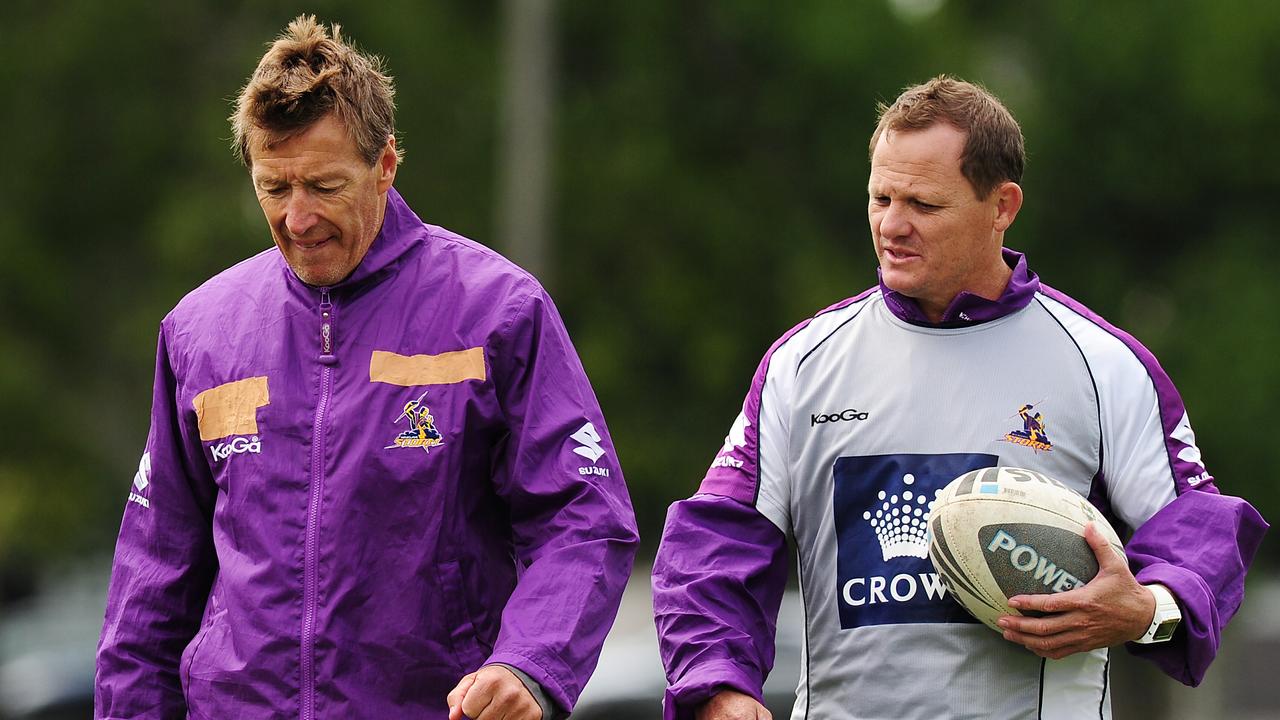 Kevin Walters spent time under Craig Bellamy in Melbourne.
Walters has been a maligned coaching figure but Bellamy believes his one-time assistant, who worked at Melbourne from 2011-13, can parlay the pedigree of six title wins as a player into masterminding Brisbane's first premiership since 2006.
"I am so pleased for Kevvie and the season he is having," said Bellamy, who played with Walters and his brother Steve at Canberra in 1987.
"I remember last year when we played them down here, I went into their sheds to see Kevvie and 'Box' (Steve Walters). We had a big win. They were a bit down and things weren't going so well, so I'm glad Kevvie has turned it around and has won seven in a row.
"Kevvie can certainly turn them into a premiership contender. I look at the improvement of their playing group across the board and their young players like Patty Carrigan and Selwyn Cobbo have kicked on.
"A big part of that is Kevvie's style of coaching and the structures and standards he has brought to the club.
"It's actually been a pretty quick turnaround. When you look at where the Broncos were last year to this year, it's a massive change.
"I can see Kevvie has changed the culture of the place."
During his time at Melbourne, Walters noted the performance benchmarks and no-shortcuts approach that Bellamy drove at the Storm.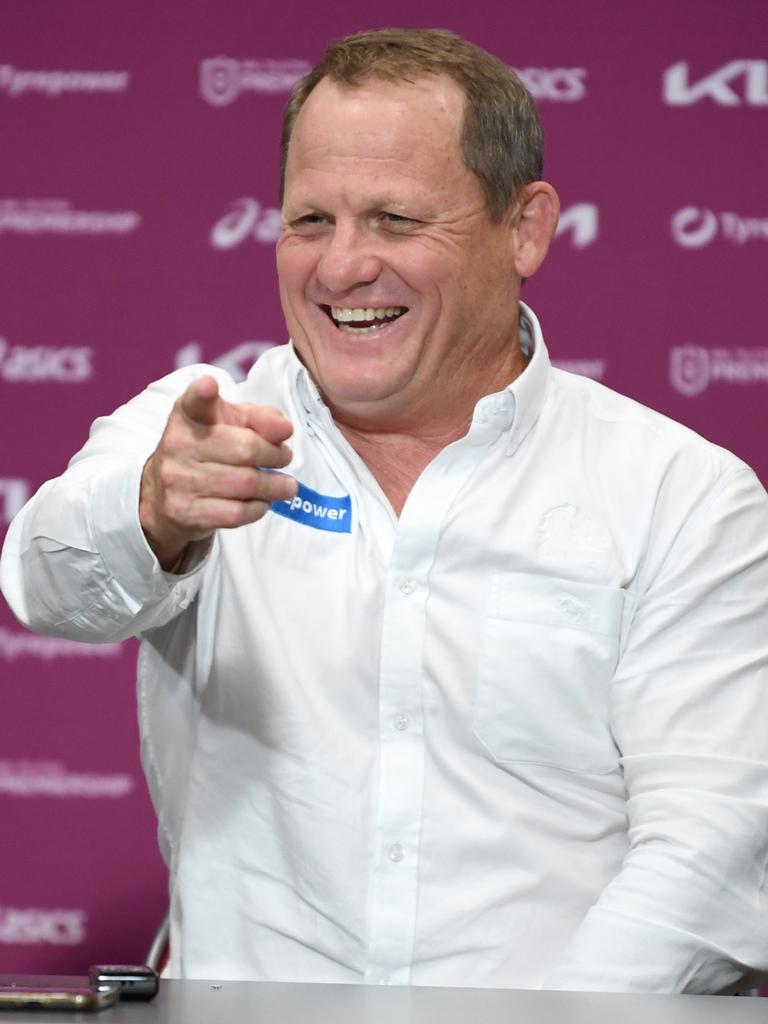 Broncos coach Kevin Walters. Picture: NRL photos
But Bellamy, who worked as an assistant to Wayne Bennett at the Broncos from 1998-2002 after being recommended for the job by then Brisbane five-eighth Walters, downplayed his role in Kevvie's development as a coach.
Bellamy believes Walters can win a maiden premiership as a coach because he has repeatedly scaled the title summit as a player.
"The big thing for me is Kevvie is a winner," he said.
"Whatever he has done in football, wherever he has been, he has won.
"He won five premierships at the Broncos. He won a premiership at Canberra and I have no doubt he can be a winner as a coach.
"I was at the Broncos for five years and 'Alf' (Allan Langer) was there in my first year (as Broncos halfback), but when Alf quit and went to England, Kevvie took over and was the heart and soul of the club.
"He captained Brisbane to the premiership in 2000, so Kevvie has been a main driver of success.
"With due respect, Kevvie deserves credit for bringing Adam Reynolds to the club. It was a smart move. Adam is getting to the end of his career but Kevvie knew what he would bring and being a great playmaker himself, Kevvie knew the Broncos needed an organiser to bring some cohesion to their play.
"I remember Wayne Bennett would say to me, 'Kevin is a winner' ... he can certainly get Brisbane back to the top again."
Walters said his three-year stint at the Storm, which included a premiership win in 2012, helped shape the coaching philosophies that have underpinned Brisbane's top-eight resurgence.
"Craig was everything to me in Melbourne," Walters said. "A mate. A friend. I was on his staff as assistant coach so I learnt a lot of things from Craig from a coaching perspective.
"My three years was very rewarding for me and I'm pleased I get the opportunity against him this week.
"Craig is a very good coach and the Storm have been the best club of the past 20 years.
"Wayne Bennett and Jack Gibson are great coaches, so it would be unfair to say Craig is the best, but if there is a grand final, I'm sure Craig would be in there."
Originally published as NRL 2022: Brisbane Broncos' winning streak ends after 32-20 loss to Melbourne Storm