Fox Sports Lab: The Roosters attack is failing to fire for the simplest footballing reason of all
For all the concern around Luke Keary and Sam Walker's combination, the Roosters dug themselves out of this same hole in 2018. FOX SPORTS LAB reveals the simple fix Trent Robinson is already well aware of.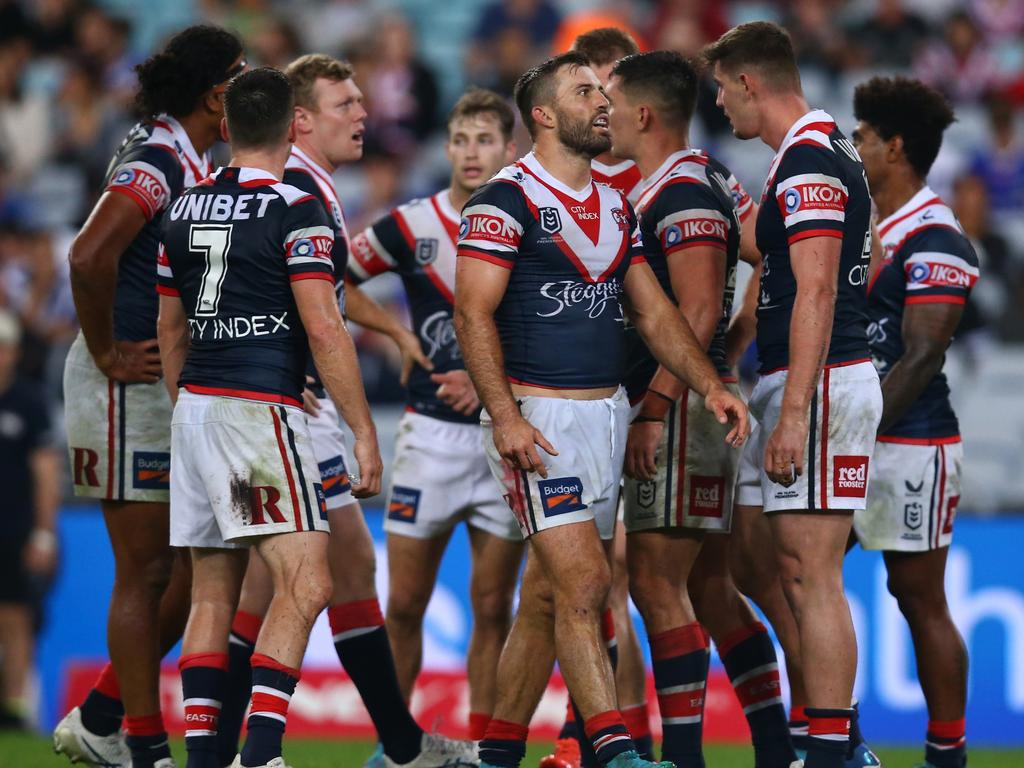 There's a simple fix for the Roosters after their disappointing start to 2022. Picture: Jason McCawley/Getty Images
'Joey Manu isn't getting enough ball.'
'Sam Walker and Luke Keary don't have any chemistry.'
Critics of the Roosters attack are not necessarily off the mark. They do sound awfully familiar to 2018 – when the club's then-halves coach Andrew Johns bemoaned "Ferrari" Latrell Mitchell being left in the garage on Anzac Day.
Crucial losses to the Knights, Dragons and most recently the Bulldogs – all teams tipped to miss the top eight – make for an unusual 4-4 form guide for a club accustomed to finals fun.
For all the minutia and analysis though, Trent Robinson knows the simplest answer is the smartest, and least sexy of all.
The Roosters simply need to hold the ball. When they do, there's no better team in the NRL.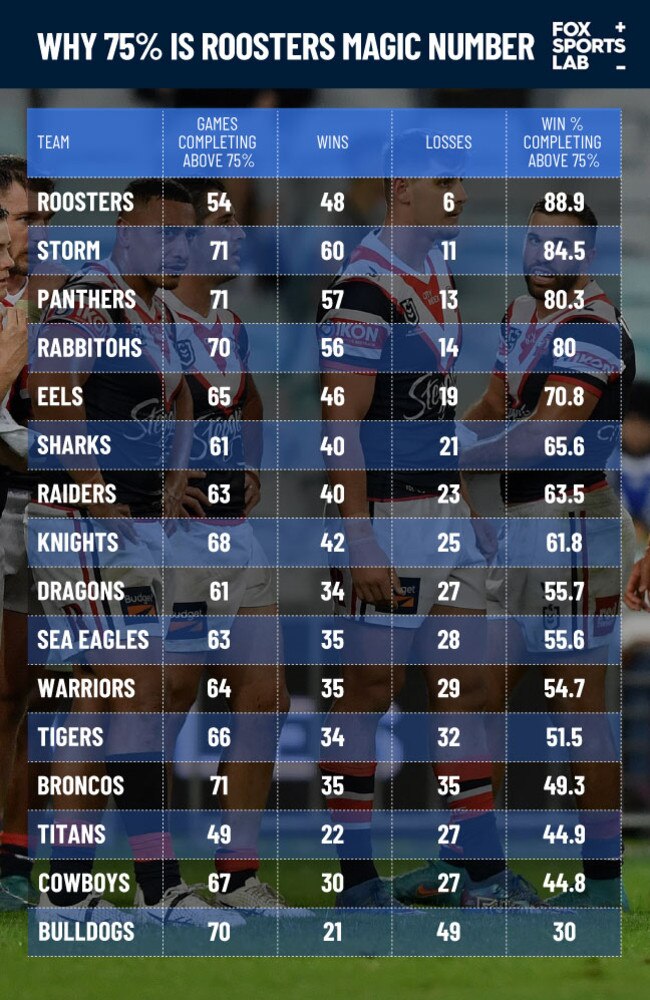 The Roosters are the best team in the NRL at turning high completion rates into wins.
Since 2018, the Roosters have won 88.9 per cent of matches when they have completed at better than 75 per cent. Since 2020, that figure rises to 92.9 per cent with only two losses – a one-point defeat to Penrith and a four-point loss to Canberra in the 2020 finals series.
When the Roosters' completion rate drops below 75 per cent, however, so too does their win rate, in proportions greater than almost the entire competition.
Since 2018, they have only won 46.4 per cent of matches when completing less than three-quarters of their sets. It drops further to 32.1 per cent since the start of 2020.
That 60.8 per cent difference either side of completing sets at or above their magic 75 per cent figure is significantly greater than all rivals bar Newcastle (64.1 per cent swing, having not won a single game from the 15 where they've completed below 75 per cent).
In comparison, the Panthers (81.8 per cent wins since 2020) and Storm (78.9 per cent) are both regularly able to get the job done even when errors creep into their game and they complete below 75 per cent.
The Roosters have had no one to blame but themselves in 2022. Picture: Jason McCawley/Getty Images
The Roosters' completion rate for the 2022 season currently sits at 73 per cent. In only one match so far have they completed above 80 per cent – 83 per cent in their 22-14 win over the Warriors.
They also own the unwanted record for being the only team with every single player who has played in the NRL this season registering at least one error.
In their three big losses against the Knights (68 per cent), Dragons (66 per cent) and Bulldogs (68 per cent), they completed at less than 70 per cent – their three worst completion performances of the season. In their other loss for the year, a 28-16 defeat at the hands of South Sydney, they completed at 74 per cent.
This season hasn't just been a slight aberration and their overall figure of 73 per cent for the year doesn't do justice to how poor the Roosters have been at certain times with ball in hand.
It speaks to the fact that the Roosters require rhythm for their attack to function. Generating repeat sets and putting the opposition under continued pressure has been the cornerstone of their recent success.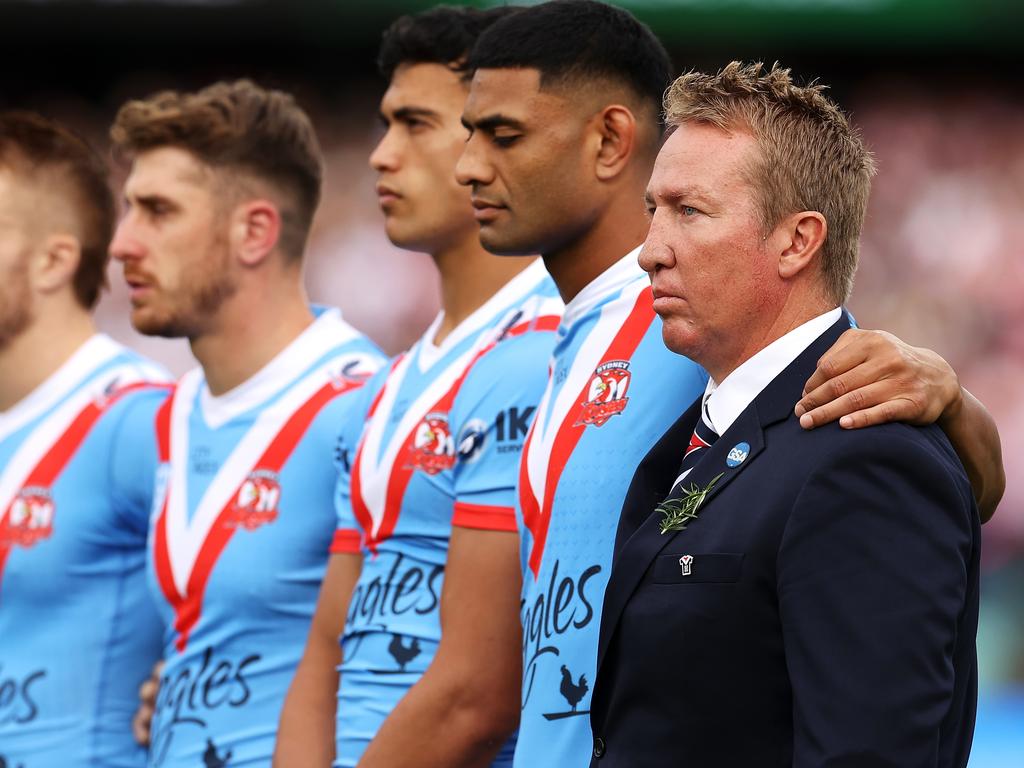 Robinson knows what his side needs to do to turn it around. Picture: Mark Kolbe/Getty Images
After last Saturday's Bulldogs defeat, Robinson was left frustrated, but remains confident the answer is right around the corner.
"I feel like we had enough opportunities to execute but we're just not finding that ability to pressure teams and execute tries and put pressure back on teams," Robinson said.
"We haven't had many tries scored against us but they've been in the first 10-15 minutes which puts us on the back foot.
"A few years ago we were in this state and we had to turn our attack upside down a little bit, I think it was in 2018.
"I've got to coach that in a way where they still feel like they can play footy but not turn over the ball as much. When we get equal possession and all that, we're usually in front."
*****
Those opening rounds of 2018 provide a great comparison to this season for the Roosters. Four years ago they were adjusting to life with their new spine, then Keary and Cooper Cronk, and struggled early on with a 4-4 record through eight rounds.
The parallels are obvious with Keary now alongside Walker after four losses through the first two months of footy.
The Roosters find themselves in a similar position to the start of 2018 where they were able to turn it around.
Similarities between 2022 and 2018 abound further. After eight weeks of that campaign, the Roosters' completion rate was down, their errors ranked among the worst in the competition while tackle busts and kick metres were down considerably as well.
The first of back-to-back premierships of course was the end result thanks to an outlandish turnaround from round nine onwards.
The Roosters went from ranking in the bottom two for completion rate, line breaks and errors, to the top three. Tackle busts and kick metres also went up as they generated more momentum and built the pressure that Robinson had longed for.
It's a clear sign of just how quickly Robinson has been able to turn things around once they hold onto the ball, and there's no doubting the 2022 squad has the quality to do something similar.
The big question mark around the Roosters, just as it was four years ago, remains at the scrumbase.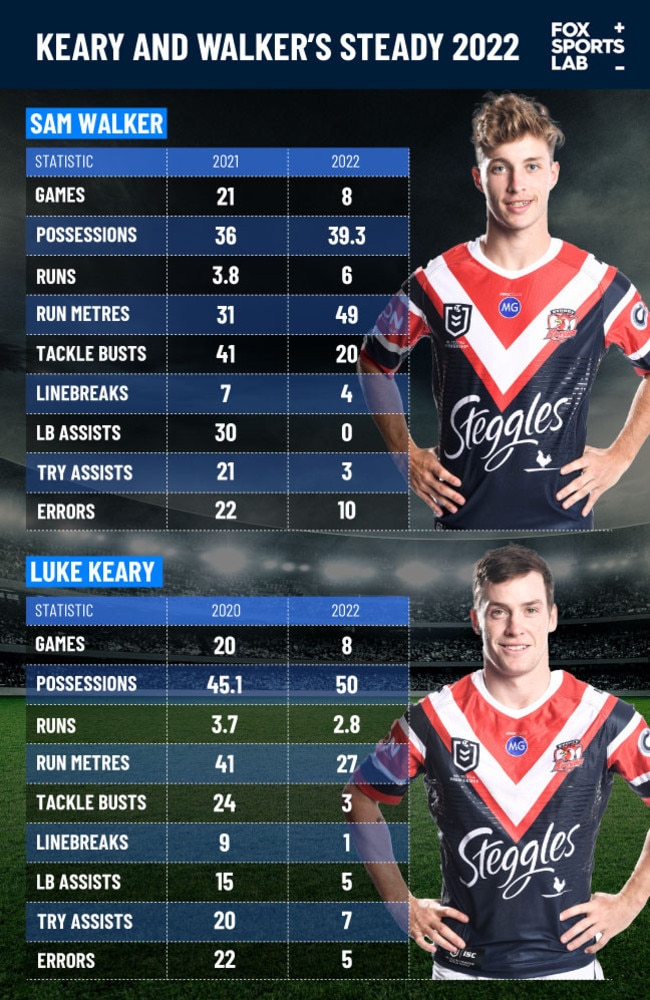 There are some differences in Walker and Keary's output compared to their last full seasons.
Having spent the majority of his rookie of the year season at halfback, Walker has been given the No.6 jumper to allow for Keary's return from an ACL rupture.
While the 19-year-old's possessions and runs are all up this year, his attacking output is down, especially when you look at linebreak assists (0) and try assists (3).
Keary won all three of his premierships playing at five-eighth and particularly at the Roosters, he excelled in concert with Cronk's game management.
He only averaged 38 touches a game but ran the ball 4.3 times a match in 2018, a better figure than the four seasons that have followed despite having more possessions each game.
He also benefited from taking a back seat with his kicking game, putting boot to ball only 4.5 a match. That number has jumped to 11.5 now as the Roosters' No.7 and clear game manager.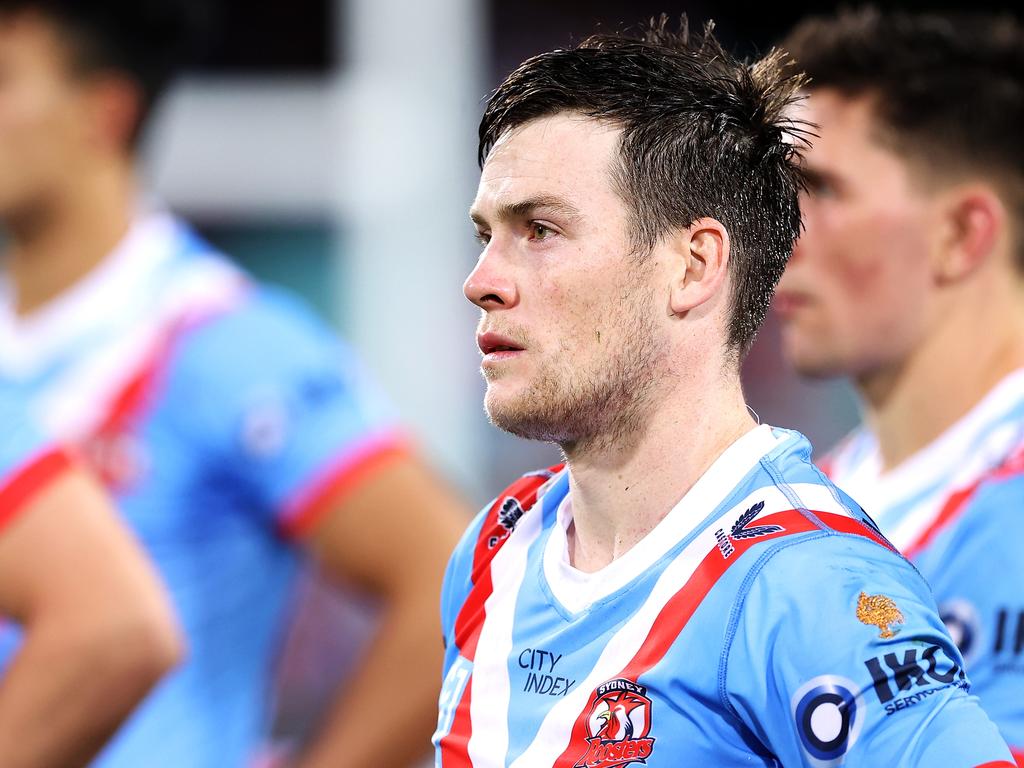 Luke Keary needs to be the man to step up for the Roosters, according to James Tedesco. Picture: Mark Kolbe/Getty Images
The Tricolours have made clear that Keary is expected to step up as their experienced, game-managing halfback to compliment Walker's youthful brilliance.
Coming off an extensive injury lay-off has understandably slowed Keary's somewhat, but comments from captain James Tedesco and a daunting draw leading into the Origin period have the Roosters well aware of how important a stark improvement is.
"He has played with halfbacks, especially Cooper (Cronk), who take control and Kez (Keary) plays more with instinct and plays with his eyes, whereas Sam Walker is that same player now as well," Tedesco said leading into the Bulldogs upset.
"It's on Kez to be that halfback who is in control. It's his team to take control and lead us around and me and Sammy Walker can play a bit with our eyes and our instincts.
"It is about finding our balance at the moment and we haven't had that. We are all using our eyes and playing instincts instead of having that direction and it is not clear when we are attacking.
"It's a new role for Keary and we want him to take control."
After Saturday's clash with the struggling Titans, the Roosters Parramatta, Penrith and Cronulla, all teams that are set to go close to the top four.
Yet for all the parallels with 2018 and Robinson's ability to identify the need for change and how to direct it, the solution is plain as day.
You could play Andrew Johns and fellow Immortal Wally Lewis in the halves. But if their teammates don't hang onto the ball, they can't do much.