Nat Butcher the yin to Victor Radley's yang at Roosters
Sydney Roosters lock Nat Butcher is a rugby league rarity. A quiet and hardworking young man with excellent book recommendations, rooming with Victor Radley balanced him out, writes PAMELA WHALEY.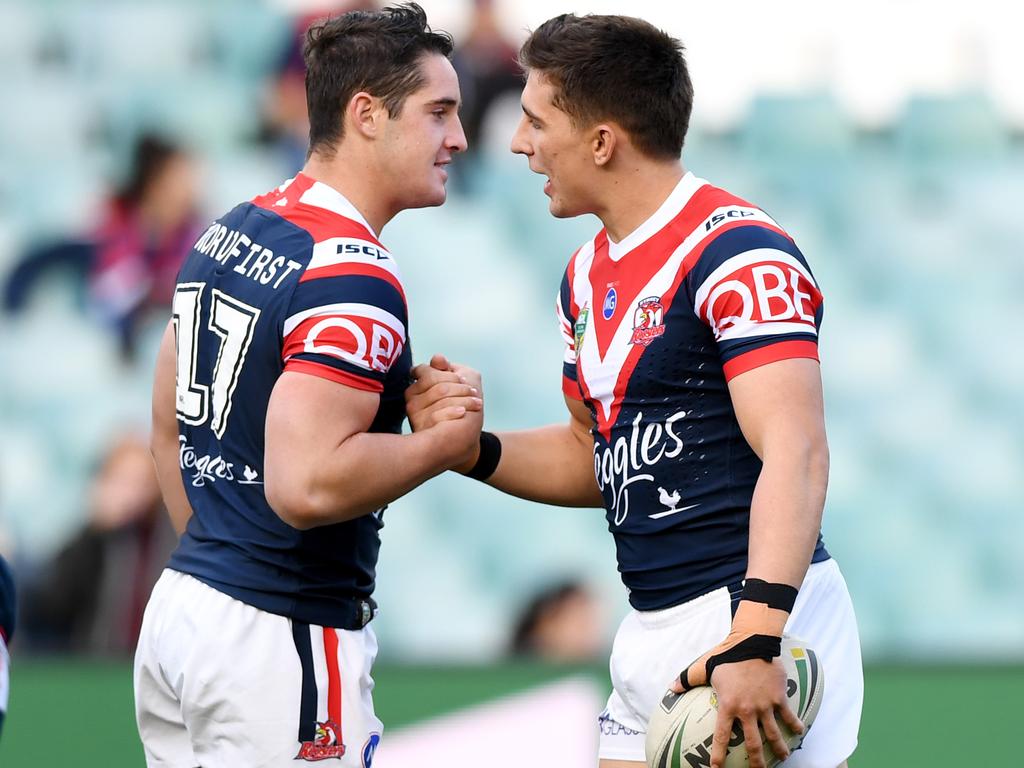 Nat Butcher and Victor Radley are two very different personalities, but on the field, are a dynamic duo. Picture: NRL Imagery, 2018​
It's rare that an interview with an NRL player finishes with a book recommendation. But Sydney Roosters forward Nat Butcher isn't your regular rugby league hard-nut.
He's tough, don't be mistaken, but the 25-year-old would sooner read a novel or dive into studies than switch on the TV to unwind.
In years gone by on away trips he would room with teammate and loose cannon Victor Radley – the chalk-and-cheese pairing of the young Roosters pack.
The thought was they would balance each other out. One, the life of the party, the other more reserved and serious. Both dedicated, gutsy players, but the chasm in personality couldn't be any deeper. Coach Trent Robinson has said so himself previously – they're completely opposite, with plenty to learn from the other.
It's perhaps the best way to learn who Butcher is, to know who he is not.
Nat Butcher is far from your typical rugby league stereotype. Picture: Matt King/Getty Images
"I guess Radley's a bit out there, a bit erratic, a bit all over the shop and I guess I'm a bit more of a calmer kind of person," Butcher explains to CODE Sports.
The two Roosters juniors grew up in the east and knew each other on reputation alone, being two of the brightest young talents for their age.
"Rads and I grew up in similar areas and we knew of each other for a while but never crossed paths much until I came to the Roosters for the 20s, and he was playing as well, so we got pretty close there and just sort of came through the system at the club here into first grade."
But what did he know of Radley back then?
"Exactly what he is now, that the guy's a lunatic and that he's good in small doses," he laughs.
The lunatic that is Victor the 'Inflictor'. Picture: Matt King/Getty Images
"I started playing 20s in my last year of high school, so I was 17 turning 18 and Rads would have joined the year after.
"It's much better having him on your side than playing against him, so I've loved playing with him and coming through the grades and playing a lot of footy with him. He's definitely someone that you want to be playing with."
While Radley's personality and on-field persona gets more attention from the rugby league public (and makes him a magnet for headlines), Butcher is the kind of quiet leader every team needs. He's stable, marrying his long-time partner Harmony at the end of 2020. And there's something to be said about the balance he brings to the Roosters, too. Level-headed, studious and quiet with a high work rate.
The rugby league jackpot.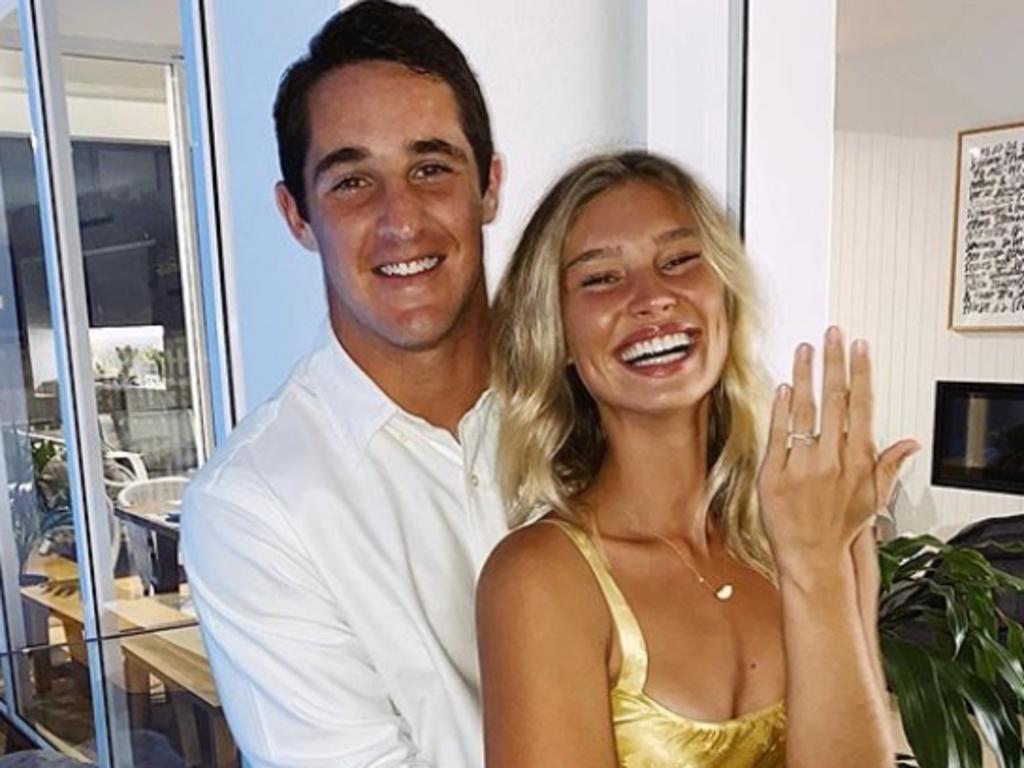 Butcher with fiancee model Harmony Bell. Picture: Instagram.
*****
Nat was a star in the Roosters' junior system and captained the under-20s side to the NYC premiership in 2016 – a team stacked with current Roosters first-graders including Radley, Sitili Tupouniua, Joseph Manu and Paul Momirovski.
His younger brother Egan, three years his junior, was also tipped as a future NRL player, making his debut for the club in round 12 last season. They're both a part of the first-grade squad now, taking their brotherly fights from the front yard to the heights of the NRL. A dream for the brothers and Butcher family, including dad Blake, who played for South Sydney in the late 1980s and early 90s.
"They're pumped, they love it. Mum and dad, both our partners and extended family, every time we're playing they come out and support and they love it. We just talk about those moments when we were kids out there playing and having fun and getting into fights," Butcher says.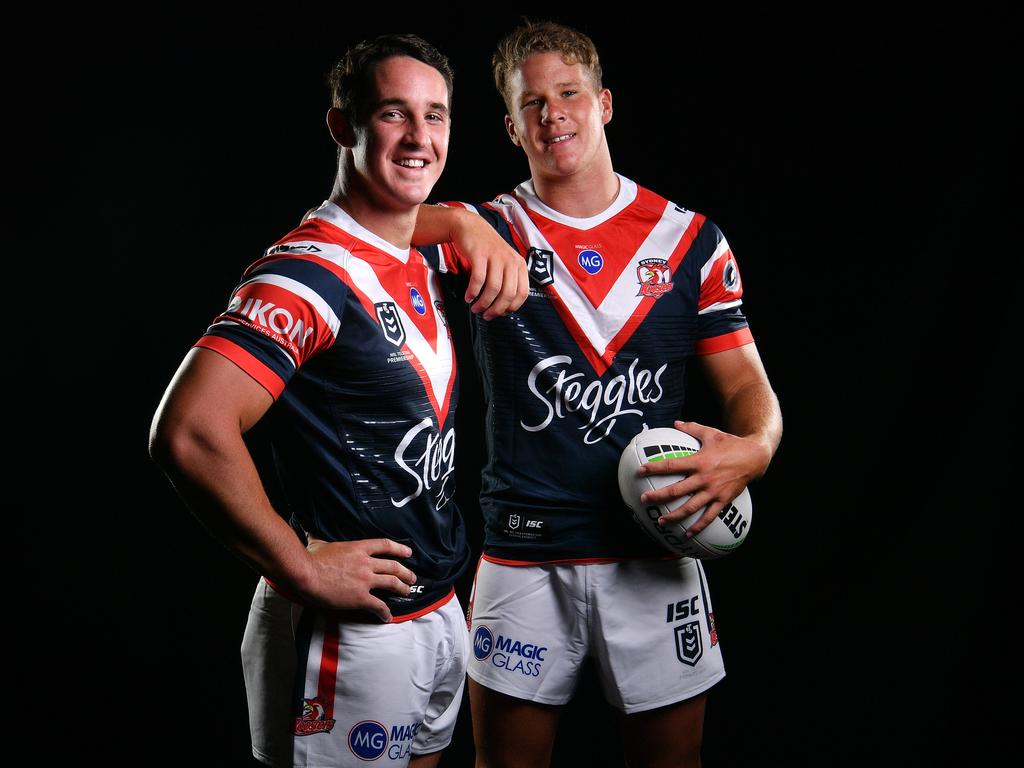 Nat Butcher (L) with his brother Egan (R) in 2019. Picture: NRL imagery.
"My older brother [Brock], he comes out and supports us too, but he doesn't play footy.
"It's been great to play with Egan. You play footy out the front as little kids, down the park kicking the ball and then to go from that to playing on one of the biggest stages that the game can offer you, it's just such a surreal feeling and something I'm really grateful to do every time we get out on the field together."
To do it at the one club together makes it even more special.
"Egan came through the system at the Roosters too, he played SG Ball and (under 20s) and there's a good crew his age filtering through to the first-grade squad now and they're starting to make an imprint on the NRL, which is great to see.
"(It was) a big learning curve for him last year being his debut season. It was a wild year with all the challenges it threw at us and then he got his opportunity this year, and to his credit, he's stepped up even more into a bigger role than he was doing last year.
"He's a player who doesn't just go out and do his job every week, he offers more than that, and I love playing with him."
Having double the Butcher blood on the field comes with a risk, though. Just last month both brothers failed head injury assessments in a clash with Parramatta, and Egan was taken from the field in a medicab after getting his head in a sickening position while attempting to tackle Ryan Matterson.
"That was a bit of a tough night," Nat recalls.
"Mum and dad and our partners, that was a hard watch for them, but that's footy and we both bounced back well."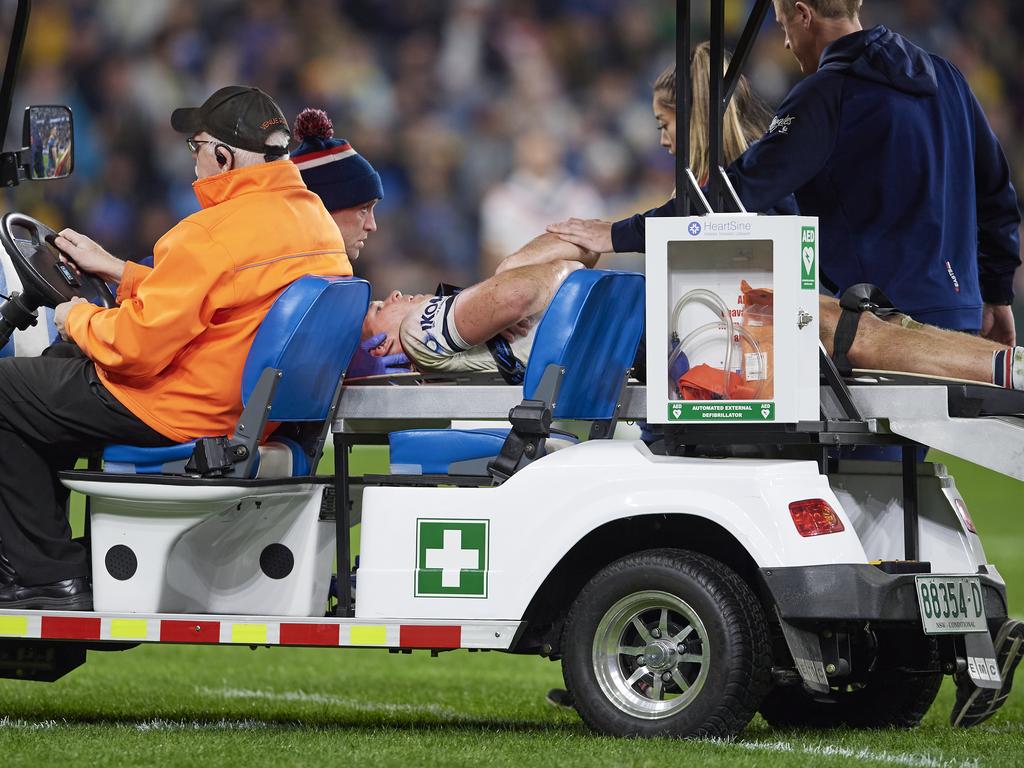 Egan Butcher leaves the field against Parramatta in mid-June. Picture: Brett Hemmings/Getty Images
*****
If you're still wondering what the book recommendation is, it's Nine Lives by Peter Swanson. A crime/thriller fiction novel – a favourite genre of the well-read Roosters' second-rower.
It was the last book he read recently, but lately he has been immersed in studying for a Bachelor of Commerce with the Australian Catholic University.
"I'm in my second year, so I'm just chewing through that, doing it slowly," he says.
"I thought it was just something I'd be interested in post-footy.
"I'm still not sure exactly what it is I want to do but I might as well start something and hopefully figure out what I want to do when the time comes.
"It's a great escape from footy and the NRL has such a great system with education and providing that support financially for players, I feel like you'd be silly not to use that while you can. I'm really looking forward to trying to set myself up for life after footy because it is a short career and you never know when it could end."
For now though, he's seven years into his NRL career after making his debut in 2016, and still figuring out how to get the best out of himself – although two tries against Brisbane in round 21 and his form this season shows he doesn't have far to go.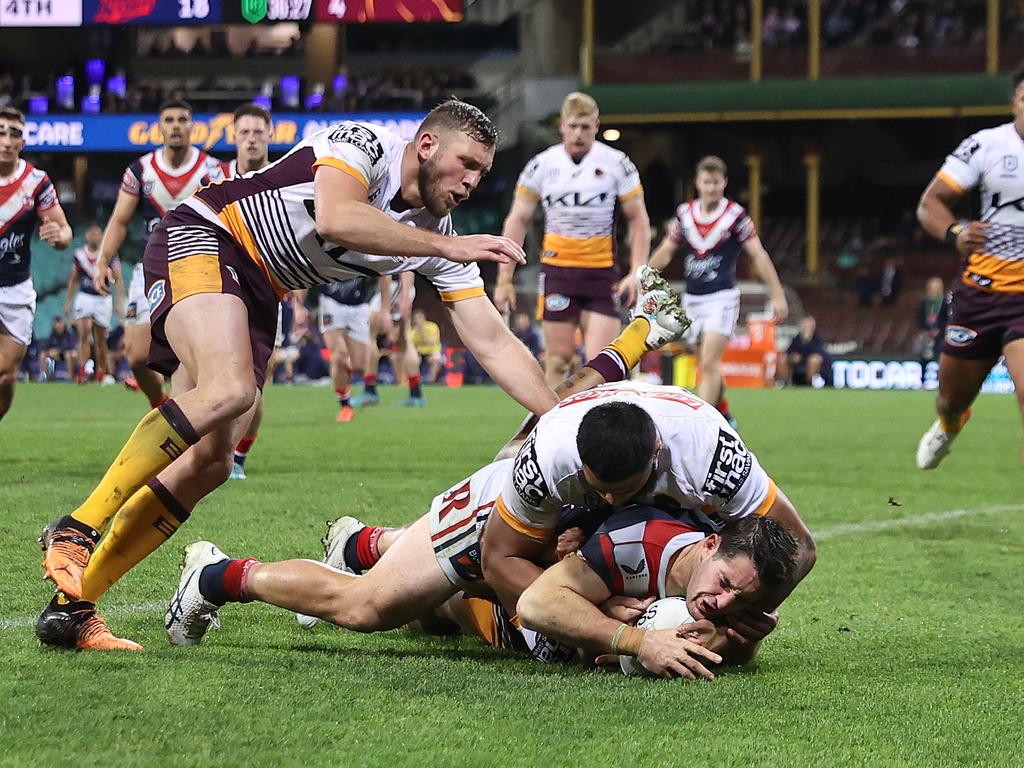 Nat scores the second of his two tries against Brisbane. Picture: Cameron Spencer/Getty Images
Part of the reason he was rooming with Radley was to help bring out more of his personality, to add the extra cherry on top of his diligent work ethic and football smarts.
Finding that balance is what's best for him and the Roosters as they push to make the finals over the next month.
"I still feel like I'm growing as a player, the journey has been great over these past couple of years and there's been a lot of lessons learned," he says.
"I've been able to play with so many great players at this club but I feel as though there's a long way for me to go to reach my potential and I'm just trying to do that one week at a time.
"Unfortunately, the game offers some setbacks and you have to bounce back from them and keep on going. It's just that ongoing journey to become the best player that you can be."