Royce Simmons to walk 300km in 11 days to raise money for Dementia Australia after being diagnosed with Alzheimer's disease
Guilt. Devastation. Fear. Determination. Penrith legend Royce Simmons has experienced it all since being diagnosed with Alzheimer's disease. He opens up to David Riccio.
Royce Simmons only asked one question.
"How long until I can't remember who my kids are?"
Sydney Neurologist Dr Craig Presgrave held a scan of the Penrith Panther legend's brain up to the light.
The specialist looked back at Simmons, paused and said, "How long is a piece of string.''
Simmons, the 61-year-old former 238 game veteran, NSW and Australian representative and 20-year coach, had just been diagnosed with Alzheimer's disease.
The early onset of dementia has left Simmons frightened by the unknown.
TO FIND OUT MORE ABOUT ROYCE'S BIG WALK, CLICK HERE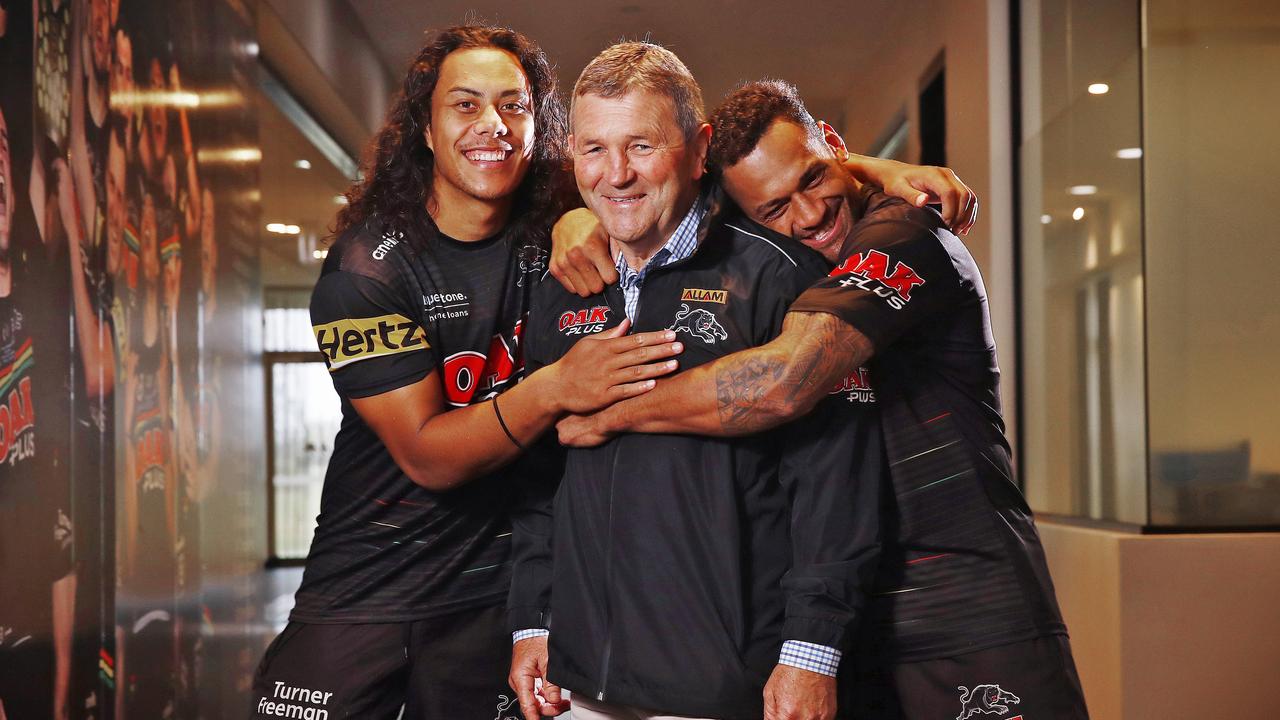 Penrith Panthers NRL legend Royce Simmons pictured at Panthers HQ with Jarome Luai (left) ands Api Koroisau (right). Picture: Sam Ruttyn.
"I know it's coming, but I don't know if I'm going to know when it comes,'' Simmons said.
"The things that come to my mind have been, that it's going to wreck my wife's life because she's going to be looking after me all the time.
"So it could wreck 20-years of her life. She won't see it that way, but that's how I see it.
"It's also going to interfere with my children's lives.
"It just devastates families.''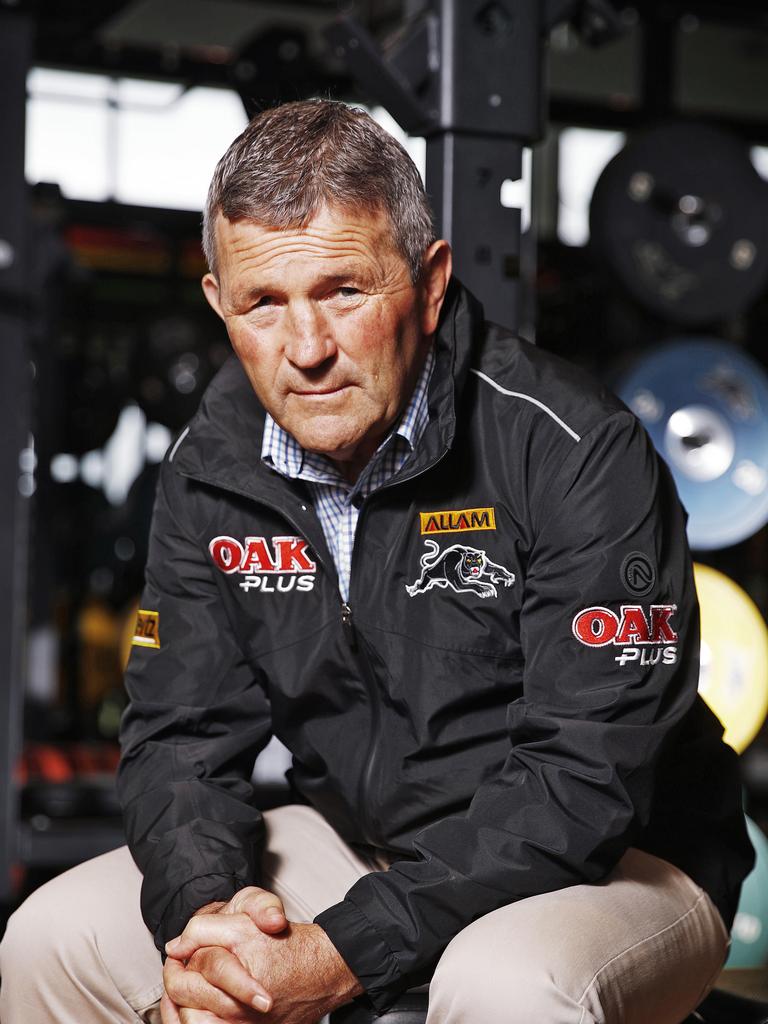 NRL legend Royce Simmons says guilt and sadness over his family's suffering have been difficult. Picture: Sam Ruttyn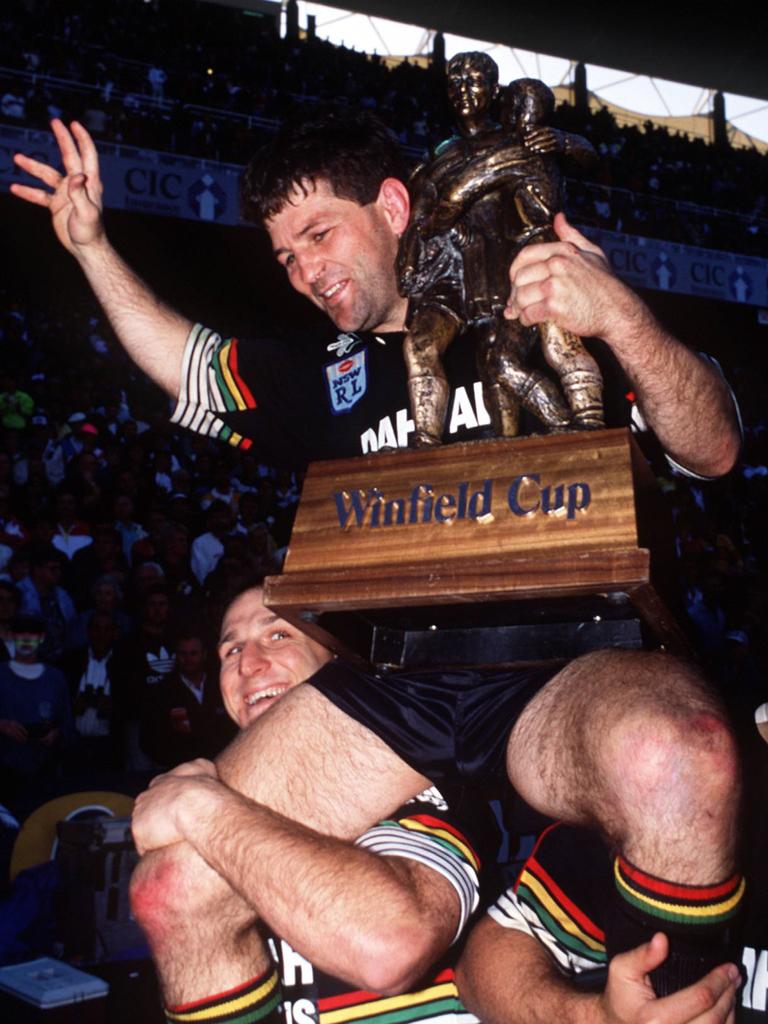 Royce Simmons celebrates with Winfield Cup in 1991.
Speaking to The Saturday Telegraph, Simmons sips on an orange juice as he holds his conversation comfortably for over an hour.
He drifts from the subject matter only once or twice before confidently telling stories of old games, the rise of the current Panthers side, while detailing how walking 22km into the Blue Mountains each day with his close mates and taking two tablets every morning and night, "will hopefully slow things down".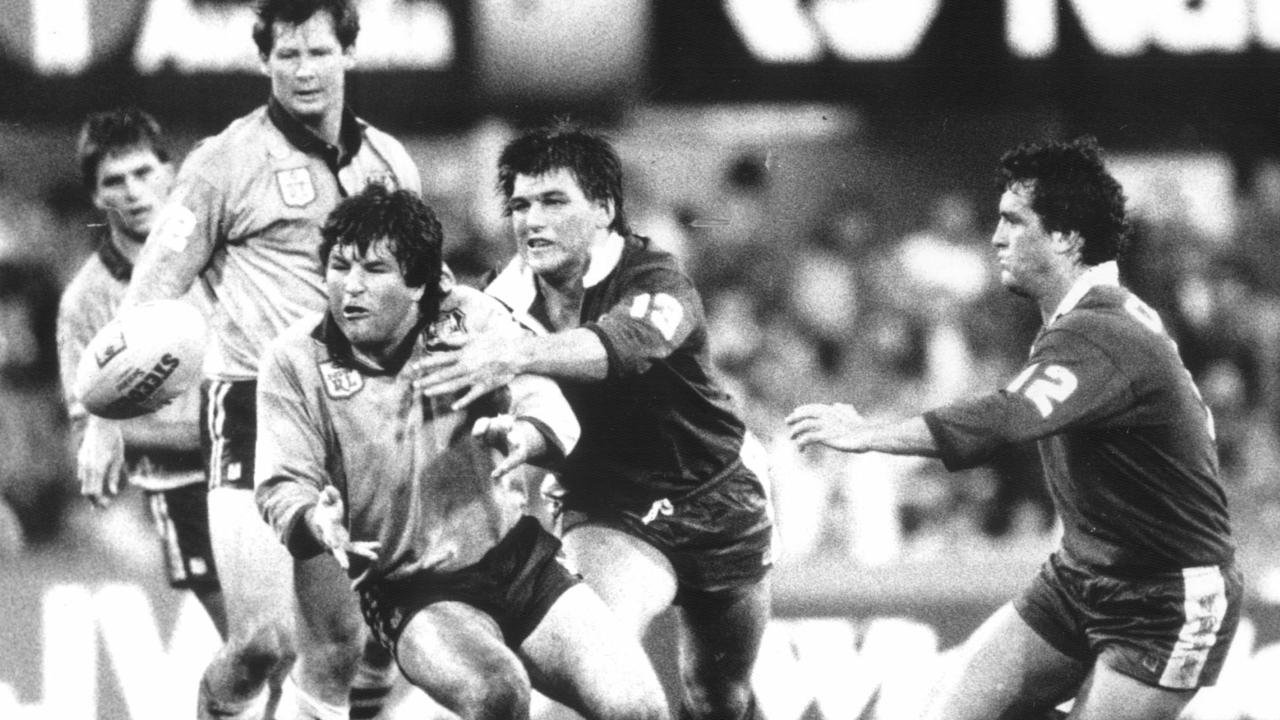 Royce Simmons gets his pass away during a State of Origin game in 1986.
Yet Simmons, a footballer renowned for his willingness and toughness, knows he's facing the fight of his life.
With emotion in his voice, he recalls the life-changing appointment with Dr Presgrave 12 months ago.
"The specialist showed me my scan and said, there's a couple of white marks there, they could be concussions that you've had,'' Simmons said.
"I was thinking, how good is this … only a couple of spots.
"Then he said, this here, is all Alzheimer's.
"From that point, he kept talking, I wasn't listening, all I could think about was my family.''
What Simmons can't forget is the moment he knew that something was wrong.
Royce Simmons knows he's facing the fight of his life.
"We went down to Kiama for a couple of days last year, just me and Liane (Simmons' wife),'' he said.
"Because I had just had shoulder surgery I had my arm in a sling. So I said to Liane, why don't we get a carton of beer and a bottle of wine for our stay.
"So she pulled into the bottle shop, got out of the car and bought what we wanted and then when we got back to our hotel, she pulled the beer and the wine out of the back of the car.
"I said, where did you get that from?
"She said: "You know, I just pulled up to the bottle shop and got it.''
"I thought she was joking.''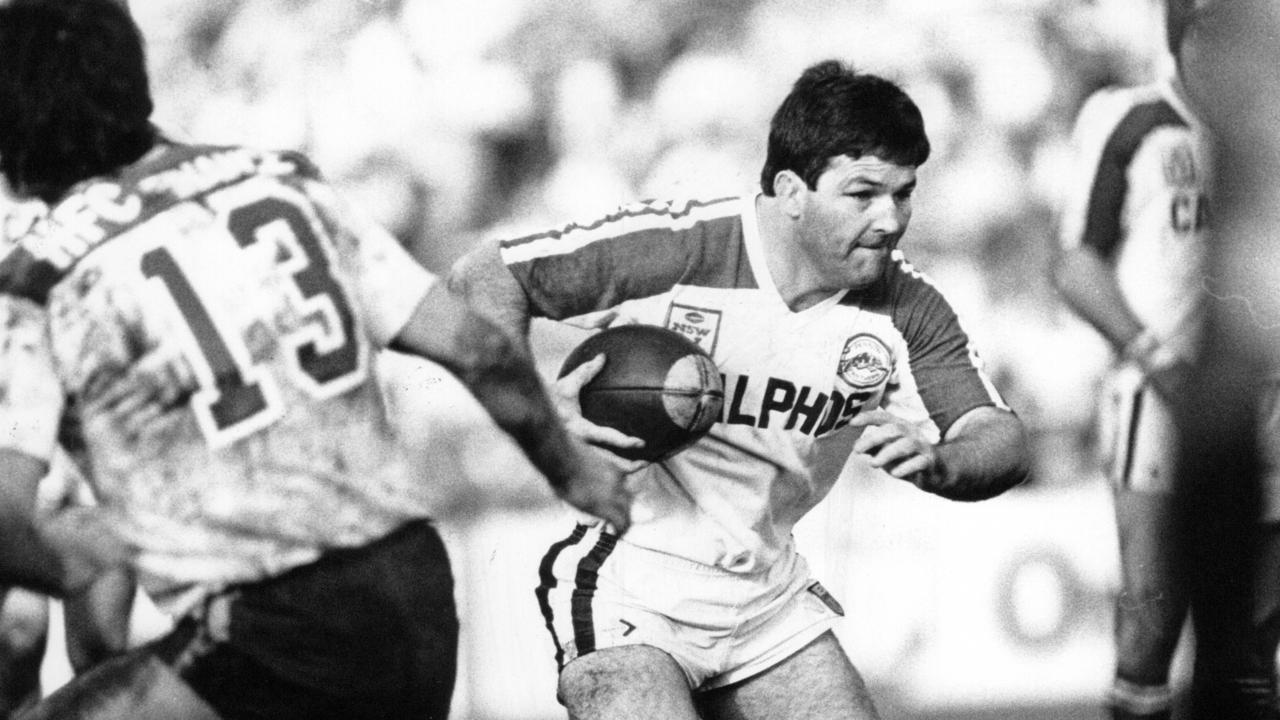 Royce Simmons says telling his family about his diagnosis was the hardest conversation he's ever had.
The father of four, and grandfather to five grandsons, says explaining his condition to his loved ones was the most difficult conversation of his life.
"There's no easy way to tell them. They came around for lunch and we sat down and I had to tell the truth,'' Simmons said.
"They're the hardest things.''
Simmons played first grade rugby league for over a decade between 1980 and 1991, a brutal era of the game's history, where toughness was measured by playing-on through injury and concussions.
However, the champion hooker is refusing to blame the game for his condition.
"I won't cop that concussions caused this one bit,'' Simmons said.
"I asked the specialist, why are so many women being diagnosed with this?
"It's the biggest killer of women in Australia and if you want to bring it back to rugby league, women only started playing the game at the current level 10-years ago.
"I certainly had my fair share of concussions.
"You played on, back then.
"It's all changed now and it's for the better.
"You can never go too far to prevent any sort of injury.''
Simmons is telling his story to raise awareness for the most common cause of death among women in Australia and second leading cause of death in men.
He is about to embark on 'Royce's Big Walk' – a 300km walk over 11-days through country NSW, where some of sport's biggest names, will join the Panthers' favourite-son to raise awareness, and much-needed funds, for dementia research.
Royce Simmons will walk 300km over 11 days to raise money for Dementina Australia. Picture: Sam Ruttyn.
"We're going to raise money for Dementia Australia and it will go directly to a doctor focused on a particular area of research,'' Simmons said.
"Hopefully a young doctor over the next 10 years can make a breakthrough … imagine the relief on so many families.
"A lot of people live for a long time with this, so that in-turn means a lot of families are impacted by this, because of the care and resources needed to support that family member.
"Not to mention the financial impact of medication.
"Fitness is a big thing. I walk for four hours every day and that's why the 'Big Walk" is so important for me too.
"I stopped drinking for five-months and if I have a beer now, it's only light or mid-strength.
"Going to work is another one, you have to keep working and I also do puzzles on the computer.
"Although, I've nearly thrown the computer out the window four times.''
Simmons is most remembered from the Panthers' 1991 grand final victory over Canberra.
Surprisingly, he has watched the memorable match, where he scored the premiership-winning try after receiving a pass from Mark Geyer, only "two or three times."
For a man that is universally loved for his determination and success on the football field, the boy who grew-up working as a greenkeeper of the Gooloogong bowling club before becoming an inaugural member of the Panthers Hall of Fame, isn't stressed about forgetting his most cherished moments.
"I'm not worried about myself at all,'' Simmons said.
"I've had a good life, I can't complain, it's just the pressure I'm going to put on all of my family – which is the hardest bit.
"Everyone is different and I don't know if I'm going about it the right way, or the wrong way, I'm just doing my best.
"That's why the "Big Walk" is so important. I'm just doing this to help one person recover a bit quicker.''
Royce's Big Walk
May 15-27
300 km in 11-days across country NSW.
Sporting greats include: Wally Lewis, Brad Fittler, Allan Langer, Gene Miles, Tim Sheens, John Cartwright, Craig Gower, Martin Lang, Robbie Farah, Chris Lawrence, Terry Lamb and Kurt Fearnley.
For more information go to roycesbigwalk.com.au
Originally published as Royce Simmons to walk 300km in 11 days to raise money for Dementia Australia after being diagnosed with Alzheimer's disease