Matt Moylan is being rebuilt by Craig Fitzgibbon at Cronulla, after just 34 games in three years
When Craig Fitzgibbon told Shaun Johnson to find another club, it was assumed Matt Moylan would be the next star shown the door at Cronulla. Yet the new Sharks coach did the opposite, writes PAMELA WHALEY.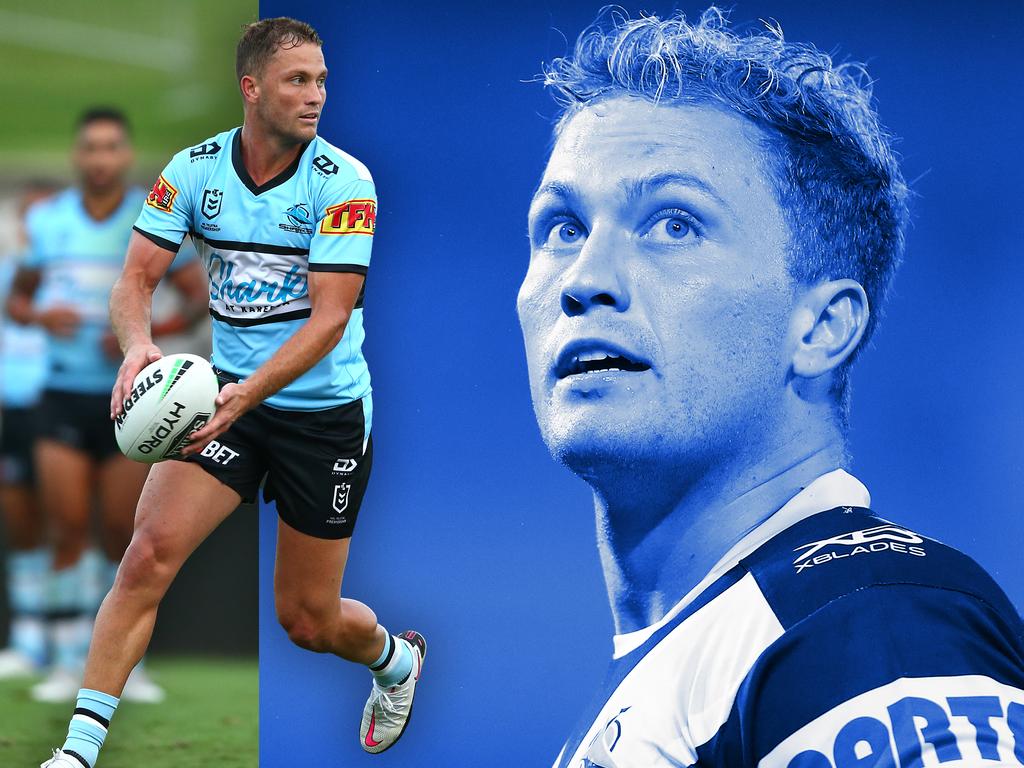 'I want to play at the level that I know I can play at, and that's a big focus for me.'
Once upon a time Matt Moylan used to be asked about the things he did on a football field, rather than why he's spent so much time off it. Sadly, that's not the case anymore.
"It's frustrating," the Cronulla five-eighth says.
"As a player you don't ever want to be going out and missing games or anything like that and it's always something that people ask as well, like 'how is the body going?'
"That side of it can get annoying. But it's part of the process of being an athlete in our industry, and it's part of the game that you get injured. But hopefully I'm past all that and can just play footy and be healthy."
But to move on, it has to be addressed, and to his credit he acknowledges that too. Across the past three seasons at the Sharks, the 30 year old has managed just 34 games as soft tissue leg injuries gave him false starts and false hopes.
He churned out one full 2018 season under coach Shane Flanagan after a messy exit from his junior club Penrith, but in between his own injuries and turmoil at Cronulla he hasn't been able to reach his potential.
Not just the hopes everyone else had for him, but the high hopes he had for himself.
That in itself is frustrating, to both Moylan and anyone who knows what he's capable of. The interruptions have been so persistent you can be forgiven for forgetting his 2014 form, or that in 2016 he was considered one of the best players in the competition.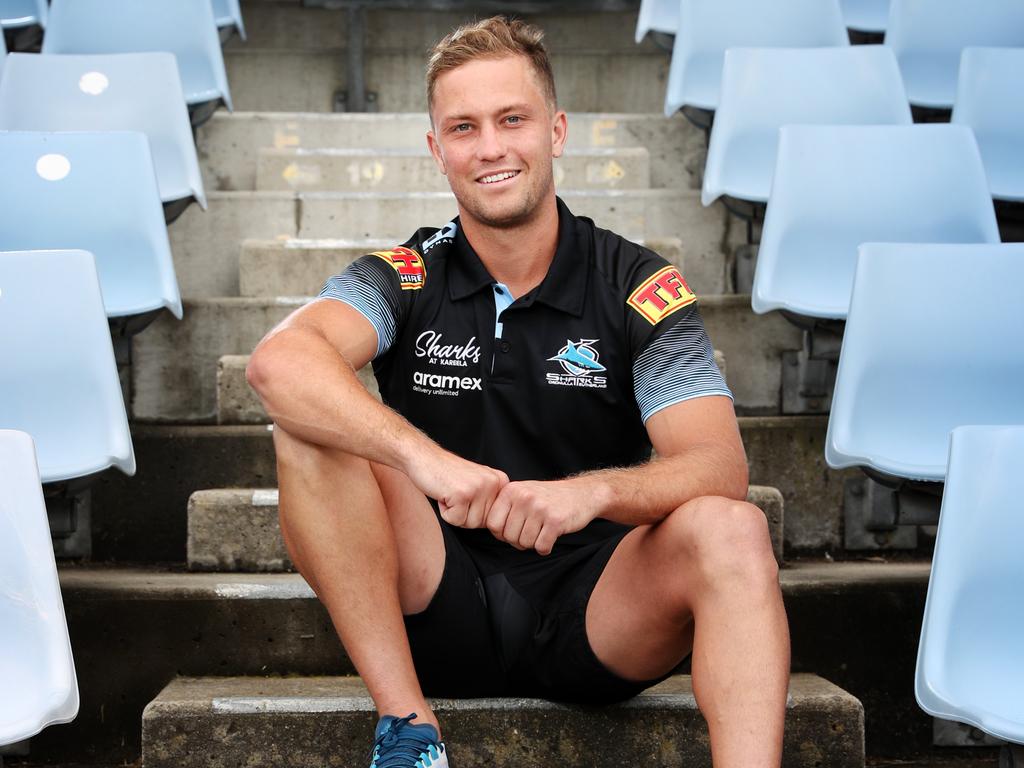 Moylan has played just 34 games in his past three seasons at the Sharks due to various injuries. He has one year on his contract to prove his worth to new coach Craig Fitzgibbon. Picture: Richard Dobson
*****
It has all weighed on him, and it's been obvious to anyone paying attention. Moylan has deflected questions asking if he is ready for retirement and doubts over whether his body can hold up to the rigours of NRL any more. For a young man once at the top of his game, it's physically painful to hear.
Enter new Sharks coach Craig Fitzgibbon, and suddenly Moylan seems lighter – quicker to smile than he has been previously.
"The last few years haven't gone the way I would have liked, but this year I really have enjoyed the pre-season and the training side of things and getting into working with Fitzy and the new boys who have arrived at the club," Moylan says.
"I'm just trying to make the most of it and enjoy it. The change has been really good for a lot of people.
"It's not that (I've not liked pre-seasons before) it's just that I feel fresh and the body's been good. I haven't had any little setbacks so I've been able to do every training session. That side of it has made it feel more enjoyable for me, but it's just a different way of coaching as well. I've really enjoyed that. Hopefully it sets me up to have a good season."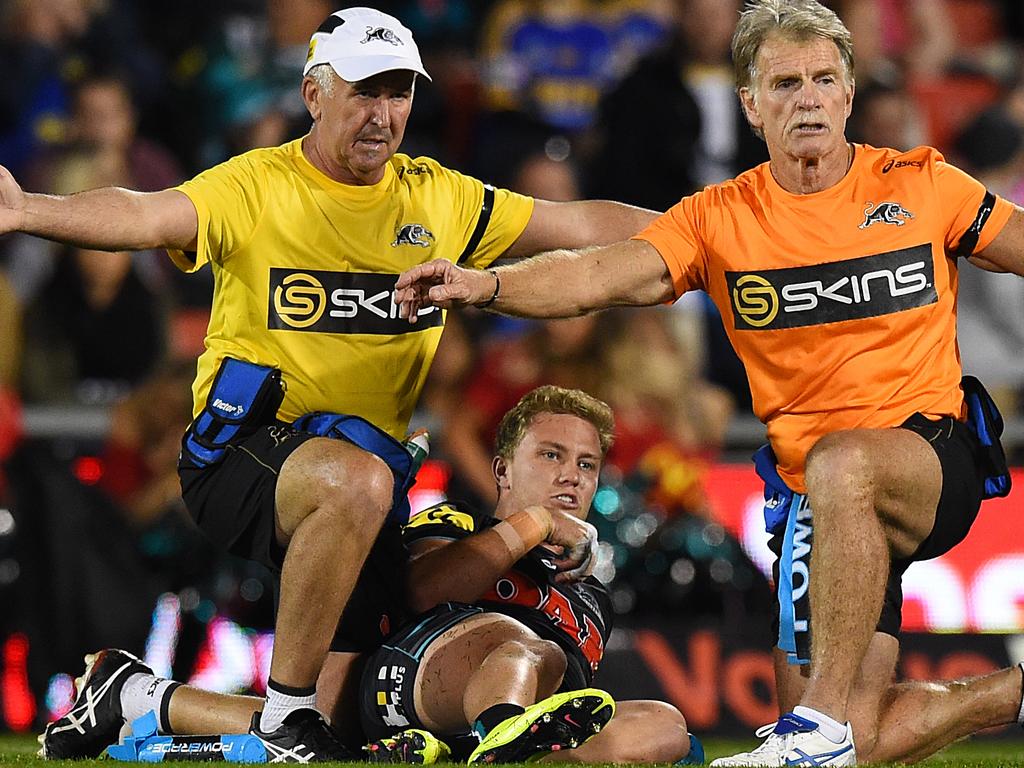 An ankle injury sustained in 2015 is just one of the leg issues Moylan has had in his career. Picture: AAP Image/Dan Himbrechts
Fitzgibbon, being the good man manager that he is, knows Moylan is a confidence player.
And so he's spent the past few months building it back into the ex-NSW and Australia playmaker by giving him clear expectations to meet. Moylan is on a cut-price one-year contract with the Sharks and knows he has just this lone season to impress the new coach.
When Fitzgibbon told ex-New Zealand Test star Shaun Johnson he was free to find another club as he rebuilt the 2022 roster, it was assumed Moylan would be next out the door.
But Fitzgibbon did the opposite. He showed faith in Moylan, and it sparked something in him.
"He said he wanted to keep me at the club for a year and work with me and go from there," Moylan says.
"We can work for 12 months and see how it goes. I didn't really want to go anywhere and every chat I had with Fitzy he gave me a lot of confidence in what he was bringing but also that he could help me get back to playing consistent good footy as well.
"The main thing you get from Fitzy is he's a clear communicator. He's obviously a good bloke but that clear communication helps in knowing what he wants from us, what we need to work on and what we're doing well.
"He shows a lot of interest in the boys' lives outside of footy as well. That's a big part of the relationship stuff that he's built with the playing group since he's come to the club."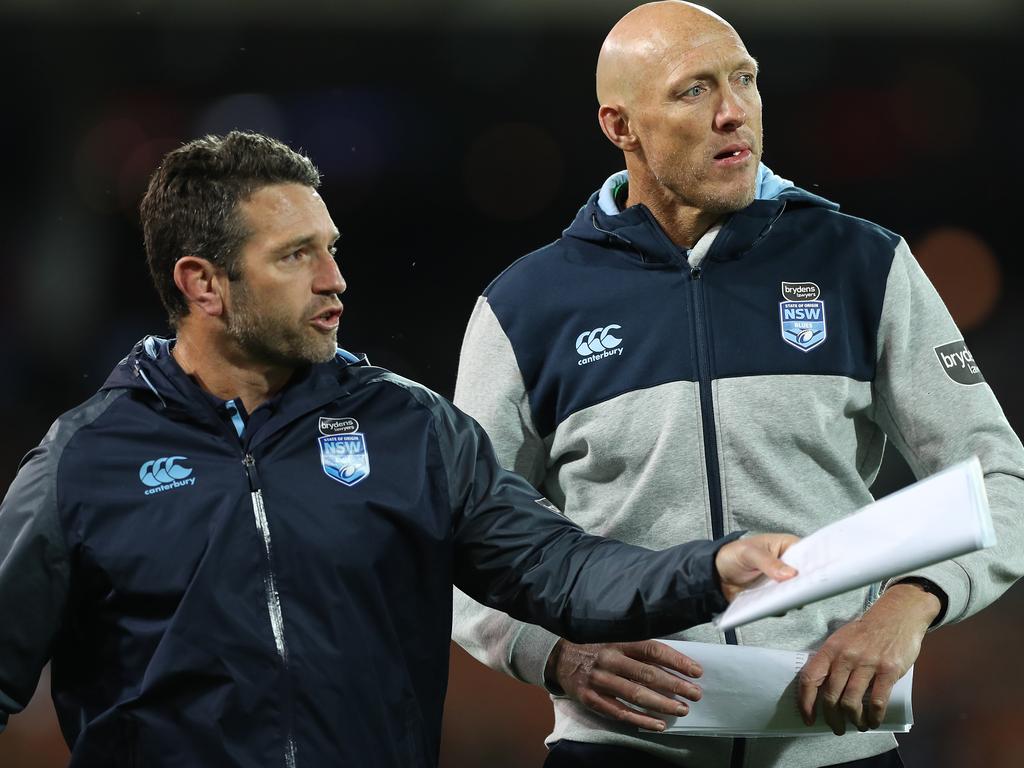 Former Roosters and NSW assistant coach Fitzgibbon is known as a sharp man-manager. Picture: Mark Kolbe/Getty Images
*****
The risk is those dastardly leg problems returning. There's some thought that a bad injury he suffered at Penrith threw his body out of whack and the surrounding muscles overcompensated and caused the chronic calf tears and ankle problems he's suffered since.
But he was also privately criticised for a perceived lack of commitment to injury management and rehabilitation while he was at the Panthers, but he makes a point to say it's not the case now, if it ever was.
"I probably didn't put enough emphasis on that earlier in my career and it took a few injuries for me to realise what I had to do outside of footy as well as what I had to do at training. It's a full commitment, not just showing up at training," he admits.
"It's one of the points that Fitzy has been clear with me about, putting myself in the best position away from footy with the recovery side of things and being ready to go at training. Obviously we're not playing a game at the moment, but when that comes around, staying in that routine and doing a similar thing and staying on top of it."
Moylan feels cared for and trusted, and now it's reciprocal.
"I think I've done the majority of the last few pre-seasons, maybe missed a few sessions … but this one is probably the best one I've had in terms of the training load I've been able to do," he says.
"It's given me confidence in not only my body and that I'm able to be training consistently and back it up, but to be able to be out on the field working on things and from that I'll get a lot more confidence.
"I want to play at the level that I know I can play at, and that's a big focus for me at the moment. I'm trying to get back to the level that I was at before I started having these setbacks."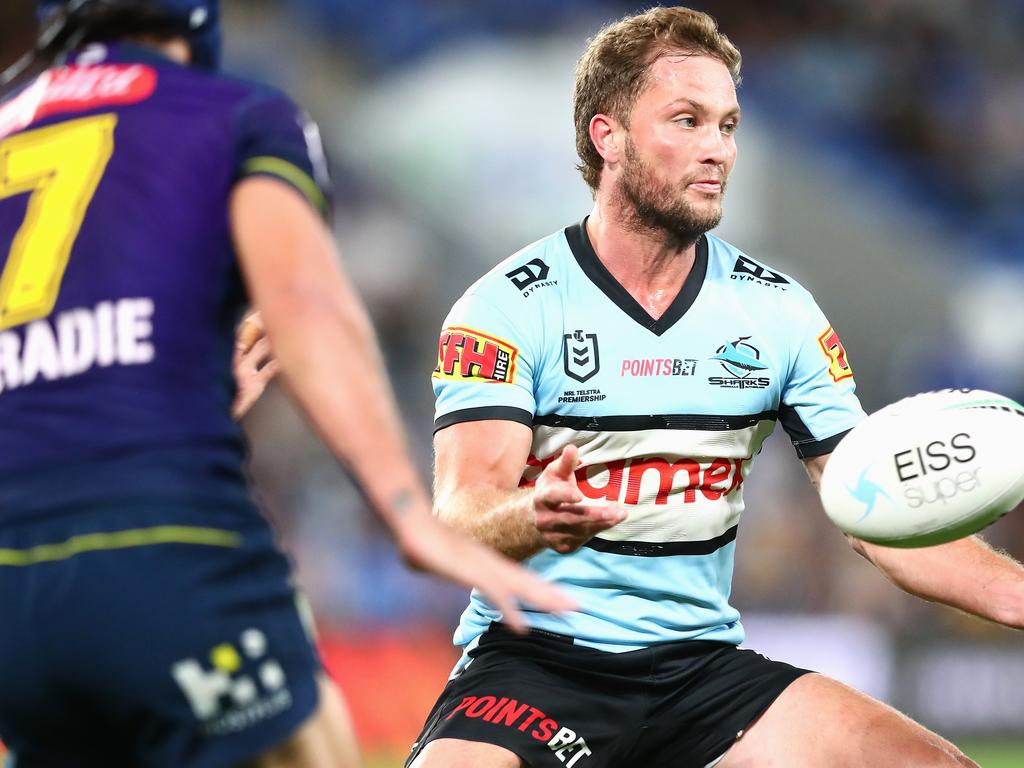 Moylan is training at five-eighth but there are plenty of Sharks newcomers vying for a halves spot. Picture: Chris Hyde/Getty Images
****
For now, Moylan is training at five-eighth alongside halfback and new recruit Nicho Hynes, but he's also a candidate for a utility spot with Braydon Trindall and Connor Tracey both able to play in the halves. Will Kennedy has the No.1 jersey locked down.
"There's a bit of excitement around the group and some quality in the side, there's a few young boys who got an opportunity over the last few years so they'll be better for that too," he says.
"Fitzy hasn't spoken about positions as much just yet … I've been training in the halves and I guess it'll come down to the next couple of months of training and when we get into games.
"I haven't sat down and spoken to him at length about that sort of stuff, but I'm just more focused on getting a good base at training and working on combinations, whoever I'm training with."
No matter where he plays, the importance of the season doesn't diminish. He's on a lifeline deal and he knows it – all he wants is to prove he's worth the chance he's been given.