Sport Confidential: Dolphins hijack Broncos' Magic Round ad; Cowboys make call on recruit's $2.1m deal
Why Wayne Bennett sees value in an overlooked Bronco and the Magic Round blow landed by the Dolphins. It's all in Sport Confidential.
Don't be surprised to see Broncos utility back and former Queensland Origin bolter Brenko Lee at the Dolphins next season.
Sport Confidential can reveal Lee has been shopped to super coach Wayne Bennett as the Dolphins look to add some experience to their backline for their entry to the NRL in 2023.
Lee joined the Broncos this season from Melbourne, where he enjoyed a dream 2020 season, winning a premiership ring before playing his one and only Origin game in Queensland's stunning Game Three boilover of NSW.
Bennett was the man who gave Lee his Maroons debut in Queensland's epic series win and the super coach likes the 26-year-old's happy-go-lucky personality off the field and versatility on it.
Watch every game of Magic Round this weekend Live & Ad-Break Free In Play on Kayo. New to Kayo? Try 14-Days Free Now >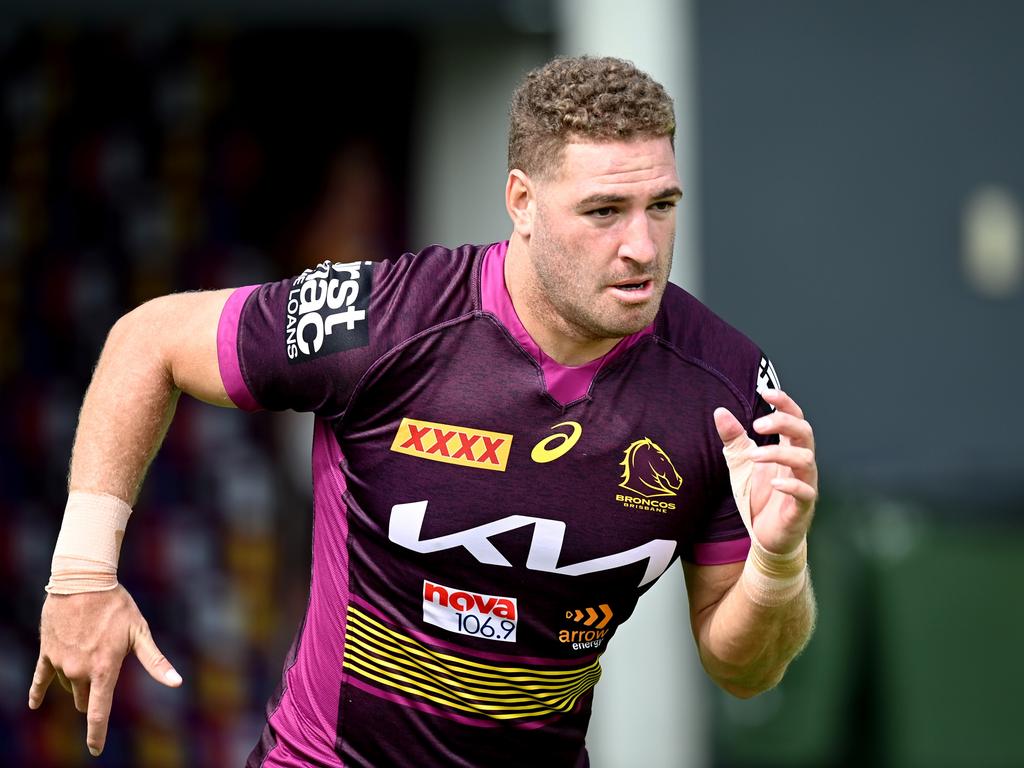 Brenko Lee can't get a run at the Broncos. Picture: Bradley Kanaris/Getty
Lee made his Broncos debut off the bench against the Warriors last month but he is stuck behind the likes of Selwyn Cobbo, Kotoni Staggs, Herbie Farnworth and Corey Oates in his quest for a wing or centre berth at Red Hill.
The Dolphins will need depth for their debut season and are open to signing Lee on a cut-price deal. The former Tongan Test star has played 68 games since his NRL debut in 2014 and can add value to the backline with his hulking 104kg frame and premiership-winning experience at the Storm.
DOLPHINS HIJACK BRONCOS' MAGIC ROUND AD
The Dolphins are ready to make a splash.
The NRL's 17th team have issued a warning to rival clubs by attempting to ambush Broncos advertising in the lead-up to Magic Round at Suncorp Stadium.
The Dolphins this week took out advertising on the upper tier of The Lord Alfred pub, situated near Suncorp Stadium, with a large red banner declaring: "Hey, Magic Round, see you next year."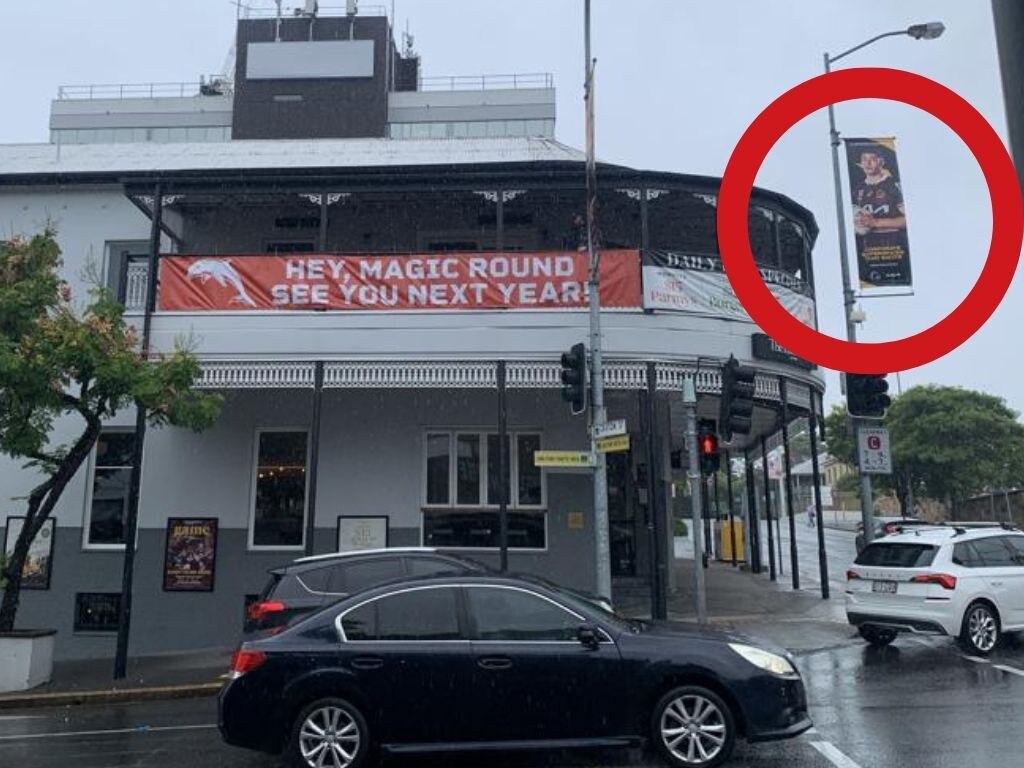 Dolphins troll Broncos with clever ad placement.
Right next to the Dolphins banner was a Broncos street advertisement of Jordan Riki plugging Queensland's flagship club - an apt snapshot of the looming NRL turf war between the Brisbane rivals.
The Dolphins will enter the NRL next season and while one club will have to miss out at Magic Round next year in a 17-team competition, the new expansion franchise is a guaranteed starter.
Cows' huge $2.1m call on gun Tiger
The Cowboys insist they have no plans to release incoming Wests Tigers forward Luciano Leilua, pledging to honour his $2.1 million deal to join North Queensland next season.
North Queensland have been the surprise packets of the 2022 premiership with rookie back-rowers Jeremiah Nanai, Heilum Luki and Tom Gilbert playing key roles in the Cowboys' stunning surge into the top four.
That has fuelled speculation the Cowboys may no longer require the services of back-rower Leilua, who faces his future club in the North Queensland-Wests Tigers Magic Round clash on Sunday at Suncorp Stadium.
Luciano Leilua has a $2.1m deal waiting for him in North Queensland. Picture: Getty
The hard-running Leilua, who will be on $700,000 a season at the Cowboys, will be primed to make a statement against Nanai and Luki at Suncorp.
Cowboys football boss Micheal Luck said the club has no regrets over buying Leilua following Gilbert's decision to defect to the Dolphins next year.
"We have every intention of honouring our deal with Luciano," Luck said.
"We will lose a good player in Tom Gilbert to the Dolphins, but we're getting another good back-rower in Luciano Leilua.
"It will be great for our depth to have three quality back-rowers in Jeremiah, Heilum and Luciano.
Jeremiah Nanai's blistering form has helped propel the Cowboys into the NRL top four. Picture: Getty
"It's a great position to be in - to have three strike back-rowers that we can rotate throughout a game.
"Tom has started every game on an edge this year, so his loss will be felt. I understand why Tommy is going home (to Brisbane), it's disappointing to lose him because of his development here, but we look forward to seeing Luciano.
"We definitely need him on our roster. We haven't had one conversation at our end about not wanting Luciano, we can't wait to add him to our pack.
"The other thing is Jeremiah and Heilum are still young so Luciano's experience in the back row will be valuable."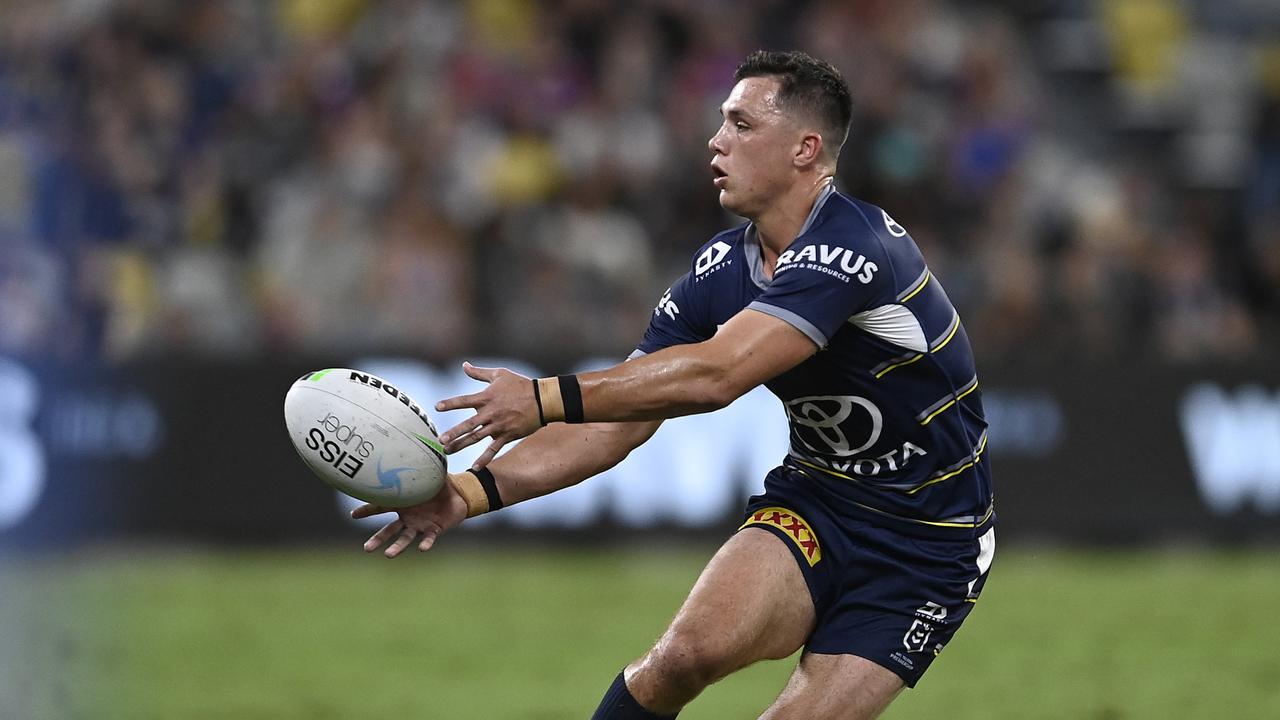 Scott Drinkwater is on the radar of Queensland rivals the Dolphins. Picture: Getty
Luck also rubbished suggestions in-form fullback Scott Drinkwater could follow Gilbert to the Dolphins. The NRL's 17th team have made inquiries about signing Drinkwater, who is off-contract next year, but the Cowboys have ruled out an early release.
"The Dolphins might be keen on Drinky, but he is on contract here for another year," Luck said.
"There's no way we are letting him go, have you seen him play lately?
"That's the way the game is at the moment. As soon as someone is playing well, other clubs want him immediately, but we see a big future for Drinky here. He can play multiple positions so we want to keep him here."
Pryce is right for Knights
Newcastle have signed Anthony Milford and they are closing in on the signature of one of the most exciting playmaking talents in world rugby league.
Sport Confidential understands the Knights are the front-runners to win the battle for British teenage sensation Will Pryce, who has lit up the English Super League with his flashy footwork for Huddersfield.
The son of former England Test star Leon Pryce, the 19-year-old is the best young playmaker in England and is tipped to test his ability in the NRL with the Knights from 2024 onwards.
Pryce is contracted to Huddersfield until the end of next season.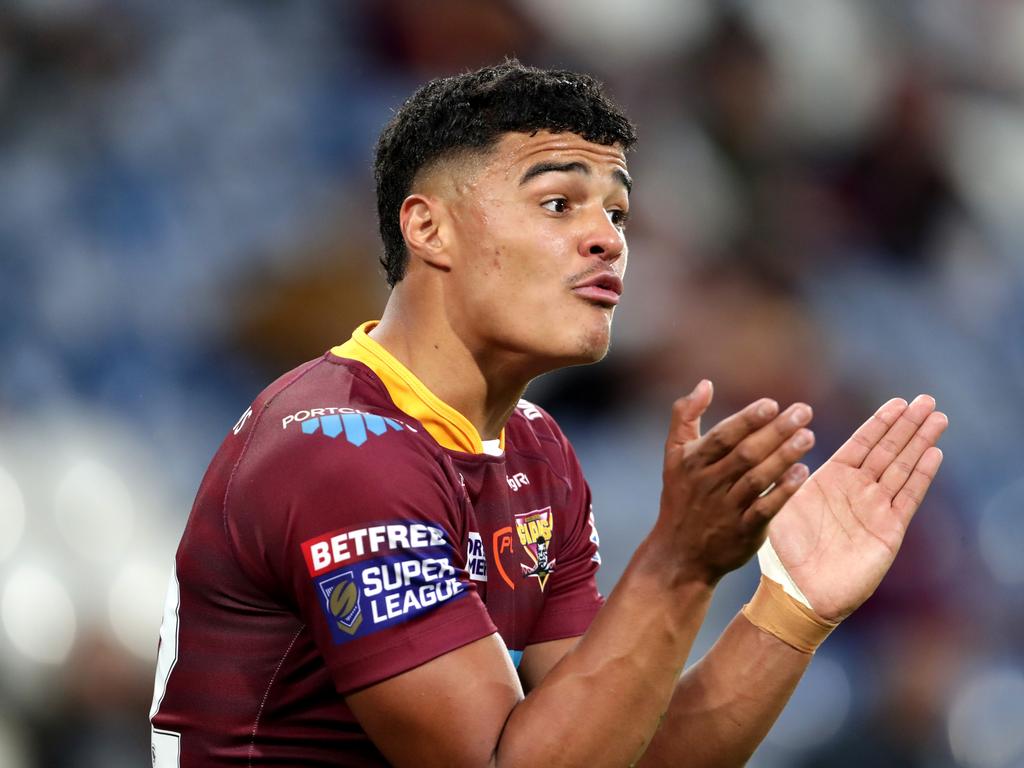 The Knights are closing in on Huddersfield Giants star Will Pryce. Picture: Richard Sellers/Getty
He has not officially put pen to paper with the Knights, but Newcastle are increasingly confident the British young gun will eventually quit Super League and settle in the Steel City.
Pryce has a Benji Marshall-style step and the blinding acceleration to get through a defensive line in the blink of an eye. Knights recruitment chief Clint Zammit spent a month in England earlier this year and held talks with Pryce and another British whizkid Kai Pearce-Paul, the Wigan back-rower likened in style to Sonny Bill Williams.
Turbo ready to ignite
Manly star Tom Trbojevic has 500 reasons to put on a clinic against the Broncos at Suncorp Stadium on Friday night.
Ampol's 'Score a Try with Ampol' initiative will see the fuel giant donate $500 for every try scored at Magic Round to three schools impacted by the floods earlier this year.
Trbojevic hasn't scored since round 4 after undergoing knee surgery and missing four matches, but he is hoping to bag a few meat pies against the Broncos.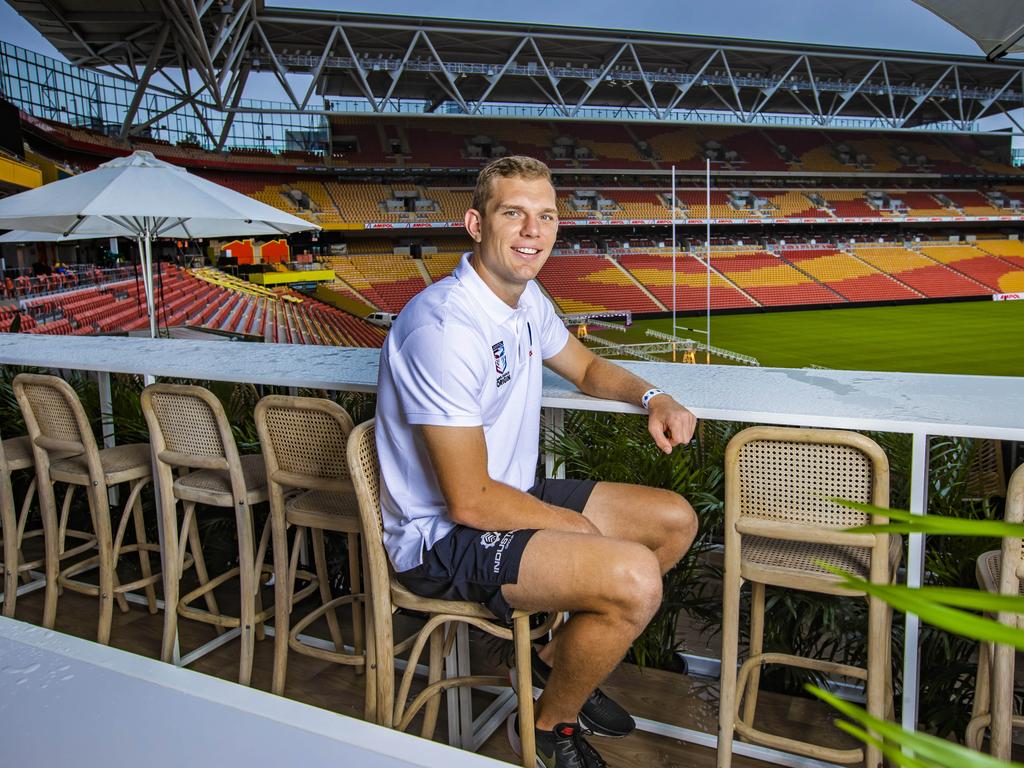 Tom Trbojevic promoting NRL Magic Round at Suncorp Stadium. Picture: Nigel Hallett
"A lot of people have been affected by the floods and Ampol have been very generous in finding a way to give back," he said.
"Hopefully there can be a lot of tries out here over the weekend.
"I'll be happy with one try. The Broncos are playing some really good footy so it'll be a tough game.
"The weather probably hinders try-scoring ability a bit but hopefully it dries up and we get a good weekend of footy."
Paulo calls out Gallen
Parramatta and NSW Origin star Junior Paulo has called out Paul Gallen as he announced shock plans to resurrect his boxing career.
Paulo was a big-name spectator as Gallen almost pulled off a Rocky-style victory against Kris Terzievski in a gripping 10-round slugfest at Newcastle Entertainment Centre on Wednesday night.
Comprehensively outclassed for eight rounds, Gallen hung tough and his superior fitness almost prevailed in the ninth round as he rallied to storm home against a tiring Terzievski.
It was a performance that suggests Gallen still has some juice in the tank - despite pleas for him to retire - and if the 40-year-old decides to fight on, Paulo wants a piece of him.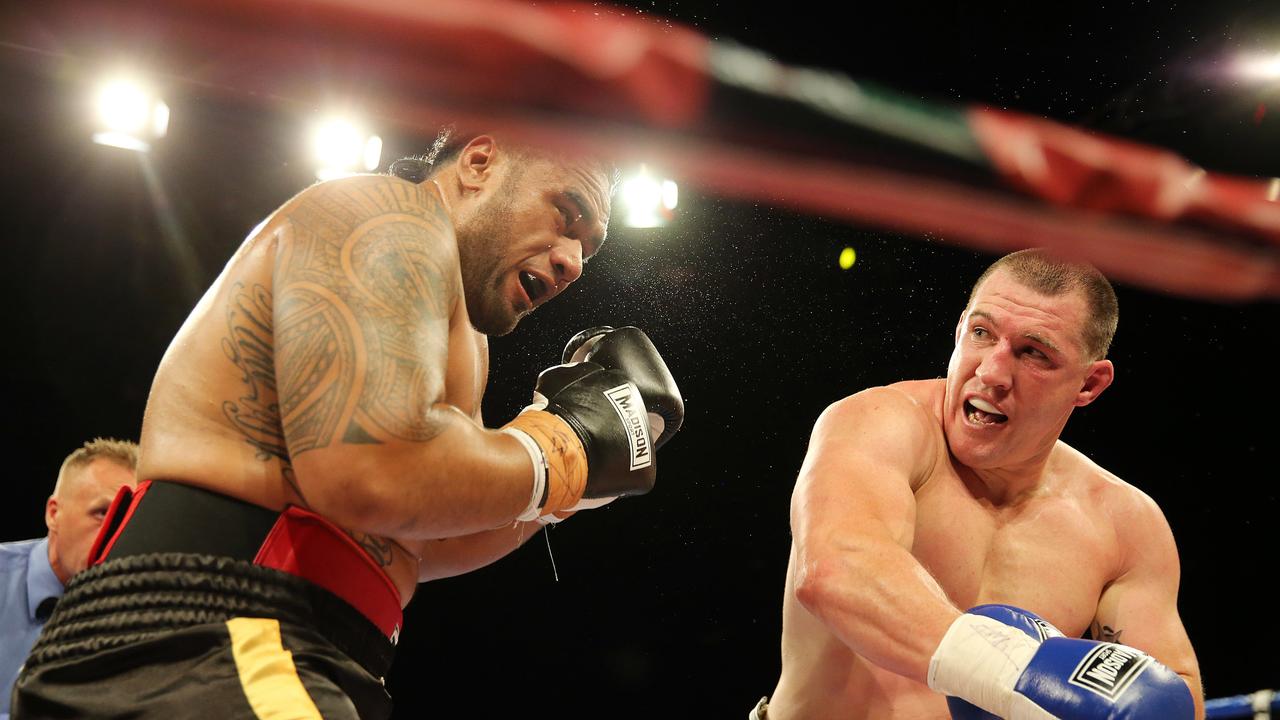 Paul Gallen won a very close decision over Paul Gallen in 2016. Picture: Craig Greenhill
The NRL duo first squared off in 2016 and while Gallen won a unanimous decision over three rounds, Paulo impressed with his footwork and skill in his ring debut.
Now the 123kg Eels enforcer wants to settle the score with Gallen.
"I had a cheeky talk with George Rose (Gallen's promoter) and he wants me to get back in the ring at the end of the year," Paulo said.
"I fought 'Gal' back in 2016 and I wouldn't mind squaring it up again. We'll see if it happens.
"I had experience last year with a fight in February (in Townsville against Neville Costigan) and it's something I want to do again, so why not?
"It (a Gallen re-match) is definitely on the cards, I will take a shot at it."
Gallen hinted at retirement after his war with Terzievski.
"Everyone grows old. There's a saying you don't grow old between fights, you grow old between rounds," he said.
"I won't make any decision now but in between those rounds I felt I couldn't go like I normally go."
J-Wal goes AWOL
Off-contract Titans prop Jarrod Wallace isn't winning many friends as he hunts for a new NRL club.
Wallace didn't front for a scheduled media appearance after training on Thursday morning, leaving Gold Coast reporters sitting around as he went shopping.
The media contingent waited at Cbus Super Stadium for 45 minutes before most gave up, with one reporter making the trip to Parkwood to speak to Wallace later on.
That's not a great attitude to club commitments for someone who doesn't have an NRL contract next year.
Broncos young gun grounded
One of Brisbane's most exciting prospects, Deine Mariner, has been forced to go under the knife.
The 18-year-old centre damaged his ankle and has undergone tight surgery, the same treatment had by many NRL stars, including Queensland skipper Daly Cherry-Evans, who made a stunning recovery from the operation to play Origin I in 2019.
Mariner is tipped for NRL stardom and underlined his potential with a hat-trick in his first senior trial in February before scoring four tries in his Queensland Cup debut for Wynnum Manly in March.
The powerful centre has five tries from four Queensland Cup games but will be sidelined for another month. He is currently hobbling around Broncos training in a moon boot.
Foran to fire Fifita
Titans recruit Kieran Foran is confident he can get the best out of David Fifita as the Queensland Origin star struggles to reignite his career at the Gold Coast.
Fifita is racing the clock to be fit for Origin I with injury and has been out of sorts this season, not helped by Titans coach Justin Holbrook constantly chopping and changing positions for the club's $1 million man.
The brilliant, brutal line running that announced Fifita's entry to the NRL at the Broncos has sadly gone missing, but Foran believes his ball-playing guile and experience in the halves can unleash the back-row beast once again.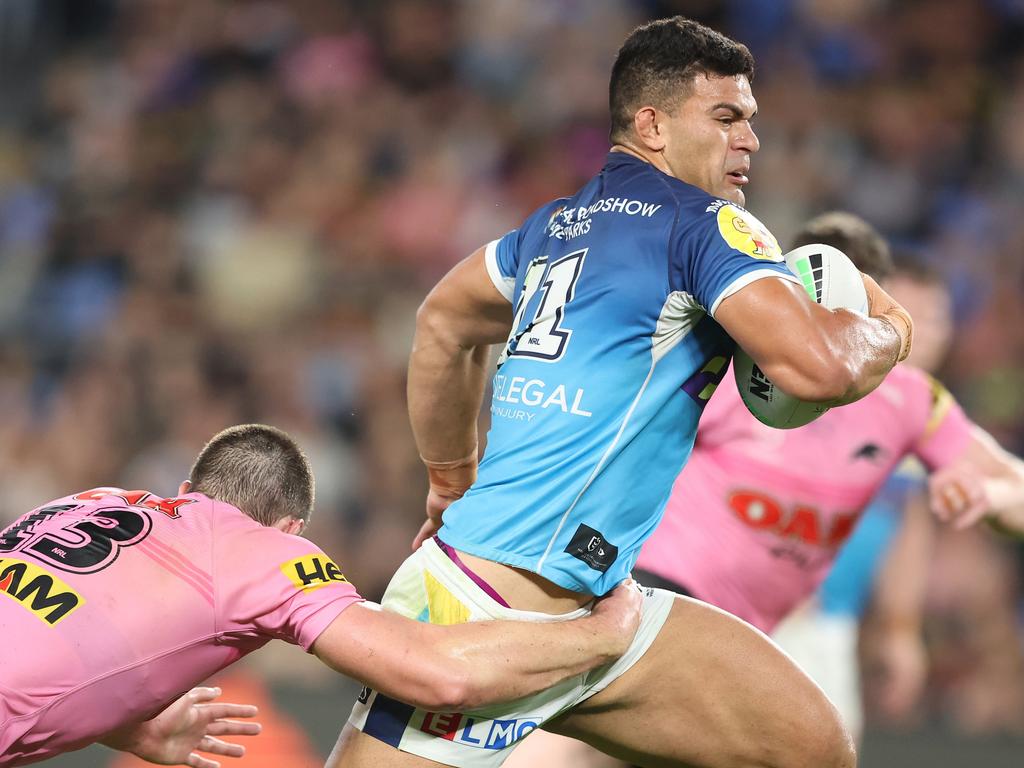 Foran looking forward to unleashing David Fifita. Picture: Chris Hyde/Getty
"I'm looking forward to playing with a guy like David Fifita," said veteran Manly pivot Foran, who will take on the Broncos on Friday night at Suncorp.
"He is a guy who wins matches and I think a player like myself, I can link well with David and I would love to have him running off me.
"He is such a big, explosive body with footwork and speed and if you can put him in the right positions on the field, he can really do some damage."
Coming to America for Karl
NRL Magic Round has found its way to America with Broncos chairman Karl Morris and Manly counterpart Scott Penn set to catch up in New York.
The pair will meet for a quiet dinner in the Big Apple and will no doubt reach for their phones to watch a live stream of the Broncos-Sea Eagles clash at Suncorp Stadium.
It will cap a whirlwind overseas trip for Morris, who flew into Rome after Brisbane's clash against the Sharks a fortnight ago before wining and dining his wife in the City of Love in Paris.
Reports that Morris, a high-ranking member of the Catholic Church in Brisbane, caught up with the Pope in Rome to present him with Broncos gear are unconfirmed.
Coates blending in
Storm winger Xavier Coates stands at 194cm and tips the scales at 100kg.
But he just blends into the crowd in Melbourne – exactly the way he likes it.
"It's been a nice refresher being down in Melbourne," Coates said.
"It's the AFL capital so not many people know rugby league.
"I'm just an everyday person down here."
Coates was well on his way to superstardom at the Brisbane Broncos before deciding to join the Storm this year.
If he keeps going the way he is, Melburnians will surely start taking notice of the tryscoring sensation.
Originally published as Sport Confidential: Dolphins hijack Broncos' Magic Round ad; Cowboys make call on recruit's $2.1m deal