Sport Confidential: Jayden Sullivan's Dragons future in doubt
While St George Illawarra is celebrating the signature of Talatau Amone, there are doubts about the future of another young talent.
St George Illawarra has locked down rising star Talatau Amone but face uncertainty surrounding the playing future of fellow young half Jayden Sullivan.
Amone has agreed to a new 12-month extension at the Dragons, taking his contract until at least the end of 2024. The Dolphins showed significant interest early in the 20-year-old who has cemented himself as Ben Hunt's halves partner this year.
While Amone's future at the club is now secure there are doubts about Sullivan remaining at the club as he eyes a crack at a permanent starting position.
It is understood his management has already had informal discussions with the club surrounding Sullivan's future. It stems from the club's desire to tie down skipper Hunt for a further three years.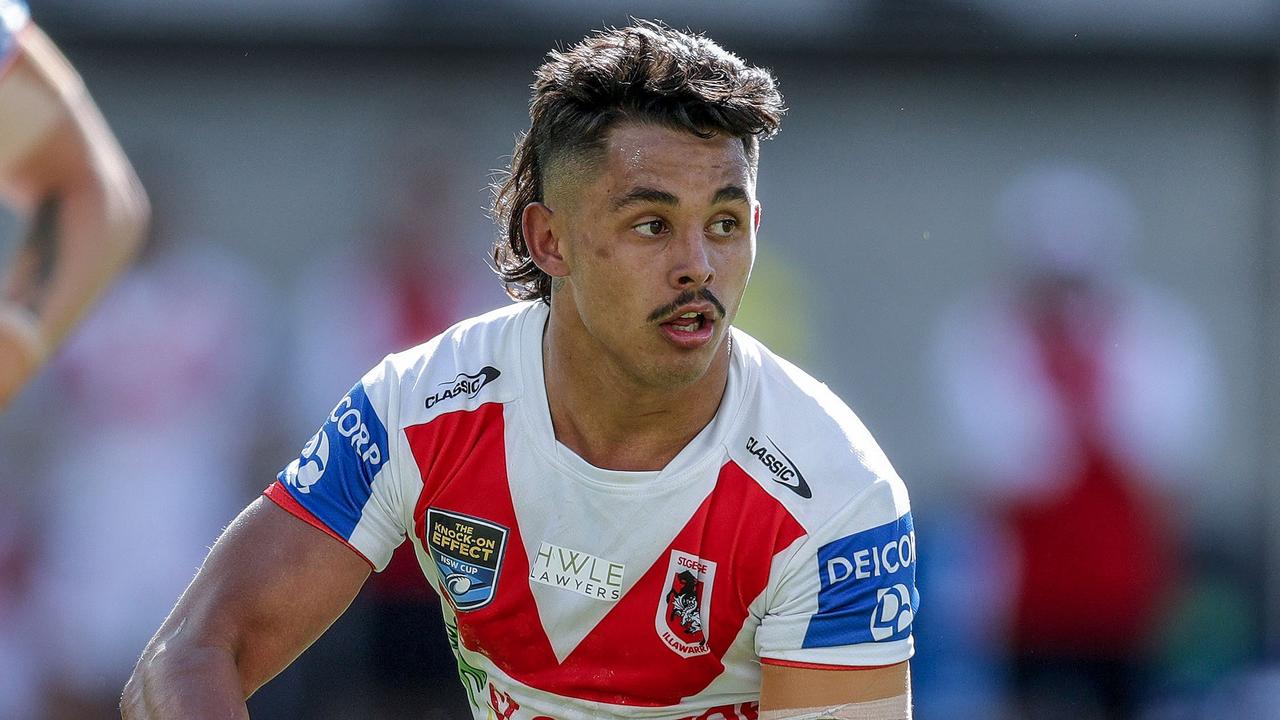 Jayden Sullivan's future at the Dragons could hinge on Ben Hunt's next deal.
The Dragons and Hunt have begun talks to extend his deal – which expires at the end of next year – until the end of the 2025 season.
If that happens, do not be surprised to see Sullivan ask for an immediate release at season's end. Sullivan only inked a long-term deal to remain at the club until the end of 2025 earlier this year. He was of the belief though that Hunt would not be extended and, if he did, Hunt would shift to hooker. There has been no talk of moving Hunt into the No.9 jersey.
Sullivan, who is sidelined with an injured shoulder, has struggled to find a permanent spot this season. He has started just one of his six matches at halfback with the rest coming off the interchange bench. In his last start, he played just two minutes off the bench.
PLAYER MANTRA RAISING EYEBROWS AMID KLEMMER DRAMA
David Klemmer's future is expected to be resolved before the Knights game on Sunday as the focus begins to shift from his expletive-ladened attack on trainer Hayden Knowles to the use of a concerning 'FEC' acronym by staff and players at Newcastle and other NRL clubs.
Klemmer was issued a show-cause notice on Monday after calling Knowles a "c---" and telling him to "shut the f--- up" during Sunday's loss to Canterbury at McDonald Jones Stadium.
The former NSW and Australian prop is expected to survive the axe given the overwhelming support he has received from across the game.
On the surface, the colourful language would seem to be par for the course during the heat of battle, particularly when it is understood those words were part of a mantra used by some senior figures within the football club.
Some involved in the game cannot believe it has become such an issue that Klemmer has been stood down by the club and will not play this weekend.
Stream every game of every round of the 2022 NRL Telstra Premiership Season Live & Ad-Break Free During Play on Kayo. New to Kayo? Start your free trial now >
David Klemmer is on thin ice at the Knights.
However, it is understood human resources investigated Klemmer's comments and sought statements from Knowles and others who heard the exchange.
Sport Confidential has seen an exchange between a Newcastle star and a senior member of staff in which they talk about Klemmer during a training session earlier this year.
The staff member signs off "FEC", which Sport Confidential understands is an acronym for "F--- every c---".
Interestingly, Panthers star Jarome Luai earlier this week posted a photo of himself and Nathan Cleary with the letters "FEC" after Cleary was charged with a grade three dangerous throw.
It is unclear if Luai's post is replicating the expletive FEC. Sport Confidential understands some officials and players at the Panthers started using the "FEC" mantra following their grand final loss to Melbourne in 2020.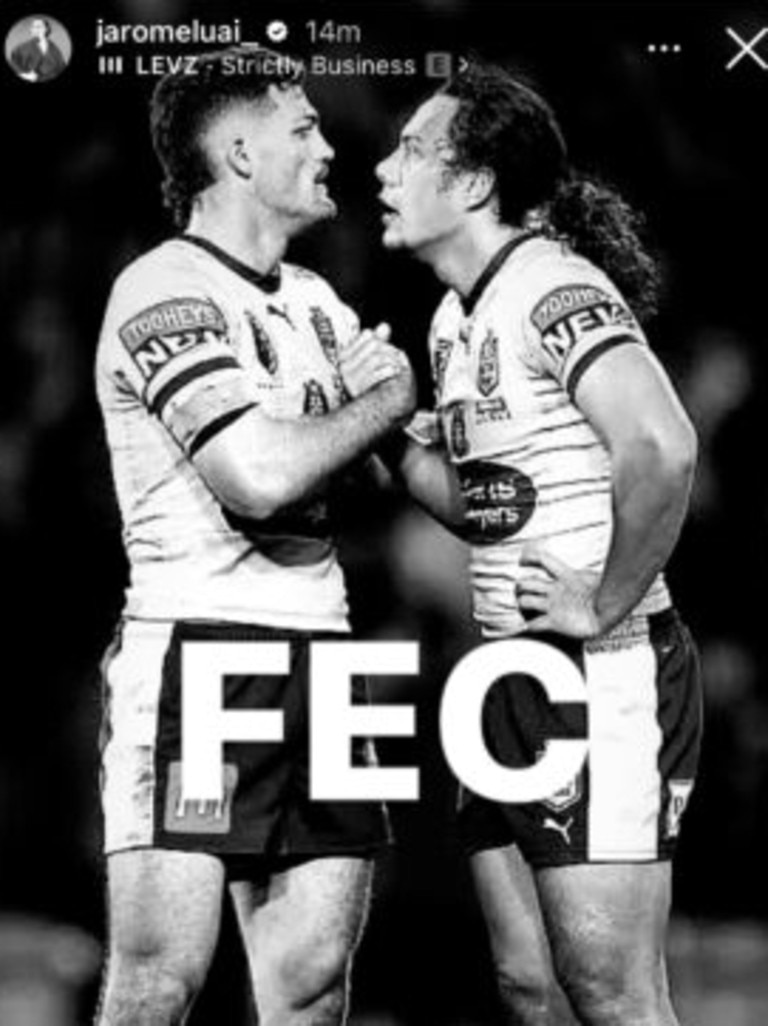 Jarome Luai's Instagram post after Penrith teammate Nathan Cleary was charged with a grade three dangerous throw.
Coach Adam O'Brien has kept his thoughts to himself on the matter, having been told by the club to leave it to others to handle the investigation.
It is understood he has no issues with Klemmer.
"It is strange really," former Melbourne and Australia captain Cameron Smith said on SEN.
"If words were spoken between a player and a trainer, that has happened a thousand times before. I have seen it first hand.
"I am really confused as to why this is such a huge problem. What are we doing making complaints against our own people.
"What is going on there?"
Klemmer has been Newcastle's best player this year and football manager Danny Buderus recently revealed in an interview on ABC Sport that the former NSW and Australia prop was a runaway leader for a host of club awards.
"From a players' player point of view I don't think he can be beaten," Buderus said on ABC Sport. "He is in a lot of the awards. The way he is demanding leadership in the team and playing a great role on and off the field."
It remains to be seen if Klemmer will still be a Knight by the time Newcastle hold their end of year presentation.
TIGERS WEIGH UP LEGAL CHALLENGE
Wests Tigers will be forced to rely on legal action if they are to have their loss to North Queensland overturned.
Tigers chair Lee Hagipantelis and chief executive Justin Pascoe were given an audience with ARL Commission chair Peter V'landys and NRL chief executive Andrew Abdo at Rugby League Central on Wednesday, where they were told that mistakes were made but given no indication the result would be reversed.
The Tigers were beaten in the final second of the game against the Cowboys a fortnight ago when North Queensland were awarded a penalty following a successful captain's challenge by the home side.
"It went very well," Hagipantelis said. "Peter was very gracious in recognising that our concerns were legitimate. They have acknowledged there is some ambiguity in the rules surrounding the captain's challenge, particularly at that point in the match.
"They proffered an explanation which they believe justifies what occurred. They acknowledged that our interpretation as well was open to us to come to our own conclusion.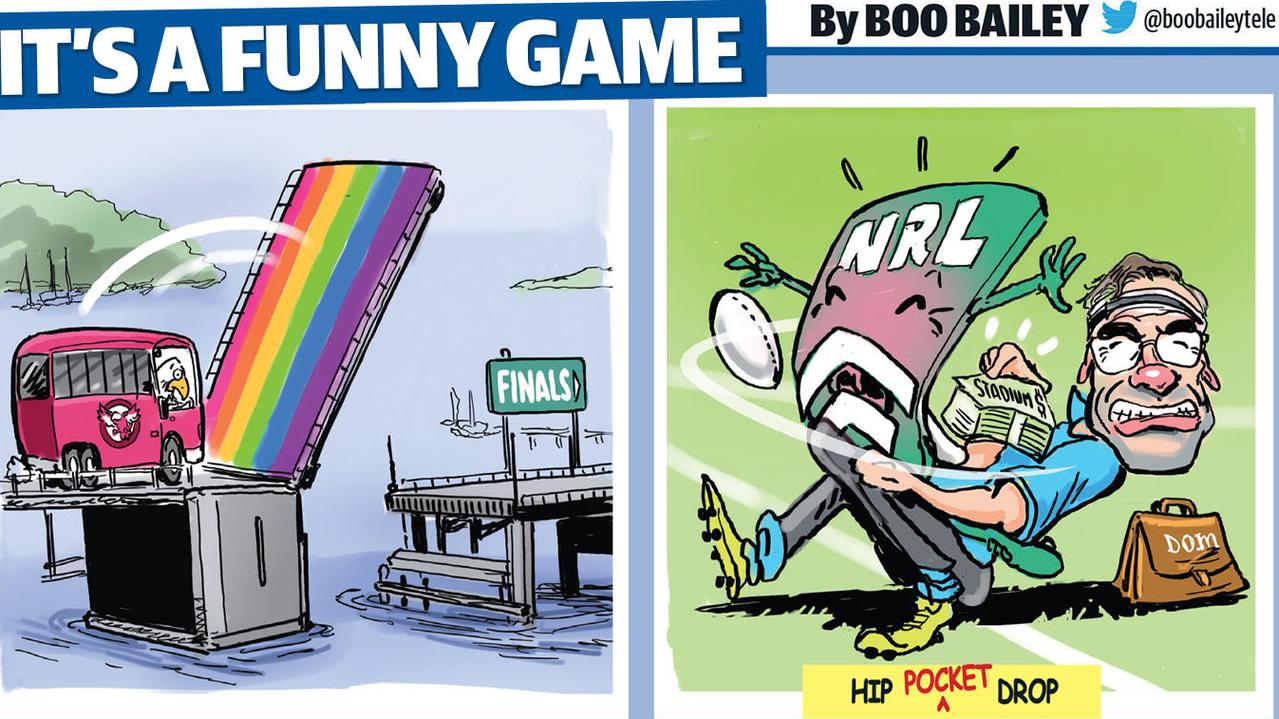 Boo Bailey's take on the week in NRL
"They will review the rules at the end of the year in consultation with us and other clubs to ensure there is some clarity around the captain's challenge at the end of the match."
Asked whether they received any indication that the result could be overturned, Hagipantelis said: "That is not being offered. The NRL does not appear to have an appetite to overturn the result.
"We have taken that on board and we all take it back to the full board to determine the next step. The only avenue available would be to pursue it legally. We will take that back to the board and the board will resolve whether to take the matter any further."
MAYOR WANTS PREMIER TO HAND BACK TIGERS' MEMBERSHIP
NSW premier Dom Perrottet has been urged to hand back his Wests Tigers membership and warned against turning up to a match at Leichhardt Oval in the wake of "selling out" the club because of his Leichhardt Oval backflip.
Inner West Council mayor Darcy Byrne has savaged Perrottet – a self-confessed Wests Tigers fan – following the premier's decision to halt funding to suburban venues including Leichhardt, Brookvale and Shark Park.
"Having lied to and sold out Tigers fans, the Premier should just hand his membership ticket back in," Byrne said. "Anyone willing to kill off the eighth wonder of the world doesn't deserve to wear the black, white and orange of Wests Tigers."
There is now genuine concern for the future of NRL matches at Leichhardt Oval. The badly dilapidated ground was in line for a $50 million refurbishment but is now battling for NRL relevance.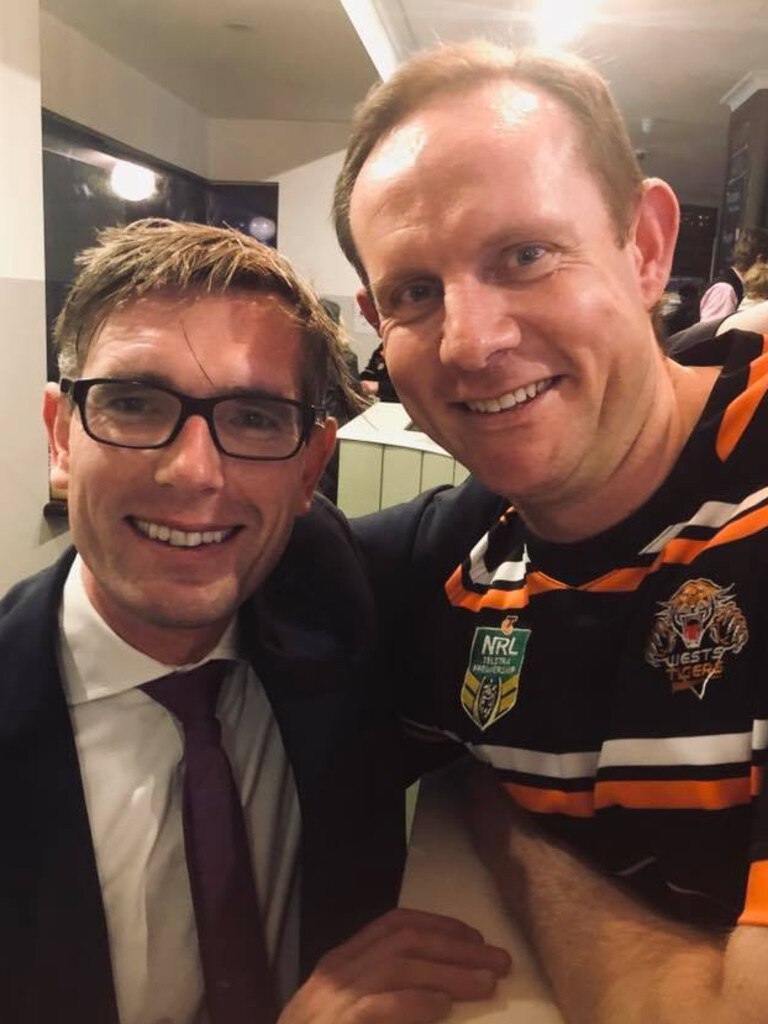 Dominic Perrottet with Inner West Council mayor Darcy Byrne in 2019.
"Any politician who is happy to allow Leichhardt Oval to die off doesn't deserve to pass himself off as a Tigers fan," Byrne said. "Having sold our club down the river he should stop trading off our colours for political purposes. He'll be booed by everyone on the Wayne Pearce Hill if he ever has the temerity to turn up there again."
The Tigers are in the process of deciding how they will split their home games next season. The club spreads its Sydney games across four venues – Leichhardt, Campbelltown, Commbank Stadium and Accor Stadium.
Despite the setback Wests Tigers chairman Lee Hagipantelis said the club remained committed to Leichhardt.
"We're in the midst of developing a stadium policy because our contractual agreements with Commbank and Accor end this year," Hagipantelis said. "We had factored in an upgrade of Leichhardt. Now of course we have to factor into our thinking that there will be no upgrade. The facilities at Leichhardt are not NRL-standard. They are third world. We will not give up Leichhardt Oval but we will have to endure it for longer than we would have hoped."
JOHNSON'S FUTURE DECIDED
Shaun Johnson is expected to play out the final year of his contract after a frank conversation with incoming coach Andrew Webster.
There was doubt surrounding Johnson's future at the club, despite the veteran half having 12 months to go on his contract. He was close to being axed from the top grade just months ago but the change in regime is expected to hand Johnson a career lifeline.
It is understood conversations between Webster and Johnson have proved positive with Johnson now likely to play on.
Unlike this season though where the Warriors have chopped and changed his halves partner there is expected to be genuine competition for spots.
The likes of Ronald Volkman, Luke Metcalf and Te Maire Martin are more than capable of playing in the halves.
Shaun Johnson is expected to play out his contract at the Warriors. Picture: Hannah Peters/Getty Images
GRAHAM HOLDS BACK THE PAIN
South Sydney centre Campbell Graham's reputation as one of the game's toughest players has been enhanced after it emerged that he had been playing for several weeks with a fractured thumb.
Graham only raised the issue with medical staff when he fractured his cheekbone against Parramatta last month. Faced with a stint on the sidelines, Sport Confidential can reveal Graham came clean on the pain in his thumb and scans confirmed a fracture, which he subsequently had repaired.
Graham is closing in on a return for the Rabbitohs as they prepare for the run-in to the finals. At the time he fractured his jaw, Graham said: "When I got in the sheds and sat down I could felt it starting to throb. I had pain in my teeth and my eye socket. After the game I was confident there was fracture."
FIFITA BREAKS DROUGHT
Andrew Fifita said he needed little motivation to end a two-year try-scoring drought.
Fifita had not crossed for a try since July 4, 2020 but ended his slump during Cronulla's dramatic golden-point win last Saturday against South Sydney.
"I used my twin brother (David) as motivation," Fifita said. "He did the same thing on Saturday morning (playing for Wakefield). He gets one and I get one."
Fifita celebrated the try by paying tribute to his wife Nikkita.
"It's my first try since I came back," Fifita said. "I gave her a kiss. I was just so stoked it got the better of me. I had to try look at her."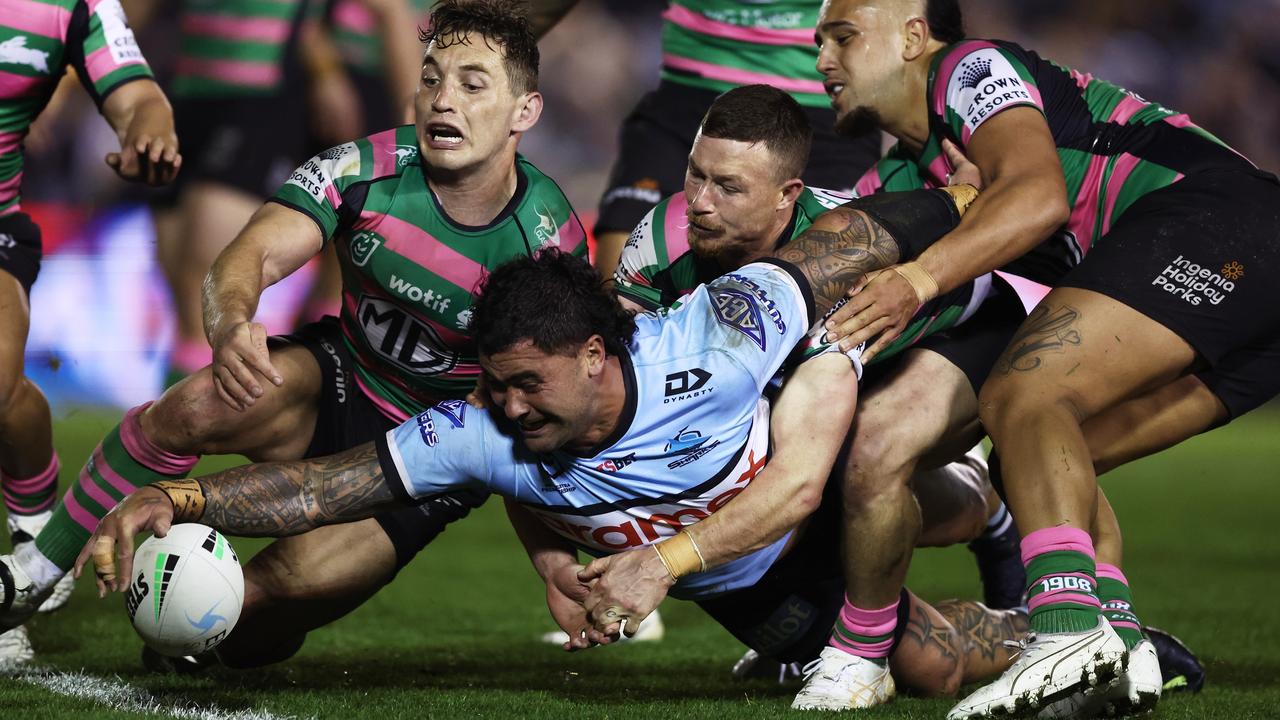 Andrew Fifita scored a powerful solo try against the Rabbitohs last weekend. Picture: Matt King/Getty Images
MISSILE'S NEW MISSION
Don't expect former world champion James Magnussen to be swimming's next shock comeback story — he's transformed his physique to look more footy player than sprint freestyler as part of his chaotic life after racing.
While Magnussen has been busy doing radio three-days-a-week with SEN and providing expert analysis of the swimming for News Corp, he is also flat out getting ready to launch a new gym — Tribe Marrickville — on Monday.
It is one of three major business interests that Magnussen runs since retirement, proving athletes can successfully transition from a life following the black line.
And for the 31-year-old, he has simply followed his passion for fitness and sport to create a life that means there's no temptation to ever dive back into competitive swimming.
"It's an industry I've always felt comfortable in and passionate about," Magnussen said, ahead of the gym's free open day on Saturday.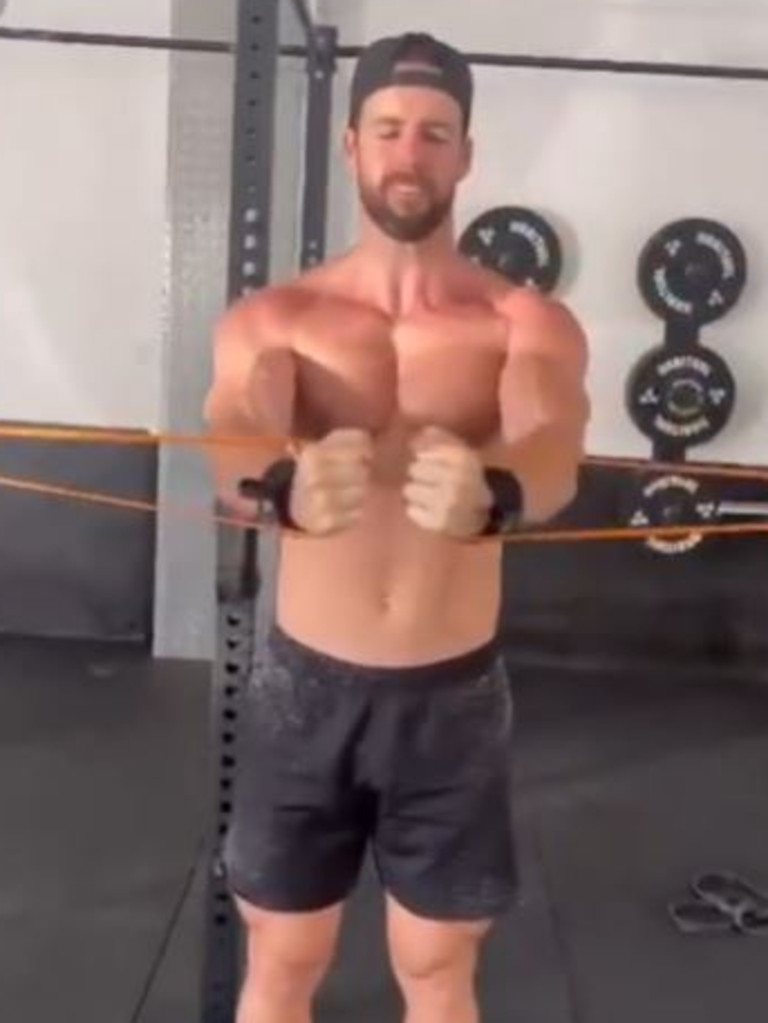 James Magnussen has transformed his physique.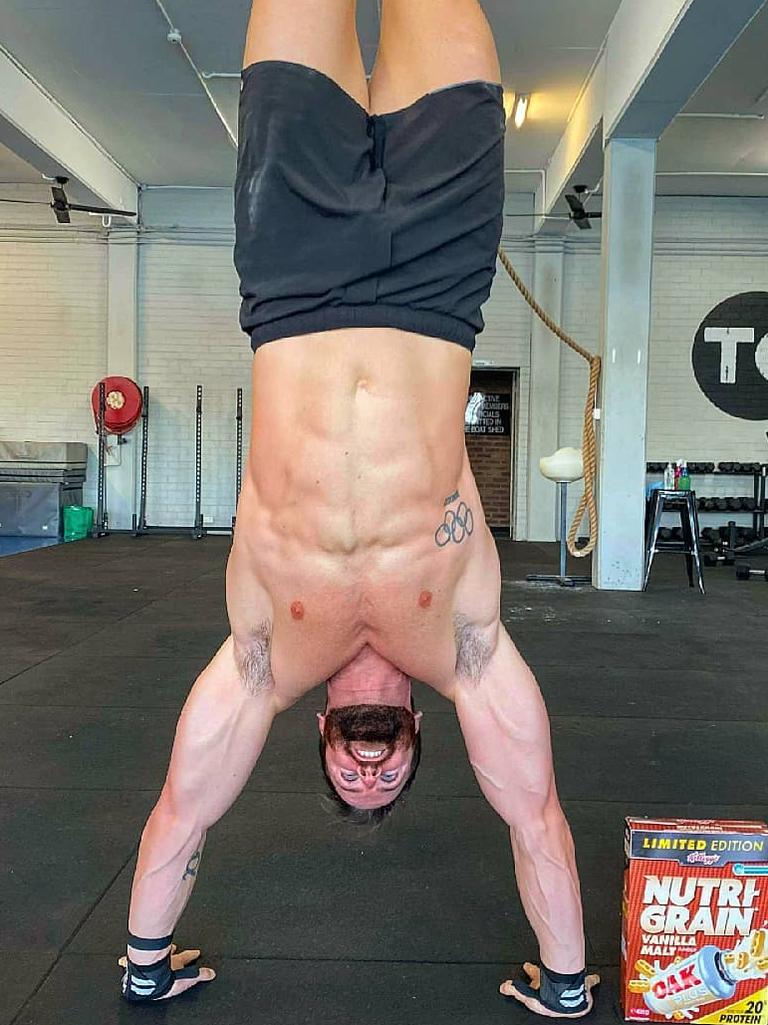 Magnussen is launching a new gym in Marickville.
"I'm going to be jumping in and coaching some of the classes as well as we get set up."
Magnussen was always strongly built as a swimmer, but his size and power now is far greater than when he was racing for Australia.
"When I retired I was about 94kg and nowadays I'm around 108kg," he said.
"But that has all come about as a result of the training I've done and a bit of Olympic lifting and Crossfit stuff.
"That is what I do to stay in shape these days.
"After I finished swimming and wanting to stay in shape I did a lot of research into different training methods and sort of found that the techniques that work best for me.
"That is what I want to share with other people now."
DOGS ON A WINNER IN BUNDABERG
Canterbury's 'home' game in Bundaberg has been sold out. The Bulldogs play North Queensland at Salter Oval – the first time a premiership match has been played in the town. "This is a great statement from the Bundaberg locals who snapped up the majority of tickets within 48 hours of going on sale," Bulldogs chief executive Aaron Warburton said.
Originally published as Sport Confidential: Jayden Sullivan's Dragons future in doubt