NRL 2022: Adam Reynolds backs Souths successor Lachlan Ilias
All eyes may be on Brisbane's Adam Reynolds as he returns to Sydney to take on his old club – but there's arguably more pressure on the youngster opposite him.
Broncos recruit Adam Reynolds has thrown his support behind Lachlan Ilias, urging the Souths rookie to be his own man as the Rabbitohs apprentice prepares to meet his master on Thursday night.
Ilias faces the biggest test of his fledgling 10-game career at Homebush's Accor Stadium when he confronts Reynolds, the former Souths champion he has succeeded in the red-and-green No. 7 jumper.
Ilias, who turns 22 next Monday, had a night to forget in Souths' shock 11-4 loss to the Broncos in the season opener and the Rabbitohs rookie has come under fire for some inconsistent displays in the opening two months.
Stream every game of every round of the 2022 NRL Telstra Premiership Season Live & Ad-Break Free In Play on Kayo. New to Kayo? Try 14-Days Free Now >
Ilias was always going to face a daunting baptism this season in the South Sydney nerve centre given that Reynolds played 231 games for the Rabbitohs and helped break the club's 43-year premiership drought in 2014.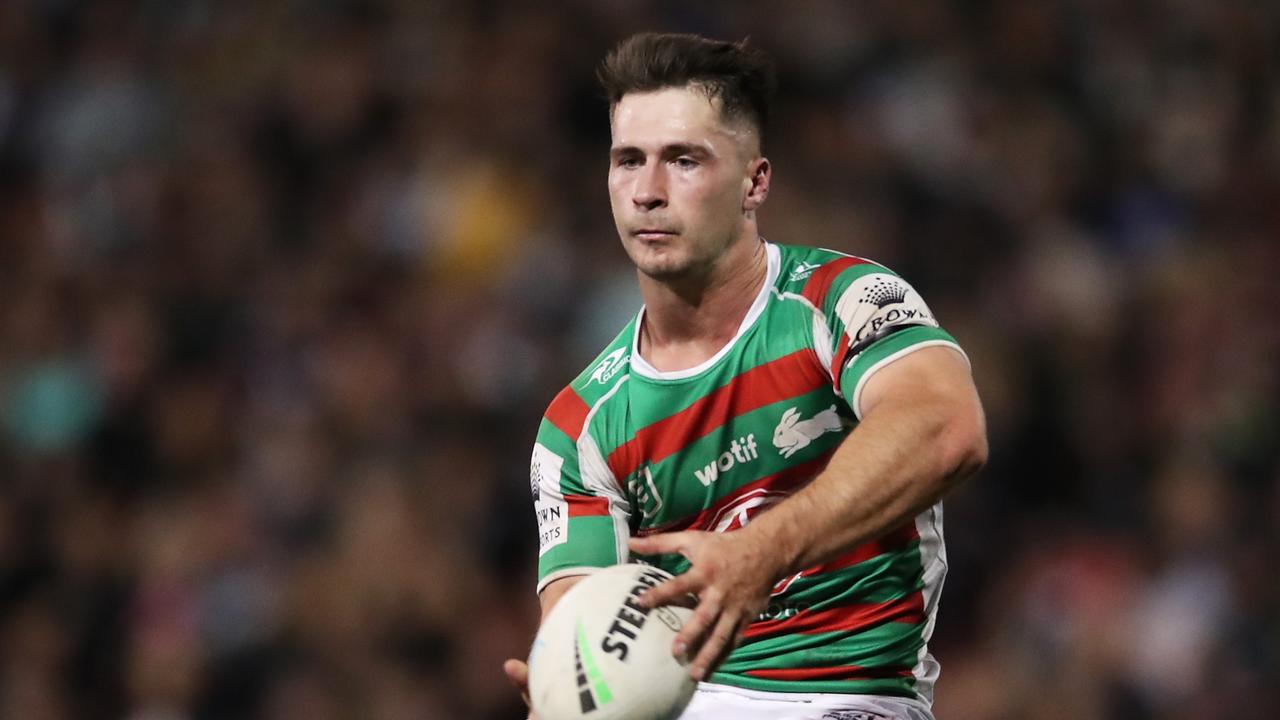 Adam Reynolds wants Lachlan Ilias to embrace his own talents.
But as Reynolds prepares to face his former club for the first time in Broncos colours, Brisbane's $2.4 million marquee purchase urged Ilias not to be consumed by the pressure of living up to his Redfern legacy.
"Lachy has to be his own man," Reynolds said ahead of his halfback duel with Ilias.
"He doesn't have to live up to how I performed or what I did at Souths.
"I have a lot of respect for Lachy and I see a big future in him.
"He needs to play his own game and worry about himself. He doesn't need to read headlines about me or follow what I did.
"What I achieved at Souths has got nothing to do with him.
"He is on his own path and I wish him all the best."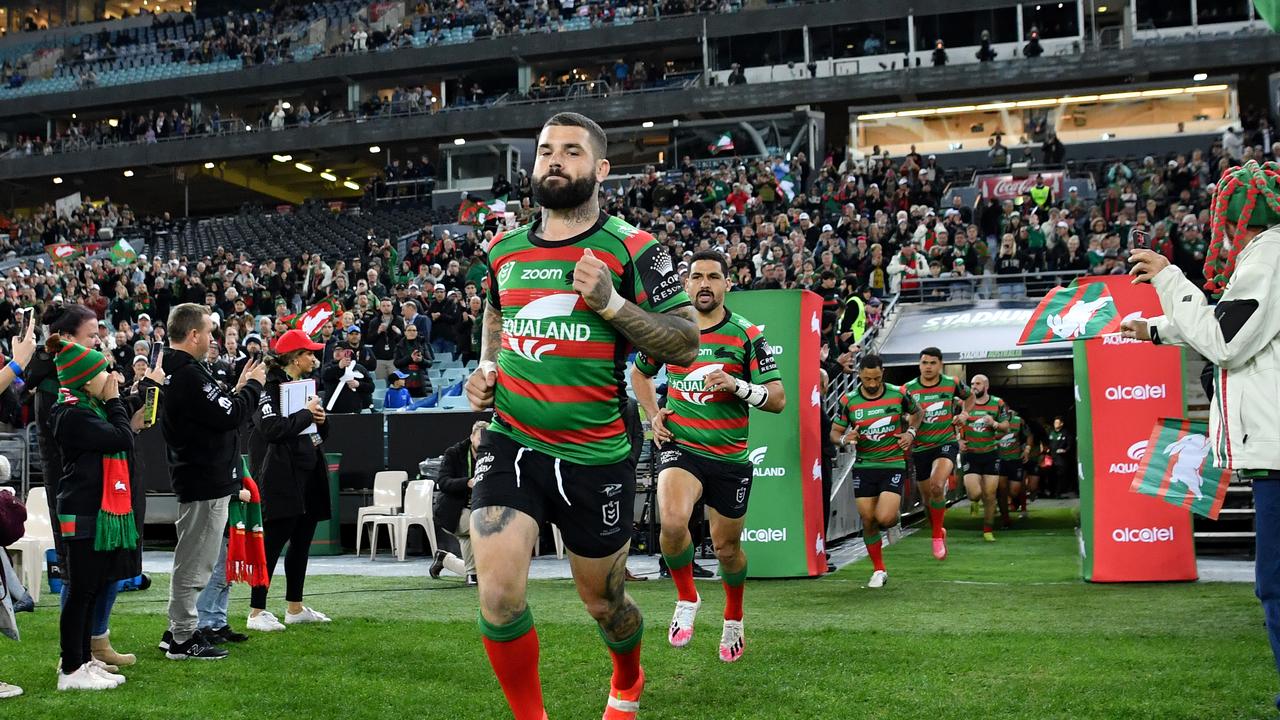 Adam Reynolds leads the Rabbitohs out last year.
Former Souths coach Wayne Bennett said Reynolds invested heavily in Ilias in his final months at Redfern before the former NSW Origin halfback departed for the Broncos.
"Adam was on the way out but he spent time with young Lachlan," Bennett said.
"He realised South Sydney would need a new halfback and there weren't many options on the market, so we had a six-month lead-in time for Reynolds to work with Lachlan Ilias and also Blake Taaffe.
"Adam did his bit but it's up to them now."
Bennett's coaching successor at Souths, Jason Demetriou, has been pleased with Ilias' development in the post-Reynolds era.
"I'm happy with Lachy, 100 per cent," Demetriou said.
"People forget we had Anthony Milford who was coming to the club and that fell through, but for Lachy to be doing what he is doing after coming off surgery and a limited pre-season is first-class.
"I knew physically he could handle it and I knew having the support of Cody Walker, Cameron Murray, Damien Cook and Latrell, he's not a young half coming into a spine that is inexperienced.
"He is coming into a very experienced spine and that allows us to give him a simple role and I think he is doing a great job."
WHY CODY HASN'T BEEN THE SAME WITHOUT HIS LITTLE MATE
— Dean Ritchie
These are the statistics which show how much South Sydney star Cody Walker is struggling without former teammate and halves collaborator Adam Reynolds.
Reynolds and Walker will be reunited on the same field on Thursday night – but Broncos champion Reynolds will be playing against Souths for the first time in his 11-year, 238-game NRL career.
"Blind Freddie can see we're missing Reynolds terribly," said legendary Souths halfback Craig Coleman.
Cody Walker has been finding form in recent weeks after a slow start.
And the man missing Reynolds most noticeably is the brilliant Walker, the pair having dominated together in the Souths' halves for six years.
While Walker's form has improved over the past fortnight, he has recorded a decrease this year in try assists, runs per game, line break assists, run metres and forced drop outs. His error rate has almost doubled.
"Cody is missing Adam. They gelled together like best friends," said Coleman, who coached Reynolds for two years in Souths' SG Ball side.
"That lethal left hand side – it was always Reynolds and Cody. Reynolds gave Cody all that room, space and time. Cody is finding life without Adam is that little bit harder.
"Plus, they team up on Cody a bit now that Adam's not there. They don't really worry about the bloke inside him so they push out and get on Cody.
"Cody's not comfortable kicking the ball, he is a footballer who just wants to play. Reynolds did all that for him. Cody didn't have to worry about that.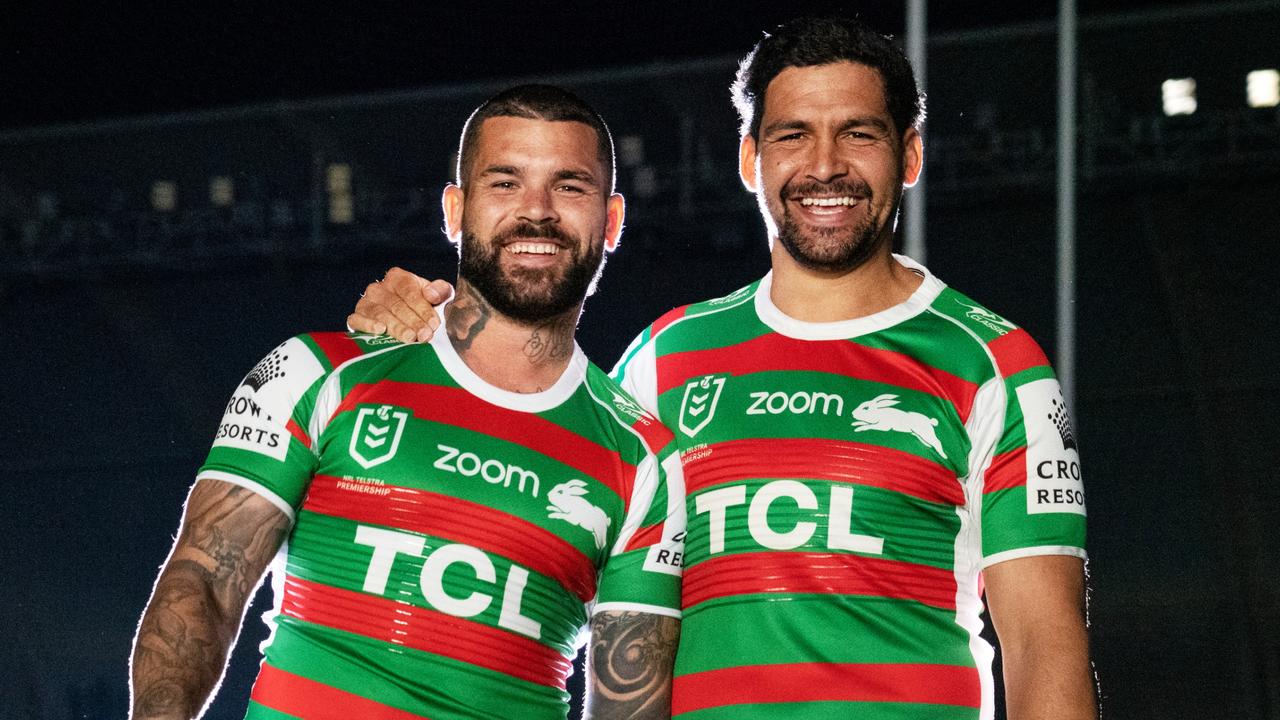 Reynolds and Walkers spent six seasons together in the Rabbitohs halves.
"When they attacked, Reynolds went deep into the line and got Cody nice early ball and Cody played football. Cody would throw beautiful long passes or show-and-go himself. When Cody was 'on', we were unstoppable down that edge … AJ (Alex Johnston) in the corner.
"But Cody is too good a player, I think he will come good."
Reynolds admitted Souths' ball control may be affecting Walker's form.
"If you look at their ball control, they have been well below where they have needed to be. When it is not going your way, it is pretty hard as a ball player to get into a game," Reynolds said.
"We all know what a ball player Cody Walker is. He can hurt you from anywhere on the field. It's about limiting his opportunities."
Reynolds missed Brisbane's round one match against Souths but will lead a rejuvenated Brisbane into battle at Accor Stadium.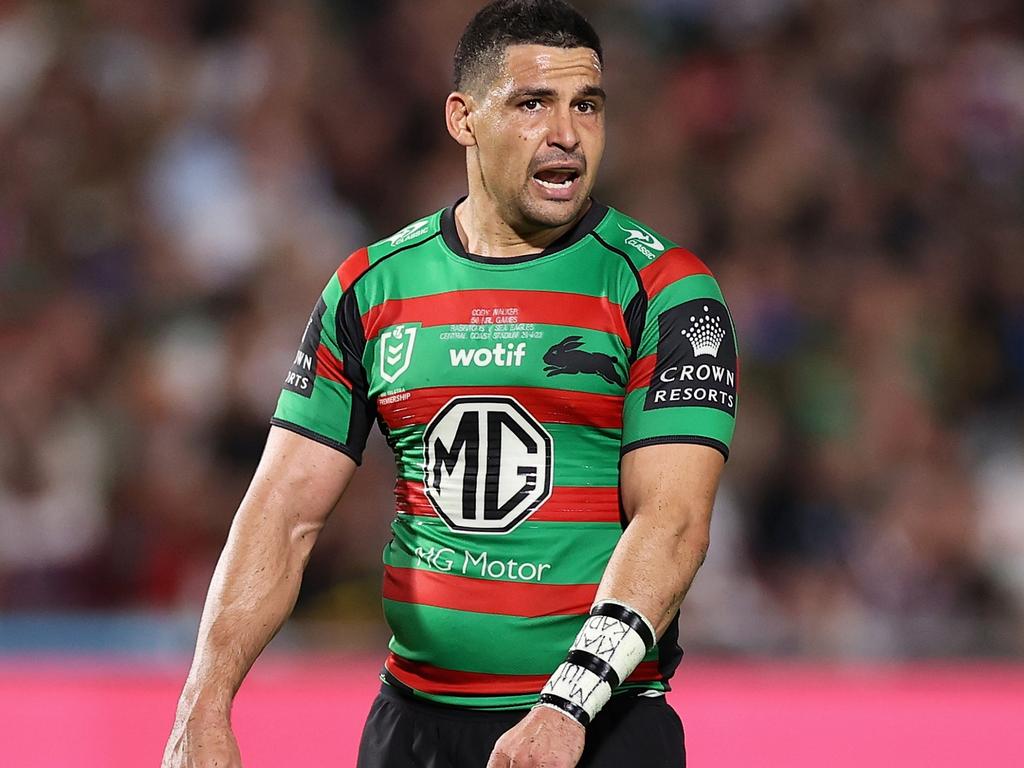 Walker is missing his lethal left-hand side partner.
Coleman still questions Reynolds' shock departure after last season.
"If Reynolds was there, we'd be a shoo-in for the top four, again. Now, I think it will be hard," said Coleman, who played 208 matches for Souths.
"If he had played against a 12-man Manly the other night, it would have been 60 or 70. He would have pulled them apart and Cody would have scored about four.
"Deep down, he will be still hurting about getting moved on. Adam's last two years at Souths were the best he played. I'm a South Sydney supporter and I thought his form warranted re-signing. You've only got to look at the Broncos. He has improved them out-of-sight already."
"Whenever you lose someone that brings so much to the team with Adam's ability and his love for our famous jumper, it's always going to be hard. He will be looking forward to this game, 100 per cent."
Despite Reynolds leaving his club, Rabbitohs CEO Blake Solly lauded the club's former halfback.
Reynolds has been in superb form for the Broncos.
"We made Adam an offer to stay this season, but completely understand that he had a desire to secure the financial future of his family with a long-term deal and to move cities to bring up his children," Solly said.
"Adam's feats for our club speak for themselves. He is our highest-ever point scorer and was respected by all our members and fans. He and the Broncos are in good form, so it will be good to welcome them to Accor Stadium on Thursday night for what should be a cracking game."
Reynolds' manager, Steve Gillis added: "Adam is the ultimate professional and will treat this match like any other game. I'm sure there will be plenty of distractions for him this week but it won't bother him at all.
"He's handled his departure from Souths with class. But he's moved on now. He's found a new home and he and his family are enjoying the new experience. I'm sure he will feel plenty of emotion come kick off time but it won't prove a distraction."
Reyno knows where Souths sledging will come from
– Robert Craddock
Adam Reynolds believes the contract stalemate that forced him to the Broncos is a blessing as he prepares to confront the club that shaped his rugby league soul.
When asked whether he had any hard feelings against South Sydney after they refused to budge on their offer of a one-year deal, Reynolds said: "No, It is what it is. We are up here now. The family love it. It's a great place to bring up kids.
"There are no hard feelings. It is a decision that had to be made.''
Stream every game of every round of the 2022 NRL Telstra Premiership Season Live & Ad-Break Free In Play on Kayo. New to Kayo? Try 14-Days Free Now >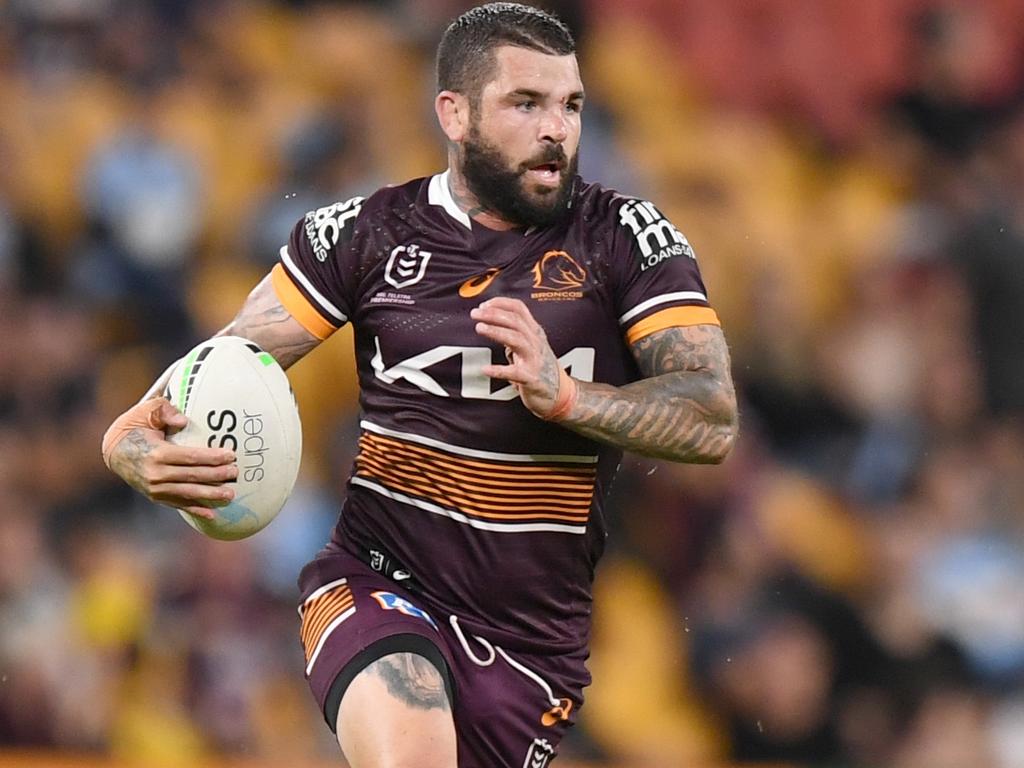 Adam Reynolds has been in great form in recent weeks.
Could the contract drama, which saw Brisbane pounce with a three-year deal to pluck Reyolds out of his beloved Redfern, be a blessing?
"Yes, I think so. When I retire I always wanted to live up this way.''
Reynolds appears to have put a fence around his emotions for the intriguing contest which is likely to feature the return of Broncos enforcer Pat Carrigan following a knee injury.
Or maybe he is simply a cool cat not easily ruffled. Certainly his composure under pressure has been a standout feature in three of the Broncos four wins this season.
"I am a Broncos player. Coming up against an old team doesn't really matter. I have a lot of wonderful memories from the club and a lot of mates there. It is what it is," he said.
"For me, it's no different. I want to go out there and win for this club. My attitude is no different.''
If there is sledging coming his way on Thursday, Reynolds suspects he knows the culprit.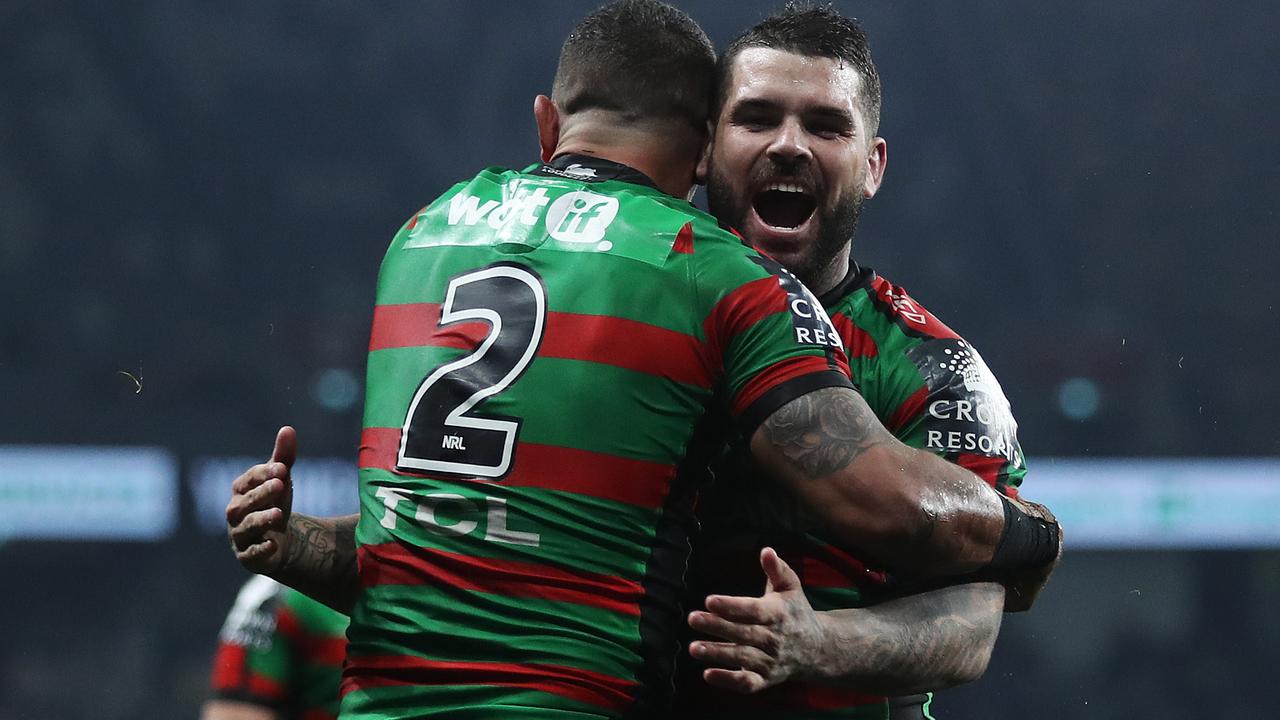 Reynolds moved on after 10 years at Souths because of a contract stalemate.
"Jai Arrow. There will be a bit of banter, which is always fun. Looking forward to what Jai Arrow has to say. He might be a bit quiet this time.
"It did not work out too well for him last time around. Hopefully he has been practising his field goals.''
The field goal barb related to Arrow having a rushed shot last week which went horribly askew.
Reynolds is unsure what South Sydney fans will make of his return but he has felt the love of some of them since he left.
"I have had a couple of messages of support from members and fans down there. They have been terrific. They ride the highs and lows as much as anyone, There are a few that are not happy but you cannot please everyone.
"I made the decision to look after my family. Everyone else in my position would have done, It's business at the end of the day.''
Why Staggs 'ticks all Origin boxes' for Blues
Kotoni Staggs says he won't fail NSW coach Brad Fittler in a sky-blue jumper as Broncos teammate Adam Reynolds called for Brisbane's strike weapon to be handed his Origin debut.
Staggs towelled up Cronulla hulk Siosifa Talakai last Thursday night and he gets a chance to further his Origin claims this Thursday night against Souths at Accor Stadium – the home of the NSW Blues.
For Staggs, his quest to play in the code's toughest arena has spanned two years. He first entered the Origin conversation in 2020, only to snap his ACL late in that season against the Cowboys, forcing him to undergo the knee reconstruction which torpedoed his hopes of breaking into the NSW side the following year.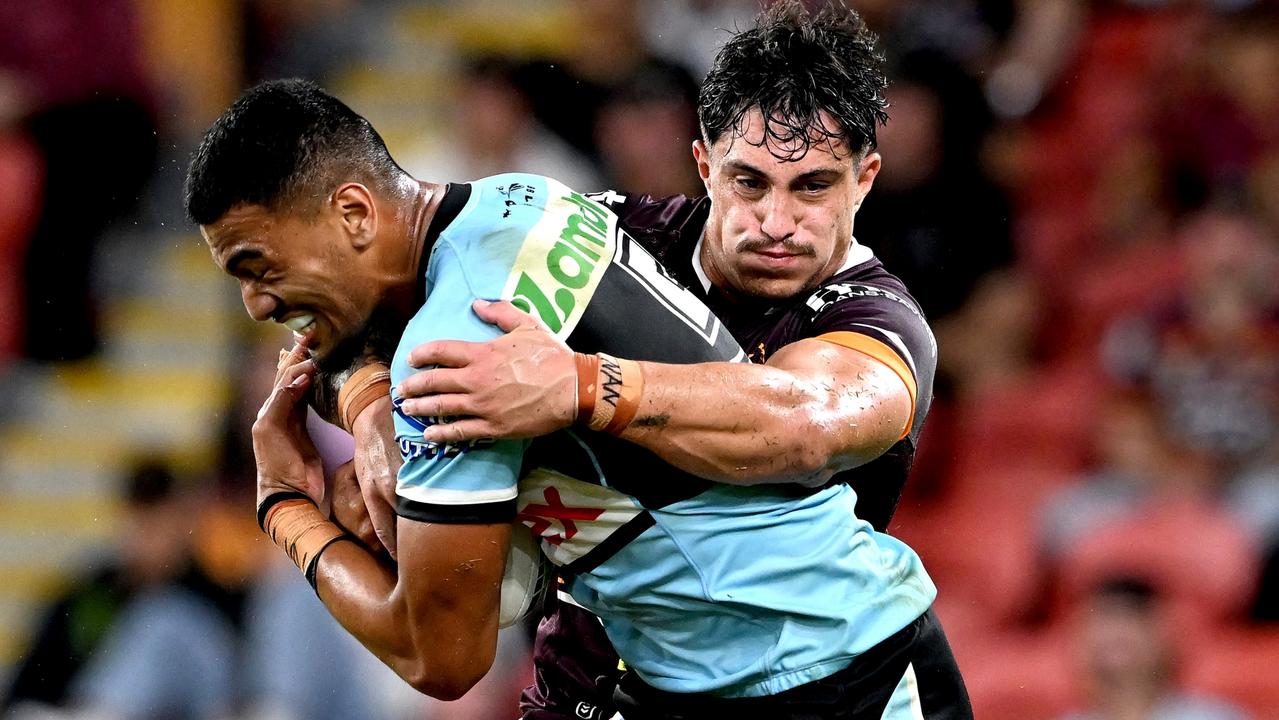 Kotoni Staggs contained the dangerous Sharks backline with some stout defence.
But with Latrell Mitchell in major doubt for Origin I with a hamstring injury, Staggs has rocketed into the frame for the June 8 opener at Homebush.
A sizzling performance on the same turf against South Sydney will give Fittler further comfort the Broncos dynamo would relish a baptism in sky blue.
"That NSW jumper has been on my mind," Staggs said.
"That's the one goal I've had, to get that Origin jersey and if I keep playing good footy, hopefully I get picked.
"I saw 'Freddy' (Fittler) after the Roosters game at Suncorp (three weeks ago). He told me to back myself and play in the way that got me to love the sport.
"I was pretty close to Origin before I did my knee. I could have been there in a Blues jumper, but I took a step back and I learnt a lot about myself after the injury.
"I am in a better headspace now and if I was to get that Origin jersey, I will take it better with both hands."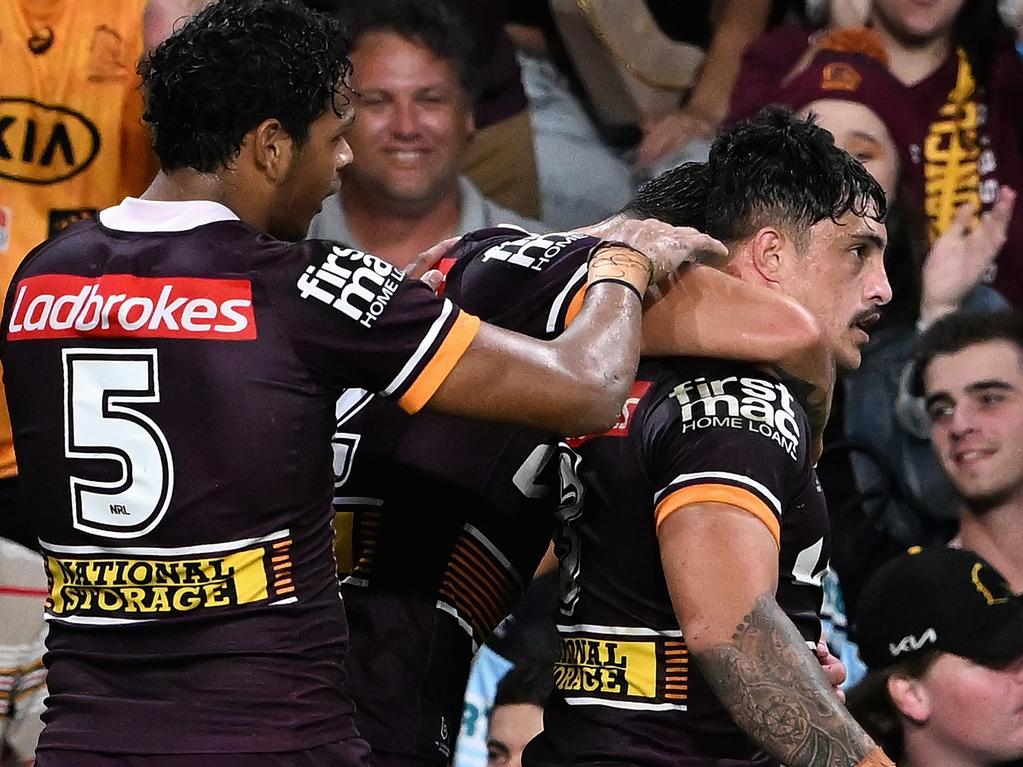 Staggs has put himself right in Origin contention.
While Penrith ace Stephen Crichton appears the frontrunner, Staggs showed he is among the code's centre elite with his domination of Talakai.
'Special K' torched Talakai on both sides of the ball. Twice he denied the Sharks monster tries with desperate last-ditch defence, then completed the carve-up when he bamboozled Talakai with the dummy and solo try that kickstarted Brisbane's fightback.
"I knew he was going to be coming at me," Staggs said. "All week, they were comparing me and him together with the Blues stuff.
"It didn't worry me, I knew what I had to do and I had to do my job."
Broncos halfback Reynolds played two games for the Blues in 2016 and is adamant the explosive Staggs is tailor-made for the intensity of Origin football.
"It's just his X-factor and the confidence he is playing with," Reynolds said.
"There are little things you don't notice with Kotoni ... the kick chase, the defensive reads. As a player out there beside him you feel his presence. He just does the little things that make great players stand out.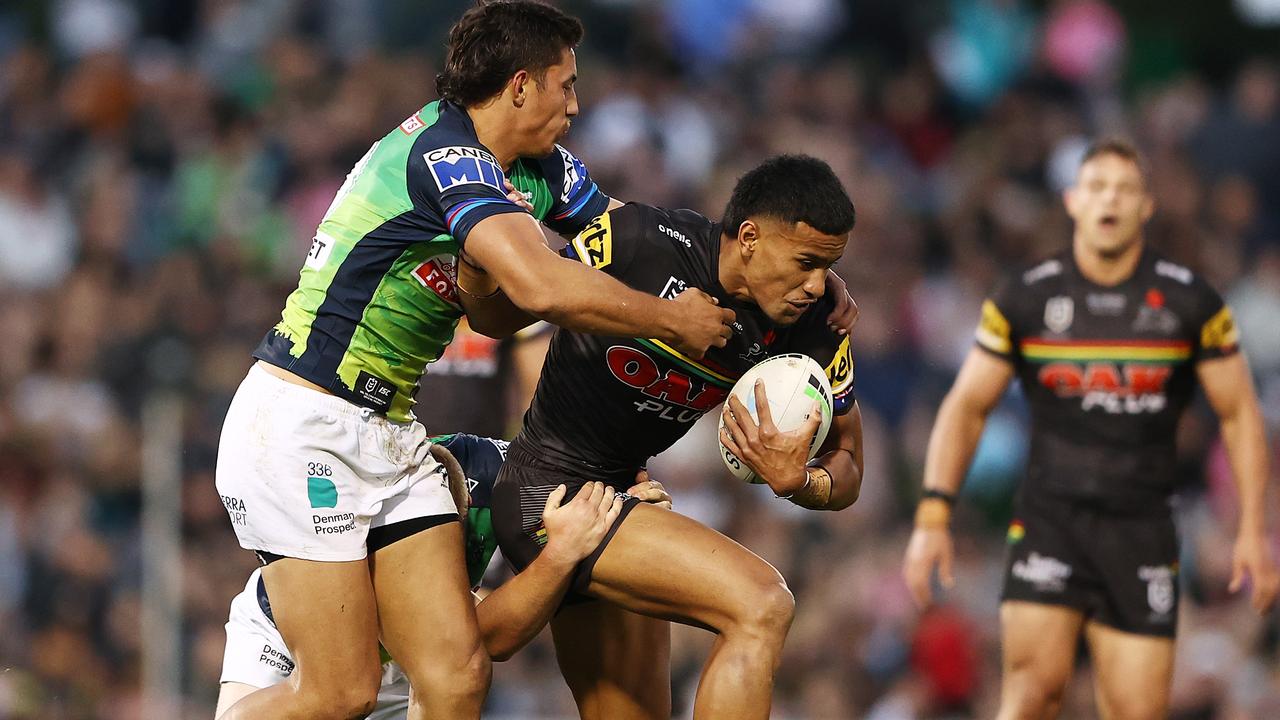 Stephen Crichton looks Staggs' toughest competition for an Origin berth.
"Origin is built on those little moments and Kotoni is producing it week in, week out.
"It depends which way Freddie wants to go, but I would certainly love to have him in my team if I was playing.
"He is a powerful ball runner and defensively he is outstanding. Kotoni ticks all the boxes, he would be great in Origin."
Staggs had added motivation. On the eve of his clash with Talakai, the 23-year-old honoured the birthday of his grandmother Dawn, who passed away two years ago.
When he pushed off Sharks rival Ronaldo Mulitalo to score, Staggs pointed to the heavens.
"That game meant a lot, not just because of who I was up against (Talakai), but it was my grandmother's birthday (on Wednesday)," he said.
"I play for her every time I go on the field. I write her name on my wrist and she is always there watching me. I wouldn't be in this position if it wasn't for her. That game was for her."
Originally published as NRL 2022: Adam Reynolds backs Souths successor Lachlan Ilias