State of Origin 2022: Daly Cherry-Evans praises Ponga's leadership potential
Daly Cherry-Evan knows what it takes to handle the State of Origin heat. Who does he think should take over the captaincy after him?
Kalyn Ponga has been touted as Queensland's next captain as the Maroons sensation prepares to put four years of State of Origin pain behind him in Perth.
Ponga will run out Sunday night in the state of his birth – Western Australia – looking to clinch his first Origin series win.
After making a scintillating debut in 2018 as a 20-year-old, Ponga's Origin career has been far from smooth sailing and he is yet to experience a series victory.
But the Maroons fullback is now primed to shine, having cemented Queensland's No. 1 jersey and proven he can be the state's custodian for close to a decade.
That would thrust Ponga right into contention to become Queensland's next captain whenever Daly Cherry-Evans exits the Origin arena.
Stream the FOX LEAGUE State of Origin Game 2 REPLAY on Kayo with no ads during-play. Both full and condensed replays available from 10:45PM AEST Sunday. New to Kayo? Try 14-Days Free Now >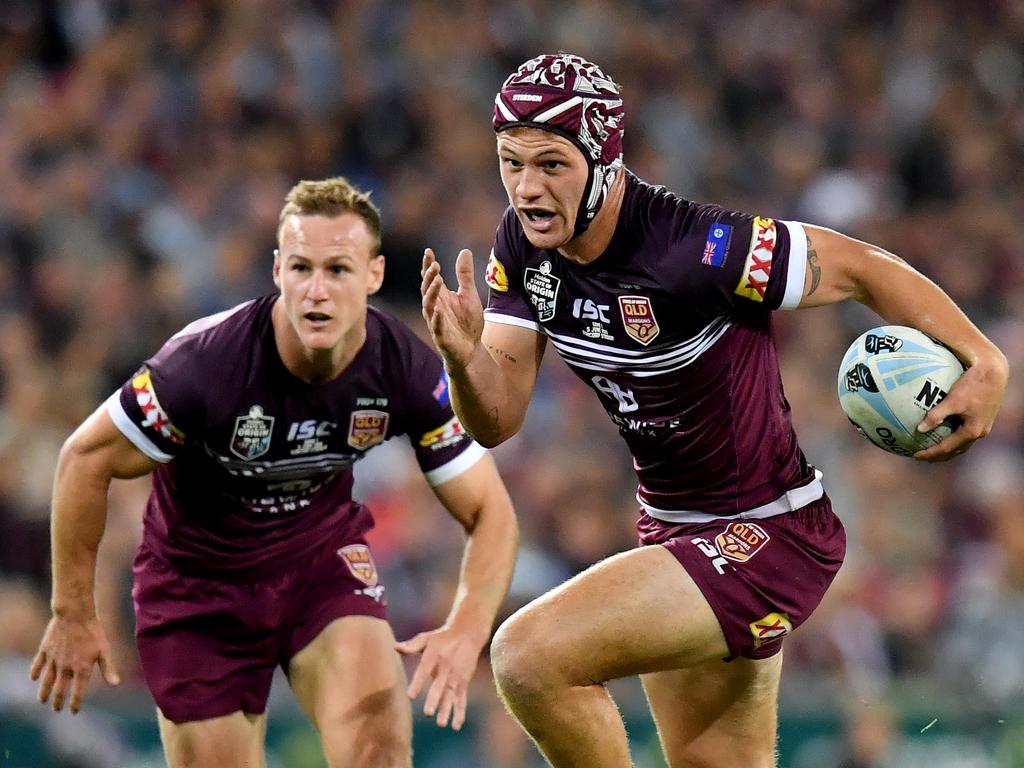 Daly Cherry-Evans (left) says Kalyn Ponga (right) has Origin leadership qualities. Picture: (AAP Image/Darren England) NO ARCHIVING, EDITORIAL
And the current skipper has hailed Ponga's leadership credentials on the back of his star performance in Queensland's 16-10 Origin I win to give the Maroons a crack at reclaiming the shield at Optus Stadium.
"For sure," Cherry-Evans said when asked if Ponga had captaincy qualities.
"I saw a change in Kalyn's demeanour in his approach to camp to the game last year.
"It was noticeable in the way he initiated so many conversations, not that he didn't do that the first time, but I could see how committed he was to connecting with his teammates and making sure the spine was on the same page.
"As a fullback, he has to make sure he is the key to our defensive line, he is a big link to our attack and the proof was in the pudding, he connected so well and played outstanding in our win.
"He is a leader and a big part of Queensland's future moving forward."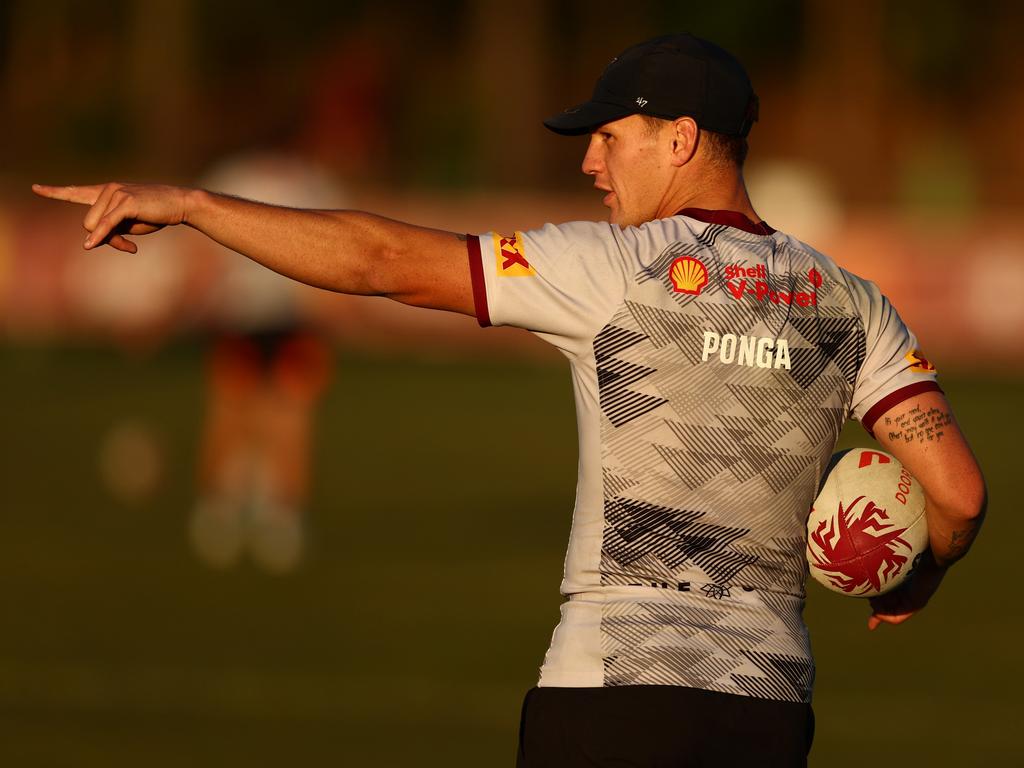 Kalyn Ponga calling the shots during a Maroons training session. Picture: Chris Hyde/Getty Images
Born in Port Headland, Ponga moved to Queensland as a two-year-old and grew up in Mt Isa, Mackay and Brisbane before bursting on to the NRL scene when he made his debut for the Cowboys during the 2017 finals series as a teenager.
Now at Newcastle, Ponga is one of the highest-profile players in the game, but his career has been stunted by injuries, particularly around Origin time, limiting him to five appearances for the Maroons.
Ponga, 24, debuted off the bench in Game Two of the 2018 series, which Queensland lost to surrender the shield.
He missed the 2019 decider, the entire 2020 series – one of Queensland's most memorable victories – and the first two games of last year's series, which the Maroons lost before Ponga made a noticeable difference in the dead-rubber.
The Blues have had a stranglehold on Origin since Ponga's debut, winning three of the past four series, but that could be about to change.
Ponga was slick in Queensland's upset win at Accor Stadium in what was one of his most complete Origin performances at fullback.
He was appointed Newcastle's captain this season and said his leadership traits were growing as he looks to clinch the series win.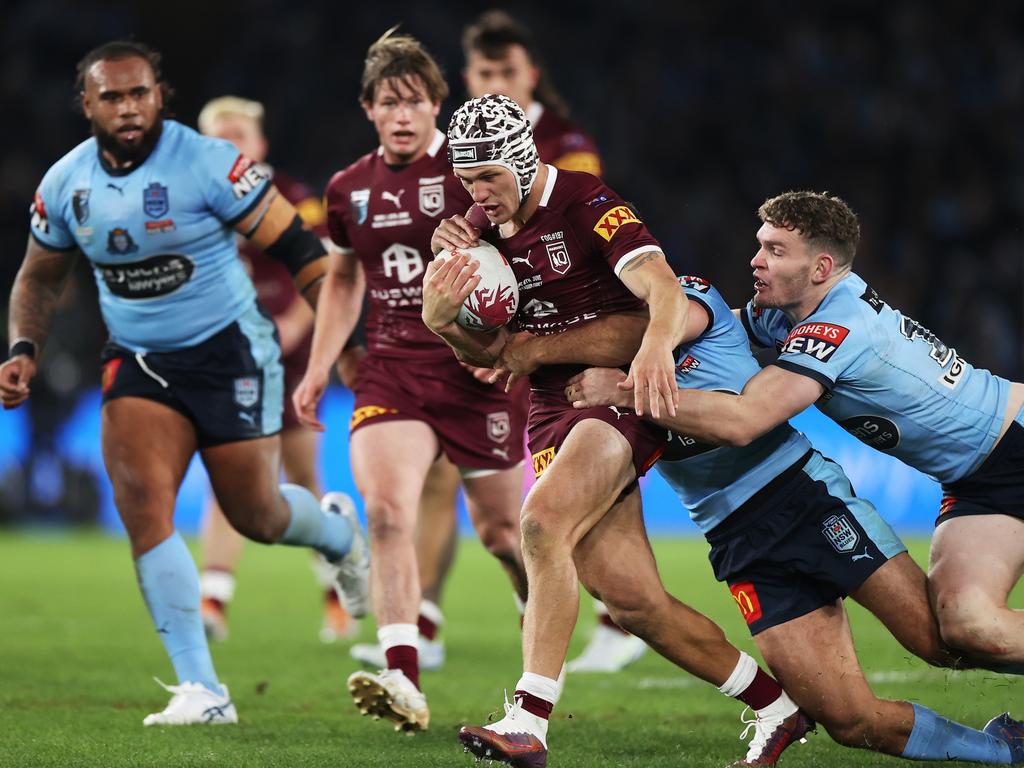 Kalyn Ponga had a great game for the Maroons in Origin I. Picture: Mark Kolbe/Getty Images
"Naturally, the fullback has to be a leader," Ponga said.
"I am the voice at the back in attack and defence. It's something I've been working on over the last few years.
"I have come a long way as a player. I looked back on my debut and to be honest, I didn't know anything. I was just full of confidence and excitement, but now I am more of a leader.
"Being in the Queensland environment, there's some great players here and they bring out the best in you.
"I'm not here to lose. I want to win an Origin series, it's why you want to play in this arena and we had a great start (winning game one)."
With his position in the Maroons now established, Ponga can be one of the key figures in Queensland's Origin resurrection.
"I believe this is the series he can dominate Origin," Cherry-Evans said.
"I really hope we have him for the full three games.
"I haven't played a lot of footy with Kalyn, but last year in game three he added a different element to us, so I'm looking forward to building on that relationship we have sparked up in Origin.
"His ability is undeniable, so we have to make sure we give Kalyn an opportunity to express and show why he is talked about as one of the best attacking players in the game."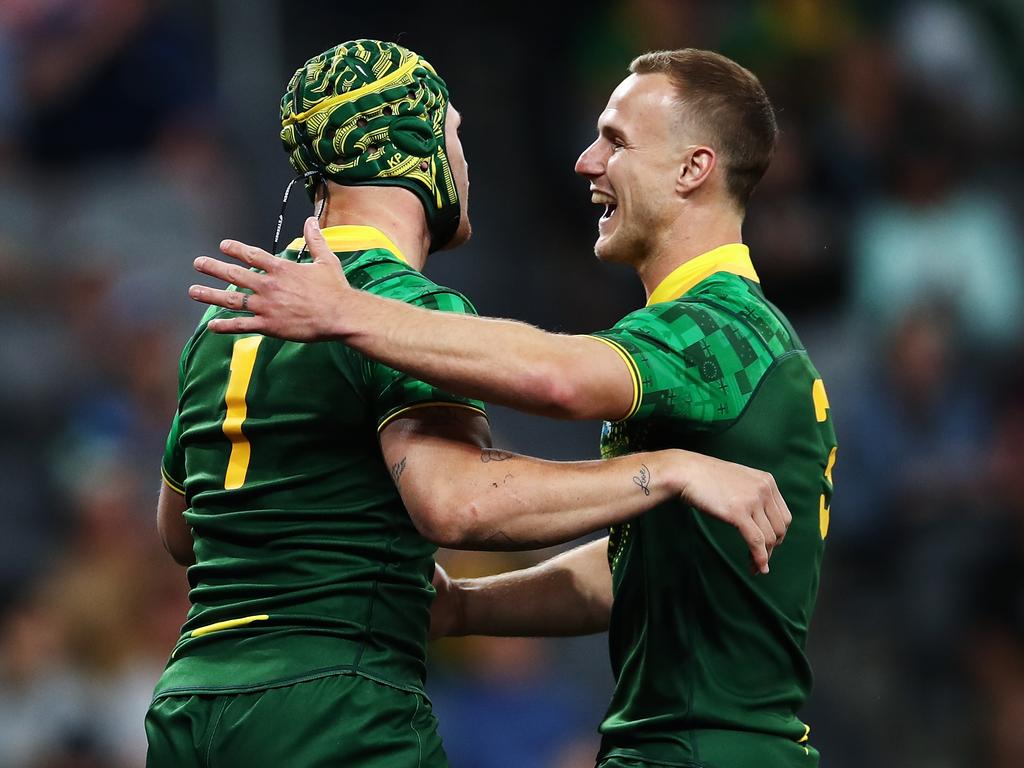 (L-R) Kalyn Ponga and Daly Cherry-Evans were teammates in the Rugby League World Cup 9's. Picture: AAP Image/Brendon Thorne
If Ponga can fire at the back consistently, the pressure will be eased on halves Cameron Munster and Cherry-Evans, allowing the playmaking trio to share the load and threaten NSW all over the field.
Munster said Ponga was warming into Origin football and he would look to give his No. 1 more attacking opportunities.
"He's had a lot of injuries and been in and out of the team but he is fresh and fit now and had a great performance in game one," Munster said.
"Everyone knows the talent he's got and possesses with the ball. That was just a snippet of what he can produce. Fingers crossed he can do something similar in game two.
"I've got a target on my head and they're after me, so that allows Kalyn to play his natural game, fly under the radar and play his style of footy. If he can do that we will score points.
"I'm always happy with Kalyn getting the ball in his hands. Things tend to happen.
"He's got that x-factor about him. We just need to get on the back of him once he gets the ball and push for him."
CHERRY-EVANS REVEALS HIS REMAINING ORIGIN GOALS
Queensland skipper Daly Cherry-Evans has unfinished business in the Origin arena and is refusing to put a date on when he will hang up his Maroons jersey.
Cherry-Evans will lead Queensland into Sunday night's Origin II blockbuster in Perth as the Maroons attempt to wrap up the series at Optus Stadium.
It has been nine years since "DCE" made his Origin debut off the bench for Queensland in the second game of the 2013 series.
After losing game one that year, the Maroons rallied to win the second and third matches and claim what was the final series victory in the famous eight-straight dynasty under former coach Mal Meninga.
But it would be the last time Cherry-Evans would taste an Origin series victory for seven years as his Queensland career fell into the abyss following his axing in 2015.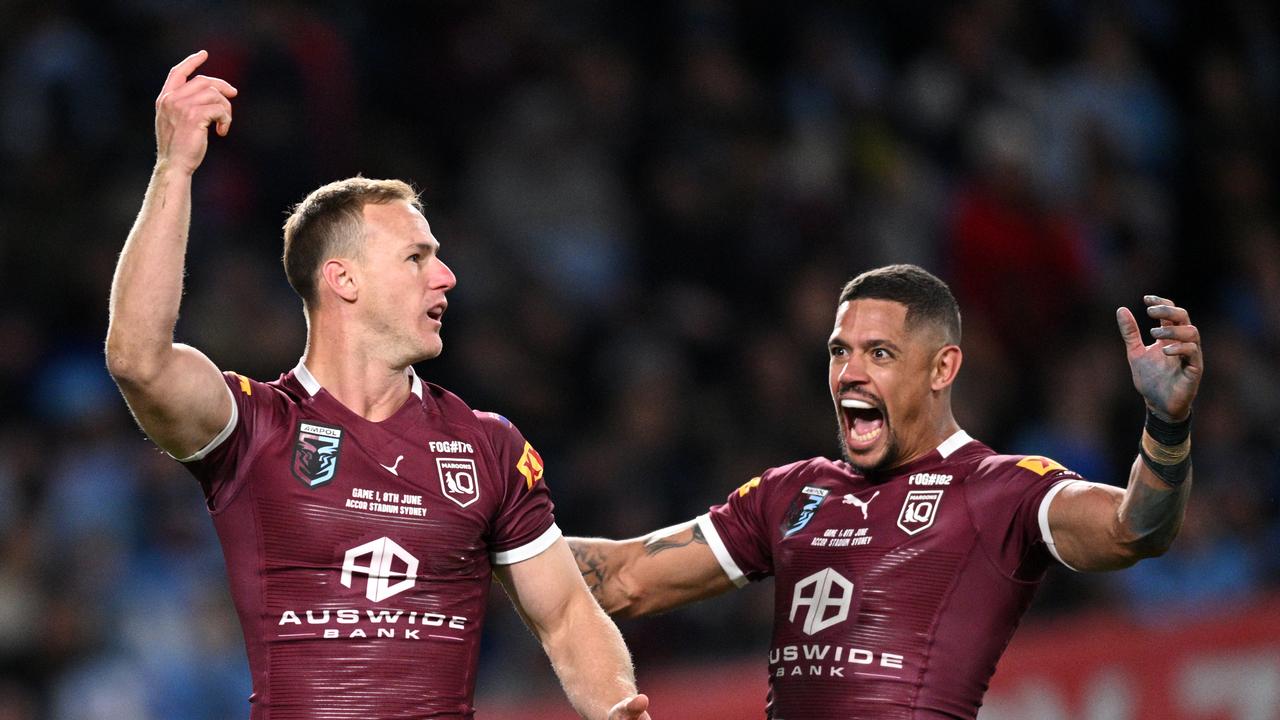 Daly Cherry-Evans of the Maroons celebrates after scoring a try during Game 1 of the 2022 State of Origin series. Picture: AAP Image/Dan Himbrechts
Cherry-Evans earned a recall for the 2018 dead-rubber, won by Queensland, and hasn't missed an Origin since.
His Origin career highlight was leading Queensland to one of the state's most memorable series wins in 2020 under Wayne Bennett before the Maroons were smashed last year within two games.
Now 33 and entering the twilight of his career, the question remains – how much longer will Cherry-Evans commit to playing Origin?
Recent Queensland greats Cameron Smith, Johnathan Thurston and Cooper Cronk all called time on their representative careers before retiring from the NRL to focus on their club commitments.
If history had panned out differently and he wasn't dropped, Cherry-Evans would be on the verge of his 28th game for Queensland.
Cherry-Evans in the Emerging Origin camp in 2012. Picture: Jono Searle
Instead, Cherry-Evans will make his 18th appearance for the Maroons and said he had not contemplated representative retirement because he has learned things can change so quickly.
"I've always said I will never put a timeline on it," he said.
"Rugby league changes so quickly for players. Mentally and physically, things can change before you know it.
"I've seen too many of my teammates stop playing rep footy or club footy quicker than they expected.
"That is a real reminder for me to make sure I enjoy every game like it's going to be my last."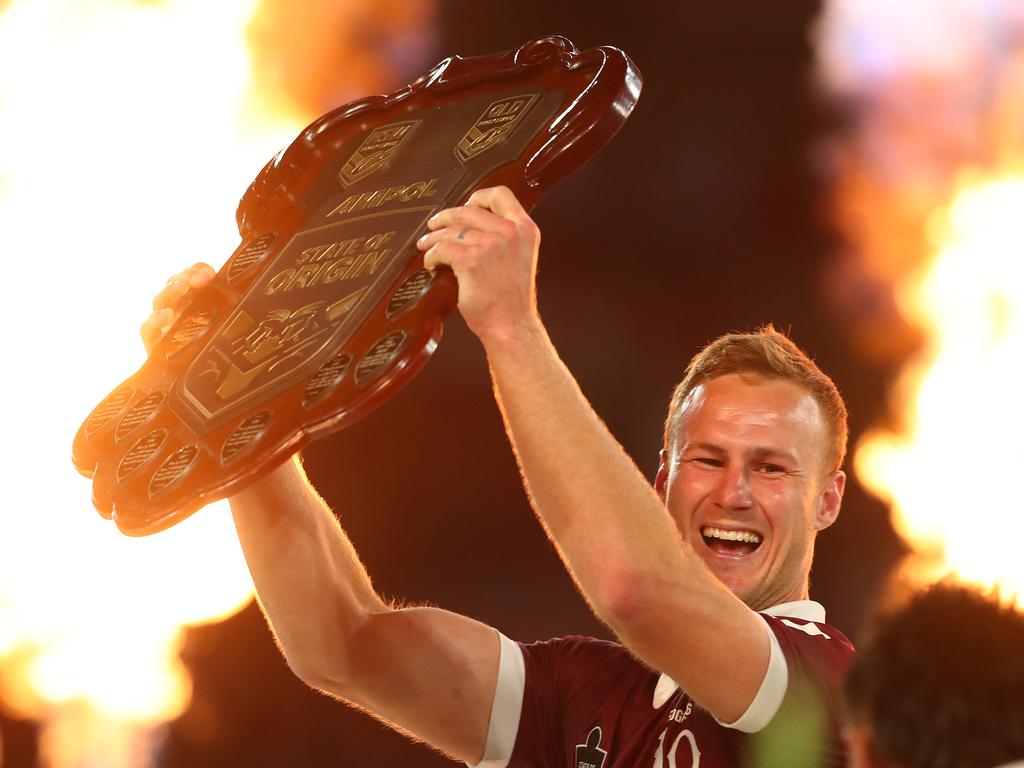 Cherry-Evans of the Maroons celebrates winning game three of the State of Origin series. Picture: Chris Hyde/Getty Images
After the highs of 2020, when the Maroons were written off and given little hope of winning, Queensland came crashing back to earth last year.
The Maroons were flogged 50-6 in Game One, the state's heaviest Origin defeat, and surrendered the series with a 26-0 loss in the second match, the first time they had been held scoreless at Suncorp Stadium.
After clinching a 16-10 Origin I win this year, Queensland can wrap up the series on Sunday before Game Three in Brisbane on July 13.
And Cherry-Evans insisted this youthful Queensland team had the motivation to sink the desperate Blues in Perth.
"We have to improve heaps," he said.
"I know we understand that. We reviewed game one and are really clear on where we can get better, the parts of the game we were lucky to get away with.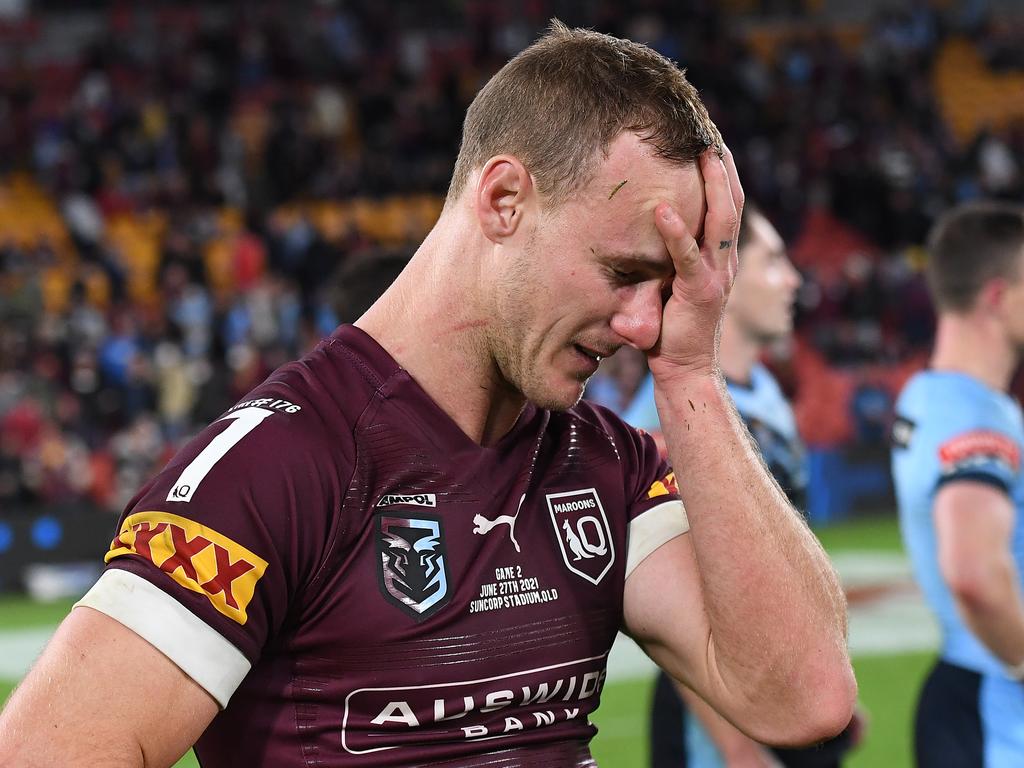 Daly Cherry-Evans of the Maroons reacts after losing 26-0 in game two of the 2021 State of Origin series. Picture: Bradley Kanaris/Getty Images
"We know how eager they're going to be to win and keep the series alive. It's going to come back to how motivated we are to focus on what we want.
"It's easy to talk about how badly they want to keep the series but we're a pretty motivated group as well.
"We've got the coaching staff that have experienced these sorts of things first hand. They know exactly what's coming when it comes to the opposition.
"They've spoken about how our mindset needs to be about improving. We built a foundation in game one but that won't be enough to win. We are finding ways to improve as a side.
"We don't have a whole heap of 20-gamers, but I believe that hunger for success is very strong within the group. There's not many people that have won more than one series.
"There's a real eagerness to do something as a group."
Cherry-Evans had a slow start in Origin I, making some crucial errors as Queensland struggled for cohesion.
But his performance improved as the match went on and he ended up playing an excellent role, including scoring a try, in Queensland's upset victory.
Now he is hoping to hit the ground running at Optus Stadium and bring the shield back to Queensland for a shot at a clean-sweep on home soil.
"I've played alongside people in the team before but it's a new team, new coach and new style," he said.
"It definitely took a bit to get going in the game, but the more it went on, the more we connected and more comfortable we all felt with the style of footy we were playing.
"Once we got out there and learned to trust it, it was a really quality game by the end.
"There is a lot to build on but also be proud of."
Originally published as State of Origin 2022: Daly Cherry-Evans praises Ponga's leadership potential